State of Origin 2022: QRL boss insists Maroons won't emulate Blues' 'whinging' over referee
QRL boss Bruce Hatcher says the Maroons won't stoop to NSW's level before the series decider, despite being on the end of some contentious calls in Origin II.
Queensland Rugby League chairman Bruce Hatcher says the Maroons won't emulate the "whingeing" Blues by seeking crisis talks with NRL officials in the lead-up to Origin III.
There is a view NSW coach Brad Fittler won a battle of mind games over Queensland counterpart Billy Slater after holding a meeting with NRL referees boss Jared Maxwell following the Blues' 16-10 loss in Game One.
Fittler made it clear to Maxwell he was unimpressed with Queensland's tactic of slowing the ruck in Origin I, turning up the heat on referee Ashley Klein ahead of his reappointment for Origin II.
Stream the FOX LEAGUE State of Origin Game 2 REPLAY on Kayo with no ads during-play. Both full and condensed replays available. New to Kayo? Try 14-Days Free Now >
The Blues subsequently hit back with a 44-12 rout and Klein raised eyebrows with several calls that went against Queensland, notably the sin-binning of Felise Kaufusi which triggered a NSW tryscoring avalanche.
The NRL match-review committee then came under fire for clearing NSW duo Nathan Cleary and Stephen Crichton of acts of foul play which left key Maroons Kalyn Ponga (head knock) and Cameron Munster (shoulder) needing medical attention.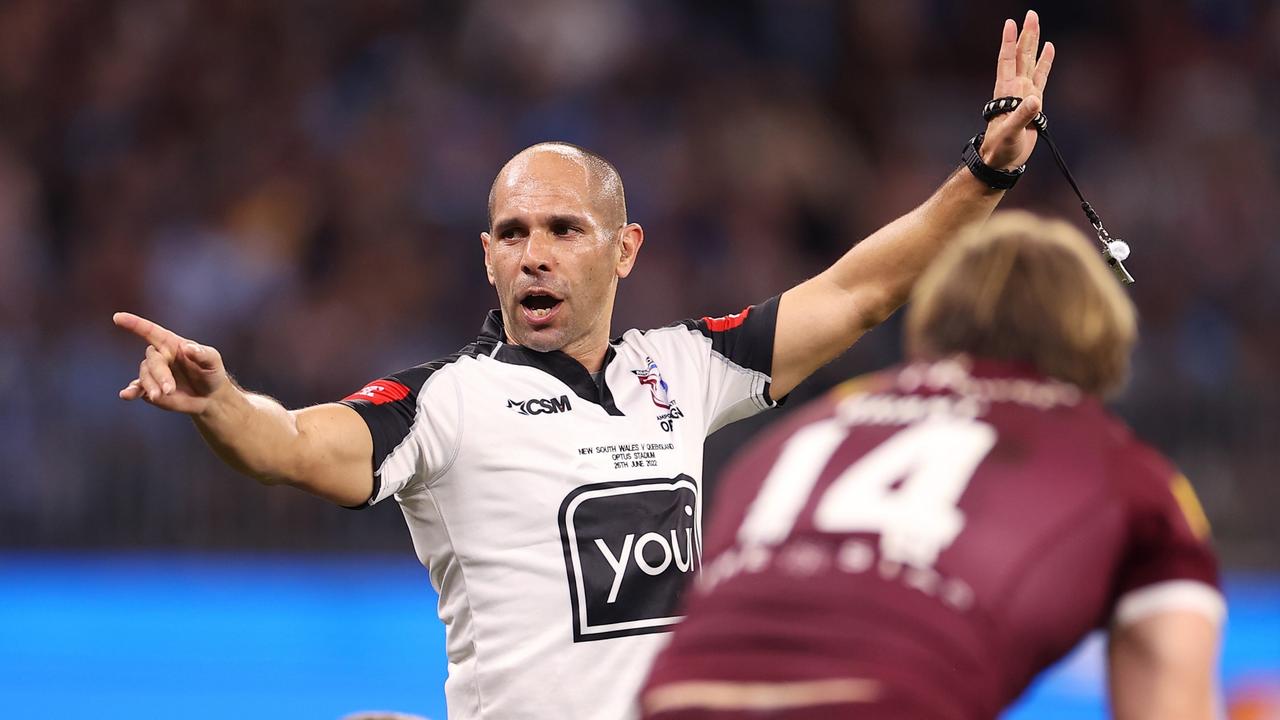 Referee Ashley Klein has controlled the first two Origin games of the 2022 series. Picture: Mark Kolbe/Getty Images
But ahead of the death-or-glory decider at Suncorp Stadium on July 13, Hatcher said the Maroons won't be trying to manipulate NRL powerbrokers as they look to clinch the Origin shield on their terms.
"We aren't going to be whingers," Hatcher said. "There's no need to panic, so I can't imagine us or Billy (Slater) will be firing off any protests to the NRL.
"We want no excuses for the decider.
"Overall, there was nothing in those incidents (involving Cleary and Crichton) that struck me as exceptional. I didn't notice anything exceptional in that game that has created cause for concern.
"I have seen many Queensland sides overcome adversity and I believe this team is capable of doing that in the decider."
While Fittler wasn't a fan of Klein's performance in Origin I, Hatcher said the QRL would not oppose the 42-year-old's appointment for the Suncorp decider.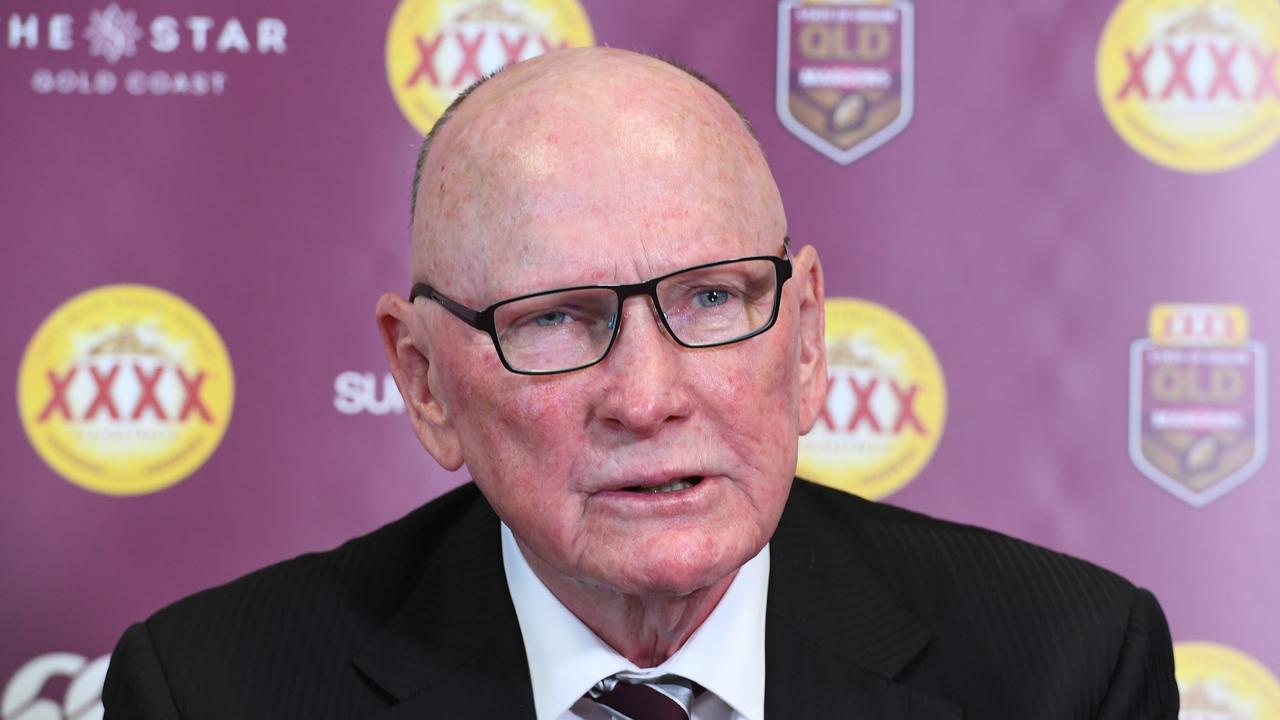 QRL chair Bruce Hatcher says the Maroons won't be seeking a meeting with NRL officials before Origin III. Picture: AAP Image/Dave Hunt
"We don't have any issues with the referee," he said.
"We were well and truly in the game until we were left a man short (following Kaufusi's sin-binning), but I suggest we should focus on the things we did wrong and there are many areas we can improve. On the night, we weren't the better side.
"I don't like the idea of either state running around saying, 'We don't like this referee, we want another one'.
"The inference is that you want a referee that favours your side and I am happy for the NRL to appoint the match officials independently without pressure.
"I'd like 'Grasshopper' (legendary Queensland referee Barry Gomersall) back, but on balance the referee (Klein) didn't make a great difference to that game.
"I see no value in crying over spilt milk, you win some calls, you lose some calls and if he is retained for Game Three, I don't have an issue with that."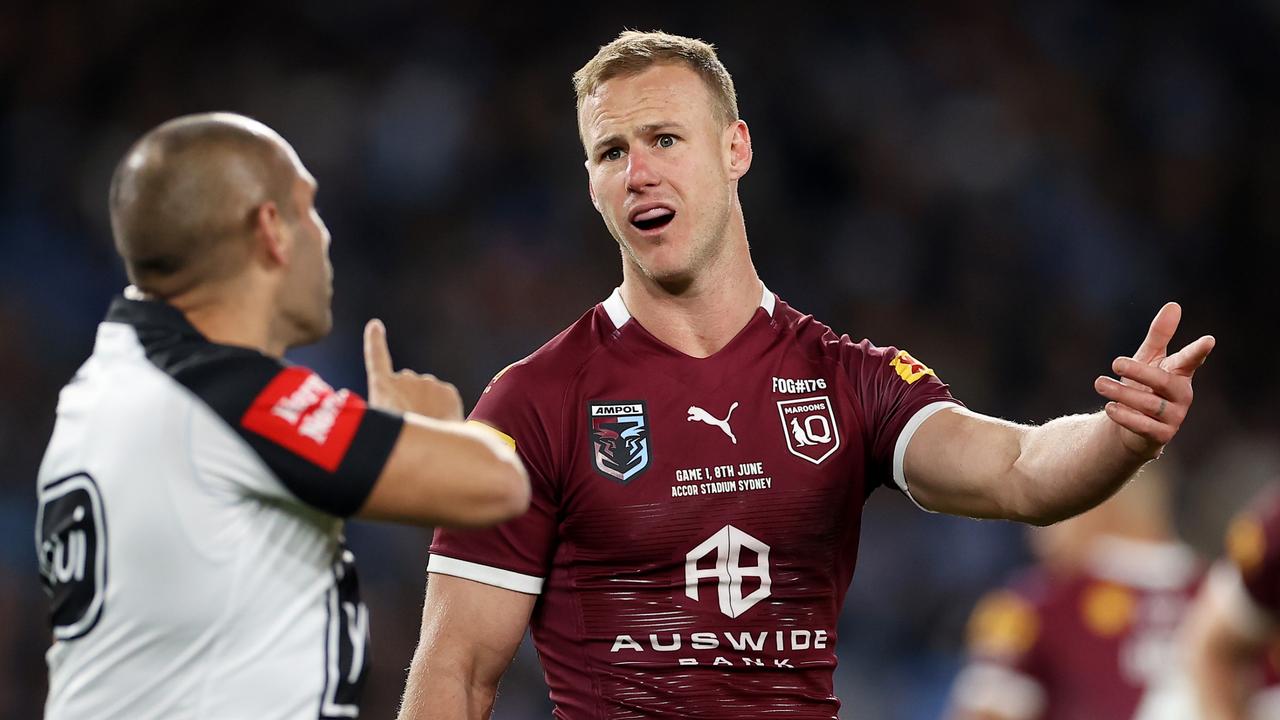 Maroons captain Daly Cherry-Evans speaks to referee Ashley Klein after a dangerous tackle on Cameron Munster in Game One. Picture: Mark Kolbe/Getty Images
Why Gus, Maroons ar wrong in sin-bin whinge
-Paul Kent
Send home the posse and extinguish the torches, stash the pitchforks.
Nobody should be hunting Ashley Klein after he sin-binned Felise Kaufusi on Sunday night. Kaufusi rolled the dice one time too many times and paid a price he rarely pays.
The price was one he and his Queensland teammates dodged in Game I which helped set up their victory.
Call it one-all between the coaches, Fittler and Slater.
The complaints about Klein ruining the game should be sent to Kaufusi, if at all, but not the referee.
The Maroons led 12-8 when Kaufusi went to the bin and trailed 14-12 when he got back, 10 minutes later, when in reality the game was as good as over.
We just didn't know it at the time.
The Maroons had burned all their juice defending a man down and were left with nothing for the final half-hour of the match.
But it wasn't Klein's fault.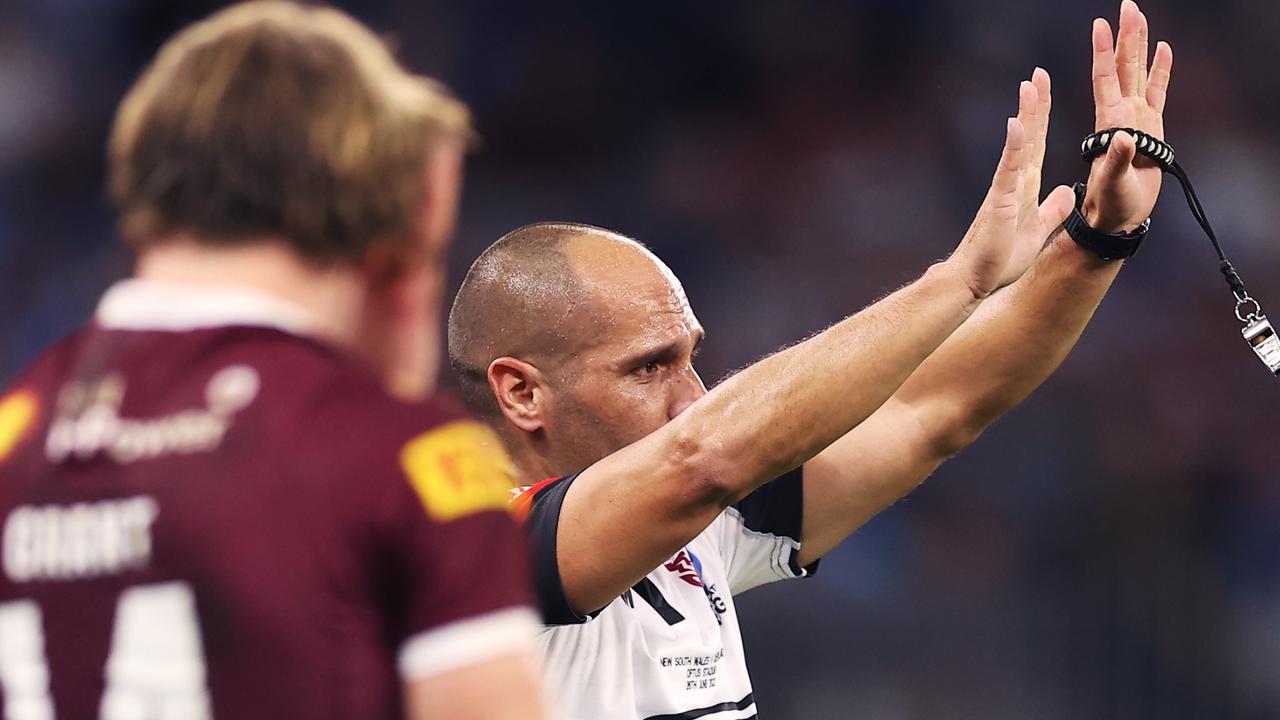 Ashley Klein sent Felise Kaufusi to the sin bin in Origin II om Perth. Picture: Mark Kolbe/Getty Images
The great difference in Game I was Queensland's ruck control, which Brad Fittler spoke about after the first game and which he promised to fix before Game II.
Queensland knew this as well as Fittler.
NSW privately complained that the Maroons got away with too much laying on in the ruck in Game I.
Of course they did.
Every coach that has ever cried himself to sleep, or at least to the referee's boss, can tell you the game is won and lost at the ruck.
Blues assistant Greg Alexander said the Blues were "too nice" in Origin I, an admission they got outsmarted at the first gallop, and lots of work went into ensuring the Blues weren't caught out a second time.
Logic says, that if that was the winning tactic in Game I there would be a similar follow-up in Game II, although few were sure how Queensland would adjust.
This put the referee Klein in a position where the Blues felt Queensland cheated by holding down too long in the ruck and that unless there was an action from him, then they would begin to cheat in the ruck as well. That's how it usually goes.
The Maroons knew this as well as the Blues did. Nobody can complain they were caught unaware.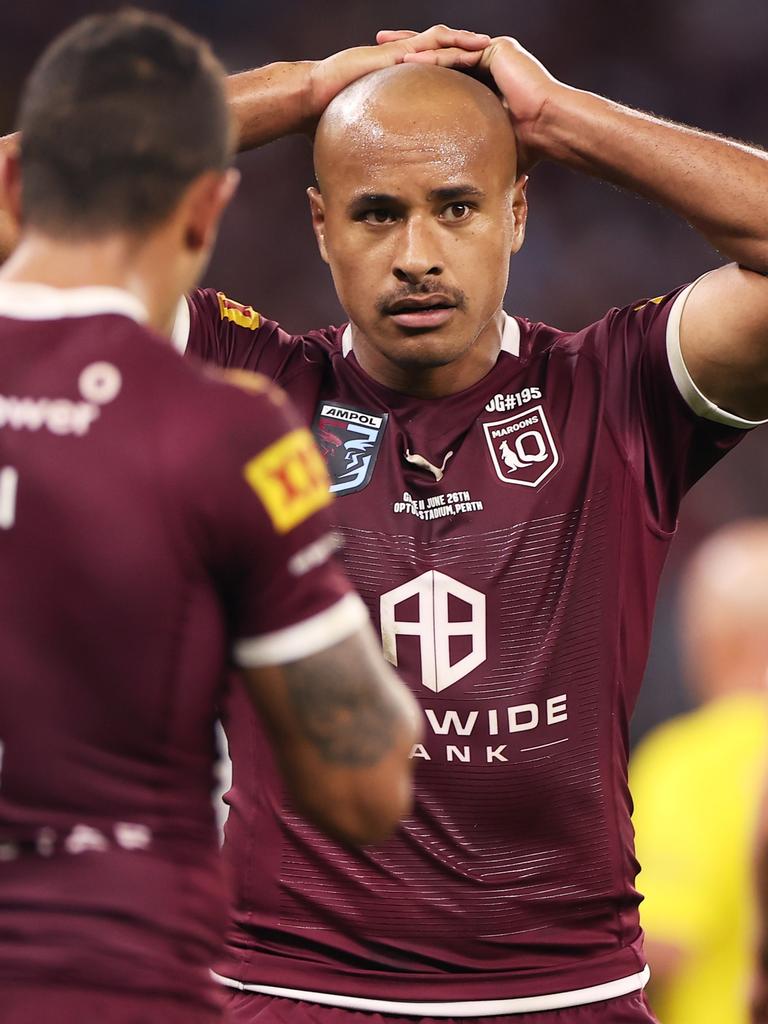 Felise Kaufusi. Picture: Mark Kolbe/Getty
So the subtle art of ruck management was applied when Kaufusi pressed his knees into Junior Paulo, restricting his room to get up quickly, and Klein picked him for slowing the play-the-ball.
It came after another professional foul moments earlier.
The Blues were on a repeat set after centre Val Holmes was pinged for an escort on NSW winger Daniel Tupou, giving NSW six more.
They worked through the set until the fifth tackle.
Paulo punched forward and was dragged down a metre from the tryline and Kaufusi leaned over him, hands on top and knees pressing into him, slowing his ability to get up.
If Kaufusi had run 30m to make the tackle and then held him down we all would agree it was a professional foul and Kaufusi would have to go.
It was still a professional foul, just off a shorter run.
And it was a tough call.
The only criticism that could be made of Klein is that the Maroons had little warning he was in a sin-binning frame of mind.
The criticism was the usual, illogical kind.
It goes that Origin is not the place for sin-bins like that, which they considered trivial and unworthy of the gladiatorial reputation Origin has created.
Ten minutes away from the field for that? A game decided on an incident like that?
Phil Gould said in commentary he hates sin-bins in any game, let alone Origin, and many harrumphed along with him.
The danger with Klein taking no action is both teams might take advantage if it, as they do, turning the ruck into soup, a sloppy mash of players laying all over each other with no clear line of when a tackle is complete.
Klein knew both sides were prepared for it because both sides had talked about it.
By making the tough call Klein ensured the two teams were not going to try to out-foul each other and turn the game into a wrestling match.
To argue that the crime didn't fit the punishment is somebody with it all backwards.
If an infraction is not worth the punishment the solution should not be to then let the person continue to get away with it, because it appeases our sense of what a game looks like, but to stop the players doing it.
That's why there are rules in the first place.
Originally published as State of Origin 2022: QRL boss insists Maroons won't emulate Blues' 'whinging' over referee