State of Origin Game III: Mal Meninga weighs in on Latrell, Wighton, Burton selection drama
Legendary Queenslander and Kangaroo coach Mal Meninga weighs into NSW selection debate with a surprise call on who should play left centre in the Origin decider.
Legendary Queenslander and Kangaroo coach Mal Meninga has made the shock call he'd play Jack Wighton ahead of Latrell Mitchell if he was picking the NSW team for the State of Origin decider.
Meninga based his opinion on the fact he would not risk rushing Mitchell straight back into Origin after so long out injured.
But Meninga was strong in support of why Wighton should get a recall after being the Blues' best in game one before missing the big win in Perth because of Covid.
Stream the FOX LEAGUE State of Origin Game 2 REPLAY on Kayo with no ads during-play. Both full and condensed replays available. New to Kayo? Try 14-Days Free Now >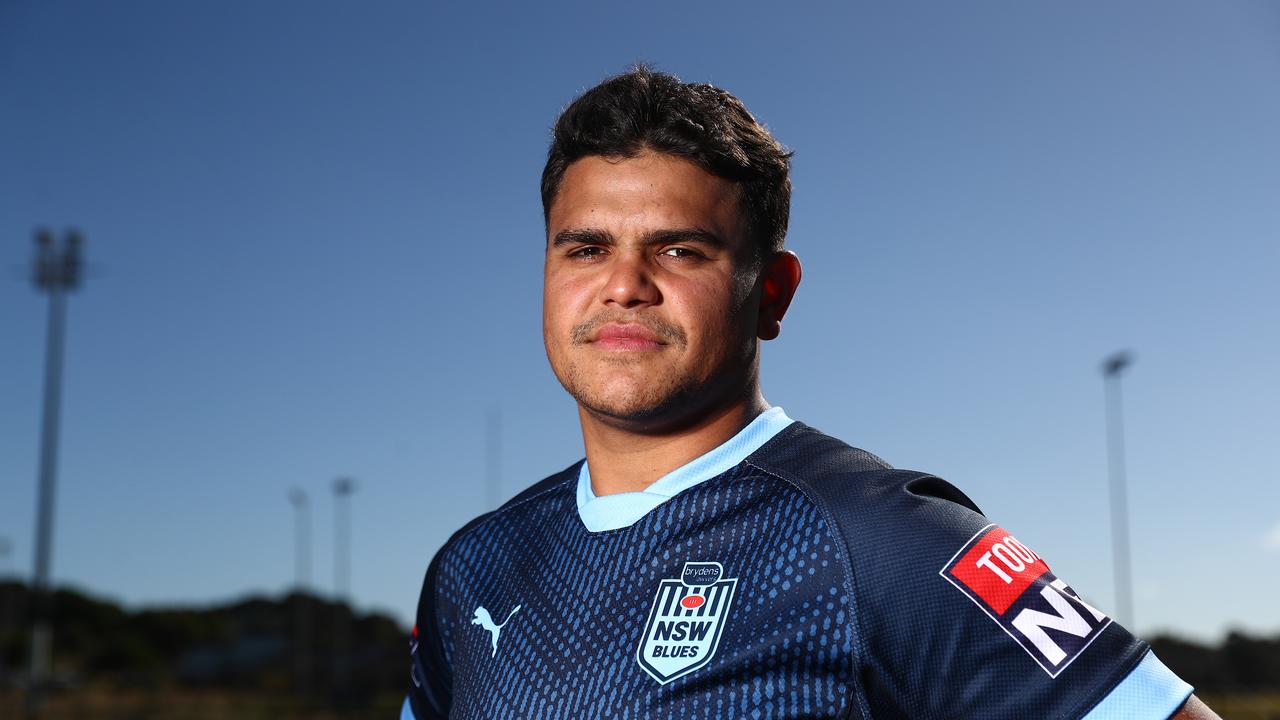 Latrell Mitchell has played barely a handful of games this year - but is expected to be available for Origin III. Picture: Getty
It comes as Mitchell and Wighton prepare to enter the Blues selection debate for a centre spot when they run out for the Rabbitohs and Raiders respectively this weekend.
For Mitchell it will be his first game since tearing his hamstring in round five in early April.
But given Mitchell has publicly declared he wants to be considered for the Origin decider, it leaves Blues coach Brad Fittler facing a huge dilemma.
Does Fittler risk changing a winning team after Matt Burton and Stephen Crichton played so well in Perth?
And if Fittler does make changes, should it be Wighton or Mitchell who comes in?
Given he is a Queenslander, Meninga laughed at the fact he was being asked about his opinion.
But as Kangaroos coach, he also concedes he is more than just an interested bystander.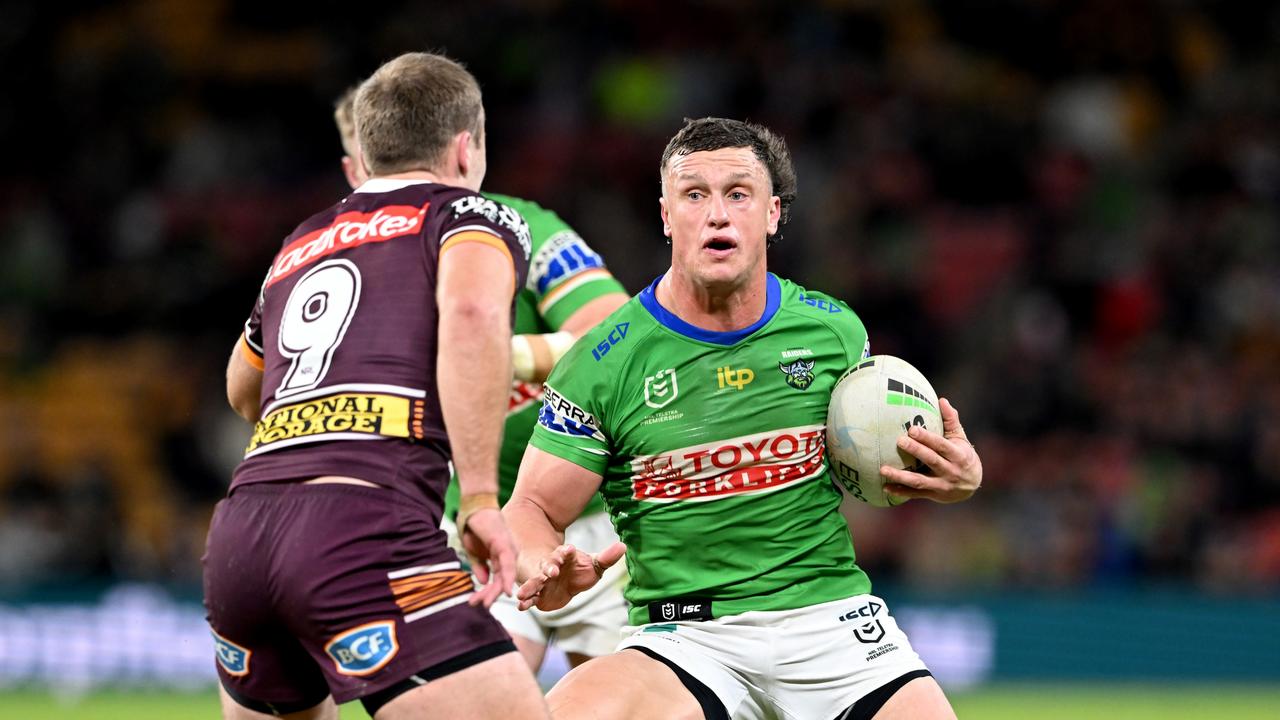 Jack Wighton has been in red-hot form for the Raiders and was among the Blues best in Game 1. Picture: Getty
Asked if he believed it would be too big a risk to play Mitchell after so long out, Meninga said: "I have no doubt he'd be able to handle it. But I would probably stick with the status quo, that's what I'd do.
"Given it is not that far away to the next game, Latrell would only have one game back (for Souths against Parramatta on Saturday).
"There has been heaps of other examples over time (of players returning to Origin with limited preparation), and he is such an experienced and great player he wouldn't let them down.
"But maybe because he has been out for such a long period of time, and particularly with the injury he's had, it might be a bit premature."
Meninga had some surprise thoughts on how the Blues should line up in Origin III. Picture: AAP
But when asked if Wighton deserved his spot back, Meninga added: "He was their best player at left centre.
"I think Jack probably deserves to be there really, based on his performance in game one.
"He wouldn't have lost his position if it wasn't for Covid.
"That would be my thinking, but like I said, who am I to tell the Blues?"
It would be a big call dropping Burton from left centre given his exceptional Origin debut in Perth, backed up with the fact his kicking game was such a weapon and also took a lot of extra pressure off Nathan Cleary.
Crichton wasn't as big a standout but certainly did enough to warrant holding his spot on the right side.
The other option would be to play Wighton off the bench in place of Siosifa Talakai who also debuted in Perth.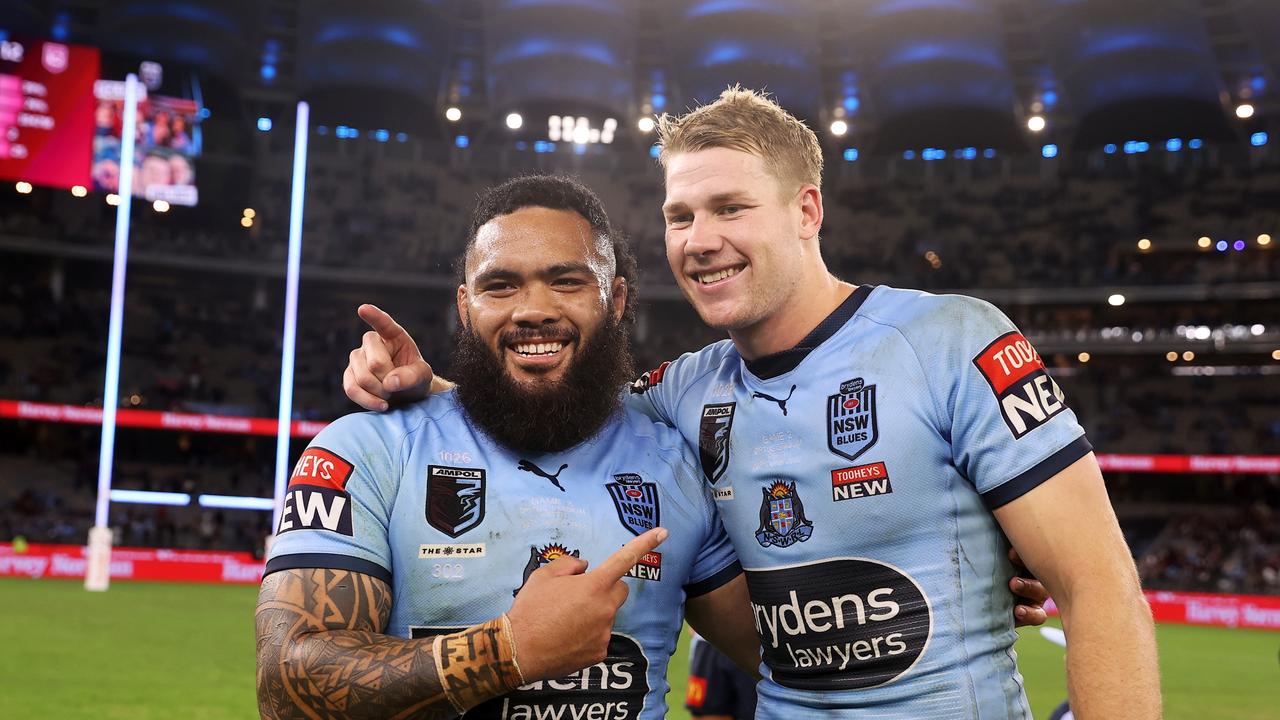 Siosifa Talakai (L) could lose his spot on the bench, while Matt Burton (R) is also no guaranteed started despite a stellar debut. Picture: Getty
Wighton can play either side of the field but has starred on the left, while Mitchell is also a left specialist where he's played for NSW and the Roosters.
Fox Sports Stats show Mitchell has never started an NRL game at right centre, and has not played right wing since 2016.
He also always carries the ball in his left arm and has a powerful right hand fend.
Meninga said players of Mitchell and Wighton's ability can easily adapt, it's more about whether you want to risk playing the Rabbitohs superstar after such a limited build-up, or return Wighton over the winning combination.
"They were very cohesive weren't they?" Meninga said of Burton and Crichton.
"With (Burton) on the left and Crichton on the right, the Penrith Blues as they call it, they were good."
Meninga is in the United Kingdom attending meetings ahead of the end-of-year World Cup tournament.
LATRELL SELECTS BLUES CENTRE PARTNER IN CRYPTIC POST
- By Fatima Kdouh
A cryptic message from South Sydney superstar Latrell Mitchell has added an intriguing twist to the race for the NSW left centre spot ahead of the Origin decider in Brisbane.
Canterbury's Matt Burton had a brilliant debut for the Blues on the left edge on Sunday night after Jack Wighton, who was best on ground in game one, was forced to withdraw with Covid-19.
Wighton was handed Mitchell's No.3 jumper in Sydney after the South Sydney fullback was ruled out with a hamstring injury.
But with Mitchell - who has only played four games in 10 months - in line to return for the Rabbitohs this weekend, the fullback is ready to get his hands on the NSW No.3 once again.
"Burton can have the number 4," Mitchell responded to a post about coach Brad Fittler's selection headache.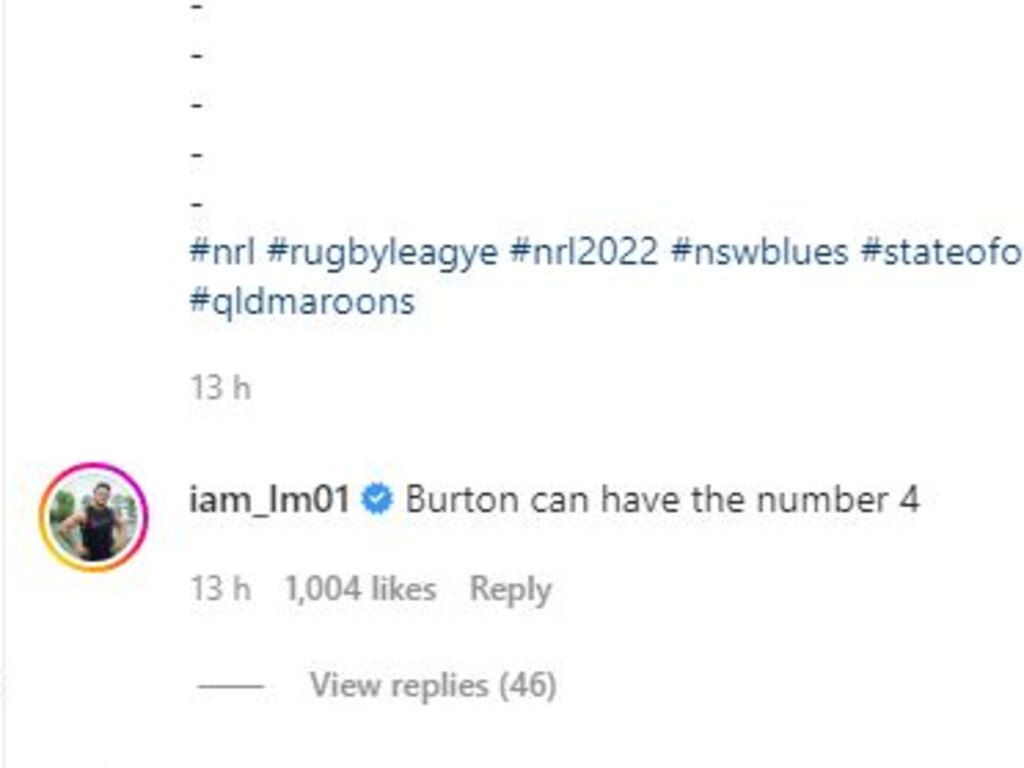 Latrell Mitchell's response to an Instagram post.
When asked about Mitchell's message Fittler said he would be closely watching the 25-year-old's return on Saturday night against Parramatta.
"Latrell is a selector now?," Fittler laughed.
"He is a very talented bloke Latrell, I look forward to watching him this week. I think we all miss watching Latrell. I think South Sydney need him and it would be good to see him back. He (Burton) played really well but in a week, a lot can happen."
The selection dilemma now for Fittler is who will play at left centre if Mitchell nails his NRL return this week, which is doubling as an Origin audition.
Stephen Crichton looks set to be the biggest selection loser after the Penrith centre delivered two lacklustre performances for the Blues so far.
The Penrith centre was used on the bench in game one but made a poor defensive read on Cameron Munster, who also stripped Crichton of the ball late in the second half. The 21-year-old started in Perth but struggled to make an impact.
Crichton's omission could see Burton moved to the right side in Brisbane if Mitchell does earn a re-call.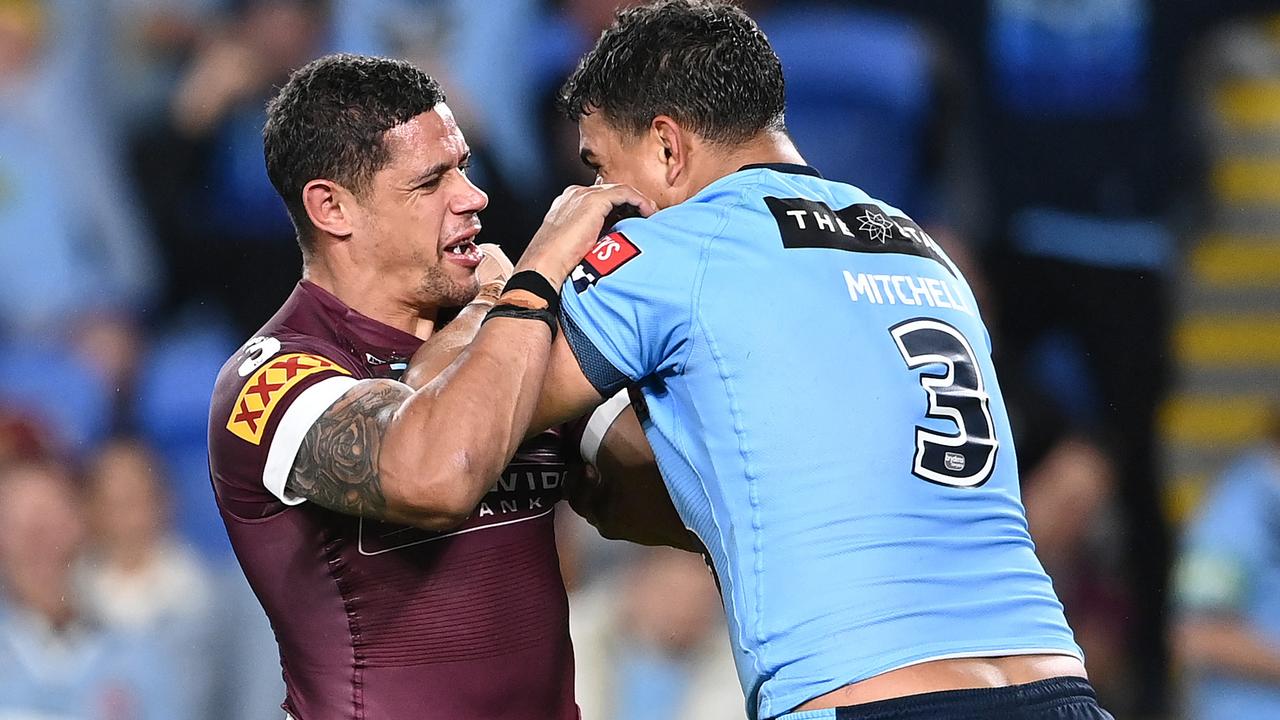 Latrell Mitchell is fighting to get his No.3 jersey back for the Blues. Bradley Kanaris/Getty
Fittler said Burton made a 'dream' debut, indicating the Canterbury playmaker has done enough to keep his spot in the side.
"He was fantastic. I'm really happy for him, he's a really good football player, great to watch. For a young fella to do what he's done, go to another club, he has been under the pump, they didn't have a great start to the year. Then getting his opportunity and nailing it, it's what dreams are made of," Fittler said.
Burton also has no plans on handing over his spot without a fight.
"For sure (I want to keep it). It is always a privilege to put this jersey on and I'll keep working hard and hopefully I get the call-up in the next game," Burton said.
The utility factor that Canberra playmaker Wighton brings to the table also has him in-line to snare a spot on the bench with debutant Siosifa Talakai the most likely to drop out after getting only 17 minutes during his debut in game two.
Fittler and the Blues will be aiming to win just their the third decider in enemy territory in 28 years, having only beaten the Maroons in 1994 and 2005 at Suncorp Stadium.
"I think we emotionally are ready for this. This crew has been together for a while. It hasn't been done in a while… for the players who have been there, they know it's still a footy field but there is a lot of energy there it can overwhelm people so we have to make sure we don't get overwhelmed," Fittler said.
Halfback Nathan Cleary believes former teammate Burton is perfect for the high stakes job on July 13.
"He's definitely a chance, but we'll leave that up to Freddy but he has done his chances no harm tonight. He had one of the great debuts, there was no doubt he'd put in a performance like that. He's cool headed and has this confidence about himself and he showed that (on Sunday)," Cleary said.
Is Burton the game's next $1m man?
- David Riccio
In 2019, a shy teenager from Dubbo made his NRL debut for Penrith.
With the club's season on the line and without three of his preferred half options, Panthers coach Ivan Cleary plucked Matt Burton from the juniors to play alongside Nathan Cleary.
It was widely-regarded as a hail Mary play by the Penrith coach.
On that night, against Cronulla, Burton delivered with a stunning introduction to the big stage.
NSW Blues coach Brad Fittler produced his own Hail Mary on Sunday night in Perth.
And once again, Burton delivered for his coach.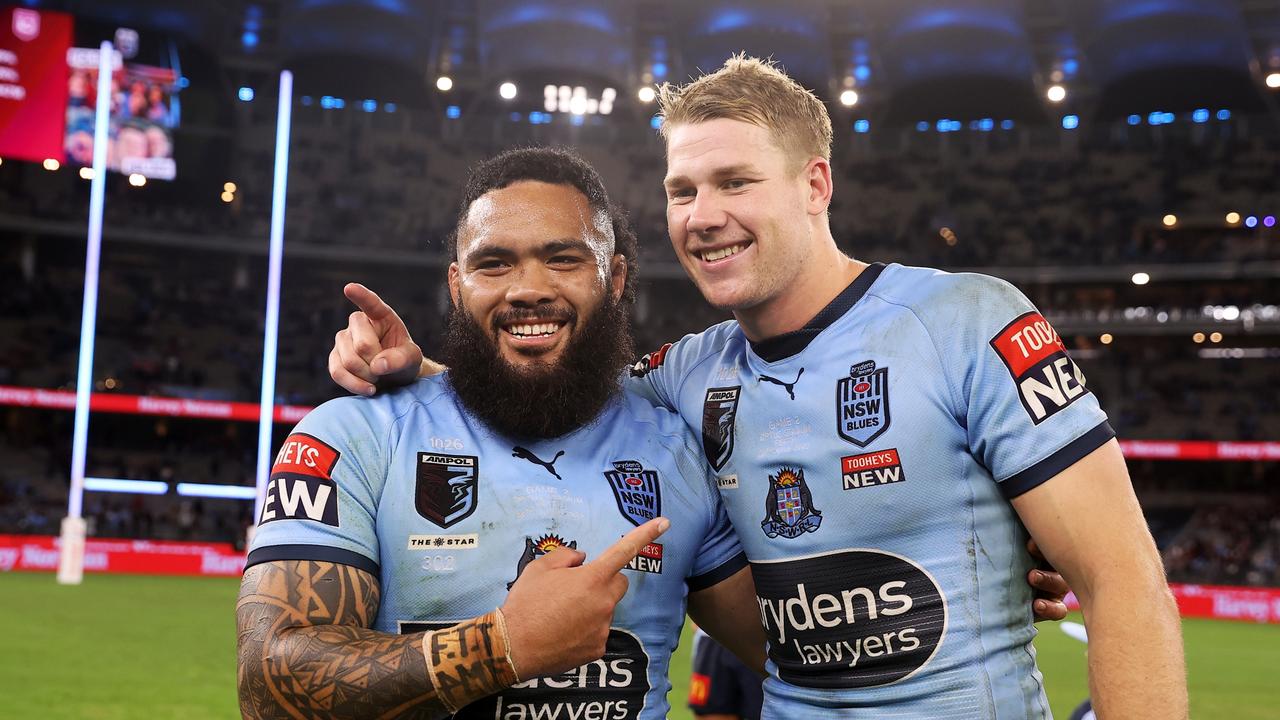 Matt Burton (R) celebrates his stunning debut with fellow newcomer Siosifa Talakai. Picture: Getty
In an unforgettable representative debut, Burton was the catalyst for putting Queensland to the sword.
"One of our best, I reckon,'' Blues captain James Tedesco said simply.
Burton ran for over 102-metres, produced five tackle busts and an almighty kick towards the heavens that still hasn't landed.
The Origin rookie's grip, to latch onto a slippery and angled kick from Nathan Cleary in the 23rd minute, was world class.
Few would've berated Burton for fumbling the kick at his boot laces under the bright lights and pressure of Origin.
But he gobbled it up and crashed over the tryline to give the Blues an 8-6 advantage.
Burton was perfect again for the final pass to his old Penrith teammate Brian To'o's 39th minute try.
Burton scores the Blues opening try in a sensational display. Picture: Getty
The 22-year-old Bulldogs pivot gained in confidence the longer the match went on.
He kicked a ball so high it surpassed the Optus Stadium roof line and then it was the Dubbo CYMS junior again in the 62nd minute with a one-one-one steal that gave his little mate Cleary the field position to cut through Queensland to score.
The Blues are on their way to a decider in Brisbane on June 13 and if Latrell Mitchell is fit for selection, he won't be replacing Burton.
What comes next for Burton is even more intriguing and we're not talking about joining a small group of Blues players (in 1994 and 2005) to come back from 1-0 nil down and win a series in Queensland.
Three years ago, Burton was on the minimum wage at Penrith.
He famously shifted to Canterbury to play five-eighth and a handsome pay rise to just over $400,000.
However, after what he has shown so far this season guiding the Bulldogs, and now that we know he can leave his mark on the best field in the world, despite shifting to centre for the first time since last year's grand final, Burton is rapidly heading towards becoming a $1 million man.
At the very least, he sits in the $700,000 to $800,000 salary category.
Canterbury have a fight on their hands to keep their poster boy beyond 2023.
What will it cost to keep Burton at the Bulldogs after his breakout performances this season? Picture: Getty
Burton has a clause in his contract that will allow him to sign with another club from November 1 – if he wants too.
The Bulldogs wanted Burton to get through his State of Origin debut before pressuring his agent David Riolo for some crucial one-on-one time.
After Sunday night, the issue is now a matter of urgency.
What are Canterbury without Burton this season?
Rightfully, Burton would want to know who the Bulldogs coach is before committing to a long-term contract at the club.
The problem is, Canterbury can't give Burton that answer.
Time is ticking for the Dogs.
And after Sunday night, so it is also, for Queensland.
Originally published as State of Origin Game III: Mal Meninga weighs in on Latrell, Wighton, Burton selection drama