Corey Parker: Queensland must rediscover their Maroons DNA and stop being so nice
I've seen it after every Queensland loss since the dynasty ended and it makes me wild. Billy Slater's Maroons must stop the matey act with NSW and regain their DNA, writes COREY PARKER.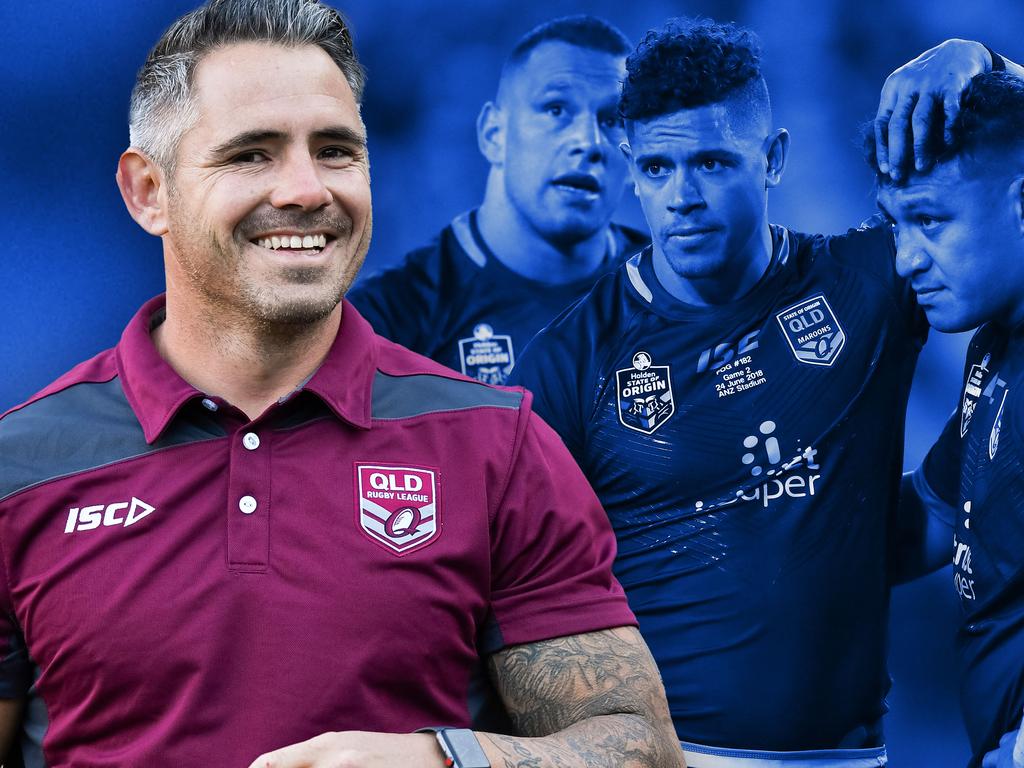 Former Maroons forward Corey Parker says the team needs to rediscover their DNA, having lost three from four State of Origin series since 2018.
There's a scene after games that I can't stand, particularly after an Origin.
Players standing there having a good old chinwag with the opposition after they've lost. Having a laugh, even.
It f--king infuriates me.
I could lose a game to one of my best mates on another team, all they got was just a quick handshake and then I was out of there. Losing made me hurt, made me want to get off the field as soon as possible, get to training on Monday and turn it around.
Losing an Origin game left me near tears. Anyone wearing a Blues jersey, I'd shake their hand out of respect but I didn't want to have a laugh. They'd enraged me for 80 minutes then left me in pain; I wanted to crawl into a hole. I didn't want to stand around asking a New South Welshman who'd just beaten me how his family and dog were going.
I've seen this from current Queensland players. All matey-matey after a defeat. Seeing NSW put a score on the Maroons doesn't sit right to begin with, but that makes me wild.
I reckon it's happened after every game that Queensland has lost since the dynasty ended. Three lost series in the past four years and players are standing around having a chuckle with the Blues.
It starts to paint a picture of why we're losing.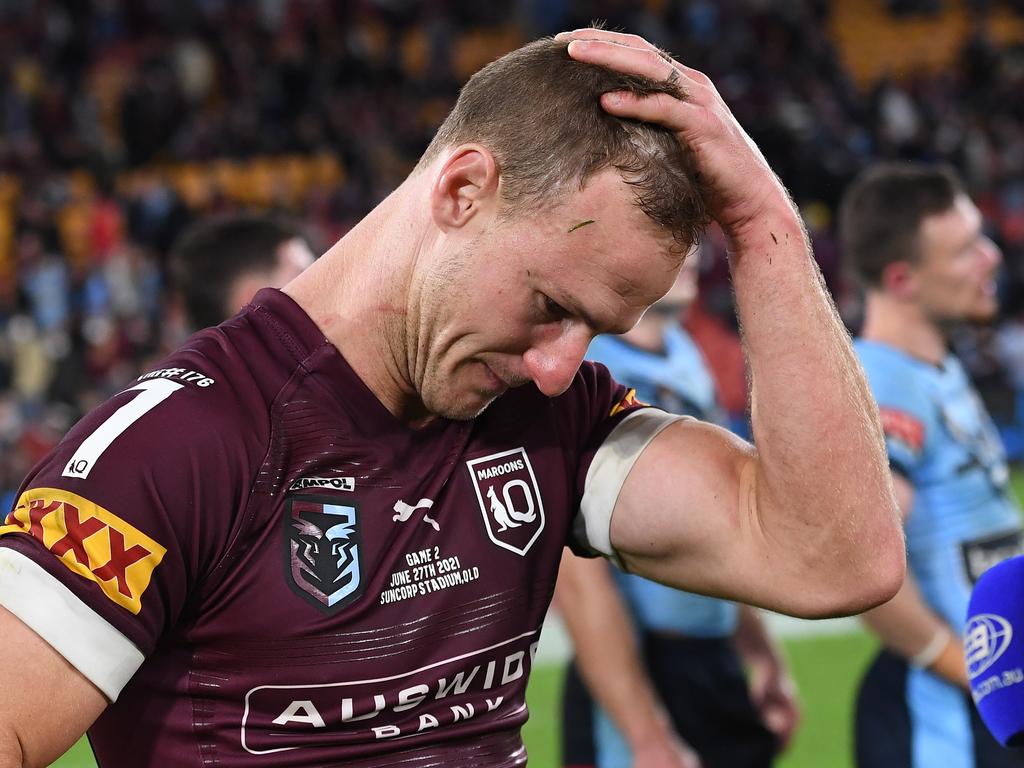 Queensland captain Daly Cherry-Evans was near tears after losing last year's State of Origin series – and that's what losing should look like. Picture: Bradley Kanaris/Getty Images
I don't like to use the word hatred, but that is almost what Origin is. State against state, mate against mate. Losing in the Maroons jersey is not OK when it means so much to so many Queenslanders.
Every Queensland player needs to understand that. Losing needs to hurt. Failure needs to sit heavily. Winning for the state needs to mean everything.
If it weren't for the Covid-19 situation, all of this would have been drilled into as many as 40 of Queensland's best – and most likely to feature in Origin – over the weekend just gone. Unfortunately, the first training camp of a new Maroons era was cancelled.
Still, there cannot be any confusion at all.
This is the Maroons DNA.
This is what we need to get back – and I'm confident that Billy Slater is the man to deliver it.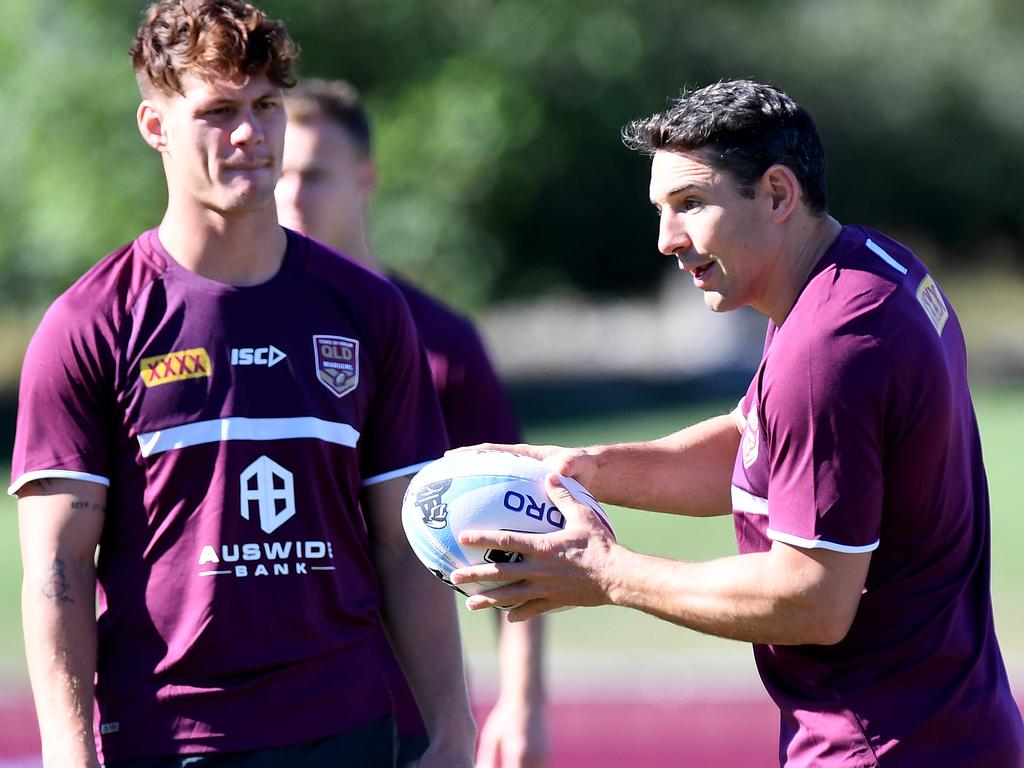 Billy Slater will bring back the Maroons DNA. He's lived it and he's made of it. Picture: Bradley Kanaris/Getty Images
*****
I played three Origin games in 2004-05, series that completed a hat-trick for NSW, then nothing for six years.
It was a long wait. To be honest, it made me a better player. I vowed to make myself better every single week that I was out of that team, then made a second pact: once I got back in, I was never getting dropped again.
The secret to that was simple. Be the player who competes on every play. Always cover your mate, even when your arse is hanging out in the 80th minute.
When I finally made it back, things had changed with the Maroons.
Even in a team with some of the greatest footballers we've seen, including Billy himself, it was no longer all about how you were playing. It was about why you were playing. About what you were prepared to do for Queensland.
Those players were taught the history of the maroon jersey; that before 1980, Queensland got smashed every year by NSW teams full of Queenslanders. That we'd been demoralised, disrespected, and that should never be forgotten.
You know what the biggest thing was about those great Queensland teams, the sides that won 11 series in 12 years? They couldn't have cared less about who got the accolades. You had all-time greats like Darren Lockyer, Cameron Smith, Johnathan Thurston and Greg Inglis, yet it was a completely selfless environment where it was all about the jersey.
Mal Meninga led that culture. He was a massive figurehead, a guy you just couldn't bear to let down. He understood that rugby league, especially at that level, is a simple game. Compete for everything. Play for the guy next to you. Win the big moments.
Playing for the guy next to you was central to Mal Meninga's Queensland culture, in a Maroons team that won eight consecutive series. Picture: Sean Garnsworthy/Getty Images
The miracle moment didn't always come from the big names. It just came from a proud Queenslander who knew what he was playing for. There was no better example of that than two years ago, when Mal and Wayne Bennett's team upset the Blues. A team that looked awful on paper, yet somehow beat a red-hot NSW side. It was a classic Queensland triumph that left everyone thinking: How on earth did they win that?
Even when Queensland were dominating throughout the dynasty years, the values Mal instilled in his players didn't waver.
I remember when we were running up a big score on NSW in the 2015 decider, which ended 52-6 at Suncorp Stadium. At about 30-0, we had a discussion about keeping our foot on their throat but not getting cocky. No disrespectful crap like the grenade-throw try celebration in the 2000 series; something that only gave us ammunition for years afterwards.
It was during the 2015 series that the Alex McKinnon story on 60 Minutes came out, painting Cameron Smith as a villain after the unfortunate accident in which Alex broke his neck. There's always the suspicion that those things are timed to derail you. At one point we were all sitting on the bus thinking, 'Shit' … yet Cameron walks on and simply says: "Boys, it's not affecting me, it won't affect us. We move on."
That was it. It's not about me. Mind back on the job. Rip in.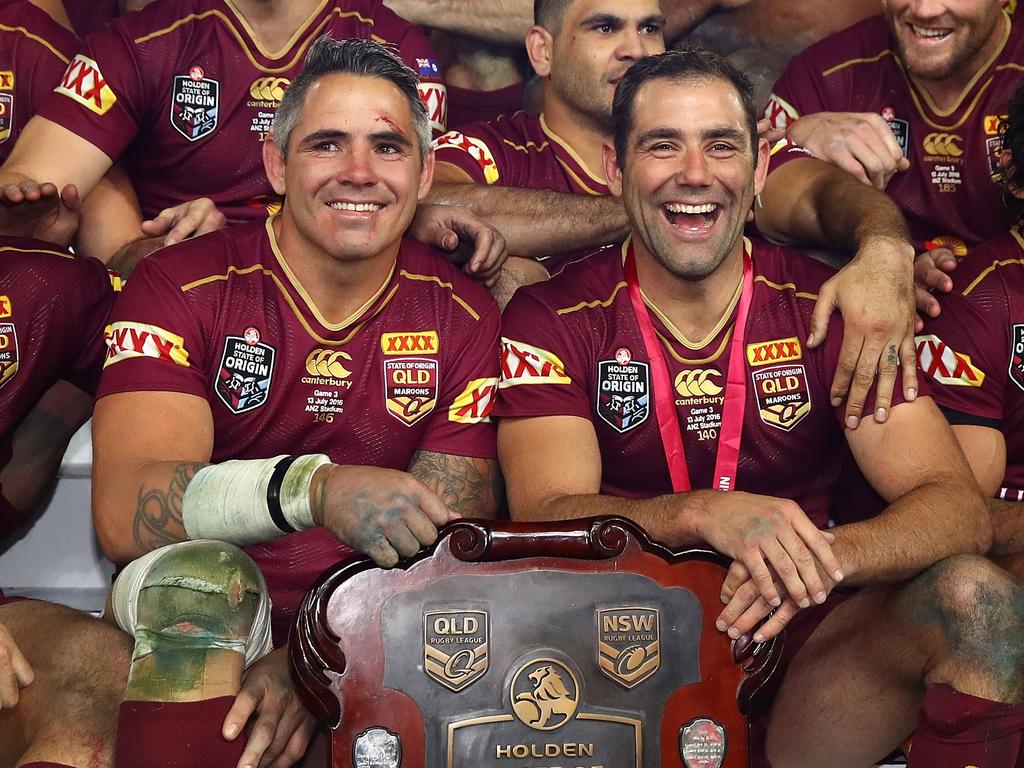 Cameron Smith in 2015 typified the Maroons mentality. Picture: Cameron Spencer/Getty Images
It wasn't hard to keep in mind why we were playing given what we did during Origin camps. A huge part of it was getting out among our fellow Queenslanders. There were people who would drive for five hours from out west just to watch you play. Kids who wanted to wear their Queensland jerseys and socks to school the day after a game without getting into trouble. And people doing it tough, too.
We visited Bundaberg one year, amid the floods of the early 2010s. It was horrific. People had lost everything; many were living in a pop-up tent city. We looked these people in the eye, shook their hands. Mal brought a smile to their face, even when they were having the worst time of their lives. We sat around a fire one night and shared a beer with the SES workers who were giving everything they had to help.
Unless you're there, you just can't understand the impact that playing for Queensland has. You can't understand that these people care about the maroon jersey so much, that an Origin win can take away the pain of something so terrible, if only for a day or two.
That's when you truly know what you're playing for.
You play for yourself. You play for your family and friends.
But you also play for 5.2 million Queenslanders – and you let no one down, no matter what.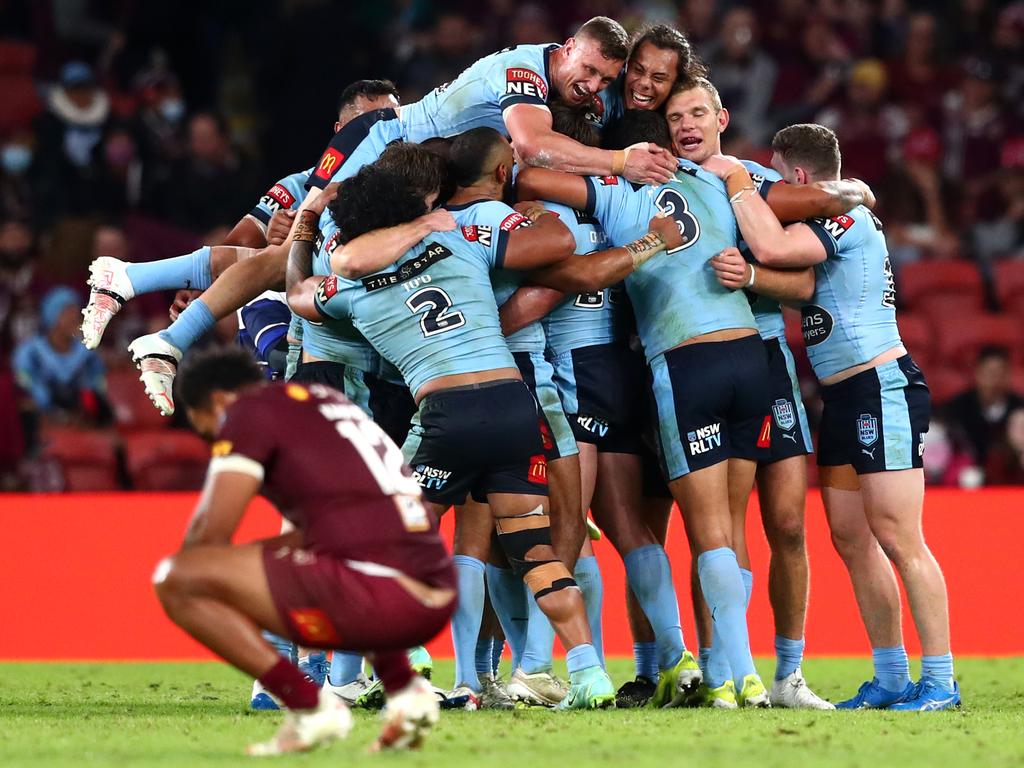 The Blues celebrate winning game two of the 2021 State of Origin series and the pain sets in for Queensland – as it should. It's not time for being matey. Picture: Chris Hyde/Getty Images
*****
Billy Slater gets all this. He's lived it. He's made of Maroon DNA.
And he's got what Mal always had: immediate, immense credibility. I've seen young players – be it disrespect, entitlement, whatever – screw up their nose at coaches if they reckon they've done nothing as a player to deserve their attention. No chance that ever happens with Billy.
I used to tell younger kids around Origin time, particularly at the Broncos, 'Come and watch Billy Slater train'.
Billy would be the loudest person you'd hear on the training paddock. He trained exactly the way he played, there was no fabricating anything on game day. He demanded excellence of himself and his teammates every second he was on a football field.
He needed to be the loudest voice, directing his team from the back, but then you'd also see him make a try-saving tackle in the left corner, then next moment one in the right corner. Soon after, making a line break up the middle running off Smithy or Cooper Cronk.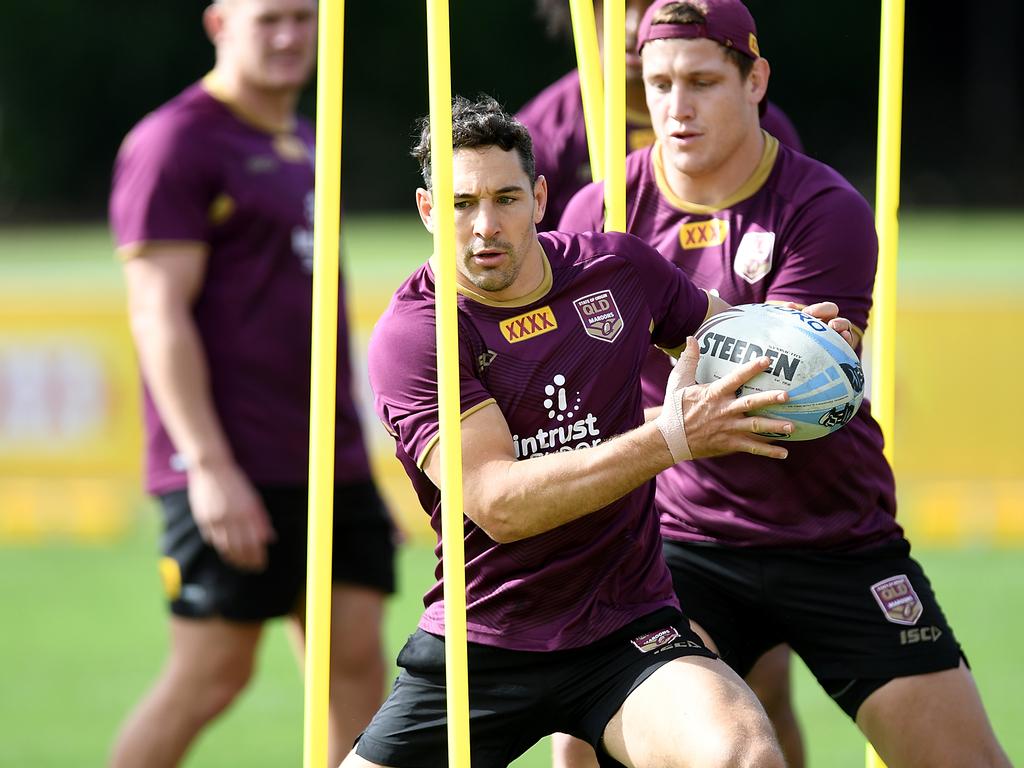 I used to tell younger kids around Origin time to come and watch Billy Slater train. His standards and intensity never dropped. Picture: Bradley Kanaris/Getty Images
Just like Mal, you can't bear to let down a bloke like Billy. He'll speak and they will listen, no questions. And he'll know just what to say. He knows what's needed to get Queensland back on the right path.
His selections will be interesting. Queensland has long known that it's not always the guy with the most talent who will do a job for you in Origin, it's the bloke with the biggest heart. Names like Adam Mogg and Steve Bell spring to mind from teams past.
The challenge Billy's Queensland team faces is, I now see plenty of players in the NSW team who get what Origin is all about; what rugby league is about, full stop. The Blues aren't just talented, they compete like Origin means the world to them. They hurt, really hurt, when they lose.
I covered plenty of Jake Trbojevic's games last season for Fox Sports. His heart is always on his sleeve and if he loses, he's seething. Fuming. Stomping off the field.
I see the same fire in guys like Damien Cook, Cameron Murray and Nathan Cleary. It means something huge to them. They have tapped into what those NSW teams in 2003-05 had, and that's exactly what Queensland must do: rediscover what made the Maroons great.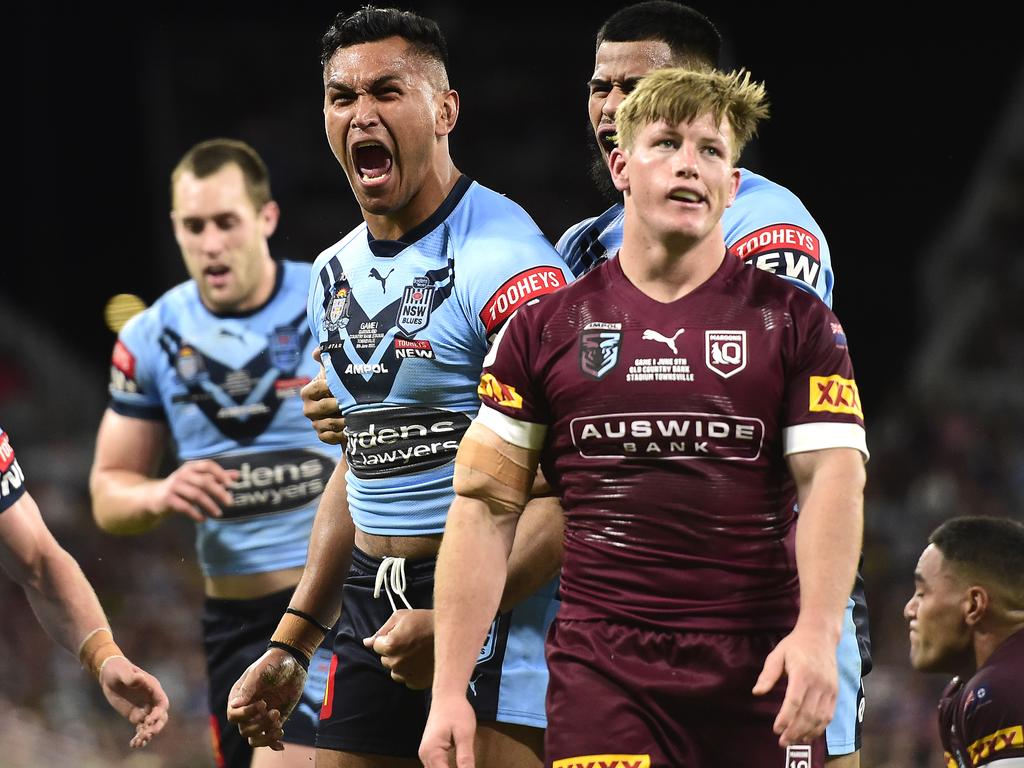 Players like Harry Grant will have a huge say in the culture of Queensland's State of Origin team into the future. Picture: Ian Hitchcock/Getty Images
It starts now with guys like Harry Grant, David Fifita, Tino Fa'asuamaleaui and Xavier Coates. They'll then set the bar for players like Reece Walsh and Hamiso Tabuai-Fidow.
Why are you playing? How much does losing hurt you? What are you prepared to do to make Queensland win again?
Those are the big questions and I have no doubt that a Billy Slater-coached Maroons team can give us Queenslanders the right answers.