Life-changing: Behind Murray Taulagi's transformation from union star to Origin debutant
Murray Taulagi was a rugby union prodigy until the life-changing day when the man with the golden eye flew in to see the lad with the golden arm, writes JOEL GOULD.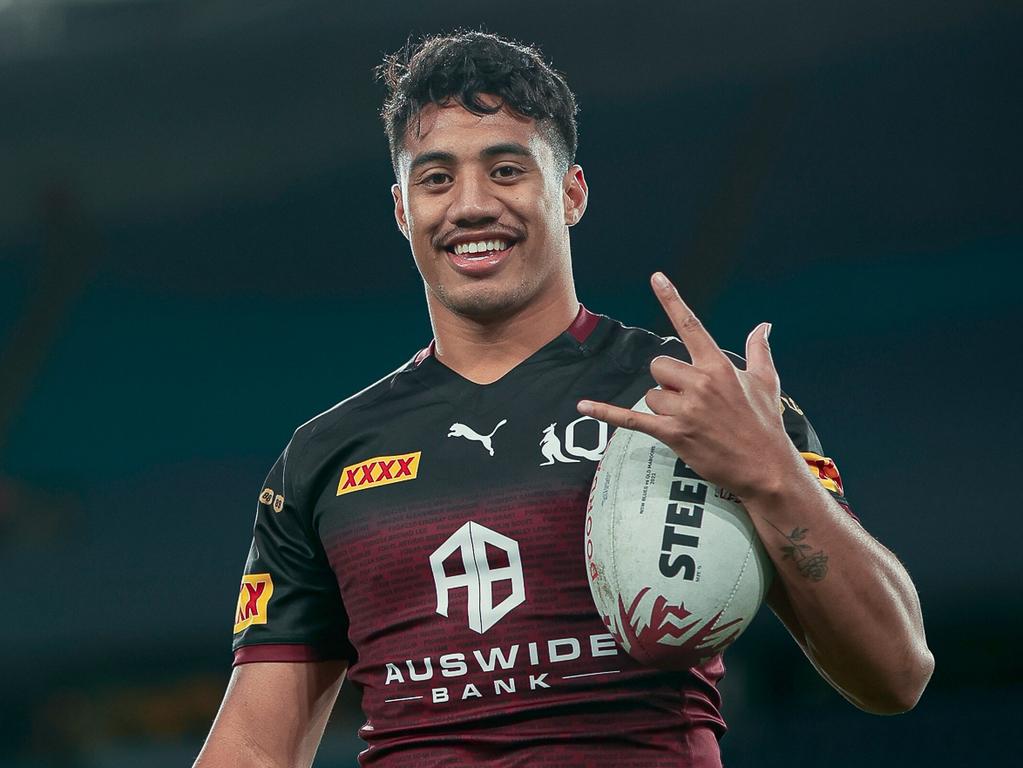 Murray Taulagi is set to make his State of Origin debut, having been plucked from rugby union as a junior. Picture: NRL Imagery
It was the day when the man with the golden eye met the lad with the golden arm.
"And for me it was life changing," Cowboys winger Murray Taulagi says, of the moment when former North Queensland recruitment chief Clint Zammit discovered him while playing rugby union for Brisbane State High.
The 23-year-old will make his Queensland Maroons debut on Sunday in Perth after enjoying a breakout season. In 15 games he has scored nine tries, made 10 linebreaks and has five try assists.
One of those assists was dubbed 'the pass of the century' after Taulagi flicked the ball effortlessly infield for Scott Drinkwater to score against Wests Tigers in Magic Round, while mid-air and one metre over the sideline. It was a golden moment. Benji Marshall was so impressed by Murray's magic, he even said it was better than his memorable flick-pass in the 2005 grand final.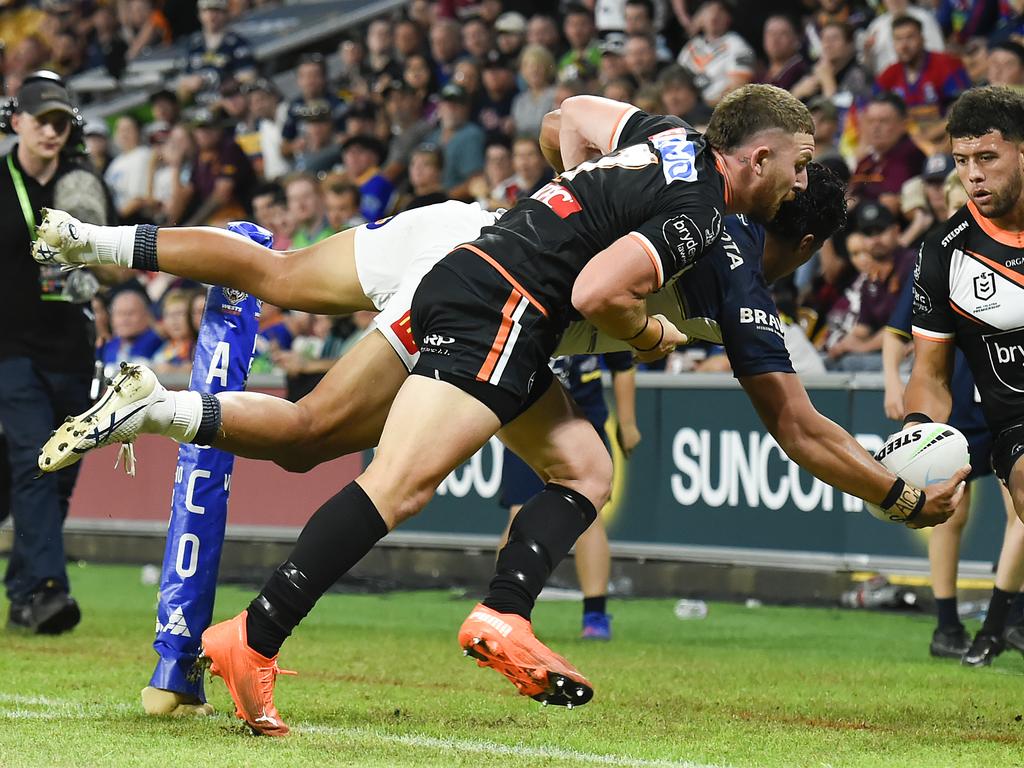 Murray Taulagi throws the 'pass of the century' against the Tigers during Magic Round. Picture: Albert Perez/Getty Images
None of those skill-laden heroics have surprised Zammit, now recruiting for the Knights, who knew he had discovered a gem when he first laid eyes on Taulagi in Brisbane in 2016.
"It took just one look at Muzz for me to know he had what it took to make it," Zammit recalls.
"I'd seen him playing rugby at Brisbane State High the week before and I got a glimpse of a special player, so I flew down from Townsville the following week to watch him play in a big game against Nudgee College, after getting in touch with his agent.
"He had a certain kind of magic about him and all the attributes you look for. He beat players left, right and centre and had all the skills.
"Muzz was playing fullback in rugby and he was over six foot with a big frame … and had this outstanding balance when he moved. I know those kinds of players can take the next step if they work hard.
"I remember saying to him after the game, 'I've never seen anything like what you did out there before'. I told him straight away I wanted to sign him and we offered him a three-year deal the next day."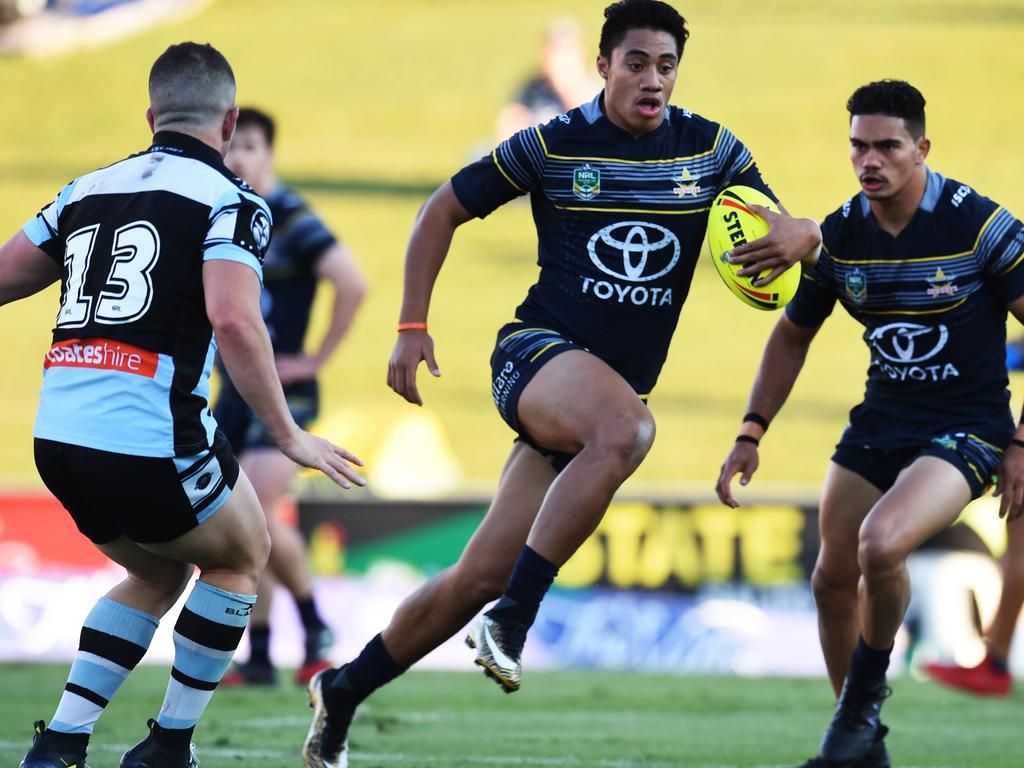 Taulagi in action for North Queensland's under-20s side in 2017. Picture: Zak Simmonds
Taulagi recalls the moment like it was yesterday.
"I took the opportunity to join the Cowboys straight away," he says.
"I will never forget the effort Clint made to come all the way from Townsville to watch me play and meet with my family.
"After the game Clint met with me and my old man. We went for a coffee and he told me all the things he liked about my football and why I'd be a good fit at the Cowboys. To this day I am just grateful to him and the Cowboys for believing in me."
Zammit had earlier made one of the great signings in Cowboys history with his "golden eye" technique.
It turns out Taulagi was signed to the Cowboys in the same style as Jason Taumalolo way back in 2007 when he was on tour with the Papakura Sea Eagles as a 13-year-old and towelling up kids three years older than him.
"I've signed heaps of players just on one look," Zammit grins.
"Jason Taumalolo was the same. That's what you do with the special ones. Muzz was one of them."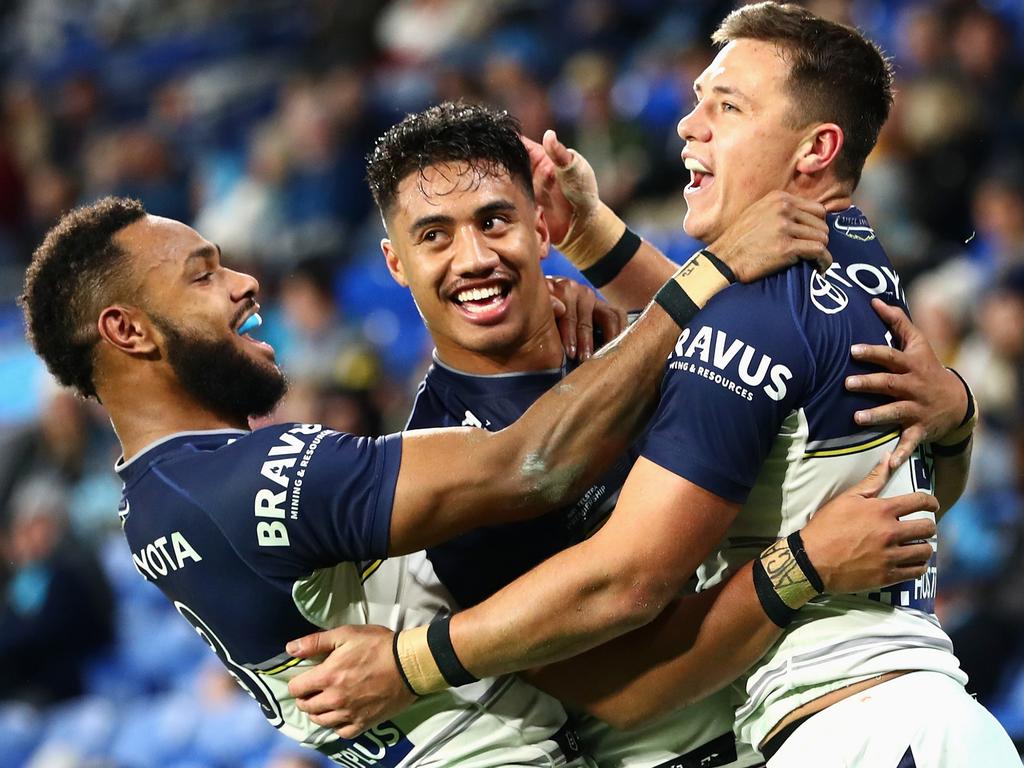 Murray Taulagi has become a brilliant player for the Cowboys and has made a stunning rise to the Queensland State of Origin team. Picture: Chris Hyde/Getty Images
The taskmaster
Taulagi says his father, Steve, has been the biggest influence on his career. He certainly hears from him when his game hasn't measured up. It turns out his Magic Round display, where he also scored two tries, was a reflection of the best advice he's ever had.
"My old man is my biggest inspiration, just with the way he has always supported me on and off the field," Murray says.
"He is a hard taskmaster. You ask some of the boys. They know how hard he is on me. He is like another coach.
"He has given me the chats when I play terrible but without them I wouldn't be where I am today.
"I don't look forward to them but I do listen because I always get great feedback. Some people don't tell you straight but my old man does.
"I remember once I played a terrible game. He said to me after, 'Show your skills. Don't hold back'. He is always big on me backing myself and if I make a mistake, not to worry about it."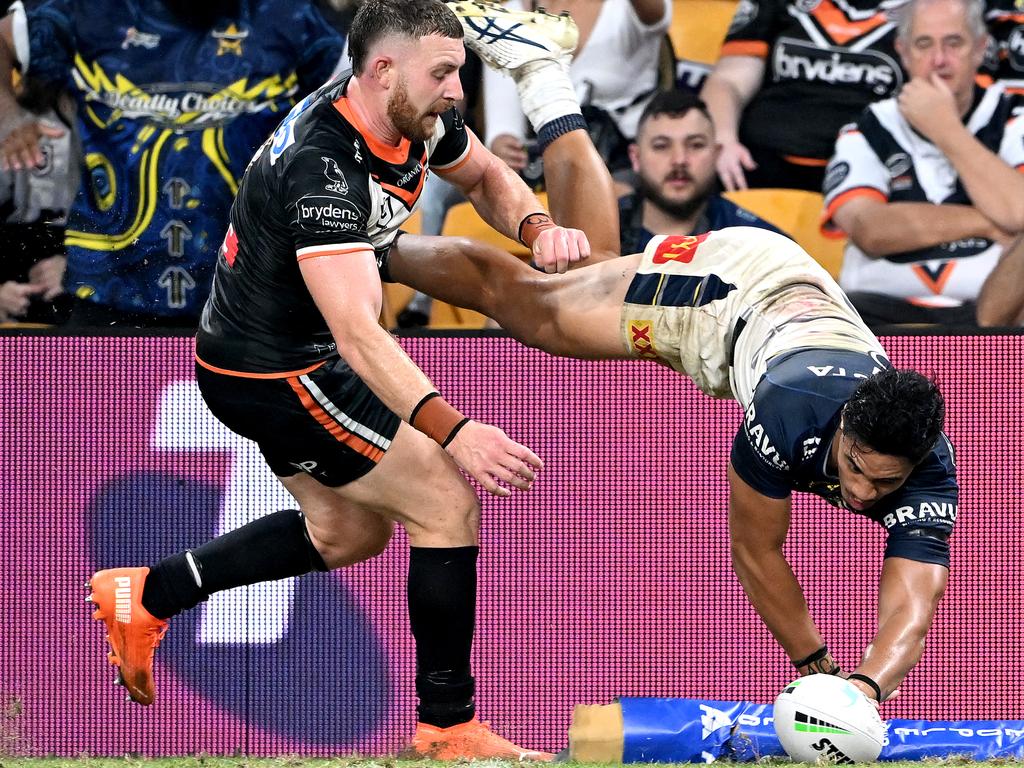 Taulagi goes aerial in scoring one of his two tries against the Tigers in Magic Round. Picture:

Bradley Kanaris/Getty Images
Pass of the century
Taulagi came to the attention of the wider rugby league public with his miracle pass during Magic Round. It put him firmly in the Maroons frame.
"That was just crazy. I guess I did follow the old man's advice," Taulagi grins.
"My name started to get chucked around after that game. Everyone still talks about that pass to this day. I am still in shock about it.
"I watch it every now and then … it's freaky. Just a bit of luck I guess."
None of that was a shock to Zammit.
"Wow. That pass was wonderful, but no surprise," he says.
"I know he is on the wing now but I always thought he'd be a centre.
"He came up to the Cows the year after I signed him, went straight into our under-20s and played left centre.
"I remember he played Newcastle one day and I was watching with Paul Green in the stands.
"I was telling Greeny about how good Muzz was and the next minute, from 60 metres out, he beat a bloke on the outside and raced away and scored just as I'd started talking him up."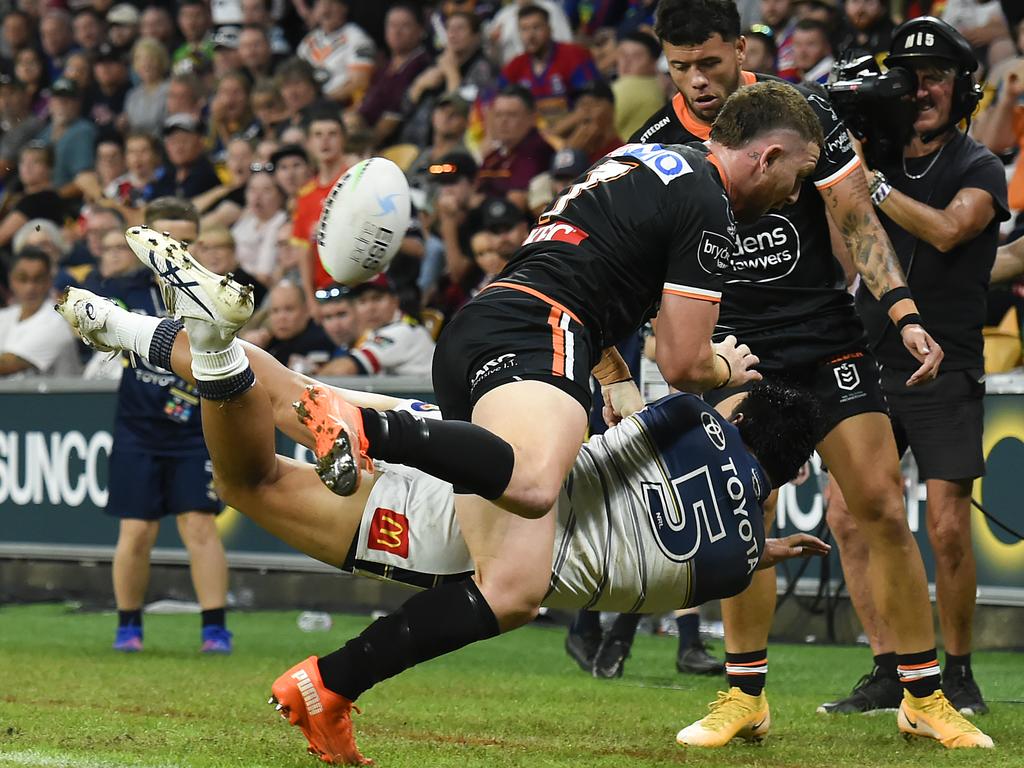 Benji Marshall says Taulagi's flick pass under pressure was better than his own pass against the Cowboys in the 2005 grand final. Picture: Albert Perez/Getty Images
Zammit – who also recruited Jeremiah Nanai, Tom Gilbert, Griffin Neame, Reuben Cotter and Heilum Luki to the Cowboys – still gets a bit emotional when talking about Taulagi.
"He's also the most beautiful kid you've ever met. He's softly spoken when you first meet him but then he starts to open up with you. He cares," Zammit says.
"It is a great story. I still send him a text every now and then because I have a soft spot for all those Cowboys kids."
It was a genuine shock for Taulagi when he got called into the squad for the Maroons for Origin I, where he was reacquainted with his old teammates from junior rep days.
"I watched these guys play for Queensland when I was young and sitting on the couch at home. To now go into camp with them is just unreal," he says.
"I played with guys like Tino [Fa'asuamaleaui], Harry Grant and Patty [Carrigan] when I was in the under-18s and 20s Maroons. To be with them again here … it is just crazy."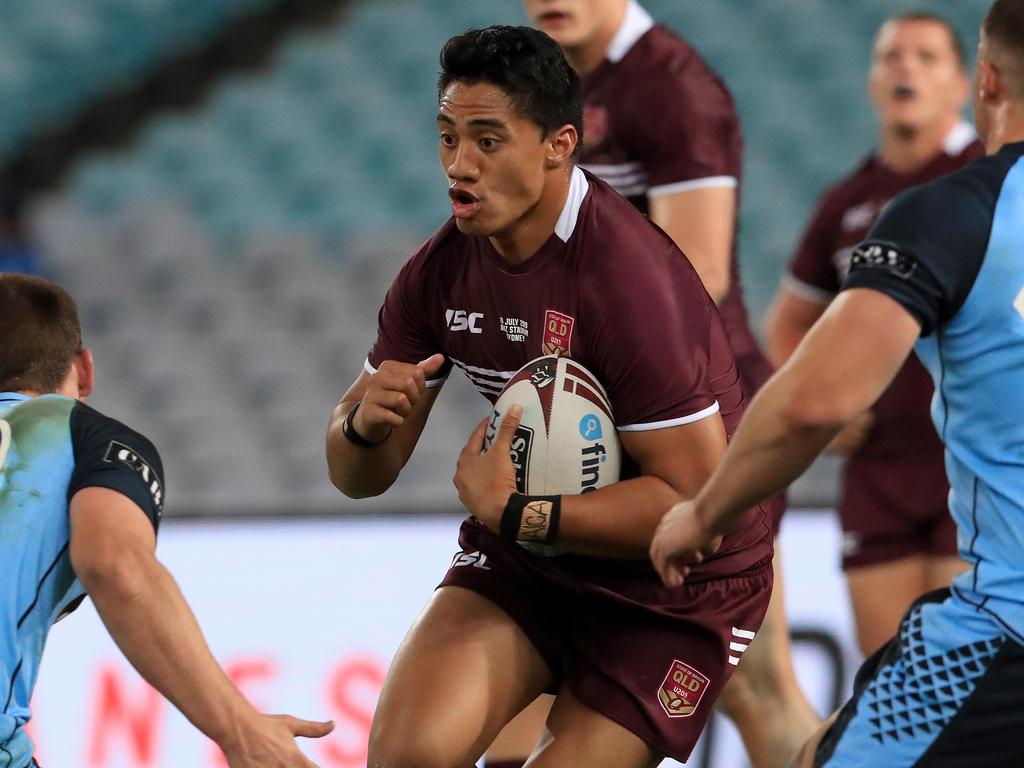 Taulagi has worn the Maroon jersey before at under-18s and under-20s level. Picture: Adam Head
Big brother
Taulagi's older brother, former Queensland Reds outside back Jamie-Jerry Taulagi, remains one of his biggest advocates and inspirations. When Roosters firebrand Jared Waerea-Hargreaves caught Murray high in a clash earlier this year, Jamie-Jerry tweeted that ,"JWH was lucky I wasn't playing with my little bro' … it would have been on."
"That's what big brothers do," Murray grins, when reminded of his brother's support.
"He has always got my back … and I have always got his back.
"He's been a big influence. I grew up watching him play locally and then professionally over here with the Queensland Reds. I'd play school footy in Brisbane and then I'd be straight over to watch him play every game.
"He is always there for me with feedback on games and letting me know what I can do better."
Jamie-Jerry has continued his union career, most recently in France. Murray also played rugby back home in New Zealand before embracing league when his family moved to Australia.
"Rugby union was the only sport I played growing up but when you move over here you soon realise rugby league is a lot bigger," he says.
"I'd already fallen in love with the game, just watching it and the Warriors in particular. I was a real fan of Stacey Jones. He was so small but always stepped up against players far bigger."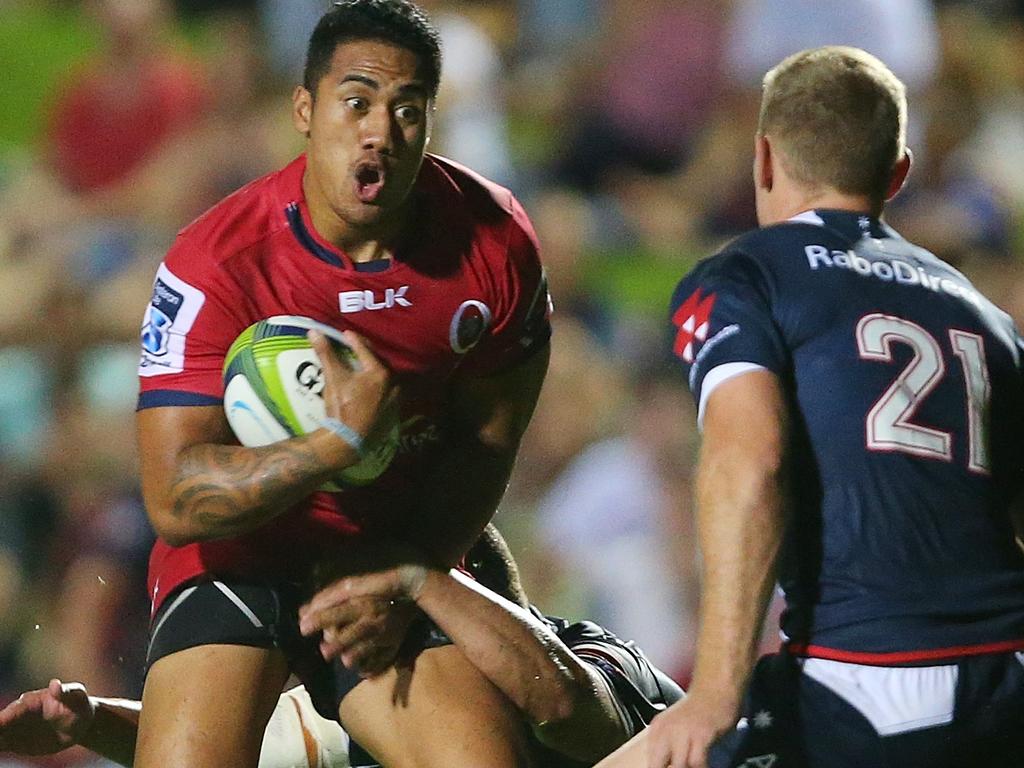 Murray's biggest inspiration and supporter, his older brother Jamie-Jerry, in action for the Reds in 2015. Picture: Chris Hyde/Getty Images
'A ripper of a kid'
Maroons assistant coach Josh Hannay was at the Cowboys in a development coaching role from 2017-2020 and coached Taulagi in the Queensland under-18s side back in 2017.
He's not surprised to see his former student prosper.
"I had a lot to do with Murray and I've always had a lot of time for him because he is a ripper of a kid," Hannay says.
"In the last off-season I gave Billy Slater my thoughts on a half-dozen Queensland players that possibly weren't on his radar, and Murray Taulagi was one of them.
"There was probably a time, a tipping point, where Murray could have gone either way.
"To be honest he had been a bit of a coaster for a period, and I'd be surprised if he didn't agree with that himself … but I just think the penny has finally dropped with his preparation and maturity and now you are seeing it all coming together. The way he is playing speaks for itself."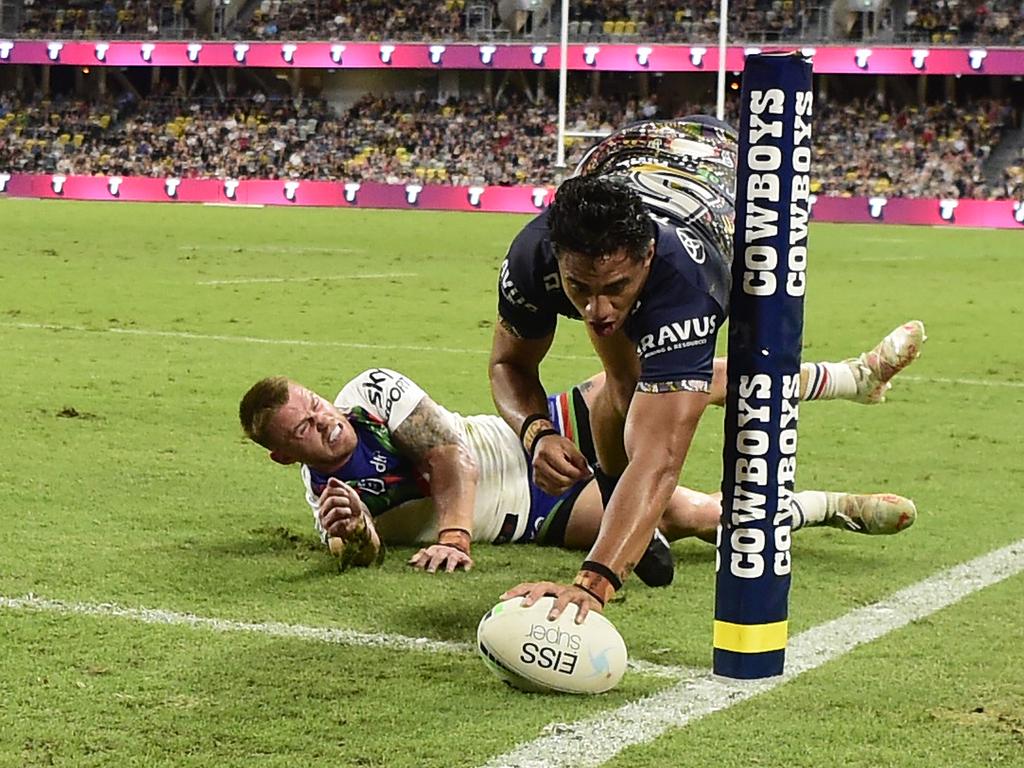 Taulagi has made a name for himself with his highlight-reel finishes. Picture: Ian Hitchcock/Getty Images
With giant framed Selwyn Cobbo on the other wing, Hannay says the Maroons have a similar feel to when two other huge wingers roamed the sidelines.
"When Darren Lockyer was fullback he had Lote Tuqiri and Wendell Sailor on the wings. Murray has that exact same build," Hannay says.
"The Maroons have had some really good fullbacks at state level over the years who were often not big guys, but to complement their skill and pace has been two big, powerful wingers to do the grunt work out of the back-field when they are faced with a line of defence on the kick-chase."