New South Wales v Queensland: Women's State of Origin preview, news and how to watch live
All you need to know in the lead up to the Women's State of Origin in Canberra on Friday night (24 June) including news updates, past history plus when and how to watch on Kayo.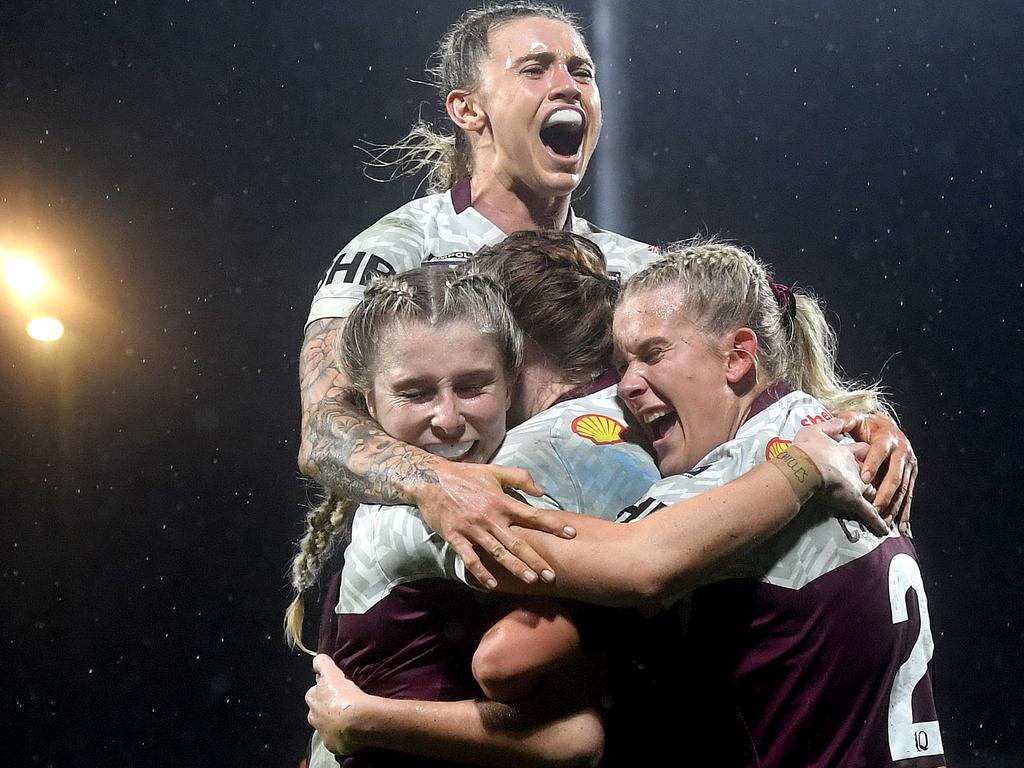 Tamika Upton celebrates with her Queensland team mates as her state clinches the 2021 Women's Origin trophy. Picture: Bradley Kanaris/Getty Images
Here's how to watch the fifth edition of the Women's State of Origin on Kayo and catch up on all the news in the lead-up to Friday night.
NSW v QLD preview
There are so many wonderful storylines heading into Friday night.
Joint Dally M Medallist Emma Tonegato is one of four NSW Origin debutants after winning gold at the Rio 2016 Olympic Games with the Australian Rugby Sevens team. She is joined by Rachael Pearson, Olivia Kernick and Caitlan Johnston.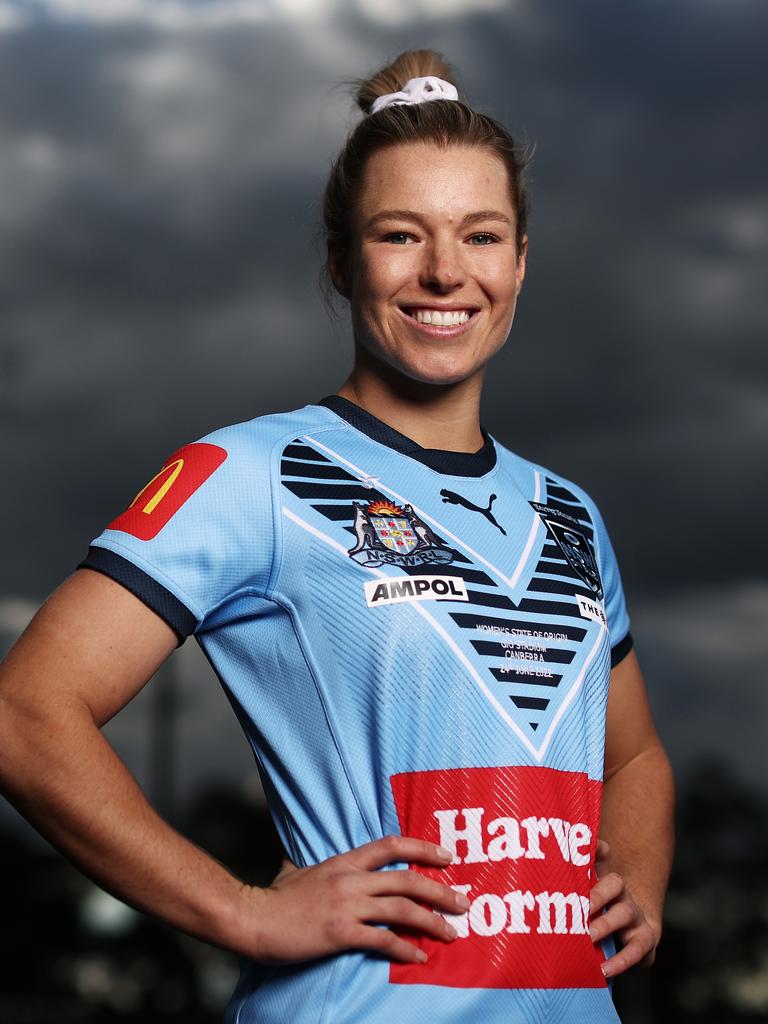 Emma Tonegato will debut for the Blues on Friday night. Picture: Matt King/Getty Images
Then the Queenslanders have their own fairytale. Steph Hancock has been picked on the interchange bench at 40 years of age and shows no signs of slowing down after helping Gold Coast into the NRLW semi finals.
Hancock is among the few not to be a Brisbane Bronco in the Queensland team who number nine of the starting 17. Bue she is one of eight Titans.
Then there is the battle of the fullbacks between Tonegato and Tamika Upton. Evania Pelite and Emily Bass will both debut for Queensland bringing the total number of debutants to six.
Experienced Parramatta half Maddie Studdon – who has played six matches in total for NSW – missed out on selection.
Sam Bremner has also been named as a reserve for NSW, four years since her last Origin – and the first ever such game – now being a mother of two.
Australian women's captain Ali Brigginshaw will lead the Maroons while Kezie Apps has been named Blues' captain for the fourth consecutive year. This is the first time Canberra will host the match.
What time is NSW v QLD?
The game starts at 7.45pm (AEST), 7.15pm (ACST) and 5.45pm (AWST) on Friday 24 June.
Where is it being played?
GIO Stadium, Canberra.
How do I watch NSW v QLD?
The game will be broadcast live on Kayo as part of its rugby league coverage. Not only can you catch the LIVE fixture and also the replay, but if you miss the action, you can catch up with Kayo Minis and Kayo Bites.
Watch the NRL and NRLW live here. Start your Kayo 14-day free trial today.
No different to the men's series there is plenty of physicality in Women's Origin contests. Picture: Bradley Kanaris/Getty Images.
How can I watch more rugby league?
Watch more rugby league here.
What news do I need to know ahead of Friday night?
For more State of Origin news, find it at CodeSports PLUS the NRLW expansion plans announced last week detailed by PAMELA WHALEY.
The Blues' star leading the fight for change, Soward sends scare through Blues camp, Emma Tonegato's drive behind the talent and why this year's final one-off Women's Origin could decide next year's winner.
History of the Women's State of Origin
This interstate rivalry first started in 1999 but was not formally introduced as State of Origin until 2018 in NRLW's first year.
Since 2018, the tally is two wins apiece with Queensland winning the last two.
In 2023, the Women's State of Origin is set to expand to a two-game series in line with the expansion of the NRLW. Last year was played at Sunshine Coast Stadium as was 2020.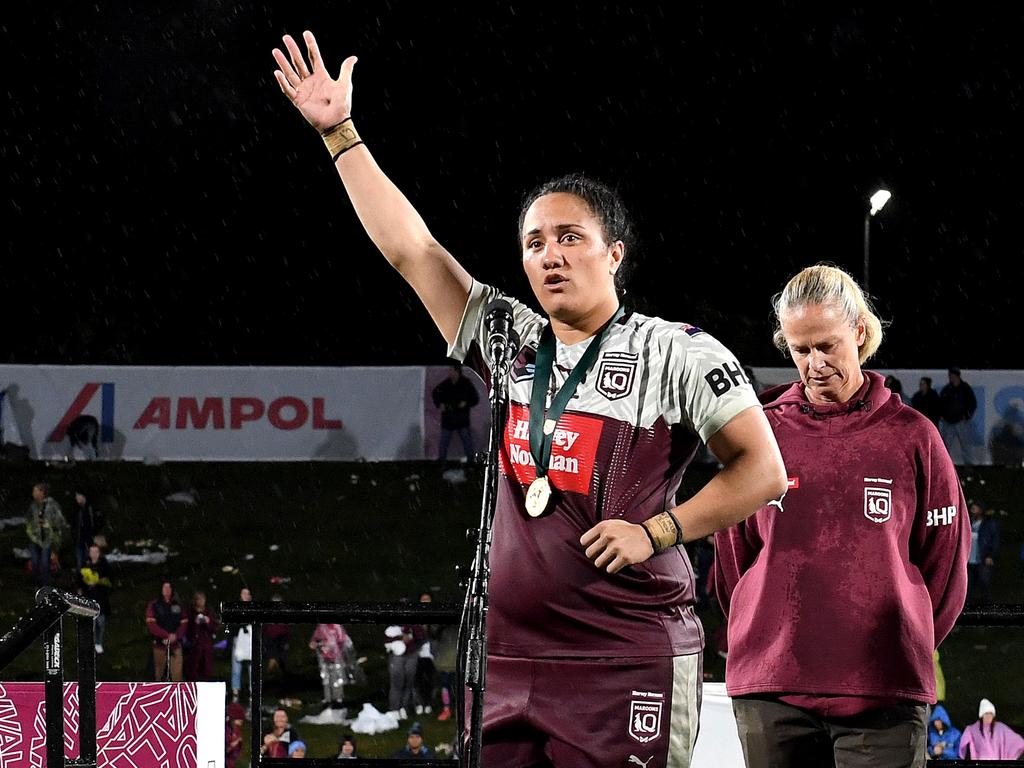 Tazmin Gray (QLD) won the Player of the Match in last year's Women's State of Origin. Picture: Bradley Kanaris/Getty Images
Team Lists
New South Wales
1. Emma Tonegato (St George Illawarra) 2. Yasmin Clydsdale (Roosters) 3. Jessica Sergis (Roosters) 4. Isabelle Kelly (Roosters) 5. Tiana Penitani (Parramatta) 6. Kirra Dibb (Newcastle Knights) 7. Rachael Pearson (St George Illawarra) 8. Simaima Taufa (Parramatta) 9. Keeley Davis (St George Illawarra) 10. Millie Boyle (Brisbane Broncos) 11. Kezie Apps (C) (St George Illawarra) 12. Shaylee Bent (St George Illawarra) 13. Hannah Southwell (St George Illawarra)
Interchange: 14. Quincy Dodd (St George Illawarra) 15. Sarah Togatuki (Roosters) 16. Caitlan Johnston (Newcastle Knights) 17. Olivia Kernick (Roosters)
Reserves: 18. Sam Bremner 19. Teagan Berry (St George Illawarra) 20. Filomina Hanisi (Parramatta) 21. Talei Holmes (St George Illawarra) 22. Corban Baxter (Roosters)
Coach: Kylie Hilder
Queensland
1. Tamika Upton (Brisbane Broncos) 2. Emily Bass (Brisbane Broncos) 3. Evania Pelite (Gold Coast Titans) 4. Shenae Ciesiolka (Brisbane Broncos) 5. Julia Robinson (Brisbane Broncos) 6. Tarryn Aiken (Brisbane Broncos) 7. Ali Brigginshaw (C) (Brisbane Broncos) 8. Chelsea Lenarduzzi (Brisbane Broncos) 9. Brittany Breayley-Nati (Gold Coast Titans) 10. Shannon Mato (Gold Coast Titans) 11. Tallisha Harden (Brisbane Broncos) 12. Tazmin Gray (Gold Coast Titans) 13. Destiny Brill (Gold Coast Titans)
Interchange: 14. Lauren Brown (Brisbane Broncos) 15. Jessika Elliston (Gold Coast Titans) 16. Stephanie Hancock (Gold Coast Titans) 17. Tiana Raftstrand-Smith (Gold Coast Titans)
Reserves: 18. Zahara Temara (Roosters) 19. Karina Brown (Gold Coast Titans) 20. Romy Teitzel (Newcastle Knights) 21. Keilee Joseph (Roosters) 22. Sara Sautia (Brisbane Broncos)
Coach: Tahnee Norris
Key match up
Emma Tonegato v Tamika Upton
Both are considered the NRLW's best fullbacks and understandably have been named in the number one jerseys for their respective states.
Tonegato was a vital part of the Dragons' charge to the NRLW Grand Final in April. The Rugby Sevens gold medallist led that competition with all run metres (1,174), in the early part of this year, sharing the women's Dally M medal with NSW teammate Millie Boyle.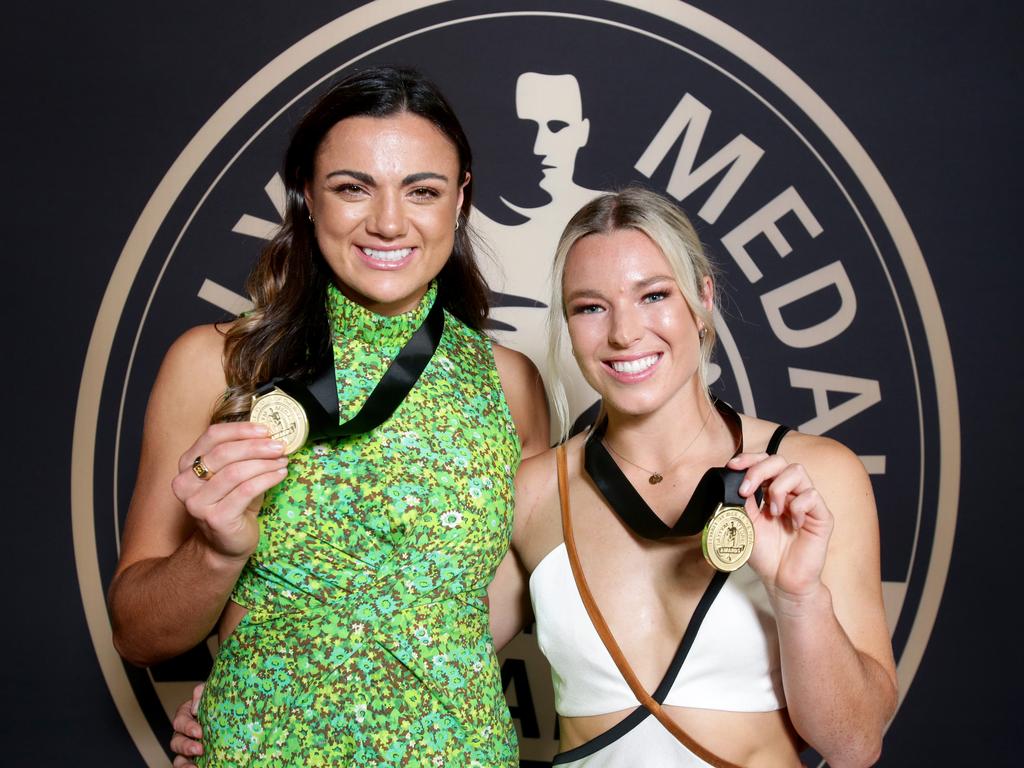 This season's women's Dally M medallists Millie Boyle (left) and Emma Tonegato (right). Picture: Steve Pohlner
Upton had an interrupted season, missing two matches with concussion, but has consistently averaged over 120 run metres – and more than 160 on the kick return – in the past two NRLW seasons to put her name forward as the next best No. 1 in the women's game.
Where can I read more rugby league?
See the NRL section on CodeSports, or visit the rugby league section on your main state news website – Daily Telegraph / Courier Mail / Herald Sun / Adelaide Advertiser.