NRL, State of Origin broadcasters warned after Victor Radley's X-rated TV act
Sydney Roosters coach Trent Robinson has issued a warning to broadcasters after Victor Radley was caught performing a crude act during the State of Origin coverage.
Sydney Roosters coach Trent Robinson has labelled Victor Radley's crude hand gesture in the NSW sheds as 'unfortunate' but also wants broadcasters to respect the 'sanctity' of a dressing room.
Vision of Radley mimicking a sexual gesture on Roosters teammate Joseph Suaalii was beamed into lounge rooms across Australia during Channel 9's post-match State of Origin coverage in Perth.
But Robinson put the onus back on Channel 9, who has the hosting rights to Origin, to take more care when showing live images from the dressing room.
"We discussed it, it's unfortunate, [but] I've also seen the guy do 1000 things right," Robinson said on Thursday.
"The dressing room is an interesting thing. There's a red light (on the camera) but the red light is always on now.
Stream the FOX LEAGUE State of Origin Game 2 REPLAY on Kayo with no ads during-play. Both full and condensed replays available to stream now. New to Kayo? Try 14-Days Free Now >
"It's in the sanctity of the dressing room, and the filtering of that at the other end should be thought about that as well... about naked guys walking past.
"It's great access, we all want to see in a dressing room before a game, but we also need to look at what stuff we put out there ... there's a responsibility on the other end to know there's not always stuff you can show to the general public that goes on in the dressing room.
"There's nothing bad (that goes on), there's just different things that shouldn't be shown."
While Robinson was measured in his response about the awkward incident, the coach has not shied away from being critical of Radley's behaviour in the past.
Just over 12 months ago Robinson told Radley to grow up and 'act like a man' after the 24-year old and a group of friends were kicked off a flight on the Gold Coast for being intoxicated and rowdy.
"Act like a man in public and behave yourself. It's pretty simple," Robinson said at the time.
"It's really frustrating. We don't want that in general public let alone someone that wears the colours every week.
"It's disappointing and shouldn't happen."
On Tuesday, NRL CEO Andrew Abdo said the governing body would conduct a background investigation into the incident.
Abdo said he was disappointed with Radley's actions and would be speaking to the lock forward, who returns from an ankle injury on Friday night against Penrith Panthers.
NRL investigating star's crude act
- Brent Read
Victor Radley's return to the Sydney Roosters starting line-up is set to take place with the NRL conducting a background investigation into his dressing room shenanigans while in camp with the NSW Blues.
As revealed by News Corp on Sunday night, Radley was caught on a dressing room camera simulating an X-rated act on Roosters and NSW teammate Joseph Suaalii immediately after the Blues win over Queensland in Perth.
NRL chief executive Andrew Abdo confirmed he planned to speak to Radley, who was named to make his return from injury at lock against Penrith on Friday night.
"I am disappointed," Abdo said.
"It is certainly far from ideal when something like that happens. It has happened in the sheds but it unfortunately has been captured and been broadcast broadly.
"We are looking at it and I will certainly be having a conversation with Victor and the NSW Rugby League."
Abdo has previously spoken to Kotoni Staggs and Payne Haas about their behaviour off the field and it seems that he will have a similar chat with Radley given the Rooster star's recent history.
The Roosters privately believe Radley has made huge strides off the field in recent months and Sunday night needs to be balanced against the positive changes he has made in his life.
"Victor is a fantastic footballer," Abdo said.
"He plays with his heart on his sleeve and he has made some mistakes. I look forward to having a conversation with him about this when the time is right.
"We need to differentiate what happens on the field and off the field. This will be dealt with appropriately."
Asked whether Radley faced sanctions, Abdo said: "We're still in the fact-gathering phase of that. We will have a look at all the information and the context, and I will have a chat to Victor when the time is right.
"We're a sport, we're all humans, we are all passionate and people make mistakes. I just think it is useful to always engage with everyone to understand the specifics of the situation and then work together to make sure we keep getting better. What we all have in common is we love rugby league."
Abdo, speaking at the launch of the Beanie for Brain Cancer Round at the SCG on Tuesday, also defended the decision to dispense with representative round next season - State of Origin will revert to midweek under the new broadcasting deal.
It means mid-season Test matches will be a thing of the past from 2023 despite the success of last weekend, when international football was the centre of attention.
"We're working through the season structure for next year," Abdo said.
"It is a new cycle and there are some changes that are linked to our broadcast arrangements with our patterns.
"I will say this - the (ARL) commission are 100 percent committed to international football. We are all incredibly excited about the rebirth of international football coming out of what we have been restricted to for the last couple of years.
"It is the factor we have with rugby league to grow the international game. International football will be a real priority going forward.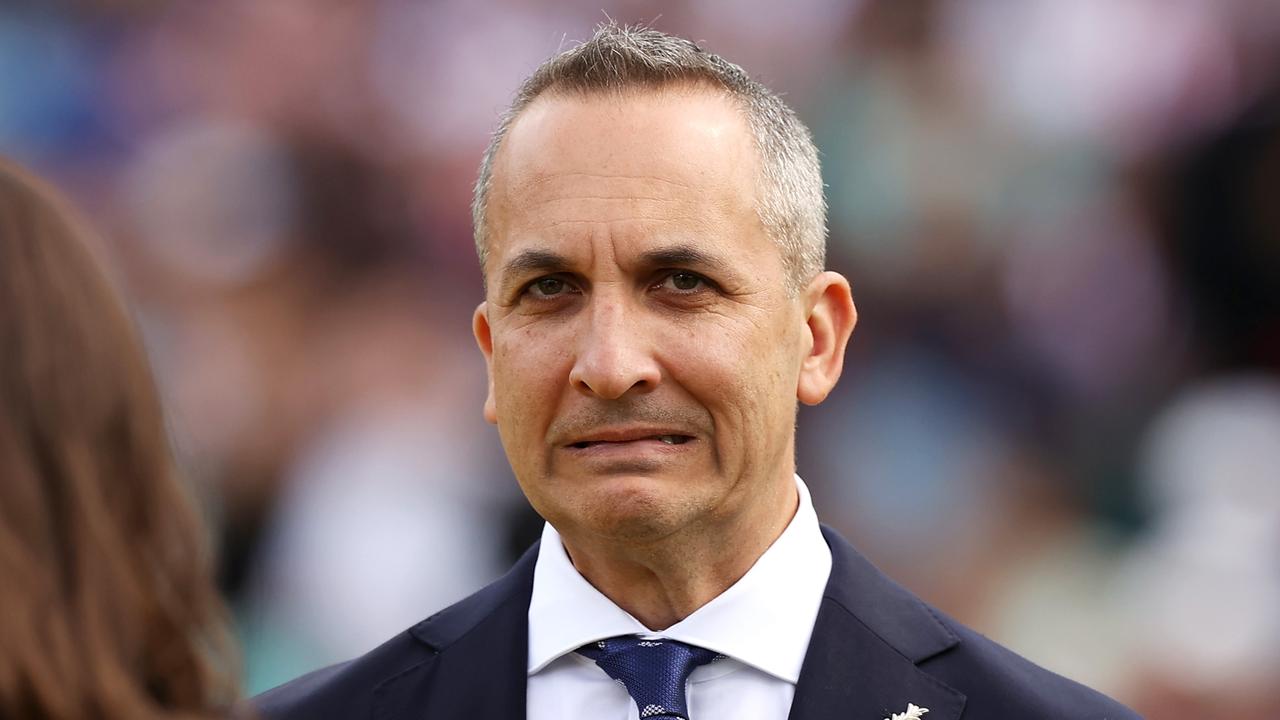 Andrew Abdo has addressed the scrapping of rep round. Picture: Mark Kolbe/Getty
"What we are doing is thinking strategically around the construct of the season… where instead of having a single round, we can start to think about tours, we can start to think about tournaments, and we can start to think about regular content each and every year as opposed to doing a one-off. That is incredibly exciting."
Abdo hailed the impact of Beanie for Brain Cancer Round, which has helped raise millions since its inception.
"It is what sport is all about when you see the community rally behind a worthy cause," Abdo said.
"The Mark Hughes Foundation - this is our sixth season working together with them and $15 million raised.
"When you see the team run out with their beanies it is symbolic of the entire rugby league community getting behind something special."
Originally published as NRL, State of Origin broadcasters warned after Victor Radley's X-rated TV act