State of Origin 2022: Queensland coaches Billy Slater and Cameron Smith have ruled out NRL jobs
Maroons legends Billy Slater and Cameron Smith returned to the Origin arena to orchestrate one of Queensland's most famous series wins. Now they plan to haunt the Blues for years.
Maroons brains trust Billy Slater and Cameron Smith have ruled out coaching in the NRL in a massive boost to Queensland's Origin dominance blueprint.
Slater capped a dream debut as Queensland coach as the Maroons orchestrated one of the most spirited series victories in Origin's 42-year history.
The Maroons' gutsy 22-12 decider triumph against the Blues at Suncorp Stadium on Wednesday night to clinch the series had Slater and his dream team of coaches written all over it.
Stream the FOX LEAGUE State of Origin Game 3 REPLAY on Kayo with no ads during-play. Both full and condensed replays available to stream from 11PM AEST. New to Kayo? Start your free trial now >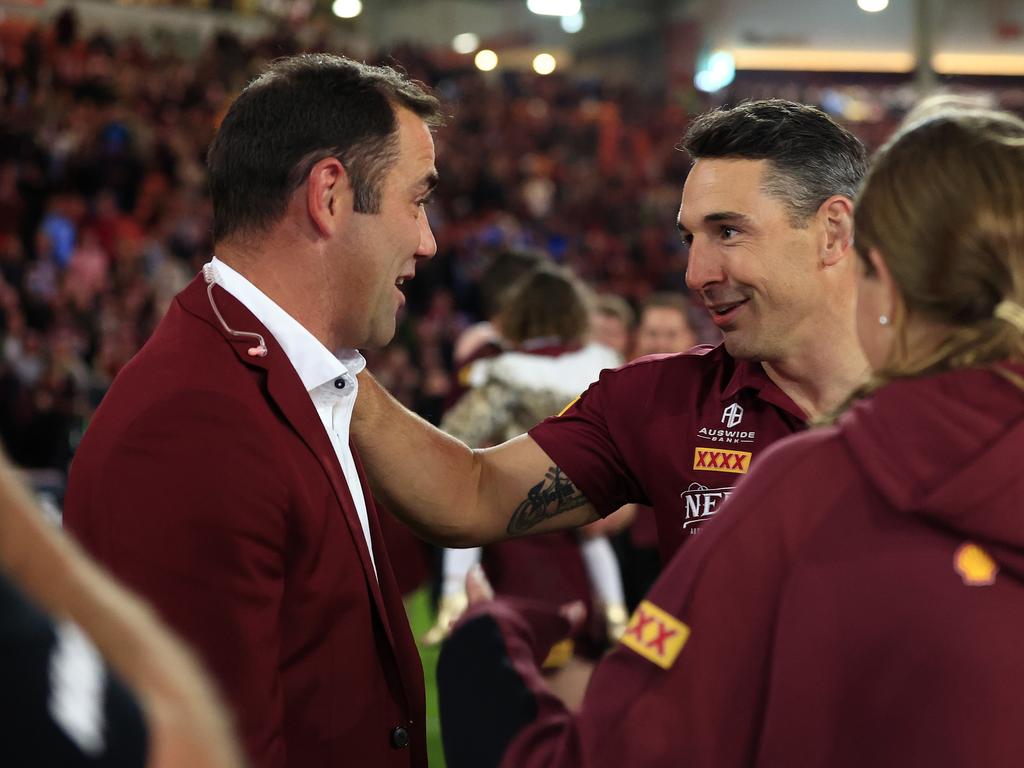 Cameron Smith and Billy Slater after claiming the decider between Queensland and New South Wales at Suncorp Stadium. Picture: Adam Head
After replacing one-series coach Paul Green following Queensland's disappointing 2021 campaign, Slater has impressed many in the game with his handling of the high-pressure Origin job in his first foray into the world of coaching.
There was always a view Slater would make an outstanding NRL coach given his attention to detail and professionalism as the greatest fullback in rugby league history during his decorated career under Craig Bellamy at the Melbourne Storm.
Slater, 39, is contracted to the Queensland Rugby League until the end of the 2024 Origin series, but his debut achievement could trigger interest from NRL clubs.
Slater and Smith present as a double-pronged force for Queensland. Picture: Liam Kidston
The 31-game Origin icon has the work ethic and intellect to eventually test the waters in the NRL, but Slater has no immediate plans to become a club coach and will keep his focus on Queensland retaining the shield in 2023.
"No NRL, I'm good, I've got horses to feed," said Slater, a former track work jockey who has a business breeding thoroughbreds in Melbourne.
"You never say never, I guess. But I know how much work goes into being an NRL coach. I know how much I am putting into this series and this is just three Origin games.
"If you want to be good at something you have to dedicate your life to it and I have done that throughout my career as a player.
"I have a bit going on in my life in terms of media commitments with Channel 9. I live on a farm with a small thoroughbred-breeding business and the kids are at an age where I enjoy going to their sport.
"I would be giving up a whole heap to be an NRL coach and NRL coaches make so many sacrifices. Right now, with my life, I am happy with the balance I have."
Slater assembled a formidable force of coaches to assist him in his maiden series.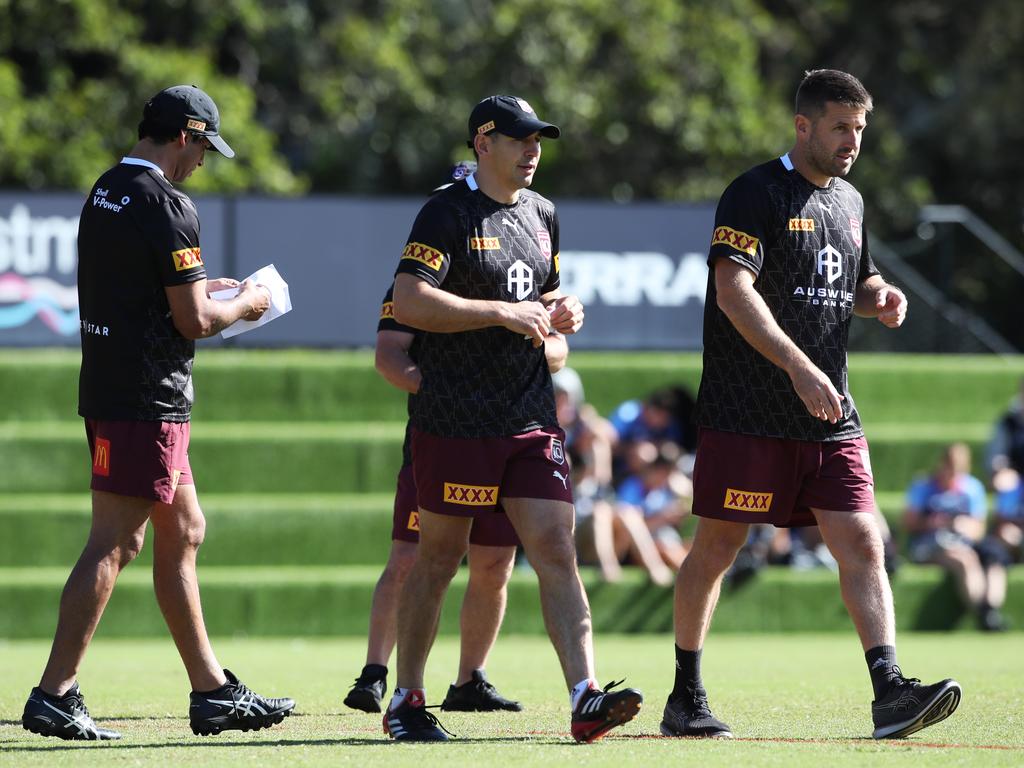 Slater and assistant coach Josh Hannay oversee the Maroons' Origin training session at Red Hill. Picture: Zak Simmonds
Renowned tactician Josh Hannay contributed to Queensland's game plan and training program while Maroons legends Johnathan Thurston, Nate Myles and Smith added their expertise.
Queensland great Greg Inglis was also invited into Camp Maroon, giving Slater's coaching assembly a whopping 176 games of Origin experience between them.
Slater's all-star brigade played dominant rules throughout Queensland's decade of Origin dominance (2006-15) under Mal Meninga and now they are back haunting the Blues from the coaches' box.
Thurston has a consultancy role with North Queensland but is expected to remain with the Maroons next year.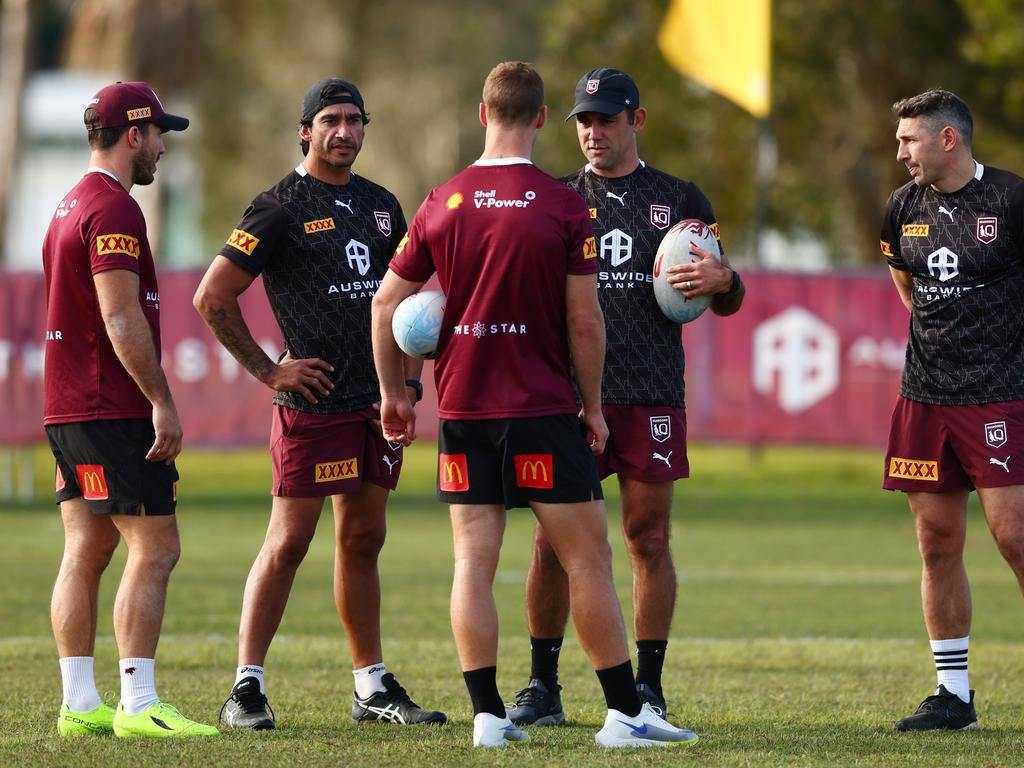 Johnathan Thurston, Smith and Slater during a training session on the Gold Coast.
Smith, Origin's most capped player with 42 appearances for Queensland, dipped his toe in the elite coaching sphere this year to assist his great mate Slater.
But that's about as far as he is willing to go when it comes to the high-pressure coaching environment and he can't see himself entering an NRL system.
"That's a hard no, straight away, no. This is more than enough for me," Smith said.
"It's been really enjoyable, I must admit.
"When I was first contacted by Bill about the opportunity to possibly take on the role as an assistant with him, I was chuffed. It's a very proud moment to have the opportunity to be part of the Queensland footy side. It's been great to work with so many young guys that are just starting out.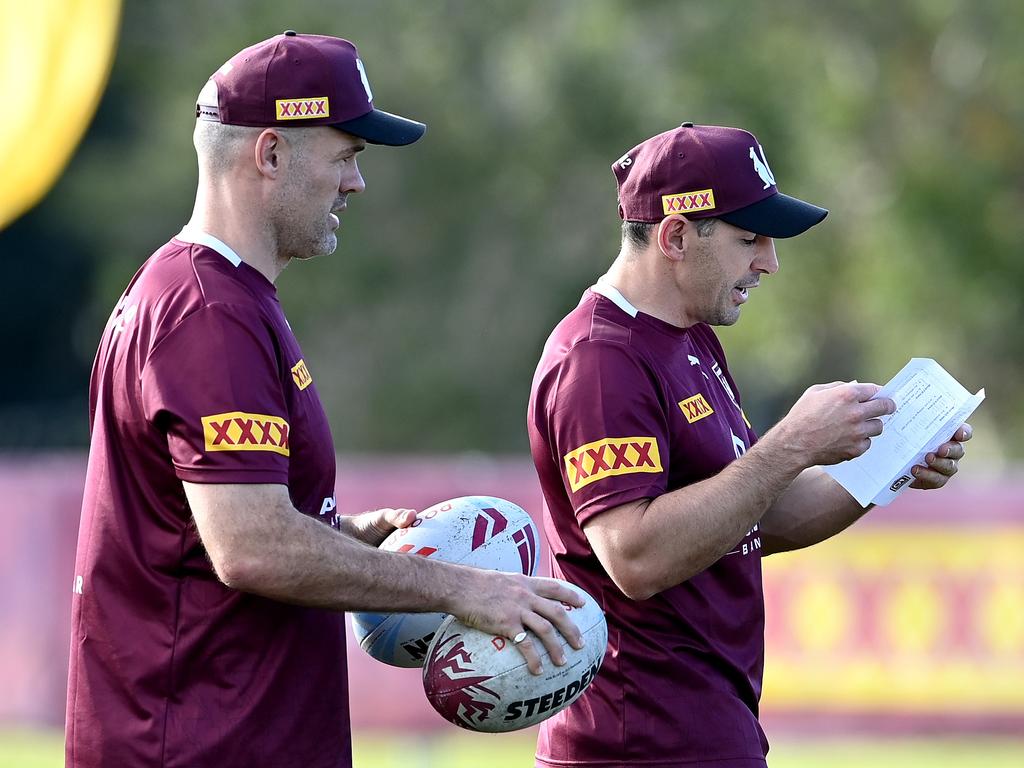 Slater and his assistant Nate Myles talk tactics during a training session.
"When you sit there and watch them at training and going about their business at camp, it takes you back to when you were first starting out as an Origin player and how exciting it was.
"It's an exciting time in your football career and your life. You're so proud to pull on the Maroon and how proud your family and friends are.
"Learning now as a coach, how fulfilling it is to work with players to try and help them improve their game and actually seeing it unfold in front of you on the training paddock and games has been great.
"I think that's where I'll leave it. I won't be going any further into any sort of NRL roles."
'Bloody incredible': Alfie crowns Maroons' win best he's seen
Queensland halfback legend Allan Langer says the Maroons' 2022 triumph is the greatest series win in Origin history, declaring the pulsating Suncorp decider as the fastest game he has ever witnessed.
The Maroons' epic 1989 series win is widely regarded as the Maroons' finest hour as Wally Lewis inspired a 16-12 win in Game Two despite losing a staggering five teammates — including halves partner Langer to a broken leg.
Now a Maroons trainer, the inspirational 'Alfie' has either watched or been at the coalface of a slew of Queensland's most treasured Origin moments, headlined by Wayne Bennett's magical series win in 2020.
Langer was also at the epicentre of Bennett's all-time Origin selection bombshell when he secretly flew to Australia from England to engineer the Maroons' 40-14 upset of the Blues in the 2001 decider.
But after seeing the Maroons overcome a Covid crisis, the scratching of Cameron Munster and the carnage of losing concussed duo Selwyn Cobbo and Lindsay Collins in the opening minutes of the decider, Langer says Billy Slater's Superheroes are in a league of their own.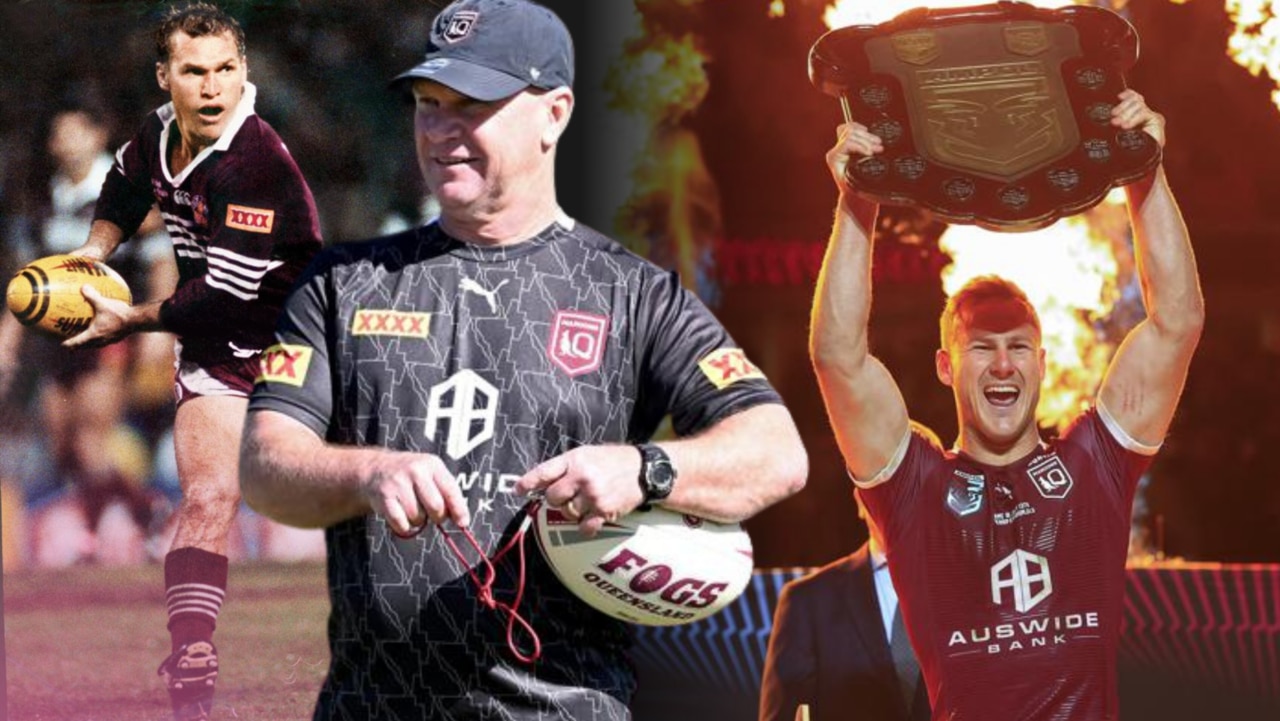 Queensland great Alfie Langer says the Maroons' 2022 Origin series win was the best he's seen.
"This is the greatest series win I have seen," said Langer, who played 34 Origin games for Queensland.
"This goes past 1989, I think it has.
"We had two blokes (Cobbo and Collins) knocked out early and we lost Munster before the game, to win a game as brutal as that with 15 men … there is nothing better in my mind.
"It makes me so proud to still be involved with the Queensland set-up, this makes me want to keep coming back.
"The courage they showed, it was bloody incredible.
"We were down to 15 men but we just kept turning up for each other and that's what Queensland is about."
Queensland's defeat of the Blues at the SFS in Game Two of 1989 has long been the gold standard for heroic Maroons performances.
Aside from losing Langer to a broken leg, Mal Meninga fractured his eye socket, Paul Vautin injured his elbow, Michael Hancock damaged his shoulder and Bob Lindner played with a busted ankle before hobbling off.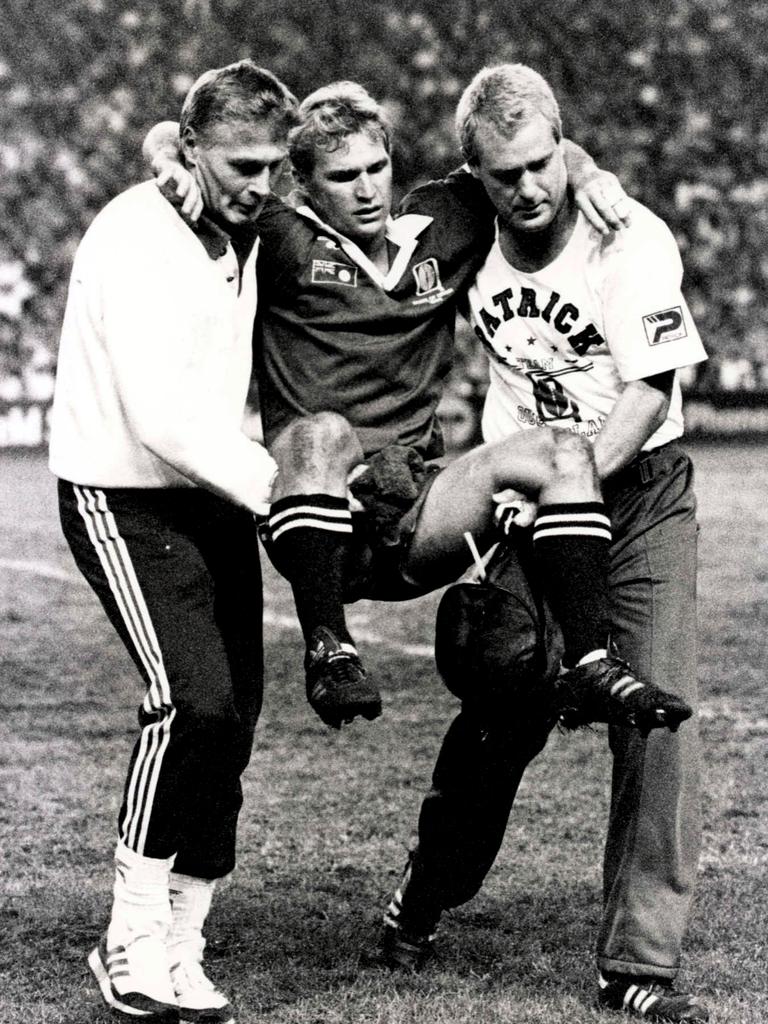 Alfie Langer was carried of with a broken leg as Queensland won a the 1989 Origin series 2-1.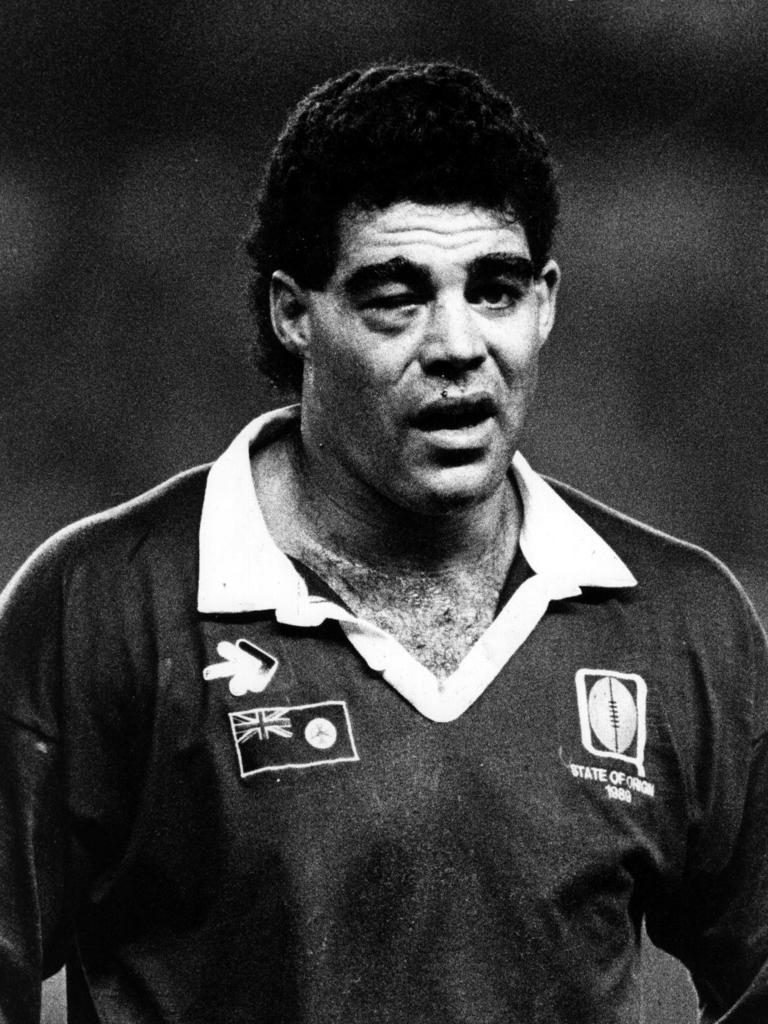 Mal Meninga looking worse for wear after the 1989 Origin decider.
Queensland played the final five minutes with only 12 men as 'The King' Lewis confirmed his NRL Immortality by leading the Maroons to victory.
Then there's the magic of 1995, when coach Vautin's team of 'Neville Nobodies' defied enormous odds without their Super League stars such as Langer to stun the Blues 3-0 in a remarkable series sweep.
In 2020, Bennett blooded 14 debutants throughout the Covid-affected series, but Langer says the pace and brutality of the 2022 decider is unrivalled.
"Going onto the field as a trainer, it was the fastest pace I have ever seen," Langer said.
"The intensity was ridiculous, I've never seen anything like it.
"The first game we showed plenty of ticker and after the second game (a 44-12 loss), the critics wrote us off again, which they always do, but to come back like this without Munster, I haven't seen a more heroic group of men.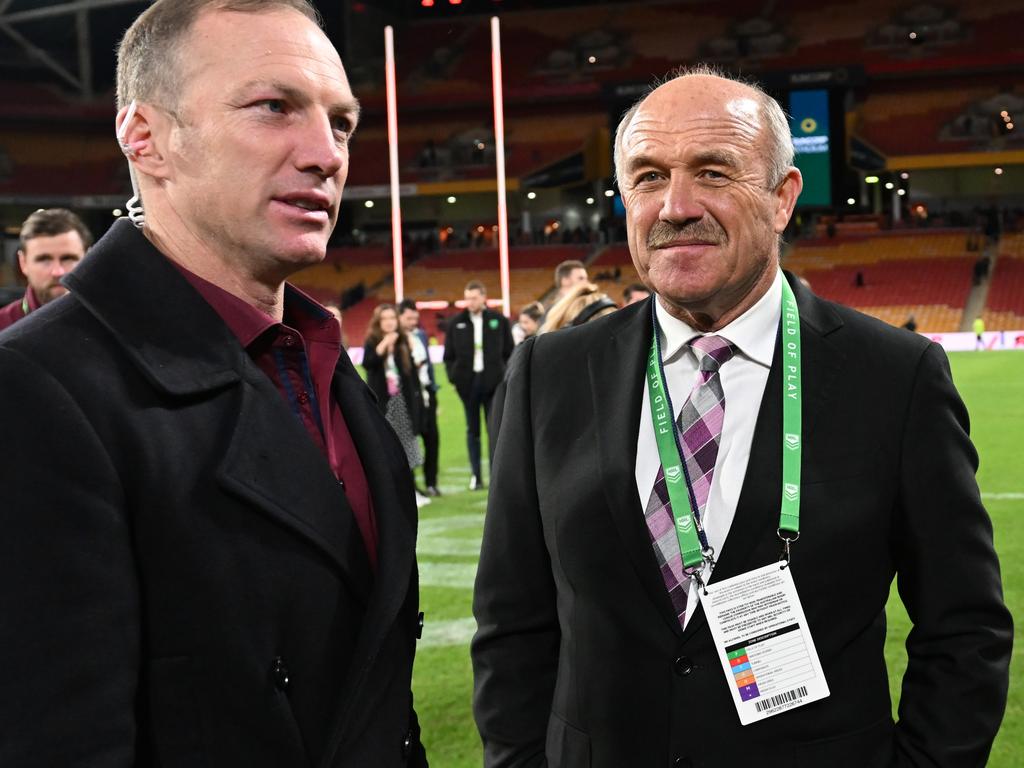 Queensland greats Darren Lockyer and Wally Lewis revel in the Maroons' victory. Picture: Getty Images
"Both sides were nearly out on their feet so NSW deserve some credit for the way they played as well.
"It was a wonderful week. We were never worried. We just knew we had to turn up and the secret weapon is the 50,000 Queensland fans in the Suncorp stands.
"As a Queensland player, there is no better feeling. I ran out there on the field and I still feel the goosebumps I felt when I made my debut for Queensland in 1987.
"It's the mateship that gets us home. I have never seen a better group of guys than these blokes. There are no egos, they love each other's company and even when I tried to bring some fun to this camp, these guys all bought in.
"The Queensland people should be so proud of this group. It will keep me coming back time and time again."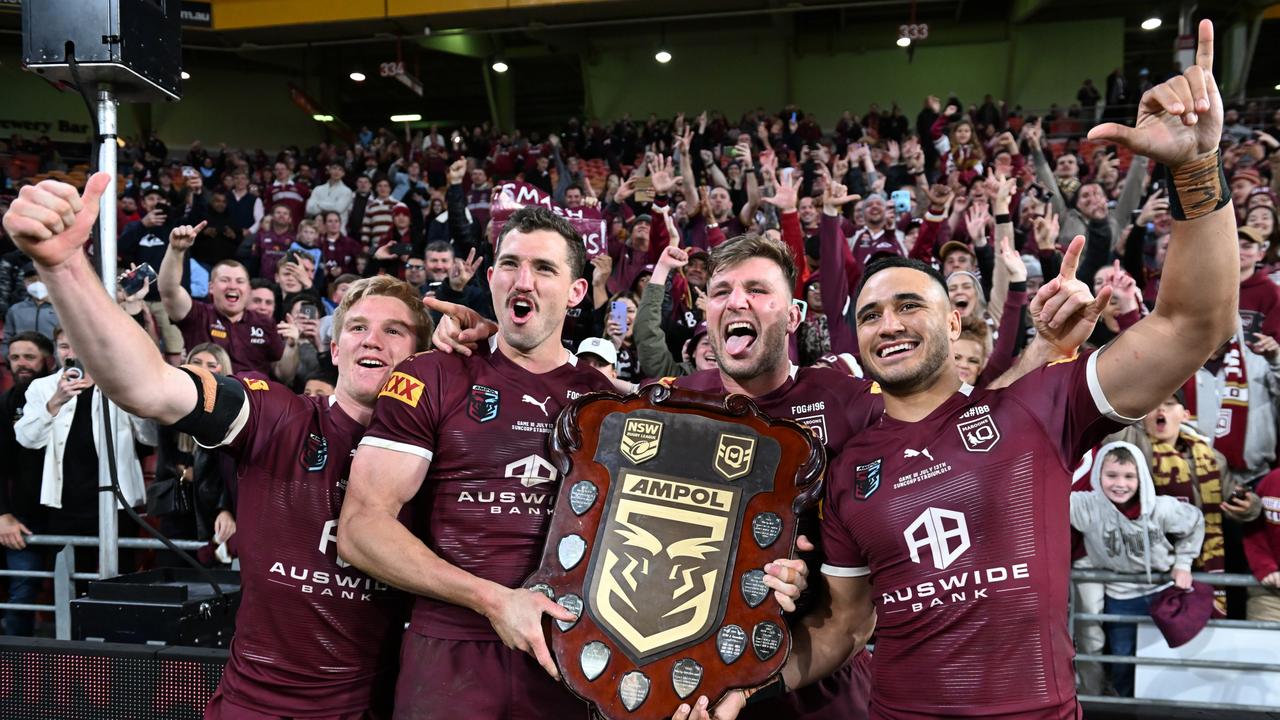 Alfie Langer reckons he hasn't seen a more heroic group than this year's incarnation of the Maroons. Picture: Getty Images
When Maroons skipper Daly Cherry-Evans held aloft the Origin shield for the first time two years ago, he didn't think there could be a bigger series boilover. Until now.
"I didn't think this (a series win in 2022) was going to be as big as 2020 before (Origin III)," Cherry-Evans.
"I knew we were underdogs, but it wasn't until that first five minutes and we lost two players, I thought that's when this is going to be bigger than 2020.
"They are hard to compare, it's like picking a favourite kid, but maybe because of everything that went on (in the decider), not many teams could do what this team did.
Promise fulfilled: Dearden's pledge before QLD debut
—Travis Meyn and Peter Badel
A coffee date in Camp Maroon was all Queensland skipper Daly Cherry-Evans needed to know Maroons debutant Tom Dearden wouldn't melt in the Origin furnace.
Dearden produced one of the great Origin debuts deputising for the Covid-stricken Cameron Munster in Queensland's stunning series-clinching win at Suncorp Stadium on Wednesday night.
Much like Munster in his 2017 debut at Suncorp, Dearden played the game of his life to go within a whisker of being crowned man-of-the-match in Queensland's 22-12 victory.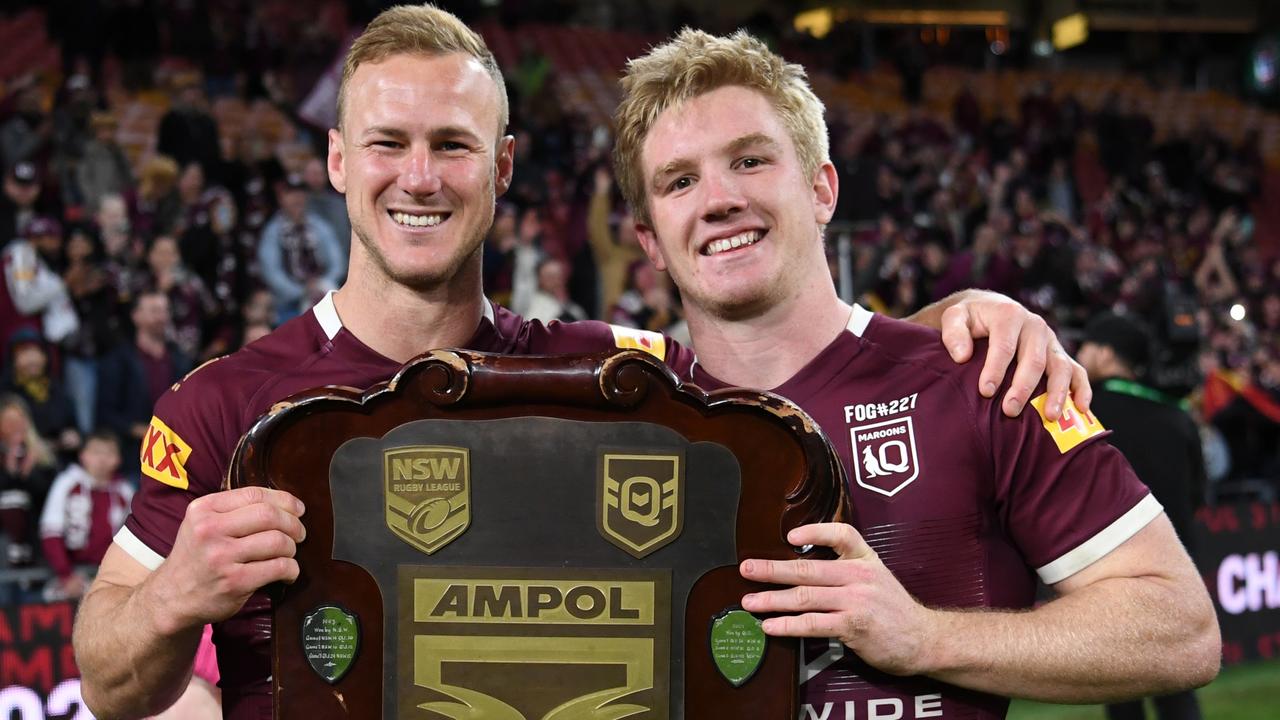 Daly Cherry-Evans and Tom Dearden celebrate Queensland's success.
It was just over a year ago that Dearden's career was at a crossroads after he was banished to reserve grade and then released by the Broncos to join the Cowboys, arriving in Townsville a shattered young man.
Now Dearden, 21, is celebrating the finest moment of his blossoming career after playing a starring role as the superstar Munster's replacement in Queensland's dramatic decider victory.
"I've dream of it as long as I can remember," Dearden said.
"To be able to experience what it's like to run out at Suncorp in a decider is a special moment.
"I did (feel comfortable). I've been here throughout the whole series so I knew exactly what they expect their players to do for Queensland.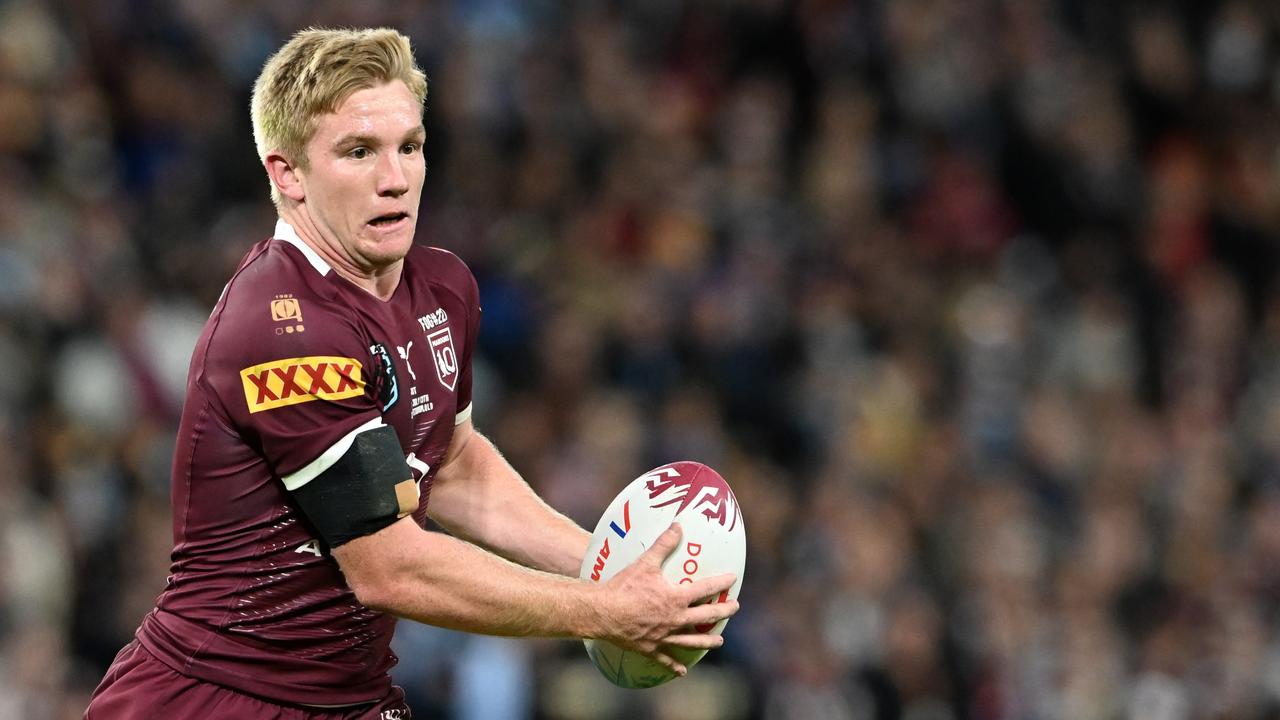 Dearden excelled on debut in the game three decider.
"It was a tough couple of years to start my career. I used to tell myself, when you are a kid you think playing NRL is a dream come true. I kept telling myself 'how good is this? I'm playing NRL'. It was a tough start, but I still love playing the game.
"I stuck at it. That's all it takes, if you stick at something then it will turn around for you."
Dearden grew up idolising fellow Mackay product Cherry-Evans, who is 12 years his senior.
Little did he realise they would one day run out in a Maroons jersey together and win a State of Origin series.
"He was (my idol), he played at Brothers in Mackay, my junior club," Dearden said.
"He is someone I looked up to as a kid growing up. Even the coaching staff, I looked up to all of them.
"I have to pinch myself when you're in camp being coached by those coaches and taking the field with Daly Cherry-Evans. It's a special moment.
"Daly was unreal for us. He is a true Queenslander and one of the greats to wear that number seven jersey, even considering the players that have played there before.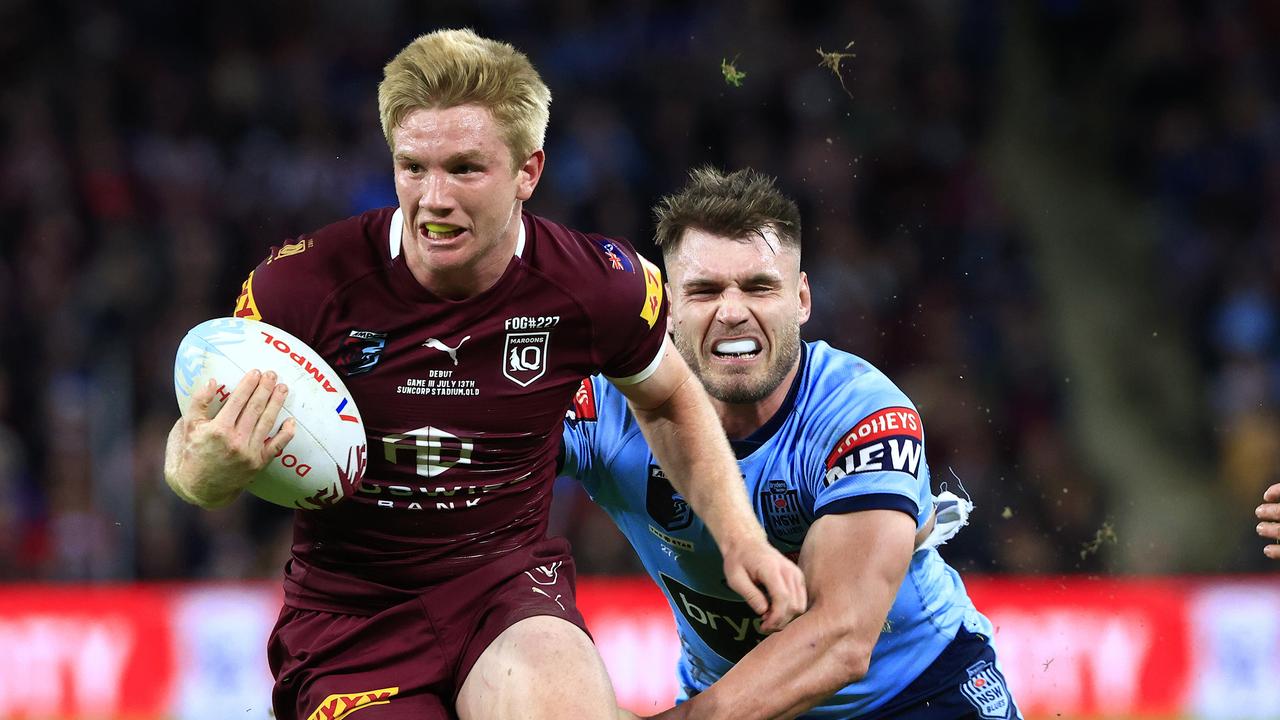 Tom Dearden has revealed how a chat with Daly Cherry-Evans helped him prepare for State of Origin game three.
"It was really special to see him captain us to a win with a lot of pressure on him. It's a privilege to play alongside him.
"Once we heard 'Munny' was out (last Friday), we decided to catch up for coffee. I am a different type of player to Munny and wanted to make that clear so we were on the same page.
"He spoke about keeping my role simple and focusing on what I can do for the team. He gets the team around the park and I can run the footy."
Cherry-Evans left their coffee date knowing Dearden was ready for a baptism of fire.
"We had a coffee when he was in and he asked me all these questions and straight away from the smiles and the nods I knew we were going to be all right," Cherry-Evans said.
"Tom said 'you run the team, you kick, and I will chase all night and look after my side'. He never lied. He lived up to his word. Everything he promised he would do, he did it. They are the people you love to play with.
"We knew we would have to change a few things with Tommy coming in, but the style of footy we played, he complemented us. Tommy is tough and everyone around him was there to work.
"Sometimes things don't work out in footy and you just have to keep persisting and he has persisted. That's why he is playing good footy at the Cowboys and that's why he is playing for Queensland now. Because he is so persistent, he is so competitive."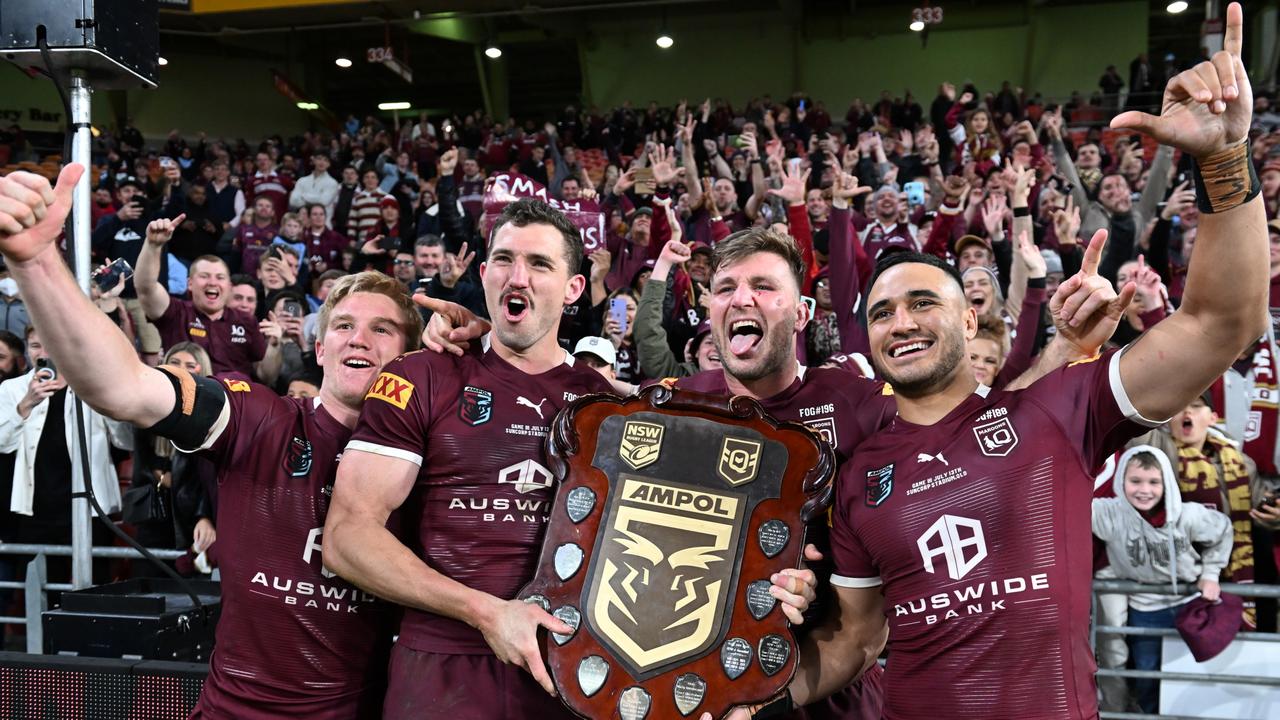 Tom Dearden, Corey Oates, Jai Arrow and Valentine Holmes.
Dearden did all the little things right in his Origin debut.
He tackled tenaciously, chased every Maroons kick with energy and laid on a beautiful pass for Valentine Holmes to score the first try.
To be in the conversation for man-of-the-match honours on debut in a decider is a remarkable achievement and Maroons hooker Ben Hunt, a former Broncos halfback himself, was in awe of Dearden's fightback.
"It was a massive effort from Tommy, they targeted him defensively, they went at him and he had a really good game," Hunt said.
"I have been at the Broncos and it would have been difficult for a young kid. To go through and change clubs and everyone coming at you and putting you down, it's a real credit to him and his family.
"He has turned his career around and playing good footy at the Cowboys and he can now do it at Origin level as well."
UNLIKELY TRIO JOINS MAROONS ORIGIN FOLKLORE
Robert Craddock
A boy became a man and two lion-hearted Queenslanders delivered the performances of their lives in one of the craziest games of rugby league ever played.
Tom Dearden, a subdued, ghost of a player when he joined the North Queensland Cowboys this time last season and the sage duo of Daly Cherry-Evans and Kalyn Ponga somehow survived and thrived to deliver an instantly iconic Maroon victory in the Battle of Brisbane.
History will remember it one of most brutal, frantic, compelling and downright mad games league has seen.
With two men down, Queensland enhanced their legacy for being the greatest scrappers in big time football.
When Ben Hunt raced 70m to score in the corner to seal the win he became the highlight hero of the 22-12 victory but the true tale was hidden behind him.
Stream the FOX LEAGUE State of Origin Game 3 REPLAY on Kayo with no ads during-play. Both full and condensed replays available to stream from 11PM AEST. New to Kayo? Start your free trial now >
Rugby league jumped in a time capsule and roared back to the 1980s when wild men roamed free, tempers roared, heads were crunched and spirits were bent and broken. Fatigue sent composure levels soaring into the red zone as brains became fried.
Stunning acts of bravery and boldness were mixed with simple errors as players radar scrambled under pressure which would melt a cement grandstand.
There are times when State of Origin football seems like the most compelling sporting contest on the planet – and this was one of them.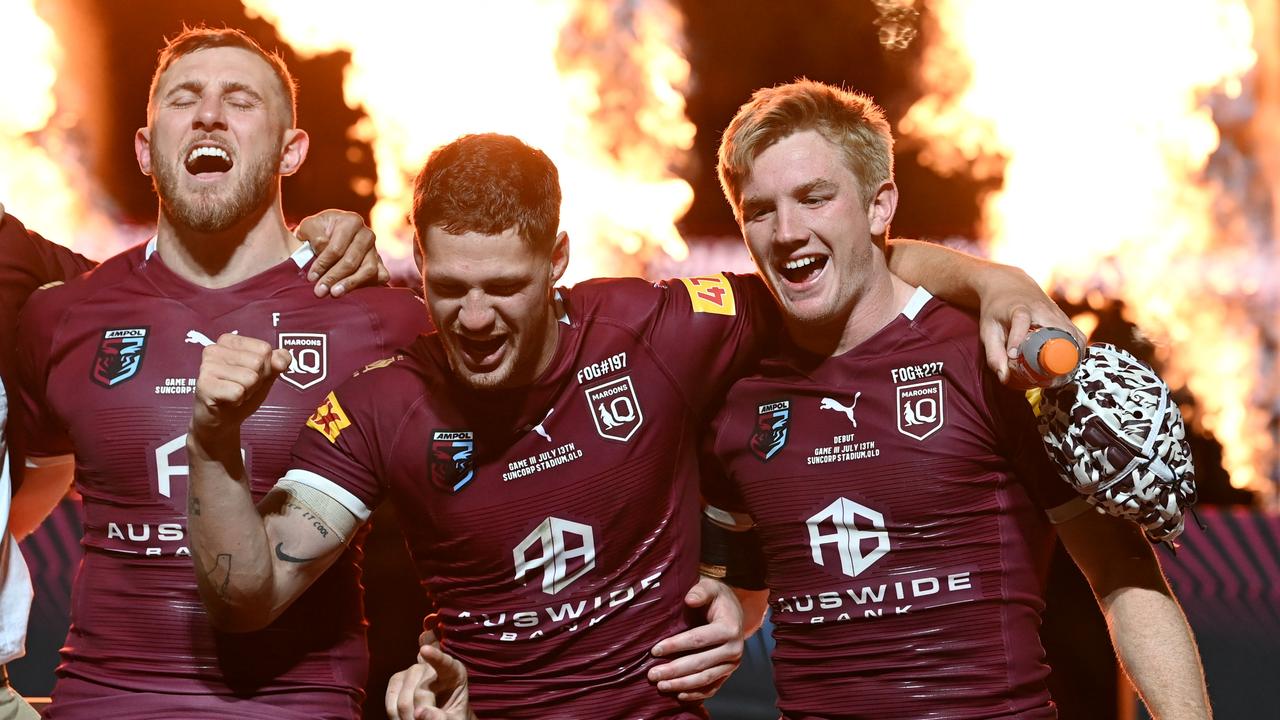 Kalyn Ponga (C) and Tom Dearden (R) will go down in Origin folklore. Picture: Bradley Kanaris/Getty
It was a night which called for leadership in spades and Maroon captain Cherry-Evans provided it with daring kicks, crucial tackles, crisp passing and somehow keeping his head when others were exploding to become league's version of a wartime general.
Kalyn Ponga was just superb, slicing, dicing, conjuring, finding space when others were finding brick walls.
And Dearden, so fragile last year, was simply a man of steel, chasing kicks, making key tackles, rolling the dice when a dice roll was call for.
The game was pure madness, as beautiful as it was brutal. There was spoonfuls of delicious skill but this was the night of the sledgehammer and the scramble.
Punching is an absolute "no-no'' in the modern game yet Dane Gagai, furious at Matt Burton for flooring Kalyn Ponga, let go with a series of haymaking lefts and rights which saw both men sent to the sin bin.
It's difficult to believe there has been a more brutal start to a game of rugby league than this one.
Old fans like to hark back to the drama charged, free for all years of the 1980s but players these days are bigger, fitter, often stronger so the level of physical damage they can inflict when they turn kamikaze is off the charts.
Technique and timing went missing as players launched themselves like human skewers. You just wouldn't see it in a club game.
It was a brutal old-fashioned, knock 'em down, drag 'em out interstate derby where three players knocked near senseless in the opening two minutes.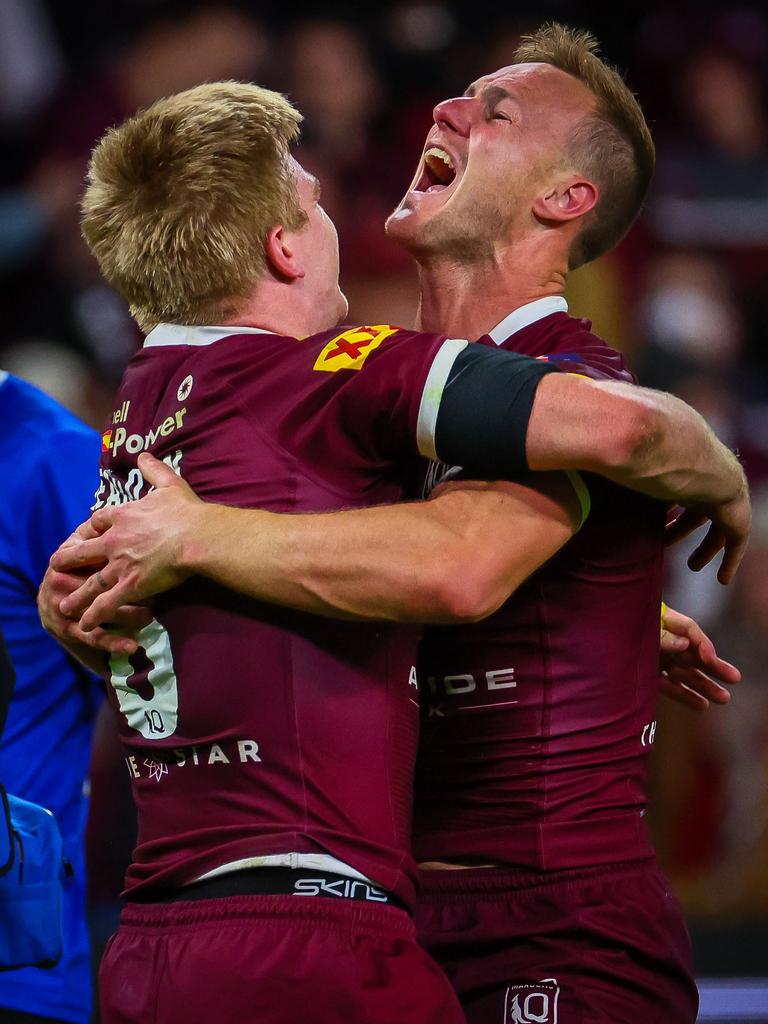 Daly Cherry-Evans (R) and Tom Dearden. Picture: Patrick Hamilton/AFP
Cameron Murray wobbled off like a drunken sailor, Selwyn Cobbo was driven off in a medicab and Lindsay Collins done for the night after a sickening head knock after teammate Tom Gilbert's ferocity on the other side of the tackle was transferred to Collins head and neck.
Queensland's against-the-odds win was straight out of the caramel coloured pages of history. The bookies – will they ever learn? – had Queensland $3.50 outsiders and only friends, family and the blind faithful were backing them despite the sumptuous odds.
For all the talk of the Maroons great record in Suncorp deciders – beaten only twice in the last 10 – it was clear that they were going to have to play out of their skins to take the series and so it proved.
This was a huge win for debutant coach Billy Slater because he can pocket his success and sleep easily until the next series starts in 10 months' time. Every new coach needs an early scalp and he's got one.
From the moment he took control of the team on day one of the first camp, Slater has been measured, calm and considered and weathered the pressure of mid-series collapse can only harden his shell.
Under Slater there have been no baffling selection shocks, big predictions or Blues baiting. He coaches as he played, with meticulous preparation and a desire to minimise distractions.
Calling in big guns Johnathan Thurston and Cam Smith into camp was a reminder to the current crop of the history of their crusade.
The message obviously got through.
Originally published as State of Origin 2022: Queensland coaches Billy Slater and Cameron Smith have ruled out NRL jobs