Ronaldo Mulitalo declares for New Zealand after Queensland Origin nightmare
After being mucked about by the Maroons in one of the all-time Origin eligibility fiascos, Ronaldo Mulitalo has nailed his colours to a new mast.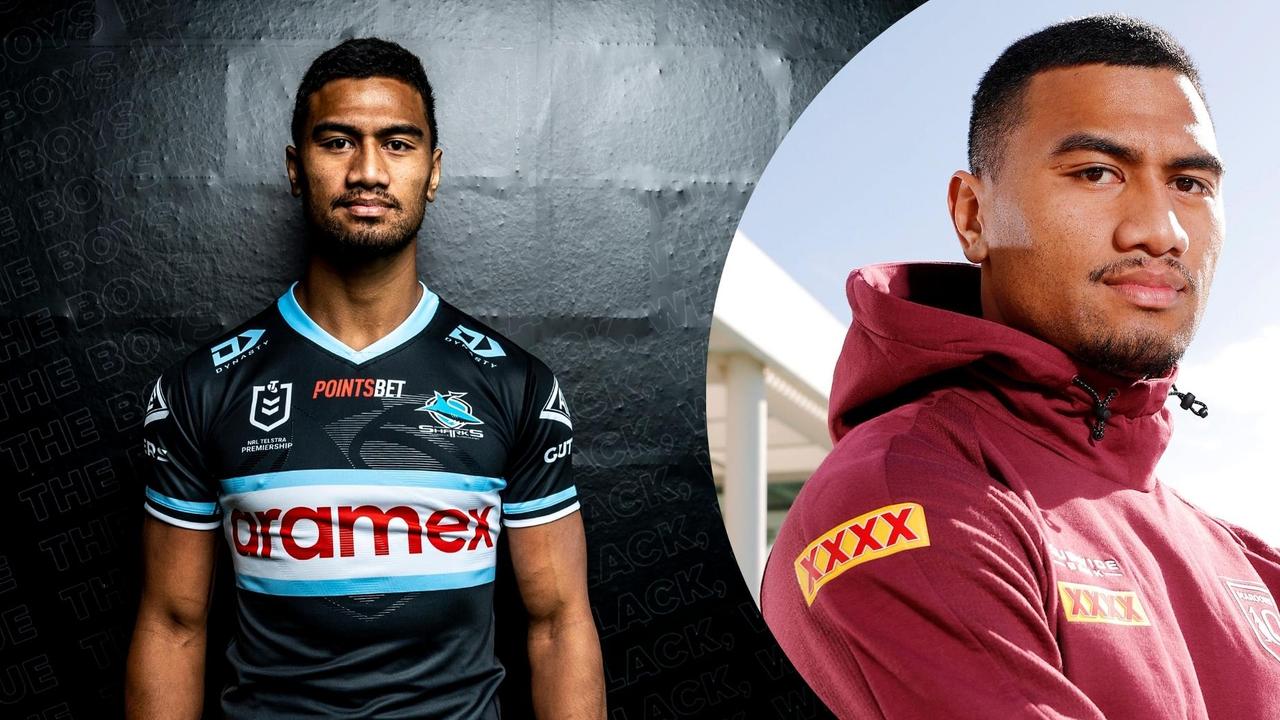 Ronaldo Mulitalo has moved on from the Maroons debacle. Picture: NCA
Ronaldo Mulitalo has lodged official paperwork to represent New Zealand - the final chapter in a five-month nightmare that the NRL star has taken till now to get over.
In the wake of having the Queensland State of Origin jersey ripped from his hands, Mulitalo has declared he's ready to "give everything" to the Kiwis with a clear goal to feature at next year's World Cup.
"Whether I get selected or not for the Kiwis, I don't know, but I will always show respect to the jersey I wear,'' the Cronulla Sharks winger said after meeting with New Zealand Test coach
Michael Maguire. "I'll be as proud and passionate as any Kiwi.
"It's been a hard six months, juggling where I sit in terms of all this. "But this is where I am and the World Cup next year is my next goal now.
"I really want to be a part of something special with New Zealand.''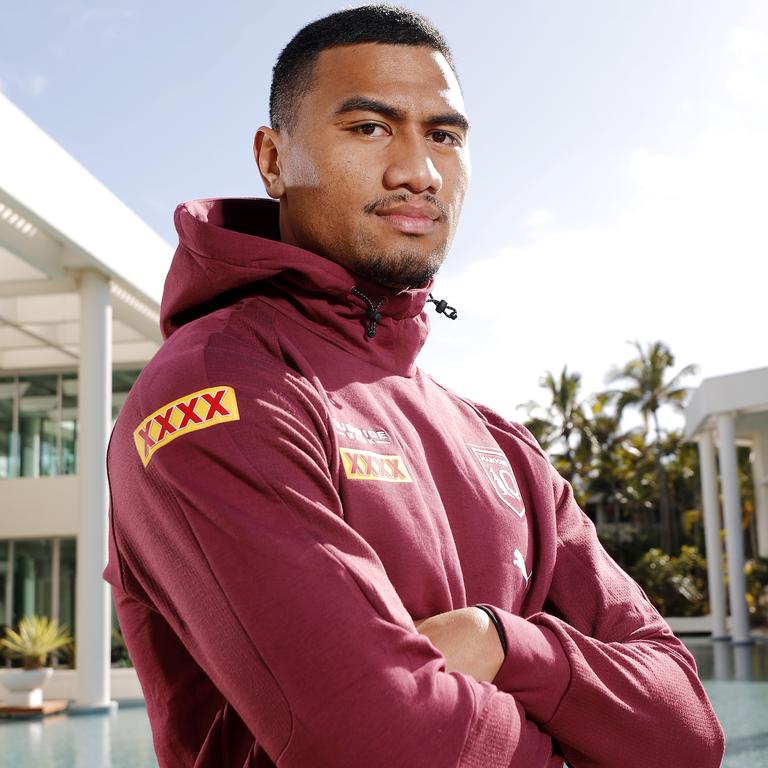 Ronaldo Mulitalo was at the centre of one of the great Origin eligibility debacles. Picture: Josh Woning/NCA
Maroons farce
In June, Mulitalo was the face of the most farcical chapter in Queensland State of Origin history - an administration debacle by the QRL that to this day, remains incomprehensible.
He was named in the Maroons' extended squad to face NSW in game two of the 2021 State of Origin series.
An Ipswich junior, Mulitalo had represented Queensland in the under-16s, under-18s and under-20s.
Then, 24 hours out from kick-off of the Sunday clash with NSW, Mulitalo was told his dream was set to become reality after Maroons rookie Reece Walsh withdrew from the side due to injury.
Mulitalo was in the team.
"To many people, they just see Origin as a game, but to me it was something I'd worked my whole life to get into those honours,'' Mulitalo said. "I slept like a baby that night - and then I woke to a nightmare.''
Be it when he was originally named in the Queensland under-16's, or in that moment prior to replacing Walsh, no one at the QRL bothered to check his eligibility status.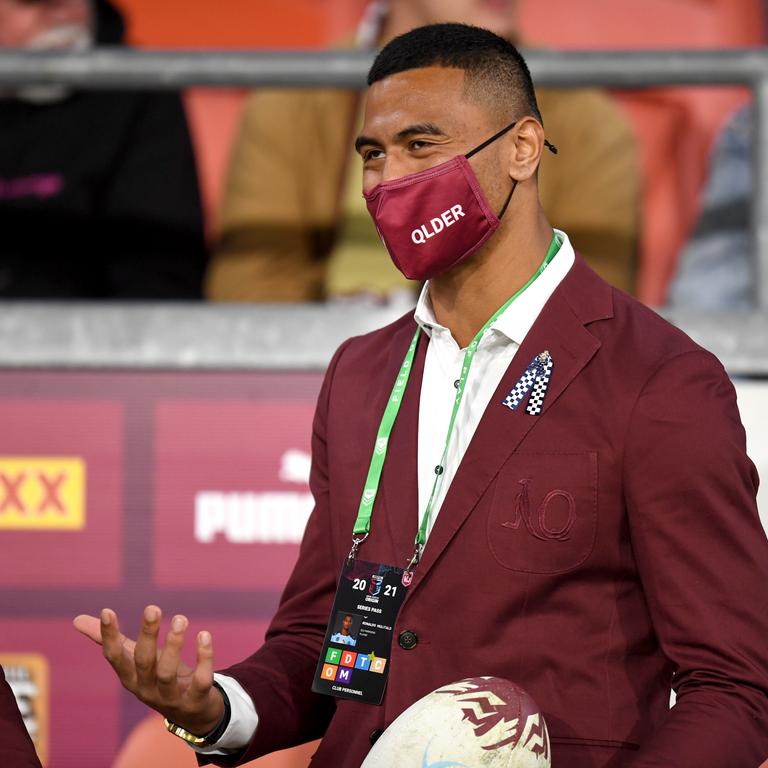 Ronaldo Mulitalo 24-hours away from realising his dream to play for the Maroons. Picture: NRL Photos
As per the eligibility rules, players must be born in NSW or Queensland, or live there before they turn 13 to qualify for State of Origin.
Mulitalo was born in 1999 and moved to Queensland in October 2013 – before his 14th birthday.
A last-minute protest from the NSWRL led to a manic few hours on the day of Origin II with the NRL's executive team making the call to ban Mulitalo from taking the field for the Maroons.
"When I got told, I brushed it away because I literally didn't think anything could be wrong,'' Mulitalo said. "But the next morning, I got called into a meeting and I was asked to produce all my paperwork - as though I just carry it around with me.
"I had half an hour to make a decision. I could either play the game and risk losing the match anyway if it was later proven I was ineligible after the match, or I could pull out.
"I was crying in the meeting room on the phone to my mum. Nothing is worse when you know your dream is slipping away from you and this was within hours of the game.
"Luckily I had mum on the phone with me to talk me through it.
"I still get filled with emotion.''
Nothing to hide
Mulitalo, who turned 22 last Wednesday, has quickly emerged as a footballer with a conscience and passion to use his status for the greater good of the game and wider community.
Last month, he was awarded the NRL's highest accolade in this space, the 2021 Ken Stephen Medal – presented to the player who shows outstanding commitment to community and charity work.
Yet, the Origin debacle led Mulitalo towards feeling like people would judge him as something else.
"I was never trying to hide anything. I've lived my life to always be honest and the way it all came out, I felt like my character was being questioned,'' Mulitalo said"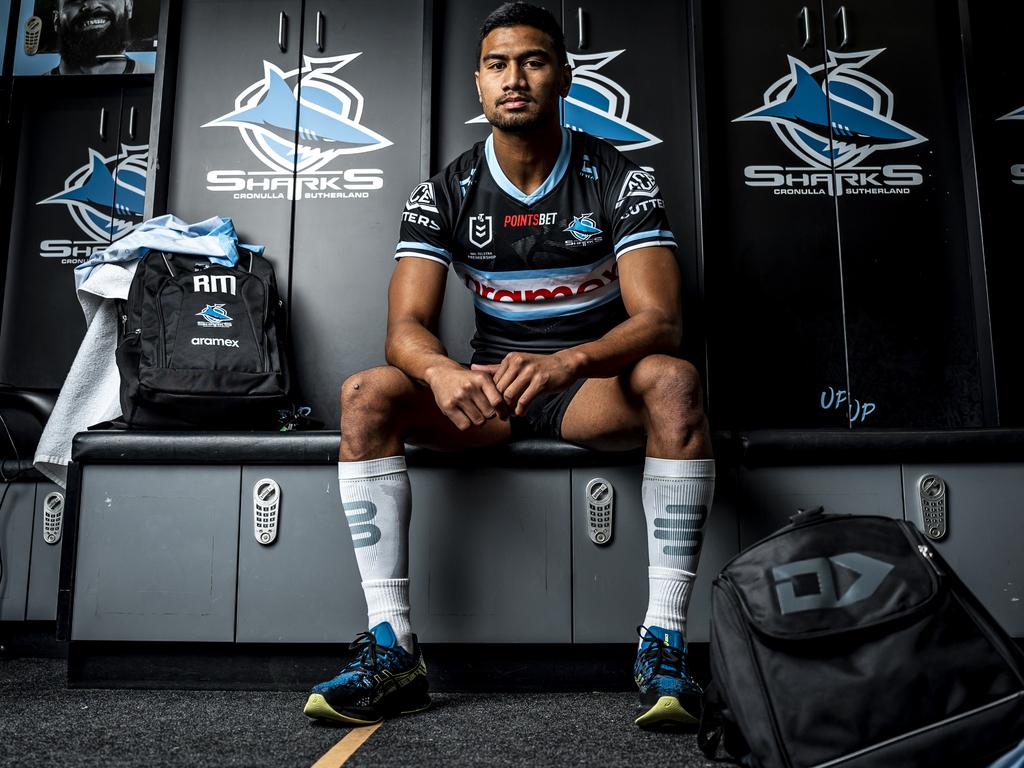 Ronaldo Mulitalo has moved on from the pain of his Maroons eligibility fiasco. Picture: Darren Leigh Roberts/News Limited
"I signed my contract as a junior and it was correct. For me to be able to play for Queensland junior teams, I naturally thought I was eligible.
"Then for my second contract, because I never felt there was an issue and because I had represented Queensland under-18s and 20', I freely ticked those (Queensland) boxes.
"I felt like I was being blamed for it all. I'm not throwing anyone under the bus, it was just disappointing that I felt like I was by myself.
"We talk about mental health in this game and at that time, there and then, I was only lucky enough to have my Cronulla club and my support system to get around me during that time.
"I can't sit around and wait for rules to change and wait for a miracle. I hope my situation has helped another young player who is coming into the game.
"I don't want any kid to experience what I've been through.''
The pain
Although grateful, Mulitalo said he struggles to look at the Maroons jersey he was supposed to have worn.
"I never look at my Queensland gear anymore. I sent it all back to Mum as soon as I could. It's just a constant reminder of what happened.
"I got my game jersey from Queensland and my family were sitting around the table and I opened it up and I wanted to cry.
"It's hard to even look at the jersey. "I know the rich history the jersey has and I felt privileged to get that far with Queensland.''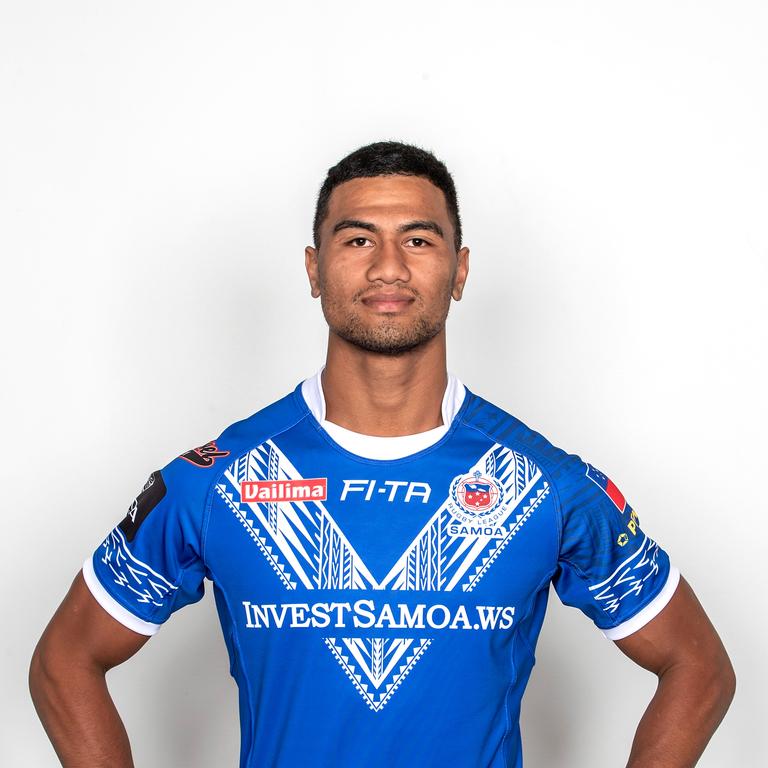 Ronaldo Mulitalo represented Samoa in 2019. Picture: NRL Photos
Kiwi kid
Mulitalo said a meeting with Maguire were major factors in signing off on the necessary paperwork last Tuesday.
"I was lucky enough to have 'Madge' in our hotel in Queensland (last season) so I had a couple of yarns with him,'' Mulitalo said.
"He understood exactly where I was coming from in terms of representing Queensland, which made the process to select New Zealand (going forward) a lot easier.
"I told him that if I play good footy next year, hopefully I will sneak my way into a Kiwi jersey.
"As a kid, I went to the junior New Zealand camps. The disappointment for me was I never got picked for anything in New Zealand.
"I hope to represent all my family that are still back in New Zealand. I was lucky enough to represent mum's side of the family from Samoa (2019).
"But this will be for my grandparents, all my aunties and uncles, cousins in New Zealand, that's home away from home for me.''