State of Origin 2022: Liam Martin's mum fires up over 'grub' slur
Liam Martin's mum has a message for all the Queensland critics who labelled her son a grub after Origin I – but she's not allowed to send it.
The mother of NSW Origin forward Liam Martin says she's been banned from social media after he was labelled a grub,
In a passionate defence of the Penrith and Blues lock-forward, Maxine Martin didn't hold back when asked on a Sydney radio station her reaction to the Queensland team profiling her son as public enemy number one ahead of Sunday night's Origin II clash.
"When it happened, it's like the 'Mumma Bear' came out in me. When I watched the game I saw more face massages than a beauty salon, they're all rough out there,'' Maxine told 2Day FM's Hughesy, Ed and Erin.
Stream The 2022 Women's State of Origin LIVE on Kayo this Friday 24th June from 7:45PM AEST. New to Kayo? Try 14-Days Free Now >
"They're rubbing each other up all the time.
"I won't say what I said to my children when I read it, it's not suitable for radio.
"But they've since banned me from reading the internet, banned from social media.
"Can you ban parents?
"It's so out of left field. They've pulled four minutes of a game to label my boy a grub.
"What worries me now is this label, it's not a pretty label, public enemy number one.
"He rang me yesterday and it hasn't phased him at all.
"But when it first came out, I had a sleepless night over it.''
BLUES' BARB MASTER READY TO FIRE BACK AT MAROONS
– Fatima Kdouh
On Sunday night Jarome Luai will be ready to do what he does best – drop his sledgehammer on the Maroons.
The NSW five-eighth's sharp tongue was uncharacteristically quiet in Origin I but with the series on the line and the Blues vowing not to repeat their soft-serve approach, Luai is primed to fire some well-timed barbs.
Luai famously stood over Queensland forward Felise Kaufusi last year in what is now one of Origin's most iconic moments.
The incident created so much angst it was used by the Maroons as motivation for the rest of the 2021 series. But Luai insisted the lack of niggle at Accor Stadium had little to do with giving Queensland more material to use against the Blues.
"I don't think it was so much that I was quiet," Luai said. "It's a natural thing that happens in the flow of the game, if I am coping a bit of heat then I am one to dish it back and not sit there and take it.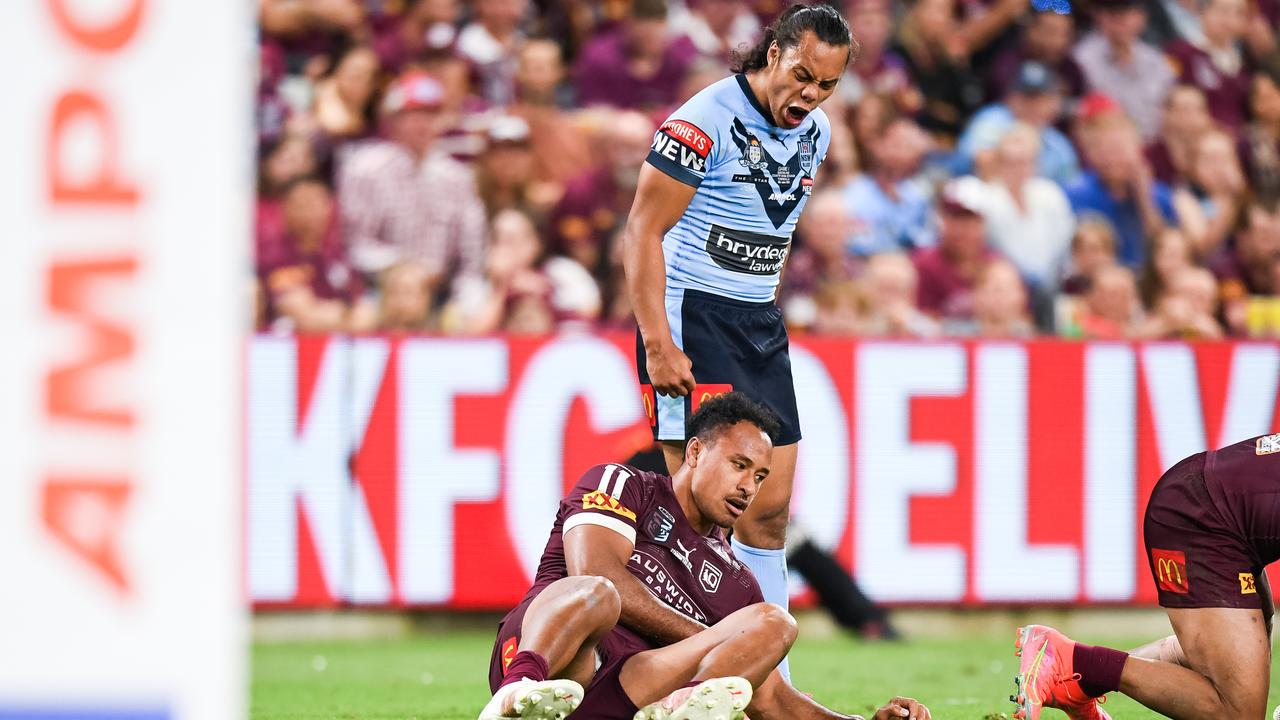 Jarome Luai gave Felise Kaufusi a serve in last year's Origin series.
"Like what happened in Origin one in Townsville last year, some of the Maroons boys were giving it to me there, calling me soft, so I wanted to give it back … it happened when I got a knee in the back in a tackle. They were around me yelling at me to 'get up', saying I was 'soft'.
"I was coping a bit so I thought I would give some back.
"So when Junior (Paulo) had that big carry that left them on the ground, I was so pumped up I thought I would give some back."
While Luai will pick his moments at Optus Stadium, the playmaker is expecting there to be a lot more niggle in the ruck, an area that the Maroons dictated in Sydney.
"When you look at the timing in terms of ruck speed, definitely Brandy (Greg Alexander) was right to say we were too nice," Luai said.
"When you look at their timing, they got their timing right and it suited their defence and it gave their middles time to reset and we just felt like we were always on the back foot so that's something we are looking to doing on Sunday."
The Blues have also pledged to take the role of bodyguard for Nathan Cleary, who had a target on his back in game one and was offered little protection from teammates.
Luai also plans to relieve the 'heat' off Cleary by taking kick pressure off the halfback.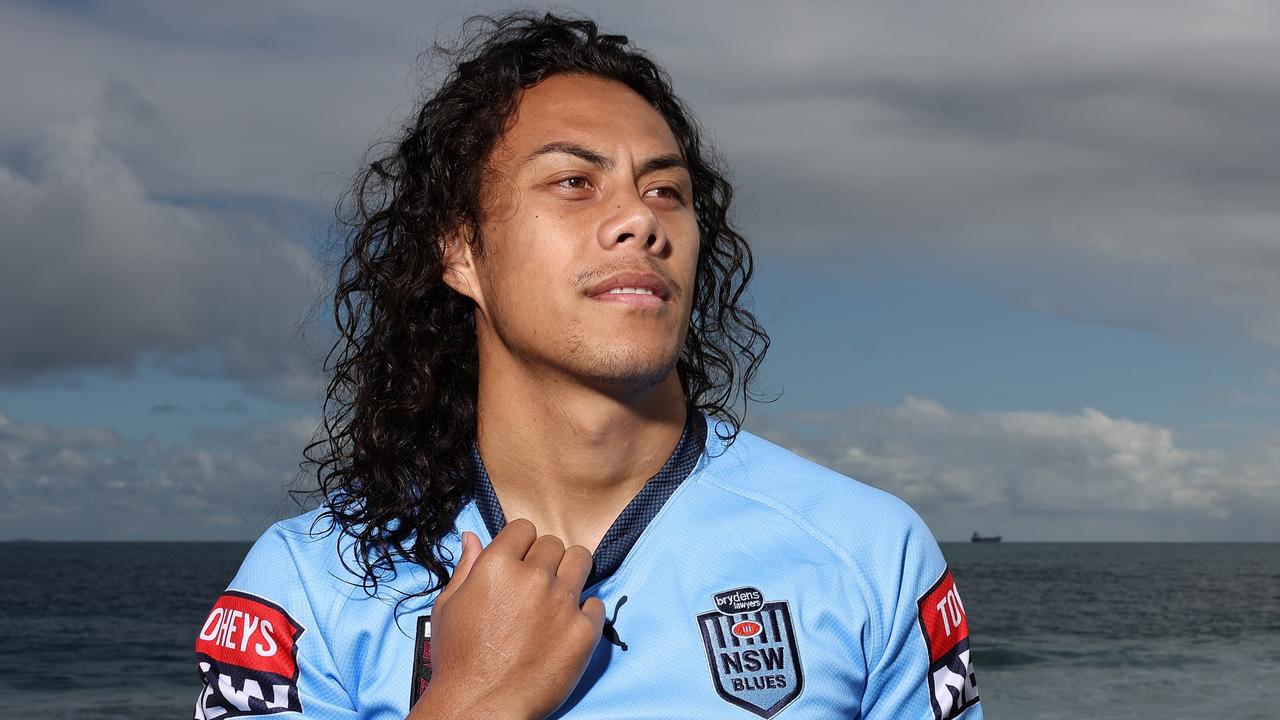 Jarome Luai has vowed to turn up the heat on the Maroons in Origin II. Picture: Paul Kane/Getty Images
"We all have a part to play with that, even myself, not in terms of physically protecting him but giving him another kicking option so he doesn't take all the heat and the pressure from Queensland, so I will make myself available for him," Luai said.
Luai and debutant centre Matt Burton were spotted swapping places on the left edge in last play set runs at training, an indication coach Brad Fittler is also looking to the Canterbury playmaker as a serious kicking option on Sunday night.
"You have to utilise the biggest boot in the game and put any kind of pressure we can on Queensland," Luai said. "Burto has the biggest boot, we need to use it when we can."
Blues' 'grubby' plan to rattle Maroons
Get ready Queensland, you'll be facing 17 fired-up Liam Martins in Perth on Sunday night.
The soft serve Blues from Origin I are finished and in their place is a no-holds barred NSW side inspired by accusations from inside the Maroons camp that backrower Martin is a grub.
Those claims on top of Blues advisor Greg Alexander saying NSW were too nice in the series opener have Brad Fittler's side breathing fire for the return bout.
Mixed with the feud between Queensland's Felise Kaufusi and Angus Crichton over an elbow on Roosters halfback Sam Walker and the stage is set for an explosive clash.
Five-eighth Jarome Luai said the Blues would channel their inner Liam Martin and find the aggression that went missing for NSW in Sydney.
Liam Martin doesn't mean being the villain. Picture: NRL Photos
"Marto showed a bit of what we didn't do in the ruck," Luai said. "That's what we mean when we spoke about being too nice, I don't think we had enough Marto is us all.
"Hopefully we can be a bit more like him and get our timing right on Sunday night."
Luai also said the Maroons camp would have to try a little harder to get a reaction out of the Blues, since Queensland only revealed something that is already well known about his tough Panthers teammate.
"Nah, I think I am agreeing with them, he is an actual grub," Luai said.
"It's pretty funny that they are saying that about him because that is what Origin footy is about. I think they are trying to find a way to flip it on us.
"But whatever happens out there, if they are going to target Marto I got his back and I am sure the other boys do as well."
Martin did his best to play down the dig from the Maroons.
"I didn't really mind it. I couldn't care less," Martin said. "That's part of Origin and footy and what happens on the field. I probably am (a bit of a grub) and they'll be into me … whatever they give I'll give back."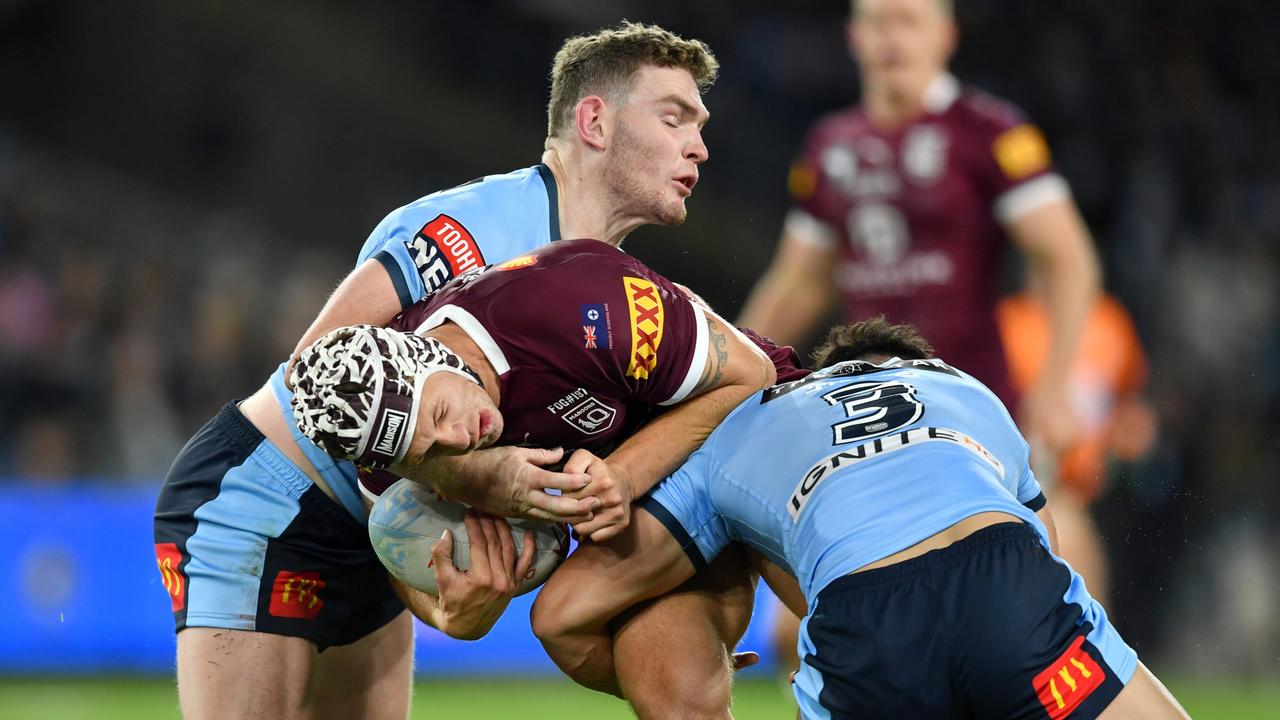 Liam Martin did his best to try to rattle the Maroons in Origin I. Picture: NRL Photos
Martin was accused of going on a four-minute rampage in Origin I that included a swinging arm to the back of Cameron Munster's head and then an elbow to the Queensland five-eighth's ribs.
Then there was a forearm to the throat of centre Dane Gagai and a facial, with his head, on former Penrith teammate Kurt Capewell.
Martin's aggression was a throwback to the days of the antics of Blues skipper and hitman and Paul Gallen. But the 25-year-old from Temora is embracing the tag of being the new NSW player that Queenslanders will love to hate.
"I'm not quite at his (Gallen's) level. He was an outstanding player and the NSW captain. I think I've got a way to go before I'm on the level of Gal," Martin said.
"Me and Capey (Capewell) have good battles because we're good mates off the field and then we shake hands and have a laugh about it.
"I don't mind it (having a target on my back) , they can come for me all they want and whatever I get I'll give back."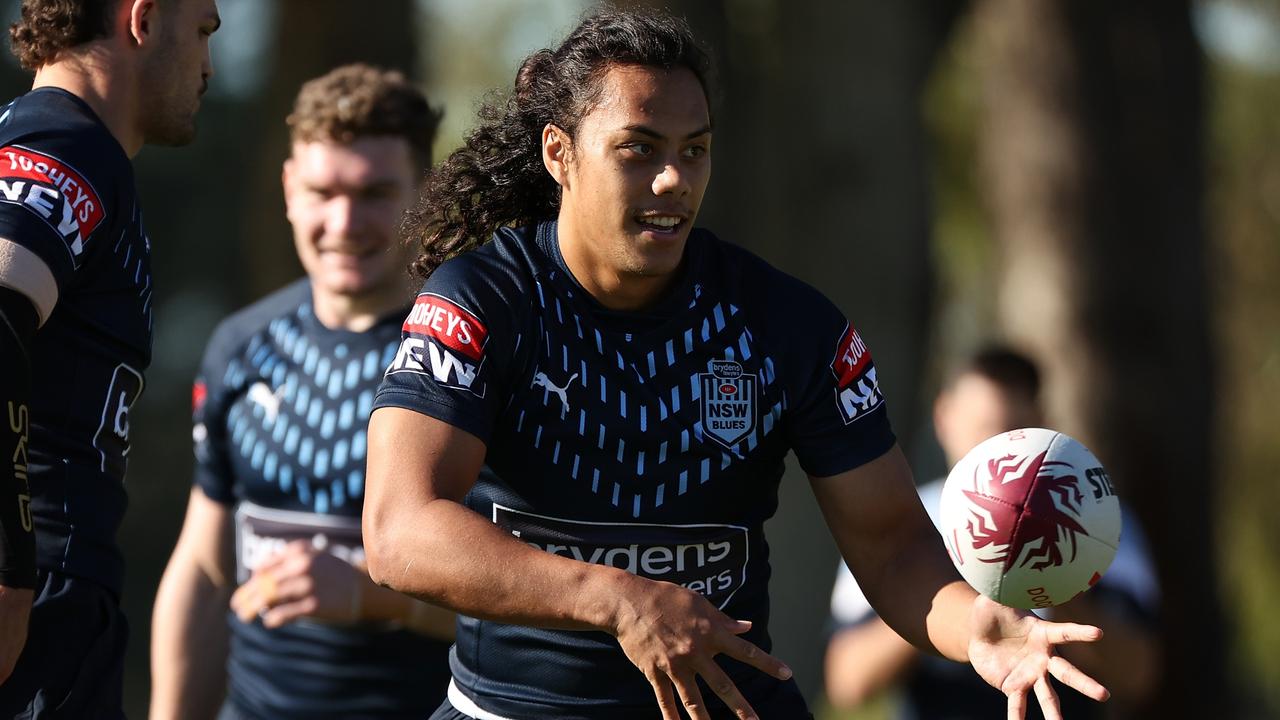 Jarome Luai admits the Blues need to follow Liam Martin's lead and be more aggressive against the Maroons. Picture: Paul Kane/Getty Images
Capewell will be in Martin's sights again on Sunday but so will Queensland's own villain Kaufusi.
Martin trained on both edges in NSW first major field session since arriving in Perth on Monday.
"I think I'm going to play a bit of both. I have the ability to play on the left and the right and I play on the right at the Panthers," Martin said.
"I've played both in the past and having Jarome (Luai) and Nathan (Cleary) alongside me makes it easy to adapt given I've played so much with them both."
Grubby Origin tactics expose new Blues villain
-Peter Badel, Travis Meyn
Here is the proof that Blues forward Liam Martin is NSW's new Origin villain.
Six years after the retirement of Paul Gallen, Queensland finally has a new Blues player to hate.
Images obtained by The Courier-Mail show Martin's four minutes of madness in Origin I as the Blues backrower went on a failed bid to spark NSW.
The Blues were trailing 16-4 on home soil at Accor Stadium in the 64th minute when Martin went on a grubby rampage to get under the skin of the Maroons.
Queensland hung on for a 16-10 win to take a 1-0 lead into Game Two in Perth on Sunday, which the Blues must win to send the series to a decider at Suncorp Stadium.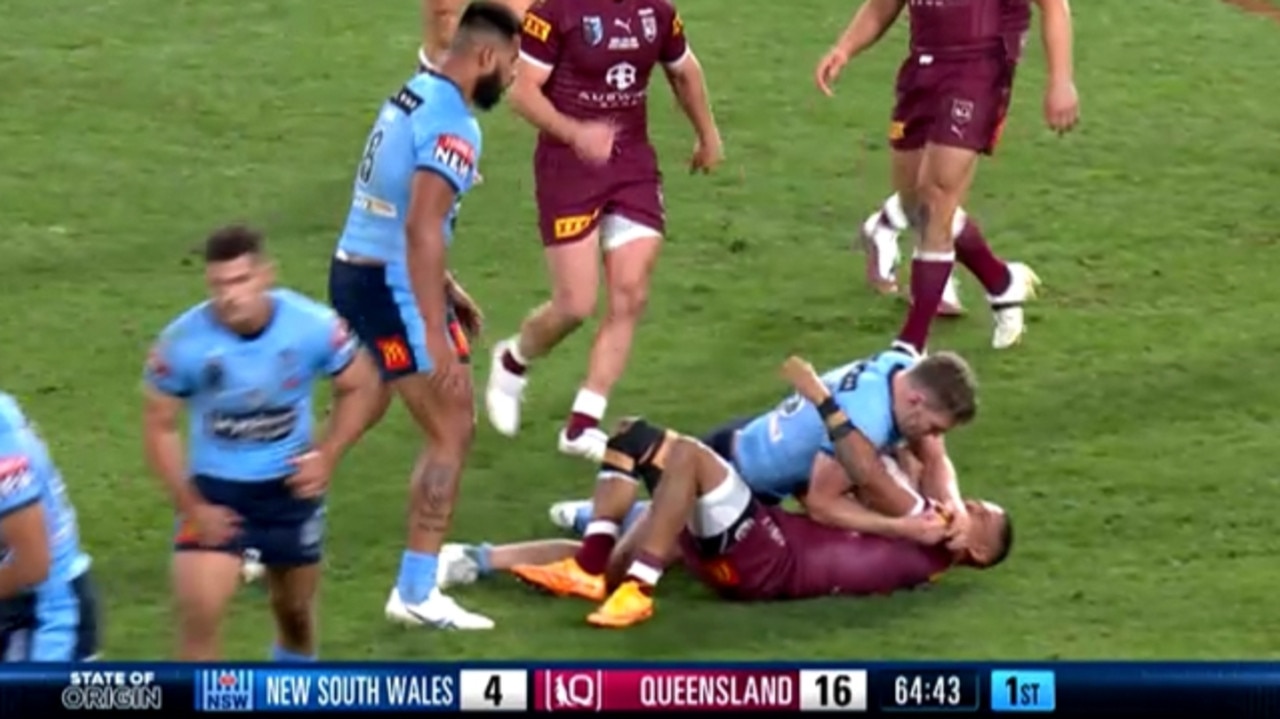 Liam Martin dropped his forearm into the throat of Dane Gagai. Pictures: Fox Sports Lab
In the space of four minutes a frustrated Martin targeted Queensland's man-of-the-match Cameron Munster twice and produced a series of feral plays to try to rattle the Maroons.
Martin's offences included:
A swinging arm to the back of Munster's head in the 64th minute after the Maroons five-eighth pounced on a loose ball and raced up the field.
A forearm to the throat of Queensland centre Dane Gagai in the 65th minute after another Blues turnover.
Rubbed his head in former Panthers teammate Kurt Capewell's face following a strong tackle in the 67th minute.
Dug his elbow into Munster's ribs in the 68th minute when Queensland was attacking NSW's line.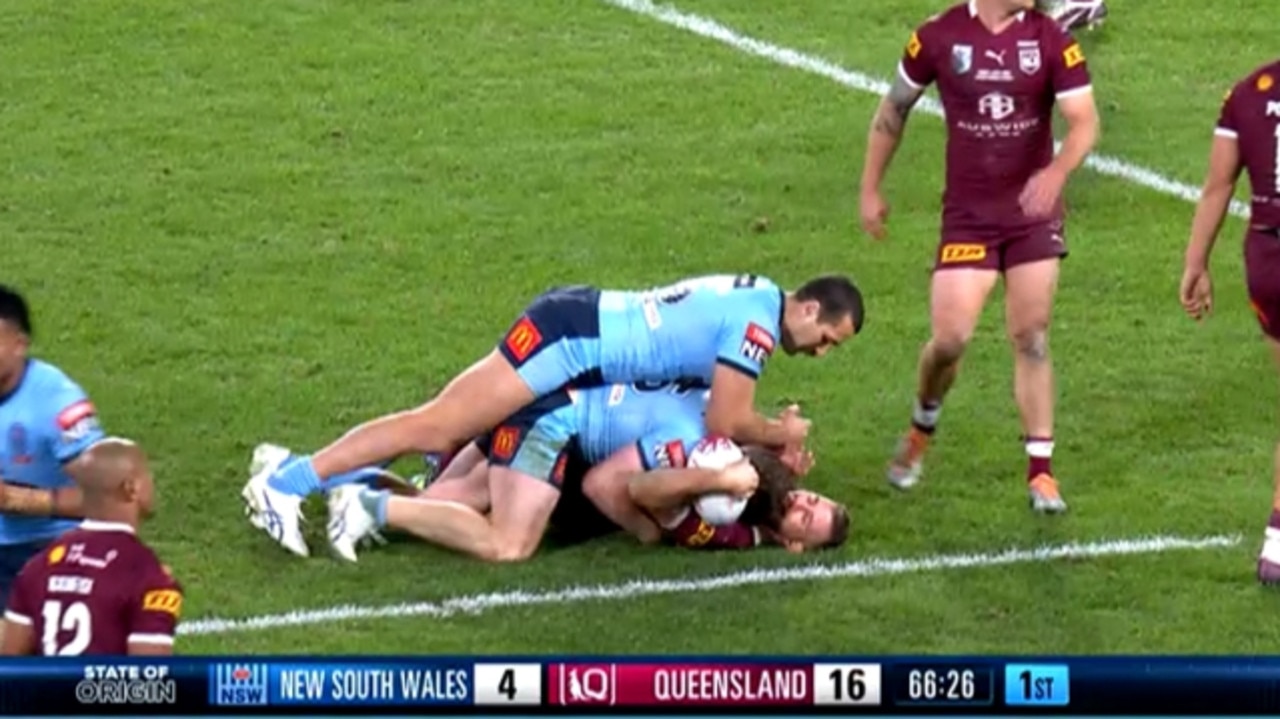 Martin tried to rough up former Penrith teammate Kurt Capewell.
Martin wasn't penalised for any of his offences after referee Ashley Klein put his whistle away for most of the match.
To their credit, the Maroons didn't react to Martin's below-the-belt ploys and Capewell said he was looking forward to round two in the wild west.
"There is always a little bit of that niggle between players," Capewell said.
"It's something that makes Origin so good. It's a game full of passion and 'Marto' has definitely got that in his game.
"He is definitely aggressive and a powerful player who can be hard to handle at times.
"Me and Marto get along really well. It's always good to have a bit of a duel with one of your mates.
"I'll be looking forward to that in game two. I'm looking forward to the challenge."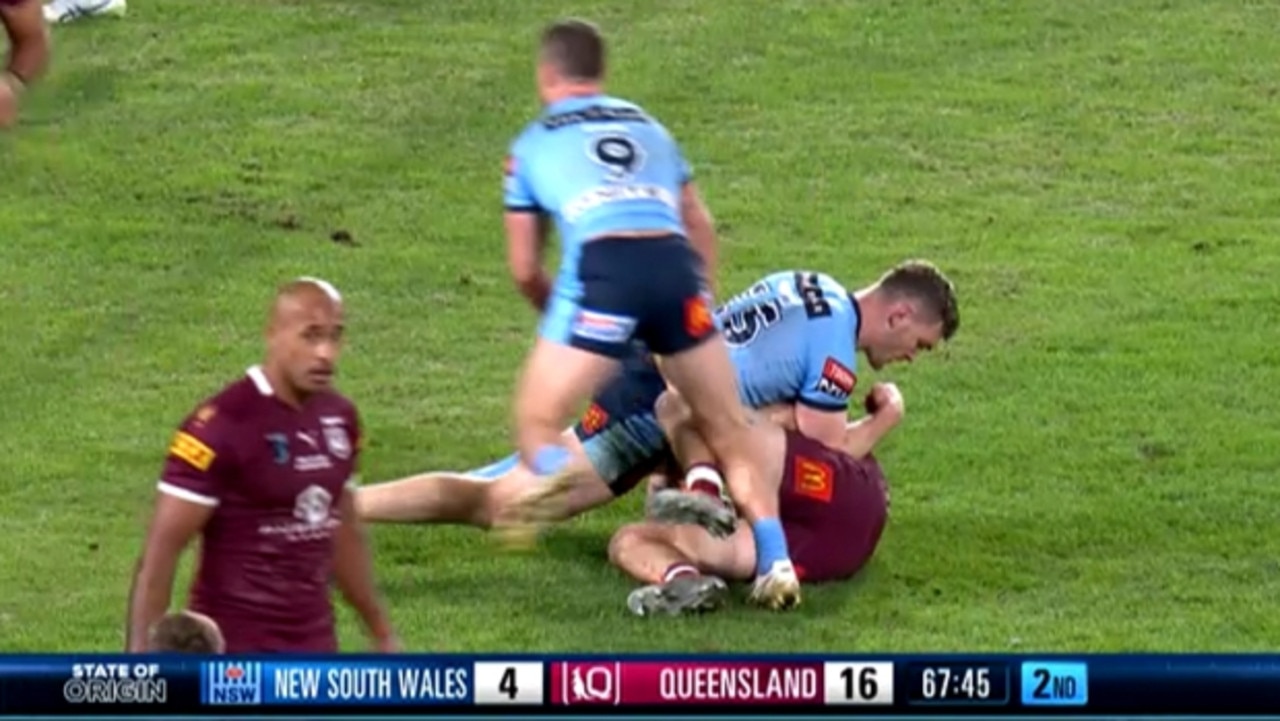 Martin digs his elbow into Cameron Munster's ribs during Origin 1.
After being a late addition to the Blues' starting side, Martin has been named in NSW's run-on 13 for Sunday's clash at Optus Stadium, his fifth Origin appearance.
And the Maroons are expecting the Penrith enforcer to come out swinging again with the series on the line.
"We're aware of how much of an influence he can have on the game," Queensland captain Daly Cherry-Evans said.
"Defensively, he gets stuck in and isn't afraid to rough you up.
"That Panthers system has created a really hardworking mentality, in particular for the back-rowers, whether it's (Viliame) Kikau or Liam Martin coming to get you, they do a lot of work from the inside and Martin brings a lot of those traits to the NSW team.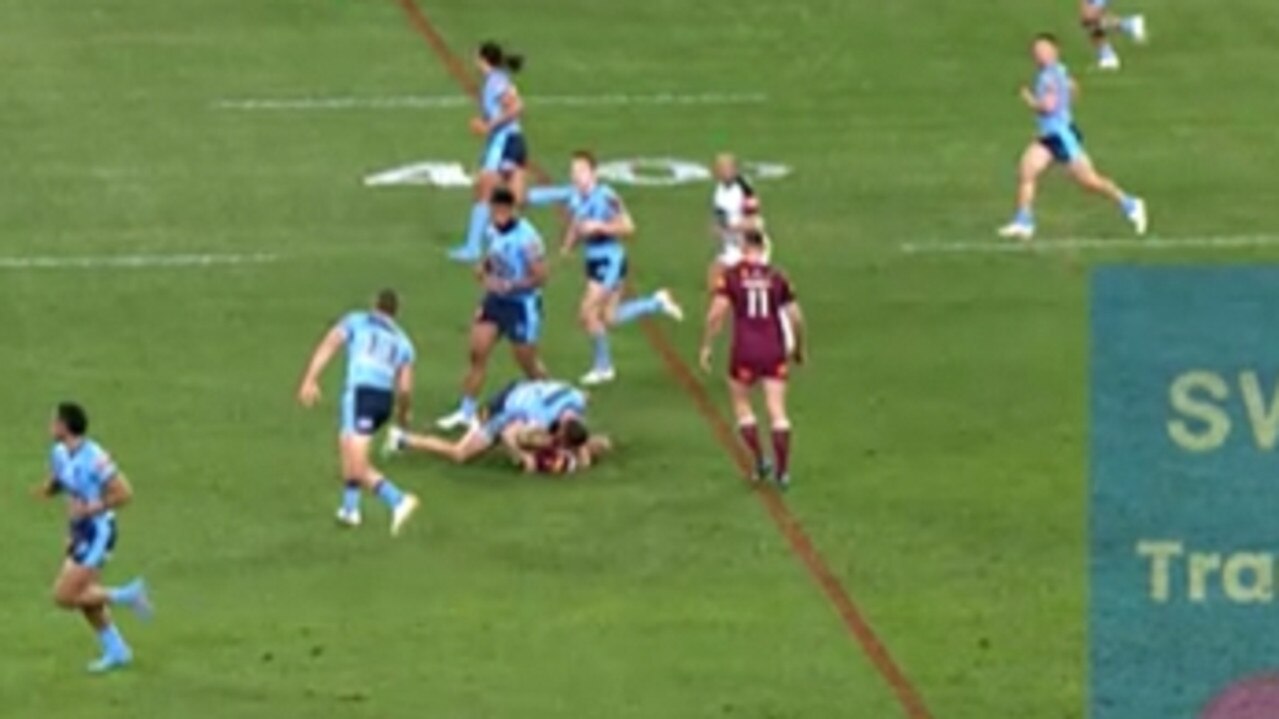 Martin launched a swinging arm into the back of Munster's head.
"Liam gets through a lot of work and he is such a determined player. He never wants to let his teammates down, he gets stuck in and it's really clear in his playing style.
"He makes a hell of a lot of tackles and he is always running nice and directly straight at the halves. For the smaller guys, he is hard to stop."
Maroons forward Jai Arrow said Martin's strength was his toughness and desire to do the hard work.
"He is a tough player," he said. "He is in that team for a reason and has been doing a great job for Penrith. We have to be on defensively."
Originally published as State of Origin 2022: Liam Martin's mum fires up over 'grub' slur