Why Dane Gagai felt like a rookie again in Maroons camp
Dane Gagai notched up 20 State of Origin games on Wednesday night but the new generation of Maroons stars had him feeling like a Queensland newcomer, writes PAMELA WHALEY.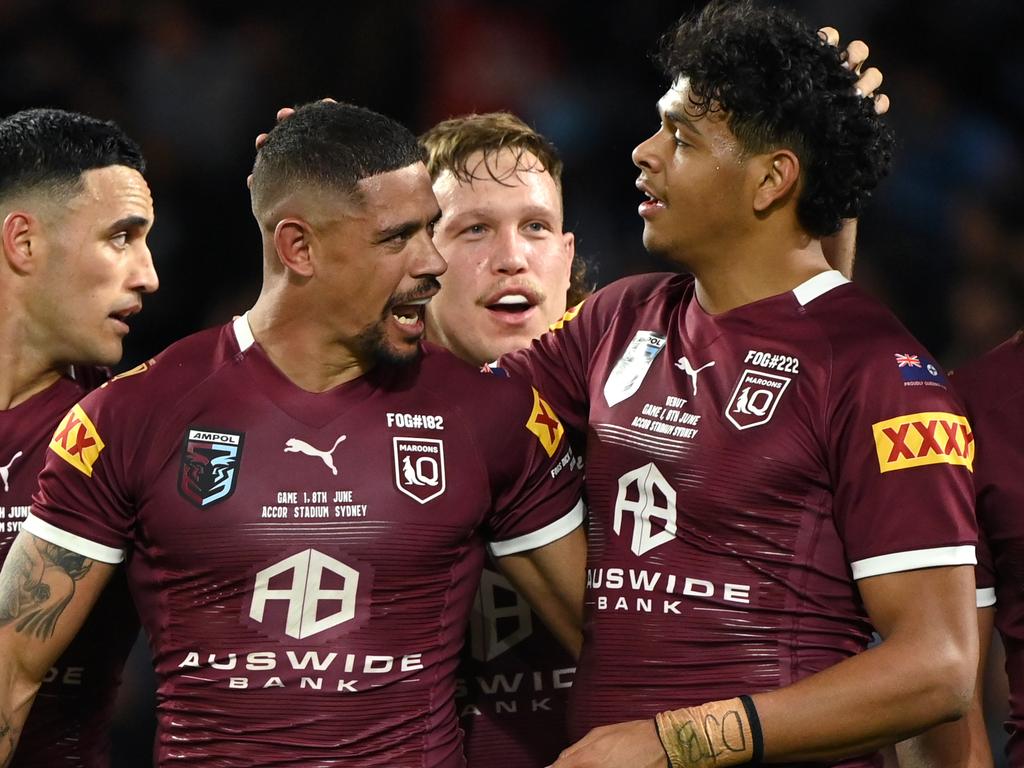 Origin veteran Dane Gagai and newcomer Selwyn Cobbo linked up for Queensland's first try on Wednesday night. Picture: NRL Imagery
Dane Gagai has played 20 State of Origin games for Queensland but he says Wednesday night felt like his first all over again.
A return to Sanctuary Cove for the first time in recent years, Billy Slater's brilliance as a rookie coach and the next-gen of stars helped restore the indefinable but undeniable Queensland vibe to Maroons camp.
Wednesday night's 16-10 thrilling win in Sydney is a stark turn around from last year's embarrassing back-to-back losses with a combined scoreline of 76-6 to start the series.
Gagai is cautious, but with one win under their belt before Game Two in Perth on June 26, says it feels like Queensland camp again.
And it's all due to Slater.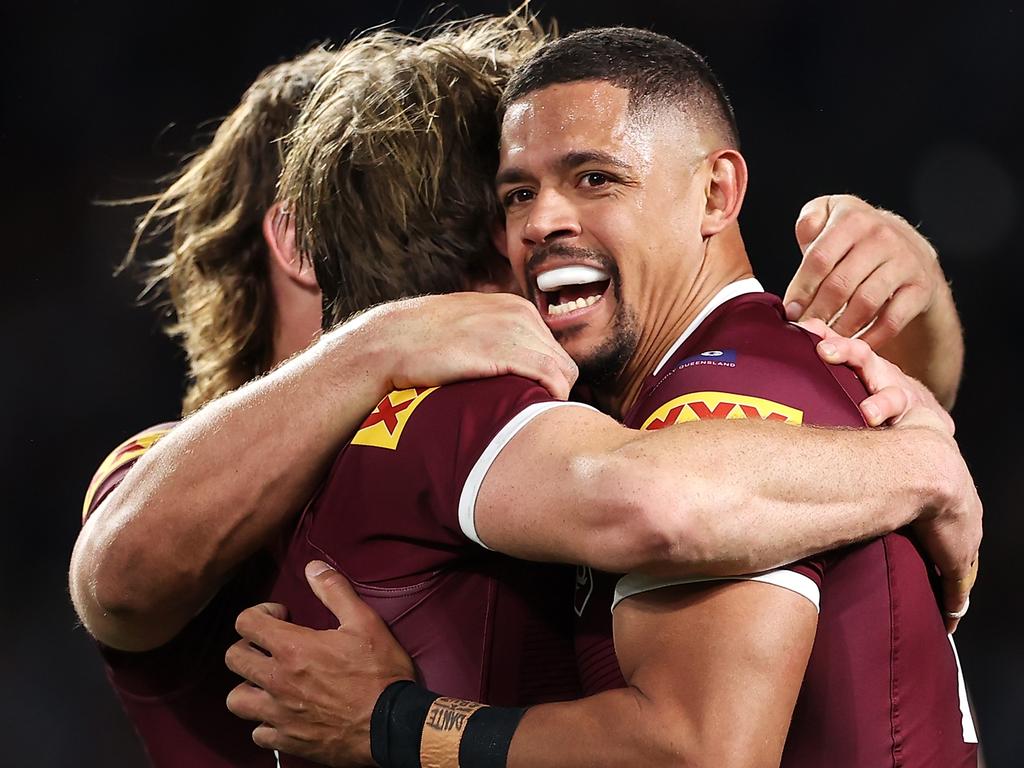 What a difference a year makes. Picture: Mark Kolbe/Getty Images
"It felt like I was back in 2015 again making my debut with the atmosphere around the place where the connection with the playing group was so strong," he told CodeSports.
"In the time away from training everyone was just enjoying each other's company.
"We've got rooms to ourselves but no one spends time on their own because everyone is out doing stuff together. It had that same feeling about it [as 2015 under former coach Mal Meninga].
"I don't know whether it was Covid or a few other things, but we ended up going away from Sanctuary Cove, but now that we're back there it just felt like Origin again.
"It felt like Queensland again. Billy's a very smart man and his ability to connect with his players, it's just like the Craig Bellamys, the Mal Meningas and the Wayne Bennetts."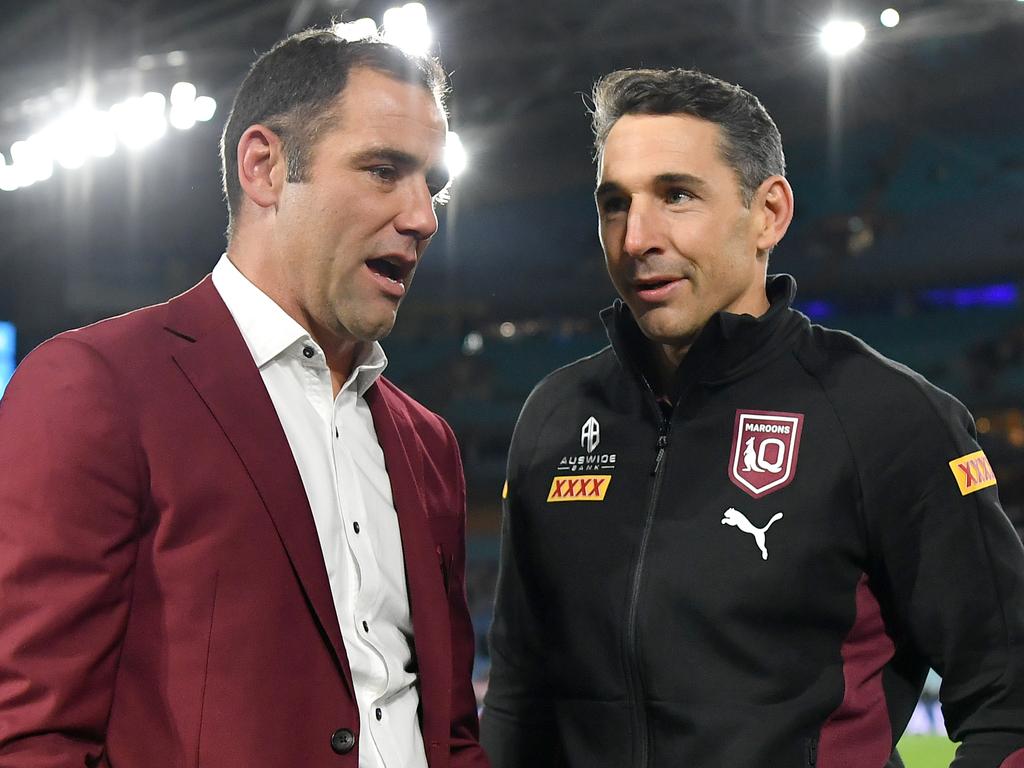 Cameron Smith and Billy Slater - Getting the old crew back together. Picture: NRL Imagery
The inclusion of Maroons greats Johnathan Thurston and Cameron Smith to the coaching staff helped evoke the dangerous aura that saw Queensland through 11 series wins in 12 years.
It was an era of dominance that may never be repeated, but had started to swing in NSW's favour after the Blues won three of the last four series.
Unlike Gagai, Queensland fullback Kalyn Ponga is yet to win an Origin series, but has come one step closer.
The Newcastle captain played his fifth game for the Maroons but it's his relationship with Slater that has grown the most this camp.
"I've always spoken to him on the phone and that's been the extent, but to be hands on with him throughout the whole week was pretty cool," he said.
"It was pretty surreal for me. He's still the best fullback. For me to be able to talk to him and suck some of the knowledge from his brain, I'm very grateful."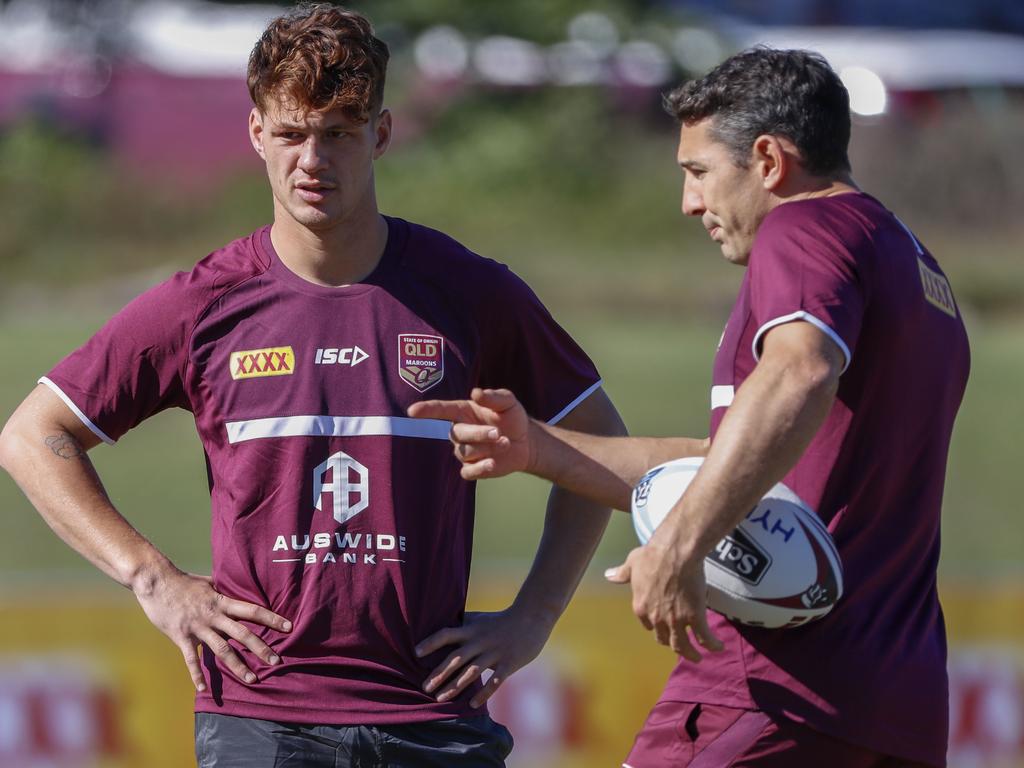 Kalyn Ponga has been learning from the best. Picture: Glenn Hunt
Ponga put in a sublime touch for Valentine Holmes' try in the second half and made a brave tackle on Isaah Yeo under the posts in the dying seconds.
With Slater's help, Queensland's tough identity returned through debutants Reuben Cotter, Selwyn Cobbo and Pat Carrigan too – Cotter knocking out an incredible 51 tackles in an 80-minute performance, while Carrigan had the most metres of any forward on the field with 165.
"Even before he became coach Queensland had that style of play, they're gritty, they're tough, they work hard for each other. I think that's always going to be in the DNA of Queensland," Ponga said.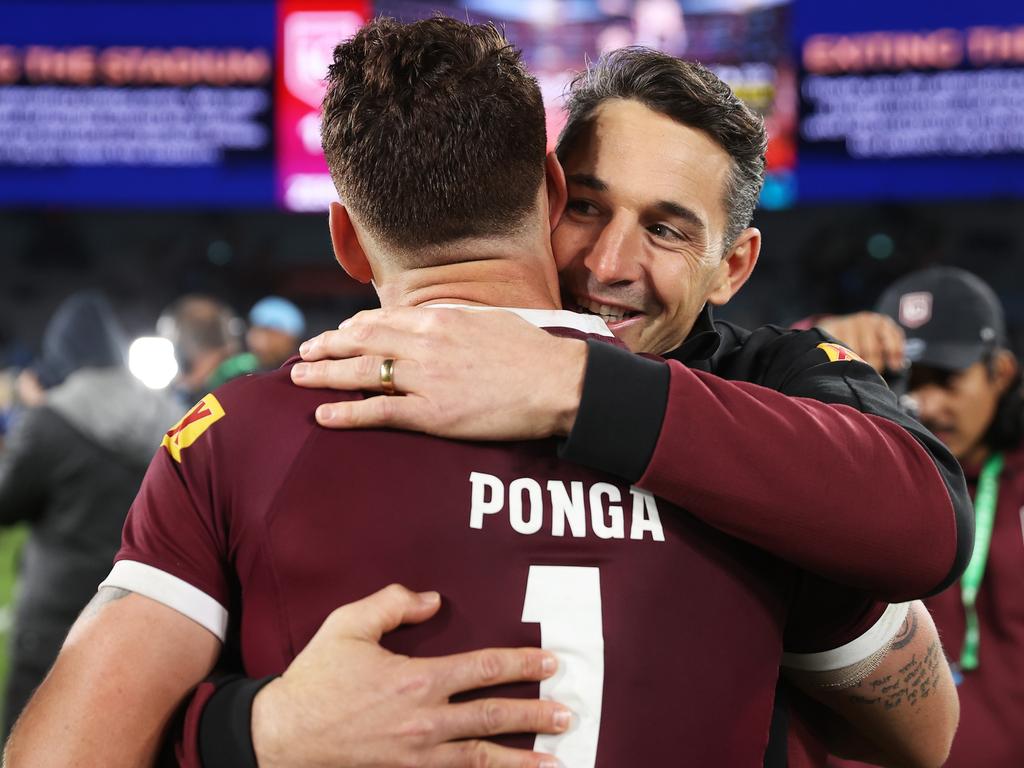 One down, two to go. Picture: Mark Kolbe/Getty Images
As a first time coach all Slater needed to do was inspire. And that comes easy to the Queensland legend.
"He was pretty spot on. He's got that knowledge of the game and shaped the way fullbacks play as an extra half out there so he's very smart," Gagai said.
"He's been coached by Craig Bellamy, coached by Mal Meninga. He does his own thing but what he does bring, and what those types of coaches bring is that ability to connect with his players and put the confidence in his players.
"That showed in our debutants, not one of them looked out of place. A lot [of] that has to do with Billy Slater."