Women's State of Origin 2022: NSW Sky Blues defeat Queensland Maroons in nailbiter
The Origin shield is heading to NSW after an epic battle that left fans wanting just one thing – two more games. Read our full analysis and match report
The anticipated women's State of Origin contest has again lived up to its billing after the interstate rivals delivered another thrilling game for the ages.
Neither side led by more than six in a seesawing affair that included two dramatic no tries for both sides in the final 15 minutes.
In the 65th minute, Queensland's Shenae Ciesiolka crashed over the try line in the hopes of giving her side the 18-16 lead over NSW.
Upon review the try was denied after teammate winger Julia Robinson was ruled off-side.
Then, just seconds after, Isabelle Kelly dug deep to lead NSW to victory, with a last minute try, setting the final score of 20 to 14 to the Blues.
Stream every game of every round of the 2022 NRL Telstra Premiership Season Live & Ad-Break Free During Play on Kayo. New to Kayo? Try 14-days free now.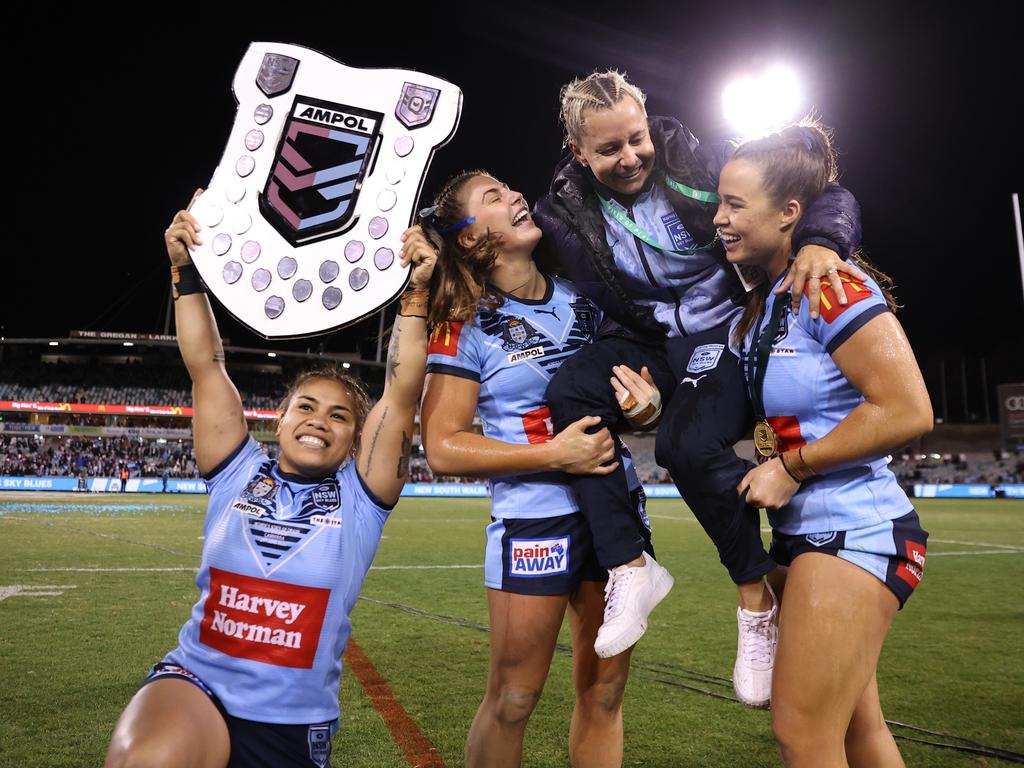 Kylie Hilder head coach of the Blues is chaired by Jessica Sergis and Isabelle Kelly. Picture: Cameron Spencer/Getty Images
The display of talent, pace and determination from the NSW and Queensland sides will no doubt excite and challenge Jillaroos coach Brad McDonald and World Cup selectors as they look to fill their squads for England in October.
Not only will selectors be thrilled with the standout performance from previous Australian representatives such as Sydney Roosters centre Isabelle Kelly and powerhouse No. 3 Jessica Sergis, but excited by the dominance of debutants and fresh Origin faces including St George Illawarra's Emma Tonegato and Racheal Pearson, Newcastle's Caitlan Johnston and Gold Coast's Evania Pelite.
ORIGIN PLAYER RATINGS: STAR'S NEAR-PERFECT NIGHT
The NSW backs in particular shone on Friday night and demanded attention, with Kelly cementing herself as one of the best on ground gaininga total of 181 metres on the night, with 10 tackle breaks and a legendary try.
Sky Blues head coach Kylie Hilder sung the praises of Kelly in her post match press conference.
"She (Kelly) says to me, I didn't think I did anything," joked Hilder.
"She gives her all and I'm just so lucky that she gets to play on my side and I get to coach her and I'm so proud of her effort tonight."
Kelly's Rooster's teammate Jessica Sergis also had five tackle breaks.
The unstoppable Tonegato had one try and gained 153 metres on the night, with the Dally M winner looking dangerous every time she had ball possession, while teammate Pearson worked to show exactly why she was chosen by Kylie Hilder for the No. 7 Sky Blue jersey.
"It was so fun. It was awesome. It was everything Origin is meant to be and I'm just extremely happy that we came away with the win," said Tonegato.
The fullback said despite having an impressive performance which may land her a spot in the World Cup side, she wasn't ready to think about the Jillaroos just yet.
"I'm kind of focused on one thing at a time and I am just going to enjoy the win."
Origin first-timer Pelite, would have certainly put a smile on the face of Queensland head coach Tahnee Norris after charging over the try line in the final 12 minutes of the interstate clash.
Jessica Sergis of the Blues celebrates after the win. Picture: Cameron Spencer/Getty Images
Maroons captain Ali Brigginshaw said she "couldn't fault" the performance of the two Queensland debutants.
Bound to give Jillaroos staff a headache is the battle for the No. 6 jersey, which is set to be between Sky Blues five-eighth Kirra Dibb and the Maroon's Tarryn Aiken, who both had standout performances for their sides on Friday night.
The highly anticipated match up between the Newcastle Knights and Brisbane Broncos representatives did not disappoint, with Dibb and Aiken scoring for both their sides.
Coach Hilder said she was particularly impressed with Dibb, after having not played in an Origin clash since 2019.
"I've been pretty honest with Kirra over the last couple of years, since I took this role on and she was always reaching out and asking, you know, what did she need to get back into this side and I was always very honest and open which I am with all the players and she's just matured and she will tell you herself that but just on and off the field.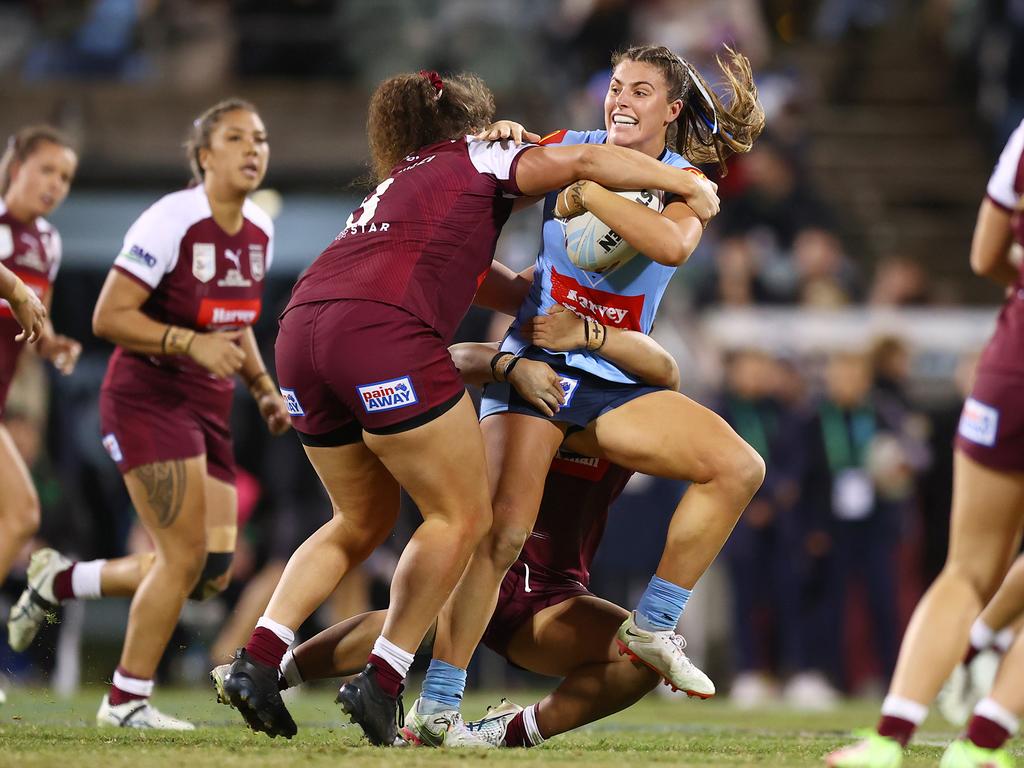 Isabelle Kelly of the Blues is tackled/ Picture: Mark Nolan/Getty Images
"Her and Rachel combining in seven and six was unbelievable and that's what we need at this level and I'm so happy for Kirra to score a try."
It is safe to say the Sky Blues and Maroons worked to prove the point made by both teams during the week, the series should be expanded to three games.
There was no shortage of intensity or quality from all players, who will walk away from Friday night's match knowing regardless of the result, footy fans tuning in across the nation and world wide were certainly entertained.
The Maroons can also be excited for the future of the Queensland side after the dominant performance from youngster Destiny Brill, 19 and Tiana Raftstrand-Smith, 19.
All eyes will be on NSWRL following the Sky Blues win in regards to player payment going forward.
The Maroons squad are currently contracted to earn $15,000 for Origin appearances, the same amount the Queensland men are also paid. On the other hand, Blues players earn $8,800.
Sky Blues overcome mayhem in Origin nailbiter
– Kate Allman
NSW have kicked their way to winning back the Women's State of Origin shield in a nailbiting clash that never looked over until the final siren ended in a 20-14 finish.
The match had everything you could hope from Origin — a record 12,000-strong crowd, a bloodied Maroon in the first five minutes, a failed head injury assessment on Jillaroo Steph Hancock, and controversial disallowed tries on each side in the final 10.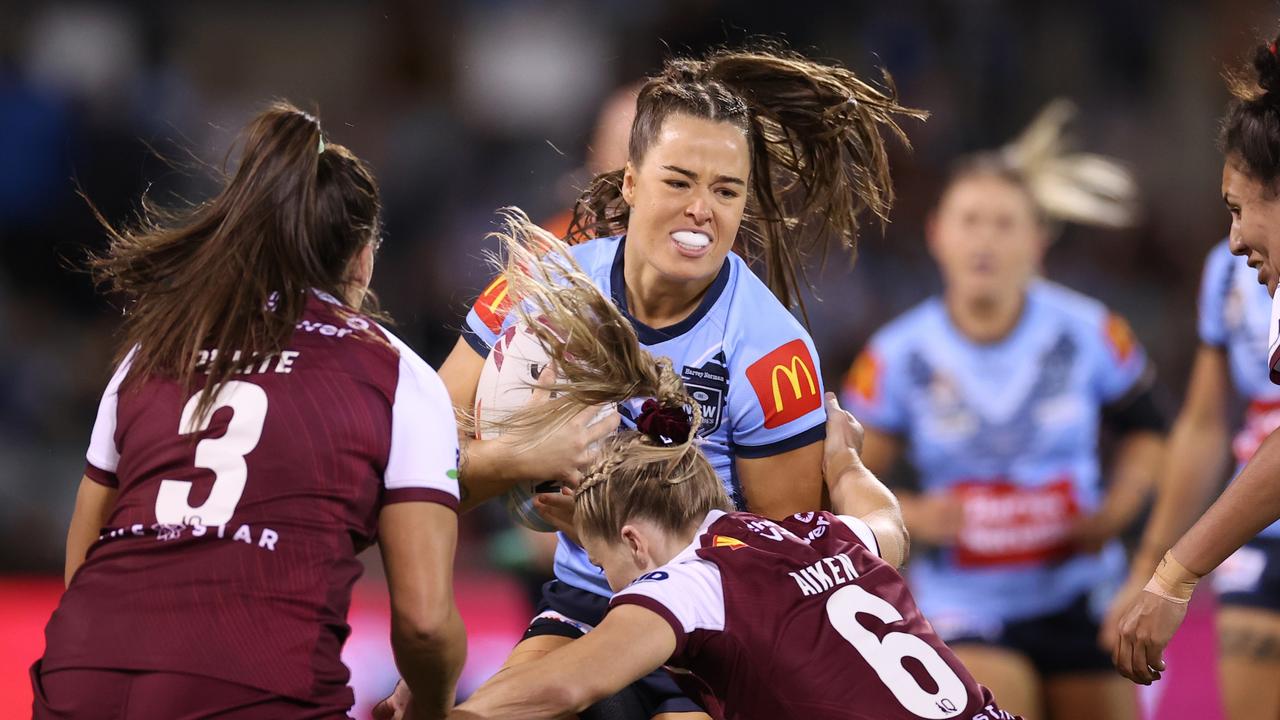 Isabelle Kelly was outstanding for the Sky Blues. Picture: Cameron Spencer/Getty Images
FIVE MINUTES OF MAYHEM
A questionable bunker call in the final five minutes of the game disallowed a NSW try that looked to seal the match.
Moments later, Sky Blue hearts were in throats as Queensland's Julia Robinson grabbed a kick bomb from Ali Brigginshaw to help Queensland to what they thought was an 18-16 lead. But the bunker replay showed Roberts was at least five metres off-side from the kick.
"The try was scored and I was deflated straight away. I thought, they're gonna win this, Queensland has done it again. But I knew the (NSW) girls had it in them, we just had to stick to our processes, trust each other," said NSW coach Kylie Hilder.
The Sky Blues finally iced the win via unstoppable prop Caitlan Johnston, who went crashing into the Maroons' line before a quick-play-the-ball sent Isabelle Kelly to try.
Tiana Penitani of the Blues celebrates scoring a try which was disallowed after review.
SHAKING THE QUEENSLAND CURSE
The match started with ghosts of last year as Chelsea Lenarduzzi won a penalty against an onslaught of NSW momentum in the first 10 minutes and was the final tackle before Queensland drew first blood through Destiny Brill.
When her team was down by six in the second half, Lenarduzzi again set up the Maroons to score through former rugby union star Evania Pelite on the left edge.
But it was Queensland's year to miss in the kicking game — the Maroons squandering two from three chances.
Meanwhile NSW converted two and scored two penalties off the boot of Rachael Pearson.
"We just couldn't capitalise on opportunities," admitted Maroons coach, former Jillaroo Tahnee Norris.
"It was a rollercoaster and disappointing to come away with a loss. To see the girls put in so much effort, it really hurts."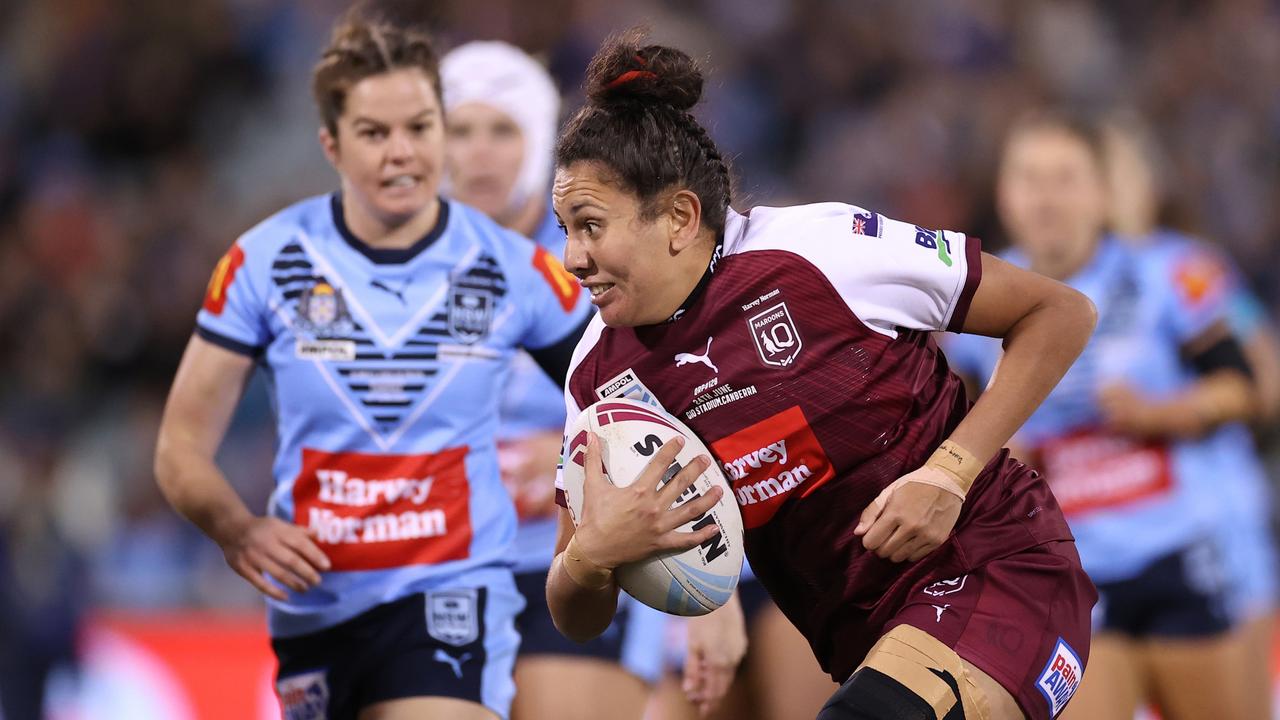 Tallisha Harden of the Maroons runs the ball.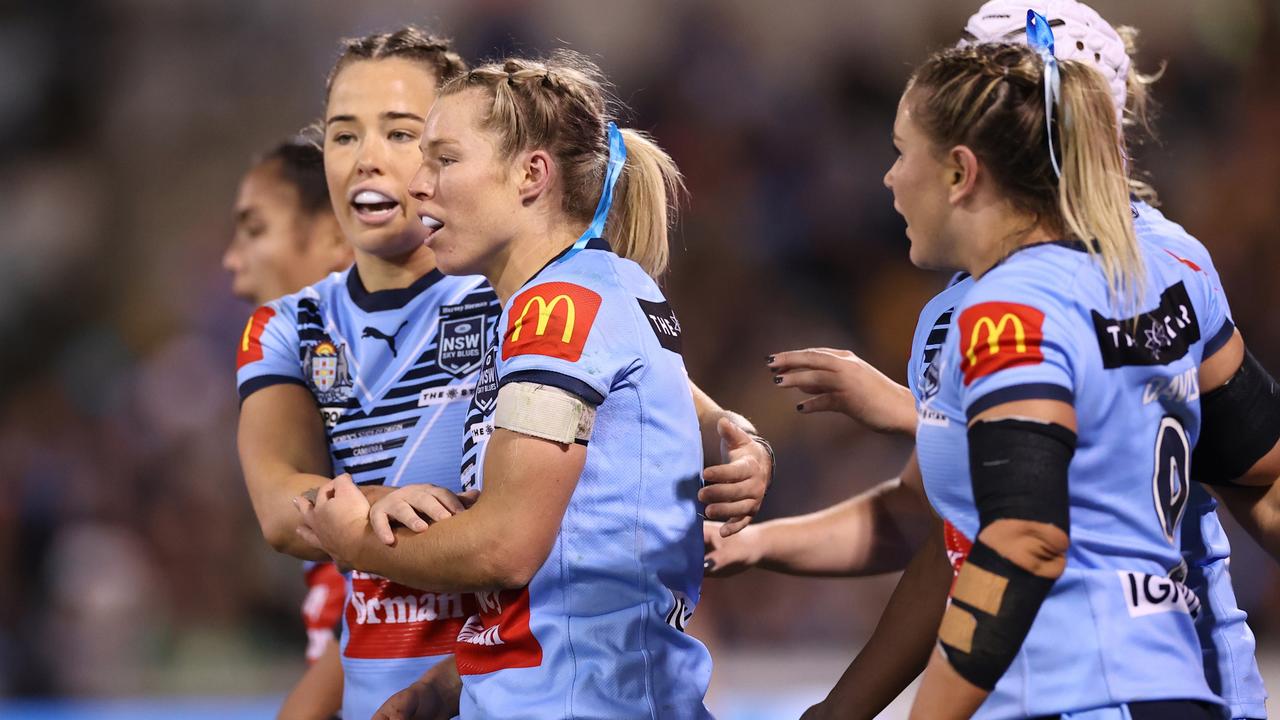 Emma Tonegato of the Blues celebrates a try.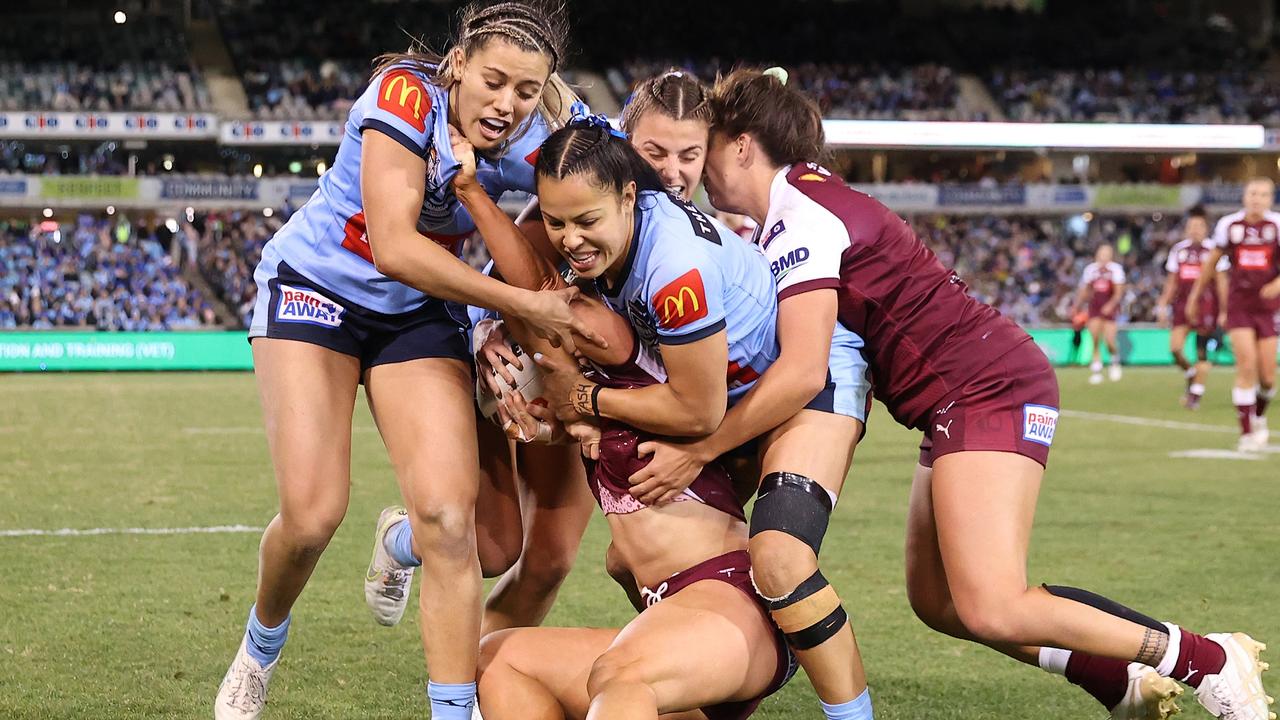 Emily Bass of the Maroons is tackled by Tiana Penitani.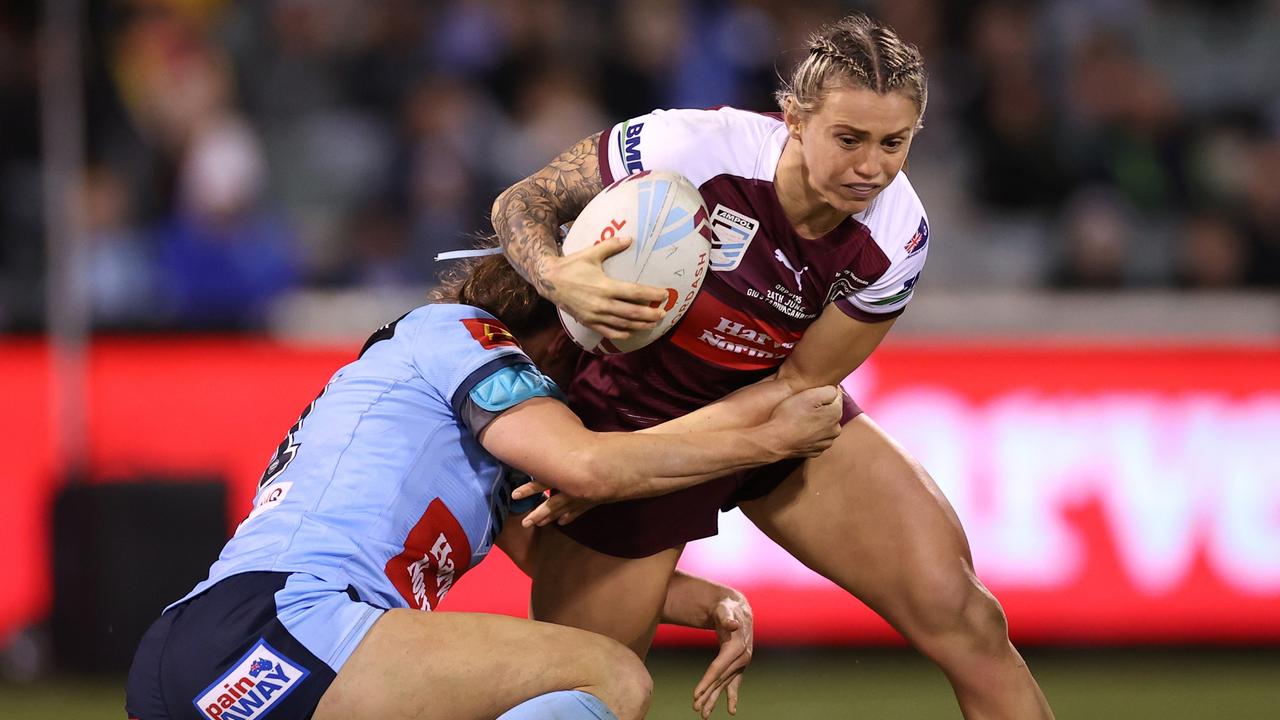 Julia Robinson of the Maroons is tackled.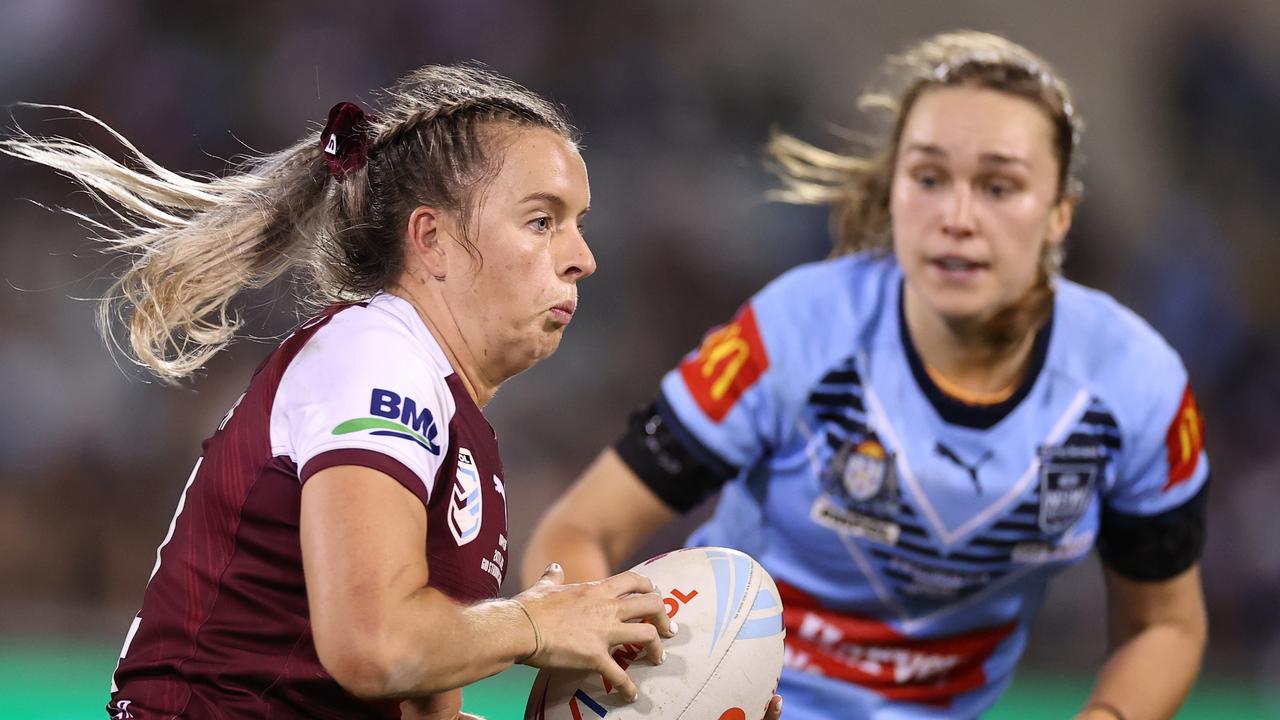 Lauren Brown of the Maroons runs the ball.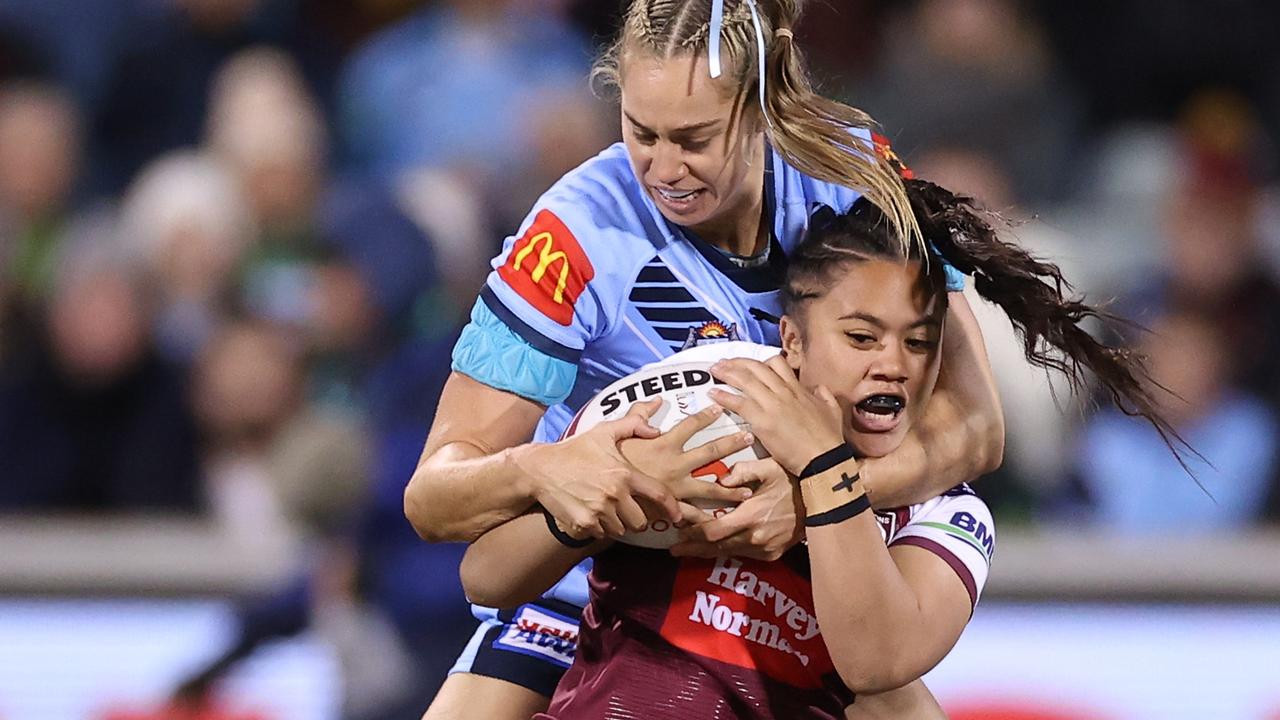 Destiny Brill of the Maroons is tackled by Kezie Apps.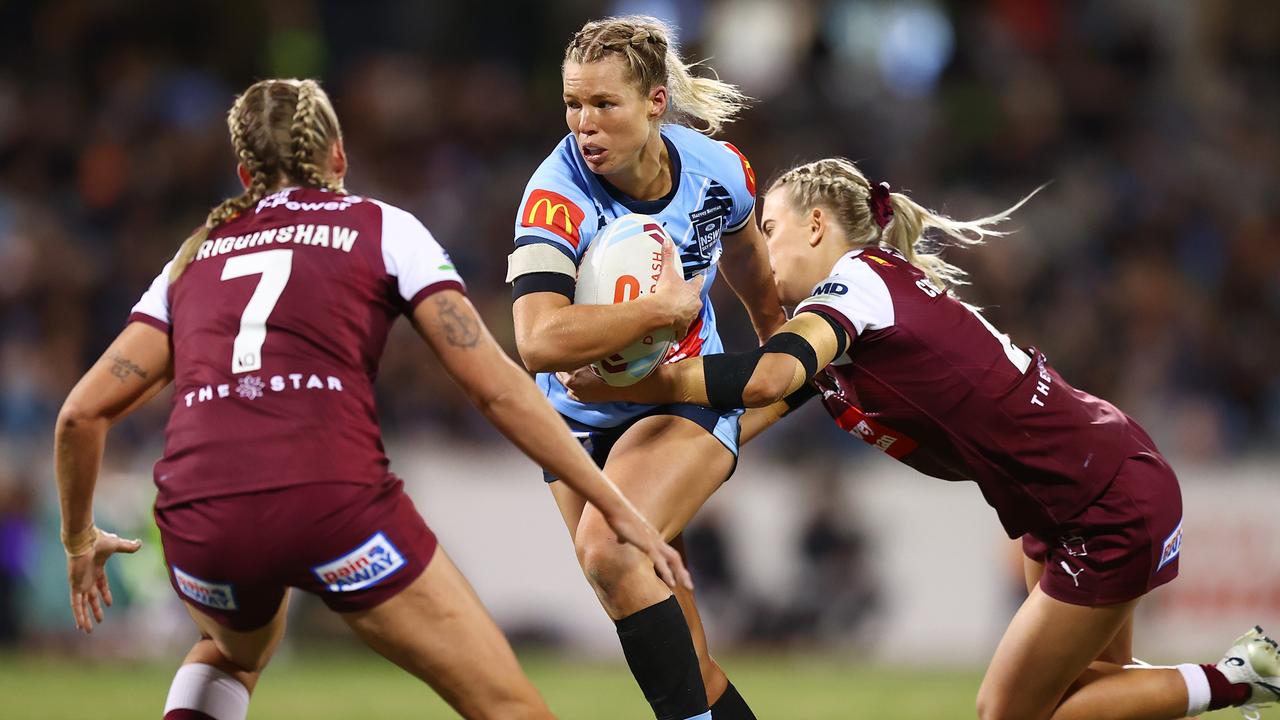 Emma Tonegato busts a tackle.
SEVENS MAGIC
The much-hyped dual Olympian and joint-Dally M medallist Emma Tonegato brought the creativity of her former Rugby Sevens career with immediate impact.
Thirteen minutes in, she scored a try off a dirty bobbling ball from the boot of Keely Davis, reeling in the bounce and grounding it cleanly inches before flying out.
She continued making line breaks and crucial tackles throughout the match, running for 145m.
CENTRES OF ATTENTION
The NRLW premiership-winning combination of Sydney Roosters Isabelle Kelly and Jessica Sergis was equally lively with 192 and 132 run metres respectively.
Kelly was deserving player of the match, relishing every tackle opportunity as she steamed to the Maroons' line and made post-contact metres with the ball in hand. She finished with 11 tackle busts — a record for any women's State of Origin game.
"She's testing Qld on every play, every play there's a question being asked," legendary NSW coach Phil Gould said during the broadcast.
Coach Hilder said: "Every time Issy comes out and plays a game — that's how she performs. She gives her all and I'm just so lucky she plays in my side and I get to coach her."
Originally published as Women's State of Origin 2022: NSW Sky Blues defeat Queensland Maroons in nailbiter