Women's State of Origin 2022: Why last standalone fixture could decide 2023 winner
The 2022 women's State of Origin game is the last of the standalone matches and the winner will hold a significant advantage in next year's groundbreaking series.
Snatching back the State of Origin shield is now more important than ever for the Sky Blues with the series to be extended to two games rather than one in 2023.
Friday's night's women's Origin game is the last of the standalone matches and whoever goes into next year's series holding the bragging rights will claim a significant advantage.
Should next year's series be split at a game apiece, the winner of Friday night's game at GIO Stadium in Canberra will retain the shield.
Sky Blues captain Kezie Apps knows what is up for grabs this season but said the extended series in 2023 doesn't go far enough.
Stream The 2022 Women's State of Origin LIVE on Kayo this Friday 24th June from 7:45PM AEST. New to Kayo? Try 14-Days Free Now >
"Let's make it three (games), two is silly," Apps said.
Apps led the group for her captain's run session on Thursday, alongside head coach Kylie Hilder and assistant coaches Ruan Sims and Kate Mullaly, with all players appearing relaxed and ready to go.
The St George Illawarra second rower said she was most looking forward to "just being able to play a game of footy with mates" after weeks of preparation and training camp sessions leading up to the big event.
Dragons fullback and Olympic gold medallist Emma Tonegato is set to make her debut for the Sky Blues alongside teammate halfback Rachael Pearson, Roosters backrower Olivia Kernick and Knights prop Caitlan Johnston.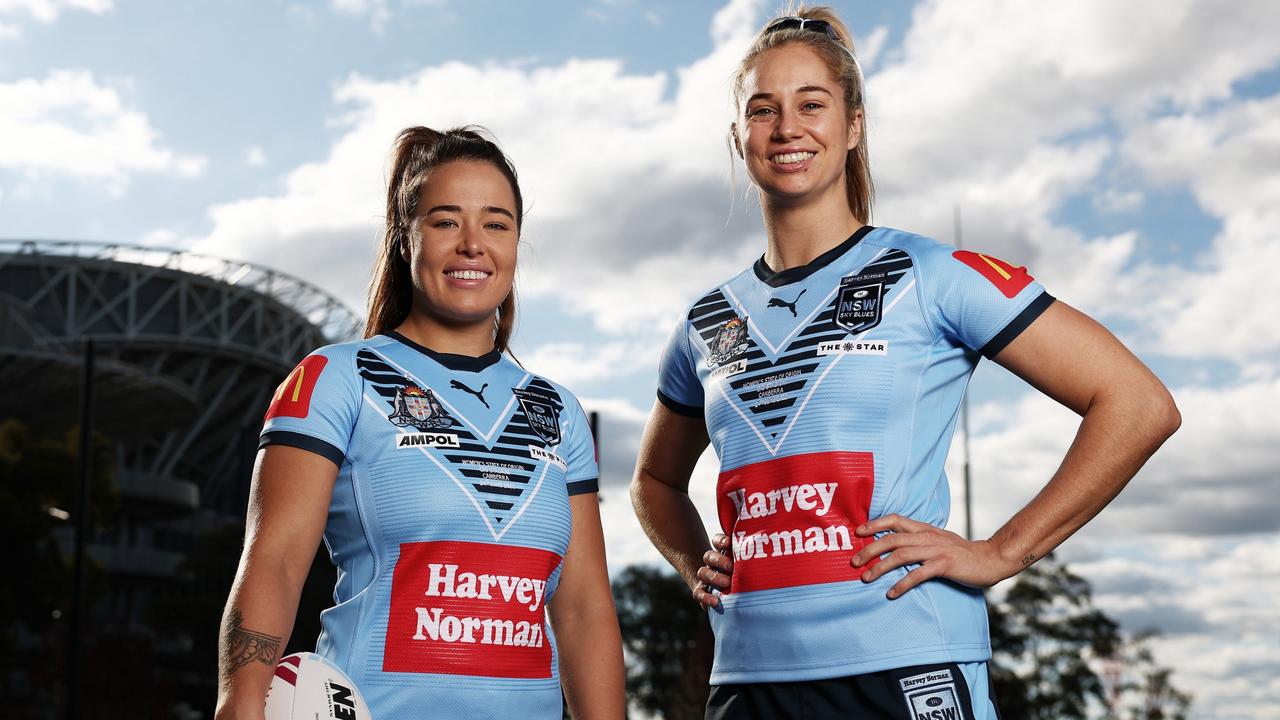 Blues stars Isabelle Kelly and Kezie Apps. Picture: Matt King/Getty
Tonegato and Roosters' Corban Baxter backed App's call about the length of the series.
"I think it should be three," said Baxter.
"It's hard to get a roll on and becomes a bit tricky," said Tonegato.
"It would be more of a spectacle if it were three, it should be the same as the men."
Roosters and Blues star Jess Sergis also echoed her captain's thoughts.
"I guess if you both win one, I don't know how you can decide on the winner, it's going to be a draw, so let's go three," she said.
Apps said the rookies had all impressed her during the training period and welcomed the opportunity to develop their skills alongside some of the best in the business.
"I feel like when they have come into camp, they have been really mindful and learning and watching what other people do and taking note of that and I guess just wanting to be like that as well.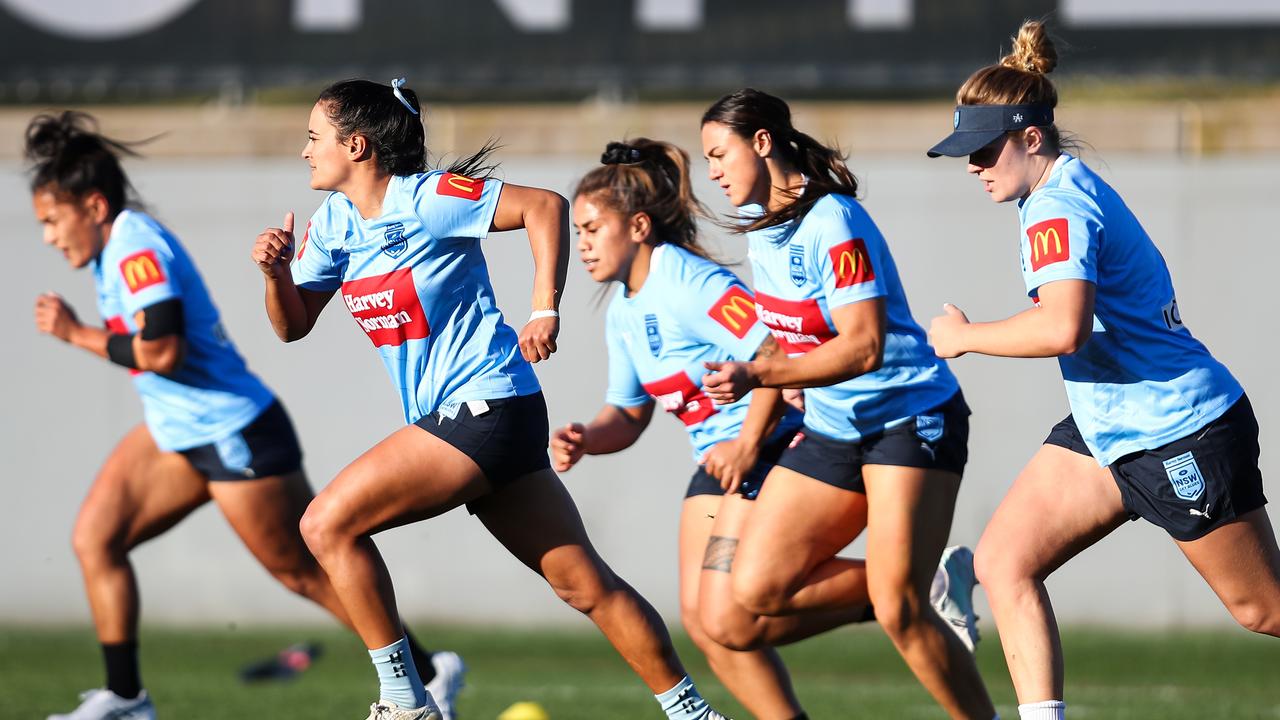 NSW finish their preparation before Friday night's clash. Picture: NRL
"It's been great and they've all been so good and they're just going to do their job for us," she said.
Sergis said the squad had not singled out a particular player from the Maroons to target but rather had focused on players in jersey numbers 1, 6, 7, 9 in preparation for the interstate battle.
"Obviously they have their spine players that we have done a lot of video on and we are going to target."
Friday's game is a stand-alone Origin match and will be played at Canberra's GIO Stadium, kick-off is 7.45pm. The match will be shown on Nine (Brisbane/Sydney); GEM (Melbourne/Adelaide/Perth), Fox League and Kayo.
Match-ups that will decided State of Origin
The best in women's rugby league are set to battle it out at Friday night's 2022 Ampol State of Origin match, with some strongcontenders for World Cup selection to go head-t0 -head.
Here are the top four key match-ups to watch out for.
FULLBACK
Emma Tonegato (NSW) V Tamika Upton (QLD)
All eyes will be on the Sky Blues debutant in the number one jersey, after having an impressive season for the St George Illawarra Dragons and winning the Dally M medal alongside NSW teammate Millie Boyle. Upton, the two time Origin winner and go-to for the Maroons, will be looking to shut down the former Olympians fierce and fast attack.
CENTRE
Jessica Sergis (NSW) V Evania Pelite (QLD)
Experience will be on the side Sydney Roosters' centre, Jess Sergis who will have four Origin appearances under her belt after Friday night. If anyone is up to the challenge of taking on the Sky Blues powerhouse, it is Maroons debutant and Gold Coast Titans fullback, Evania Pelite. The Olympic gold medallist is looking to take down the reigning premiership winner.
Jess Sergis will go head to Evania Pelite. Picture: Matt King/Getty
FIVE-EIGHTH
Kirra Dibb (NSW) and Tarryn Aiken (QLD)
These two five-eighths will be the pair to watch on Friday, if the eyes of spectators can keep up. With tackle pressure and creativity both on the playmaker's sides, it will be hard to separate the two on performance. This will be Dibbs second Origin appearance, with Aiken coming off a high after winning two from two of the previous Origin games. Danger will arise for the Sky Blues when the Queensland number six links up with Maroons captain Ali Brigginshaw at.
HALFBACK
Rachael Pearson (NSW) v ALI BRIGGINSHAW (QLD)
St George Illawarra Dragons halfback and Sky Blues debutant Rachael Pearson has been challenged to lock down Maroons legend and captain Ali Brigginshaw, who has four Origin appearances, and two shield wins under her belt. The NSW squad will be looking to Pearson to control the play and create opportunities with Dibb at five-eighth and is expected to shine among Dragons teammates Tonegato, Kezie Apps, Shaylee Bent, Keely Davis and Quincy Dodd.
Originally published as Women's State of Origin 2022: Why last standalone fixture could decide 2023 winner