Craig Bellamy 500th game: Melbourne Storm coach in his most revealing interview ever
Craig Bellamy's mum was there through 498 of his 500 games, a loyal and fiercely protective figure. There will be a huge hole for his milestone match and her absence comes with one major regret.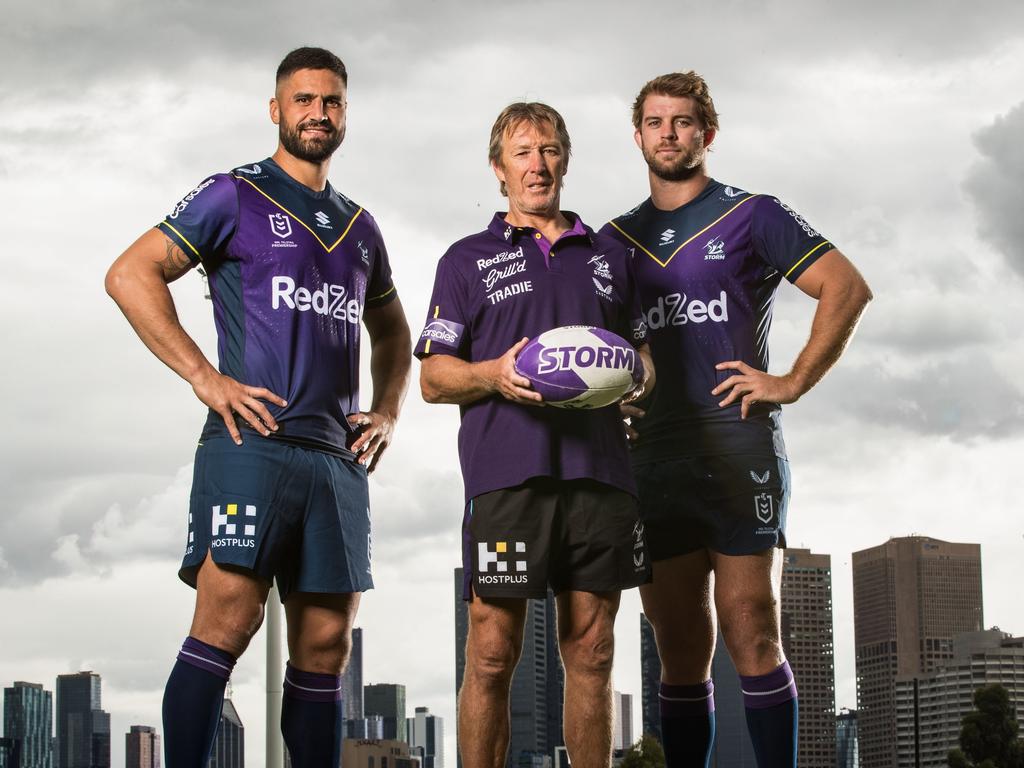 Craig Bellamy will coach his 500th NRL for the Melbourne Storm in round 2. Picture: Darrian Traynor/Getty Images
Ahead of his 500th game as Storm coach, a candid Craig Bellamy spoke to Brent Read to reveal the impact of his mum, honouring her memory after her recent death, his favourite players and what happened in that first game in charge.
Craig Bellamy will become just the fourth coach to take charge of 500 first-grade games on Thursday night, when he leads the Melbourne Storm into battle against South Sydney.
It is another significant milestone in one of rugby league's most remarkable coaching careers, a period in which he has turned the Storm into one of the most respected and admired sporting franchise in the country.
Others yearn for what Bellamy and the Storm have. As he prepares for his 500th game in charge of the Storm, Bellamy opened up about his emotional off-season, his memories at the Storm and what the future holds for the greatest coach of his generation.
LOSS
Bellamy will head into Thursday night with a sense of pride at what he has achieved over the past 20 years.
But there will also be a sense of loss. During the off-season, Bellamy's world was rocked when his mother, Betty, passed away.
When he was 20 years old and playing on a part-time contract with Canberra, Bellamy lost his father, Norm, to a work accident. It was from his father where Bellamy inherited an appreciation for hard work.
From his mother, he got the fire that occasionally manifests itself in the coach's box. Betty was his biggest fan.
When Bellamy was with the Raiders, Betty was a Canberra supporter. When he moved to Brisbane to assist Wayne Bennett, she jumped ship to the Broncos.
When he was given his chance at the Storm, the first step on the path to coaching immortality, she became a Melbourne tragic.
Before games, when Bellamy would call his mother, one of the first things she would say was always: 'You get a win for me'.
She still attended games well into her 80s and wasn't afraid to let anyone know where her allegiances lay.
It's why Bellamy will feel a tinge of regret heading into the game against the Rabbitohs at AAMI Park.
"One of my cousins sent me a text a couple of days ago," Bellamy said.
"She was talking about this game and she said 'your mum, with all due respect, was your biggest fan. If anyone said a bad word about her son, she would let them know'.
"She had a bit of fire in her, my mum. She was very protective but she was also loyal to a fault. Sometimes I deserved what I got but she didn't see it like that.
"So I am sure she will be up there watching and hopefully I will be able to feel that."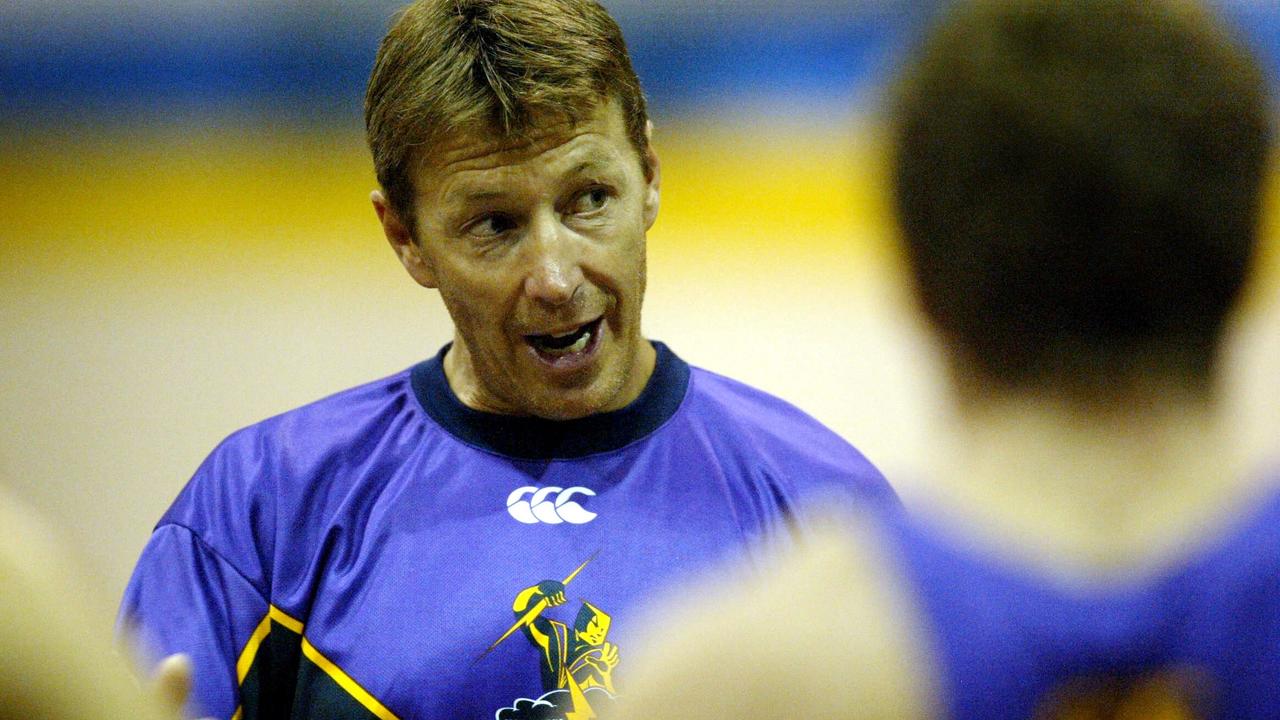 Bellamy joined the Melbourne Storm as head coach in 2003.
THE FIRST GAME
It was 20 years ago but Bellamy remembers it like it was yesterday. Having rejected overtures from the Wests Tigers and been hired by Storm supremo John Ribot, Bellamy feared he would be sacked at halftime as his side was given a lesson by Cronulla in the opening exchanges at Shark Park.
Bellamy stalked the sidelines in glasses and an ill-fitting suit, fretting over his future as a Storm side with a young Cameron Smith and Billy Slater — the latter making his first grade debut — came back from the dead to kick off the Bellamy era with a win.
"There are a lot of games I still remember but that one, I remember clearly," Bellamy said.
"We were 20 minutes into it at Shark Park and we were down 22-0. I remember the thought going through my had that I might see Reebs (Ribot) come through the door and say 'seeya, you're heading back to Brisbane'.
"It was Billy's debut. That is the thing I remember most about the first game. It was 22-0 and we ended up winning.
"That was quite a first game."
Many of the players from that first team remain involved with the club. Slater is on the coaching staff along with Steve Kearney.
Matt Geyer was on the sidelines last weekend for the game against the Tigers. Robbie Kearns worked for the club long after his retirement.
There are plans afoot for Smith to take on a role with the club.
"You say 20 years and 500 games, but it has gone so quick," Bellamy said.
"As I keep telling my players, you have to make sure you enjoy it and don't take advantage of it. Don't take advantage of the game because the 10 years you are in the game, it will go like that.
"You think when you are 20 that 30 is a lifetime away but it goes really quick. You want to make the most of it.
"That is what I have tried to do with my coaching and career — try to make sure I am doing the best job I can and help these players."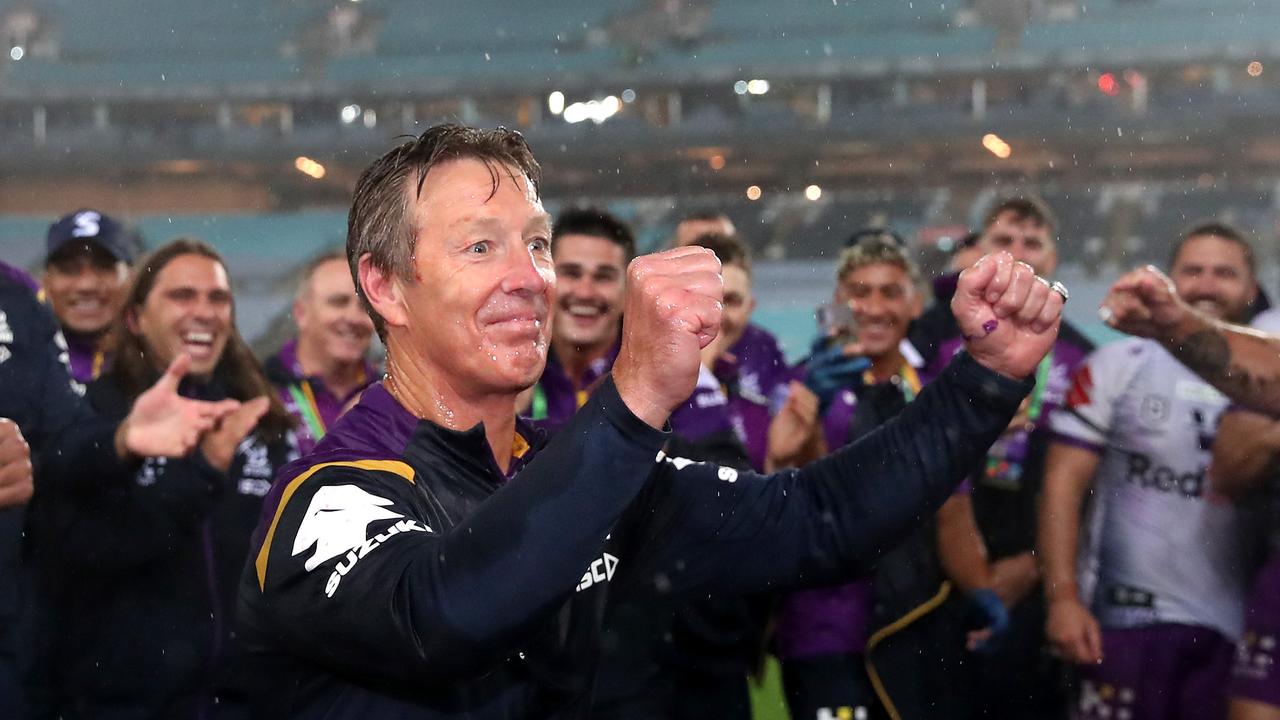 Bellamy is one of the most successful coaches in NRL history, with a 70.1% win record. Picture: Getty Images.
THE SECRET
Remarkably, Bellamy has won 70 per cent of his games in charge of Melbourne. He has become the most successful coach of his generation, having led the Storm to three premierships as well as two others that were stripped after the 2010 salary cap scandal.
His work ethic is legendary. Bellamy is still the first to arrive at training and the last to leave. At 62, he manages to maintain a rapport with his players that brings out the best in those under his charge.
The secret, Bellamy insists, starts with having the right players. Yet there are countless footballers who have gone to the Storm with their careers on the scrap heap and Bellamy has somehow extracted something from them that even they didn't know they had.
He sets a standard that his players are expected to follow. If they can't, they don't last long in Melbourne.
"For me, it is having that mentality that I have a job to do and I want to do it the best I can," Bellamy said.
"That has always been my mentality. That is what I have always done. I expect everyone else to do their job the best they can, so I feel I am letting everyone else down if I don't.
"It was probably pushed into me — I remember my dad used to say when I was a young kid that hard workers get lucky.
"In the back of my mind I have always thought, the harder you work, there will always be something good that happens."
Honesty is the other trait that Bellamy values above all others. Players always know where they stand with the Storm coach.
"I was probably a bit more brutal early in my coaching career," he said.
"The general coaching scene was a little bit like that. I don't know about the brutal bit, but the honesty bit is really important for me.
"What you think and what you feel about a situation or person, or both, I am going to tell them. They deserve to know what I think anyway.
"They deserve to know through honesty, rather than sweetening it up a bit."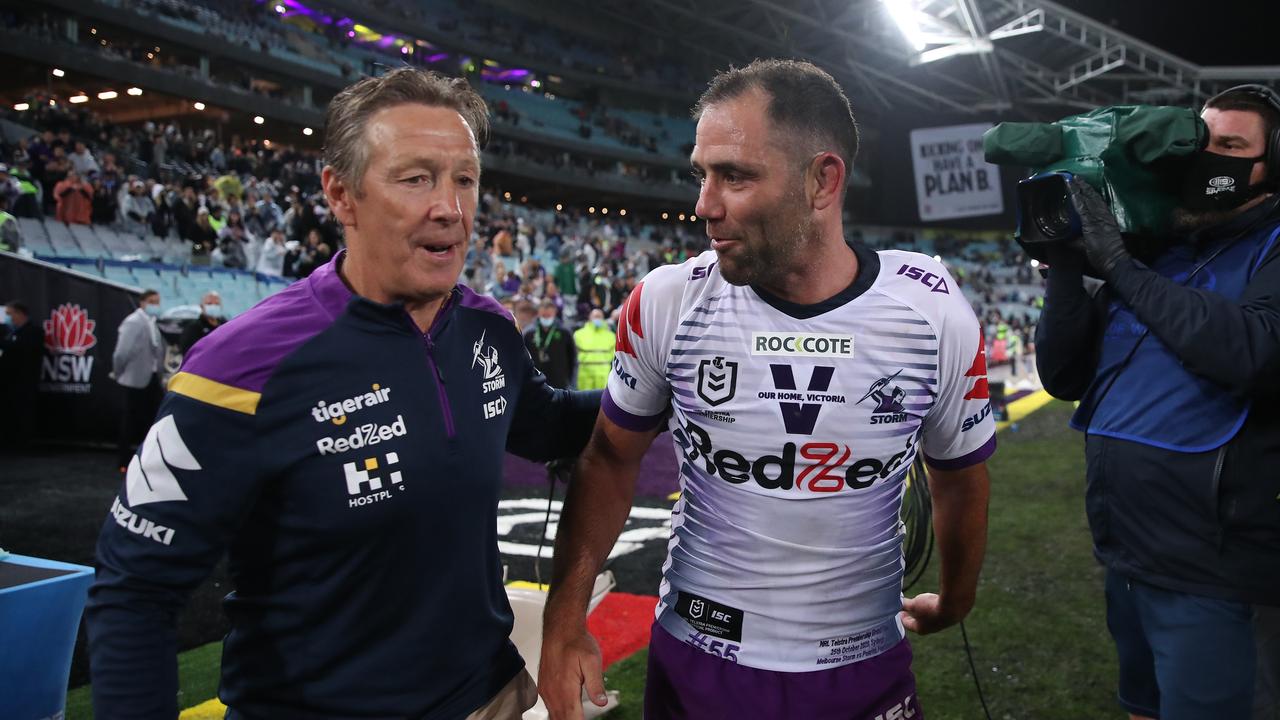 Craig Bellamy backs Cameron Smith as the best player he ever coached. Picture: Getty Images.
FAVOURITE PLAYERS
The best player should come as no surprise. Bellamy coached Cameron Smith for his entire first-grade career and the pair still have a strong bond — Smith was among an exclusive group who shared dinner with Bellamy on Monday night.
"His quality of play over such a long period of time, that is what made the difference," Bellamy said.
"That quality was always in his club footy, in his Origin footy, and when he played for Australia. We have some players in our game who have excelled at Origin and not dominated the competition as much.
"Cameron was so good. His longevity and excellence would tip it his way."
Not surprisingly, his favourite players are those built in his own image. Bellamy wasn't the world's most gifted footballer, but he worked as hard as anyone.
It is a quality he has cherished since making the transition to coaching. Brett White and Ryan Hinchliffe — two players who were much loved in Melbourne for their commitment and desire — were also among the others who attended the dinner with Bellamy.
"There has been a style of player — a player who hasn't been overly talented but got every ounce out of themselves because of how hard they worked," Bellamy said.
"Guys like Dallas Johnson, Ryan Hinchcliffe, Brett White. Whitey came to us as a 24-year old and hadn't played a first-grade game.
"But he never played a reserve grade game for us. He got the best out of himself because of how hard he worked. Dale Finucane … guys like that how get the absolute best out of themselves because of how hard they trained.
"I reckon I have always valued that work ethic."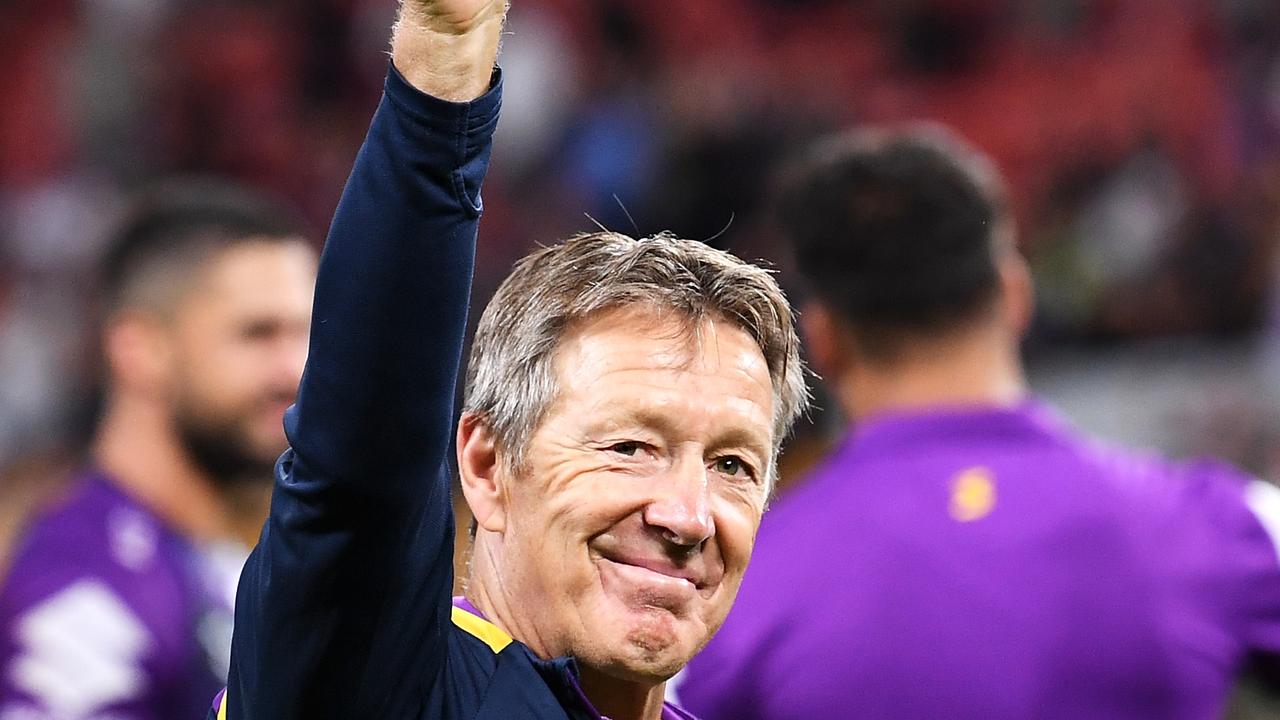 Craig Bellamy is off-contract at the end of 2022 but is yet to make a call on his future. Picture: Getty Images.
THE FUTURE
Under the terms of the contract extension he signed last year. Bellamy has until March 31 to inform the Storm whether he plans to return as head coach next season.
Melbourne chair Matt Tripp has no plans to pressure Bellamy into a decision and may be willing to extend the deadline.
Bellamy knows the time is coming when he has to make a call.
"I have had that sort of pre-season where there has been a whole heap of other things happening so I haven't given it a lot of thought," he said.
"The club needs to know so by the end of the month I will make a decision. I just want to get a couple of games under my belt and see how I feel, and see how I am coaching.
"When you have done something for as long as I have, you have a bit of self-awareness of what job you are doing. If I think that I haven't got the energy or enthusiasm, then I won't be going on.
"So I am not going to dud the club and just hang around."
His love for rugby league has been tested over the years, most notably when the club was sanctioned over the 2010 salary cap scandal. At the end of that season, Bellamy considered walking away.
"I will never get over it as far as how unfair I thought it was on the players," Bellamy said.
"The club did the wrong thing and we needed to be penalised. But the players didn't do anything wrong so why take the premierships off them.
"I can move on as far as my situation is concerned. But I still talk to some players about that, and players who have never won premierships or had the chance to win them, how emotional they are about it.
"You play to win a premiership and those guys have had them taken off them."
Fortunately for the Storm, Bellamy stayed at the helm and he has presided over the greatest dynasty in modern rugby league.
"I still love the game," he said.
"At the end of the day it is still our game and the game I grew up with …. and have basically been involved with since I was five or six years old."
STORM'S INCREDIBLE SACRIFICE FOR BELLAMY
—Peter Badel, Brent Read
Melbourne chairman Matt Tripp has appealed for Craig Bellamy not to retire and will scrap a contract deadline to ensure the super coach extends his career at the Storm.
As Bellamy prepares for his 500th NRL game as head coach in Thursday night's clash against South Sydney, Storm supremo Tripp is ramping up plans to keep the premiership-winning mentor in charge at Melbourne in 2023.
As revealed by News Corp, Bellamy, off-contract at season's end, has a clause in his deal which states he must inform Melbourne hierarchy of his future plans by March 31.
That is just a fortnight away, making Storm officialdom increasingly nervous about whether they must begin the search for a new coach to replace Bellamy, who has turned Melbourne into an NRL superpower during his remarkable 20-year reign.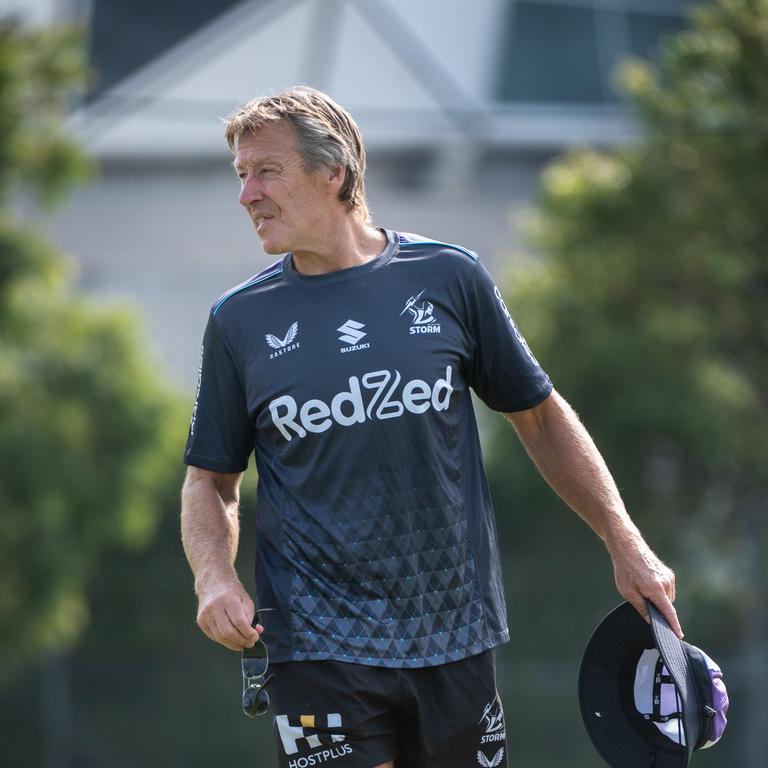 The Melbourne Storm will give Craig Bellamy all the time he needs to decide his future. Picture: Tony Gough
Last July, Bellamy signed a new deal to remain at the Storm until the end of 2026, but it was expected he would stand down at season's end to move into a consultancy role with the club from 2023.
But with contractual D-Day looming, Tripp says he does not want to pressure Bellamy and is ready to do everything possible, including waiving the March 31 deadline, to ensure the 63-year-old coaches the Storm in 2023.
"That's right, there is a deadline in place, but if Craig wants an extension on that, that's fine, I'm not going to die in a ditch over it," Tripp said.
"If he needs more time, I would certainly waive that deadline.
"I've told Craig, 'I'm in your hands', whatever he wants to do is fine by me."
Bellamy vacillated for six months last year as he weighed up retirement, but the Storm's stunning 19-match winning streak and eventual surge to the minor premiership convinced him to soldier on in 2022.
"I really hope he stays on as head coach for another 12 months," Tripp said.
"If someone put a gun to my head and said what is Craig Bellamy doing next year, my honest answer would be I don't know.
"I genuinely don't know if Craig will go on next year, but we have been through this before and Craig previously made the decision to coach on.
Craig Bellamy is about to coach his 500th game for the Storm. Picture: AAP Image/Action Photographics/Colin Whelan
"I understand his family is important to him. He is obviously staying with us, but I hope he stays on as head coach next year and if he doesn't, we have to move to Plan B."
Bellamy said he hadn't given his future a lot of thought but conceded the time had come to begin contemplating whether he would coach in 2023.
"The club needs to know so by the end of the month, I will make a decision," Bellamy said.
"I just want to get a couple of games under my belt and see how I feel, and see how I am coaching. When you have done something for as long as I have, you have a bit of self-awareness of what job you are doing.
"If I think that I haven't got the energy or enthusiasm, then I won't be going on. So I am not going to dud the club and just hang around."
Asked whether the future of the playing group would have an impact on his decision – the Storm are in talks to extend some of their biggest names – Bellamy said: "Not really. Players come and go and coaches come and go.
"For me, it has to be the right decision for me. Up there is whether it is the right decision for the club. If I think that am not going to put 100 per cent into it, I am not going to be a burden."