Grant Anderson had a dream NRL debut for Melbourne Storm as their 'last man standing'
Even with Melbourne's heavy injury toll, Grant Anderson was not meant to debut at the SCG on Saturday night. But he did, and wonderful things happened, writes BRENDAN BRADFORD.
He earned his NRL debut by being "the last man standing" in a depleted Melbourne backline, so it was fitting that Grant Anderson was the last Storm player still out on the SCG turf long after his teammates had walked to the sheds following their win over the Roosters on Saturday night.
A standout at centre for the Sunshine Coast Falcons in the Queensland Cup this season, Anderson received his first NRL start after Xavier Coates picked up a syndesmosis injury during Wednesday's State of Origin opener.
Coates will have surgery this week, joining outside backs Reimis Smith and George Jennings on the injured list.
Starting on the wing, Anderson took his opportunity with both hands, scoring a try in each half as the Storm secured a 26-18 win over the Tricolours on the famous old ground.
The 22-year-old from Newcastle had a large contingent of family and friends in attendance, and made a beeline to them after fulltime.
"I had my mum, dad, my grandparents, my two brothers – they've been there the whole way," Anderson told CodeSports.
"Then I had mates on mates on mates who've all made the trip down from Newy.
"It was an awesome experience, especially when you hear them call your name in the corner. It's something I'll never forget."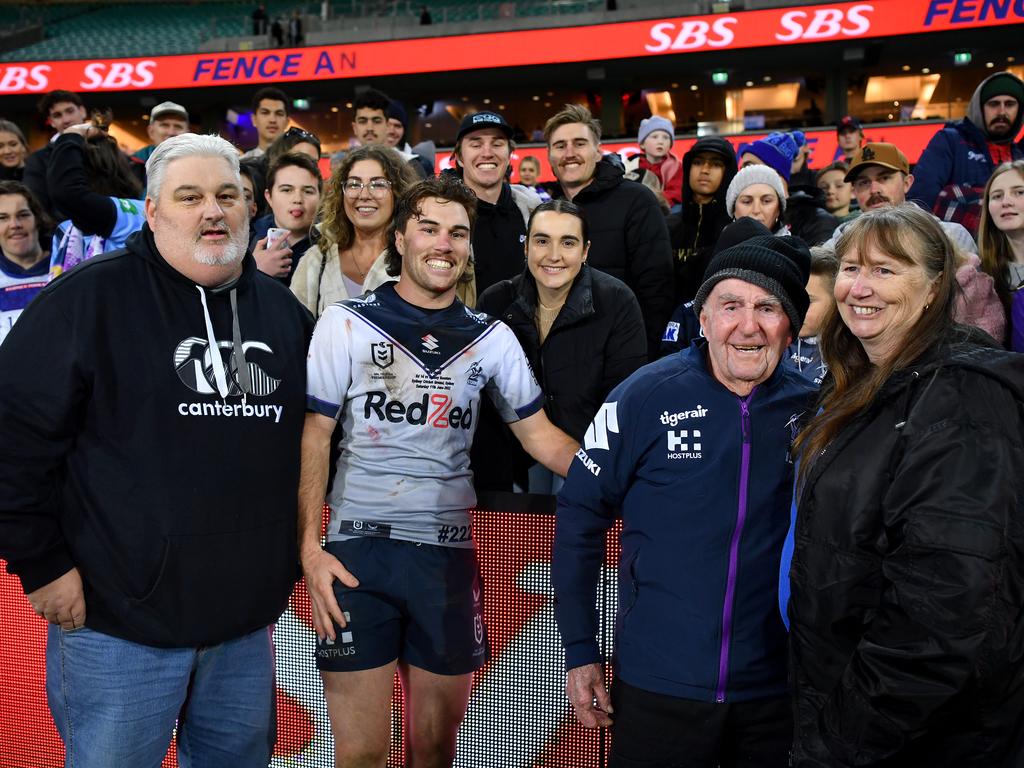 Grant Anderson with his friends and family following a win on debut over the Roosters. Picture: NRL Imagery
Of the emotional post-match scenes, no one looked as proud as the man Anderson calls Pop, who stood in the crowd with tears in his eyes.
"Nev, yeah..." Anderson said. "He's been there since I was a little kid.
"He played endless amounts of footy in the backyard with me and my little brothers. It's something pretty special."
Anderson has scored three tries in nine games for the high-flying Falcons in 2022, following up an impressive nine tries in 15 outings for Northern Pride last year.
Not bad for a kid who didn't make a rep team until he was 18.
Even then, Storm coach Craig Bellamy revealed he wasn't the first choice to fill in on Saturday night.
"He's been down a few times to train with us, for three or four weeks; but with all due respect, to be honest, we've never thought, 'We'll put him in this week', because we haven't seen a need," Bellamy said.
"I know he's a handy player, but he's a centre – that's his preferred position.
"He came down for another trip – he was going to be down for five weeks for Origin – and that will probably be extended now.
"Xavier went down and we were looking at Will Warbrick, and he hurt his calf early in the week. With all due respect, he was the last man standing."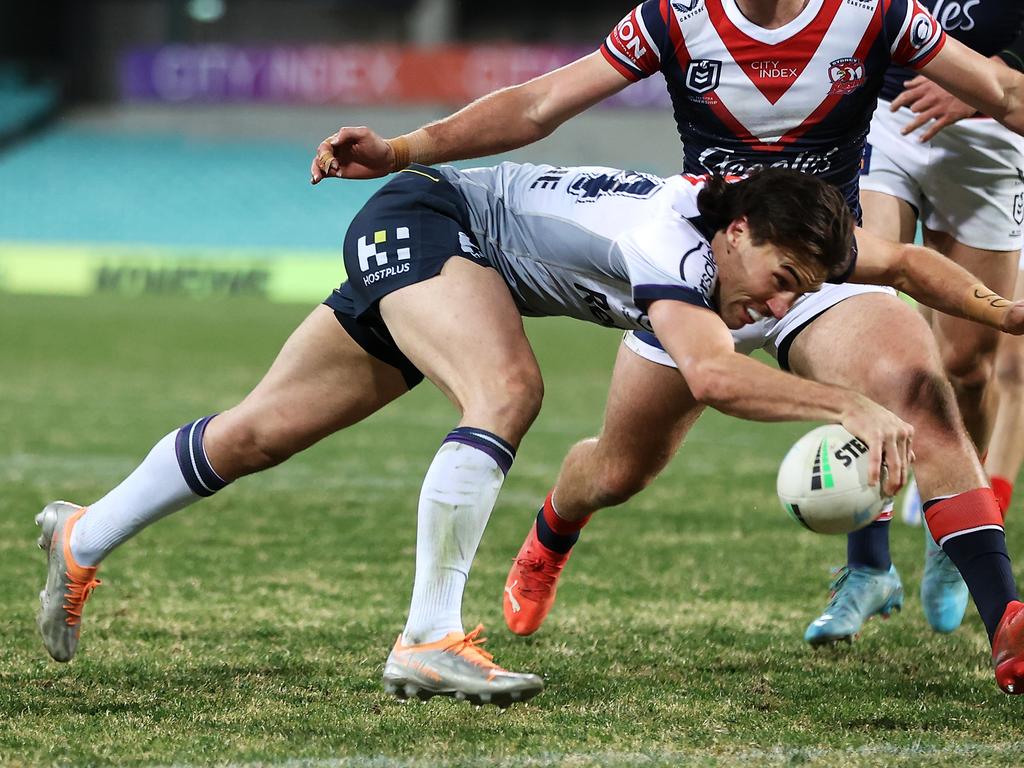 A try on debut against the Roosters at the SCG. It doesn't get much better than that. Picture: Mark Kolbe/Getty Images
The call-up wasn't completely out of the blue but Anderson says he nearly missed it altogether.
"I found out on Thursday. I was at Coles, just getting some groceries and Bellsa rang me twice and I missed it," Anderson said. "I rang him back and I had a feeling.
"I was training there all week and Will had a sore calf, so I was prepared and ready to go."
The late call-up made for some emotional scenes in the two days leading into the match, as well as some hastily rearranged travel plans.
"My girlfriend and her mum were meant to watch me play Burleigh for the Falcons this week, but they flew down last night for my jersey preso," he said.
"That was something really special the Storm did for me last night and something I'll never forget."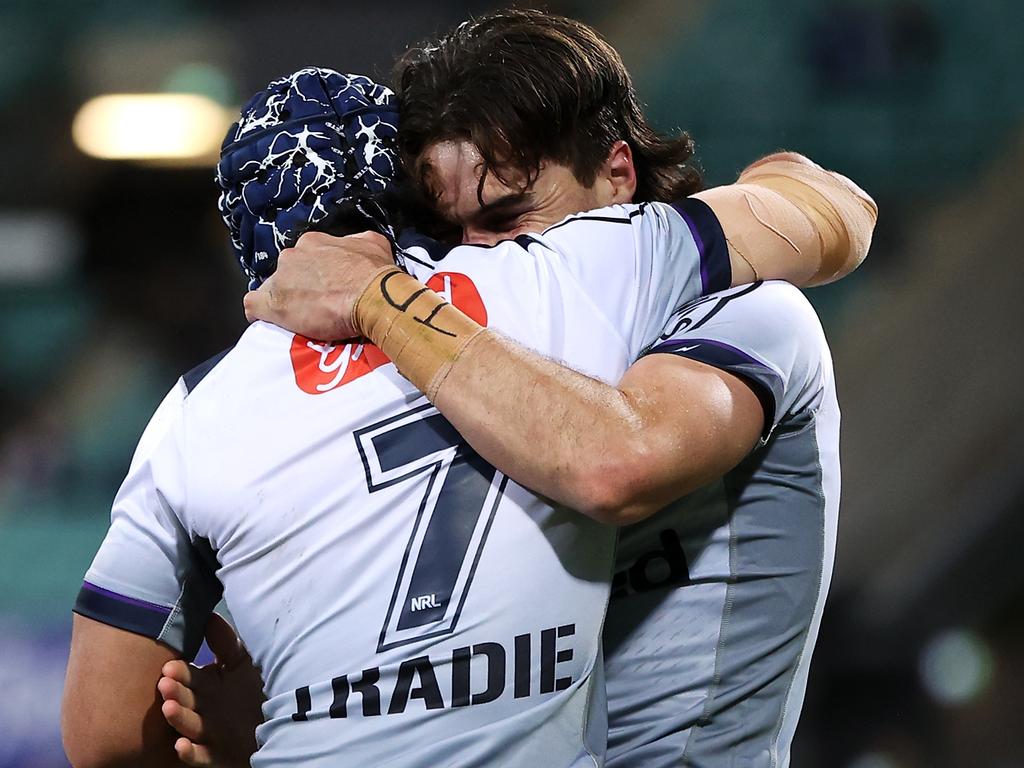 Anderson hugs it out with Jahrome Hughes. Picture: Mark Kolbe/Getty Images
He might not have been the first choice, but as replays of Anderson's emotional post-match meeting with his loved ones played on the TV during Bellamy's press conference, the coach couldn't help but smile.
"Those are great scenes," he said. "His family came in last night, his dad was basically reduced to tears to be quite honest.
"He hasn't had an easy run, but he did a great job tonight and it's a really nice story."