NRL news: Felise Kaufusi wants Cameron Munster and Harry Grant to join him at The Dolphins
Dolphins recruit Felise Kaufusi wants some of his Melbourne teammates and one of the NRL's biggest stars to join him at Redcliffe in 2023.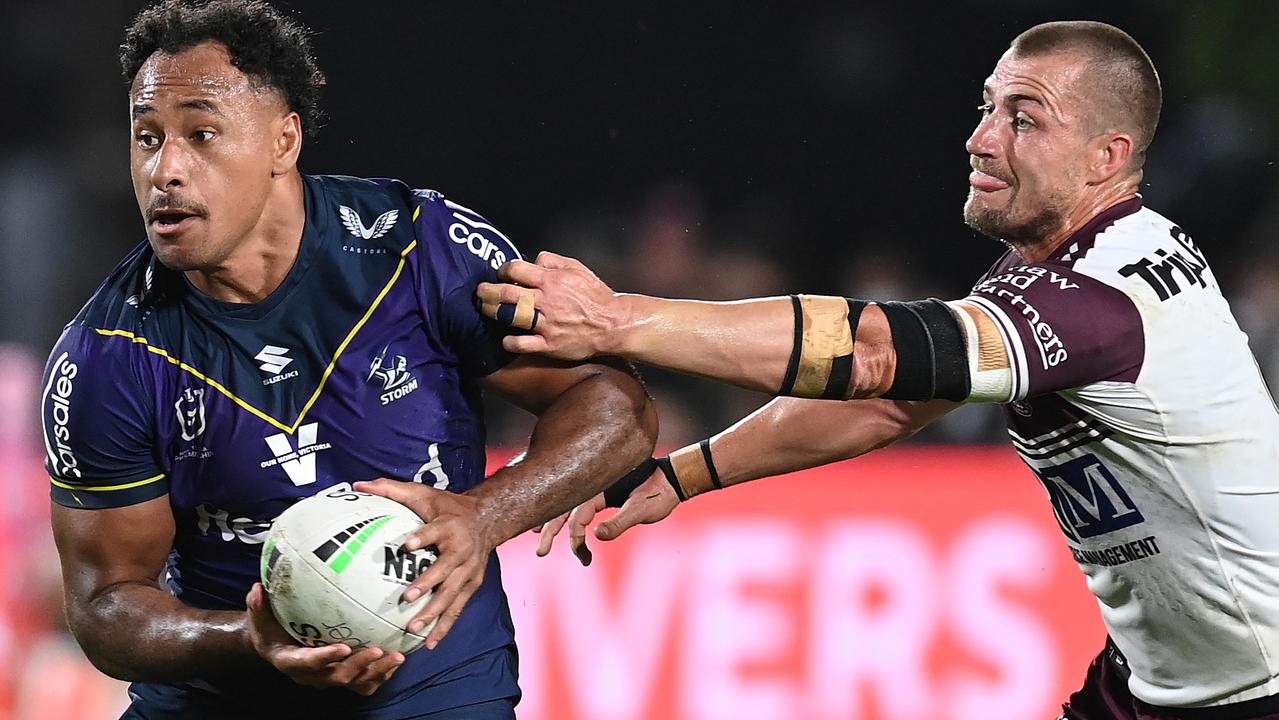 Felise Kaufusi has revealed who he wants to join him at the Dolphins. Picture: Bradley Kanaris/Getty Images
Foundation Dolphins player Felise Kaufusi wants to take Melbourne teammates Harry Grant and Cameron Munster, plus Newcastle's Kalyn Ponga, with him to Redcliffe in 2023.
The Storm forward, who will join the Dolphins on a three-year deal, is still the only marquee signing for the new franchise.
Parramatta's Ray Stone and union defect Valynce Te Whare are the other top 30 contracts on head coach Wayne Bennett's roster.
But if Kaufusi had it his way, the Maroons backrower would bring three teammates with him to the Dolphins.
"I would love Harry to be there … is he a chance? I might have to look into that to see what's up," Kaufusi said.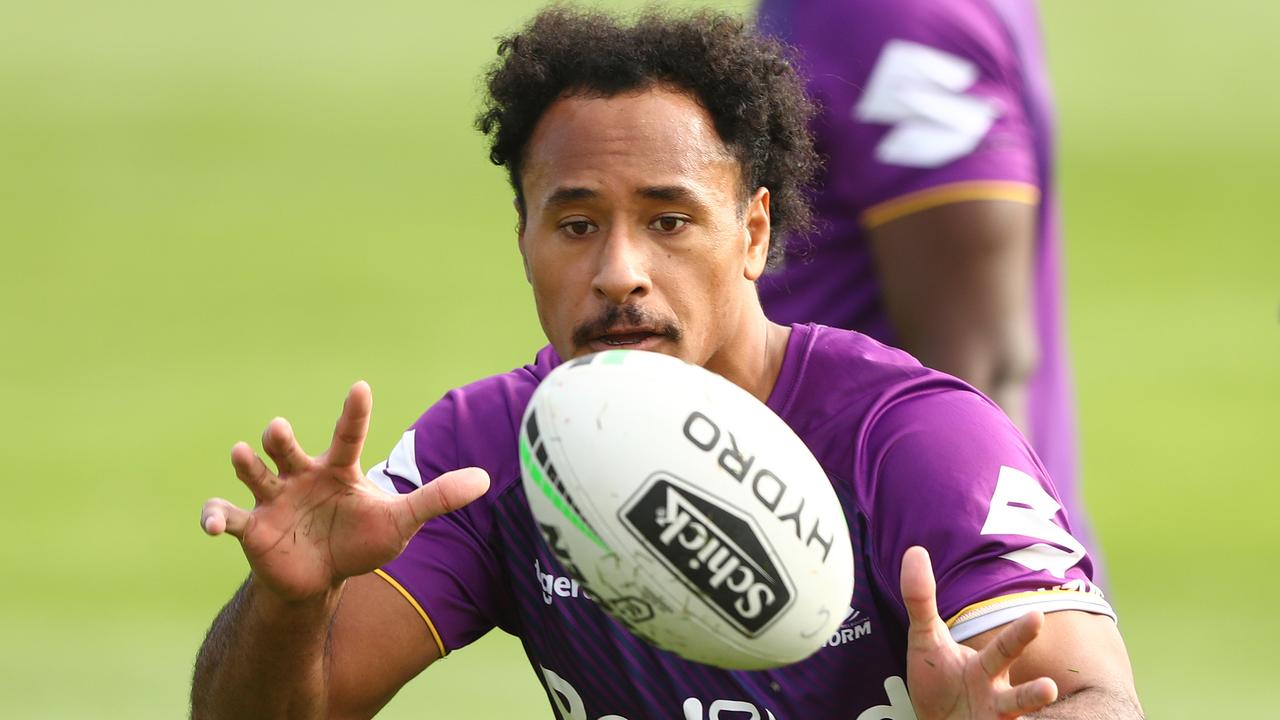 Felise Kaufusi has revealed the players he would love to play alongside at the Dolphins. Picture: Robert Cianflone/Getty Images
"I'd love Kalyn Ponga to be there. Everyone saw the impact he had in the last game of Origin. His leadership is great, and he has some good talk from the back.
"Cameron Munster too, we'll take him ... I'll take half my team, I might be a bit biased. Reckon I'll take our other backrower too, Kenny Bromwich. He'll be bloody good for the club."
Munster is contracted until the end of 2023 but Grant and Bromwich have options in their favour beyond season 2022.
Ponga, who is at the top of Bennett's hit list, is contracted for next year but the Knights fullback has until June 30 to trigger the option in his contract for season 2023 and 2024.
Bennett has missed out on a slew of other marquee signings over the past couple of months, including Christian Welch, Pat Carrigan, Tino Fa'asuamaleaui, Brandon Smith, Cody Walker and Reed Mahoney.
But Kaufusi believes the Bennett sales pitch that convinced him to sign with the Dolphins can attract other marquee signatures.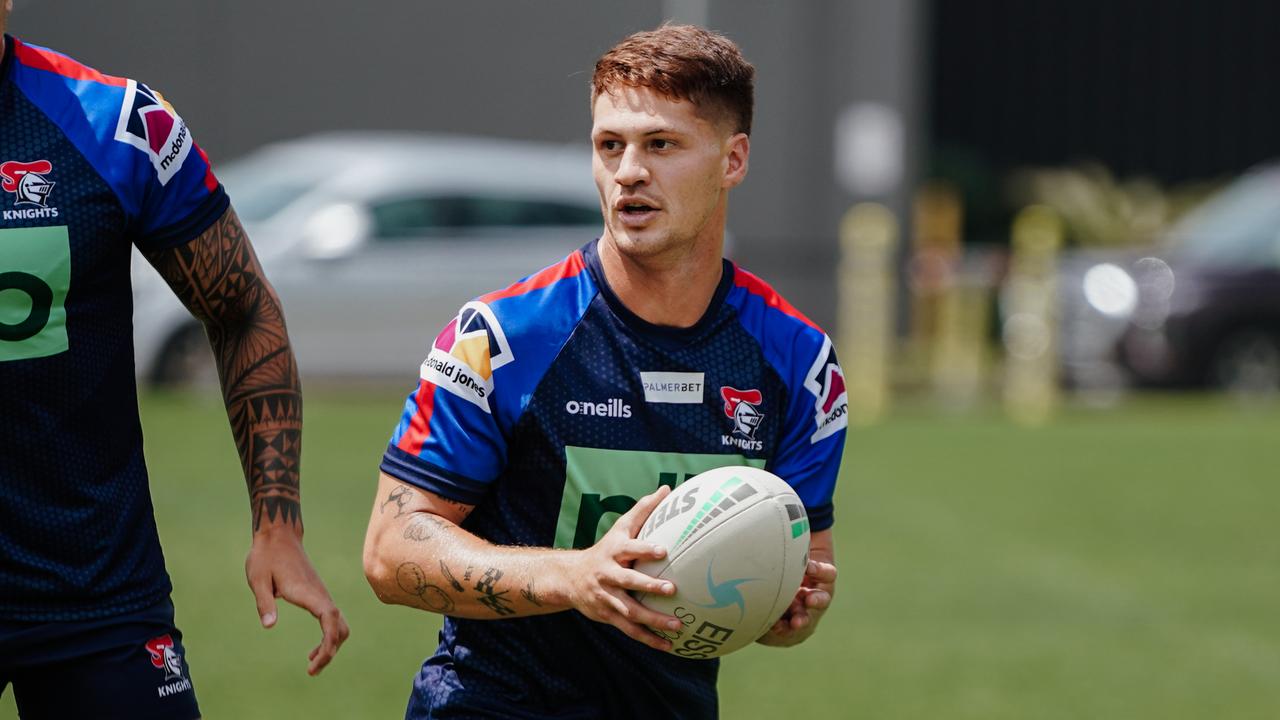 Knights star Kalyn Ponga is a prime target for the Dolphins. Picture: Knights Digital
"He's got a great poker face, I hadn't had much to do with him until Origin in 2020 and we were in a bubble. But I'd only really known what you see in the media, and he doesn't give away too much," Kaufusi said. "I deadset think he's the man.
"I love the way he is off the field and he can back it up on the field as well with his coaching. He wants to know you as a person and about your family and all of that.
"I was comfortable with his vision, not just on the field but off the field as well. It ticked all the boxes for me at this stage of my career.
"It's going to be a challenge starting at a new club from nothing but it's exciting."
Kaufusi revealed he struggled to face Storm coach Craig Bellamy after making the decision to leave the Storm.
"So hard, far out. It was so difficult," Kaufusi said. "I love Melbourne, the club, the people … I'm getting a bit emotional now talking about it. But I have another year to try and give my best to this club, that has given me everything and repay Bellyache.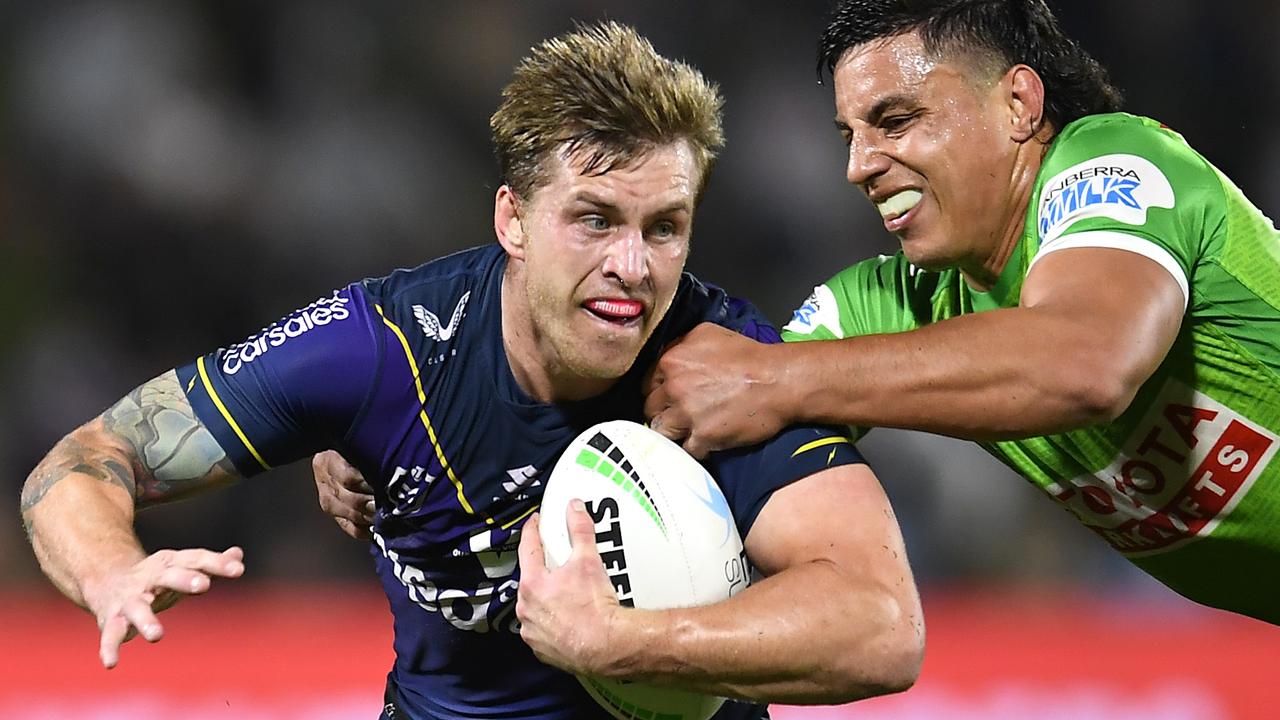 Cameron Munster is also on the Dolphins' radar. Picture: Albert Perez/Getty Images
"I would have loved to stay but at this stage of my career the Dolphins were the right move to be closer to family in Bundaberg, I'd be stupid not to go."
Hooker Brandon Smith is also jumping ship in 2023 to join the Sydney Roosters.
Smith caused a stir at Melbourne after making controversial comments about winning a premiership in the Tricolours and claiming the club had a drinking culture.
Kaufusi said Storm players were surprised by the comments they had forgiven a 'remorseful' Smith.
"He's just been head down and he has shown with his efforts at training he is very remorseful," Kaufusi said. "He also apologised to the group, coaching staff, the whole organisation and we've forgiven him.
"He's training his heart out and hopefully we see it on the field."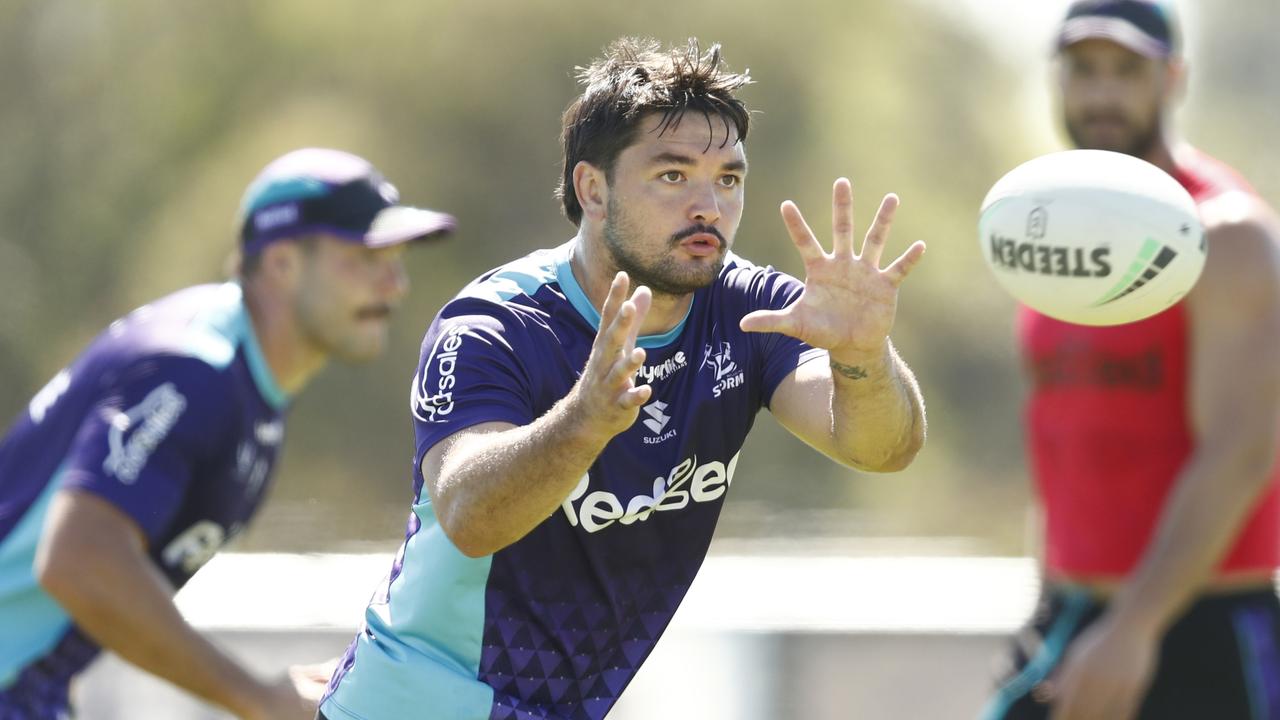 Brandon Smith will join the Roosters in 2023. Picture: Darrian Traynor/Getty Images
Kaufusi also revealed the playing group was yet to hear from Nelson Asofa-Solomona despite reaching out to him.
The 25-year-old was due back at training two weeks ago but is refusing the Covid vaccine, which is required to train and play under public health orders.
"No, I haven't yet [heard from him]," Kaufusi said. "We've all tried to reach out to him.
"I think he's just trying to sort out how to move forward.
"I'd love to see him come back in the new year, we know what type of player he is. I'd rather him on our side than the other team."
Stand-down call heaps pressure on Storm roster
-Adam Mobbs
Melbourne Storm prop Tui Kamikamica has become the latest player to be subjected to the NRL's no-fault stand-down policy as he prepares to fight an assault charge.
Kamikamica was last month charged with assaulting a woman he did not know in the heart of Brisbane's night-life precinct.
The Storm initially stood down Kamikamica independently, after he was issued with a Notice to Appear at the Brisbane Magistrates Court on January 10 to face the charge.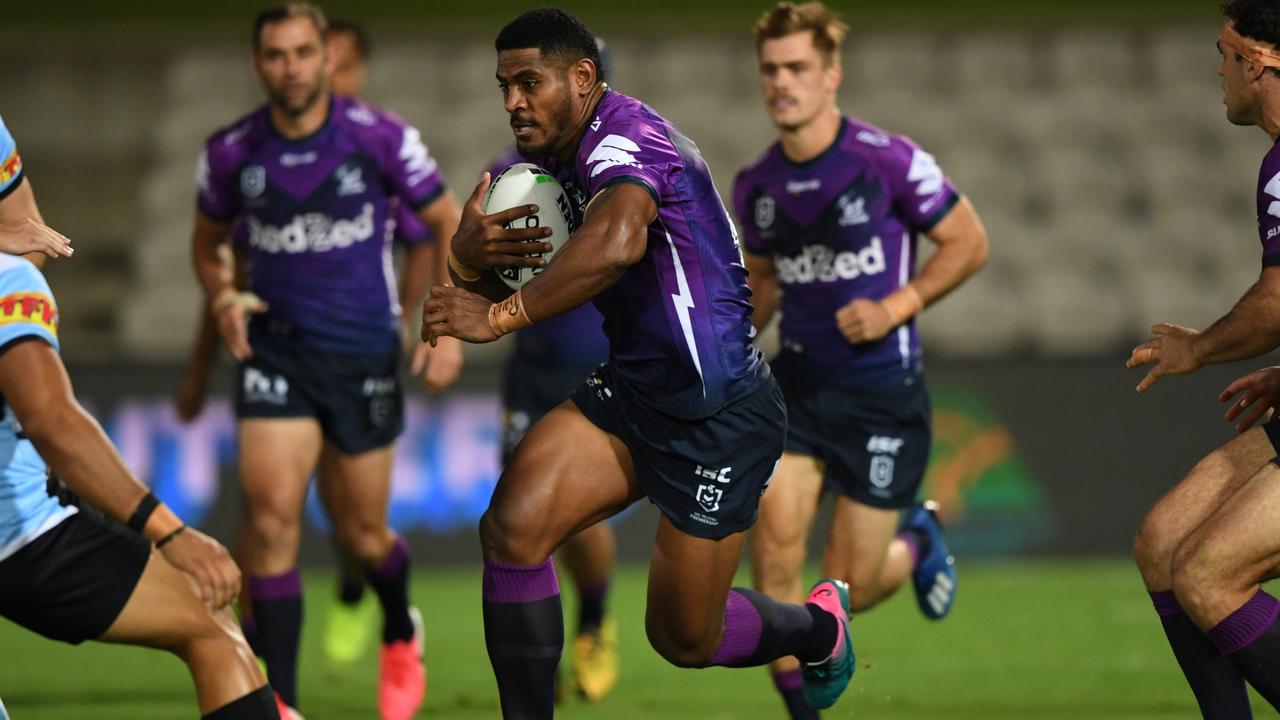 The NRL has stood down Tui Kamikamica until his court proceedings are completed.
According to a Storm statement, Kamikamica has since informed the club he intends to enter a plea of not guilty to the charge.
Under the no-fault stand-down policy, Kamikamica is able to continue training, but will be unavailable for selection to play while court proceedings are ongoing.
"As a result of the policy, and having considered all available information, the club believes it is appropriate that Kamikamica returns to training tomorrow," the Storm said on Monday.
Kamikamica was charged with assault occasioning bodily harm following an incident outside a hotel in Fortitude Valley on November 13.
He was charged 12 days later and the Storm immediately informed the NRL Integrity Unit.
Uncertainty surrounds Melbourne's middle forward stocks with teammate Nelson Asofa-Solomona's Storm future also unclear due to his stance against the Covid-19 vaccination.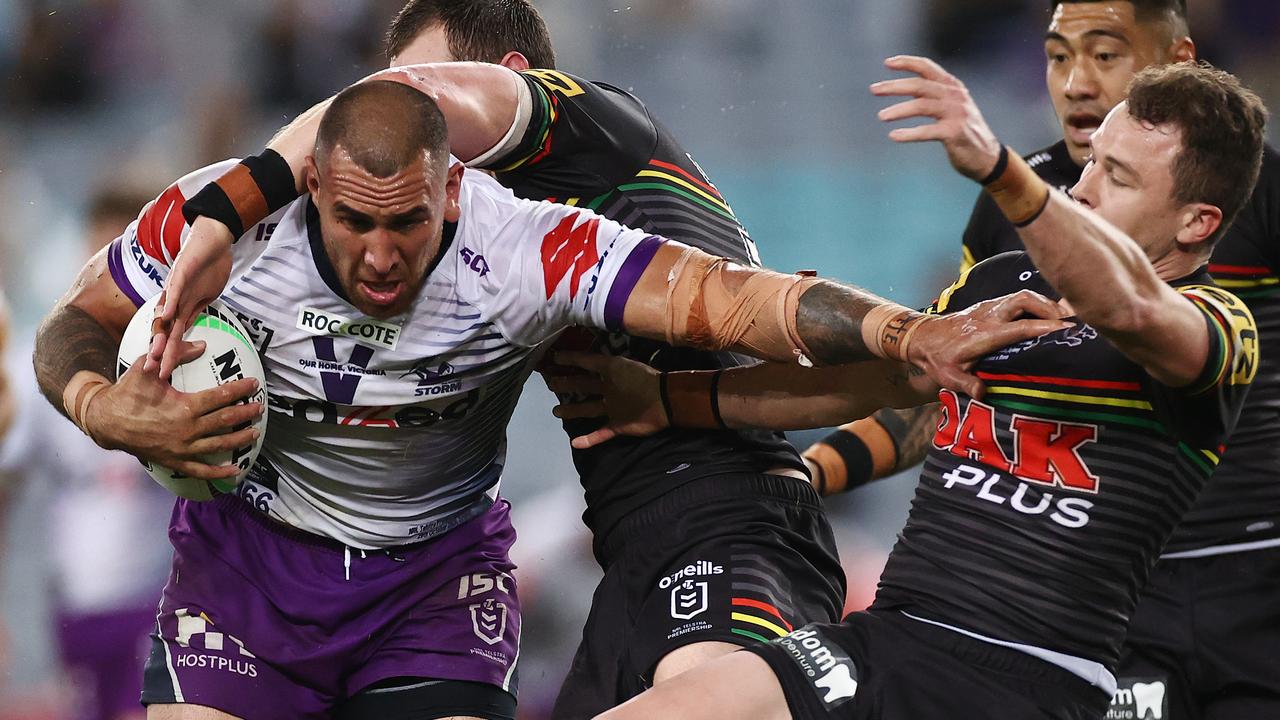 Nelson Asofa-Solomona has not featured in pre-season training for the Storm.
Asofa-Solomona had, so far, resisted calls to be vaccinated, meaning he is unable to train and play in Victoria under state laws.
Storm officials had held out hope he would change his mind and be able to join pre-season training in January, leaving him just eight weeks to prepare for the Storm's Round 1 opener against Wests Tigers.
He has two years remaining on his Storm contract.
Melbourne will already be without Cameron Munster and Brandon Smith for that game after the pair was suspended over the white powder scandal in the wake of the Storm's preliminary final loss to eventual premiers Penrith.
The Storm has not lost a Round 1 game since 2001 against Canterbury and is a $1.32 favourite to beat the Wests Tigers ($3.40) at CommBank Stadium on March 12.