KFC SuperCoach Cheapie Bible Round 12: Bargains to snap up before the byes
The best case scenario is amazing and the worst case scenario is pretty good, so why is this former KFC SuperCoach great so far down the "buy" list, asks TRENT COPELAND?
KFC SuperCoaches, the byes are coming!
And all that is on my mind is…
So I won't hesitate no more, no more
It cannot wait, I'm sure
There's no need to complicate
Our time is short
This is our fate, I'm yours.
With me? The Cheapie Bible's stand-out purchase, comfortably most purchased player, already has a multi-platinum album to go with scores of 56 and 85 points in his two games. Impressive.
Jason Mraz, I mean, Jacob Kiraz everybody!
Stream every game of every round of the 2022 NRL Telstra Premiership Season Live & Ad-Break Free In Play on Kayo. New to Kayo? Try 14-Days Free Now >
Sorry, I blame the jokes on my lack of sleep with a newborn baby in the house. Good song, and GREAT cheapie prospect.
I digress … We've got lots to get through with a huge trap avoided by the Rabbitohs team list, two stellar debuts from other base price cheapies and a few fallen household names on the agenda.
A cheapie by definition is any player under $300,000. As the season goes along we will give a running verdict on when to sell, sit, buy or hold. If a player is not on the list, we've determined they are not a viable selection. Once a player eclipses the $350k mark they will be given a final verdict in the 'Bon Voyage' section.
Let's get into it!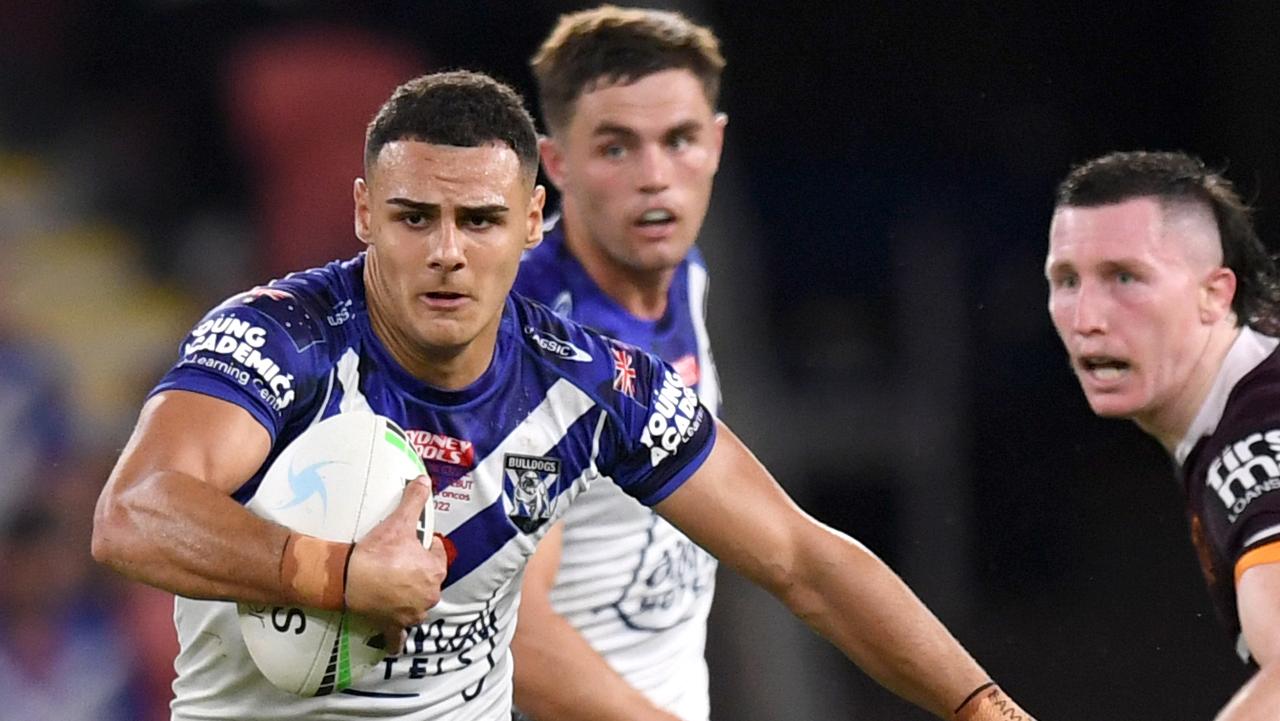 Canterbury rookie Jacob Kiraz. Picture: NRL Images
Jacob Kiraz | CTW ($175,400 | BUL) - 85 points
Kiraz perked my interest in his first game in round seven when he scored 56 points against the Broncos without a try, and he was seriously busting tackles, offloading for fun and seemingly taking a hit up in every set (the perfect KFC SuperCoach cocktail). So, Kiraz had to wait, but game two bounced along with Brent Naden shipping out as quick as Trent Barrett cleared his locker. Eyes were peeled, and you can lock one thing in, Kiraz is in the Bulldogs' best team moving forward. ZERO doubt. 85 points, with a try, another massive haul of 14 points in tackle busts, 12 in offloads, two line breaks and 22 points in runs. Addo-Carr returns to the team sheet this week, and it's Okunbor who makes way, not Kiraz. You beauty. That juicy -83 BE, the perfect KFC SuperCoach game style and impending coverage of the round 13 bye week is far too great to pass up.
VERDICT: BUY. You won't hear me excited about a Bulldogs player, unless they're legit. Kiraz is exactly that — I'm in.
Ezra Mam | HFB|5/8 ($175,400 | BRO) - 89 points
George!! I mean, surely that's his nickname? If it's not, the lads at Red Hill aren't trying. The cousin of Edrick and Brenko Lee has had HUGE raps on the flair and KFC SuperCoach chops — and we certainly got a glimpse of that on debut against the Knights. 89 points, with two try assists, a couple of offloads, eight points in tackle busts, two line breaks and 33 points in pure base stats. The spot in the starting side remains in Mam's corner, due to a fresh 'hammy' for Adam Reynolds, but with the bye next week, Reynolds has three weeks essentially to get right. The real hope here isn't replacing Reynolds, it's that Kev Walters sees the light, with Reynolds playing some of the best footy of his career steering the ship, Mam seems perfect to 'play with freedom' as the five-eighth…
VERDICT: WATCHLIST. Fingers crossed.
Shaun Johnson | HFB|5/8 ($368,200 | NZL) - 96 points
Yes, I've taken my full artistic leash here and included the great god of KFC SuperCoach himself SJ in the Cheapie Bible as my smoky buy of the week given he's priced at a ridiculously low $368k on the back of a 96-point BOMB last weekend against the Dragons. Yes, SJ has lost the goalkicking duties which used to add such a nice floor to his game, and is priced at this point off the back of poor games, rather than injury — but SO many KFC SuperCoaches are looking at middling options or poor job security cheapies just to plug holes for the bye rounds… Well here's a legit 70+ point upside player every week, with a -30 BE and matchups against the Knights this week and the Sea Eagles in the all important bye round who will be missing Turbo, DCE, Jake Trbojevic along with many others who are injured. I mean, Blake Taaffe to SJ this week MAKES you money…
VERDICT: BUY. Worst case, he makes you $80k-$100k and helps in the bye round. Best case he explodes and carries you to a gun come round 17.
Xavier Savage | FLB ($214,000 | CBR) - 50 points
Here we GO! Make no mistake, Savage is priced at $214k due to Ricky Stuart/opportunity, not because of his KFC SuperCoach ability. Savage has either played off the bench with minimal game time, or on the wing for scores of 10, 7, 20, 5 and 50 points so far this season. But, with the unfortunate injury to CNK (hamstring, round 18) we now get a six week look at Savage at his preferred fullback position where he could literally score like a keeper — he's THAT good. The interesting equation here for those who like taking risks is the Turbo owners (aka me!) looking for a replacement. For example, selling to Teddy gets a tough matchup this week then the Origin period where he inevitably scores less/rests games. Savage is basically base price, plays the bye round next week and should jump in price by the time round 17 comes around. Interesting!
VERDICT: BUY. The more I look at it, the more I love it. But, can we trust Ricky Stuart? Hahahah of course we can't!
Trent Peoples | 2RF ($175,400 | STH) - 41 points
Peoples has been very solid in a time of need for the Rabbitohs, is base price and just played the full 80 minutes on the edge… but let me stop you there. Peoples is STILL one of the most purchased players this round! He was a placeholder to begin with covering injuries, has been named on an extended bench even before Cam Murray returns and has the bye next week. Enough said, despite him playing admirably in his two games.
VERDICT: TRAP/AVOID.
Michael Molo | FRF ($175,400 | STG) - 69 points
Now THIS is what we're talking about! Molo on debut for the Dragons played out of his skin, scoring a try, a massive work rate with 33 tackles a few tackle busts and 11 points in runs in his 46 minutes at a sexy PPM of 1.5! Quite simply, the Dragons have been crying out for impact like this from their bench, and Molo could well have earned this 30-40 minute role for the rest of the season if this continues! The best part is that we get a free look this week, then the Dragons have their bye before hopefully we get to downgrade a guy like Max King who has covered the round 13 bye for us to Molo in time for the first price rise, then he will not only rise in price rapidly but also cover the round 17 bye week.
VERDICT: WATCHLIST. I'm VERY hopeful here, one of those dream scenarios if it plays out as described.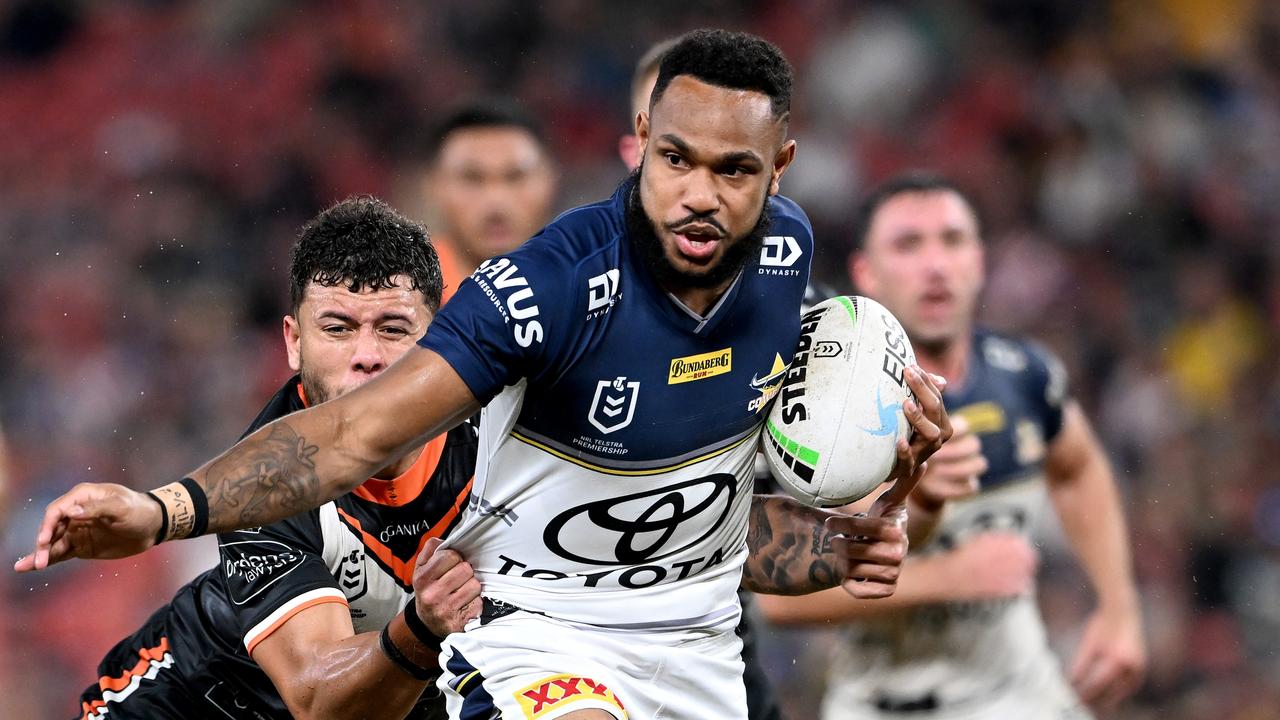 Hamiso Tabuai-Fidow is a potential cheapie (Photo by Bradley Kanaris/Getty Images)
Hamiso Tabuai-Fidow | CTW/FLB ($283,300 | NQC) - 12 points
The 'Hammer' has been floating off the bench and out of the side with injury this season, whilst the Cowboys have been absolutely flying — leaving his price flatlined down at $280k. Now, we get Kyle Feldt out for at least a six week stretch including next week's all important bye round where the Cowboys get the hapless Titans. This week is not the week to jump with the Panthers matchup and the 55 BE, but the spot on the wing should be his for the time being, so watch on with interest and hopefully we get a $250,000 Hammer next week.
VERDICT: WATCHLIST. I'm 90% sure I'll be on next week, I mean, it's a straight swap from Isaiah Tass!
Ben Trbojevic | CTW|2RF ($251,400 | MNL) - 0 points
Heartbreak for Burbo owners with the aggravation of the AC Joint injury ruling his out of round 11, and seemingly now he will miss the round 13 bye week as well. The worst part is that with the other injuries around, he would almost certainly have had the spot locked up for some huge price rises too! Anyway, where to now you ask? Well, I think you have to hold. The dual position flexibility in itself is very handy, and the BE still sitting at -46 whenever he does return along with the point scoring upside he possesses provides a much better scenario than many of the other burned cheapies like MacDonald, Rushton, Tuilagi etc.
VERDICT: HOLD. I can see merit in selling if you have no other pressing issues, but for me it's a hold.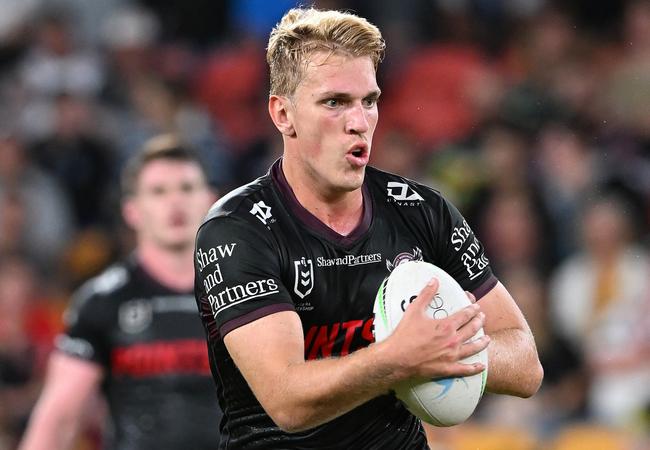 Ben Trbojevic has a shoulder injury (Photo by Bradley Kanaris/Getty Images)
Cody Ramsey | CTW/FLB ($279,400 | STG) - 94 points
Ramsey had scores of 22, 24 and 9 points playing on the wing for the Dragons through the first three rounds of the season, yuck I know. Then last week he popped his head back above water, this time at fullback and what an inspired change it looks to have been by Hook. 94 points against the Warriors with a try, try assist, two line breaks, 10 points in tackle busts, and 24 points in runs. Ultimately he just looked HUNGRY for the pill. The best part is that he's retained the spot this week for a juicy matchup against the Bulldogs and possesses a -10 BE. The downside is the bye next round, and shaky job security. But as you've seen, the upside is there as a 4th or 5th CTW through the Origin period.
VERDICT: LOW END BUY.
Te Maire Martin | 5/8|FLB ($240,400 | BRO) - 47 points
Martin promised so much given the 5-7 week look at making the fullback jersey his own, and after scoring 38 and 51 points in his first two matches we though we could be ON here. That was followed by scores of 16 and 17 points to nose dive any potential cash injections. Last weekend the 47 points against the Knights was a nice bounce back and to the naked eye (maybe because Adam Reynolds was out) he looked far more aggressive taking the line on and ball playing. So, Martin now hits round 12 and has a juicy matchup against the Titans at home with a BE of just 16, before he needs to be moved on next round.
VERDICT: HOLD/SELL. Doesn't play the round 13 bye, so it's either now, or next week. SJ anyone?
Joseph Suaalii scores for the Roosters (Photo by Jason McCawley/Getty Images)
BON VOYAGE
Joseph Suaalii | CTW|FLB ($471,000 | SYD) - 25 points
We've seen some incredible stuff from Suaalii so far, a huge improvement from his debut season last year having several games with match-winning impact and KFC SuperCoach wise, tremendous scores! If he can find a way to lose the errors from his game (am sure it will come with time) Suaalii is set for an incredible career in the NRL. He's already earned his 53,253 owners over $210,000 and despite having a 47 BE coming up against the normally quite stingy Sharks in round 12, has to be held for the next two weeks encompassing the all important round 13 bye coverage. C'mon Joseph, two more biggies for us please!
VERDICT: HOLD. Sell in round 14 to a gun like Zac Lomax or Campbell Graham.
Blake Taaffe | HFB|FLB ($406,400 | STH) - 36 points
After last week's 67-point effort, you could have been forgiven for thinking Taafe was 'on' to hit $500,000 by the time the Rabbitohs have their bye at round 13. Then came the absolute stinker in Dubbo against the Raiders, for the whole team not just Taafe. It halts the money making, and given Latrell's return is projected for round 15(ish) the aggressive move may in fact be to sell right now.
VERDICT: SELL/HOLD. Fingers crossed for one more bomb prior to the bye, but a sell this week to a gun is the proactive play.
Kelma Tuilagi | 2RF ($332,200 | WST) - 17 points
It's over. Any hope I could possibly be hanging on to is now officially gone. 17 points in 16 minutes, along with Luke Garner scoring a gazillion points (and actually playing very well to be fair) spells the end of pre-season Cheapie Bible favourite Kelma Tuilagi - before it really ever began. Best case scenario here is actually that he nose-dives in price playing off the bench that he becomes an interesting prospect in 2023.
VERDICT: SELL. The BE is huge now at 47, with a bye coming next week as well so it's time to go ASAP.
There you have it! As always, be sure to tweet us what you think @copes9 and @SuperCoachNRL. Good luck !
Originally published as KFC SuperCoach Cheapie Bible Round 12: Bargains to snap up before the byes