KFC SuperCoach Cheapie Bible Round 14: Welcome to the post-Origin bargain shop
The Broncos may have produced one of KFC SuperCoaches best cheapies, with an incredible first price rise — and its not too late to jump on, writes Trent Copeland.
What a week for our beloved Cheapies!
It was undoubtedly one of those weeks where we sit back like proud parents watching our children walk for the first time, or score their first goal … Just me? OK, maybe I'm just the weird one.
But, no matter the nostalgia, how good were GEORGE Ezra Mam, Jacob Kiraz, Xavier Savage, Max King, Tolu Koula and cult figure Grant Anderson - all putting up monster scores! As a result, we've got cash overflowing out of our pockets, and lots to talk about.
Stream every game of every round of the 2022 NRL Telstra Premiership Season Live & Ad-Break Free During Play on Kayo. New to Kayo? Try 14-days free now.
A cheapie by definition is any player under $300,000, as the season goes along we will give a running verdict on when to sell, sit, buy or hold every cheapie that hits our radar - if a player is not on the list, we've determined they are not a viable selection. Once a player eclipses the $350k mark they will be given a final verdict in the 'Bon Voyage' section.
Let's get into it!
He's the Mam! Broncos star Ezra Mam is now a locked in cheapie for the foreseeable future, with increased job security and a three round average of 83. Picture: Getty Images.
Ezra Mam | HFB|5/8 ($312,300 | BRO) - 79 points
GEORGE! He's done it again, and boy did he look every bit the NRL star, not just a rookie showing flashes. 79 points with another try and a hand in two others locked in a borderline record breaking initial price rise of $136,900, and importantly maintaining a -51 BE coming into his toughest test thus far against the Melbourne Storm without Adam Reynolds alongside him due to injury. Given the Broncos cover the all-important round 17 bye week, Ezra is a borderline must have, and with scores of 80 points (his current average) in the next three weeks he will be priced at a tick under $600,000 by round 18. This is incredible.
VERDICT: BUY/HOLD. We can forget about his place being insecure, it's locked in barring injury - you beauty!
Grant Anderson | CTW ($175,400 | MEL) - 84 points
HOLD 'YA HORSES, KFC SuperCoaches. At the time of writing, Grant Anderson is the most purchased player this week, and I'm here to tell you despite the cult-hero absolutely smashing on debut with 84 points and two tries at the SCG, and being named on the wing this week … It's a TRAP! Why? Well, to be completely honest, If Ryan Papenhuyzen does indeed make his return from injury this week from the extended bench then Anderson may in fact not even play his second game, let alone a third just yet - with Papenhuyzen at fullback, and Nick Meaney shifting to the wing. Unless of course Anderson has usurped Ieremia as the other first choice winger with Xavier Coats out until round 22. Either way, you have to at least wait this week out to see how things play out.
VERDICT: TRAP! Happy to be proven wrong here, but Anderson is a likely a round 17 purchase as a 'playing nuff' at best.
Xavier Savage | FLB ($366,500 | CBR) - 66 points
YES! The try Savage scored against the Broncos on the weekend is exactly why all that have watched this prodigy for a few years at lower levels have been crying out for an opportunity in his preferred position. Open space, disrupted defensive line, and freedom with ball in hand = Savage scoring tries. That's scores of 96 and 66 points respectively the past two weeks, which has locked in $140,000 in price rises and Savage is still sitting with a -35 BE, with match-ups against two of the leakiest defences in the entire NRL in the Knights and Dragons the next two weeks. If you sold Turbo to Savage three weeks ago when we first flagged it in the Cheapie Bible you'd be laughing all the way to the bank.
VERDICT: HOLD. Savage likely hits the round 17 bye priced around $450,000, but at this stage it's too late for non-owners to jump on.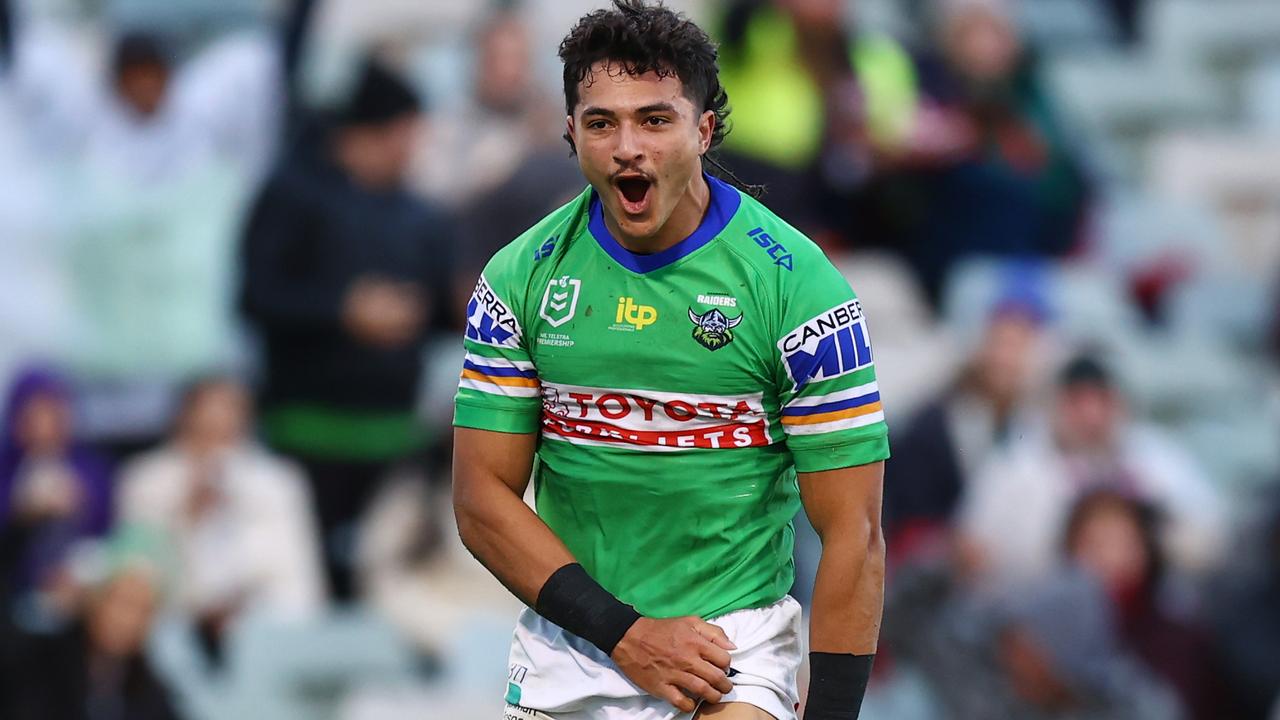 Xavier Savage crossed the white line yet again in Round 14, and is now a hold for the Round 17 bye week. Picture: Getty Images.
Jacob Kiraz | CTW ($335,600 | BUL) - 98 points
BOOOM. I called 'Sell' last week after a dismal performance against the Panthers, but I really should have remembered how stingy the Panthers are. Kiraz played this game at right centre against the Eels (instead of on the wing) and he was literally everywhere, back to bouncing out of every tackle and you may look at the 98 points and think "yeah, but how many tries in that?" The answer is one. The monster score came with 13 tackles, THIRTY TWO points in tackle busts and offloads, a line break and 31 points in runs. With a juicy matchup against the Tigers this weekend sporting a -11 BE, I think not only is Kiraz in for another big price rise but if he is again playing at centre he may well be worth playing in your 17 at a pinch.
VERDICT: HOLD. Literally the perfect result two weeks out from the bye, hopefully now peaks at $450,000 for a sell in round 17.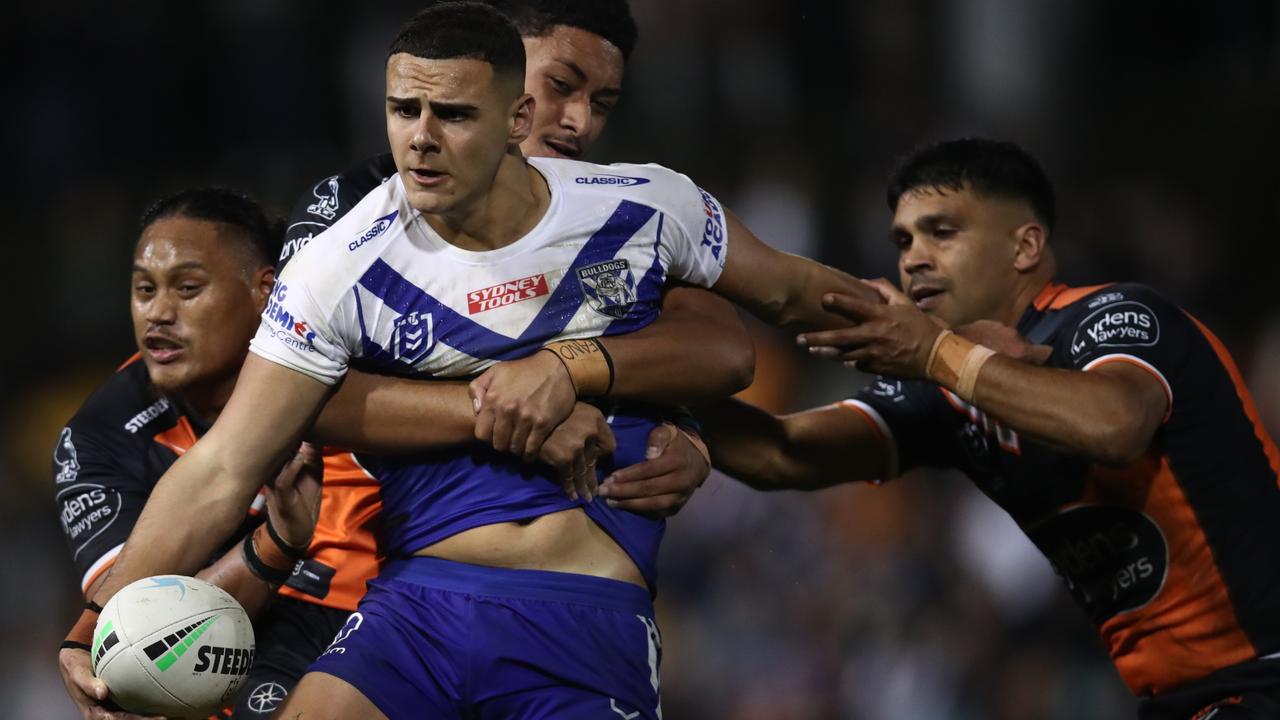 Last week Jacob Kiraz was a sell, but he's a hold now after another massive effort. Picture: Getty Images.
Jake Averillo | HFB|5/8 ($351,800 | BUL) - 57 points
What a game from the Bulldogs, absolutely smacking the Eels literally from the first five minutes - and Averillo looked fantastic yet again with 57 points this time via two tries to shoot up in price a total of $140,000 the past three weeks. He now sits with a BE of 15 and the match-ups mentioned above with Kiraz, so KFC SuperCoaches can expect Averillo to land up above $400k in a few weeks time.
VERDICT: HOLD/AVOID. It's been a great change to fullback for owners, but, don't be jumping on now, though!
Michael Molo | FRF ($218,400 | STG) - 22 points
I'm flat about this one. Molo has shown so much via the eyeball test but we can unfortunately lock into our minds that 'Hook' is not going to lean on his youngster for more than 20-30 minutes barring catastrophic game-day injuries to the middle rotation. After the 69 points in 46 minutes with a try on debut, it's been 29 and 22 points in 20 and 29 minutes respectively since. Molo still locked in a $45,000 initial price rise and seems locked in to the best 17 at the Dragons but the upside seems very capped.
VERDICT: HOLD/AVOID. I said 35-45 point mark at best, but it may be even lower barring any try scoring feats.
Tolutau Koula | CTW|FLB ($330,300 | MNL) - 75 points
Finally! Koula had somehow avoided the try line through his first 10 NRL matches, despite playing extremely well and finding space a lot of the time. Well, that streak ended against the Tigers on the weekend with a great try, 75 points and a truckload of cash coming for his 58,000 patient KFC SuperCoach owners. That leaves Koula with a -2 BE and despite two very tough match-ups against the high flying Cowboys and Storm the next two weeks, he should be a great hold until the round 17 bye and be the perfect sell to a gun/nuff at around $385k.
VERDICT: HOLD. Patience, rewarded.
BON VOYAGE
Cody Ramsey | CTW|FLB ($374,100 | STG) - 32 points
Ramsey has made KFC SuperCoaches a tick over $120,000 the past three matches he's played either side of the Dragons' bye since the move to fullback, but, after the thrashing at the hands of the Cowboys in round 14 Ramsey is about to hit the skids. The question is, can he make it to round 17 coverage without losing all his profits? With a BE of 44 and match-ups against the Rabbitohs and Raiders the next two weeks it's certainly feasible that some attacking stats will come his way, my advice is to avoid temptation to sell, at least this week, until we see where someone like Grant Anderson is placed once Ryan Papenhuyzen is back for example. If there's no legitimate base-price option to sell to then I think Ramsey is a hold through the bye.
VERDICT: HOLD. Plan for a sell either next week, or in round 18 after bye coverage regardless of price drops between now and then.
Hamiso Tabuai-Fidow | CTW/FLB ($278,000 | NQC) - 20 points
After his bye-round heroics, the Hammer came crashing back down to earth with a 20-point dud against the Dragons despite the team putting up 31 points in the win. Quite simply if the attacking stats aren't there, the work rate/base stats are never enough to maintain great scoring. The BE is still nicely poised at 10 with match-ups against the Sea Eagles (away) and Broncos (home) before the bye in round 17, so owners should be praying for a hat trick this week before selling come round 17 to a gun like Ronaldo Mulitalo or Campbell Graham.
VERDICT: HOLD. Sell next week or round 17.
There you have it! As always, be sure to tweet us what you think @copes9 and @SuperCoachNRL. Good luck!
Originally published as KFC SuperCoach Cheapie Bible Round 14: Welcome to the post-Origin bargain shop