KFC SuperCoach NRL: 2021 winner Tim Moodie updates his round one team
KFC SuperCoach deity Corey Parker gives reigning KFC SuperCoach NRL champion Tim Moodie the inside word on one of the game's most popular cheapies.
In my first team reveal the thing I was stressing the most was "to try not stress to much about our sides until (TLT) – team list Tuesday", when NRL coaches name their round one starting sides.
Unfortunately I must admit, I have been doing a lot of stressing over the couple of weeks as the trials took place. I've been pacing the house and working up more run metres than Craig Bellamy does in his coaches box.
There are so many players in each position still fighting it out for a spot in my side. With players coming in and out – and out and in - of my side all day long. Currently there are 10 players that have dropped out of the squad I named in my first reveal, making way for nine 10 names.
Stream every game of every round of the 2022 NRL Telstra Premiership Season Live & Ad-Break Free During Play on Kayo. New to Kayo? Try 14-days free now.
The trials being televised for the first time gave us a bit of a look at how teams might shape up come round 1 though it can be hard to get a good read on, as trials are much different to regular season games. For me, I think I've got more questions than answers still, even after watching all the trial games. But I believe a lot of those questions may be answered come TLT when we have more information to go off.
Last reveal I gave a percentage of how likely I was to start which each player. To make things simpler I've reverted to the rep selecting terminology of (Probable's and Possible's) to reflect how likely a player is to get the nod for the Villi's Army 2022 starting side. This side I have named leaves me with just $21,300 in remaining salary.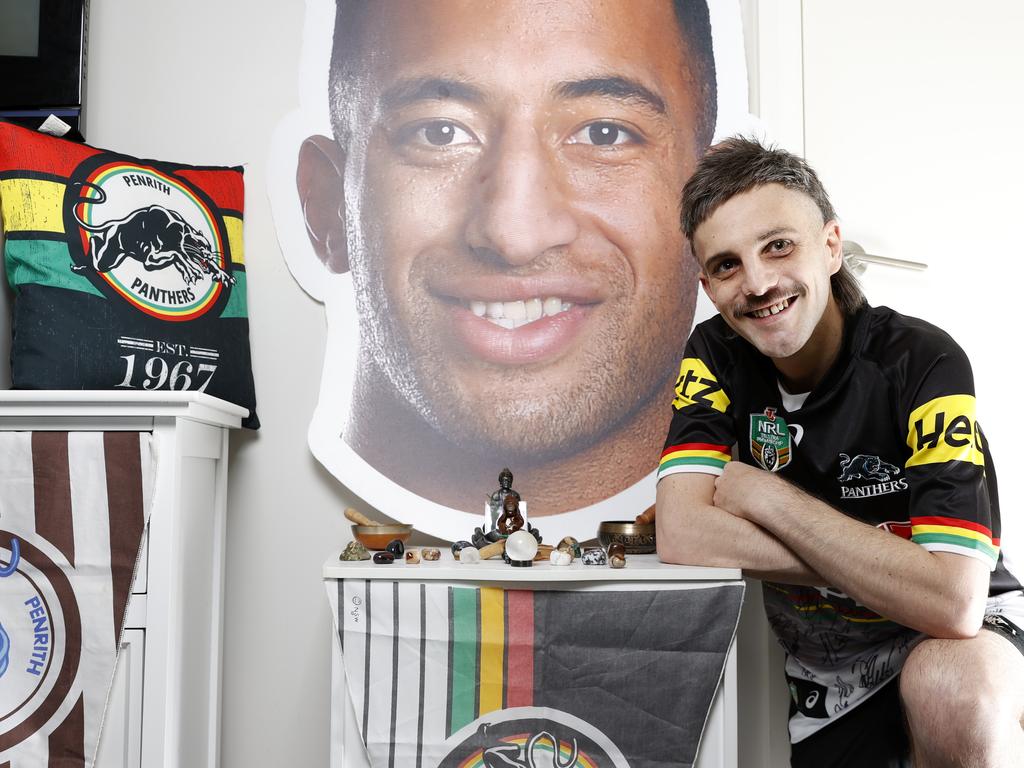 Supercoach Winner
HOOKER
IN Damien Cook $575,700 (Possible)
This spot is still really up for grabs, I think the player I settle on will depend on what budget I have to left to work with after filling other position in my side come TLT. Cook averaged 65.7 last season, with several scores in the 30s and 40s he turned a few people of him last year. But there were also scores of 102, 106, 105 and 148 from the beach sprinter as well as scores of 66, 80, 80 and 76 in his last four games of the season. Alternatively I may still take the double cheapie route in hooker to squeeze others in elsewhere. Then again maybe I'll spend up a bit more if budget allows for Mahoney or Grant instead.
RETAINED Chris Randall $245,500 (Probable)
This bloke if you haven't already heard, is the fittest man at the Knights club. To me that sounds promising for minutes on the field, he may get a spell and only play 60 mins most weeks, but I can see him getting 80 minutes in when required. Round 25 last year he impressed with score of 81 nearly all in base with a quadrillion tackles in that match.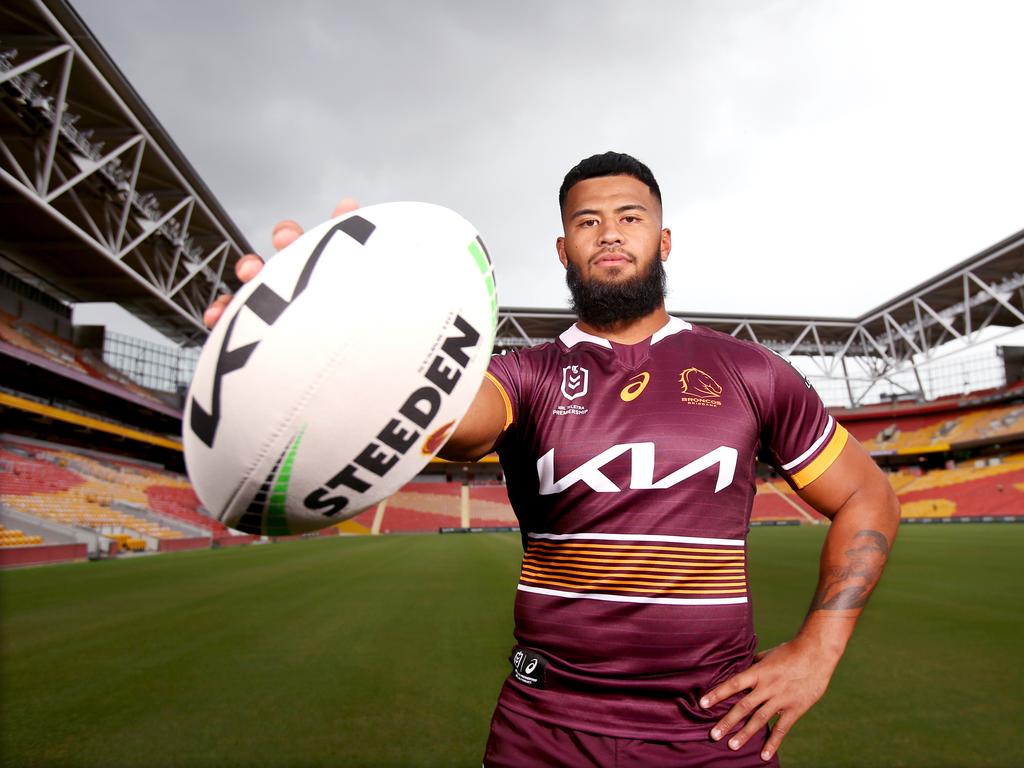 Payne Haas is a lock and load option in the FRF. Picture: Steve Pohlner
FRONT ROW
RETAINED Payne Haas $595,800 (Probable)
Payne's spot in my side is pretty secure. He is such a workhorse but is built more like a bull. Haas never has a bad game. With so many question marks over how well others in my side may go to start the year, Haas is one I know I can rely on provide my side some consistency week in week out.
IN Stefano Utoikamanu $457,200 (Possible)
Big Stef has taken the place of TPJ who I have recently dropped from disciplinary reasons. In a trial match…. TPJ lost his cool in a moment of rage, and attempted to rip Royce Hunt's jersey of him to take home as souvenir. The Villi Army expect their players to act with integrity both on and off the field and play with in the spirit of the game. I've had a difficult chat with TPJ explaining that I love his aggression, but that type of shenanigans with the jersey ripping will not be tolerated, meaning Stef has taken his spot until I see a shift in attitude later in the season form TPJ. Stef started as a bit of a slow burn cheapie last year, but soon developed into a starting prop.
IN Ethan Bullemor $280,000 (Probable)
Bullemor who has moved from Brisbane to Manly, looks to be given every opportunity at the new club to start on an edge, even when others return I see his job security being okay - getting decent minutes off the bench at worst case scenario. I like what I've seen of him in the trials, and I love that he has the dual position option for KFC Supercoach as FRF/2FR.
IN Max King $188,700 (Probable)
This bloke stood out in the trials, at a new club he looks eager to earn a role in the 17 named round 1 for the Doggies, who knows maybe even a starting spot. He looks hungry to play some footy, after missing most of last year through injury at the Storm. Passing the eye test and training the house down Kingy has been given the call up to the Villi Army.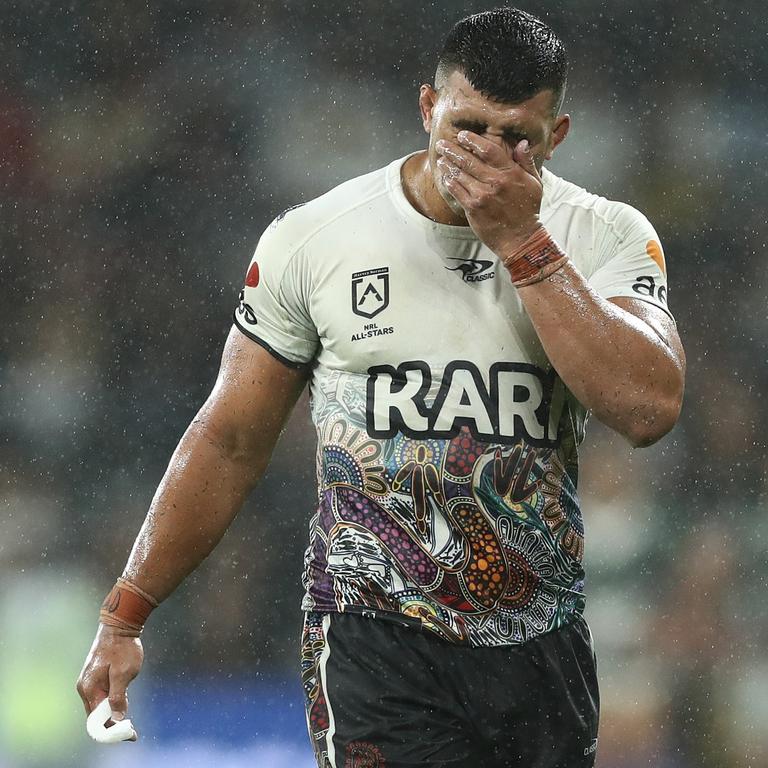 Do David Fifita's troublesome ribs scare you off starting with him? Picture: Mark Metcalfe/Getty Images
SECOND ROW FORWARDS
IN David Fifita $745,200 (Possible)
Fifita wasn't in my first team reveal, as I had question marks about his rib cartilage injury and concerns how fit hew would be by round one. I did say that I can see me picking him over Curran who I had plugged in his place. But Fifita has earnt the spot back, and will keep it unless I hear that he is far from 100% over the next week or so. This one is stressing me out a fair bit, I'd be disappointed if his mins were reduced, or if he wasn't able to rip and tear like he normally does – rib cartilage injuries are very nasty to nurse from my own experience.
RETAINED Angus Crichton $653,200 (Probable)
Crichton managed to average 74.5 last season in a depleted Roosters side, I think that will increase this year with more attacking opportunities as the Rooster welcome back many players who keep them on the front foot. Gus is always one of the best in his position and I can't see that changing.
RETAINED Euan Aitken $486,000 (Probable)
At 22% ownership a lot of KFC Supercoach's are rather keen on Aitken and for good reason. With dual flexibility of CTW/2FR and playing in the second row for the Warriors, Aitken plays the type of footy that is really handy for Supercoach. With tackle-busting, line-breaking, offloading and try scoring ability; I don't think he is a must have, but I do like him when playing second row, where he makes more tackles and gets more touches of the ball than he does when playing at centre.
RETAINED Jirah Momoisea $205,100 (Possible)
This bloke got more time on the field in the trials than I expected, and looks like he is in the mix to at least be in the starting 17 for the Knights come round 1. He has a handy dual position of 2FR/FRF. I mentioned last time I enjoy saying his surname, and I've even created a little chant-song I now like to sing when ever he gets the ball (which I'm hoping is in no way incentive to his family name), but is certainly fun and goes like this "Moma Say Mama Sa Moma Coosa". I should however go on the record to say I didn't actually create that song, I borrowed it off Michael Jackson, just in case his people want to hit me up for a lawsuit.
RETAINED Brendan Piakura $188,700 (Probable)
I raved on about this guy's prospects in my previous reveal. His junior highlights had my jaw on the floor and my eyebrows almost touching the back of by head. Missing round 1 due to suspension but available for round two, should he get the call up – I can't see them holding him back too long at all.
RETAINED Jack Howarth $175,400 (Possible)
Jack didn't necessarily tick as many boxes on the eye test for mine, on what I saw of him in the trials compared to his junior highlights as I would of liked. But as mentioned last time the Storm have him on a big dollar contract and they see a lot of potential in him long term. I doubt he starts round 1 even with several players absent, but he will get opportunities when Bellamy thinks the time is right. I could end up going someone else instead of him, that presents at a similar price on TLT as certain starter. I don't want any more than the one non-playing reserve, so I might start without him and pick him up when he gets the nod.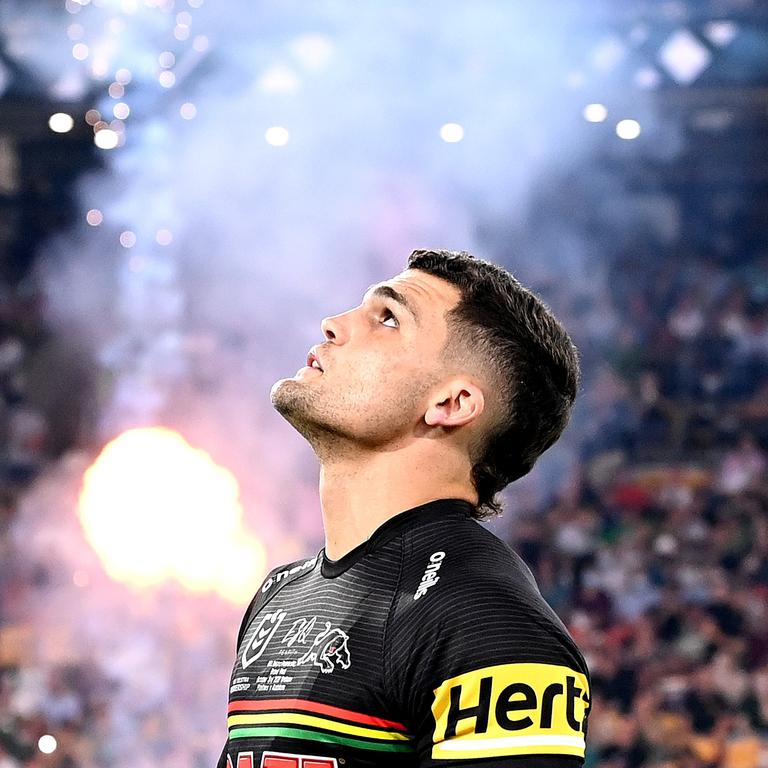 Provided he is healthy, can you afford to risk not starting with Nathan Cleary? Picture: Bradley Kanaris/Getty Images
HALFBACK
RETAINED Nathan Cleary $949,600 (Possible)
Nathan has come in and out of my side every second day, this is one of those decisions that is stressing me out. Will he be available round 1? If not someone else will have take his place in my side. There are many options I may take up if he doesn't start and the choices are doing my head in. Hughes, DCE, Nicho, Sammy Walker arrrggghhh…… I can't really split them. I'm hoping the Prince of Penrith is right to go to save me that stress of picking an alternative.
RETAINED Lachlan Ilias $205,200 (Probable)
Now the Bunnies rookie halfback is one that relieves some of my other stresses. I'm really happy with what I have seen of him in the trials, and feel he has what it takes to do job and could even exceed expectations alongside Cody Walker. Lock him in.
FIVE-EIGHTH
IN Shaun Johnson $462,000 (Possible)
I didn't want a bar of SJ last year, and I thought I'd steer clear this year too… At least until he showed glimpses of the SJ we use to come to expect. I think he is underpriced, so I might have to swallow my pride and start with him. I did have Luke Keary as my preferred option here, but due to a niggle he has picked up he might not be available come round one anymore. SJ I feel okay with. I'm not overly in love with it, but It's not a terrible option which could pay off, if he can get close to the SJ he was back at the Warriors the first time round.
RETAINED Talatau Amone $284,500 (Probable)
Amone looks really comfortable in the role of 5/8th for the Dragons. He looked great in the trials and will live up to and probably exceed expectations in regular season competition. Dragons fans have should be excited about the prospects of the 2022 season. I see them making the finals, so call your buddies dragons fans and invite them around for a BBQ to celebrate.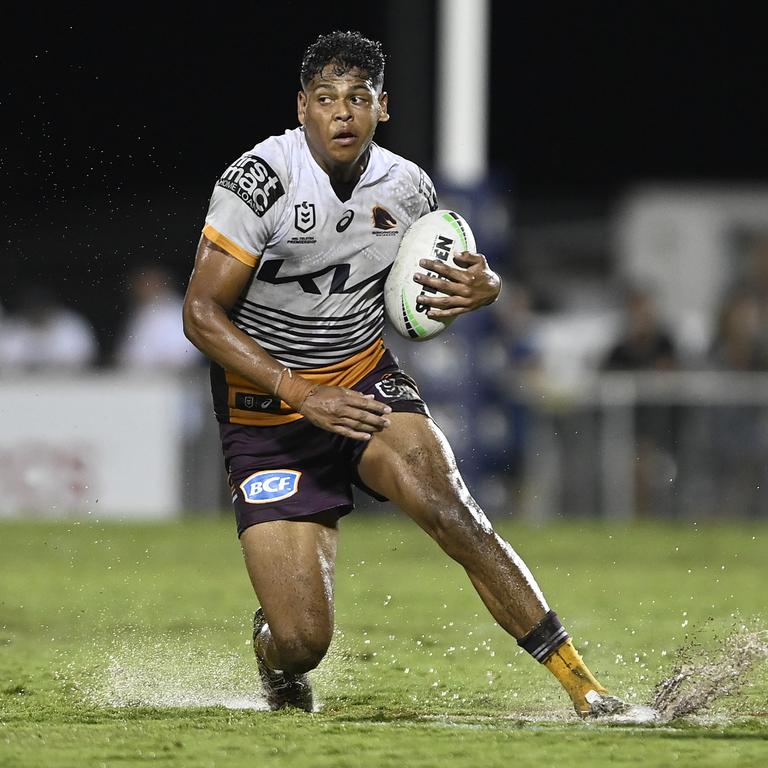 Corey Parker is not so confident that Selwyn Cobbo will start at fullback in round one. Picture: Ian Hitchcock/Getty Images
CENTRE/WING
RETAINED Kotoni Staggs $433,100 (Possible)
Staggs got limited minutes in the trials - no need to risk the marquee centre. There was one particular play that stood out to have that lethal Kotoni class stamped all over it. But we need him to be getting plenty of good ball in the danger zone, so he can unleash and get us those big attacking points he has in him. I had a strong gut feeling about him most of the off-season and leading into the pre-season. That gut feeling has since gone to battle with my mind who is putting forth the debate that he has been unlucky with injuries in his past, and that the Broncos need to use him correctly for him to do what we want him to do. Going to have to sit with this decision and mull it over further.
RETAINED Selwyn Cobbo $320,100 (Probable)
I've been hot on Cobbo ever since he blew me away in the QLD Cup finals last year. Now while he didn't really light it up in the NRL trials, I believe we are going to see some big things from him hitting the ground running come round 1. Tesi Nui has picked up an injury which will see him unavailable at fullback for the Broncos in the early rounds. Someone else will have to fill his spot and I was rather confident that Cobbo would be that someone until Corey Parker firmly suggested otherwise when I was speaking to him on Tuesday. CP13, the SuperCoach immortal himself, stated that Cobbo was too young, and it would be too much responsibility for him to play fullback against the Bunnies in round 1. Parker suggested that the way Kevie will go is with David Mead or Jamayne Isaako as both boast plenty of first grade experience. Hard to argue with the Broncos legend Corey Parker about what the Broncos line up will look like round one. We will have to wait and see, but even on the wing Cobbo will do a wonderful job. Fingers crossed my man gets the nod at fullback against the two options Corey has in the race. (Cheeky wink). If Cobbo doesn't start at fullback he will play there at some point this year mark my word.
RETAINED Izack Tago $287,900 (Probable)
Tago fits in nicely at left centre for the Panthers, he is always looking for work and as a fan of the Panthers I'm excited about what the young man will offer us. I've assigned him a little chant-song to sing when ever he gets the ball too which goes "Key Largo, Oh Tago, baby why don't we go, Jamaica."
IN Tolutau Koula $175,400 (Possible)
Now if this new prospect isn't the fastest man at the Sea Eagles, with Saab just having his measure – he is faster than the likes of, Turbo and even Harry from the Corso School of Athletics. Does he have great job security? No not really with Brad Parker and Morgan Harper doing nothing to loose their spot in the centres and Garrick and Saab locked in as their wingers. But he seems like the next man up if any of the backline is unavailable with Moses Suli switching over to the Dragons. He does look electric though, so let's see how it plays out.
IN Robert Jennings $229,100 (Possible)
My fellow Panthers fan, and one of the co-hosts of the Supercoach Experience Podcast (Mikey), has the vibe that Jennings will get the right-wing spot possibly over Taylan May, or Charlie Staines. If he does than he could be on the end of plenty of tries and attacking opportunities for the Panthers. If he doesn't get the start spot and Taylan May does, I'll swap him for May instead. Staines has put on some size and didn't look to shabby in the fullback role in the trials, but for me I'd want to see some consistency in his scores before going down that path again if it's him that get the right wing spot.
IN Jojo Fifita $175,400 (Possible)
Corey Parker gave this guy big wraps when I spoke with him the other day, while we might have disagreed on if Cobbo is ready for fullback or not, I'm with Corey on this one. If I'm being completely honest I like that I can sneak the Fifita name with the Titans colours in my side, just to worry my head-to-head opponents at first glance thinking I have David in my side I don't start with him, or have somehow found a glitch in the system having 2 Davids if I do start with him. I like to get a bit cheeky and play any form of mind games with head-to-head opponents I can. It just adds a bit of extra fun to the game.
IN: Viliame Vailea $205,100 (Possible)
If you haven't already guessed, this selection of cheapie in CTW is largely based on his first name. Choosing not to start with Kikau, the lifetime hall of famer of The Villi Army, I can
hopefully capture some of that that Villi spirit that the big man provides, by slotting in his cheaper namesake. Don't worry Big Kiks, you will be presented a game day jersey at some point in 2022 for the Villi Army.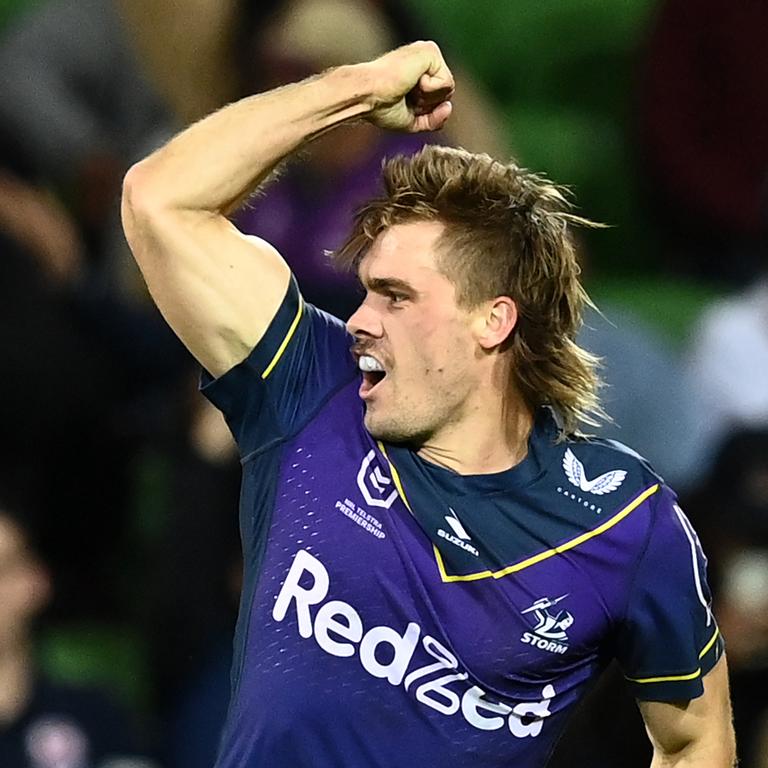 Lock in Ryan Papenhuyzen - and his mullet. Picture: Quinn Rooney/Getty Images
FULLBACK
RETAINED James Tedesco $760,100 (Probable)
I am still confident that Teddy is the guy again we should start with to kick off the season, just as he was last season. I see him being competitive and wanting to play out of his skin to establish that he isn't just the second best fullback these days. Tedesco saw what Turbo did last year, and while he will be happy for his fellow New South Welshman to play at his best, Teddy won't want to settle for second place. Now I'm not going to say one is better than the other, they are very different fullbacks, and their skill sets are on par for mine. I'm a massive fence sitter though and not one to play favourites.
RETAINED Ryan Papenhuyzen $694,700 (Probable)
Every time I look at Papz price tag, I just think - wow that looks impossible to refuse. It's only 65k less than Teddy, but with the security of his goal kicking points each week and the fact he scores so many KFC Supercoach points with ease on the back of a gun Storm side, I'm all about having him and his mullet in The Villi Army. Bellamy is keeping us guessing as to whether Papz is a genuine chance to start with an alleged ankle injury. But Bellamy loves his smoke and mirror tactics to start the season, which might have just a little bit to do with why the Storm have not lost a round one game in the last 10 years – That and the Storm are a genuine contenders every year regardless to who dons the purple jersey.
Final thought
Tommy will do Tommy things regardless to having difficult match ups to start the season, in the Panthers and the Roosters. But at the price he demands of almost 1.3 million big ones. I feel owners will be very reliant on Turbo being head and shoulders above the rest again. I also get the vibe that if he pumps out scores of 120, owners will be left feeling underwhelmed and disappointed. Yes Turbo can do it again, will it be easy? – not as easy at he made it look last season in the 15 games he played.
Am I scared to watch him play each week not owning him? Yes, but just as worried as owners should be about him having to get that 143-point average they are paying absolutely top dollar for. Last year we could pick him up at under 600k (less than half his current price). So what he was able to achieve last year we got more than our money's worth for. I don't want to talk anyone set on Turbo out of starting with him, I think Turbo or the Teddy/Papz combo will work out well. For me I just will have less stress with the Teddy/Papz combo over Turbo, as it's an 'all my eggs on one basket situation.' With Turbo. Anyone thinking of starting Turbo/Teddy or Turbo/Papi combos though, I feel are really going
all-in too hard on the fullbacks taking up way too much of the team's salary cap.
Goodluck everyone, not long now till the first whistle blows. I'm counting the sleeps like a little boy excited for Santa to come. How good is Rugby League.
Originally published as KFC SuperCoach NRL: 2021 winner Tim Moodie updates his round one team