KFC SuperCoach NRL 2022: 11 things we learned from trials, All Stars
From young guns at the Broncos to workers for the All Stars, here's our KFC SuperCoach wrap of the weekend rugby league action.
It's been a long wait but we finally had our first taste of footy again for 2022.
That means the season is less than four weeks away! Of course, this was also our first chance to see some of the players we had researched and filed away as potential KFC SuperCoach options, so let's see what we learned this week (two games, Brisbane Broncos vs Wynnum Manly Seagulls and the Indigenous v Maori All Stars clash).
Stream every game of every round of the 2022 NRL Telstra Premiership Season Live & Ad-Break Free During Play on Kayo. New to Kayo? Try 14-days free now.
The Broncos' five-eighth position is still wide open
This is one of the key positions that KFC SuperCoaches are keeping an eye on, with potential options Ezra Mam, Billy Walters, Te Maire Martin and Tyson Gamble all getting a chance to play in the first trial (although Walters played at hooker instead of in the halves). Possibly due to the lopsided scoreline (Broncos won 52-4, a substantial improvement on this corresponding trial last season when these two teams tied 22-all), basically all the halves looked good at times and brilliant at others. We'll have to wait for the coming weeks to see how this plays out.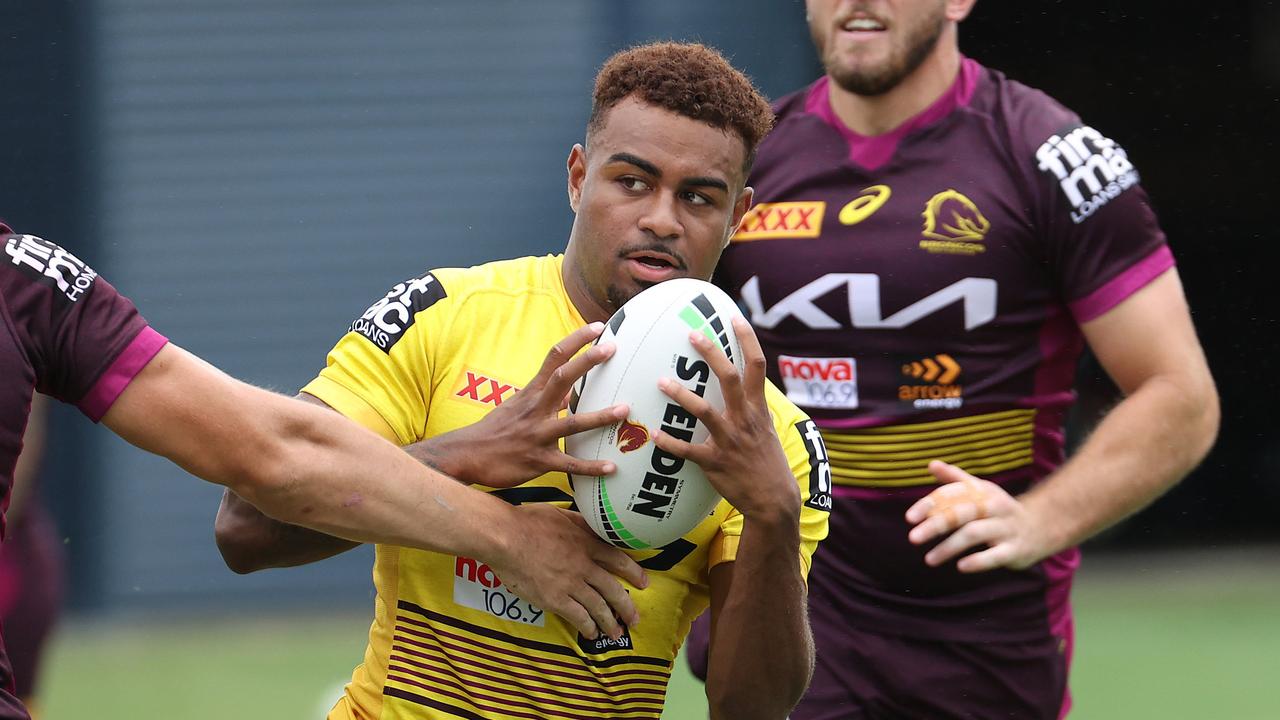 Ezra Mam had a great game on the weekend. Picture: Liam Kidston
Ezra Mam's KFC SuperCoach potential is massive
Some of you will have heard me say that Mam's player comparison is actually former Broncos five eighth, Anthony Milford – prime 2015/2016 Anthony Milford. We saw a lot of those skills on display in this trial, before Mam limped off due to cramp. Mam was involved in a lot of the points, from taking on the line and threatening to burst through, to throwing a great cutout pass to the right side which resulted in a Jordan Pereira try, to chasing down a bomb and batting it back for a teammate to score. Pretty much anything Mam did lead to some potential KFC SuperCoach points. Kevvie Walters also spoke glowingly of Mam after the trial, so while still unlikely, Mam is still in with a chance to start at five-eighth in Round 1.
Tom Flegler could be on the verge of a breakout
Okay this one feels a bit weird since technically Flegler played Origin last year, but for KFC SuperCoach purposes Flegler has shown his ability but inconsistency has hindered him. He only played early in this trial, but every run took three or four defenders to bring him down, and he also stood in multiple tackles and offloaded almost too easily at times. He also busted through some lazy defence and was able to find himself in open space. He's suspended for the opening rounds but Flegler may just be someone to keep an eye on if he's able to continue that tackle-breaking, effective offloading form once he's back in the team.
Jordan Pereira has one hand on a wing jersey
We knew that JP was going to be a hard worker, that he was going to get stuck in and help the team out of their own end. None of that was surprising or new; what we needed to see was improvement in defence, safety under the high ball and low error rate. Well, we didn't really get a chance to see any of that, such was the dominance of the Broncos. Pereira had several noteworthy runs, and his skill to tiptoe down the sideline for his first try was impressive to say the least. Corey Oates only played a bit at the end, and came on at left centre, which is curious to say the least.
Write down the name 'Deine Mariner'
Mariner is only 18, so it's extremely unlikely we see him playing first grade this year, but he's an exciting backline prospect who has some serious x-factor about his gameplay. He is a points machine – scoring tries and setting them up for teammates – but the ease in which he handled the step up in his senior debut, really makes this Broncos fan excited for his future. One thing that Mariner showed was his versatility; chiming in at the end of backline plays, taking the opportunity to bust tackles and offload to teammates at every chance, and also showing his playmaking by running across the field waiting for an opportunity to open up. Something that Kotoni Staggs can do from time to time … and while Mariner has plenty of development in him before first grade awaits, the prospect of a potential Mariner/Staggs centre pairing in coming seasons is tantalising!
Joseph Tapine had a blinder for the All Stars (Photo by Mark Kolbe/Getty Images)
Joseph Tapine loves playing for the Maori team
It's almost funny that I wrote about Tapine last year, again following the Indigenous All Stars game. For the second year in a row, Tapine really caught the eye, with a barnstorming performance. He played 60 minutes, scoring a try with a line break, creating another try with a line break assist, on top of making 26 tackles and 111 metres from his 14 runs. All of this on his way to 98 KFC SuperCoach points, a game-high score with the next best score only being 70 points. The issue is how he is likely to be used by the Raiders won't allow him to have such opportunity to play long minutes, which is just a shame given how good he is.
David Fifita reminded us about his ever-present attacking upside
DFifita had an incredible season last year, but it's easy to forget that he did a lot of his damage in the first part of the season. In the second half, he struggled with injury, and that resulted in a number of games on the bench and playing lower minutes. Well, it took just 12 minutes into this game before Fifita busted a few tackles, broke the line, broke a few more tackles for fun and then passed the ball to a supporting Jesse Ramien to open the scoring. There is an issue though, with Fifita leaving the field due to a rib cartilage issue, before returning and playing out the game. KFC SuperCoaches will be hoping Fifita takes the next two weeks to rest and recover and is raring to go for Round 1.
All eyes on Nicho
One of the biggest breakouts of the 2021 season was Nicho Hynes, who now finds himself at the Sharks and playing in the halves. There is plenty of discussion surrounding Hynes, and whether or not he will continue his 2021 SuperCoach scoring or if he will struggle with the new club, new position, and so on. Hynes had a strong game for the Indigenous team, and showed that he is up for the challenge of playing in the halves. The jury is still out though on whether he will be an elite scorer for KFC SuperCoach purposes – at least from Round 1. He scored around 62 SuperCoach points in this game, which is actually the third highest SuperCoach score from the game. One other key point here was that potential halves partner Braydon Trindall also goalkicked ahead of Nicho, which would be devastating for Nicho's SuperCoach stocks.
Briton Nikora had himself a game
Nikora really burst onto the KFC SuperCoach scene in 2019, and due to his dual position status he was one of the most highly rostered players from Round 1 that season. He has since struggled with consistency, spending some time on the bench and also having some injuries mixed in. Nikora played 69 minutes and scored 59 SuperCoach points in the All Stars game, which is impressive considering he didn't have any major attacking stats in that score. Nikora averaged around 51 points in base and base attack stats last year, which is decent for an edge backrower but not elite. If he was able to maintain the same workrate from the All Stars games, he would elevate himself to the upper tier of edge backrowers and really be worth considering for our SuperCoach teams.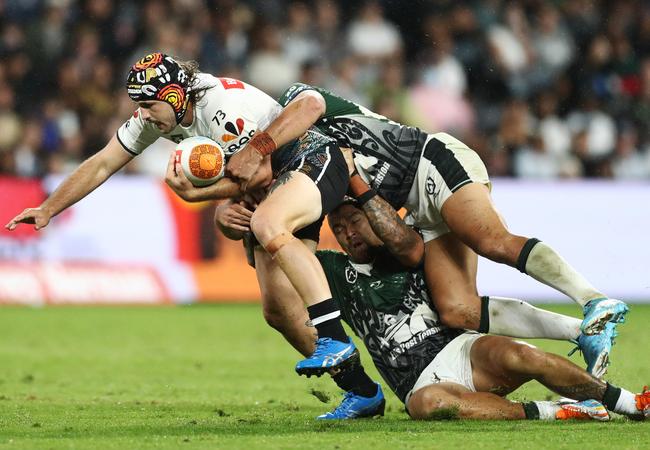 Josh Curran of the Indigenous All Stars (Photo by Mark Metcalfe/Getty Images)
Josh Curran still worth considering
This is a tough one given I'm quite confident in Curran's potential to start 2022 with a bang, given his likely role and opportunity at the Warriors while Tohu Harris is still recovering from his ACL injury.
However, he didn't have his best SuperCoach game, scoring just 29 points in 47 minutes of game time (which was cut short due to concussion). While not reading too much into his potential minutes in this All Stars game, the concern is that Curran usually scores at a much higher PPM.
My suggestion is that we shouldn't overreact to the first hitout of the year, which was played in poor weather conditions and also with unfamiliar teammates and roles. We've seen enough of Curran to know he is a heck of a worker, and scores like this are the outlier rather than the higher floor that he normally shows us.
High risk, potential reward?
There is some exciting up-and-coming talent waiting to emerge stamp themselves as the game's next superstar-in-waiting in 2022; players that may have the opportunity to finally shine as they are given a shot at playing a more prominent position in their respective teams on a more permanent basis.
Tyrell Sloan and Hamiso Tabuai-Fidow are two names expected to be starting at fullback, and are electric to watch. They look like they just glide across the field, such is the grace and ease of which they move. And boy, can they find the tryline! Both have great strike rates and just seem to have the knack of finding tries out of nowhere.
What they also both seem to struggle with though is their workrate and involvement; their base stats leave something to be desired and while they can both be excitement machines, for SuperCoach purposes it makes them both quite risky because there is a chance both find themselves playing for a team that struggles in 2022, which will limit their chances for attacking stats on a weekly basis. This would mean both could be very inconsistent. Something to keep an eye on!
Bring on Week 2 of Trials!
Originally published as KFC SuperCoach NRL 2022: 11 things we learned from trials, All Stars