KFC SuperCoach NRL 2022: 11 things we learned from weekend trials
Xavier Savage has surged into KFC SuperCoach contention while a host of cheapies staked their claim for selection in round one. Full trials wrap by WILFRED ZEE.
We edge another week closer to the kickoff of Round 1, 2022, but we were fortunate to have more footy, even if it was just trial footy.
There were a fair few more games this week than last, so let's check out what we learned.
Stream every game of every round of the 2022 NRL Telstra Premiership Season Live & Ad-Break Free During Play on Kayo. New to Kayo? Try 14-days free now.
Xavier Savage is putting serious pressure on CNK for fullback
This kid is going to be a star, and each time he gets a chance at fullback he shows us a bit more of his potential. We saw some individual brilliance this game (a nice grubber for himself, as well as some fancy footwork to beat defenders and break the line), but we also saw moments of inexperience and rawness (understandably so). The fullback role may not be locked in with Charnze Nicoll-Klokstad, and Savage could be in the mix for a starting position in Round 1 (especially with Rapana out for the opening rounds). This situation needs to be monitored!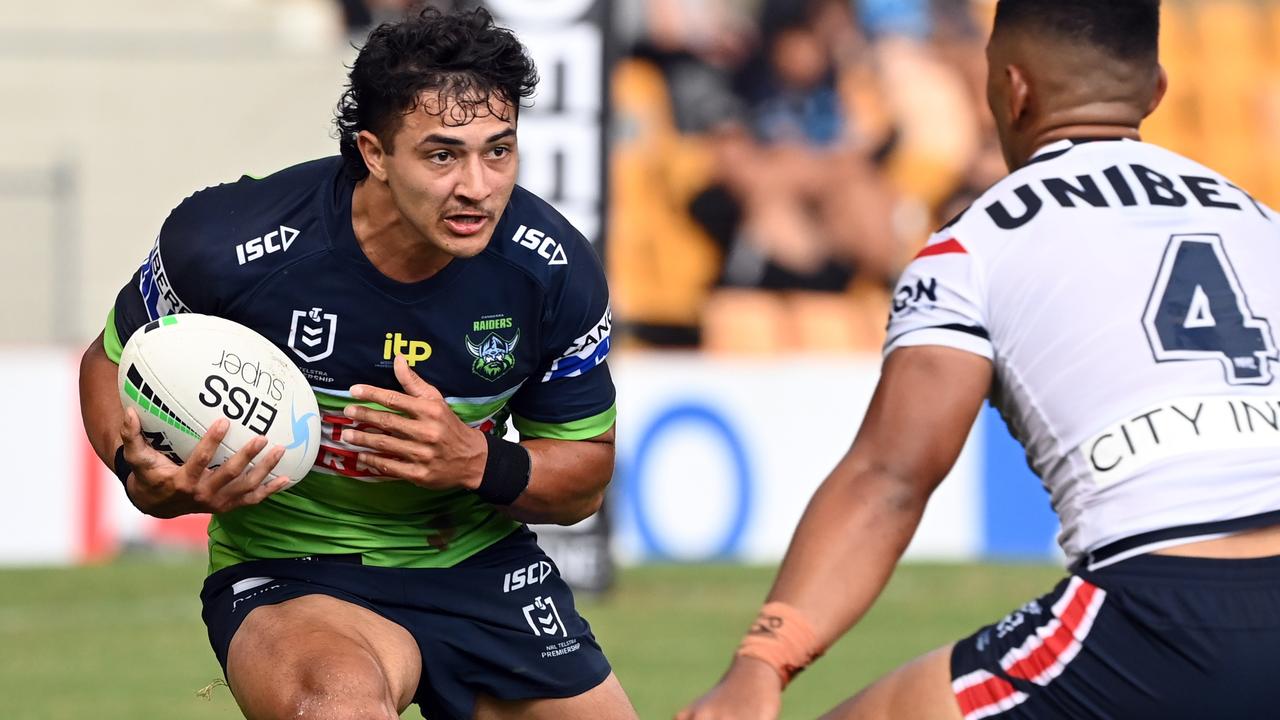 Xavier Savage had a strong game for the Raiders.
Kelma Tuilagi continues to build his case for a prominent role this year
As mentioned previously, the opportunity is there given the unfortunate injury to Shawn Blore; Tuilagi started on the left edge and he certainly didn't hurt his chances with a strong showing in the trial. He combined really well with Luke Brooks on the left side, scoring the first try for the Tigers and also consistently digging through the defensive line of the Sea Eagles.
Addin Fonua-Blake looks like he's in for a big year
This one is purely based on the eye test, but Fonua-Blake looks in great shape, and plenty have spoken of his fitness despite his size. His output while on the field was very impressive, and looked to get through a *lot* of work while he was out there. The Warriors will need a senior forward to step up with Tohu Harris out injured, and AFB fits that bill quite nicely, especially with Lodge also out suspended. There are some players who thrive on increased responsibility; whether or not that includes Fonua-Blake, we might find out early on this season!
Josh King looks much improved
In my left-field cheapies column I was a little harsh on Josh; I did also mention that Craig Bellamy magic might change things entirely – which is exactly what we saw in this game. Playing approximately 40 minutes, estimates have him sitting at around 50 points in base and base attack stats (accuracy cannot be verified here) which is fantastic in terms of scoring. The preseason camp reports have been absolutely glowing for King, and all signs point to him being a strong chance to have a decent chunk of minutes off the bench from Round 1. Keep an eye on this!
Jaxson Paulo hasn't quite left his mark
One of the biggest question marks for the Rabbitohs (aside from replacing Adam Reynolds) was who would step into the left centre position vacated by Dane Gagai. Paulo was slated as the frontrunner but he was far from convincing in the trial, especially given he was largely playing reserve graders from the Cowboys. This could in turn open up an opportunity for someone else, and KFC SuperCoaches will be desperately hoping there will be an Isaiah Tass sighting soon!
Broncos still at sixes and sevens
This idiom technically isn't quite true since we know the No. 7 – it's Adam Reynolds. But the No. 6 is definitely still up in the air, with Albert Kelly, Tyson Gamble and Billy Walters all getting an opportunity to grab the jersey with both hands. Unfortunately, none of them did, and if anything the likes of Gamble and Kelly did more to harm their chances. Mam was also given a shot off the interchange, and he again made some impressive plays, mixed in with some inexperienced errors. Walters (Billy that is) may have his nose in front by default now, but Mam certainly appears to have the most upside; you get the feeling the Broncos may want to give him a bit more time to develop in reserve grade, and the chance for Mam to start may come later in the season. No doubt this will be another point to consider next week!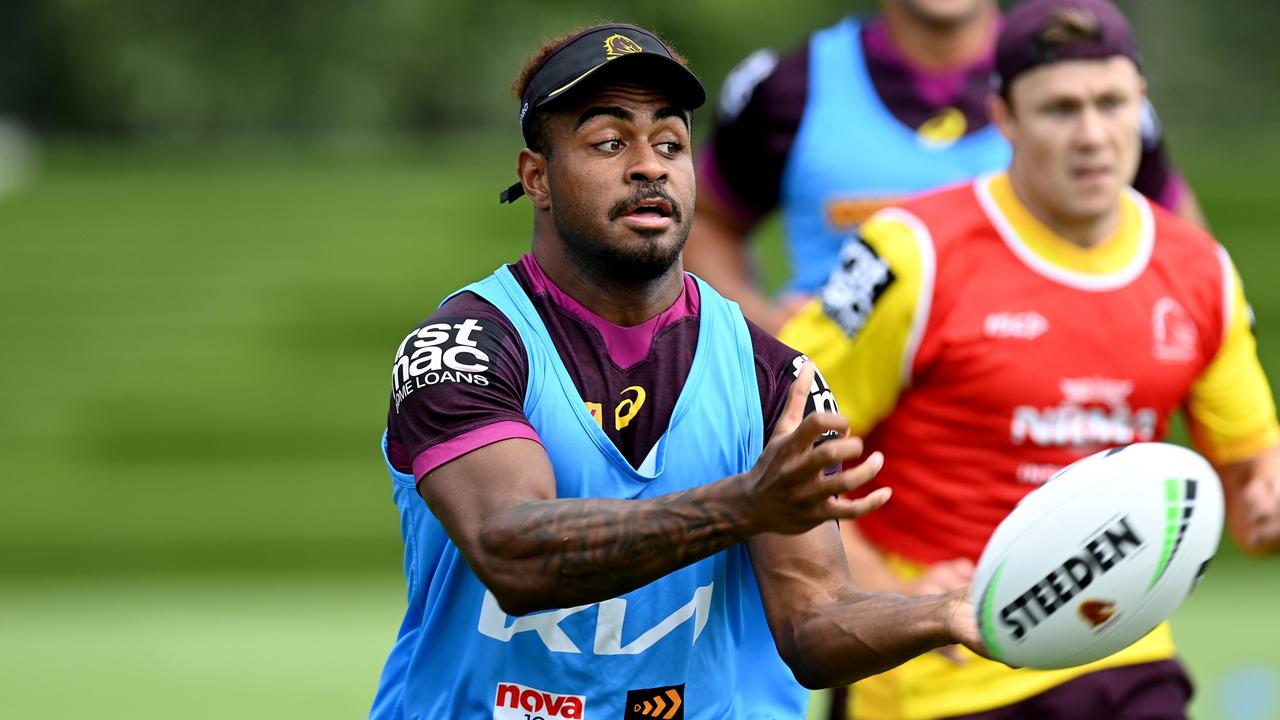 Ezra Mam is a promising playmaker (Photo by Bradley Kanaris/Getty Images)
Toby Sexton makes a case for consideration
We've only seen a small sample size from Sexton, and this trial did little in the way of adding to that small sample size really; however, we saw that Sexton has seemingly put on some weight and bulked up to handle the physicality of regular first grade. We saw him goalkick (not that it wasn't expected), and we saw him score an opportunistic try near the goalline, taking advantage of a timely offload from Jaimin Jolliffe. Although it was a fairly simple try in the end, it showed that Sexton was in position, and on the lookout for the possibility of an offload, whereas he would've been forgiven as an inexperienced half to be looking around and organising his team for the next tackle. Sexton certainly looks like he will be a solid first grade half at worst, but the question is how good will he actually be for KFC SuperCoach purposes? The jury is still out on that one!
Izack Tago is good to go
He's already one of the more popular players in KFC SuperCoach but hey, it's always good to know he's all but certainly locked into a prominent role. He wasn't the only Panther who played well in this game but Tago was in the thick of things, providing key passes in multiple tries as well as making plenty of run and metres off the back of those runs too. Tago appears to have all but locked up the left centre position for Round 1!
Sean Russell might be Johnny on the spot
No one likes injuries at the best of times, but when they happen to a low ownership, left-field cheapie like Haze Dunster (4% ownership before the injury) it's certainly twice as bitter. Our thoughts are with Haze as hopefully scans reveal the least serious injury possible, and he can get back on the field sooner rather than later. Naturally though, with injury comes opportunity and Sean Russell might be the main benefactor from this unfortunate situation. In fact Russell already scored a try in replacement for Haze, and could find himself lining up on that left wing come Round 1. One to monitor (as always).
Sloan to fullback
Surely, right? Please say 'yes', Anthony Griffin. Ramsey may have started the game at fullback but Sloan was streets ahead when he finally was given his chance to play there mid-game. Sloan was able to get himself involved much more when at fullback, and with his class, the Dragons definitely benefited from him chiming in when he wants. He even showed off some of his kicking game, which hadn't really been a skill we'd seen much of previously. C'mon Hook, do the right thing!
Penalties matter
It's still a work-in-progress but it certainly seemed like the additional rule 'tweaks' this season will have a noticeable impact on the scoring for the NRL, and therefore for KFC SuperCoach as well. The additional penalties being awarded for infringements inside the 40m has allowed players to have a breather, while there is a break before the penalty kick to be taken. Aside from taking some of the ball-in-play time away, the fatigue factor looks like it could actually be reduced. This may not be great for SuperCoach scores, but it is probably a good thing for player welfare as we may see less injuries as a result. The biggest takeaway from this is that some of the premium attacking stats-based players may be overpriced as a result, if the scoring ends up lower overall. Something that we'll monitor again for the final trial game and also next week, but there's definitely some food for thought given the significant increase in penalties conceded and the decrease in set restarts from the games so far.
Bring on Week 3 of Trials!
Originally published as KFC SuperCoach NRL 2022: 11 things we learned from weekend trials