KFC SuperCoach NRL 2022: Most durable players revealed
The Mastermind is unmasked and brings you the ironmen of the NRL you need in your KFC SuperCoach team for 2022.
Where did all the trades go? KFC SuperCoaches are caught in the same trap year in year out. You trade hard early to build bank, trade even harder to get a line-up for the byes then it's eight weeks to go and you can count your trades on one hand.
The injuries, suspensions, resting all start flying thick and fast, and this season throw in whatever complications Covid-19 will bring to the table.
You need a team with more steel. A team of ironmen and there are none more reliable than this batch.
We've crunched the numbers on the players who've played the most games over the past three seasons. Position by position we'll compare how the ironmen stack up with the best and those in the bargain bin.
Of 68 possible games, no player has played them all, but Eels duo Clint Gutherson and Shaun Lane top the charts with 67 games a piece. Tigers second rower Luciano Leilua has played 66 games, while Sea Eagles Martin Taupau and Reuben Garrick have 65 and Rabbitohs hooker Damien Cook, 64.
At the other end of the scale the game's most expensive player Tom Trbojevic has played 34/68. The same as Matt Moylan, just 50% of games. If you're spending big on Turbo, that last line makes me very nervous.
Already 20% of teams have been tempted into the bargain bin for another season of Shaun Johnson roulette whose 43/68 shows he's almost guaranteed to pick up a niggling injury each month.
It's not just the injury risk though, suspension plays it's part and sometimes a perfect storm of both in the case of Victor Radley and Tevita Pangai both 45/68.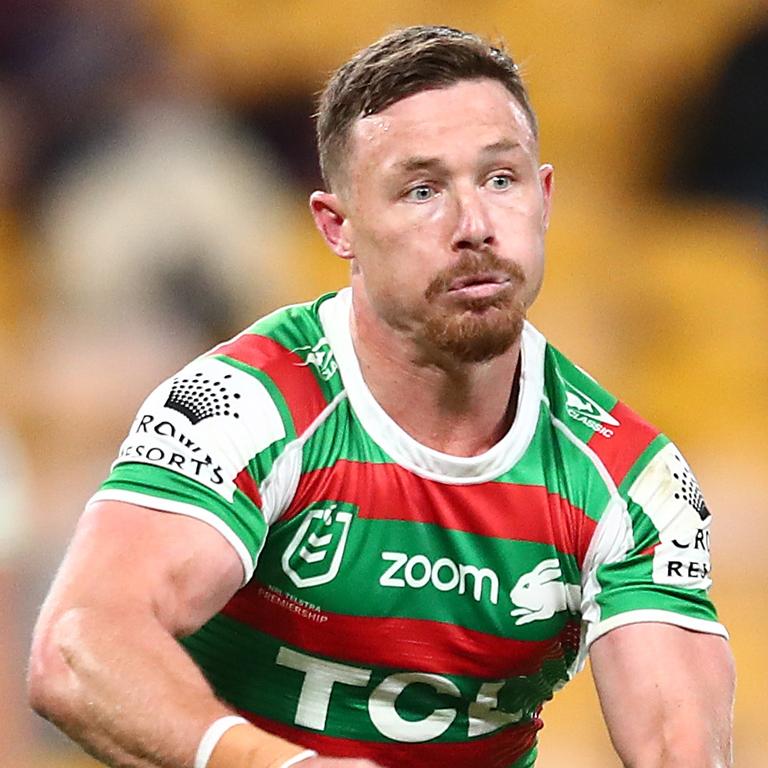 Damien Cook of the Rabbitohs. Photo: Chris Hyde/Getty Images
HOOKER
Damien Cook, 64/68, was rested a couple times and of course missed games for State of Origin duty. Cook's average scores have declined each year since his breakout in 77PPG in 2018 to 65.7PPG in 2021. Still he punched out four centuries in 2021 including a 148 against the Warriors, a ceiling few others in the position can hit.
Compared to the best: Harry Grant has played just 28 of 44 games across 2020-2021. When he's on the park he's the best in position averaging 73.5PPG in 60MPG in 2021 but the frustration for KFC SuperCoaches has been the stop-start nature of his absences. In 2021 he missed the first four games, then rounds 10-13 and 16-19. When the Storm have Brandon Smith as the back-up option there's no a rush to get Grant back on the pitch.
In the bargain bin: Cameron McInnes was hot on the heels of Damien Cook in his 2019 and 2020 seasons for the Dragons. Now at the Sharks, you get him at a discount after he missed the entire 2021 season, plus he has very handy dual 2RF status.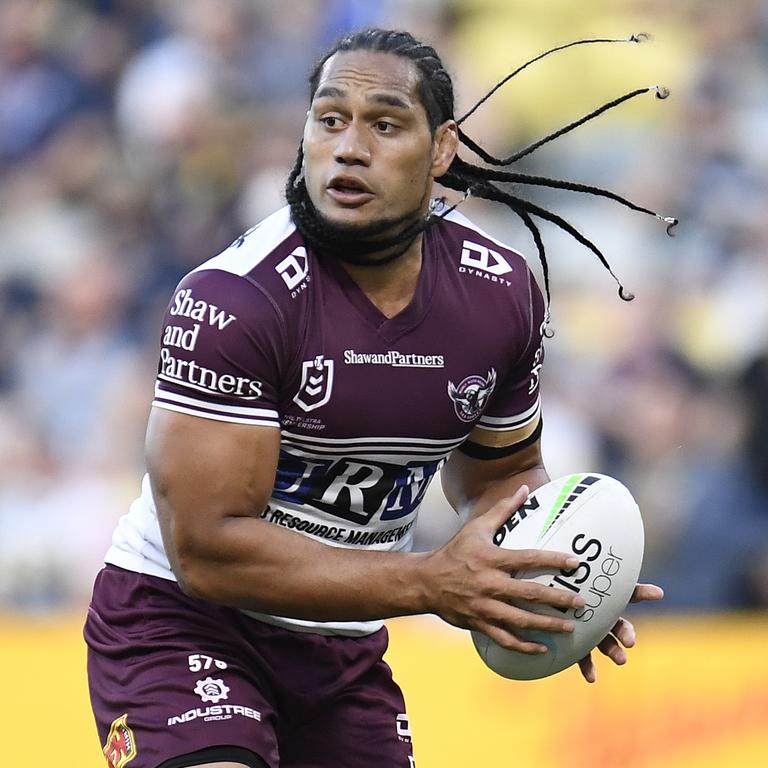 Martin Taupau of the Sea Eagles. Photo: Ian Hitchcock/Getty Images
FRONT ROW
Moses Leota, 66/68, has been a mainstay of the Panthers pack the past three season but his output doesn't make him a KFC SuperCoach option. However his frontrow partner James Fisher Harris 64/68 has scored the second most toal points in the position in that time. The only games he missed where for the birth of his child in 2021. Fisher-Harris losing his dual 2RF position status will hurt his popularity. Another Kiwi, Martin Taupau, 65/68, makes the list, perhaps not surprising given the bye round coverage. The Manly prop has reigned in his offload game from a couple years ago and pumped up his base stats with more points from hitups than any other FRF in 2021.
The best: Isaiah Papali'i, 61/68, only missed one game in his breakout 2021 season for the Eels and that was the final game. A difference maker in head to head finals. Payne Haas, 57/68, could have matched the record of those above if not for suspensions for two off-field incidents, three weeks in 2021 and four weeks in 2019.
Bargain bin: Lindsay Collins, the Roosters forward played six games averaging 58.7PPG in 2021 before going down injured for the season. Looks like good value but there is plenty of competition in the Roosters pack.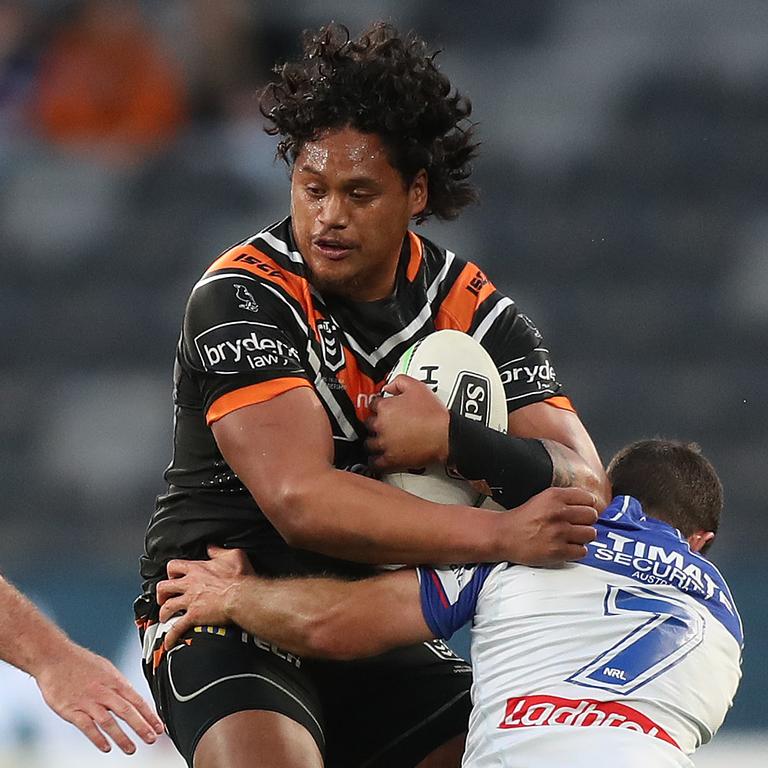 Tigers second rower Luciano Leilua. Picture: Brett Costello
SECOND ROW
Only one player in this position catches my eye and that's Luciano Leilua, 66/68. Since joining the Tigers in 2020 he's not missed a game and scored more total points than any other backrower with 1230 in 2020 and 1478 in 2021 averaging about 61.5PPG in both seasons. The other guys topping the list here are Shaun Lane 67/68, who has fallen down the Parramatta pecking order with the emergence of Papali'i. Elliott Whitehead, 64/68, a mainstay in the Raiders pack but not averaged above 54PPG in the past five seasons. Jake Trbojevic 63/68, was once in the conversation for best forward in KFC SuperCoach, but his output has diminshed dramatically in recent seasons. His 56PPG in 2021 is his lowest since 2016.
The best: David Fifita, 53/68, missed just two games for suspension in 2021 but played every other game except when on Origin duty. He played just 9 games in 2020 due to a knee injury. Through 2019 he played 23 games.
Angus Crichton, 54/68, missed 6 weeks with three separate suspensions in 2021.
Bargain bin: Raymond Faitala-Mariner 32/68, played just 2 games in 2021. He played every game of 2020 at 58.7PPG. A return to that form and he's a bargain. Patrick Carrigan, 45/68, Played 8 games in 2021, following a breakout season of 66.8PPG in 2020, he should return to similar output in a still inexperienced Broncos pack.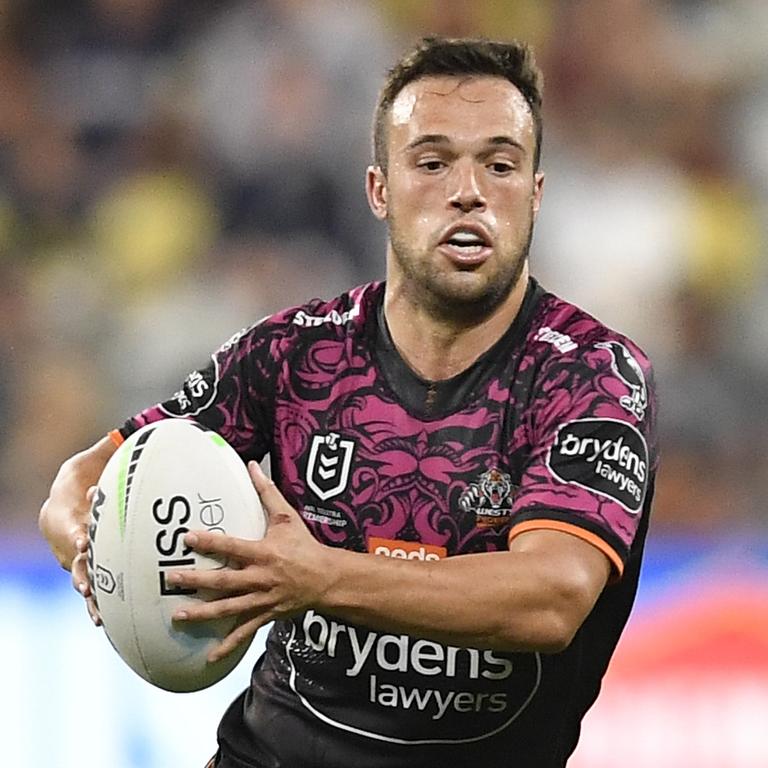 Luke Brooks of the Tigers. (Photo: Ian Hitchcock/Getty Images
HALFBACK
Luke Brooks, 65/68, on the park plenty for the Tigers but has only averaged more than 50PPG in two seasons out of eight in first grade. Adam Reynolds, 64/68, has consistently put up averages in the mid 50s but that's been in a free flowing Rabbitohs team. Suspect he'll have fewer shots at goal at the Broncos.
The best: Nathan Cleary, 55/68, is so far ahead of his rivals, the main one being Daly Cherry-Evans, 61/68, in this position he can well outscore them with fewer games. In 2020 he played two fewer games than DCE but scored 200 points more than him. In 2021 DCE pipped Cleary by just 12 points for the whole season, but Cleary played six fewer games.
Bargain bin: Luke Keary, 40/68, another Rooster coming off a season ending injury. He averaged 75PPG in three games in 2021. So looks like value and his dual 5/8th status is useful, but I don't think you're actually getting a bargain here. He's only cracked 60PPG average in one season and that's about where his price is.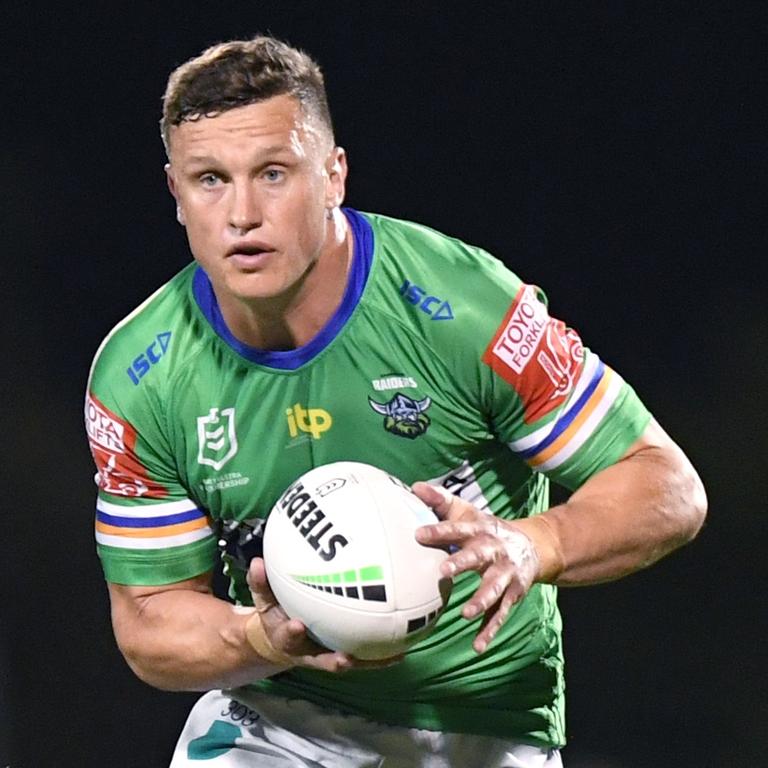 Canberra Raiders player Jack Wighton. NRL PHOTOS
FIVE-EIGHTH
Jack Wighton, 63/68, is coming off his worst KFC SuperCoach season averaging just 47PPG. A drop from his Dally-M winning season in 2020 when he pumped out 58PPG. New halves partner Jamal Fogarty should release Wighton from playmaking duties to focus on his running game.
The best: Cody Walker, 62/68, has been a lock in my teams for the past three seasons and he keeps getting better every year: 64.9PPG in 2019, 74PPG in 2020 and 83.9PPG in 2021. He's been the best in position in four of the past five seasons and is out of contention for Origin duties. With that consistency and output he should probably be higher owned than 6% of teams at the moment.
Bargain bin: Shaun Johnson: 43/68. The stop start nature of his injuries are the real killer for SuperCoaches. In 2019, played three rounds, missed a game. He was injured in round 7, returned round 14, missed round 24, then returned for round 25. In 2020, he played the first 14 rounds, then missed round 15-17, played 18-19, missed round 20. Last season he missed the first six games, played rounds 7-9, missed 10-11, then was injured again in round 20 for the season. At the moment about 20% coaches are going there again. The Warriors draw looks good, his dual position status is handy but his record speaks for itself.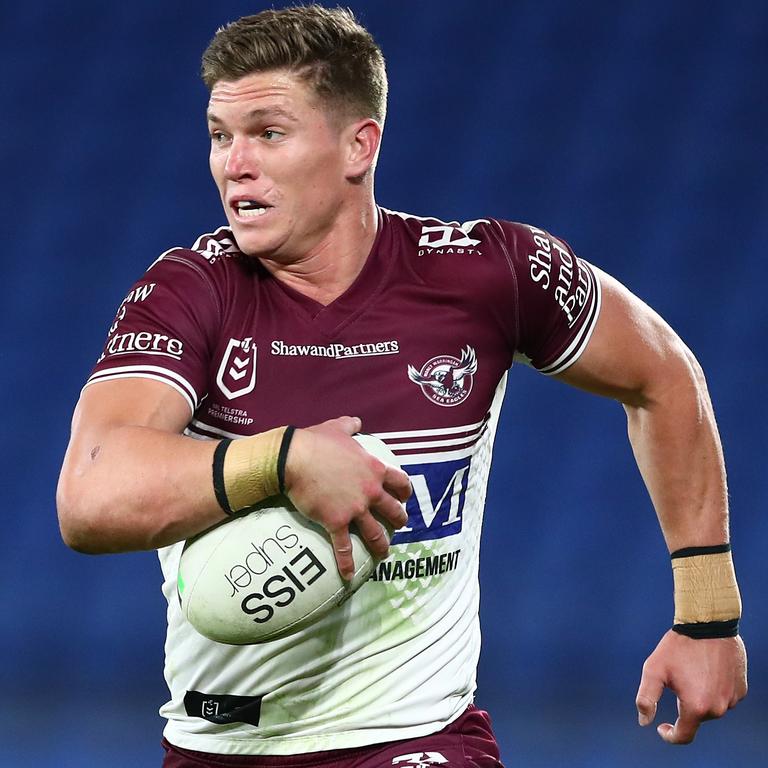 Reuben Garrick of the Sea Eagles. Photo: Chris Hyde/Getty Images
CENTRE/WING
Reuben Garrick, 65/68, is coming off an incredible record breaking season and has only missed three games since debuting in 2019. It's hard to imagine him replicating his 2021 effort of 87PPG but with the goalkicking duties and on the left wing he'll be in the thick of the points if Turbo fires again.
Joseph Manu, 64/68, bounced all over the Roosters backline in 2021, everywhere except halfback. He'll be lining up in the centres where he averages far less than anywhere else, though.
I'll give David Nofoaluma a quick mention here too since he's not missed a game in the past two seasons.
The best: Brian To'o 46/59 since his debut in round 10 of 2019. He missed seven rounds in 2020 and six in 2021. His workrate is unrivalled in the position but at the same price Garrick is there week in week out.
Bargain bin: Some serious value here in Kotoni Staggs and Zac Lomax, if either can get back to their best. Staggs is the more popular pick of the two at the moment in 40% of teams and comes at a nice discount after only four games in 2021 and 14 in 2020 both around 60PPG. Lomax looks the better option to me and averaged 68PPG in 2020 and finished 2021 with 287 points in his final four games after returning from injury.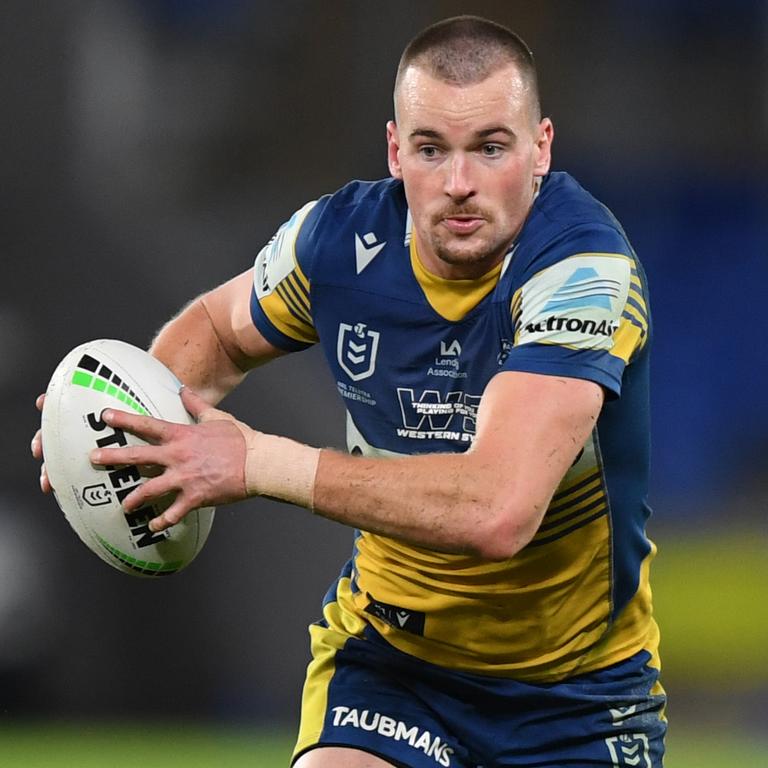 FULLBACK
Clint Gutherson, 67/68, is coming off his best ever season in SuperCoach scoring at 74.7PPG and racking up 1719 points. Over the past three seasons only James Tedesco has scored more total points. Gutherson struggled against the top teams last year but had a field day against lesser opposition. Trbojevic, Tedesco, Mitchell, Papenhuyzen and Ponga are all more exciting options but Gutherson's consistency is unrivalled.
The best: Tom Trbojevic 34/68 has played just 50% of available matches in the past three seasons, missing the opening four rounds of 2021 with a hamstring injury and rested at the end of the season with a bruised cheekbone. He's played as many games as Matt Moylan the past three seasons.
Bargain bin: Ryan Papenhuyzen 49/68. Played just 13 games last season a lot of those with reduced minutes. In fact he only managed seven full games at fullback at 115PPG. The best value buy in the comp and one of the first names picked for me.
Originally published as KFC SuperCoach NRL 2022: Most durable players revealed