KFC SuperCoach NRL 2022: The players to avoid for round one
Far from duds, some of these players will be studs in 2022 - but there are good reasons NOT to pick them to start the season.
Joseph Suaalii will one day have the NRL at his feet - but that day looks like it will not be in March 2022.
Many players in the list below have plenty of SuperCoach appeal, but I love to find problems with things - where others see glitter I bring gloom - and thus have found reasons not to select these players to start the season.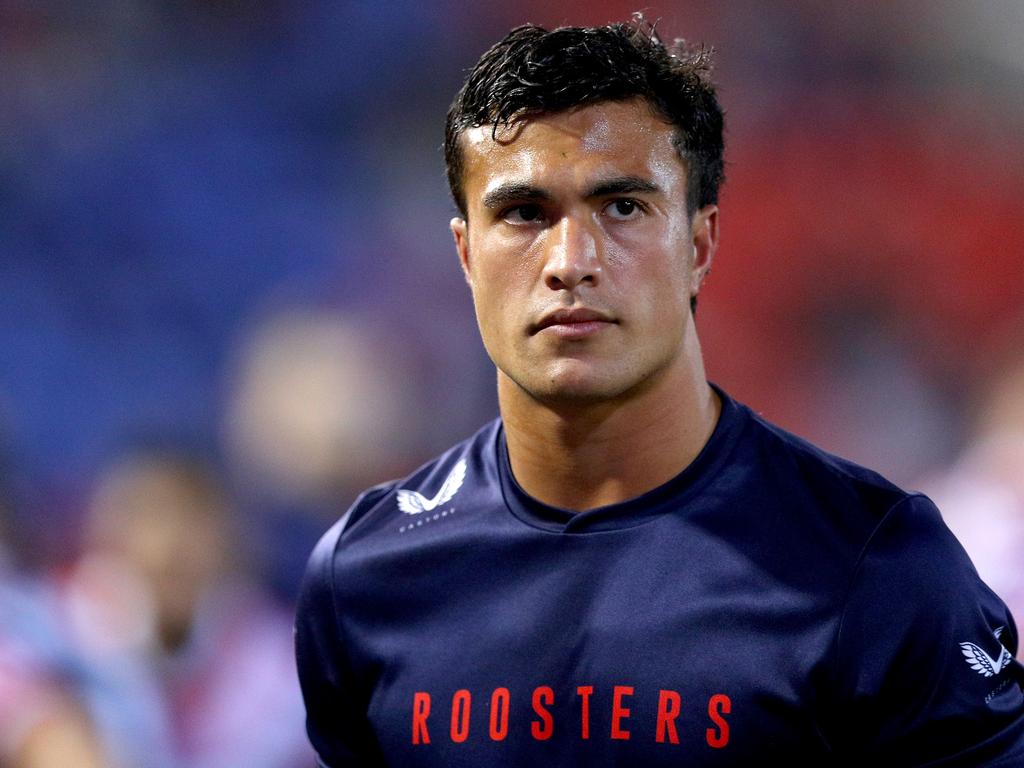 Joseph Suaalii (Roosters - 28% ownership)
As a Rooster booster I would like nothing more than to stash Suaalii in my side so that when he does finally start in 2022 I would not need to trade. But I don't think that makes sense. Suaalii is currently dealing with a foot injury and I see no chance that the Roosters rush his return risking a long term injury to a future star - not to mention the issue of does he even make the starting 13 now that Billy Smith has been named to start at centre in round one. So, 'why not stash him?' I hear you ask. Well, provided TLT rolls out the way we think it will, there will be enough CTW cheapies who ARE playing round one. Pick them, there'll be a couple who jag early tries, go up $100K or so and you can then trade them out for Suaalii (when fit and selected) and pocket some coin in doing so.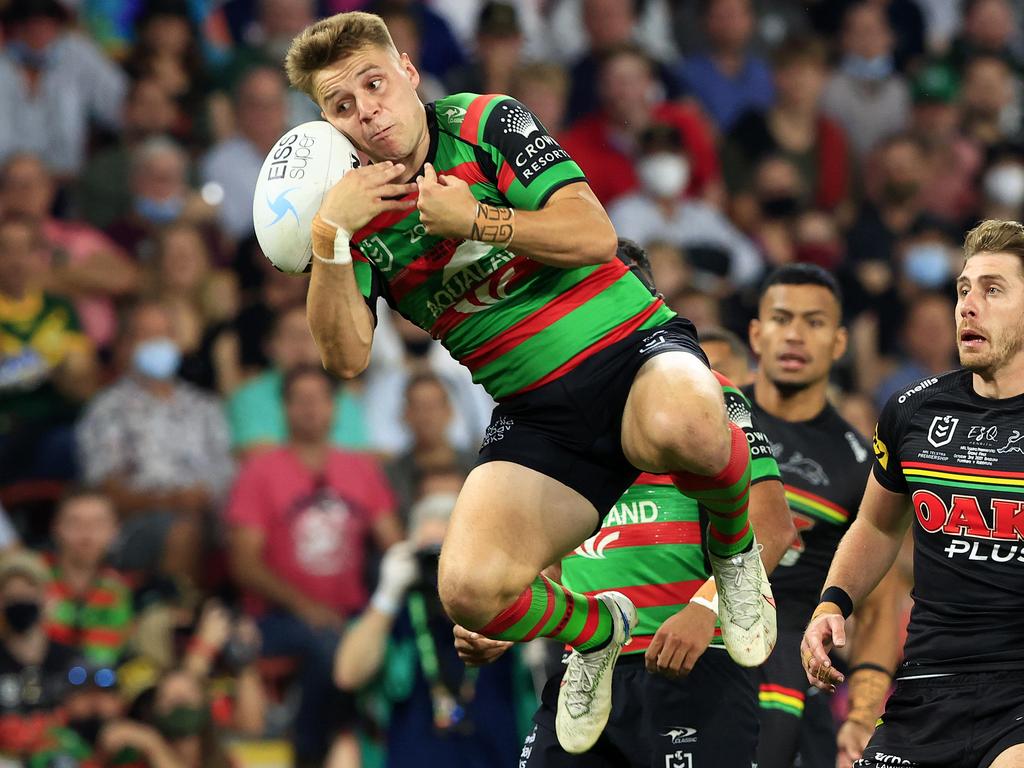 Blake Taaffe may start at fullback for the Rabbitohs - but he won't stay there. Picture: Adam Head
Blake Taaffe (Rabbitohs - 20% ownership)
The Rabbitoh's ownership rate has increased since TLT which is not good. Too many people are seeing Taaffe slotted in to start at fullback which is great, but not realising that he will lose that job and become the bench utility when Latrell Mitchell returns from suspension in round two. Bench utilities are bad news for SuperCoach - don't fall for the Taaffe trap.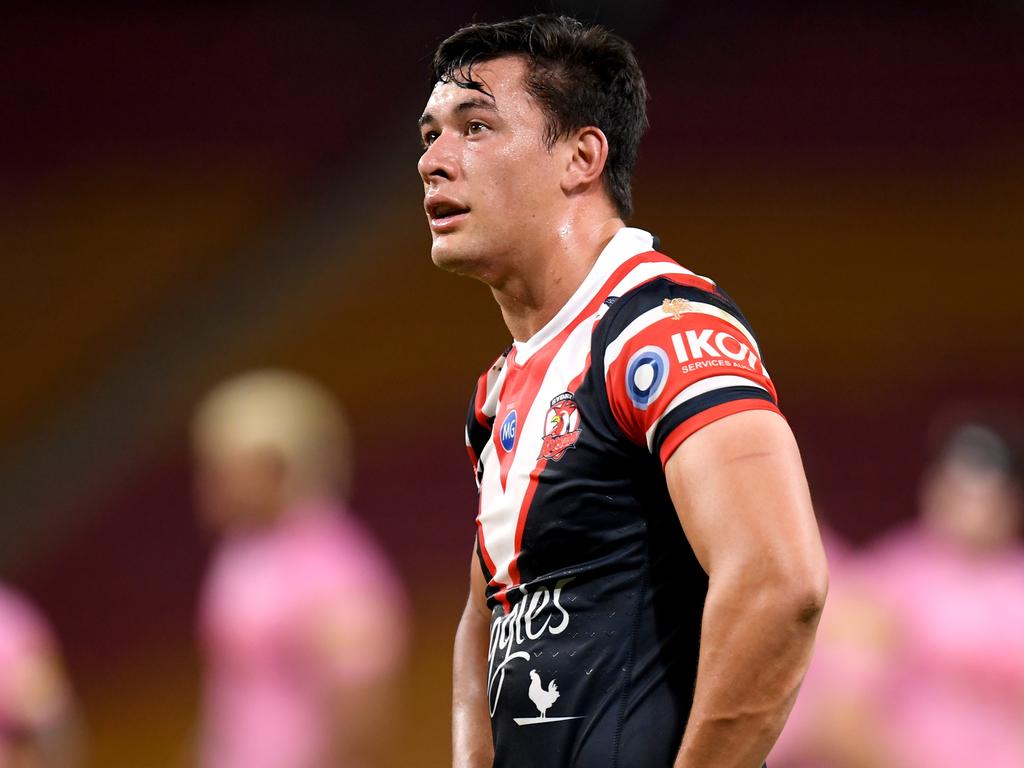 Joseph Manu (Roosters - 13%)
Oh this hurts - another Rooster! Joey Manu is, in my biased opinion, the best centre in the game. However, Manu is not someone I would pay $539,400 for - at least not to start the season. Manu did average 61.5PPG last year which is exceptional. But, he 'only' averaged 45.5PPG when playing centre. Manu's big games came elsewhere at fullback (four games 77.8PPG average), five-eighth (two games 59.5PPG) and wing (two games 102.5PPG).
Brian To'o (Panthers - 12%)
The news that Nathan Cleary will be missing at least the first three weeks is a knock on To'o. Not a fatal knock, after all, To'o plays left and so it's Luai who is his main feeder and To'o does so much work that he creates plenty of his own chances. But Cleary's absence hurts the team as a whole, hurts their structure and significantly hurts their scoring output. Nobody needs that hurt when forking out north of $700K for a CTW.
Cory Paix (Broncos - 5%)
Still in isolation due to Covid, Paix has missed the chance to build on his pre-season form by possibly ousting Jake Turpin as Brisbane's hooker. He may get the start in round two, but then again he may not. I appreciate his appeal, a 'starting' hooker who is almost bottom dollar but available at halfback looks great. but he's not starting now, and may not in the future. You can't carry that kind of risk into round one. Oh and the availability of fellow Covid-ee Kobe Hetherington hurts too as when he returns the Broncos don't need to carry a spare hooker on the bench.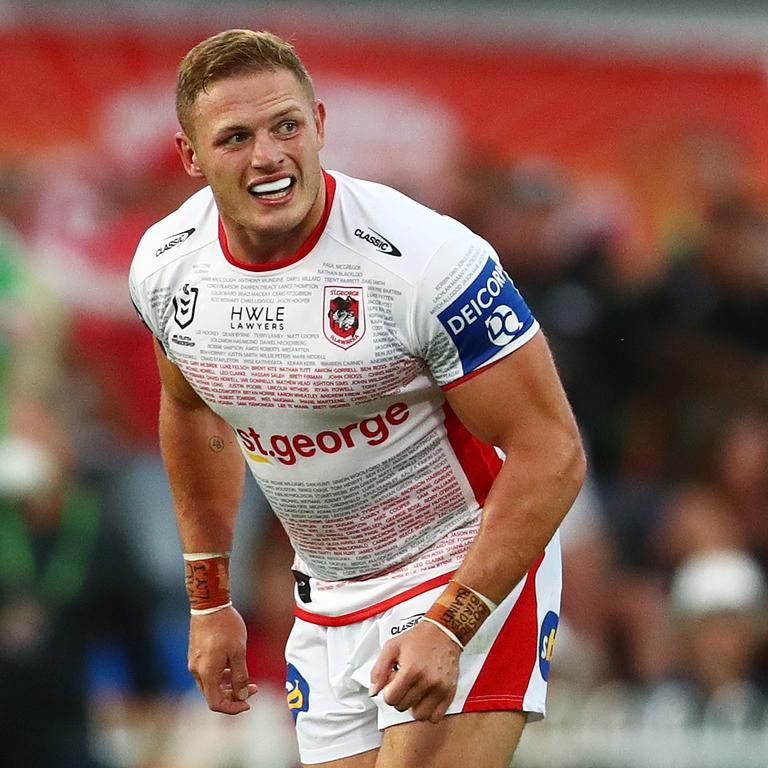 George Burgess will struggle to get a start for the Dragons. Picture: Mark Metcalfe/Getty Images
George Burgess (Dragons - 8%)
The St George pack may be derided by some, perhaps fairly, perhaps not this isn't the place for that conversation. What it is the place to note is that the Dragons run deeeeep at prop with Aaron Woods, Blake Lawrie, Francis Molo, Josh Kerr, Josh McGuire and arguably Poasa Faamausili and Daniel Alvaro ahead of Burgess in the pecking order. Add to that Burgess is currently forging his way back from hip resurfacing surgery which is the kind of major operation few athletes manage ot return from.
Ben Trbojevic (Manly - 25%)
What are 25% of people doing with tom and Jake's little brother Ben in their team? I realise he's dual position, pretty cheap and had moved up the pecking order due to injuries in the 2RF stocks...but Ben's injured too and unavailable till approximately round four. Back it up people.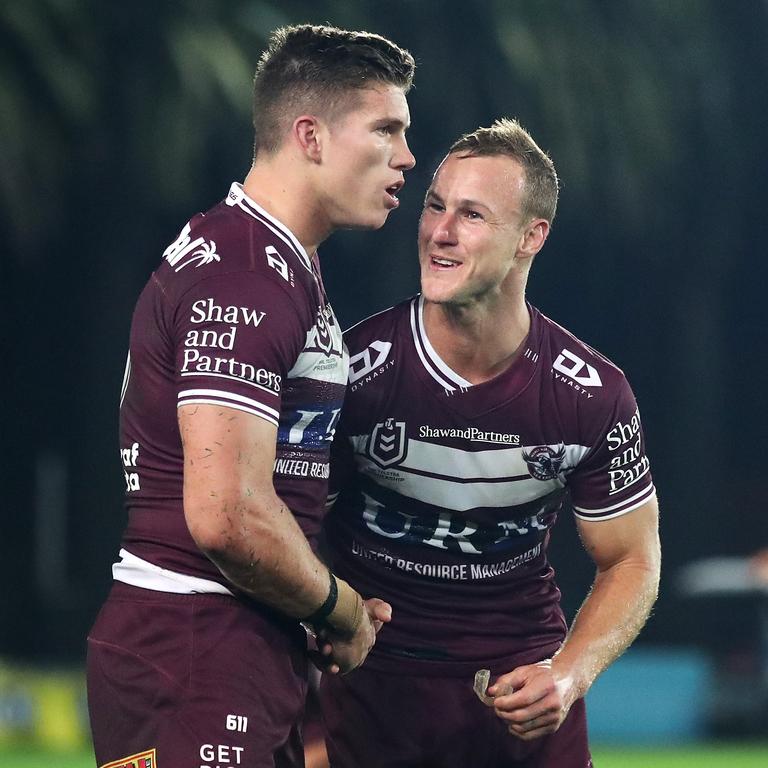 Reuben Garrick and Daly Cherry-Evans' starting prices put them beyond 'buy' territory. Picture: Cameron Spencer/Getty Images
Daly Cherry-Evans (Manly 5%) and Reuben Garrick (Manly 8%)
When Tommy Trbojevic went bonkers he not only carried his team up the ladder he also pushed DCE and Reuben Garrick up the SuperCoach price point. Cherry-Evans finished the year with an average, 79.3PPG, 15PPG better than any he had managed before. Garrick's season average of 88PPG was 36PPG better than his previous best. To put it bluntly, both are overpriced – well they are if you, like me, believe that Turbo cannot catch fire to the extent he did in 2021. Remember that opening draw …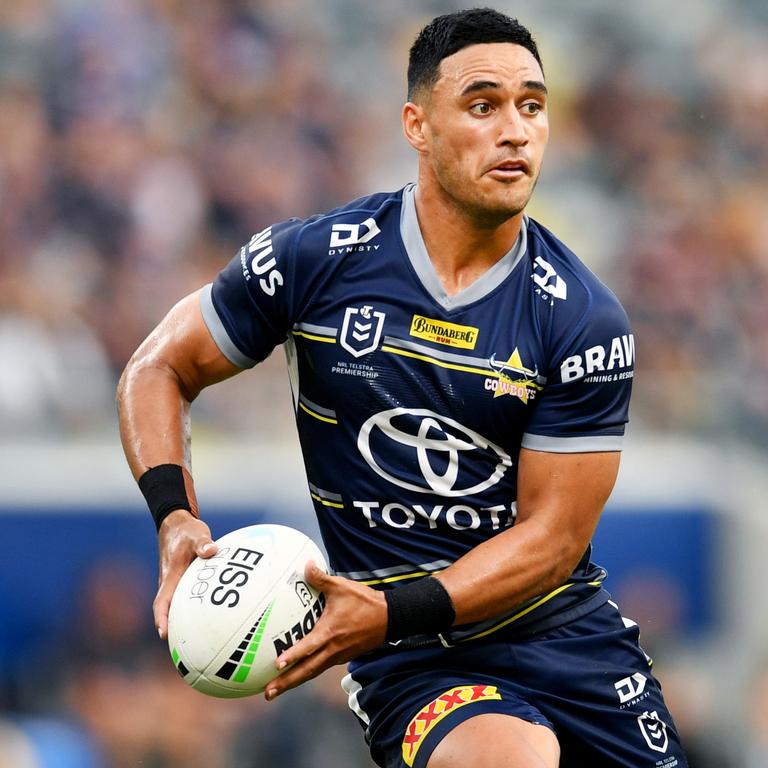 Valentine Holmes is far less interesting in SuperCoach when playing in the centres. Picture: Alix Sweeney
Valentine Holmes (Cowboys 3%)
The word on the Townsville telegraph is that Val Holmes is set to shift from fullback to centre. I say 'set to' though of course that move actually happened in round 23 last year. Holmes began round 23 averaging 68.2 and subsequently averaged just 39.3 over the final three rounds (one game on the wing and two at centre). It's a small sample size, but it's enough for me to put a line through Holmes should Hamiso Tabuai-Fidow win the fullback role to start 2022.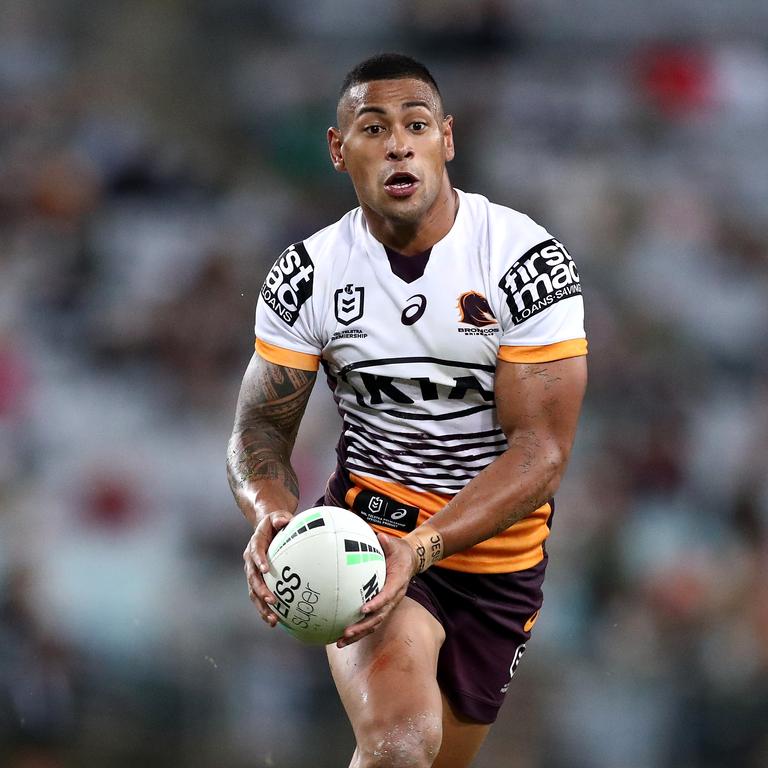 Put a line through Jamayne Isaako. Picture: Mark Metcalfe/Getty Images
Jamayne Isaako (Broncos - 2%)
The arrival of Adam Reynolds sounds the death knell for Jamayne Isaako's SuperCoach relevance. Isaako averaged a rather reasonable 56PPG in 2021 – enough to rank 23rd for CTW's that year. However, just under 10PPG came off the kicking tee (kicks made less kicks missed). Once that is removed, Isaako slides down to 50th on the list; he probably was not on the radar of too many classic players but this is one for the draft kings!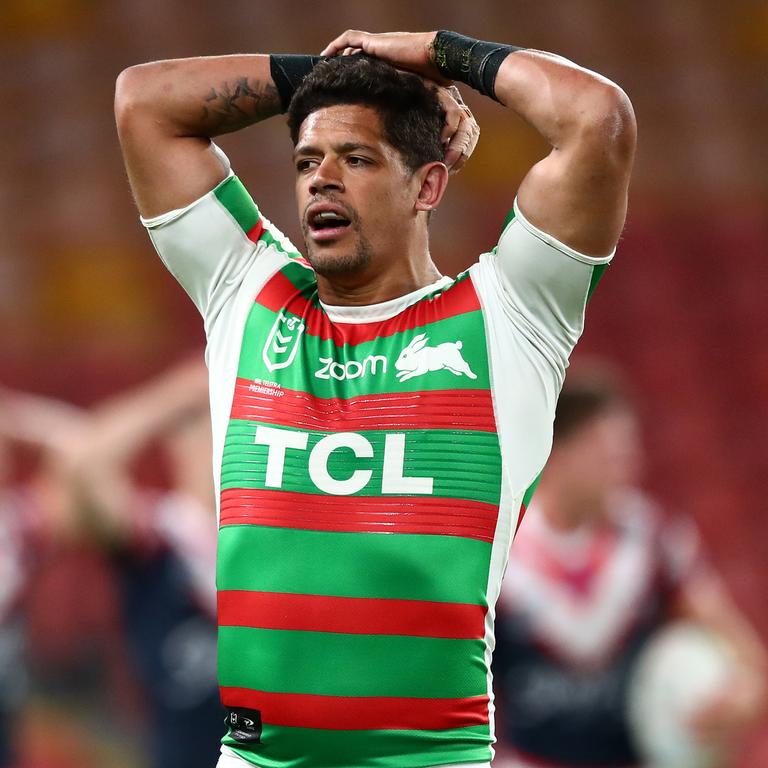 Dane Gagai is going to miss life on the left at the Rabbitohs. Picture: Chris Hyde/Getty Images
Dane Gagai (Knights - 1%)
South Sydney's 'lethal left edge' produced not one, but two, of the top-5 CTW of 2021 in Alex Johnston (72.8, 4th) and Dane Gagai (68.4, 5th). Gagai has left the Rabbitohs and returned to Newcastle – that's a downgrade. And the news gets worse. The left is the place to be at the Knights, and Gagai ain't going to be there in 2022, incumbent centre Bradman Best is staying where he's happy, and Gagai's going to the right.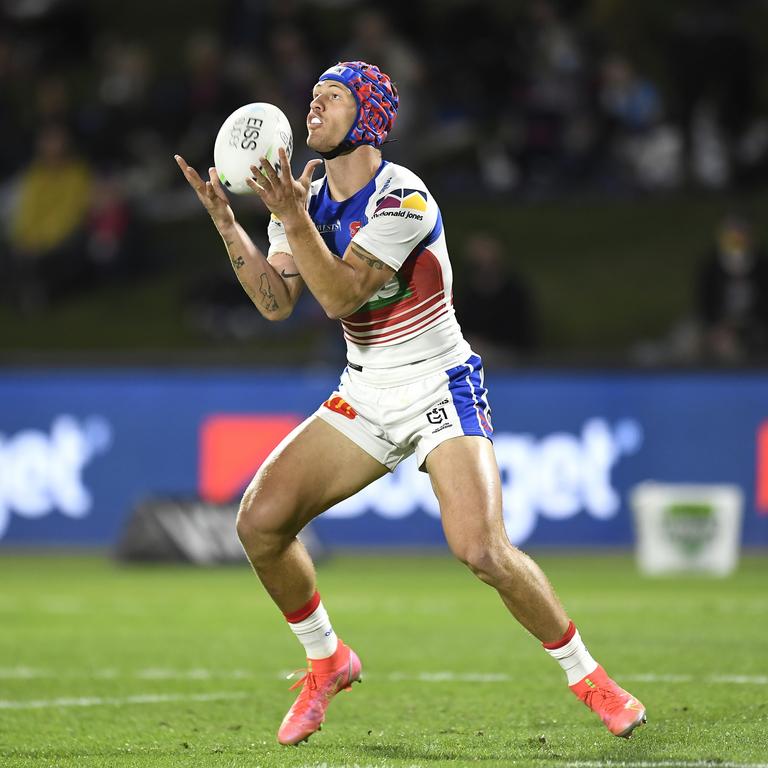 Kalyn Ponga could prove me wrong – but there look to be a stack of options ahead of him at fullback. Picture: Albert Perez/Getty Images
Kalyn Ponga (Knights - 8%)
While I'm bashing on Newcastle – it's very hard to have any faith that Kalyn Ponga is the answer at fullback, at least not in SuperCoach. Not when Papenhuyzen, Trbojevic, James Tedesco, Latrell Mitchell and Nicho Hynes are all clearly in front of him in the pecking order. Don't do it.
Don't rush to buy an out of position AJ Brimson at the start of 2022. Picture: Jason O'Brien/NRL Photos
AJ Brimson (Titans - 2%)
While I'm bashing on Queensland fullbacks … AJ Brimson is another of my no-go players. The gossip on the glitter strip is that Brimson is going to shift from fullback to five-eighth in a move which rewards the form shown by young Jayden Campbell and fills the gap left after Ash Taylor, Jamal Fogarty and Tyrone Peachey left over the summer. Now you have to go back to the 2018 and 2019 seasons to see how Brimson handled playing five-eighth and the answer is not as well as he went at fullback. Over the 17 games he played in the halves across the two seasons Brimson averaged 41.7PPG, in the 14 games he played fullback he averaged 54PPG. Brimson is older, wiser and better now. The Titans are better. I would expect he'll go okay at five-eighth. I just don't expect him to go as well as he did at fullback. And why buy into uncertainty when you can avoid it?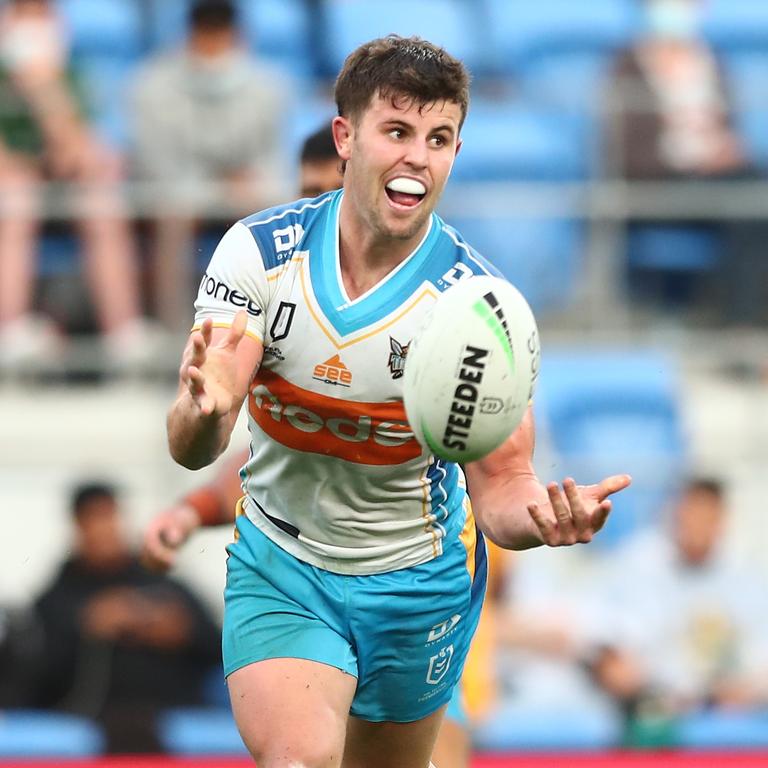 Toby Sexton of the Titans is one to watch – maybe not own straight away. Picture: Chris Hyde/Getty Images
Toby Sexton (Titans 3%)
Staying with the Gold Coast – let's talk young half Toby Sexton. This one is more of a soft caution really as I'm a big fan of this young man's ability. My worry is that any potential suitors go into the arrangement aware that Sexton's average of 62PPG was somewhat inflated thanks to the opposition. Sexton played four games in 2021 and his opposition were the Dragons, Bulldogs, Cowboys and Rabbitohs. The Titans ran up a combined scoreline of 102-30 over the first three matches and Sexton piled on the points with a try, three try assists and 15 goals from 19 attempts. Reality clapped back against the Rabbitohs. He is priced at a discount to the 62PPG, somewhat closer to 50PPG average, and he is a talented youngster just temper your expectations.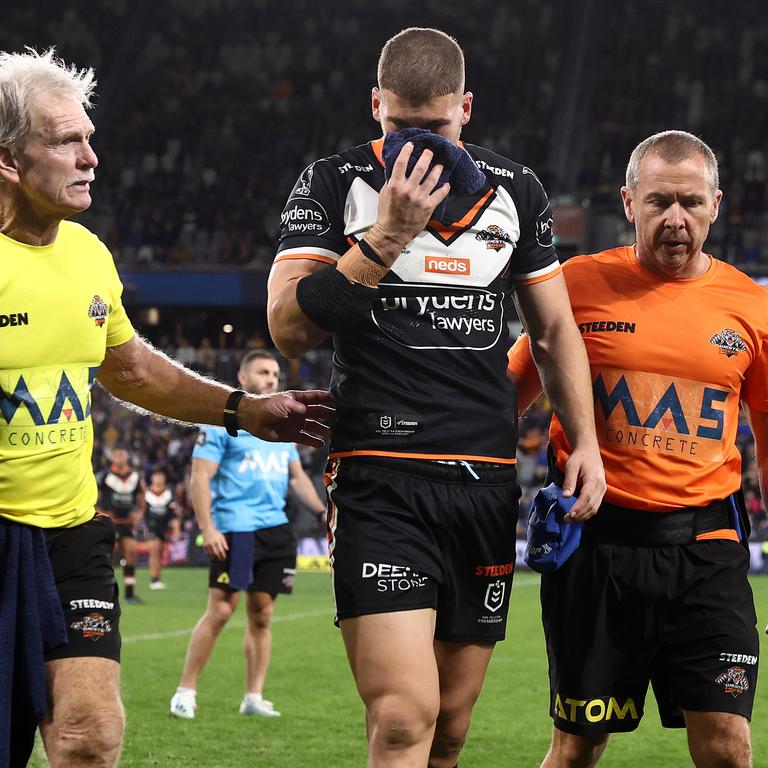 Adam Doueihi is unavailable to start 2022. Picture: Cameron Spencer/Getty Images
They're injured!
Don't be the player in your league or draft who makes this mistake – these players are not expected back until mid-season:
Tohu Harris (Warriors)
Adam Doueihi (Wests Tigers)
Tommy Talau (Wests Tigers)
Maika Sivo (Eels)
Jamal Fogarty (Raiders)
And then there's the likes of Nathan Cleary, Cam Murray, Reed Mahoney, Nathan Brown and Raymond Faitala-Mariner. All are expected to be back by round one, but they're all carrying niggles through the pre-season so they may be a bit underdone come the first game of the season.
They're suspended!
These players will not return until the round in brackets next to their name. The lesser suspensions don't rule out some as draft selections, in fact it may see them drop a round or two further than they should. But it's something to keep in the back of your mind when looking at early team sheets.
STORM
Cameron Munster (2)
Chris Lewis (2)
RABBITOHS
Latrell Mitchell (2)
WARRIORS
Reece Walsh (2)
Matt Lodge (2)
KNIGHTS
Sauaso Sue (3)
EELS
Marata Niukore (2)
DRAGONS
Josh McGuire (6!)
ROOSTERS
Sam Verrills (2)
BRONCOS
Tom Flegler (4)
Brendan Piakura (2)
MANLY
Josh Aloiai (4)
RAIDERS
Jordan Rapana (3)
Originally published as KFC SuperCoach NRL 2022: The players to avoid for round one