KFC SuperCoach NRL 2022: Tom Sangster's top 10 cheapies
The NRL season starts in a matter of hours and these are the cheapies you simply must own. Leave these players out or fall behind the pack.
The NRL season starts in a matter of hours and these are the cheapies you must own.
Stream every game of every round of the 2022 NRL Telstra Premiership Season Live & Ad-Break Free During Play on Kayo. New to Kayo? Try 14-days free now.
1 Will Penisini $255,700 (CTW) – Eels
My first cheapie picked. Penisini possess the two key attributes in KFC SuperCoach cheapies — job security and price rise potential. In terms of job security he's locked in to start at centre for the Eels. And going on his strong showings in the finals last season, he'll keep the spot for a while. Speaking of those finals performances, in proof of Penisini's pointscoring potential he notched 82 KFC SuperCoach points in week one. But thankfully those stats don't count to his 2022 price (only regular-season stats do) so he still starts in the cheapie range.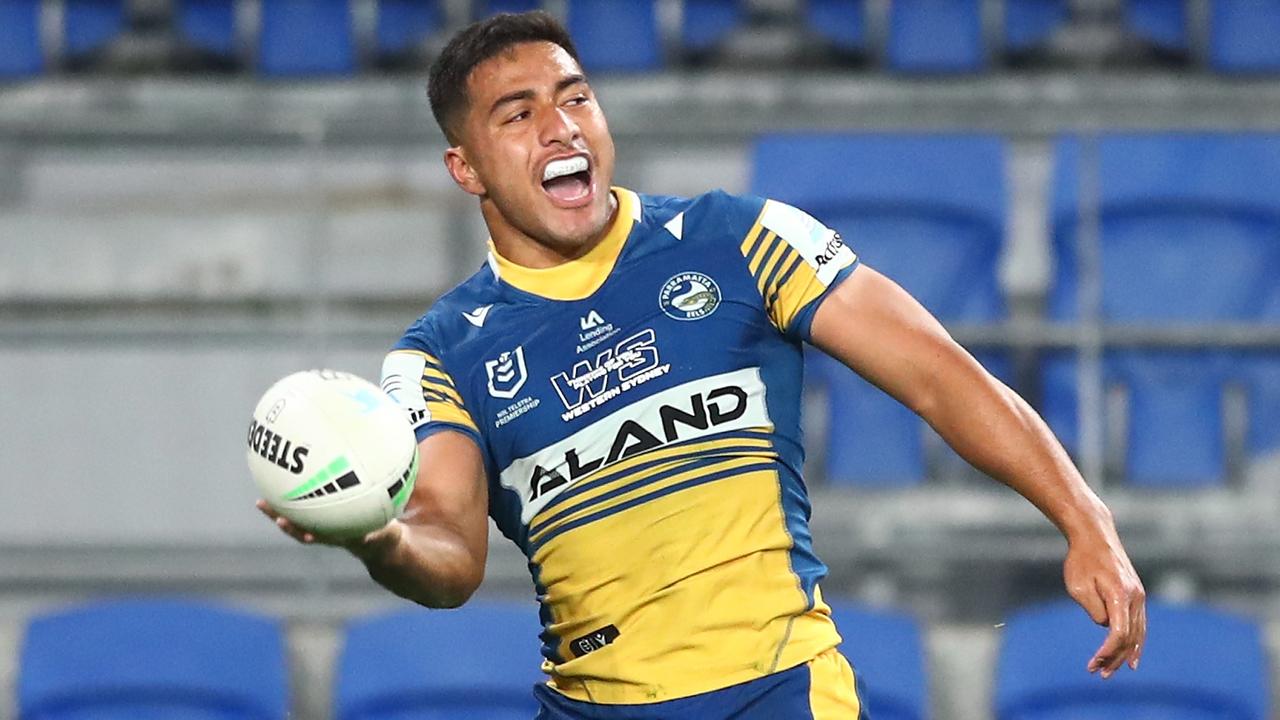 Will Penisini scores a try in round 23 (Photo by Chris Hyde/Getty Images)
2 Lachlan Ilias $205,200
Second cheapie picked. Ilias's job security is as good as it comes for a cheapie given he is assured Adam Reynolds' vacated halfback spot at the Rabbitohs. Some KFC SuperCoaches see competition from Blake Taaffe, theorising Taaffe could move from fullback into the halves when Latrell Mitchell returns from suspension in round three. That is highly unlikely. Taaffe, a "free spirit", is being developed as a fullback and five-eighth and will take the No. 14 role when Latrell comes back. I don't see huge scoring potential in Ilias given his job will be to provide good ball for Cody Walker and Latrell Mitchell. But he should get an extended crack in the side and will be a nice slow burn.
3 Izack Tago $287,900 (2RF/CTW) – Panthers
Tago has locked in a centre spot at Penrith, who have lost a host of backline talent in Matt Burton, Brent Naden and Paul Momirovski. A noted tackle buster, Tago starts cheap after playing all his games off the bench last year for 37 minutes a game, albeit in the back row rather than centre. Perfect dual position swing with Euan Aitken and Beau Fermor.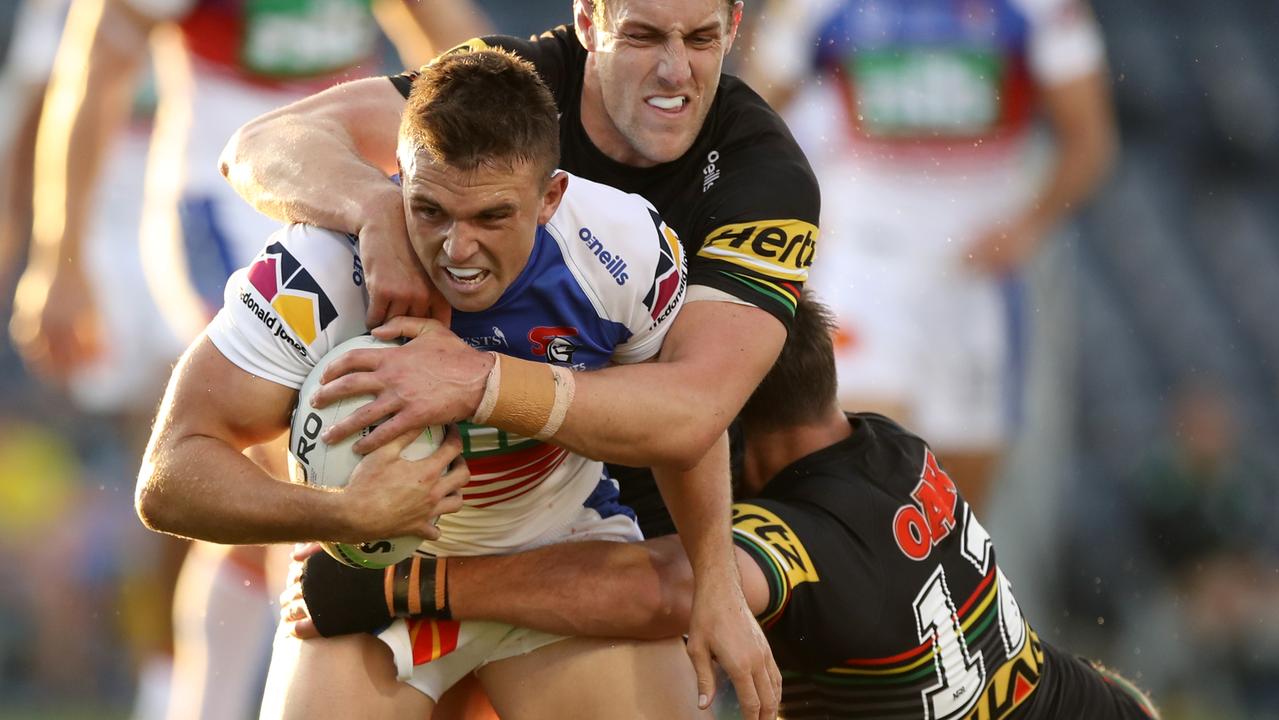 Chris Randall could start for the Knights (Photo by Mark Kolbe/Getty Images)
4 Chris Randall $245,500 (HOK) – Knights
Randall has scored the starting hooker spot at the Knights, who are without Jayden Brailey (Achilles) until mid-season. KFC SuperCoach fanatics will remember Randall made a memorable debut in 2020 when he notched a staggering 68 tackles, so he clearly has KFC SuperCoach talent. Yet he starts cheap after playing understudy to Brailey last year and battling a hand injury.
5 Talatau Amone $284,500 (5/8, CTW) – Dragons
Amone is locked in to play five-eighth for the Dragons. You won't find any more miserable and cynical fans than us Dragons supporters, but Amone is a guy who gives real hope as both an NRL and KFC SuperCoach player. He is well under priced after playing half his games off the bench last year. In fact, Amone averaged just 51 minutes last season, so adjust that up to 80 minutes and KFC SuperCoaches are looking at an average around the 50 mark, which equates to a price rise of around $150,000. Dual position flexibility is an added bonus.
6 Kelma Tuilagi $253,900 (2RF) – Tigers
Set to surge from 14 per cent ownership after being named to start on an edge at the injury-hit Tigers, who are without Shawn Blore (ACL). In positive signs for job security, he's been named ahead of his main competition Luke Garner, who is on the bench.
7 Brad Schneider $188,700 (HFB) – Raiders
The Canberra young gun has been named at halfback in place of recruit Jamal Fogarty (knee, four months). If that's not enough — and clearly it's not given he's at just 15 per cent ownership — he will kick goals following the dropping of Jarrod Croker to NSW Cup.
8 Jirah Momoisea $205,100 (2RF/FRF) – Knights
Another under-the-radar cheapie who everyone should own. Currently at just 11 per cent ownership, Momoisea has scored a bench spot at the Knights and has crucial dual position flexibility. The injury to Daniel Saifiti (five weeks) only helps his cause.
9 Ethan Bullemor $280,000 (2RF/FRF) – Sea Eagles
Extremely popular cheapie at 32 per cent ownership after scoring a starting edge back row spot at the Sea Eagles. He should hold the spot for six weeks until Josh Schuster (ankle) returns in round six, which is more than enough for serious price rises. Don't listen to the doubters like Rob Sutherland.
10 Viliami Vailea $205,100 (CTW) – Warriors
At just 1.5 per cent ownership prior to teams day, the young Warrior has come from nowhere to score a starting centre spot at the Warriors. Any bottom dollar backline cheapie named for round one is a near-must, so lock him in. The 19-year-old played two games last year for 27 points a game, which hardly yells "buy me". But he did only average 66 minutes, so add in that extra game time and you're looking at a solid base.
Originally published as KFC SuperCoach NRL 2022: Tom Sangster's top 10 cheapies