KFC SuperCoach NRL 2022: Wilfred Zee's team stacked with mid-rangers
Former KFC SuperCoach champion Wilfred Zee has swung the selection axe culling a favoured player and spending big on a playmaker.
The trials are done and we're counting down the days to Round one TLT (Team List Tuesday) which makes this a good team to revela the second draft of my team.
As always, my updated draft is quite conservative as to the number of bottom-dollar rookies that we might see named for round one.
This feels like a particularly difficult year given the unique circumstances of the last two seasons – so there are definitely more mid-rangers in my team than I feel comfortable with at this stage.
In any case, here's where I'm sitting at the moment, pending Round 1 TLT!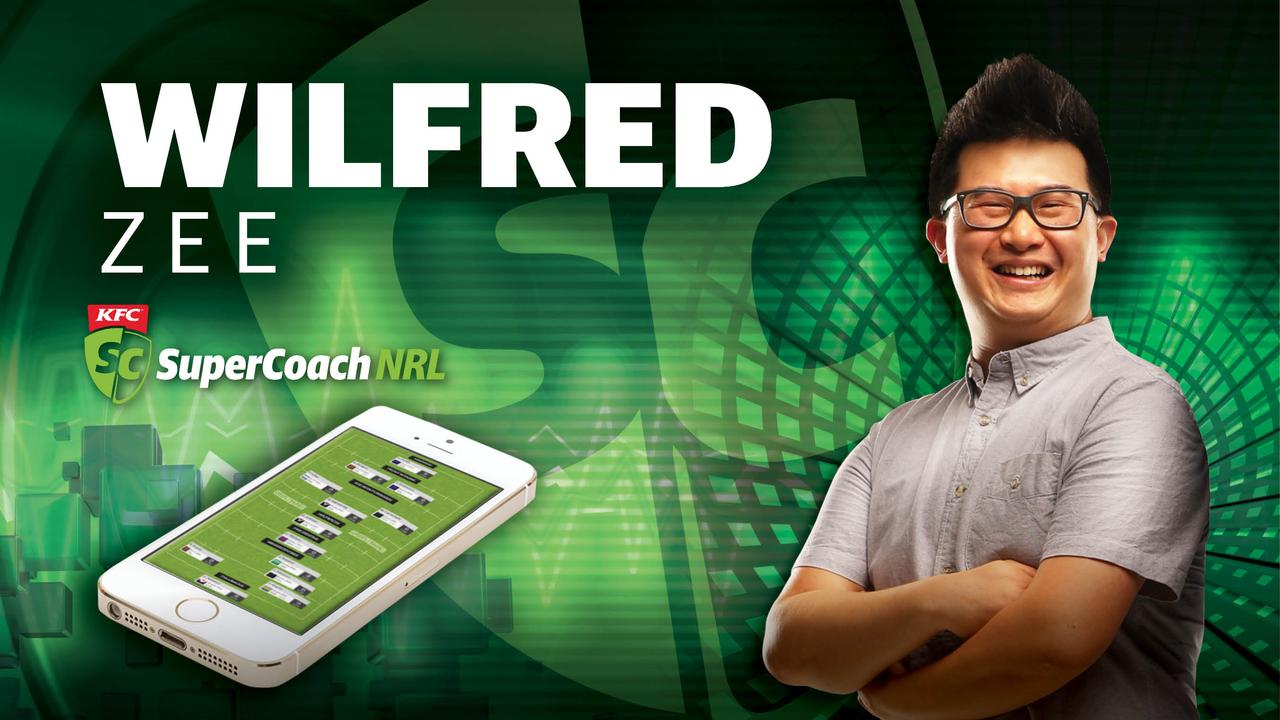 Former KFC SuperCoach champion Wilfred Zee.
HOOKER
Harry Grant ($644,700) / Chris Randall ($245,500)
I've been an unabashed Grant admirer from the moment he was loaned to the Tigers so that he could play first grade, and so far young Harry hasn't let me down. He had an injury-interrupted season last year, but despite lingering injuries, starting off the bench and possibly playing less minutes, Harry still managed to be the highest averaging hooker on a per game basis come the end of 2021. With a potentially bigger role slated this year with Brandon Smith expected to play more minutes as a middle forward, Harry could be not just the standout hooker option for 2022, he could become a difference maker at the position, the way Nathan Cleary is at halfback.
The Randall selection isn't too complicated — he's expected to start at hooker and play the lion's share of the 80 minutes available there, possibly with Phoenix Crossland to take 15-20 minutes off him at most. At the price tag, he'll make money based on how busy he's been in his previous opportunities at hooker in first grade, and he most likely could be one of your four reserves each week for the time being for a steady 40-50 points each week.
FRONT ROW
Payne Haas ($595,800) / OUT Tevita Pangai ($569,900), IN Addin Fonua-Blake ($505,000)
As a Broncos fan this selection makes me happy regardless, but fan loyalties aside Payne Haas could comfortably be the #1 FRF option this season from Round 1, and could stay as #1 all year long. He had a 'disappointing' 2021 season by his standards, playing the lowest minutes per game at the lowest PPM of his career thus far. The minutes probably won't change too much but there's a chance he steps up his workrate again, as we saw a significant increase workrate-wise once Tevita Pangai and Matt Lodge played their last game as a Bronco in Round 15 last year. Provided he maintains that, this may be the cheapest price for Payne Haas all season in 2022.
It hurts my heart but I didn't love what I saw from Tevita Pangai in the trials, and I also had flashbacks to the out-of-control Pangai that we had at the Broncos in 2019 and 2020. Tevita had definitely scaled back his aggression and controlled it much better in 2021, at both the Broncos and the Panthers, but there were some concerning signs in the trial. So he's out, and Addin Fonua-Blake comes in. 'AFB' thoroughly impressed me in the first Warriors' trial and he looks like the main man in the pack, especially while Tohu Harris is out. Coverage of the Round 13 bye is a bonus, and there's no reason that Fonua-Blake can't finish top four in the position. Getting that from round one is a way to save trades and not have to worry about this position long-term.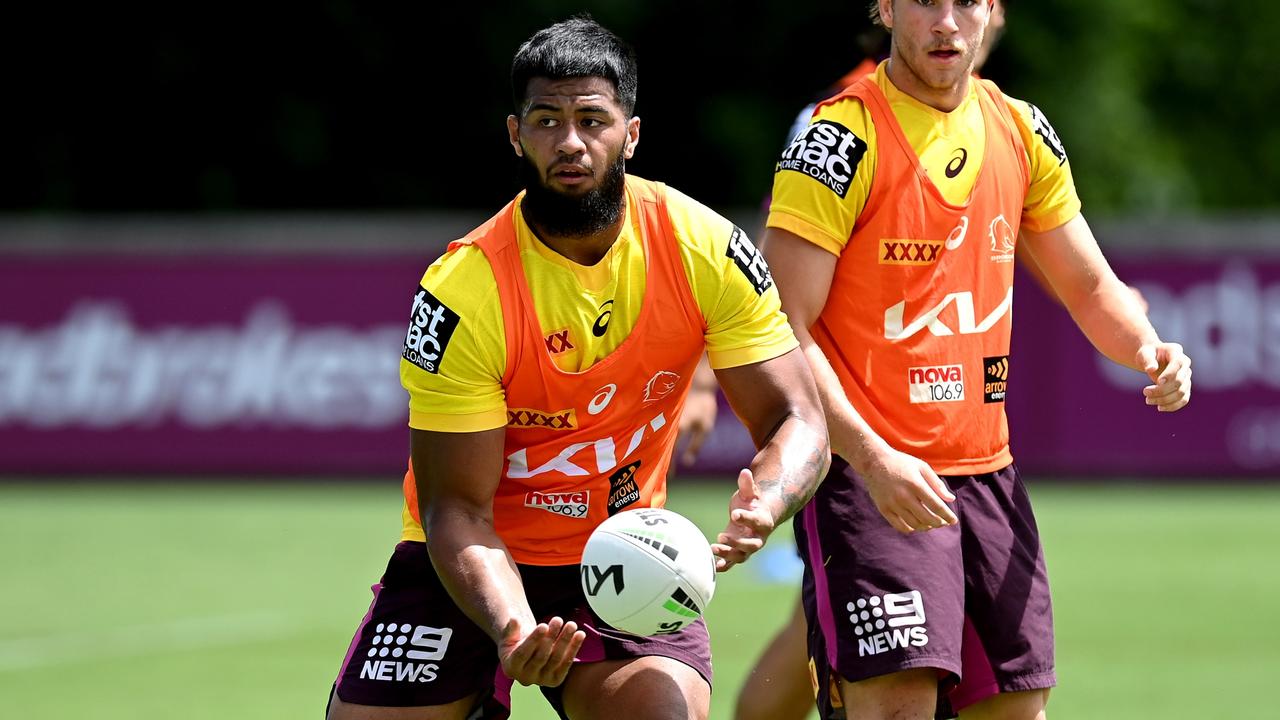 Payne Haas during a Brisbane Broncos NRL training session at the Clive Berghofer Centre (Photo by Bradley Kanaris/Getty Images)
OUT Tepai Moeroa ($205,100)/Jirah Momoisea ($205,100)
IN Max King ($188,700) / Andrew Fifita ($205,100)
Max King was an absolute standout in the trials, potentially being best on ground for both games he played. There are a lot of forwards in that Bulldogs pack to share minutes amongst, but King was amongst the best so if he continues that form, he should see decent enough minutes to make cash.
The trials are definitely useful for some things and we saw Andrew Fifita not at his best, but 'good enough' and with the injuries that the Sharks have, he's likely in the 17 and should go well enough as a bench option.
David Fifita is in great shape.
SECOND ROW
David Fifita ($745,00)/Euan Aitken ($486,000) OUT Josh Curran ($586,800) replaced in starting lineup by Heilum Luki ($351,500)
David Fifita had an incredible season in 2021, yet the way he finished the season mostly on the bench (whether through form, managing injuries, poor attitude, or anything else) meant he averaged just 56.4 minutes per game from Round 16 onwards. He looks like he has been training the house down #TTHD in recent pictures from Titans pre-season training, which could mean a return to 80 minutes on an edge. No other 2RF has the same ceiling as Fifita right now, so I think it would make me too nervous to not have him on the roster.
For my second starting 2RF I've gone with a bit of a different route. Euan Aitken, who is a 2RF/CTW DPP, should be in your CTW position … eventually. However, for reasons I'll go into more below, I don't have the space for Aitken in my CTW position at the start of the year. As for why Aitken is in the first place, well we are expecting him to play big minutes (hopefully 80) as an edge backrower at the start of the year — at least until Tohu Harris returns and takes back his usual role.
There's a chance Aitken may still continue on an edge, but that's a consideration for later. Aitken's price includes his eight games playing centre, where he averaged 45 points per game. When he shifted into the backrow he played 80 minutes each game (excluding his injury-affected 13 minute game), averaging 80.8 points per game for those five games. There were obviously attacking stats in there but even if you remove them, and look just at his base and base attack stats, he averaged 60.4 points per game.
Luki was in my first draft as one of my bench options, but I think I saw enough to make me comfortable upgrading him to a weekly starter, at least early on. There's some risk here, but I needed to free up coin for other moves (see below). He has a strong workrate, and has some serious wheels too when he gets in open space. Provided he sees big minutes (hopefully 80), I'll be comfortable with this as a weekly play.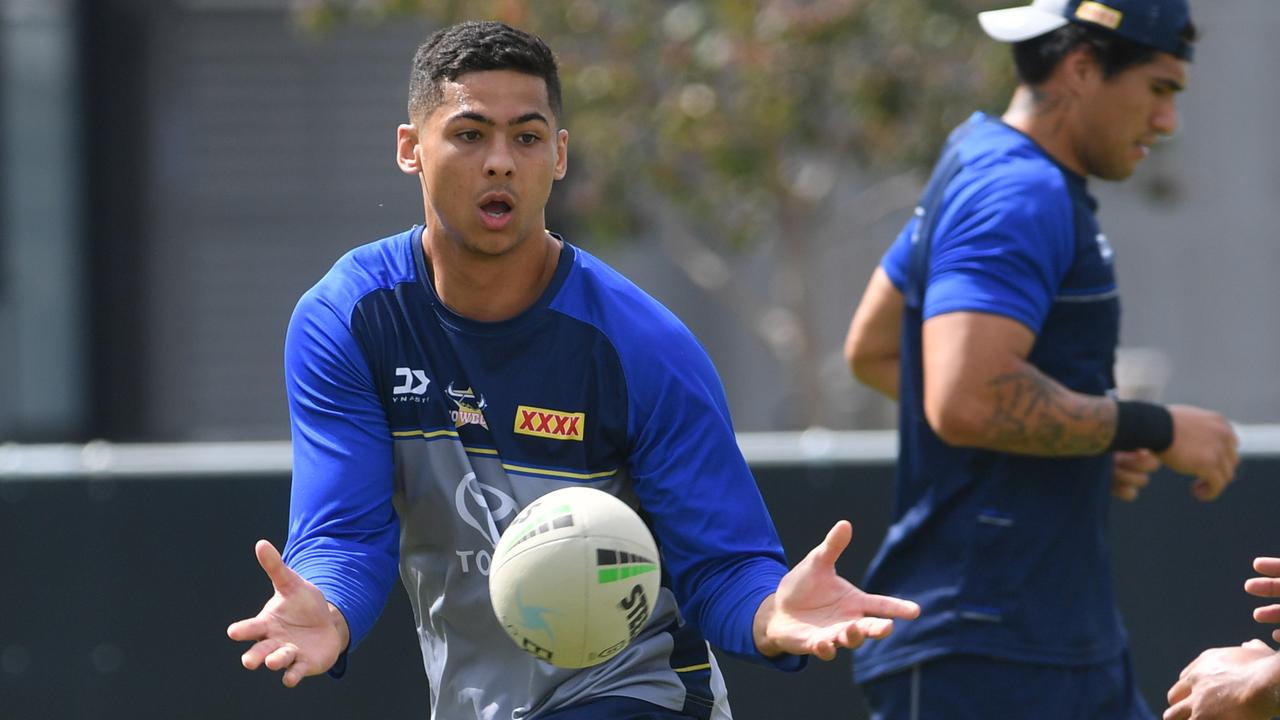 Heilum Luki could start on an edge. Picture: Evan Morgan
Izack Tago ($287,900) / IN Kelma Tuilagi ($253,900) / Jack Howarth ($175,400)
With 2RF being a somewhat uncertain, difficult position to start with in 2022, I'm running with the strategy of putting CTWs in the 2RF position to keep as many CTW slots open for potential money makers. Tago is in the mix for a centre position, or at least a bench spot, for the Panthers. His versatility means he could play in the backrow or a centre. The plan with Tago and Aitken is to hopefully be able to shift them down to CTW once some of those CTW cheapies make some quick cash, turning them into the emerging potential 2RF keepers that seem quite uncertain right now.
Kelma Tuilagi was one name I highlighted early on with my left-field cheapies article, and as the preseason has developed he has risen into consideration. Starting both trials, and seemingly ahead of Luke Garner, Tuilagi could emerge as a weekly reserve option, pending minutes. Really hoping to see him named in the #11 come TLT!
Jack Howarth is half placeholder, half potential nuff-that-I-expect-to-play-NRL-sooner-rather-than-later. I'm hopeful that more cheapies arise, but I am considering running with someone like Howarth regardless. The Storm rate this kid highly, offering him a massive five year contract averaging $500,000 a season, which they hardly ever do. Howarth is expected to be one of the next long-term edge backrowers for the Storm, and with the imminent departures of both of the current starting edge backrowers in 2023 to the Dolphins, it seems almost inevitable that Howarth will get some game time this season to help ease him into what could be a starting edge backrow position as soon as next year.
Luke Keary has been hooked for Nathan Cleary. Picture: Sydney Roosters
HALFBACK
OUT Luke Keary ($528,400) IN Nathan Cleary ($949,600)
MOVE TO 5/8 Lachlan Ilias ($205,200) / IN Cory Paix ($205,100)
As alluded to above, I needed to find some cash for Cleary and that came at the cost of Josh Curran mostly. But I definitely feel it is worth it! Cleary may or may not be overpriced, but he is a definite standout at halfback and provided he is ready to go for Round 1, I'll be trying to make sure I have Cleary ready to go in my KFC SuperCoach team as well.
Paix is obviously subject to TLT but he seems to be the frontrunner for the #9 jersey for the Broncos, after outplaying Turpin throughout the preseason (including the final trial). Paix does have some question marks over his job security and how reliably he can be for scoring purposes, but a starting hooker with the attacking upside that Paix presented during the earlier trials is something that I would struggle to say no to! He also has a handy dual position flexibility.
FIVE-EIGHTH
OUT Kurt Mann ($383,300) IN Dylan Brown ($466,100)
MOVE TO CTW Talatau Amone ($284,500) / IN Ilias
'Dylbagsss' (as he is known on Instagram) had a 'down' year in 2021, struggling to put up numbers in the try assist column. He was really solid defensively, but as a half you obviously need to also contribute points. Well, he was stuck on the right edge last year and he never looked comfortable. In the trial just past, he and Moses had swapped back, and with Brown playing on the left side (where he looked far more comfortable), consider me very interested. He has a great floor due to his willingness to run the ball and make tackles, but we just want to see him setup and score some more tries!
The Ilias selection, like the Randall pick, isn't too complicated. He's a near rookie-price starting half for a top four team, that also has dual position flexibility. Lock and load!
CENTRE/WING
STAY Kotoni Staggs ($433,100) / Jordan Pereira ($266,500) / Will Penisini ($255,700)
OUT Haze Dunster ($293,300) / Taylan May ($252,500) / Ben Trbojevic ($188,700) / Joseph Suaalii ($259,500)
IN Selwyn Cobbo ($320,100) / Sean Russell ($285,400) / FROM 5/8 Talatau Amone ($284,500) / Tolutau Koula ($175,400)
Staggs, Staggs, Staggs… so much KFC SuperCoach potential, so many unfortunate injuries. This should hopefully be the year that he is as fit as possible. Another year removed from his ACL injury at the back of 2020, the medical evidence points to this being the year that Staggs should be able to return to peak performance. A scary thought, since even last year (when healthy) he was already one of the best attacking centres in the game. At the discounted price, he's a good roll of the dice for Round 1 because if he does get hurt again, it only requires one trade to move him on!
I've made a few other adjustments to the remaining CTW positions, partially through injury (poor Haze Dunster, but I've just pivoted to his replacement, Russell) and also through unlikely selection (Taylan May seems down the pecking order).
Cobbo has come in, who may play fullback early on or if not, he seems likely to partner up with Staggs on the right edge for the Broncos, where they looked absolutely deadly together.
Suaalii has been taken out with the chat he may not be ready for Round 1, and I've moved him to boom rookie Tolutau Koula, who looked electric and seems like he may be in the mix for a centre spot, or is the back-up fullback behind Tommy Turbo.
Amone has been moved from back-up five eighth to the CTW position, as he seems to have locked down that Dragons' five eighth spot.
Pereira is obviously also pending selection, but we know he can be great for KFC SuperCoach purposes given his workrate.
FULLBACK
James Tedesco ($760,100) / Ryan Papenhuyzen ($694,700)
I'm not going to bore you all with the details here — you don't need me to tell you how good Tedesco and Papenhuyzen are. Yes, I know neither of them are named Tom Trbojevic but I can't afford Tommy Turbo, not without some brown paper bags. Tedesco and Papenhuyzen can be started in your team for the same price as Trbojevic and a $200,000 option, so that's a simple answer for me, especially when I think Turbo could be as much as 20-30 points per game overvalued (combination of natural regression after a career season, and the impact of the latest rule adjustment), while Teddy and Paps could both be anywhere from 10-30 points undervalued for a variety of reasons.
These two guys were my first-picked players when creating this draft team and I don't see that changing at all.
Originally published as KFC SuperCoach NRL 2022: Wilfred Zee's team stacked with mid-rangers