KFC SuperCoach NRL: Trent Copeland's Round 4 Cheapie Bible
Penrith's Taylan May scored 100+ points last week and yet he is not Trent Copeland's Cheapie Of The Week. See Copes' full verdict
Taylan May and Izack Tago might just be a match made in heaven. The Panthers young gun left edge absolutely tore up my home town of Bathurst like Craig Lowndes at the Mount, and both are set for HUGE price rises.
While that was a huge success story, there were way more failures than KFC SuperCoaches ever want to deal with in one week!
A cheapie by definition is any player under $300,000, as the season goes along we will give a running verdict on when to sell, sit, buy or hold every cheapie that hits our radar – if a player is not on the list, we've determined they are not a viable selection. Once a player eclipses the $350k mark they will be given a final verdict in the 'Bon Voyage' section.
Let's get into it!
Stream every game of every round of the 2022 NRL Telstra Premiership Season Live & Ad-Break Free During Play on Kayo. New to Kayo? Try 14-days free now.
Izack Tago | CTW|2RF ($384,100 | PTH) – 94 points
Staying right at the top of this list (as opposed to Bon Voyage) where he belongs. Goodness me, this kid is LEGIT. I called him the Cheapie of the Year in pre-season that could turn into a keeper … Well, at this point he's making the likes of even David Fifita and Angus Crichton look like amateurs in his 'secondary' position of 2RF. The elusiveness and finishing ability is phenomenal, but the composure to be stepping in and out of defenders to then put in a deft grubber kick on a platter for Tylan May to score in the corner. Two tries, two try assists, a linebreak, 10 tackles, 8 points in tackle busts, two offloads and 16 points in runs. Ooooft.
VERDICT: BUY/HOLD. Cheapie of the year, lock it in.
Brad Schneider of the Raiders is a must this week. Picture: Matt King/Getty Images
Brad Schneider | HFB ($188,700 | CBR) – 79 points
After an impressive (full) debut in round one against the Sharks, Schneider cruelly contracted Covid and missed round two. But, he waltzed back in and looked an absolute star in the making as the Raiders came from 22-0 down to win against the Titans scoring 79 points with two try assists, 22 tackles and the goal kicking duties is a very good sign of the upside. Two tougher matches come on the horizon now against the Sea Eagles and Storm, but at only 38% ownership everyone who doesn't own Brad Schneider needs to prioritise getting him in this week.
VERDICT: BUY. Cheapie of the week for those that don't own him, looking at a $85,000 price rise potentially!
Taylan May | CTW ($252,500 | PTH) – 106 points
"This kid is bursting with KFC SuperCoach scoring potential, and I'm going early I'm that confident" were the words last week, and that's about the only good trade decision I've made all season so far! Thankfully for all of us, May delivered on his promise, three tries and a try assist along with 12 tackle bust points and a huge work rate, we're staring down a playable cheapie that will jump over $100,000 in his first price rise. You beauty. There's also a very real possibility May is so good that he keeps his spot in the side ahead of Charlie Staines once To'o returns. We'll see on that one.
VERDICT: BUY/WAIT. I'm not against buying this week, but if you don't need him for your starting 17, the smart play is to wait a week to be sure there's money going to be made.
Taylan May Picture: NRL Images
Max King | FRF ($251,100 | BUL) – 38 points
A nice $62,400 cash injection for King owners! I was a little worried when I saw King only played 26 minutes against the Sea Eagles (down from 38 and 36 minutes respectively in the first two rounds), but Gus Gould – god love him – gave us the good oil that King went into the game carrying an injury. "He (King) carried an injury into the game and got another knock on it early. Best for him to rest than risk it further." It's a shame this came in the crucial week for price rises to start, but, with Jack Hetherington now out for the season, King has a real chance at significant minutes moving forward. Given the enormous 1.45PPM he's pumping out so far – King could be a huge money maker. Hopefully that offload sticks around!
VERDICT: BUY. You can somewhat disregard the lower score here as King was on for another 50+ effort. Going great guns.
Josh King | FRF ($326,900 | MEL) – 85 points
Josh King you LEGEND. In a time of need, King delivered a massive 85 points in 65 minutes at lock for the Storm and even notched a try assist if you don't mind. Add to that the standard 34 tackles, two offloads and 18 points in hit-ups and we're looking at 50+ points in a worst-case scenario given the minutes. An initial $71,100 price rise is coupled with a -32 BE heading into this week's matchup with the Bulldogs, the only question now is when Brandon Smith and Harry Grant are both full healthy and available what does the middle rotation look like. Fingers crossed it's 50+ minutes for King either way, at least for the next three weeks to make his money for us!
VERDICT: BUY. Hopefully can peak around $450k by about round seven or eight.
Kelma Tuilagi | 2RF ($253,900 | WST) – 0 points
Here's some great news, KFC SuperCoaches. Tuilagi missed round three while in the NRL's mandatory concussion protocols, but since clearing them, has been back at training and immediately regains his starting edge position. That's big. Next step is to make sure we see 50+ minutes this weekend, but if that does happen, Tuilagi is a monster and I'm confident will make big cash. Quite frankly, if you watch him you know he's too good not to be on the field for a struggling Tigers outfit. With the missed game, Tuilagi is due his first price rise this week, and with a BE of just 3 looms as a priority purchase if you're not an owner.
VERDICT: BUY. Straight back into my 17 this week also.
Will Penisini | CTW ($282,200 | PAR) – 21 points
What an unfortunate time to get a matchup with the Storm, the most important week for KFC SuperCoach price rises! 21 points despite the Eels scoring plenty of points was a let down, but, much more friendly opponents are coming – don't worry! The Dragons, Titans, Tigers, Knights and Cowboys come the next five weeks. and with a manageable BE of 20 Penisini should surely find some attacking stats and make us plenty more coin.
VERDICT: BUY/HOLD. Plan for a sell around the first bye.
Spencer Leniu | FRF ($275,700 | PTH) – 22 points
Booooo. Only 33 minutes, and an uncharacteristically low 0.7 PPM for 22 points from Leniu was a real let down. We expected Matt Eisenhuth to start, but Leniu didn't hit the heights we all hoped that we would. Yes, there was an initial cash injection and he's been named to start this weekend, but with James Fisher-Harris lurking on an extended bench you'd expect things aren't going to markedly improve – meaning Leniu likely sticks in the $280k-$320k price bracket and isn't playable in teams for the foreseeable future.
VERDICT: HOLD. Not an urgent sell, but the dream we all had where Leniu got 40+ minutes while Leota was out has not eventuated.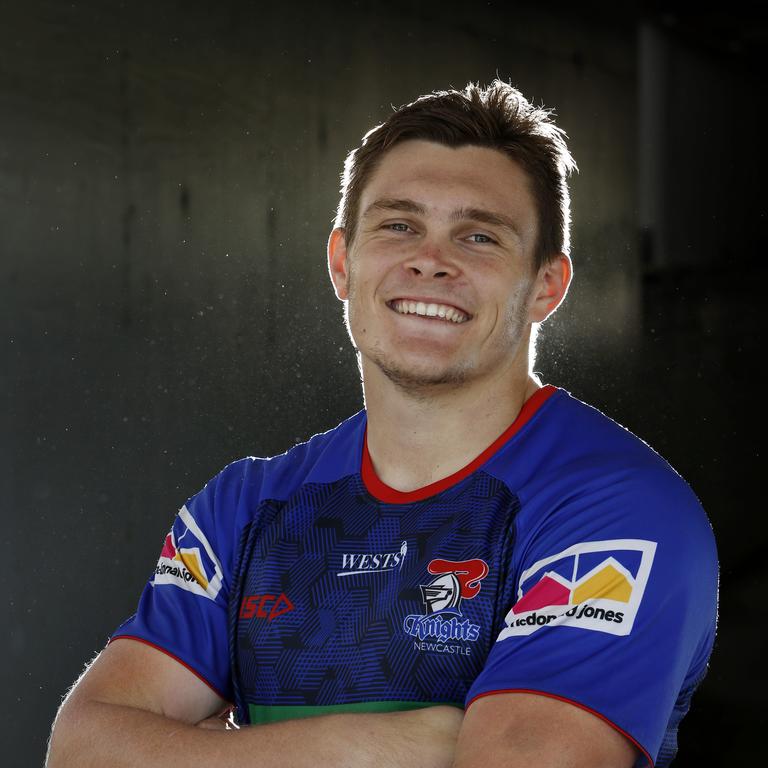 Brodie Jones of the Knights. Picture: AAP Image/Darren Pateman
Brodie Jones | 2RF ($275,900 | NEW) – 0 points
Here's the left-field cheapie to watch this week. Brodie Jones missed the start of the season with an injury in the trials, but per Knights-Guru Barry Toohey, Jones was always in the mix to play good minutes and with Mitch Barnett's six week suspension enforced absence along with Lachlan Fitzgibbon's indefinite knee injury, gets the start on the edge for the Knights. Quite simply, if Jones plays big minutes, he scores very well for KFC SuperCoach. If there were to be six weeks of big minutes on offer, for reference in 2021 Jones had eight games …
Rd 6: 74 minutes – 78 points
Rd 10: 45 minutes – 45 points
Rd 12: 46 minutes – 51 points
Rd 13: 75 minutes – 41 points
Rd 14: 72 minutes – 47 points
Rd 15: 80 minutes – 63 points
Rd 23: 80 minutes – 47 points
Rd 25: 80 minutes – 67 points
Good for an average of 55PPG in 69 minutes at a solid 0.8 PPM. It's a game built on largely base stats and the odd attacking stat thrown in, but definitely one to watch this week.
VERDICT: WATCHLIST.
Griffin Neame | FRF ($250,200 | NQC) – 65 points
I've had lots of questions this week about Neame! I'm sure it's no coincidence that the likes of Ethan Bullemor are urgent sells in the same position, nevertheless any FRF that can score 65 points this year is worth looking at. Let me start by saying Neame has got game, and passes the eye test. But, I'm here to tell you to dig a little deeper. The try was fantastic, the 65 points too, but the 47 minutes came about due to Coen Hess playing just 10 minutes and not returning. Hess has been named to start this week against the Roosters, so the minutes are much more likely in the 25-30 range and with Jamayne Taunua-Brown also loitering on the extended bench, I worry Neame may be squeezed out altogether.
VERDICT: AVOID. Yep, I'm calling trap.
Chris Randall | HOK ($269,900 | NEW) – 27 points
Uh oh. Randall, alarmingly, only played 59 minutes on the weekend against the Panthers. I'm hoping that it was just due to the Mitch Barnett send off, but it absolutely could just be the lack of attacking threat particularly against the best teams when the Knights are down on the scoreboard. Quite simply, Randall needs to be playing 70+ minutes to make any significant cash for us. Despite the still very manageable BE of 22, if you have a spare $100,000 laying around and no other pressing moves to make you could do a lot worse than going to Tom Starling with all the attacking upside he possesses.
VERDICT: HOLD. For now.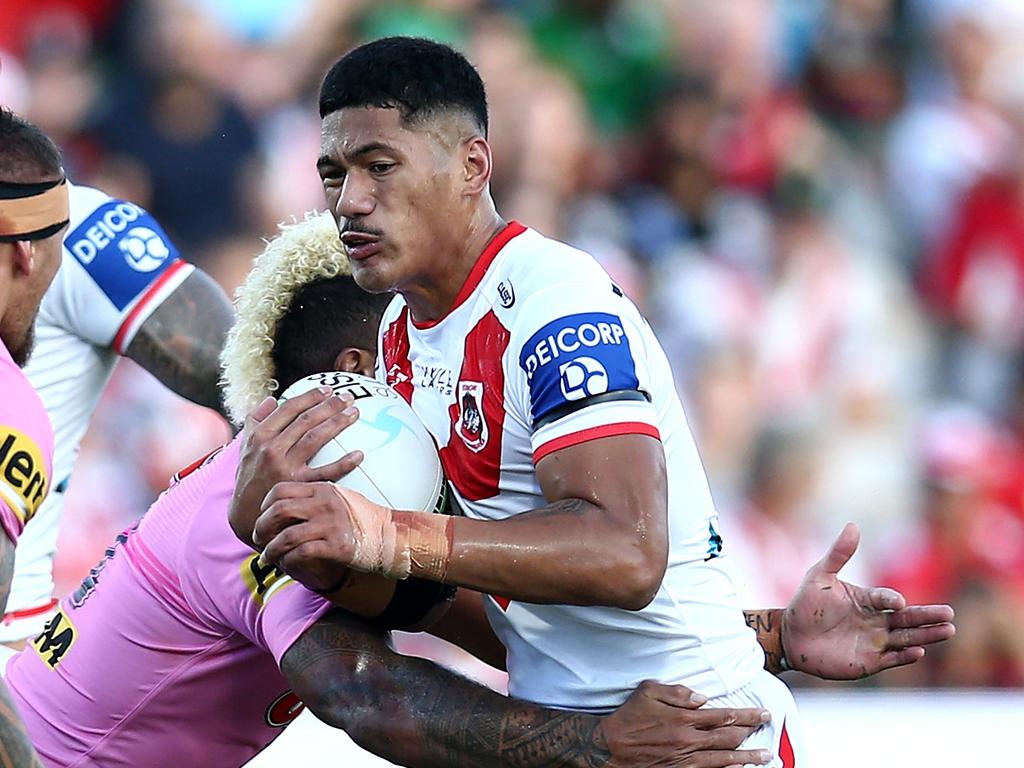 Talatau Amone will score points, but can you wait? Picture: Jason McCawley/Getty Images
Talatau Amone | 5/8|CTW ($283,300 | STG) – 17 points
Amone actually LOST money this past week! We'll give him, and anyone not named Nicho Hynes a pass in this one as the conditions in Wollongong were monsoon-like. The big concern was Amone switching to play the last 18 minutes of the match at hooker and literally not taking the line on once. With match-ups against the much improved Eels and Rabbitohs the next two weeks, will we see the attacking flair we know Amone possesses? Or will it be too late …
VERDICT: HOLD. Only time will tell, but I'm holding for now – just don't play him in your 17.
Lachlan Ilias | 5/8|HFB ($213,100 | STH) – 31 points
At this point it's becoming very tough for me to fend off the 'haters' when it comes to Ilias, as even in a win against the Roosters where the Rabbitohs ran riot for much of the game Ilias looked largely uninvolved. Now he gets a matchup with the stingy Panthers making him a. unplayable, and b. likely even further away from making KFC SuperCoaches any money. If you can hold, however, the draw after this week really does open up and hopefully Ilias can be the beneficiary of that.
VERDICT: HOLD. A tough matchup this week, so sit outside the 17 where possible. Then all of our fingers and toes are crossed for the breakout.
Billy Smith | CTW ($294.600 | SYD) – 46 points
Smith lost $600 this past week, but much like even the best players in the CTW, if there's no significant attacking stats it's very hard to put up elite scoring. 46 points in a loss to the Rabbitohs is a win in my eyes – with 10 points in tackle busts, a line break and 25 points in runs it's such a safe floor to his scoring, and it's only a matter of time until one of those Teddy or Sam Walker cutout passes hit Billy in stride and cross the line for a big one. Matches against the Cowboys, Broncos, Warriors, Dragons, Bulldogs and Titans the next six rounds is mouth watering.
VERDICT: HOLD. Yes, I'm saying hold while most try to jump off. Remember Charlie Staines' season trajectory last year? I do, because I sold before the tries starting flooding in.
BON VOYAGE
Ethan Bullemor | FRF|2RF ($283,600 | MNL) – 12 points
Ugh, Des you couldn't give us just three weeks of decent scores? Nope. 12 points in 25 minutes for a paltry $3,000 price rise, and now Bullemor has been named on the bench with Andrew Davey taking his place. There's a very real chance Bullemor LOSES bulk cash this week with a BE of 58, if he holds his place in the 17 that is. Dire situation, but we knew with Josh Schuster's impending return he would be a sell at some point early on in the season, it just came way quicker than any of us wanted!
VERDICT: SELL. Could be a Momoisea-like problem scoring 15 points or less and never making money very soon if you don't sell now.
WATCHLIST
Tolutau Koula | CTW (MNL)
Sean Russell | CTW|FLB (PAR)
Viliame Vailea | CTW (NZL)
Jamayne Taunua-Brown | FRF (NQC)
Blake Taafe | HFB|FLB (STH)
Jack Howarth | 2RF (MEL)
Corey Paix | HOK|HFB (BRO)
Will Smith | 5/8|HOK (GCT)
Tyran Wishart | HOK|5/8 (MEL)
Joseph Suaalii | CTW|FLB (SYD)
Cody Ramsey | CTW|FLB (STG)
Ben Trbojevic | CTW|2RF (MNL)
Jordan Pereira | CTW (BRO)
Leo Thompson | FRF (NEW)
Xavier Savage | FLB (CBR)
Brendan Piakura | 2RF (BRO)
Aaron Pene | FRF (NZL)
Isaiah Tass | CTW (STH)
Tepai Moeroa | FRF|2RF (MEL)
Jaeman Salmon | CTW|5/8 (PTH)
Ezra Mam | HFB|5/8 (BRO)
Paul Alamoti | CTW (BUL)
Terrell Kalo Kalo | CTW|FLB (STH)
Jock Madden | HFB|5/8 (WST)
Matt Croker | FRF (NEW)
There you have it! As always, be sure to tweet us what you think @copes9 and @SuperCoachNRL. Good luck this lockout!
Originally published as KFC SuperCoach NRL: Trent Copeland's Round 4 Cheapie Bible