KFC SuperCoach Plus article: 11 stats to define Round 2, via former champion Wilfred Zee
Tries are drying up and more penalties are being blown in 2022. So how do we adjust in KFC SuperCoach? Wilfred Zee has the answers.
So it's a bit of a new 'gig' for me, in that rather than looking at things that we learned from the previous round, we're taking a look ahead at the round to come.
Specifically, I'm getting stuck into the stats, really digging into the numbers of things to think about or keep an eye on for the round ahead.
The best way to understand it is to get into it, so let's check out 11 stats to define KFC SuperCoach Round 2!
MOST OF THESE STATS ARE AVAILABLE IN KFC SUPERCOACH PLUS RIGHT NOW. EVERYONE CURRENTLY HAS A FREE TRIAL SO HAVE A FIDDLE!
1. 49
We saw 49 tries scored in Round 1, 2022, or approximately 6.1 tries scored per game. That's more than a 10% decline on 2021's Round 1 figure of 55, and this is where we need to keep a close eye on things.
With the adjustments to the rules, and potentially how refs are adjudicating games, if we continue to see less tries scored it could have a massive impact on the prices of the players dependent on attacking stats.
To be clear, we saw an average of 62.3 tries scored per round in 2021, or roughly 7.8 tries per game, so if the tryscoring continues to remain lower we may have a problem!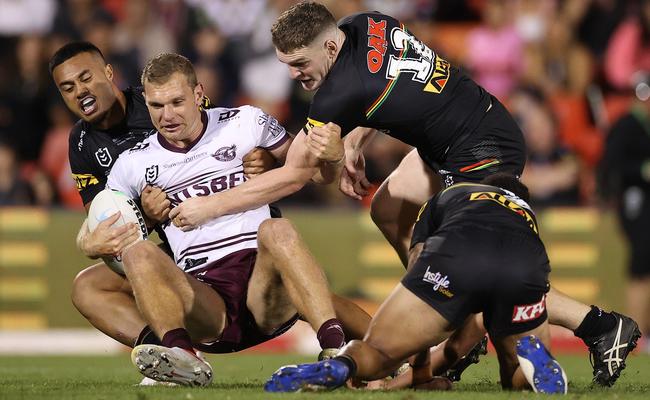 Tom Trbojevic and co could struggled to create as many attacking opportunities in 2022 (Photo by Cameron Spencer/Getty Images)
2. 71
71 is the number of minutes Payne Haas played in Round 1, to notch up his incredible score of 91 despite no attacking stats of any kind. He did have four offloads which is definitely higher than usual, but that's another number to keep an eye on. But big Payne seems levels above anybody else available at FRF right now, with the next closest score being 76 which included a try with a line break for Tom Gilbert. Haas's output will depend somewhat on his minutes and 71 is higher than usual; even if he gets 'only' 65 minutes per game though, Haas will be a difference maker at the position.
3. 28
Dylan Edwards had an absolute monster of a game against the Sea Eagles, and his 28 runs turned into 48 points in hitups alone, and when you add in his tackle busts, offloads and anything else that isn't attacking stat-related, he scored 67 points in base and base attack stats. This is an incredible workrate and one that you'd think is not sustainable. There are two reasons to keep an eye on this though; one is obviously for Edwards, because despite a potential lack of upside, if he can get anywhere from 55 to 60 points as his 'floor' each week, that makes him a worthy consideration. The other reason though, is actually in relation to Brian To'o; every hitup that Edwards takes is one less run that Brian To'o can take, and that has a very noticeable impact on 'Bizza' judging by his score this week!
4. 10
The highest number of tackle busts from Round 1 came from not a David Fifita, a Jason Taumalolo, a James Tedesco – it came from Peta Hiku of all names. He scored a cool 20 points just from tackles busted, which saw him score 56 points in base and base attack stats from his 62 point score. 10 tackle busts isn't sustainable – not even for David Fifita – but if Hiku can continue some level of tackle-busting on top of his respectable workrate, a floor of 40-45 in base and base attack stats is great for CTW options.
5. 3
Mikaele Ravalawa is coming off his best season in 2021, and early signs in 2022 seem to point to him having another great one. He's currently tied as the leading tryscorer in the NRL with the now-injured Sean Russell (poor Sean), and he should be leading for another week or two at least. There's no reason he can't keep leading though given he's playing next to the talented Zac Lomax, runs off Ben Hunt's cutout passes and kicks to the corner, and now has the exciting Tyrell Sloan also able to put up points for him. Definitely an attacking edge to keep an eye on… forget "Leipana", maybe we have "Lomalawa"?
6. 53
This was the highest tackle count of Round 1 and it belongs to an unexpected name – Jake Turpin. It's not so much Turpin that I'm interested in here, but more the trend of a lot of general play going down the middle. Of the top eight tackle counts of Round 1 (ranges from 39 to 53), all belong to hookers (Turpin, Croker, Watson, Cook, Randall) or lock forwards (Jake Trbojevic, Finucane, Murray). This may indicate a bit of a changing of the tide in relation to how teams may play 2022, which should shift our thinking somewhat.
7. 100
This is the number of penalties blown in Round 1 of 2022. That's a significantly higher number than the whole of 2021 – including the infamous 'crackdown' that started in Round 10 (Magic Round) last season. That's a lot of additional time for teams to rest, catch their breath and be able to regroup defensively before play restarts. It surely is partially responsible for some of these lower scorelines, and it's something we have to consider moving forward.
8. -8
We have to look at some of the negatives, and -8 is the number of points that Corey Waddell copped for penalties. He gave away four penalties, which is an incredibly high number. In fact, this happened on this seven occasions in the whole of 2021 – only seven players, in 25 rounds, were penalised that many times. This may just be a one-off, but judging by the rising penalty numbers, it may not be as rare of an occurrence as last season, which we will need to factor into our trade considerations.
9. -8
It's another -8 but this time for missed goals – Nick Meaney's three goals from seven attempts was not impressive at all and he is fortunate he didn't cost the Storm the game. Thankfully, the goalkicker on the other team (Luke Brooks) also had a shocker, kicking two from five attempts himself. All things considered, it would be a shock to see Meaney (even if he was in the Storm line-up) keep the goalkicking considering first-choice kicker Ryan Papenhuyzen struck them at 86% last season, and barring concerns for his ankle, he should reclaim the kicking tee as soon as he is fit and able (probably this round).
10. -8
Selwyn Cobbo had a very promising game according to the 'eye test' this week, however his score of 43 wasn't anything to write home about. The eye test tells you that he was very close to scoring three tries – one almost-try where he went into touch as he dived for the corner (awarded and overruled by the bunker), one almost-try where he overran an offload from Staggs that would've seen him comfortably score a try with an accompanying line break and one other error where he was fingertips from being able to catch an admittedly wayward bomb that could have been a putdown for a try had he been able to get there. Three errors that could have been 70 to 75 points instead of -6! Cobbo needs to be on your radar if he isn't already in your team.
11. -7
This is the number of negative points incurred by Haumole Olakau'atu and Jesse Ramien this week; however the real cost to their score is actually 14 – every missed tackle is not only one less point for the attempted tackle they would have gotten, but then -1 for missing that attempted tackle. It would have made a significant difference to their score if they converted even half of these missed tackles, so it'll be one area to keep an eye on. The other issue is that if they keep missing tackles, it causes problems defensively!
Bring on Round 2!
Originally published as KFC SuperCoach Plus article: 11 stats to define Round 2, via former champion Wilfred Zee