KFC SuperCoach Plus Article: Key stats to define Round 14
The round following Origin Game I is one of the most difficult weeks of the KFC SuperCoach season. Let's check the key stats to define Round 14.
Round 14 is always sneakily difficult; after all, our attention has been focused on Round 13's bye! We have to be mindful of Origin backups in Round 14 though, and that's always much harder than we think. Let's check out some key stats to define Round 14!
Stream every game of every round of the 2022 NRL Telstra Premiership Season Live & Ad-Break Free In Play on Kayo. New to Kayo? Try 14-Days Free Now >
1
The Dragons currently sit ninth on the NRL ladder, and have registered just the single, solitary win over a team currently in the top eight (the Roosters in Round 7). This obviously presents a problem in trying to force their way into the top eight, with eight of their remaining 12 fixtures being against the current top eight teams, and another two games against the Raiders who are punching above their weight, having accounted for multiple top eight teams in recent weeks. The Dragons may also find that they will struggle to score points against some of these top eight teams, who currently feature some of the best defence in the competition. It's hard to trust many of the Dragons players for KFC SuperCoach outside of Zac Lomax, who seems as safe as they come in the CTW position.
80
It's not quite Round 14 match-up related but it deserves a shout-out – 80 minutes for Reuben Cotter, in his State of Origin debut. What an amazing performance it was too, 48 tackles and 13 runs for 119 metres. He looked perfectly at home from the kick-off and it wouldn't be surprising if Cotter owns that #13 jersey for the Maroons for quite some time. To KFC SuperCoach however, it would be some miracle for Cotter to back-up from that monster performance just 48 hours later, and given he's only named on the extended bench anyway, those KFC SuperCoaches with Cotter on the roster shouldn't expect to have his points for Round 14!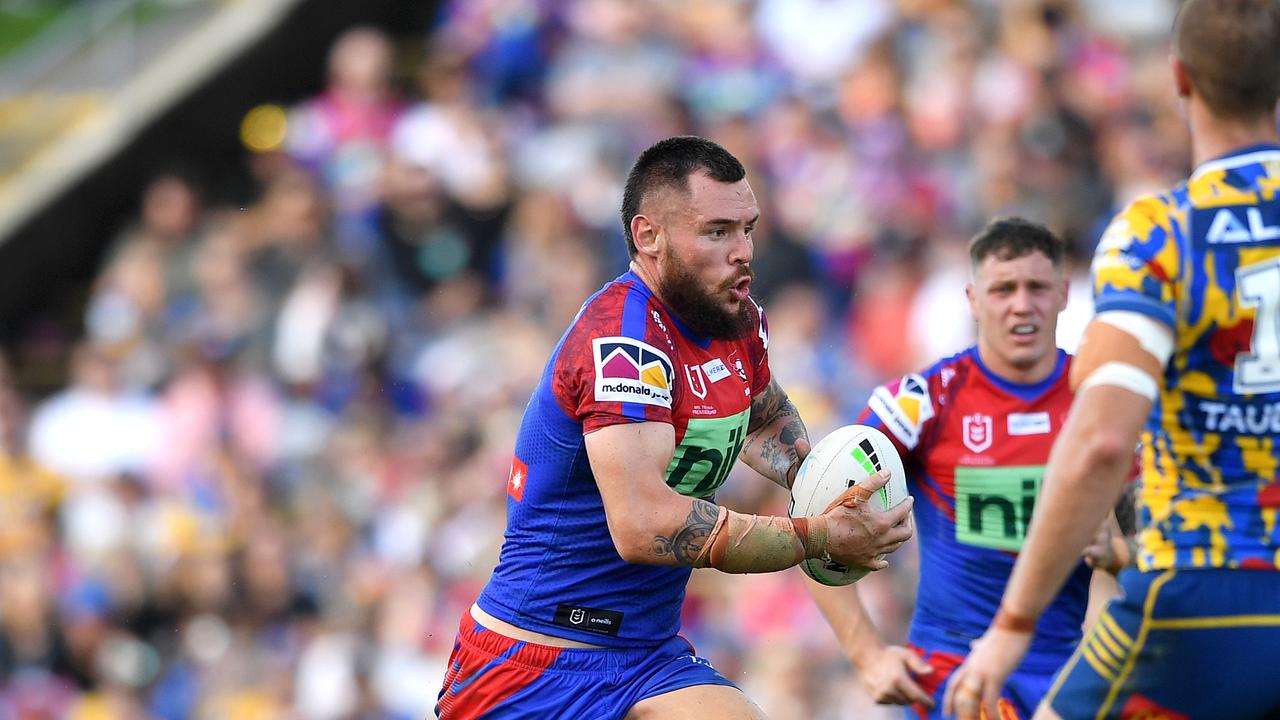 David Klemmer currently has the second best five round average of all FRF options … but can he keep it up? Picture: NRL Photos
63.4
David Klemmer has been very impressive for the past five games, averaging 70.8 points per game and also boasting the second highest five round average of all FRF options (behind only Isaiah Papali'i). He has played 63.4 minutes per game during this time as well, a number that potentially has been boosted by the absence of Kurt Mann during this exact same five game stretch. We know that Klemmer just needs minutes and if he gets them, he gets through his work. The issue is, what will his minutes be moving forward, with Kurt Mann slated to make his comeback from injury this week (albeit off the bench). Klemmer's minutes were just 48.7 minutes per game, although that was only a three game sample size. It's my speculation that Klemmer may find himself playing around 55 minutes per game moving forward, a number that may eventually drop again once Dan Saifiti is recovered from his injury. Klemmer still seems like a very safe option, and potentially one of the best FRF options that covers Round 17 – the question is, is he worth it?
40.2
Cody Walker has been one of the more unpredictable players in KFC SuperCoach in 2022, as he has shown some real lows this year but also (and especially in recent weeks) quite a few of his highs. The biggest issue though, as always, is that he is extremely reliant on attacking stats, and naturally that's hardest to come by against the stronger teams. The gap between his best and his worst is definitely bigger than most players though, as he boasts an average of 40.2 points per game (five games) against the current top eight teams, and an average of 64.7 points per game against the current bottom eight teams (seven games, and that even includes a score of 10 against the Dragons). The good news is that Cody has four of his next five games against bottom eight teams, so he has a nice upcoming run, but the bad news is that he finishes with just one game against a bottom eight team from Rounds 19 to 25 inclusive.
57.7
Beau Fermor was somewhat popular pick for Round 13 bye coverage, after a bright start to the season and at a time when the Titans showed some promise for this year. Fast forward to the midpoint of this season however, and most KFC SuperCoaches with Fermor in their teams can't wait to get him out. However, if you take out his Round 1 score (which was mostly him playing centre), he has averaged 57.7 points per game from the other 11 games where he has almost exclusively played in the backrow. A tidy average, and one that ranks alongside Val Holmes, Jesse Ramien and Euan Aitken in averages for the season. While he is not a player you would have to prioritise keeping, there is a certain level of safety in keeping an 80 minute edge backrower like Fermor who can maintain a 55 to 60 average across the year.
7
Sometimes the rugby league scheduling gods just aren't kind to us; a Roosters v Storm blockbuster is always one to look forward to but it feels every year, it's always around this part of the season. We have seven Origin representatives who may or may not back up for this important clash, and the game could very well be determined already by who does or doesn't play this week. We know Coates is out, but whether Tedesco, Tupou or Collins for the Roosters, or Munster, Grant and Kaufusi play for the Storm will most likely have a significant bearing on the outcome of this game. Final team lists as well as the 24 hour team cull has never been more important! Make sure you plan as if some or all of these guys are out (memo to all KFC SuperCoaches with Grant, Munster and Tedesco in their teams).
4
On paper this might be a clash of fourth against eleventh, but both these teams are one of only four teams in the NRL to have won at least four games of their last five games. In fact, the Broncos are on a six-game winning streak, while the Raiders have the scalps of the Roosters, Rabbitohs and the Sharks in their past five games. Of course, the Broncos could possibly miss Haas and Staggs who are both dealing with shoulder issues, and they have also rested Capewell, and will have Carrigan and Cobbo both likely to play but also backing up from one of the toughest Origin games for a long time; the Raiders have only Josh Papali'i to back up, and doing so after he played minimal minutes for the Maroons given the way the game played out. The Raiders could add another scalp to their little run …
-109
Ezra Mam has shown exactly why he was earmarked in the pre-season as a 'must-have' rookie if he started Round 1; his game is built for KFC SuperCoach and as I've alluded to in the past, he has shown all the attributes that made prime Anthony Milford an absolute SuperCoach stud as well. Mam probably faces his toughest test so far in his short career, but with a rookie winger most likely filling in for Jordan Rapana on the right flank, we may see Mam combine with Herbie Farnworth and Corey Oates to terrorise James Schiller down that edge. With a seemingly guaranteed three or so games coming up, Mam could make a quickfire $150,000 to $200,000 and could see himself be a significant stepping stone to a season keeper around Round 17 or 18.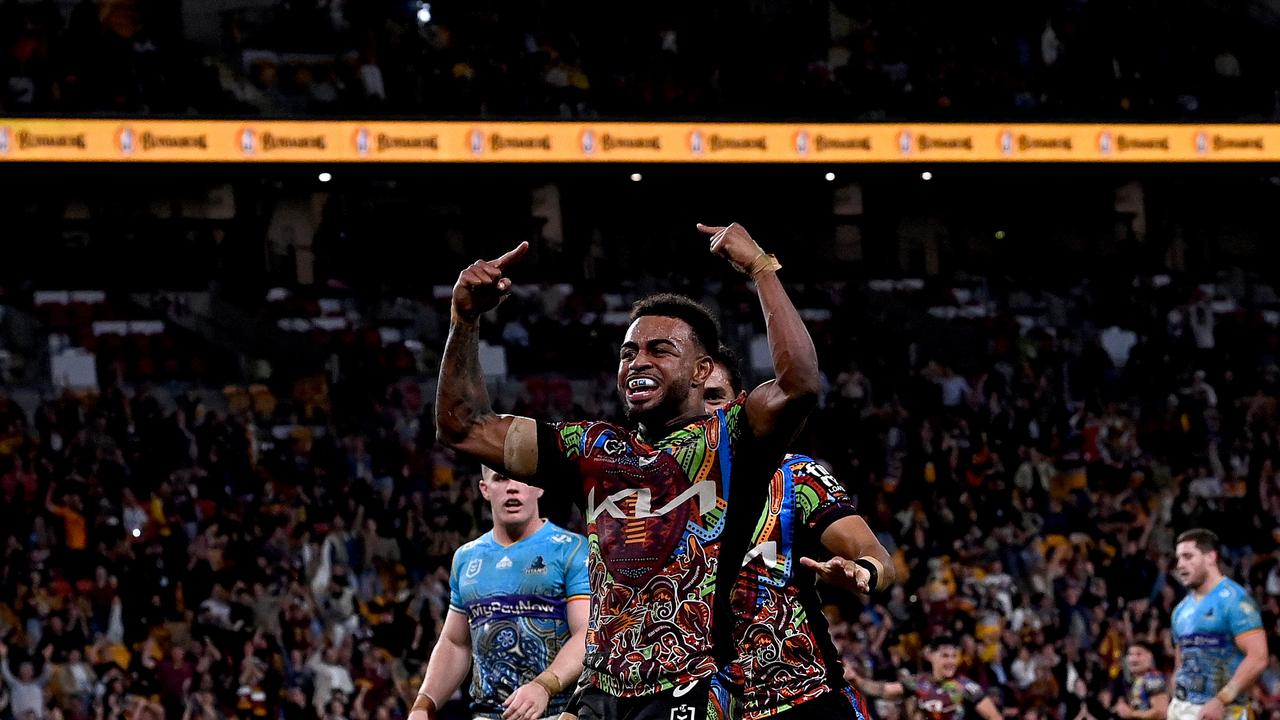 Ezra Mam has proved himself to be a must have cheapie for Round 14. Lock him in! Picture: Getty Images.
66
Luke Garner has had an interesting season, after having a pre-season setback due to injury seeing him lose his incumbent starting edge backrow spot to Tuilagi and starting the season underdone and on the bench, to becoming a fill-in at centre who has now played there so often he is CTW/2RF eligible. Garner has only played two full 80 minute games on the edge this year – the last two rounds where he scored 84 and 48, an average of 66. Some KFC SuperCoaches like the safety of an edge backrower playing in the centres and one could certainly make an argument for Garner and his Round 17 availability to replace the likes of Aitken or Fermor as that consistent 50+ points each week at CTW.
82
Haumole Olakau'atu, or 'Guacamole' or the 'Guac' as I like to call him, has put together a very strong season so far. He has averaged 66.3 points per game and has put himself into Origin selection considerations (although with his recent social media post, proclaiming him a proud Maroons supporter – despite his Blues eligibility – he might find himself on the outer!). What's interesting though is that Guac does his best work without Tom Trbojevic in the team. Currently this season, from five games without Turbo playing, Guac averages 82 points per game! That's a sharp increase, and it comes from the Sea Eagles' reliance upon him as an attacking threat without the easy "go-to" option of chucking it to Turbo to make something happen. Guac has a nice combination with DCE but even last week we saw Foran constantly going to him again and again. The Guac looks like he could be a premium 2RF option with Turbo ruled out for the season!
63.9
Will Kennedy has a season average of 49.9 points per game but it's clear to see that his average was significantly impacted by his past two scores of -10 (sent off) and -2 (in 80 minutes but an absolute shocker from him). If you take out those scores, he averaged 63.9 points per game in the opening eight rounds. Kennedy currently has a break-even of 158, and there is a genuine chance that Kennedy will be between $300,000 to $350,000 at some point in the next two weeks, with impending Round 17 coverage on offer as well as well as a really friendly draw. In a year where premium fullbacks are either injured, suspended and otherwise often unavailable, there is some merit to considering an extremely cheap Will Kennedy …
Bring on Round 14!
Round 13 has finally hit, and it's not great, not great at all.
Origin outs, players injured, not named, and all sorts of shenanigans are going on this week!
Let's check out some key stats to define Round 13!
3
The Titans will be desperate for a win this week, especially after their last round implosion after halftime against the Broncos. The Cowboys are possibly more vulnerable than ever, having lost a number of players to Origin, although they do get back their main man in Jason Taumalolo. The Titans play at home, where they have won two of their three games (the other was a 'home game' but at Magic Round), and considering they have yet to register an 'away' win, they will need to continue to get as many wins as they can when at home!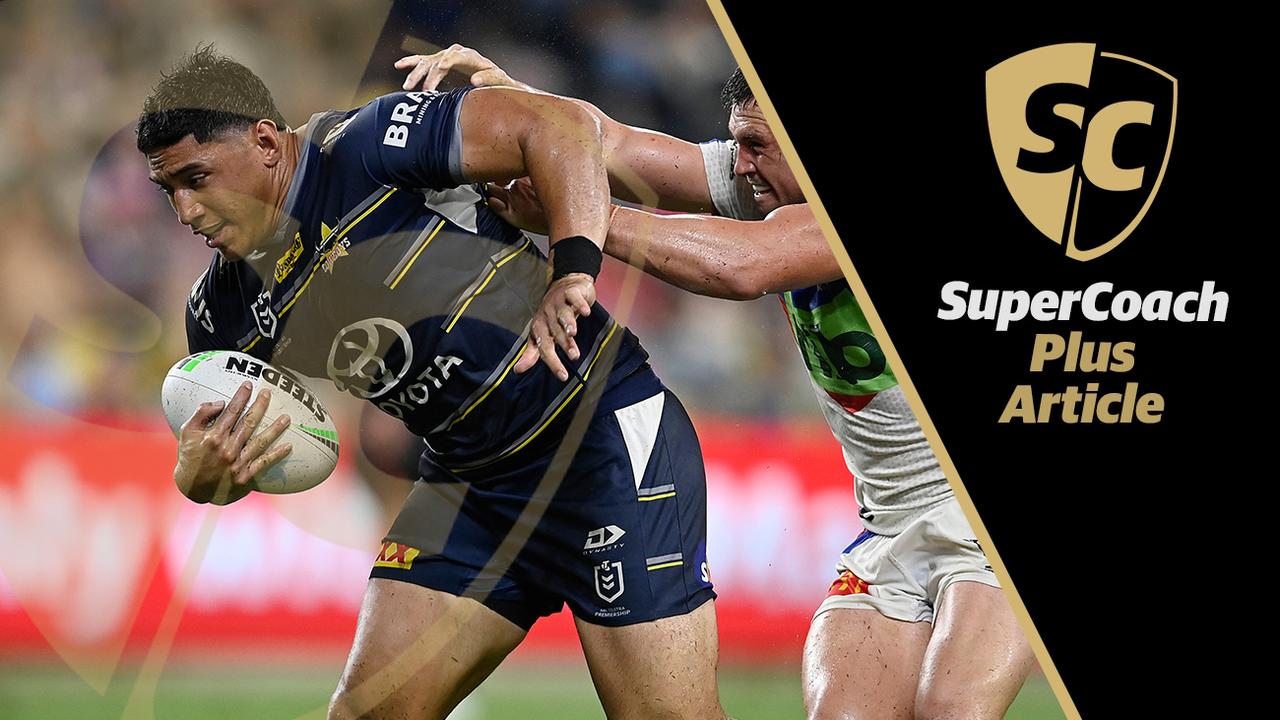 Jason Taumalolo is back from injury.
10
It's almost amazing that this is Round 13 but the Cowboys have only left the state of Queensland three times – once to Canberra, once to Darwin and last week to western Sydney. Their 10th game in Queensland so far is on the Gold Coast, and the Cowboys will be keen to restart their win streak that was broken finally by the reigning premiers. They may be undermanned but Todd Payten has got the Cowboys to become a defensive powerhouse, and they also have plenty of attacking X-factor players to generate points when the opportunity arises. The Titans will have their hands full this week …
6
There's nothing quite like Origin being a 'competition leveller', with the first-placed Panthers taking on the bottom-of-the-ladder Bulldogs. Of course, when six of your finest players are running out for their state on Wednesday night instead of for the Panthers – i.e. almost half of your starting 13 – it can make for a much tighter game than their ladder standings might suggest. We only have to go back to last season to see how the Panthers were affected, losing to the 13th-placed Tigers 26-6 that round (when they also had lost almost half of their starting 13) …
2
The Bulldogs remain bolted to the bottom of the ladder with just two wins over the first 12 rounds. They are desperate for two premiership points with the 15th-placed Tigers on the bye and guaranteed to move further ahead this week. There is hope, however, as the lack of points-scoring has been one major contributor in their current ladder standing; after all, you'll struggle to win many games while scoring an average of just 9.6 points per game and conceding an average of 22.1. The last two weeks however, the Bulldogs have suddenly found a way to score 22 and 24 points respectively, and although they still conceded more points, it gives them a sniff of victory at least when they have the possibility of scoring more points than they usually concede. There is hope!
68.3
Reuben Garrick has filled in admirably for the injured Tom Trbojevic at fullback this season, and at this stage it looks like he will continue to have the job indefinitely. There is a chance of course that if the Sea Eagles' season doesn't improve, Des Hasler may decide to give some talented youngsters a turn back there. Until then however, Garrick has the job and so far he has scored 68.3 points per game from fullback, with an improved workrate compared to when he is on the wing. Garrick's floor at fullback, coupled with his goalkicking, means he will rarely score below 50, but it also caps his ceiling as he has rarely gone 90+ when playing fullback. He still looms as a very solid, dependable CTW option for the rest of the season … that is, if Des Hasler doesn't do some mad things!
53.8
Euan Aitken continues to be one of the most reliable and consistent CTW options in KFC SuperCoach, even though that's because he gets the advantage of being an 80 minute backrower who is available at CTW. He averages 53.8 points per game in base and base attack stats, which is highlight by a great floor of 31.5 points per game in tackles (includes missed tackles). Such a floor is great for just consistent points, and while Aitken's role remains the same at the Warriors, it's hard to see him being traded out by too many KFC SuperCoaches.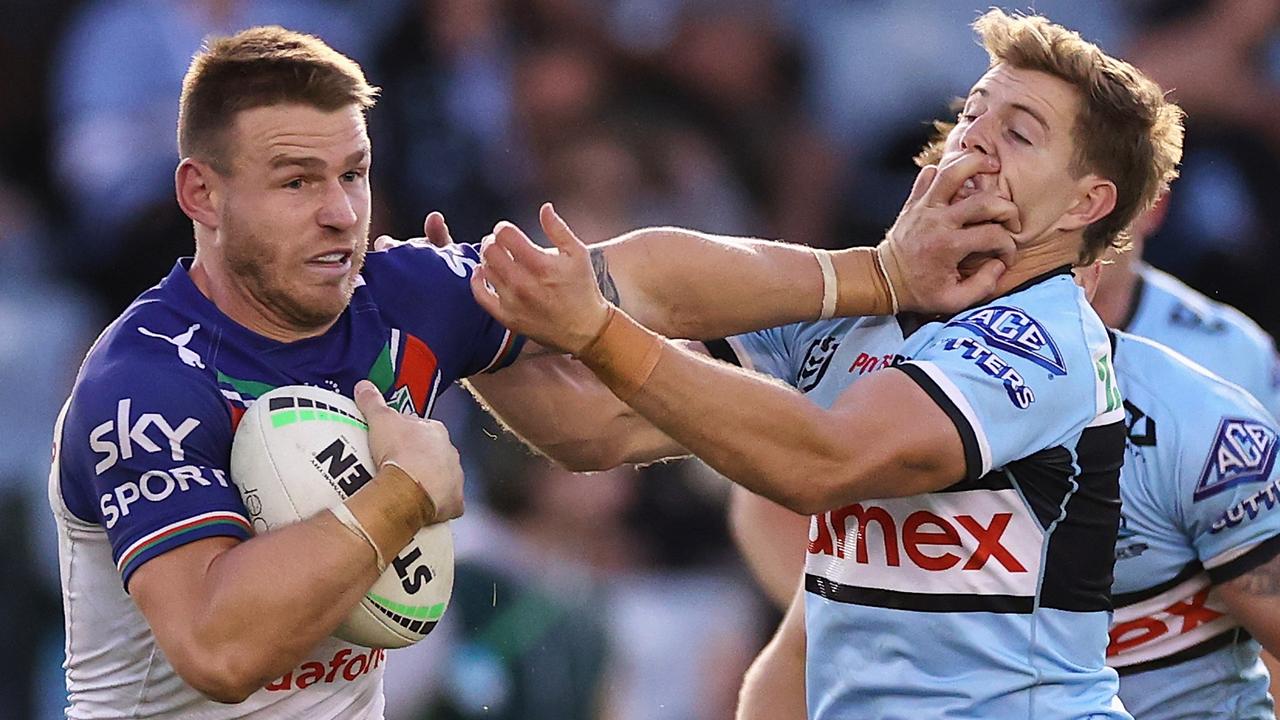 Euan Aitken is one of the most reliable and consistent CTW options (Photo by Cameron Spencer/Getty Images)
59.2
Joseph Tapine has quietly built this season and he is a major part of the mini 'resurgence' from the Raiders in recent weeks (three wins in the past four games). He is proving time and time again that he, alongside Josh Papali'i, can lay a dominant platform for his halves and the backline to play off. Unfortunately, that doesn't always pay off but the effort and output from Tapine cannot be questioned. For KFC SuperCoach purposes, Tapine has always shown the ability but his base and base attack stat average of 59.2 points per game is impressive in his 49.8 minutes per game. The main concern is that he doesn't mind the odd penalty, and despite his base and base attack being so strong, Tapine actually is averaging 59.1 points per game this season because of those negative stats! Nevertheless, Tapine looms as one of the best FRF options this season (second in overall points, fourth in averages) as well as having a handy dual position eligibility too!
89.6
This is your regular reminder about how good Joey Manu is when playing fullback in the NRL, and being an absolute KFC SuperCoach beast while doing it. Firstly, sure, he's no James Tedesco, but Manu is supremely talented and despite being a centre first and foremost, he has the skills and playmaking ability, as well as the speed and strength in his running game, to be a genuine threat in all areas of the field. Across his eight 80-minute games in the past three years playing fullback, Manu averages 89.6 points per game, with 54.9 points per game in base and base attack stats. That's an absolutely elite floor, and he has also shown his ceiling too with that average including scores of 136, 102 and several scores in the 80s and 90s. His lowest two scores are also 46 and then 74, so that floor is definitely safe!
Bring on Round 13!
Originally published as KFC SuperCoach Plus Article: Key stats to define Round 14