KFC SuperCoach Plus Article: Season-defining stat on Nicho Hynes
KFC SuperCoaches are searching far and wide for a Ryan Papenhuyzen replacement and this stat may just seal the deal, via WILFRED ZEE.
There's a magical feeling about this week, and surprise surprise, Magic Round is upon us, and unfortunately it's looking pretty wet!
More key decisions this week, so let's check out 10 stats to define Magic Round!
1.9
The Bulldogs are, unsurprisingly, the worst offence in the NRL through nine rounds of football, averaging a paltry 1.9 tries per game (17 in total for the season).
Stream every game of every round of the 2022 NRL Telstra Premiership Season Live & Ad-Break Free During Play on Kayo. New to Kayo? Try 14-days free now.
They're averaging just 10 points per game, and despite some seriously tough games early on this season, this is just not good enough for a team with genuine attacking threats like Burton, Pangai and Addo-Carr.
For KFC SuperCoach purposes, it definitely caps the upside on attacking players from this team.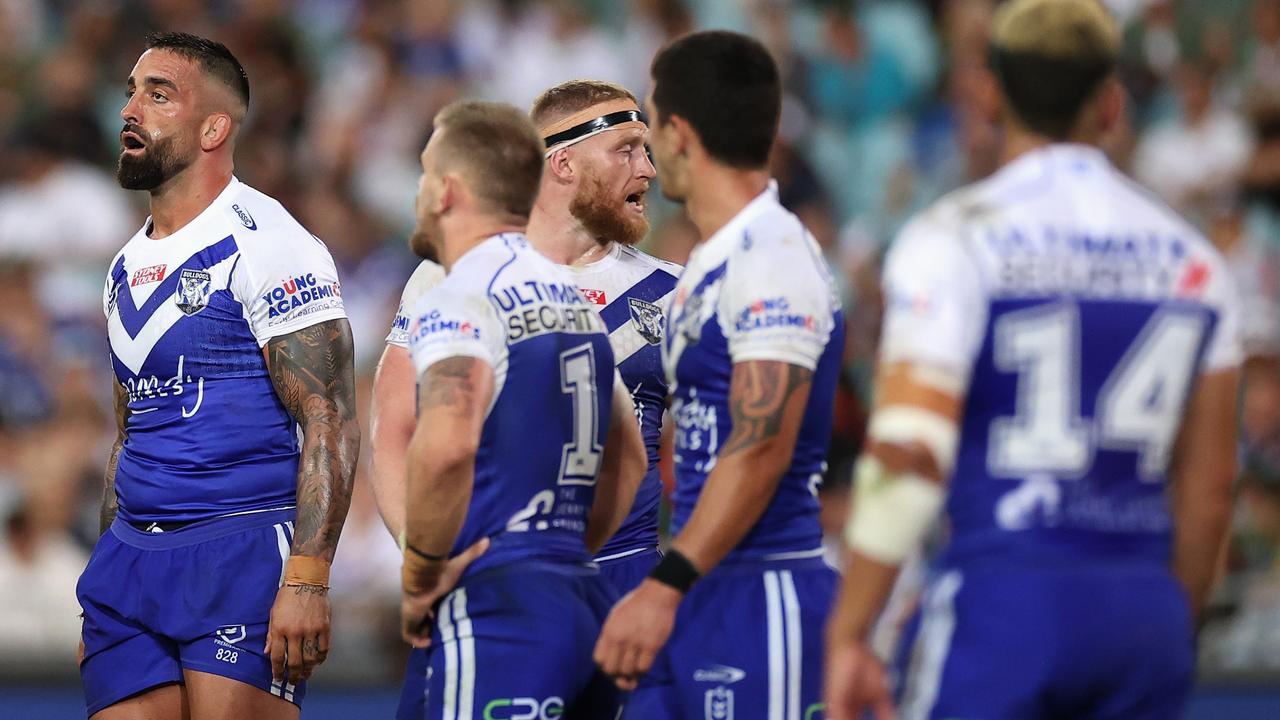 The Bulldogs are struggling in attack (Photo by Cameron Spencer/Getty Images)
26.9
The 'positive' for the Bulldogs this week is that they get to face fellow strugglers, the Knights, who are the worst defence in the NRL, conceding an average of 26.9 points per game. It's not quite the 'unstoppable force' coming up against the 'immovable object'; more like the other way!
The Knights have let in 41 tries to the opposition, a number made all the more bleak by the fact they only conceded one try in Round 1 and Round 2 respectively. The 'positive' for the Knights is that the Bulldogs are the fifth worst defence in the NRL, although the Knights are also the second worst offence in the NRL. Gosh, with such numbers we're surely in for a belter of a game to kick off the round aren't we…
0
Selwyn Cobbo has shown off some of his absurd talent and potential in recent weeks, showcasing serious speed and skill to score some impressive tries. That has coincided with increased confidence and most importantly, improvement in his error rate. He has zero errors in his last two games, and only three in his last six. This is a stark contrast to his first four games where he made a somewhat ridiculous 15 errors – that's almost four a game! Cobbo is a young kid though, and it's amazing what some confidence can do for your on-field performance. Look for the kid to keep improving throughout the year.
5
Reuben Garrick scored 21 tries last year from 24 games, a truly impressive number that was overshadowed only by Alex Johnston's tryscoring feats, and also his own teammate in Tom Trbojevic. So far, whether due to the Sea Eagles' offensive struggles, or the general downturn in tryscoring across the board, Garrick has only five tries across the first nine games this season. On the surface though, that's still not a bad strike rate and as the Sea Eagles start to get some more troops back, and as Tommy Turbo settles into the season more, you get the feeling that number increases substantially.
-44
Ben Hunt is playing some of the best footy of his career this season, albeit having some not-so-good games in between as well. He is almost the sole reason the Dragons have been able to win some of their four games so far, with key pivotal plays late in the game being part of those wins. However, one area where he is really struggling with is his 44 missed tackles from nine games so far; almost five missed tackles per game! Of course, that doesn't always mean he's a reason that tries are being conceded but it has placed greater defensive burdens on the teammates defending next to him, knowing there is a chance that Hunt falls off the tackle. It's also worth keeping in mind for opposing edge backrowers coming up against Hunt on the right edge; there may be some extra tackle busts on offer!
202
The equal-best defence in the NRL (tied with this week's opponent, naturally) have conceded just 12.2 points per game so far this year. The Storm did not concede a try to their opposition for 202 minutes of game time – from the 29th minute of their Round 7 game against the Warriors, until the 71st minute of their Round 9 game against the Dragons. Of course, when you score 25 tries in those 202 minutes, it does make it hard for your opposition to score points against you too! The Storm are just so good, on both sides of the ball. It will be interesting to see how they fare without their star fullback though…
1,801.3
The Panthers are a team packed with metre eaters — literally. From Dylan Edwards, Brian To'o and Taylan May, to James Fisher-Harris and Isaah Yeo, the Panthers can run and run and run, making metre after metre, pre and post contact. They are averaging a league-high 1,801.3 metres per game, a phenomenal number which is over 100 metres per game over the Storm who are no slouches at fourth in the NRL for run metres per game. It's over 400 metres per game more than the Warriors, who are struggling to gain metres this year at just 1,360.9 metres per game (worst in the NRL). It's no wonder the Panthers are constantly in positions to score points, when they march down the field for fun!
Nicho Hynes notched a season-high 74 touches on the weekend (Photo by Cameron Spencer/Getty Images)
74
Much has already been said about the brave performance from the Sharks last week, to win after having their fullback sent off 17 minutes into the game, and then being down to 11 for another 10 minutes in the second half. What we saw was an absolute superstar performance from Nicho Hynes, who put the team on his back and ran, kicked and directed his team to a strong win. He increased his level of involvement and stood up when the team needed him to, notching up a season-high 74 touches of the ball, which is obviously also a great sign when it comes to KFC SuperCoach points as well!
21.1
The Roosters often feature in the top three or four offences in the NRL every year, and it's not a great sign when they currently sit eighth in the NRL – very middle of the pack – when it comes to scoring points. In fact, they have only passed 30 points this year on one occasion; last week's 44 points against the Titans. It's not a great look for a team with so many attacking weapons. Looking down the teamlist, you wonder why a team with Tedesco, Tupou, Manu, Keary, Walker, Crichton and many others are struggling for points. There doesn't seem to be an end in sight either, with the Roosters facing a brutal upcoming seven games where they face the Eels and Panthers twice, along with games against the Storm and the Sharks.
2
The Eels may actually be a legitimate premiership threat this year, being the only team in the NRL currently boasting two wins against the ladder-leading Storm and Panthers teams. Also, the Eels managed to score 28 and 22 points respectively against the two teams, well above the season averages leaked to opposition teams going against the equal-first defences (12.1 points per game, each). Of course it's early days yet, but the Eels couldn't have asked for a much better start to the season.
12.6
The Cowboys continue to be an incredible defensive team, keeping opposition offences to just 12.6 points per game; a mark bettered only by defensive powerhouses the Storm and Panthers. Obviously for KFC SuperCoach purposes, it means we must continue to re-evaluate our perception of the Cowboys as an 'easier' match-up, especially considering so much of our data from 2021 features the Cowboys as the worst defence in the NRL. This isn't anything new, but it's another reminder that the Cowboys continue to buck the previous season's trend!
Bring on Round 10!
Originally published as KFC SuperCoach Plus Article: Season-defining stat on Nicho Hynes