NRL 2022: Albert Kelly opens up about his Indigenous All Stars selection
Albert Kelly follows in the footsteps of giants on Saturday night, and the globetrotting Bronco is ready to realise his dream.
Albert Kelly has waited 14 years for this opportunity.
It was back in 2008 that Kelly first laid eyes on the Indigenous All Stars when they played a World Cup curtain-raiser against the New Zealand Maori at the Sydney Football Stadium.
Kelly was only 17 at the time but knew it was a jersey he had to wear before his time in the game was up. He just didn't think he'd have to wait this long.
Now 30, and having played across the world, Kelly will realise his dream when he runs on to Commbank Stadium on Saturday night to face the Maori All Stars.
"I don't think any words can explain it for myself," Kelly said.
"I remember watching the 2008 team at the Sydney Football Stadium. It was amazing.
"It's been a decade since I was last in contention for this. I had some pretty big legends in front of me like JT (Johnathan Thurston), Princey (Scott Prince), Chris Sandow, Jamie Soward. Then I took off to England and they all retired.
"I was watching from afar over there one year with David Fifita and Robert Lui and I said 'I need to go home and make the All Stars'. Twelve months later I'm here today."
Watch The 2022 Harvey Norman All Stars Live & Ad-Break Free During Play on Kayo. New to Kayo? Try 14-days free now >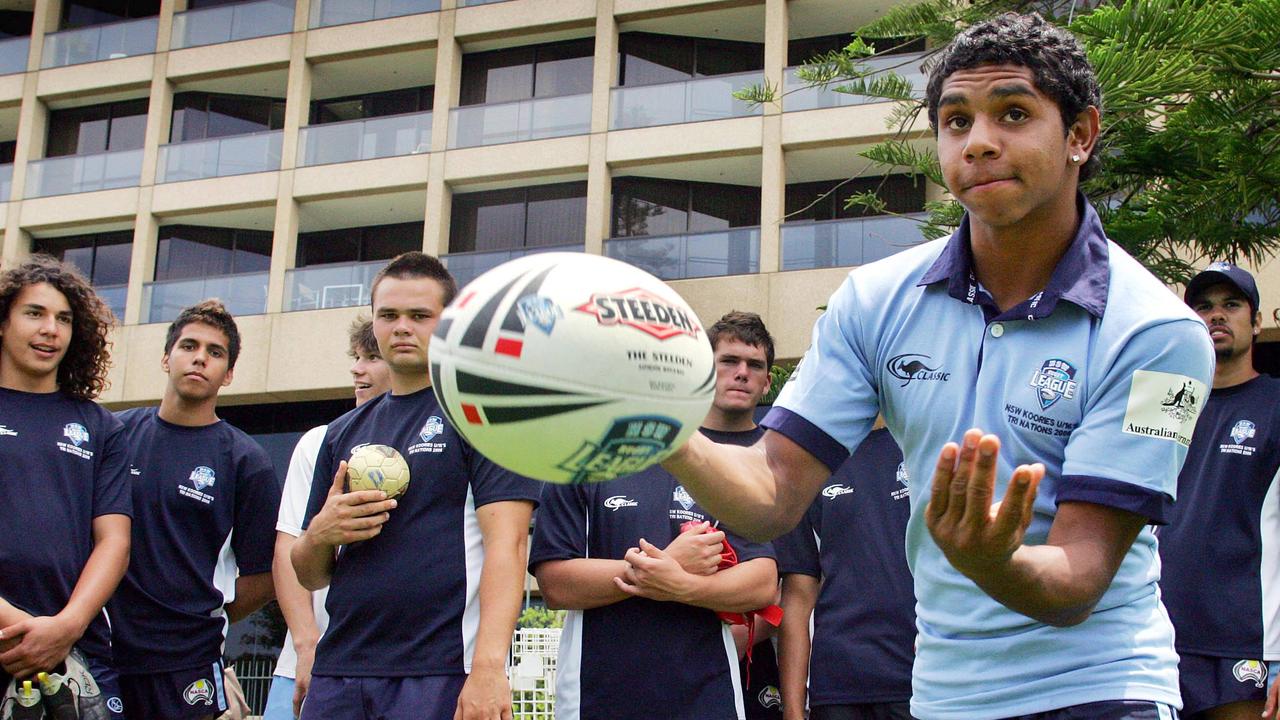 Albert Kelly was the NSW Koori under-16 captain.
Now a playmaker at the Brisbane Broncos, Kelly has had his fair share of life experiences since growing up on the mid north coast of NSW.
He admits his childhood was challenged as his grandparents Lewis and Winnifred Kelly cared for him and his brother Dempsey Donovan.
Kelly jumped between towns – switching schools, homes and guardians – but never lost sight of his dream.
"My brother and I grew up with our grandparents," he said.
"At stages it was pretty tough, we had a lot of struggles along the way. There was a lot of chopping and changing towns and stuff like that.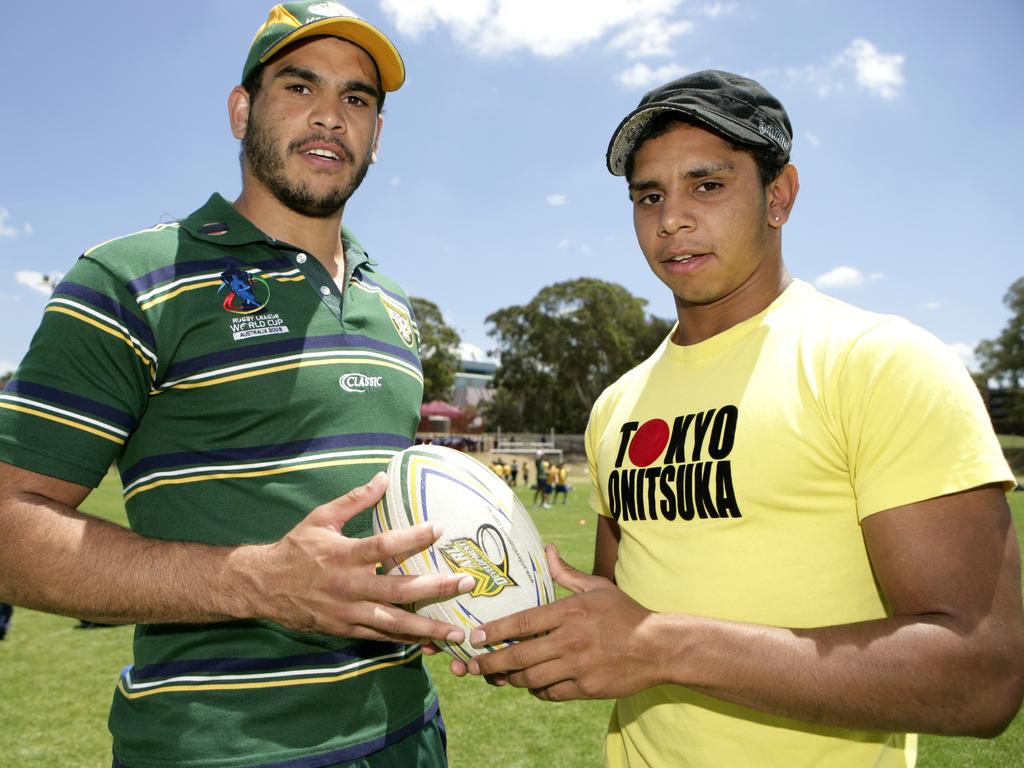 Albert Kelly (R) with his cousin Greg Inglis.
"I was really focused on trying to achieve my goal of being an NRL player. I wanted to get out of the town and make something for myself.
"We were very grateful for what our grandparents did for us and sacrificed for us to be who we are today. We've moulded into good men and all the thanks goes to our grandparents.
"Now they've passed on, home is always about the people in the house, not where we are."
A schoolboys sensation, Kelly made his NRL debut for Cronulla in 2010 before joining the Gold Coast in 2013-14 then heading to the Super League for six seasons.
Kelly made his NRL comeback with the Broncos last year. Picture: Liam Kidston.
Now a father of three and back at the Broncos, Kelly wants his kids to have a more stable upbringing and give them every chance of succeeding in life.
"I wanted to be a dad and give them the advice and guidance I didn't get," he said.
"That's what I try to practice every day, to be the best father I can and show them guidance through their journey in life.
"As a young kid I was a dancer and used to dance with my older cousins and uncles. I learnt a lot through them. We are still very rich in culture there.
"I went to a school in a mission at Nambucca Heads. Now they're teaching language back home which is good to see.
"They are starting to teach the real history of Australia. Hopefully that can help change the curriculum throughout the country."
Kelly is pushing for a round one berth with the Broncos. (Photo by Albert Perez/Getty Images)
Kelly was a back-up player for the inaugural pre-season All Stars clash in 2010 at the Gold Coast when the likes of Preston Campbell, Wendell Sailor and Thurston brought the concept to life.
It has taken until now for him to get a chance of pulling on the jersey himself and while he may be coming off the bench, Kelly is ready to savour every moment of the experience before returning to the Broncos.
"It's been over a decade since I was last in contention for this," he said.
"For me to come in here now and see first-hand the type of players here and what they bring to this culture and squad is amazing.
"These guys are the next generation. They are going to play for a long time in this team. I'm just very grateful to be part of it.
"I've had thoughts that my time is gone, but I'm here as number 14 and playing on Saturday so I'm very grateful.
"I've worked hard to get here. It's been a ride."
BRONCOS' MIRACLE MAN COULDN'T BRING HIMSELF TO STOP PLAYING
Keenan Palasia is Brisbane's medical miracle man.
He has endured three knee operations, including two anterior cruciate ligament ruptures. A snapped posterior cruciate ligament. A torn medial collateral ligament. A broken hand and busted ankle that both required surgery.
Then there was his most recent ordeal: a fractured shoulder blade which prematurely ended his 2021 campaign, a similar injury to that which former Roosters halfback superstar Cooper Cronk famously carried into the 2018 NRL grand final.
Palasia may lack Cronk's playing pedigree, but he shares the Queensland Origin legend's courage.
By rights, he should be retired. But at 25, Palasia admits he cannot bring himself to pull the pin as the luckless Broncos forward prepares to launch yet another comeback in Saturday night's season-opening trial against his former club, Wynnum Manly, at Kougari Oval.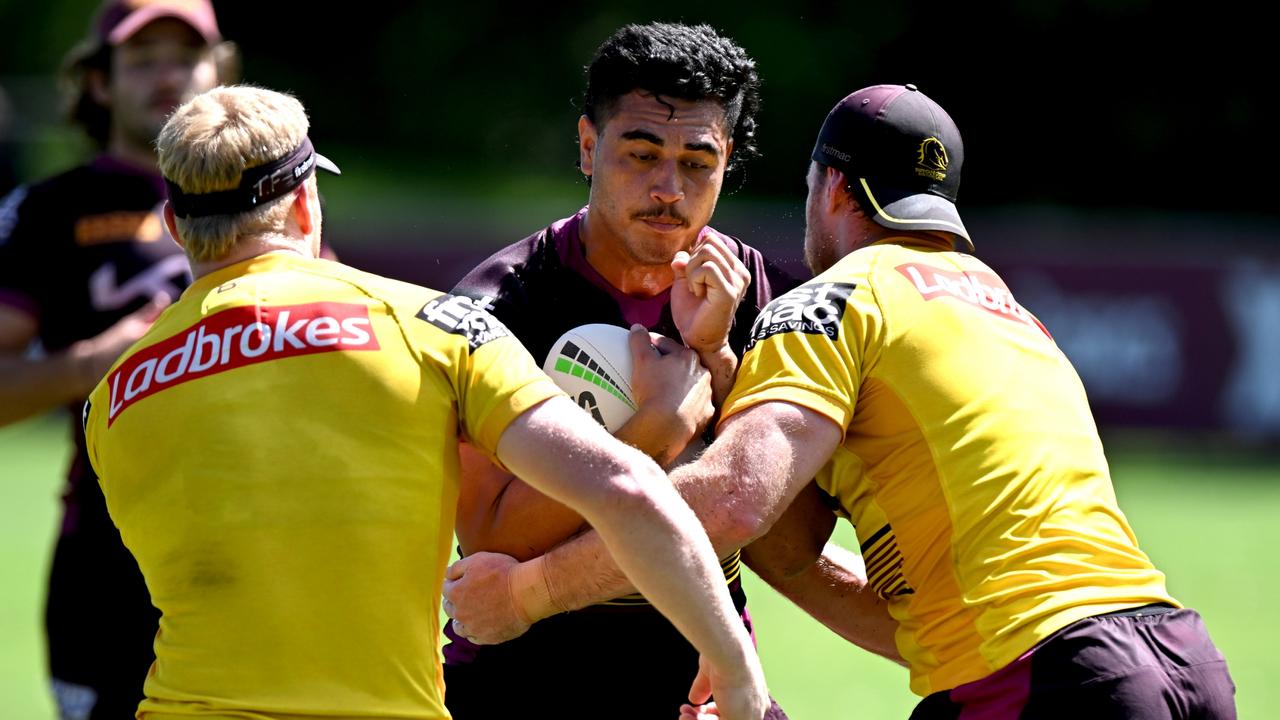 Keenan Palasia has had a wretched run with injuries in recent seasons. Picture: Bradley Kanaris/Getty Images
"I turned 25 last month and I feel 45 some days," Palasia said with a laugh.
"I've had three knee (surgeries) and MCL, PCL, ankle and hand injuries, all before I was 24.
"I did think about giving it away after I did my knee for a third time (in 2019), but I couldn't bring myself to stop playing, so I gave myself no choice but to play on.
"I'd be lying if I said it wasn't hard and that I thought, 'Maybe I won't make it to the NRL'.
"It was pretty tough going through my knee recos, but it taught me that I have a good support base behind me, especially at a club like the Broncos where they have the facilities to help me get back to where I was before I got injured."
It is testament to Palasia's ability that the Broncos refused to jettison the Parkwood Sharks junior, instead handing him an extension last season that keeps the hard-running forward at Red Hill until the end of 2023.
Palasia, who has compiled 11 NRL games since his 2019 debut, underlined his promise at the back end of last season, charging for 168 metres and 156m in wins against the Sharks and Cowboys before his shoulder setback.
On Saturday night, the 106kg bookend gets a golden chance to make a statement.
With No. 1 prop Payne Haas rested, Palasia will start in the front row alongside Tom Flegler and is on track to be a part of Brisbane's middle rotation for their premiership opener against Souths on March 11.
"Anyone who says they don't want to start for their club would be lying," he said.
Keenan Palasia is 'good to go' for the Broncos' trial against Wynnum this weekend. Picture: Matt King/Getty Images
"I have spoken to 'Kevvie' (Broncos coach Kevin Walters) and every session he is pushing me to challenge for that starting spot alongside Payne (Haas) and Patty (Carrigan).
"With the team we have here, I think I can come off the bench and fill in around the middle (front row) or the edge (second row), but personally I like playing in the middle.
"I did some extra rehab on my shoulder in the off-season just to make sure I was ready for the pre-season. I have done some contact leading into this game so I'm good to go."
The Broncos will parade a number of young guns against Wynnum, including boom 18-year-old five-eighth Ezra Mam and highly-rated teenage back-rower Brendan Piakura, who played one NRL game last season.
"Ezra and Brendan Piakura are the two special guys here," Palasia said. "Brendan is still only 19 and Ezra is going to debut soon … he is a freak of a talent."
BRONCOS' HALVES BATTLE HEATS UP
By Paul Crawley
Kevin Walters is set to unveil the NRL's next father-son combination when his son Billy runs out for the Brisbane Broncos in this Saturday's trial match against Wynnum Manly.
Walters, Te Maire Martin and exciting young gun Ezra Mam will all get time against the Seagulls to push their claims to be Adam Reynolds' starting halves partner this season.
Tyson Gamble and Albert Kelly are the other two in the fight to wear the No. 6 jumper this year.
Coach Kevin Walters chats to his son Billy Walters. Picture: Adam Head
Walters is said to have been really impressive during the pre-season so far but now needs his form on the field to match the effort he's put in on the training paddock.
Now 28, he's previously played 10 NRL games, two for Melbourne and 10 for Wests Tigers, but has never been able to nail down a regular starting spot.
For Martin this will be his first game back in an NRL jersey since the former North Queensland playmaker had his career cut short when doctors discovered a bleed on the brain in April 2019.
Martin, 26, has settled in well at the Broncos after being handed a development contract and will add some strong competition to the Broncos' halves debate when he gets a few games under his belt.
But Mam, 19, is the X factor in all this.
Regarded as one of the game's most exciting young talents, he plays a style that brings back memories of Matty Bowen.
It will be interesting to see how he handles the step up from Queensland Cup, where he scored 13 tries in just 11 games for Souths Logan last year.
Originally published as NRL 2022: Albert Kelly opens up about his Indigenous All Stars selection