NRL 2022: Manly Sea Eagles play down concern over Tom Trbojevic
Sea Eagles veteran Kieran Foran has scoffed at concerns star fullback Tom Trbojevic is battling an injury after an uncharacteristic performance against the Broncos.
When it comes to smoke and mirrors, few do it better than Manly and their coach Des Hasler. Which is why when it comes to fullback Tom Trbojevic, the comments of Hasler after their beating at the hands of Brisbane were viewed by some through a prism of suspicion.
Trbojevic looked like a wounded man in the Sea Eagles' lopsided loss to the Broncos at Suncorp Stadium.
Watch every game of Magic Round this weekend Live & Ad-Break Free In Play on Kayo. New to Kayo? Try 14-Days Free Now >
There were even suggestions that Hasler should have dragged him from the field for his own protection as the game slipped away.
Afterwards Hasler and five-eighth Kieran Foran insisted there was nothing wrong with their superstar fullback, who only recently returned from a knee injury and at times looked like a broken man against the Broncos.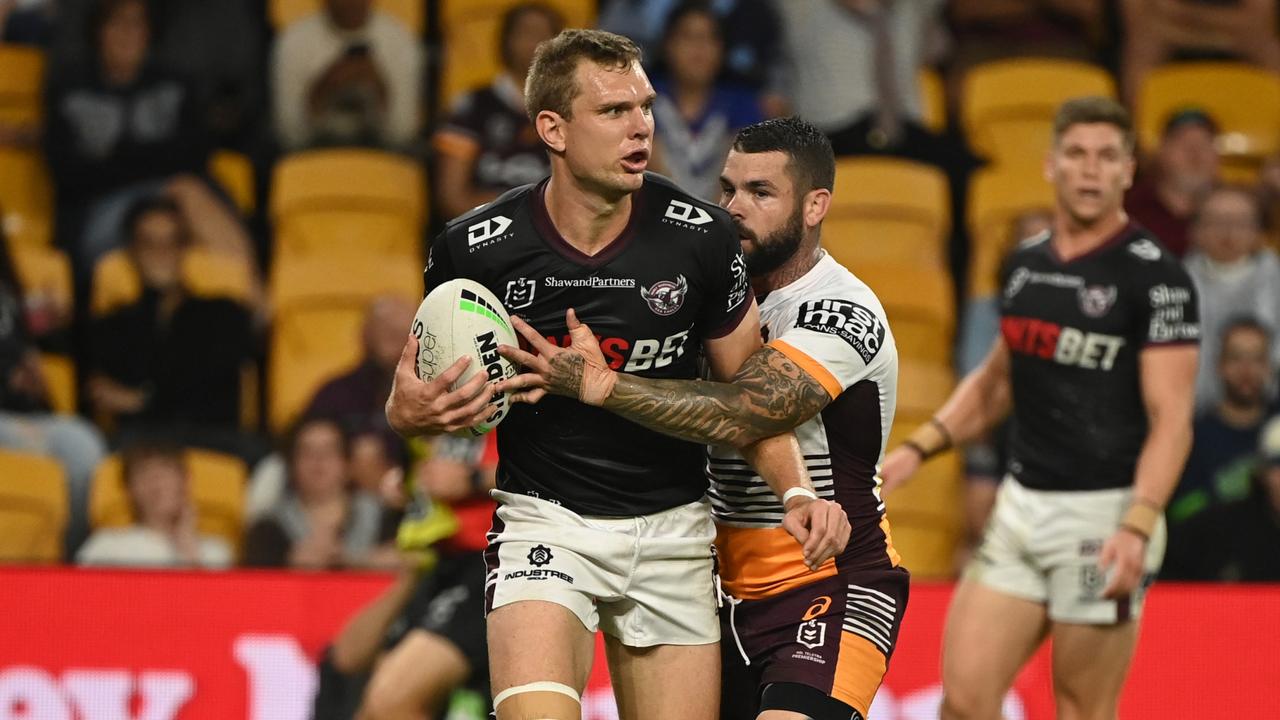 Tom Trbojevic appeared to struggle with his knee at times during the match against Brisbane. Picture: NRL Imagery
"He is good, he is really good," Foran said. "If there is something wrong with him you wouldn't know it. He is flying through the week, he is flying.
"I think it would be wrong to single him out. Everyone has to wear that. We were poor. We couldn't get him in the game.
"In terms of Tommy at the moment, his physicality, he is going well."
Asked about the perception that Trbojevic was playing injured, Foran said: "That is the perception. He missed a few weeks there and he is probably still finding his feet but like I said, by no means is that his responsibility or his doing to save all those tries.
"Everyone is involved there. Tommy is one of our most desperate players out there and highly competitive players.
"I know he is doing absolutely everything he can to stop a try and be in the game."
It later emerged that Trbojevic had suffered a corked thigh to his left leg in the loss to the Broncos, a minor complaint that is unlikely to sideline him for any length of time.
The greater concern for Manly is the way they played on Friday night. The Sea Eagles were soundly beaten by a Brisbane side riding the crest of a wave. They collapsed. Not for the first time either. Foran afterwards insisted he should shoulder some of the blame for the way the Sea Eagles played given his position in the team.
"We were poor," Foran said. "We were clunky in attack. A lot of that falls on my shoulders and Chezza (Daly Cherry-Evans). We will take accountability for that.
"It just wasn't happening for us — I don't know why. We have had a few injured players but I don't like using that as an excuse.
"We have a couple of tough weeks coming up. Lucky we get to do it again in a week's time.
"We didn't give ourselves a chance. We started fast, they were rolling us, they were full of running. Some games are like that. It is disappointing for fans and people who came out."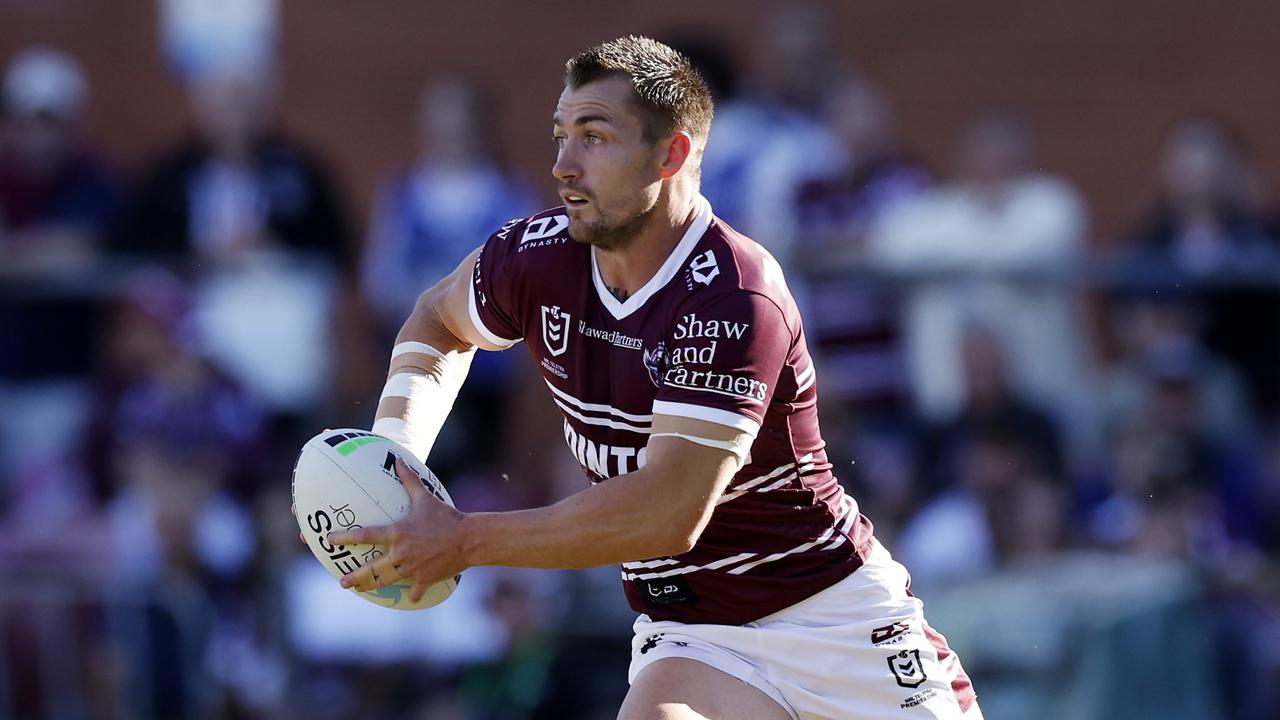 Kieran Foran insists Tom Trbojevic of the Sea Eagles runs with the ball during the round nine NRL match between the Manly Sea Eagles and the Wests Tigers at 4 Pines Park, on May 07, 2022, in Sydney, Australia. (Photo by Mark Evans/Getty Images)
How NRL star played through every man's nightmare
-Fatima Kdouh
Chanel Harris-Tavita's ruptured testicle was so painful that the Warriors playmaker could not talk for the 45 minutes he played with the eye-watering injury.
Harris-Tavita was a victim of some friendly fire when teammate Josh Curran slammed his knee into the 23-year-old's 'private parts' two weeks ago in the Warriors' record breaking 70-10 loss to Melbourne.
The hit, which happened five minutes before halftime, was so painful it just about rendered him mute for the rest of the match.
"Worst [pain] I've ever had, by far," Harris-Tavita said.
"I'm lucky I had teammates around me that were talking to me because I couldn't really talk.
"All I could really think about was my injury but I just wanted to push through.
"I definitely knew something was wrong at the end of the game. The doctor took me straight into the ultrasound and the whole thing was bruised - that's when I knew something was wrong."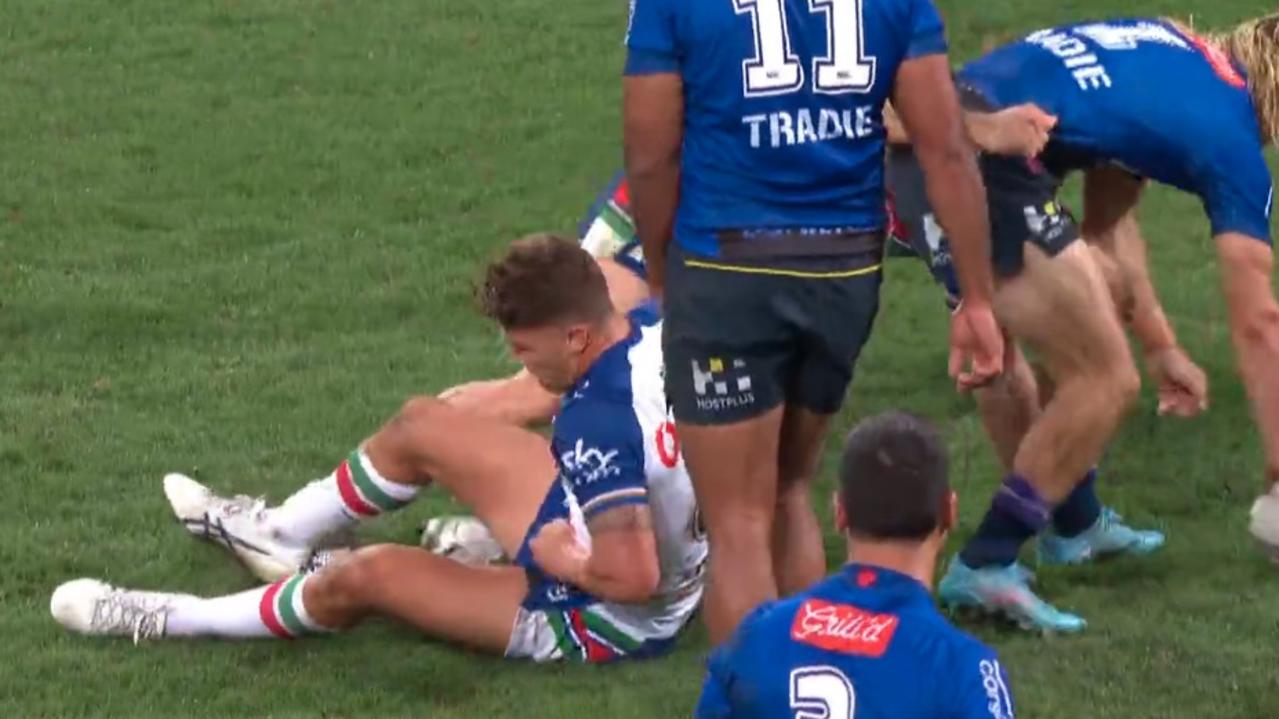 Chanel Harris-Tavita right after Josh Curran's knee ruptured his testicle in a tackle
Initially, Harris-Tavita thought the pain would go away but it never did.
Despite being in agony the five-eighth refused to leave the field with the game in the balance at 16-10 and somehow found the courage to stomach the pain for another 45 minutes.
"Like most guys, I've been hit in the privates before and we sort of know what it feels like," Harris-Tavita said.
"Usually when you get hit it lasts for about two minutes and then the pain starts going away. But that pain that you feel initially after the whack, that sort of stayed for the whole game.
"I knew something was wrong just after halftime, when I was trying to run and I could feel it… something was wrong down there and the pain hadn't gone away."
Harris-Tavita went under the knife to repair the rupture and said both the pain and swelling had since subsided.
On Wednesday, Harris-Tavita hit the training paddock with some added protection in the form of a cricket guard, which he will likely wear when he returns to the field, to protect his scrotum from any further blows.
"If it feels comfortable then I think it's likely that I'll possibly play the first couple of games back with it. "I'd much rather feel a bit of discomfort running around than extreme discomfort if someone was to accidentally kick the ball or hit me in the same spot."
Currently without a club for next season, Harris-Tavita said a decision on his playing future would be made in the "coming weeks" after knocking back an offer to stay at the Warriors back in November last year.
Coach Nathan Brown also revealed his club had approached Cronulla 'on a number of occasions' to request an early release for rising playmaker Luke Metcalf.
But Sharks have refused to budge with coach Craig Fitzgibbon wanting to keep Metcalf on his roster to ensure depth in the halves.
Only this week, Fitzgbbon was forced to move in-form halfback to fullback and name back-up playmaker Braydon Trindall in the No.7 jumper after Will Kennedy copped a two week suspension for a high tackle.
Chanel Harris Tavita receives treatment
"We asked the question at the start of the year and then a number of times to Cronulla. When Luke signed we did say to him that if we can get you this year we would like to but that's obviously a decision for Cronulla," Brown revealed.
"Our CEO tried a number of avenues with the Sharks but the Sharks were adamant from day one... they were confident with where they were going to be on the ladder and be in a good spot to do well in the competition... and all clubs need four halves. Luke is one of those four they have got."
Metcalf agreed to join the Warriors on a two-year deal from 2023 after making his NRL debut last season.
Stuck behind Hynes, Matt Moylan and Braydon Trindall on the halves pecking order, Metcalf is only likely to get more NRL experience if the players ahead of him are injured or suspended.
Brown also said the club was interested in retaining Matt Lodge, who has an option in his favour to stay at the Warriors next season, but the forward has expressed a desire to return to Sydney.
The Warriors still have one more spot on their roster to fill before the June 30 deadline.
Originally published as NRL 2022: Manly Sea Eagles play down concern over Tom Trbojevic