The backstory behind Jeremiah Nanai's Queensland Origin bona fides
Jeremiah Nanai's 186-centimetre, 104-kilo frame is flying into Origin contention thanks to a physical and mental skillset that has long been the talk of North Queensland.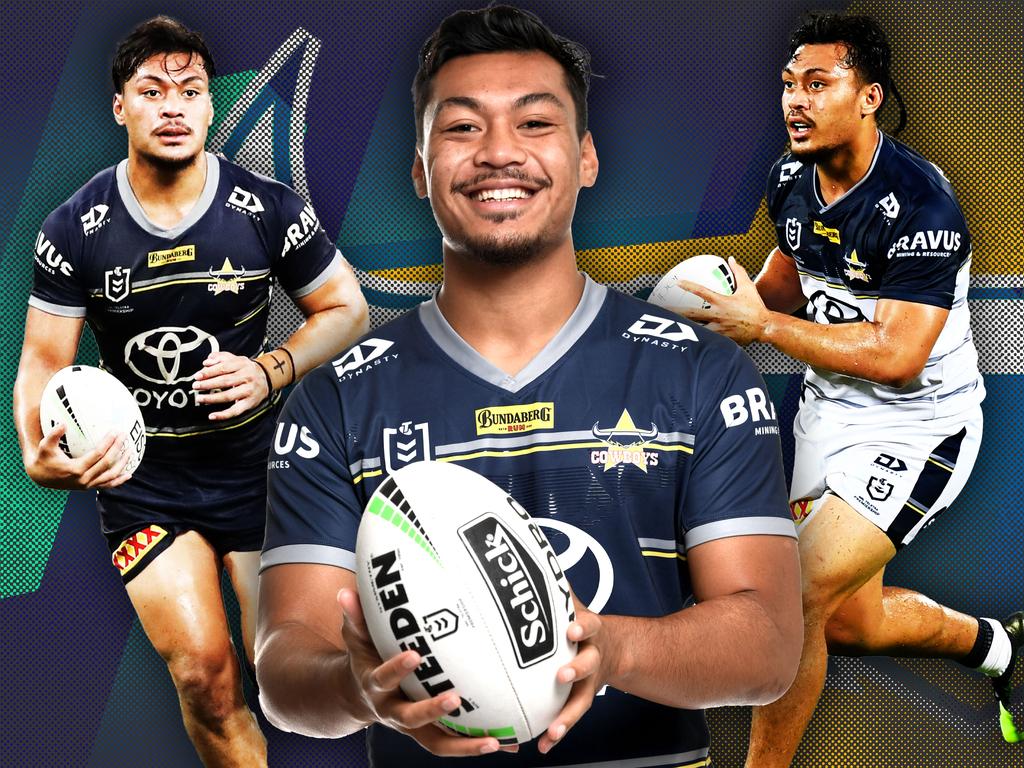 Jeremiah Nanai has burst into the Origin frame and even though he's still young, it's been a long time coming.
He leaps. He catches. He scores.
Jumping Jeremiah Nanai, North Queensland's 19-year-old backrower, has made it a habit this season.
Displaying aerial skills more akin to outside backs such as Daniel Tupou, and in earlier days Israel Folau, Nanai has already snaffled four tries with gazelle-like jumps to pluck Tom Dearden and Chad Townsend bombs from the clouds.
The 186-centimetre, 104-kilo forward's other two tries this year were from chasing grubbers, where the ball disappeared into his mitts like a giant clam gobbling up anything in its orbit.
Cowboys coach Todd Payten has a fair idea of why that is.
"Jeremiah has massive hands for a 19-year-old," Payten chuckles.
"I have got big hands myself, but when I shake his they just disappear and are completely swallowed up, so I can understand why he is catching balls and scoring tries like he is.
"He is pretty handy with the basketball downstairs as well. I see him carving up our other players all the time."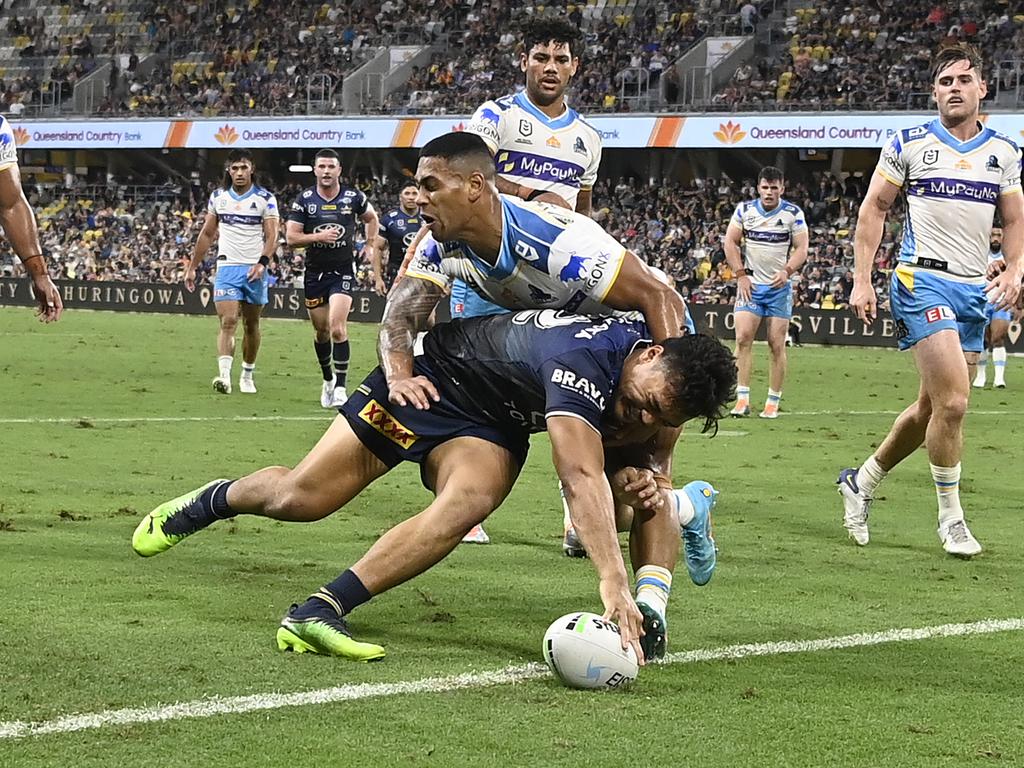 Nanai has made a habit out of scoring tries in 2022. Picture: Ian Hitchcock/Getty Images
Nanai provides another reason for his agility.
"I enjoyed playing volleyball a lot when I was a kid. That's where I get that jumping ability from," he says.
"It's a sport where you've got to leap high in the air and I liked spiking the ball too.
"Basketball is one I've always liked. I'd be a small forward in that game, but I reckon I'd be pretty good if I ever got to play professionally."
Four-pointers for family
Nanai and his four brothers left New Zealand with his family when he was just three years old, moving to Brisbane initially where his touch footy skills were honed every day on an oval out the back of his home.
"Then I moved to Cairns when I was about eight and didn't play footy until under 13s when my cousin put me into the Cairns Kangaroos," he recalls.
"I had my first game and I scored three tries. I was the biggest kid back then too. That's where it all started for me."
Talk to Nanai for a while and it becomes clear how much scoring tries means to him. Largely because of who he is putting up in lights whenever he does dot down, repeatedly, like with his eye-catching Round 3 hat-trick against the Broncos.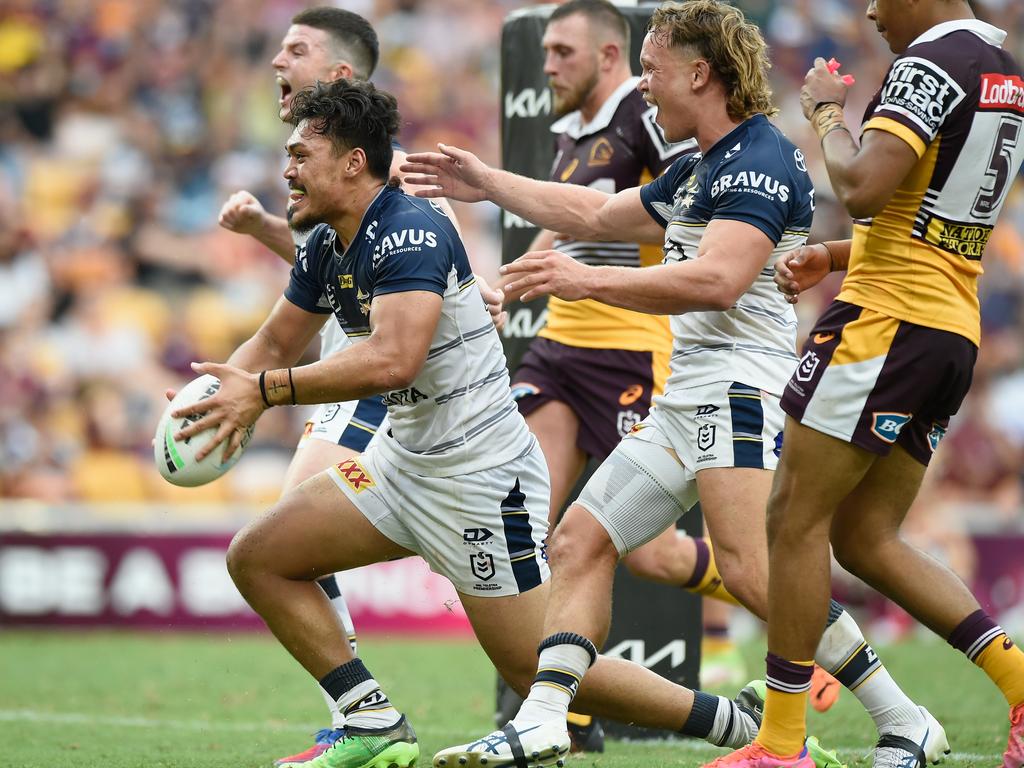 Nanai had plenty worth celebrating against the Broncos. Picture: NRL Imagery
Nanai's brothers Kimi, Tua, Nathaniel and Vai, along with his father Sao, are with him every game he plays.
"When I run out on the field I am always thinking about my loved ones and what they have done for me. They are my real inspiration," Nanai says.
"I'm close to my dad and all my brothers and I'd like to give back to all of them one day.
"My mum left us when we were young so I don't know much about my mum. Sometimes I had my moments … just when my mum wasn't there when I really needed her. It was tough but I am kind of used to it now.
"Dad took on both roles as a parent and we had other close family and aunties coming around and helping us out."
Nanai had six rival clubs after him before signing a one-year extension to stay with the Cowboys until the end of 2023.
"There was no pressure on me. It was an easy decision to stay with North Queensland," he says.
"The club has been good to me and my dad and three brothers are just four hours down the road in Cairns, and I've got an older brother in Mackay.
"My girlfriend is here with me in Townsville, and she is a Cairns girl."
On the subject of family, someone appears to be having some fun with Nanai's Wikipedia entry where it states "he is of African (Kenyan), American, Maori, Russian, Icelandic, Samoan and Indian decent".
"No, I'm not a Viking or from Iceland," he laughs. "That's a weird one … but it would be good if I was.
"My older brother did tell me we have a bit of German from one of our grandparents."
Why Origin is well and truly on the cards
Nanai recently pledged his allegiance to the Maroons and Australia although he did qualify to play for New Zealand, and through his heritage still will for Samoa as a designated second-tier nation.
Queensland, however, has been home for most of his life, with Nanai representing the state in age divisions and being involved in the emerging Origin program.
"Yes, I would love to play for Queensland one day. When I was young I'd watch Origin closely and followed Queensland when most of my family supported NSW," he says.
"I looked up to the game changers like Greg Inglis and Johnathan Thurston. Hopefully, one day I can do the same in the Maroons jersey."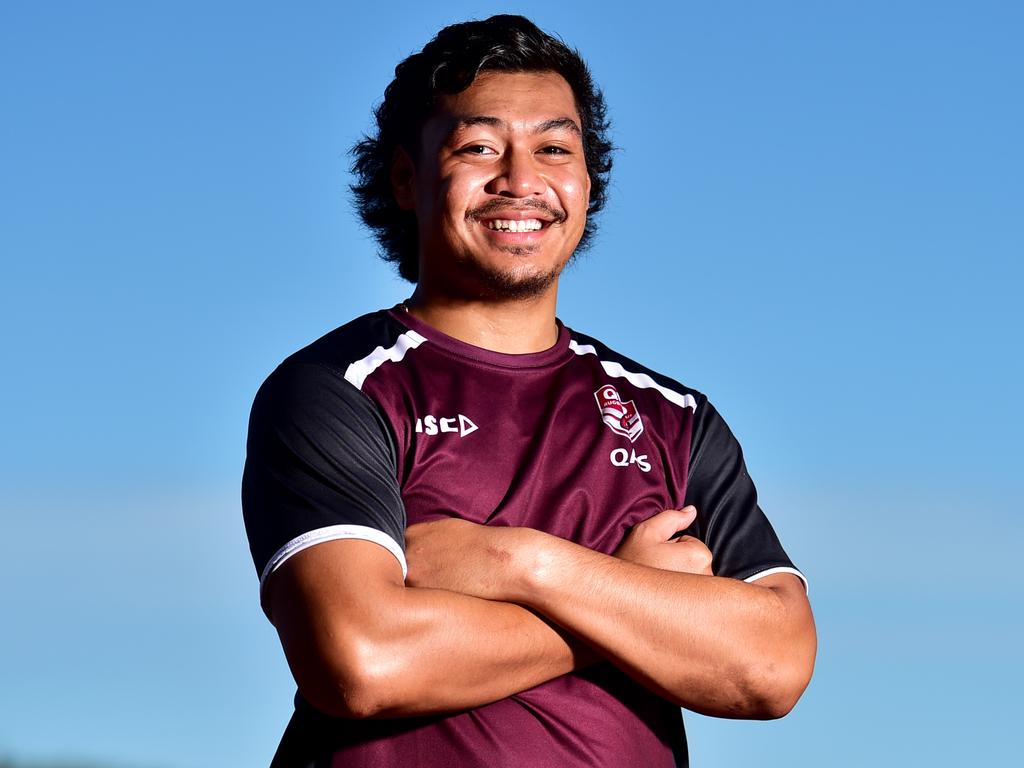 Nanai was involved with the emerging Maroons. Picture: Alix Sweeney
With Dragons back-rower Jaydn Su'A set to miss Origin I with a syndesmosis injury and Titans powerhouse David Fifita out for at least a month with a Grade 2 MCL sprain, the door has opened for Nanai to make his Origin debut
"It is well within Jeremiah's capabilities," Payten says of Nanai's Origin suitability.
"The really talented kids can handle it with the better players around them. We saw that last year with Hamiso [Tabuai-Fidow] who after eight games at centre for us, even though he is not really a centre, came out and played really well in the Origin arena."
Asides from being a bullseye target in the air for the Cowboys halves, Payten explains the other qualities that Nanai is bringing to the table.
"He is playing above his years, understands the game and can also read numbers," Payten says.
"Jeremiah is a back-rower who can run over you, but also outsmart you with sleight of hand or pre-line passing or offloading off the ball … and that's a real weapon to have in your team.
"He has that game awareness of how to get into the game and play to his strengths, and the team is getting to know how to use his strengths."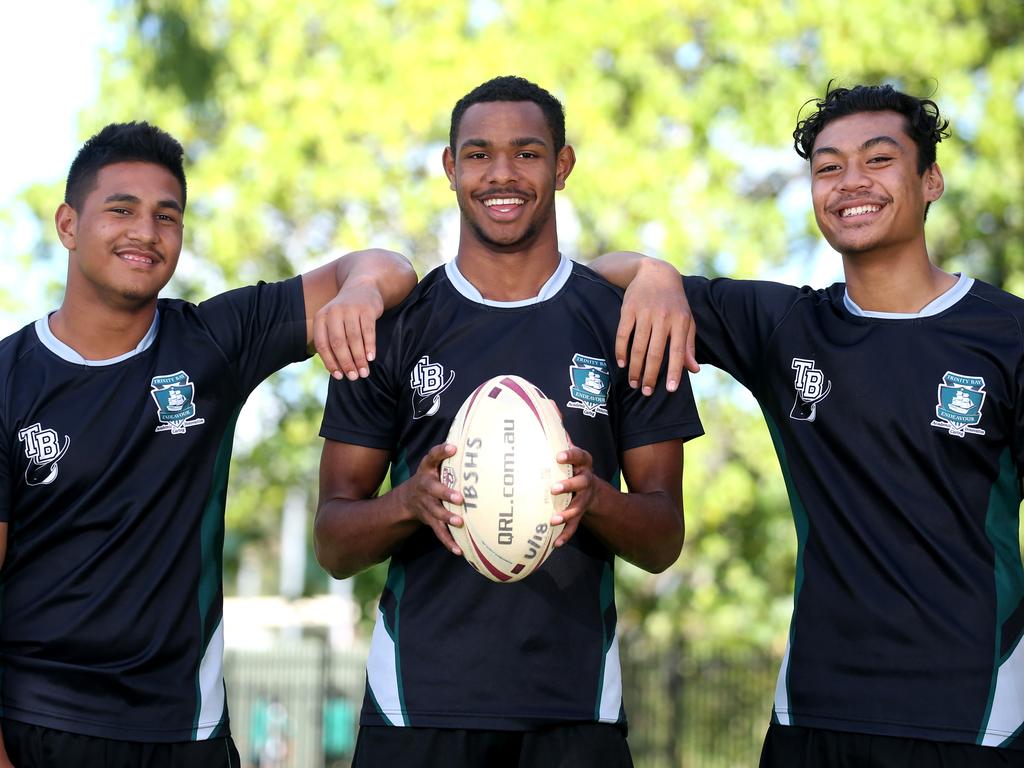 Nanai (R) and Hamiso Tabuai-Fidow (C) have been playing football together for years and their next challenge could be the Origin arena. Picture: Anna Rogers
Payten himself played 259 NRL games after debuting at 17, noting Nanai's mature mindset in a vastly different game to 25 years ago.
"The training loads these days compared to when I started are far greater and more professional, and they have to be to handle day-in and day-out training and a faster game," the 2005 premiership-winner says.
"Jeremiah faces the same challenges as any young player, but while the kid has looked tired at different times at training and in games, the key is he still turns up every day trying to get better."
A competitor from the outset
Todd Wilson coached the breakout back-rower at Townsville's Kirwan State High, and he still has a go-to clip of the 16-10 NRL Schoolboy Cup national final win over Westfields Sports High in 2019 that is Nanai in a nutshell.
"It's a great highlight reel of Jeremiah. Westfields have a tap 40m out with 20 seconds to go and an opportunity to tie the game," Wilson says.
"They shift the ball and Jeremiah comes out of the line, puts pressure on and they drop it. Then he kicks it through, chases and kicks again … and the hooter goes. It was just fitting that he was the one competing when the final whistle goes. If anything sums him up as a player, that's it. He just wanted to compete on every play."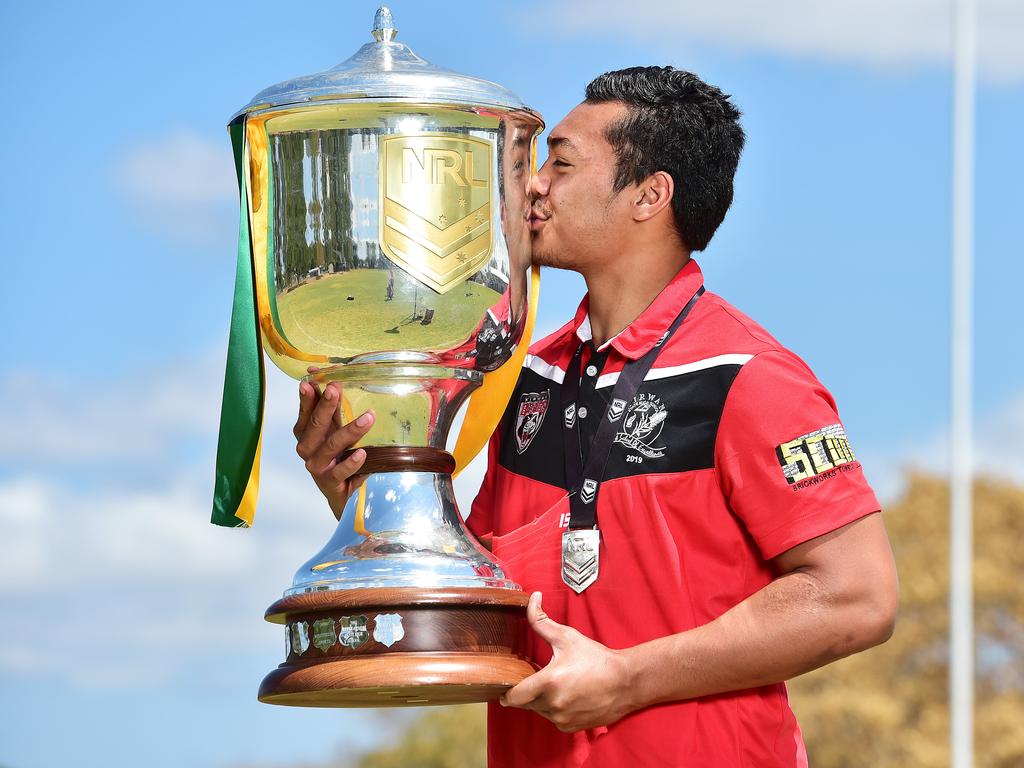 Nanai with the NRL Schoolboys Cup after Kirwan State High's victory. Picture: Shae Beplate
In 2021, Nanai's first year at the Cowboys on a development contract, he revealed the same attitude.
"I do have a competitive nature. Last year I did my MCL twice on the same knee and at first I thought I wouldn't get my NRL debut, but I just said to myself, 'You didn't come this far to let it go'," he says.
"I worked hard and the opportunity finally came against the Tigers. It was a special moment."
Given the apparent ease jumping Jeremiah has made the leap to NRL with, there's plenty more to come.