Matthew Johns: The Knights have plenty of desire, but do they want to do the work?
After two of the toughest weeks in the club's history, the Knights deserve to be whipping boys of the NRL, and it needs effort in a pretty obvious area to turn things around, writes Matty Johns.
In times of crisis, the best make adjustments, the rest make excuses.
Excuses are pointless, you don't get a head start for an excuse, nor do you get a badge saying,
"Well done….."
If there's someone filling the jersey, there are no excuses.
Watch every game of Magic Round this weekend Live & Ad-Break Free In Play on Kayo. New to Kayo? Try 14-Days Free Now >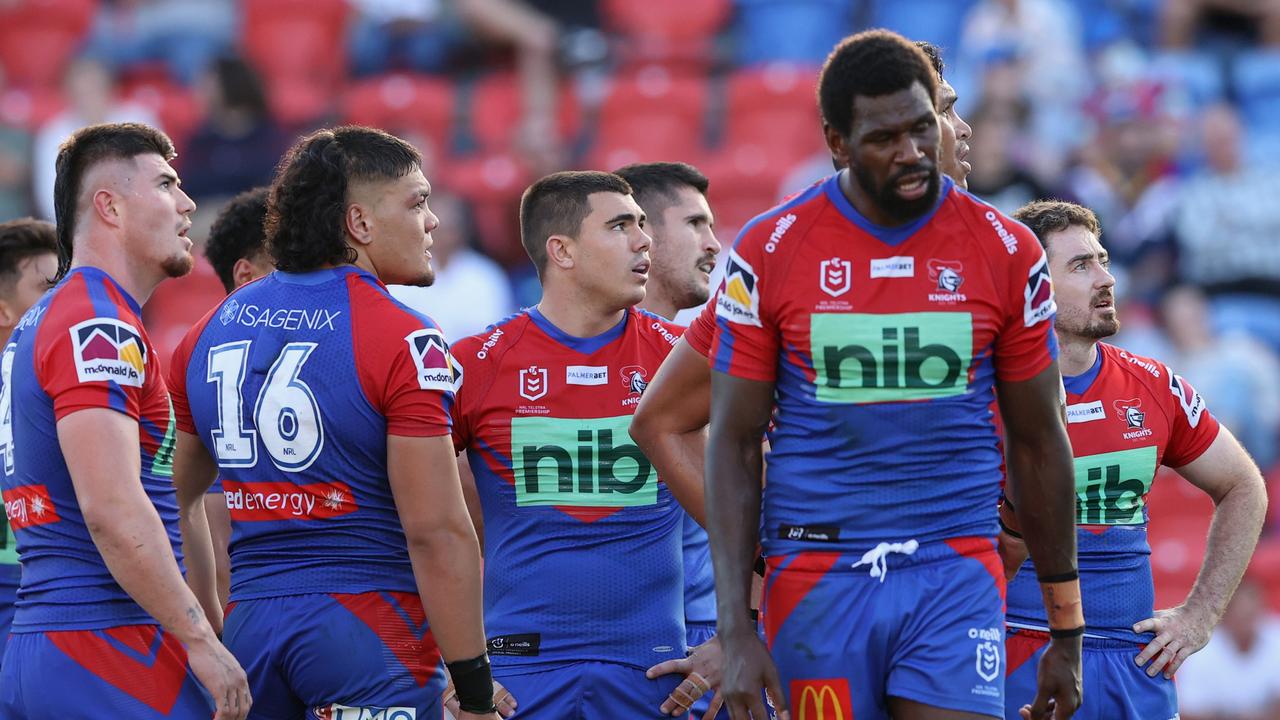 If the last two weeks are any indication, the Knights are in line for the wooden spoon.
You have to go out there and find a way to win.
And there's plenty of avenues to success.
Knight's coach Adam O'Brien has presented no excuses for his side's performances over the past two weeks, but the players are performing like they're waiting for defeat.
The moment there's an error they get the wobbles. Soon after the wheels come off completely.
Then the opposition does whatever it wants and the points scoring bleed begins. The Knights are a distracted football team.
When the losing streak started it was blamed on the Kalyn Ponga contract saga, yet while that's all been settled their heads aren't yet in the right place.
In my opinion, the thing that's distracting the Knights most is the scoreboard.
Confidence and belief are by-products of winning. When confidence is low you need a different focus.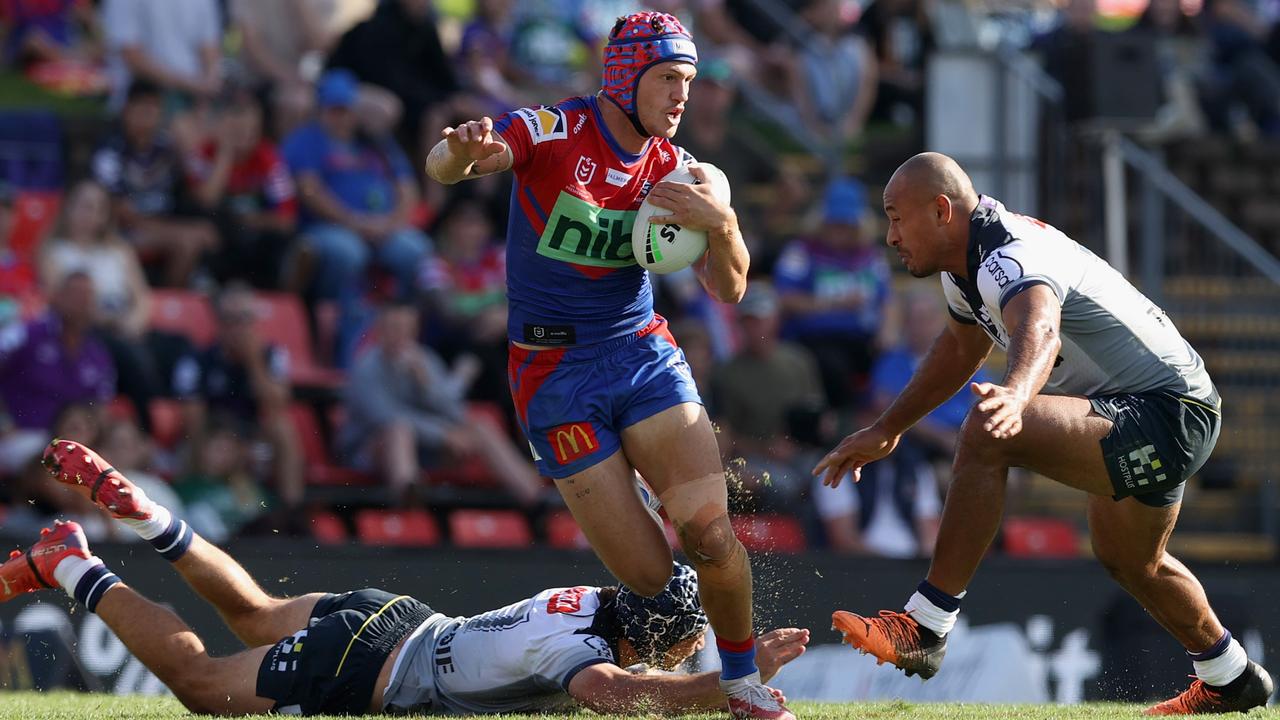 Can Kalyn Ponga lead the Knights out of trouble?
There's one thing that you can control every single week and that's effort.
Can Kalyn Ponga lift the Knights for a big effort in Townsville this weekend?
The Knights seem to derive all their confidence from what they can do in attack.
But quality attack comes from confidence, and if confidence ain't there, say goodbye to any razza mattaz with the football.
You don't need confidence to defend well, all you need is desire, and don't worry, regardless of recent results Newcastle have plenty of desire to win.
So that's how they must fight their way back, through a hard-nosed defensive attitude.
It requires a big change of focus for the Knights, because it appears to me that they don't enjoy their defensive duties.
If you don't enjoy defence, then your game is completely built on sand.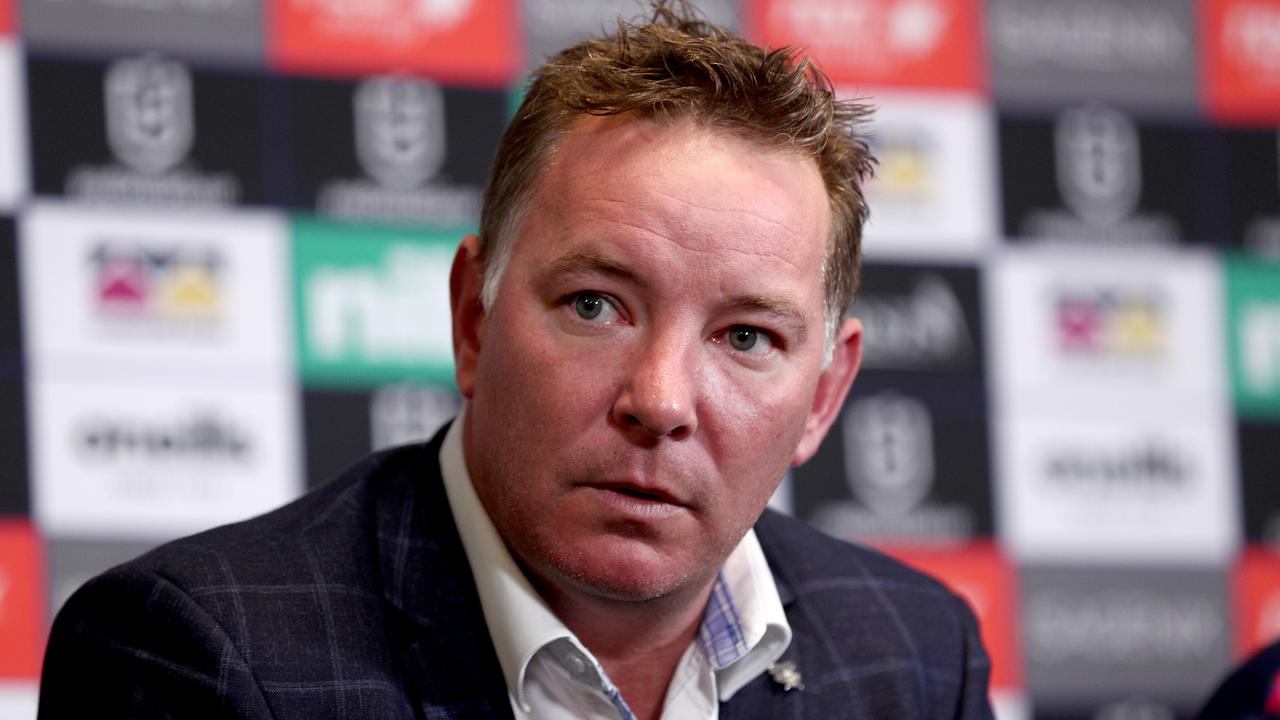 Adam O'Brien has a massive problem on his hands.
There's no middle ground in defence, you either love it or hate it.
The teams and individuals who love defence do so because they see the avenue to victory being played through physical domination. In more coarse terms, they enjoy hurting the opposition.
Teams and individuals who view the best route to success as being flashy attack, tend to view defence as something you're forced to do until you get the ball back.
The Knights need to strip everything back, forget about the scoreboard and simply make themselves a team others don't enjoy playing.
You do that through defence.
In the Warriors' early seasons, regardless of where they sat on the competition ladder, you put a circle around those matches and winced. On those dates you were going to be beaten up.
The Warriors had plenty of brilliant attacking players but it was their aggressive defence which made you respect them.
Confidence is fickle, at times it arrives suddenly from God knows where, and as quickly disappears.
Desire must remain.
Ponga needs to adopt the Fittler leadership mantra.
AND ANOTHER THING …
Kalyn Ponga is enduring the toughest period of his rugby league career.
I've seen numerous times how the backdrop to a player's difficulties involves a high profile contract negotiation. It distracts the player and has tendency to attract negative publicity and criticism.
Kalyn isn't the reason why the Knights are losing, but he's the highest paid, highest profile and the skipper, so if you have to blame someone…….
Some of the criticism is fair, some of it not so.
But while Kalyn isn't the reason for why they find themselves in this position, he has to be the reason why they find their way out.
Kalyn Ponga needs to lead the Knights.
Some are born to lead, others taught to lead, while some simply lead through necessity.
Kalyn was appointed skipper and now must find his leadership through necessity.
There are so many similarities between where Kalyn finds himself and where Brad Fittler once did.
Fittler was bought by the Roosters for leadership, not just his attacking brilliance. While
Freddy still produced moments of magic with that left foot step, he found leadership uncomfortable.
But Fittler made a decision that he didn't want his legacy to be just of a freak talent, who in years to come people would wow at on YouTube.
He wanted to become known as a great leader.
In time, he certainly achieved that, working out how he would best lead.
Some lead with words, others actions. The best use both. Kalyn finds himself at that Fittler junction.
Originally published as Matthew Johns: The Knights have plenty of desire, but do they want to do the work?