Trent Barrett: Dean Pay weighs in on latest Canterbury Bulldogs coach to leave club
Dean Pay knows exactly how Trent Barrett feels, and as he prepares to pick up the pieces of his coaching career, the former Bulldogs coach has weighed in.
Dean Pay has issued a subtle warning to the next man brave enough to take on the head coaching job at the Canterbury Bulldogs.
Pay took time out from his job driving machinery to speak with The Daily Telegraph in the wake of Trent Barrett's shock exit from the club.
Barrett is the third coach in five years to be let go at the Bulldogs after following Pay and Des Hasler out the door.
Pay made a point of saying "I don't want to sound bitter".
Watch every game of Magic Round this weekend Live & Ad-Break Free In Play on Kayo. New to Kayo? Try 14-Days Free Now >
Former Bulldogs coach Dean Pay. Picture: Mark Kolbe/Getty Images
But the proud former Bulldog also struggled to hide his true feelings when asked if he thought he got a fair go during his stint coaching the troubled club.
"Do you?" Pay responded to the question.
Told no, Pay continued: "Whether I thought I got a fair crack or not, it is not up to me.
"It doesn't matter because I am not the one doing the hiring or firing. It is out of our hands. It is out of Trent Barrett's hands.
"I probably look back on it now by saying there is people in the club there that didn't think I could do the job.
"And that was their opinion, and they had the power and that is why I had to go."
Asked what advice he would give to the next man walking through the door to sit behind the same desk, Pay added: "That's a good question.
"The only advice I could say is what I just said to you.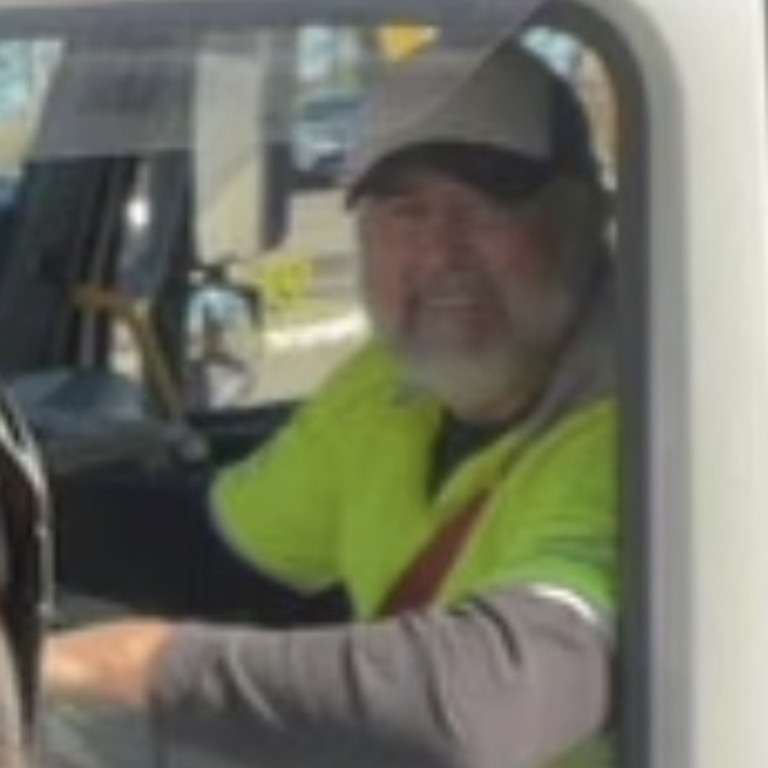 Dean Pay in his new job.
"That there are people there that didn't think I could do the job.
"And obviously they are still there now, and they didn't think Trent could do the job either."
With that Pay paused, before continuing: "I don't want to sound bitter about it.
"It is two years gone.
"I would rather just leave it."
It's worth noting that like Barrett, Pay made the decision to go before he was pushed.
But he did so with one armed twisted behind his back.
At the time he also had a far better strike rate than Barrett.
Pay's winning strike rate was 33.3 per cent compared to Barrett's 12.5 per cent.
Pay was also hamstrung by a salary cap that was in a diabolical mess when he took over. And just as he started to see some clear skies he was sent packing to make way for Barrett.
Pay said he spends his time these days working machinery and planning for some long vacations with his wife.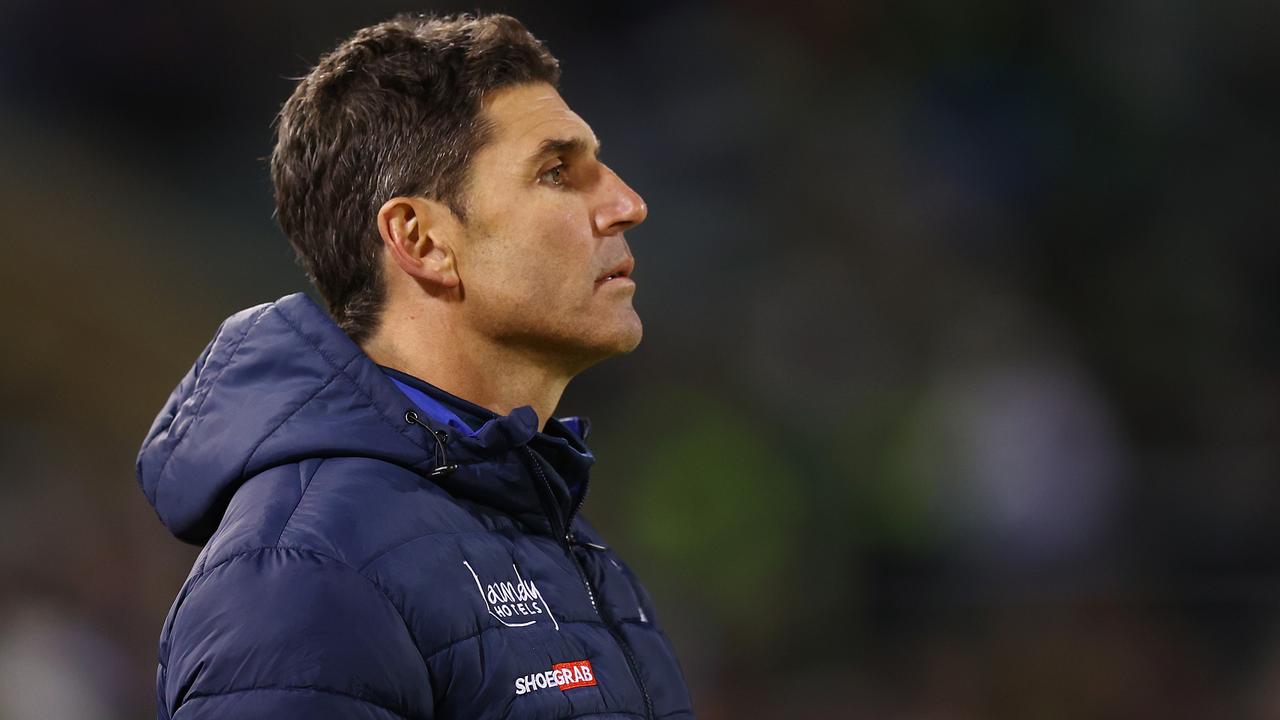 Former Bulldogs coach Trent Barrett. Picture: Mark Nolan/Getty Images
"We bought a caravan the other day," he said.
"Me and the old girl are going to go doing some caravanning.
"We've already planned a few things."
Asked if he missed the footy, he continued: "I still watch it.
"I still watch Stick's team (Ricky Stuart's Canberra Raiders). Steve Antonelli is at Souths so I take a bit of interest there.
"I spent some time with some good people along the way.
"There is lots of good people.
"I am not bitter about the game or anything like that."
Asked if he missed coaching, he laughed again: "Not that much".
THE TACKLE: WHY SACKING BARRETT WON'T FIX DOGS DRAMAS
Trent Barrett has coached his last game for the Bulldogs, but there should be some players who have also played their last game.
And Matt Dufty is at the top of that list.
Barrett resigned, leaving the Bulldogs searching for a new coach heading into Friday night's game against Wests Tigers because he backed the wrong players.
But regardless of who is coaching the Bulldogs by the time they run out to take on the Tigers, there also has to be changes on the field as well.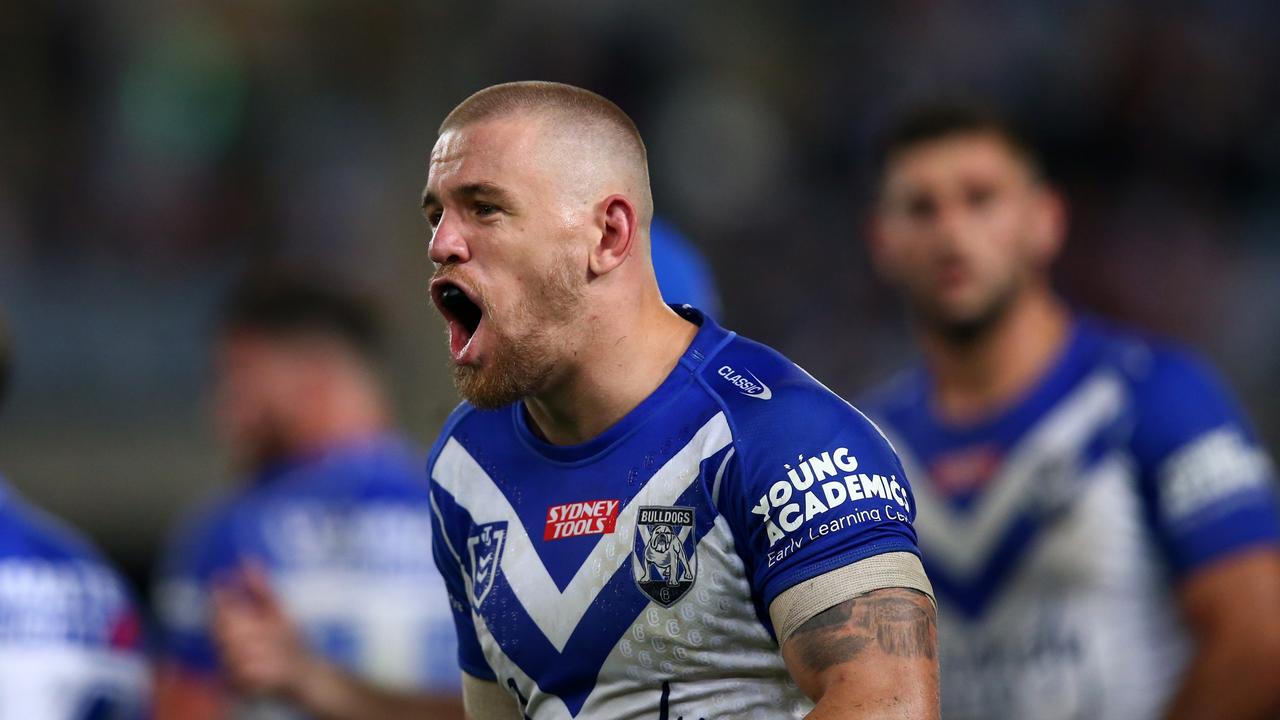 Matt Dufty has been a major disappointment for the Bulldogs. Picture: Getty
And moving Josh Addo-Carr to fullback is one of them.
The Bulldogs desperately need to ignite their attack but they can't go another game with Dufty playing in the No.1 jumper.
Dufty is a great attacking player when he is on, but too often he is right off.
And he came up with another shocker in the loss at Magic Round to Newcastle.
He has now been given enough chances.
You can't have a player in such an important position who turns up some weeks but goes missing in others.
Meanwhile, as far as talk about the Bulldogs looking at another massive roster overhaul, do they just expect their fans to swallow this by sacking another coach?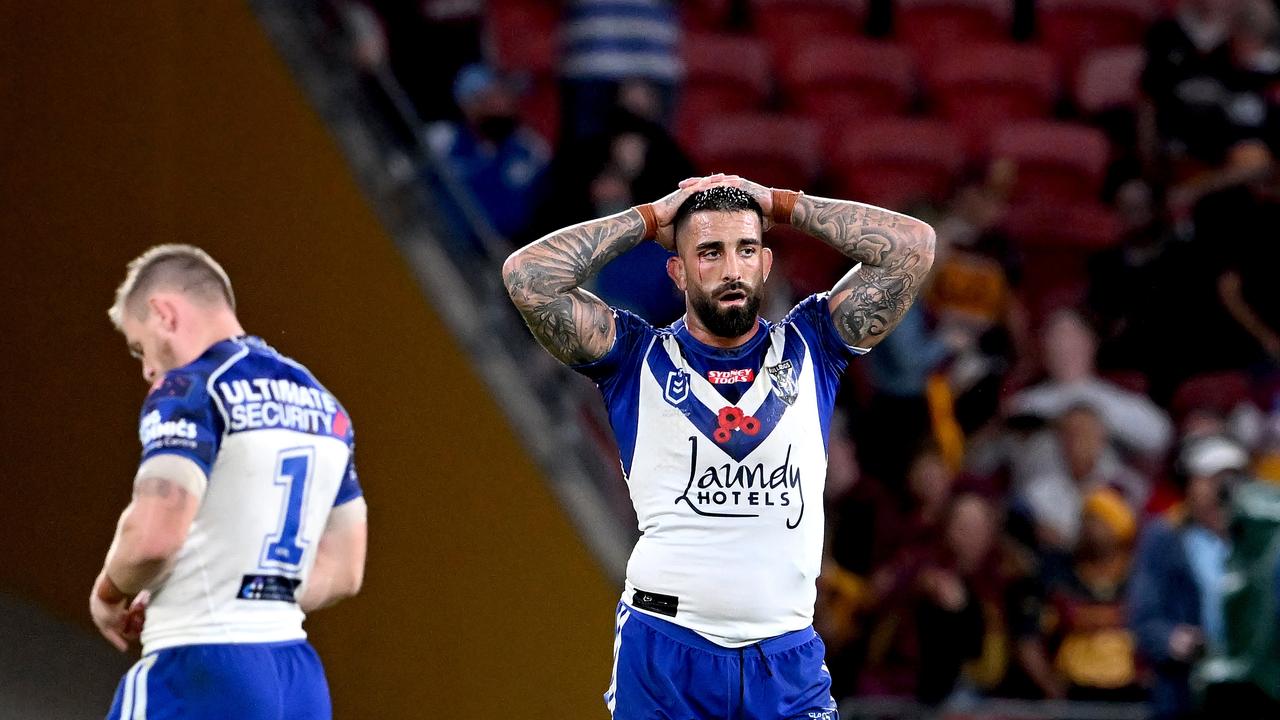 The Bulldogs' recruitment strategy has left more questions than answers. Picture: Getty
How about first explaining why they threw a lifeline to Dufty, Tevita Pangai and Paul Vaughan in the first place, when all three had been moved on at their last clubs?
Vaughan then created more unwanted headlines on Monday following a run-in with reporters.
Throw Brent Naden on the list because he had his own issues at Penrith.
The most naïve mistake in rugby league is signing problems from other clubs.
Yet this has become Canterbury's get-out-of-jail tactic in recent years.
It's worth remembering it's coming up to five years since Des Hasler was sacked.
It's been nearly two years since Dean Pay was made the scapegoat.
The great Peter "Bullfrog" Moore used to say success was in the woodwork at Belmore.
Not anymore.
WHY WE NEED TO BRING BACK TWO REFS
The NRL needs to reintroduce the two ref system.
And the sooner it happens the better it will be for everyone involved.
It obviously can't happen for the remainder of this season, but it needs to become an urgent priority for next year.
The modern game is too fast for one referee to keep pace with, and there needs to be a second ref controlling the ruck just to stay on top of all the sneaky little tactics being used to gain an unfair advantage.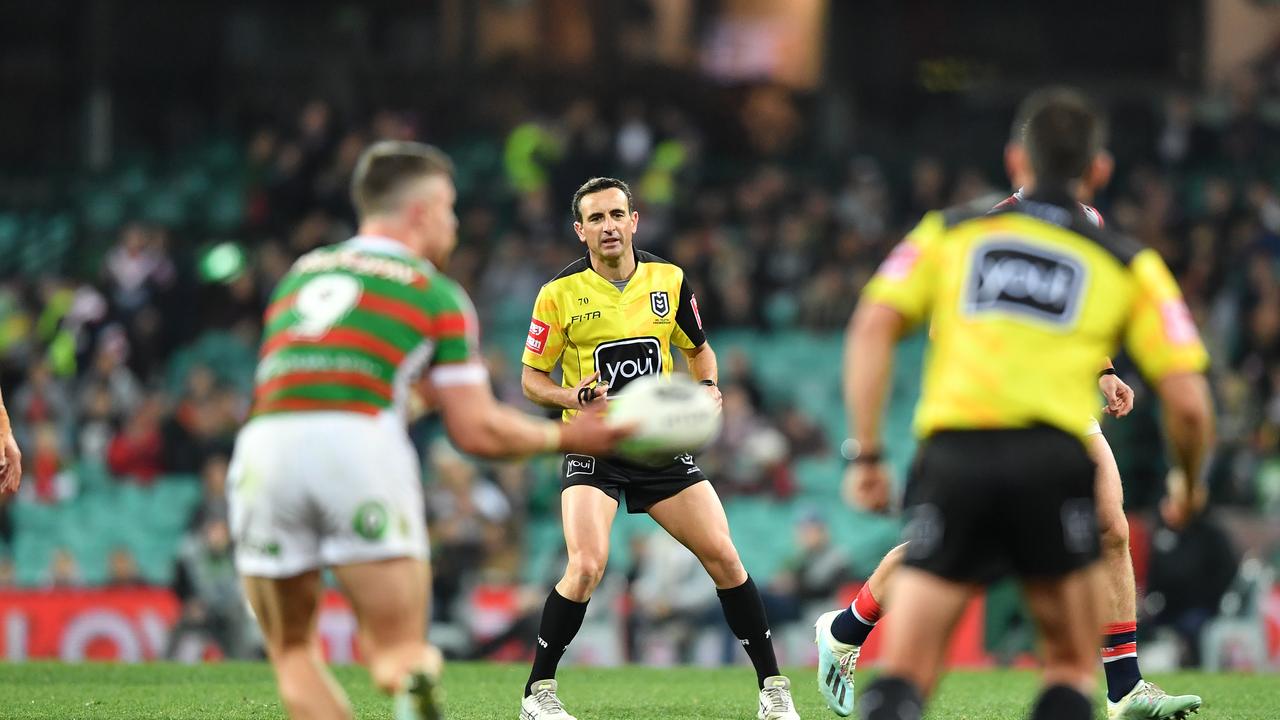 Would a return to the two-referee system be the solution to the NRL's officiating woes? Picture: NRL Imagery
Whether it's a jumper pull or hands on the ball, a defender 'accidently' getting tangled up with the player trying to play the ball.
The markers almost never stand square anymore, and the play the balls are embarrassing.
Across the board the inconsistency of the six again calls is driving everyone crazy.
Just as an example Andrew Voss said through the Fox commentary of the golden point finish between Gold Coast and St George Illawarra that the six again had been put away with the game on the line.
But it was just as bad during early stages when the Dragons constantly flaunted the rules when the Titans had a mountain of possession attacking the try line.
This is not just a shot at the Dragons because it would have been the same if the Titans had the majority of possession.
Every team is guilty of it.
But it's not the poor old ref who is at fault because there is just too much going on for him to stay on top of.
In the Raiders/Sharks game referee Liam Kennedy just couldn't keep pace. A ruck ref would have made his job 10 times easier.
If you took a poll of the coaches you would find the majority would support the return to two referees.
So let's make it happen.
TURBO'S ORIGIN HOPES ON THE LINE
IF NSW was picking its State of Origin team today how could you name Tom Trbojevic?
I say this because it's only two weeks before Brad Fittler picks his team.
Everyone knows Turbo is an absolute freak and when he is healthy there is not a better player in the game.
But right now he is hobbling around like an old man on one leg, and looks desperately in need of a rest.
Not getting ready to play in rugby league's toughest arena.
It would have to be a massive concern for Fittler given Latrell Mitchell will also be missing, as well as Ryan Papenhuyzen and Cam Murray.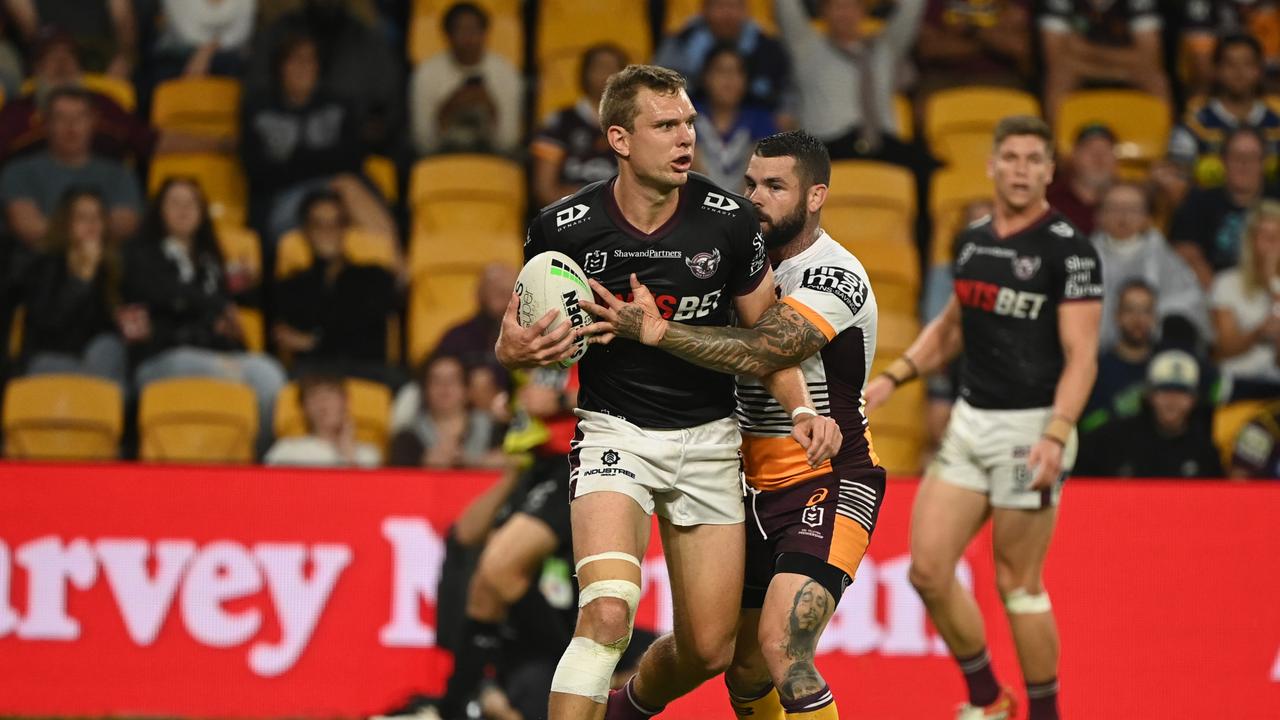 Tom Trbojevic looks a shadow of the player who tore the NRL apart last season. Picture: NRL Imagery
Des Hasler was quizzed about Turbo's health after the shock loss to Brisbane on Friday night and Hasler was adamant this was not an aggravation to the knee injury he suffered back in round four.
"He's ok," Hasler said.
"He's getting back obviously … not quite there at the moment."
Turbo has conceded he's picked up a cork, so fingers crossed that's all it is.
If he's fit he gets picked, no arguments here because he would have told Freddy he is right to go.
But you would think he would need to show a dramatic improvement in the upcoming game against Parramatta on Friday night to put the concerns to bed.
DON'T BE FOOLED BY THE WARRIORS' COMEBACK
There is not a more frustrating team in the game than the Warriors - and Shaun Johnson is the face of it.
For such an experienced playmaker some of the plays Johnson came up with in the first half of the loss to South Sydney were just unforgiveable.
The one that summed up where his head is obviously at was that all-or-nothing moment of madness in the 32nd minute _ when Johnson kicked on the first tackle down Alex Johnston's side of the field.
That gave Souths the ball straight back and they scored soon after to make 26-0 at that point.
Sure, they fought back in the second half, but only because the Bunnies clocked off.
If all the Warriors gave as much effort as Reece Walsh they wouldn't have a problem.
LIKES
KIKAU'S FORM IS OUT OF THIS WORLD
You can only imagine what Viliame Kikau would have been thinking when his head finally hit the pillow after his unbelievable performance in Penrith's belting of Melbourne.
As good as life looks at the moment, surely next year's move to the Bulldogs would have had to be giving him nightmares.
That was one of the most devastating individual performances from a backrower that we have seen in the modern game.
With and without the ball he was just about unstoppable.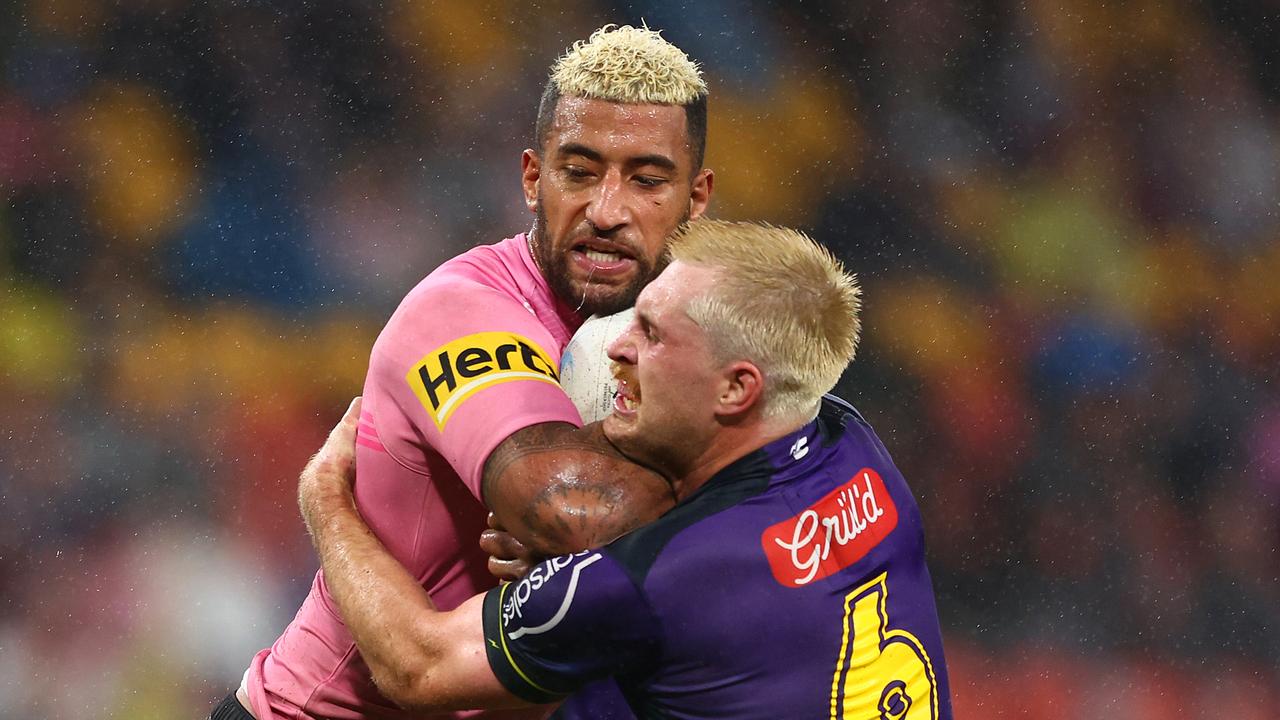 Viliame Kikau is in mind-blowing form for Penrith. Picture: Getty
Cooper Cronk described him as "a man possessed", saying his combination with Jarome Luai and Izack Tago was back to the best left-side combination in the comp.
But what was also interesting was listening to Greg Alexander talk about Kikau's development as a player.
Alexander explained how the Penrith coaching staff had to get a special mention because they had been so instrumental in taking Kikau's career to the next level by playing him differently now.
Not just as a battering ram or a bloke who can bust a tackle, but putting in place plans to make the most of his God given talent.
Yet Kikau must look at his former teammate Matt Burton's struggles at the Dogs and wonder if the extra money will be worth it.
Especially with the talk Burton now wants to test the market at the end of the season.
ROOSTERS DO IT BY HALVES
They always say a week is a long time in rugby league.
And so after all the talk Luke Keary and Sam Walker couldn't combine as a halves combination, they come and play like they did against Parramatta.
In such a huge game for the Roosters, the two playmakers delivered their best game as a partnership.
Both produced some wonderful individual plays and stepped up in the clutch moments, in a win that now moves the Chooks into the top four.
It was also a big effort from the Roosters big men given the Eels pack is rated arguably the best in the comp.
So surely that means the Roosters are now one of this season's genuine contenders, which will be the topic of conversation this week.
You've got to love the rollercoaster that is rugby league.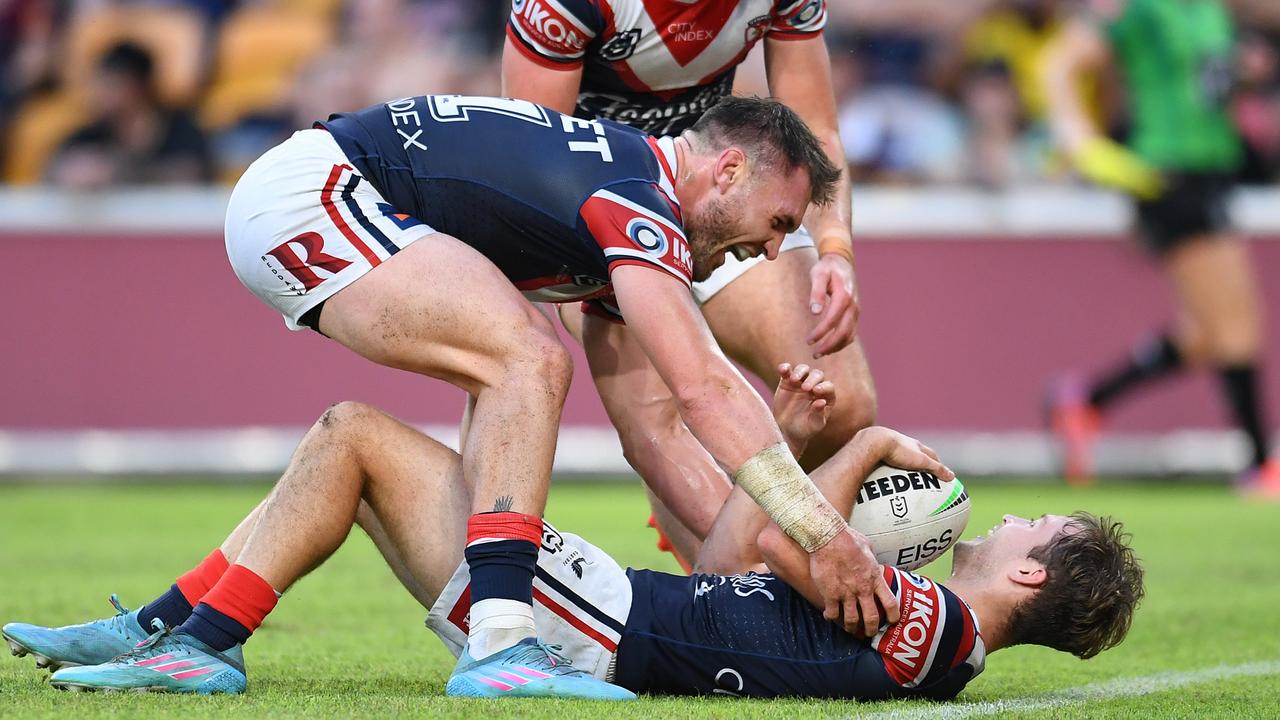 Sam Walker is congragulated by teammates after scoring a try against Parramatta. Picture: Getty
HARRY'S HEAD KNOCK THE KILLER BLOW
While it is safe to say Penrith is still clearly the benchmark, don't write off Melbourne after that loss.
As if missing Ryan Papenhuyzen, Jahrome Hughes and Reimis Smith wasn't big enough, to see Harry Grant cop that bad head knock in the opening set was the killer punch on the night.
Grant went in for a tackle on James Fisher-Harris and came out stumbling.
How he stayed on the field is another story.
Yet it was almost overlooked in the final wash-up of the 32-6 thumping, but Grant was clearly not at his dazzling best all game.
The fact he finished with three runs for 30m is proof of that.
You had to also give Craig Bellamy credit for not making any excuses after the game, even though he had plenty.
REYNO KEEPS SERVING SOUTHS HUMBLE PIE
We already know the decision not to offer Adam Reynolds more than a one year deal will go down as one of the great recruitment blunders in South Sydney's proud history.
But it was after Reynolds' stunning performance in the big win over Manly that we got another example as to why he is now so valuable to the Brisbane Broncos.
After a game that would rate up with his best individual efforts of his illustrious career, Reynolds spoke with the type of humility in victory that would really have to be rubbing off on his younger teammates.
Asked if there was a belief in the team that they could be contenders come finals time after their fourth straight win, the 31-year-old didn't get caught up in the hype.
"The greater the victory the bigger the fall the week after," Reynolds said very matter of factly.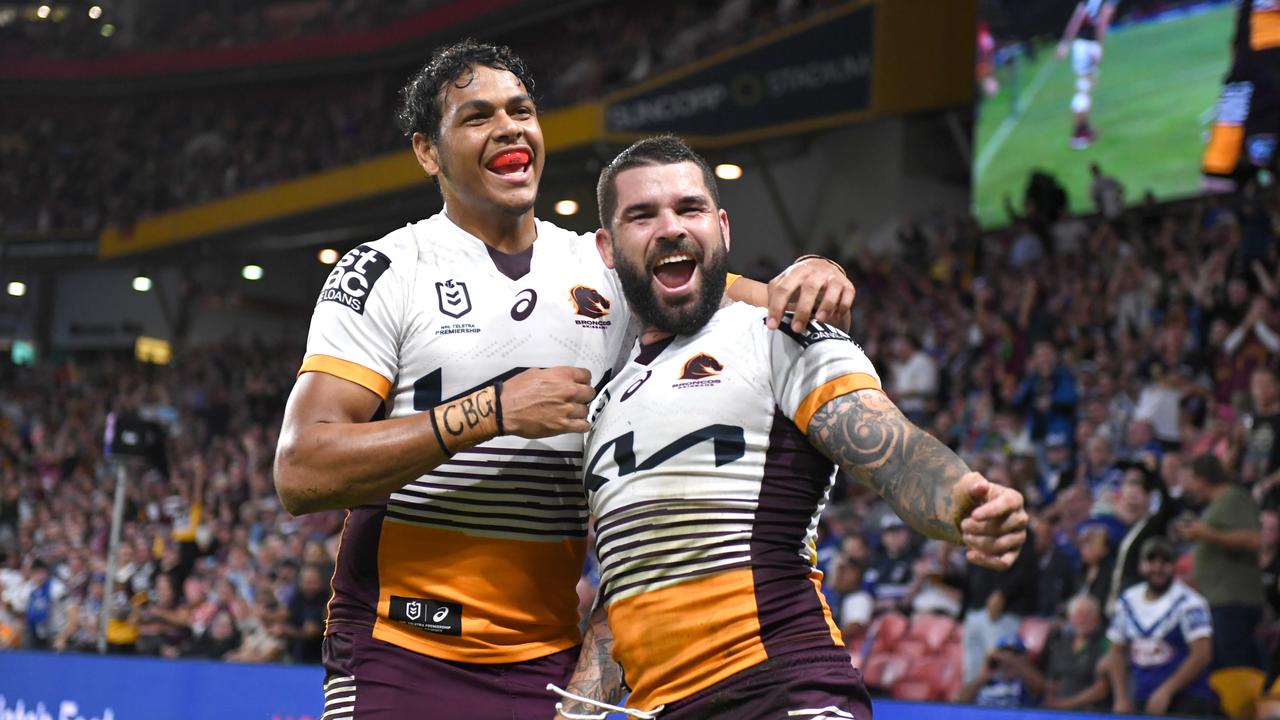 Just the tonic: Adam Reynolds has cemented his status as buy of the year. Picture: NRL Photos
How often do you see a young team get carried away with a great win like that and fall over the following week?
You'd still have to say the form Reynolds is in right now is as good if not better than at any time in his career.
When he was at Souths it was always the likes of Greg Inglis and Sam Burgess, Latrell Mitchell and Cody Walker who seemed to hog the spotlight.
Even though Reynolds remains humble as the main man, it's his form that is showing Souths what they obviously took for granted.
YOUNG GUN SHOOT THE LIGHTS OUT
What about the performances of some of the young guns at Magic Round.
How wonderful was it watching Selwyn Cobbo for the Broncos and Jayden Campbell for the Gold Coast Titans?
Cobbo shot the lights out in Brisbane's win over Manly with a performance that just showed why he is not only made for Origin, he looks to be ready to go right now.
This 19-year-old's charges out of the back end of the field bring back memories of watching a teenage Karmichael Hunt explode onto the scene at the Broncos many years ago, such is Cobbo's phenomenal courage.
And at the other end of the field he has the razzle dazzle of an Isreal Folau.
Meanwhile, young Campbell doesn't look much heavier than a jockey he yet plays with such belief and bravery.
That run where he beat five Dragons defenders on a 70m kick return was just something only the special ones can do.
Then with the game on the line in the 89th minute during Golden Point he comes up with the clutch play to snap a five-match losing streak.
For everyone lucky enough to see Jayden's old man Preston create his own magic, this kid really is a chip off the old block.
ROUND 10 DALLY M VOTING
BULLDOGS v KNIGHTS
Judge: Luke Lewis
3: David Klemmer (NEW)
2: Mitch Barnett (NEW)
1: Kalyn Ponga (NEW)
SEA EAGLES v BRONCOS
Judge: Ryan Girdler
3: Adam Reynolds (BRI)
2: Selwyn Cobbo (BRI)
1: Patrick Carrigan (BRI)
WARRIORS v RABBITOHS
Judge: Ben Creagh
3: Tevita Tatola (SOU)
2: Cody Walker (SOU)
1: Reece Walsh (NZL)
TITANS v DRAGONS
Judge: Brett Kimmorley
3: Jayden Campbell (GCT)
2: Moeaki Fotuaika (GCT)
1: Ben Hunt (STI)
STORM v PANTHERS
Judge: Andrew Johns
3: Isaah Yeo (PEN)
2: Nathan Cleary (PEN)
1: Dylan Edwards (PEN)
SHARKS v RAIDERS
Judge: Paul Whatuira
3: Brad Schneider (CBR)
2: Joseph Tapine (CBR)
1: Hudson Young (CBR)
ROOSTERS v EELS
Judge: Greg Alexander
3: Mitchell Moses (PAR)
2: Sam Walker (SYD)
1: James Tedesco (SYD)
TIGERS v COWBOYS
Judge: David Shillington
3: Reuben Cotter (NQL)
2: Chad Townsend (NQL)
1: Murray Taulagi (NQL)
LEADERBOARD
17: I Yeo
15: R Papenhuyzen, M Moses
14: B Hunt
13: D Cherry-Evans, N Hynes
11: S Walker, J Tedesco, A Reynolds
10: N Cleary, D Edwards
9: H Grant, C Munster, J Hughes, S Talakai
Originally published as Trent Barrett: Dean Pay weighs in on latest Canterbury Bulldogs coach to leave club