How a push from Trent Robinson launched Luke Garner's NRL career at Tigers
The journey to first grade for Wests Tigers backrower Luke Garner wouldn't have been possible without a painful push from Roosters coach Trent Robinson, writes PAMELA WHALEY.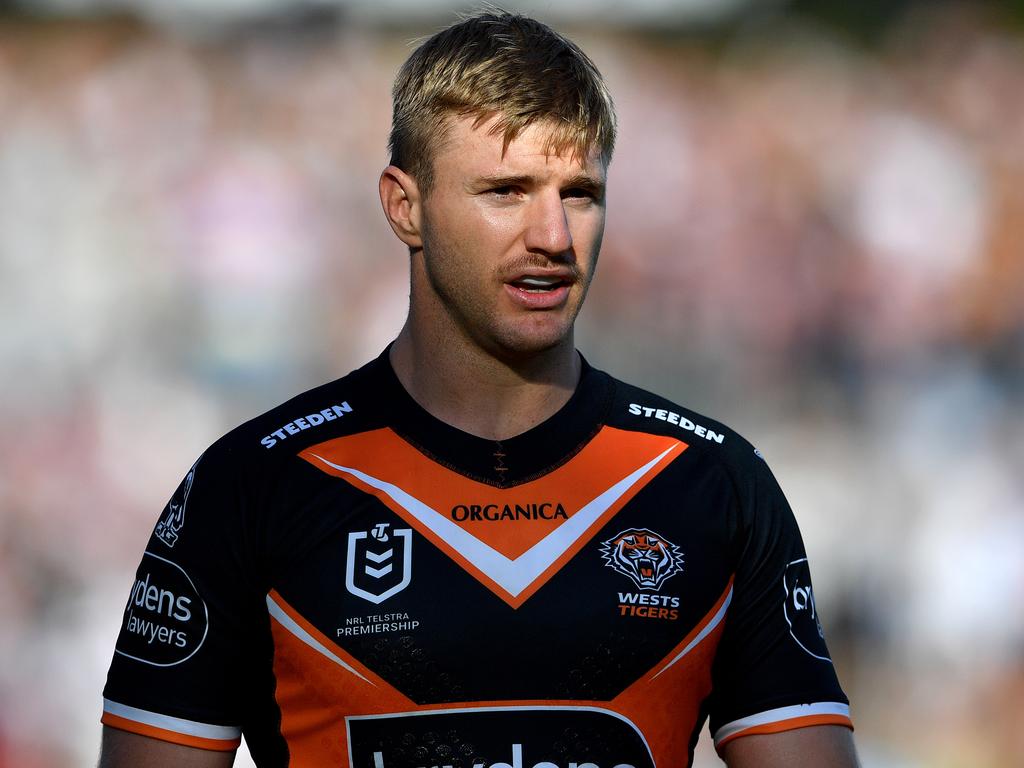 Luke Garner signed a deal to move to Penrith next season. Picture: NRL Imagery
In hindsight, getting sacked by Trent Robinson five years ago was the best thing to happen to Luke Garner's NRL career.
At the time, the Penrith-bound Wests Tigers forward wasn't taking his football seriously and getting axed by the Roosters one year into a multi-year contract was a huge wake up call.
Fresh out of the Manly under-20s system, Garner had signed with the Roosters searching for an NRL opportunity that never came under Robinson – because he never met the coach's high standards.
"I just wasn't performing at my best and training hard enough and appreciating where I was at the time," he tells CodeSports of his time at the Roosters.
"Since then, I say it's one of the best things that's happened to me, getting the flick from the Roosters.
"It was a bit of a reality check of what is required to be a first-grade footballer. Since then I've had a change in mindset and without that happening to me I wouldn't be where I am today."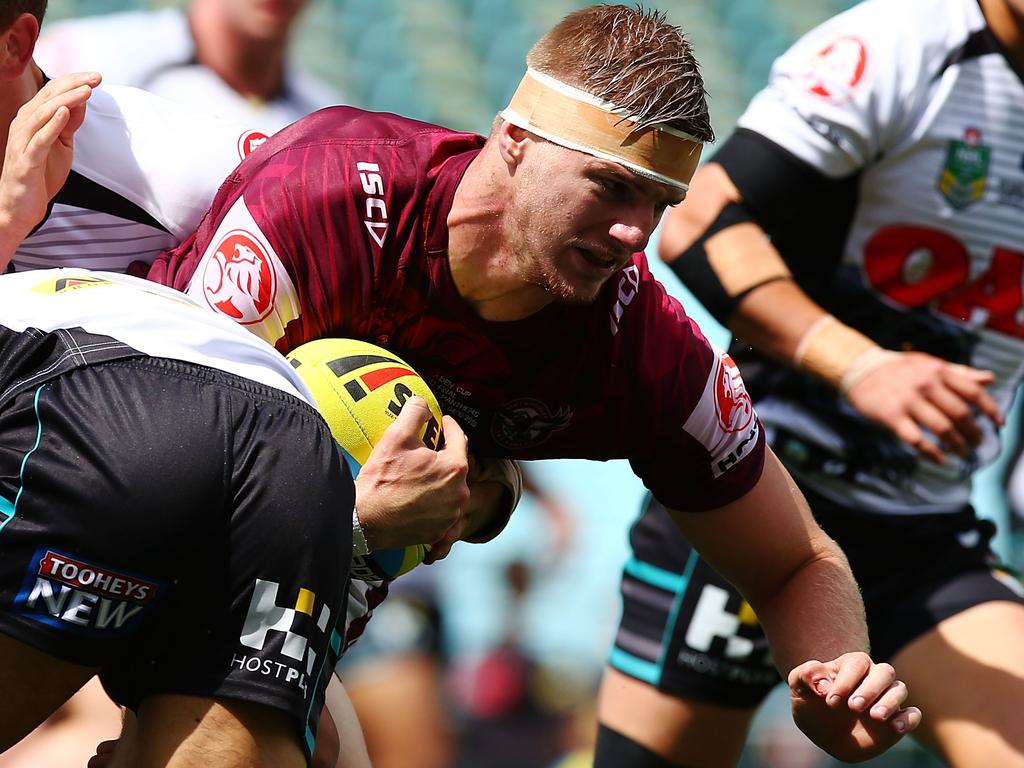 Garner in action for the Sea Eagles in the under-20s. Picture: NRL Imagery
A brutal conversation with Robinson saw him demoted to NSW Cup feeder side Wyong Roos.
And Garner couldn't be more grateful.
"Robbo called me into his office and just told me that he was sending me back to train with the reserve grade boys," he says.
"I probably wasn't mature enough to be in that position and I under-appreciated where I was, and physically I was too small to play second row at the time as well.
"Since then I've matured and put on a bit of size and that's what's got me here. I was 21 or 22 at the time. I'm 26 now and turning 27 this year and a bit more mature."
He spent time mowing lawns to make ends meet, before finding his way into the Wests Tigers system, where he debuted under then-coach Ivan Cleary.
He worked hard in NSW Cup and finally got a call from the coach that he was being promoted to the top grade, and he debuted a week later in Round 18, 2018.
His relationship with Cleary and a chance to improve even more formed part of his decision to sign with the NRL premiers on a two-year deal from next season.
Although, he admits he's no like-for-like replacement for Viliame Kikau, who has signed with Canterbury from 2023.
"I think it just presented another opportunity for me to get outside of my comfort zone and improve," Garner says.
"They're the premiers and they've got a lot of young talented players at the club and I'm looking to, once I get there, to buy into that team and their culture and look to improve myself and hopefully improve their team.
"Me and Viliame are different players, there's similar attributes there because we play the same position but unfortunately I'm not as big as him.
"He's an unreal player and I'm not trying to be like him or anything. I'm trying to bring my own attributes to the club."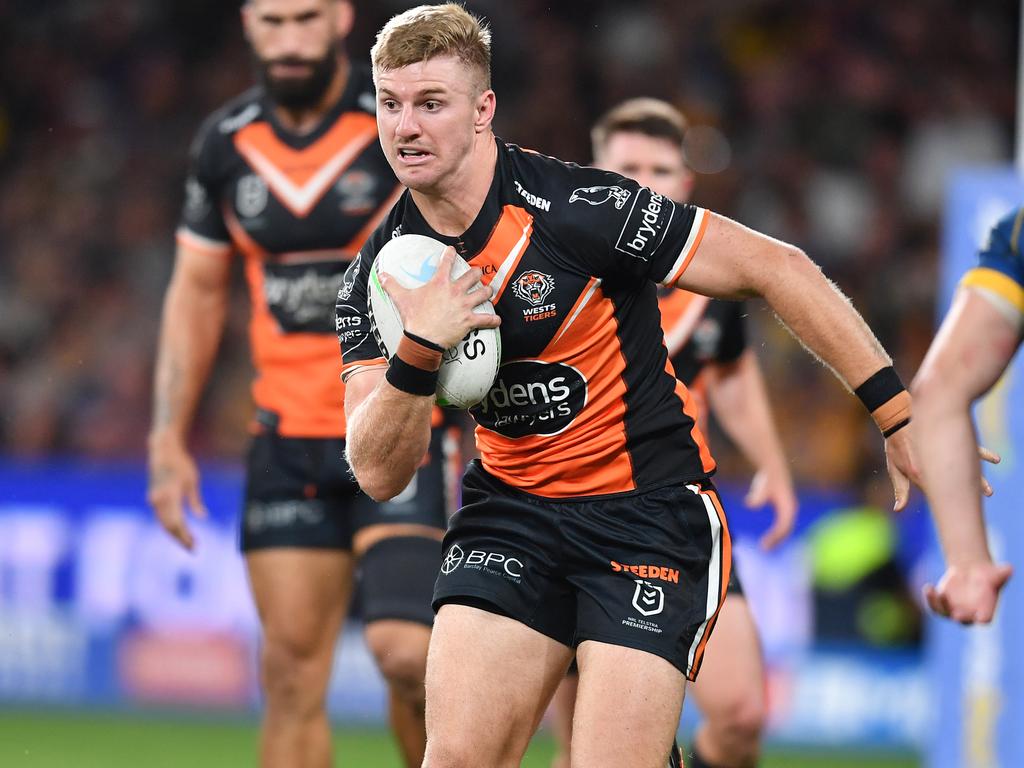 After five seasons with the Wests Tigers, it was difficult to tell coach Michael Maguire he was moving on. Picture: NRL Imagery
After five seasons and 63 games for the Tigers, Garner said the conversation with coach Michael Maguire was difficult.
"It was a tough conversation for me to have with him, it was a bittersweet one. He took it well," he says.
"Madge has only ever been honest with me while I've been at the club and I have nothing but positive things to say about Madge.
"He appreciated me coming to him first rather than it getting out and him finding out in another way and I think that was the right thing to do.
"It will be upsetting to leave the club, it's all I've ever known for first grade football and I'm going to miss the boys and the staff as well."
For now, his attention is on the Magic Round clash with North Queensland on Sunday and playing finals football with the Tigers this year.
After a slow start to the season the Tigers scored back-to-back wins over Parramatta and South Sydney to shock the competition before losing games to St George Illawarra and Manly.
The Tigers are fully focused on finals football but will need to find consistency. Picture: Mark Evans/Getty Images
Despite the losses Garner says the team has taken confidence in their newly-found fight.
"The focus is this weekend and getting a win and pushing to make our spot in the finals," he says.
"The past month of footy has been impressive and we take a lot of confidence in how we've played and fought for the 80 minutes.
"We can push for finals, we're all confident in that. No one is getting their heads down, we're pushing on into next week."