NRL 2022: Robbie Farah cuts the surface on importance of retaining the Wests Tigers youngsters
Robbie Farah has broken his silence on joining the Wests Tigers dream team and believes they are capable of building a platform for the players to showcase their talents.
Robbie Farah says he is ready to play his role as part of the trio who have been brought in to save the Tigers.
Farah will step up his involvement with the NRL side next season as a full-time assistant coach having worked with the squad on a part-time capacity in the past two years.
He will do so alongside Tim Sheens and Benji Marshall. Unlike Marshall who has clear ambitions to be a first grade coach, Farah said he was unsure if it was a path he wanted to pursue. He has been given the position for the next two seasons.
Stream the FOX LEAGUE State of Origin Game 3 REPLAY on Kayo with no ads during-play. Both full and condensed replays available to stream from 11PM AEST. New to Kayo? Start your free trial now >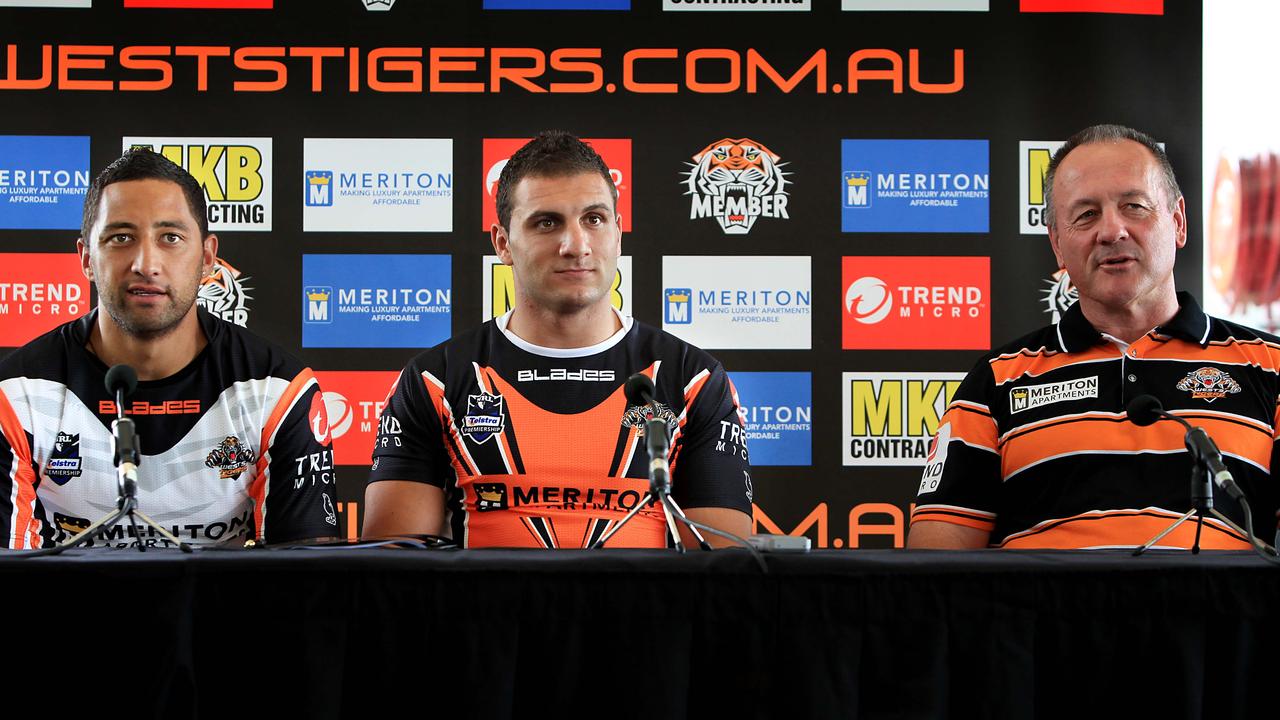 The dream team? Benji Marshall, Robbie Farah and Tim Sheens hold the key to turning around the fortunes of Wests Tigers.
"The motivation is to work alongside Benji and Tim to get this club back to where it belongs," Farah said. "There is no doubt it's going to be a bit challenge. None of us are happy with how the club has performed.
"When the club approached me about going back into footy full-time it was something I had to consider. I have a lot going on away from footy and it's something that I've enjoyed. But none of those businesses give you the purpose and get competitive juices flowing like footy does. Benji was 100 per cent committed to head coaching. For me I don't know."
Farah has spent time running the blue shirt for the Tigers and has transitioned into sitting alongside interim coach Brett Kimmorley in the box in recent weeks. He said Sheens and Marshall have a pretty clear mandate about the style of football they want to play.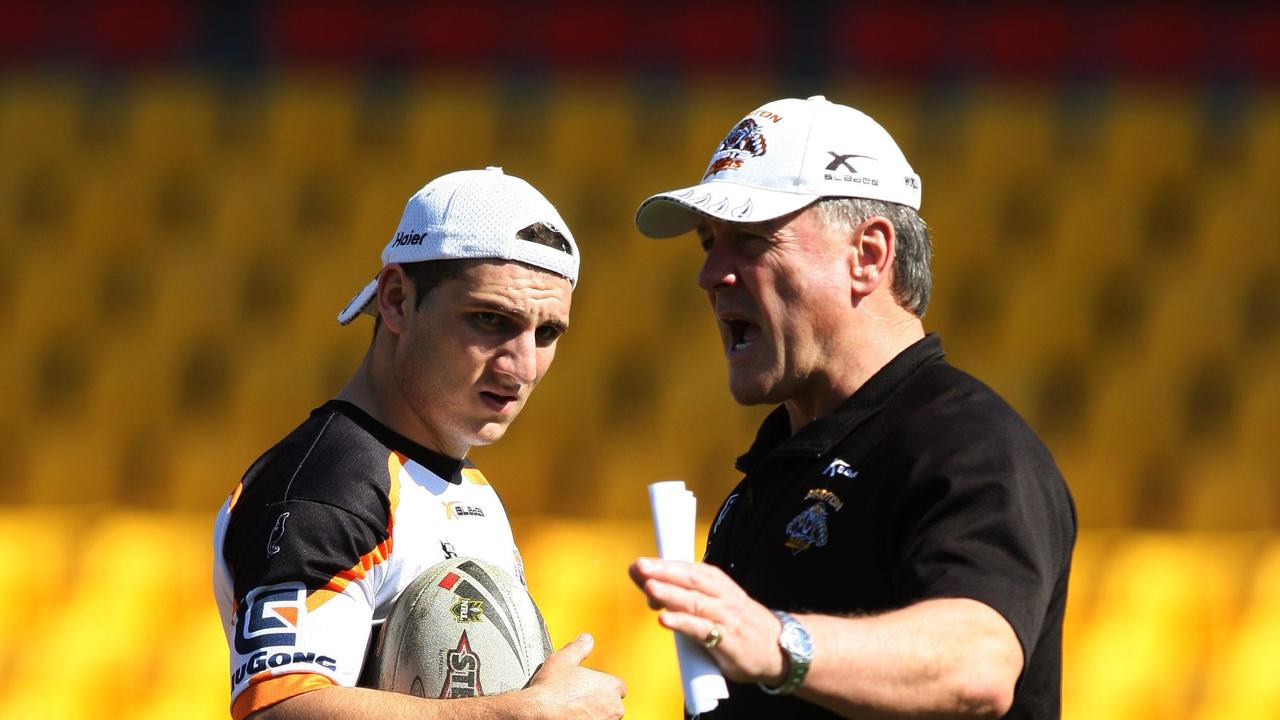 Farah admits the journey ahead will be a challenge but believes their ultimate goal can be achieved.
"The game went through a phrase a lot of structured footy, wrestle but we've seen with the new rule changes the game has opened up," Farah said. "The way Tim coached us was to be creative, confident and back our ability and play that Tigers style of footy. When it is done well it can be very productive and positive.
"For us we will be providing our players with the platform to express themselves and showcase their talents."
The trio also want to ensure the best Tigers juniors stay with the club. Farah hopes their status in the game may also attract players to the club.
"We speak about the kids coming through and it is a similar crop to when myself and Benji were coming through," Farah said. "There is no one better than Sheensy to nurture them and for us to learn. It's an attraction for kids to stay and play under Tim, Benji and myself and when Benji takes over he will be a huge attraction for players."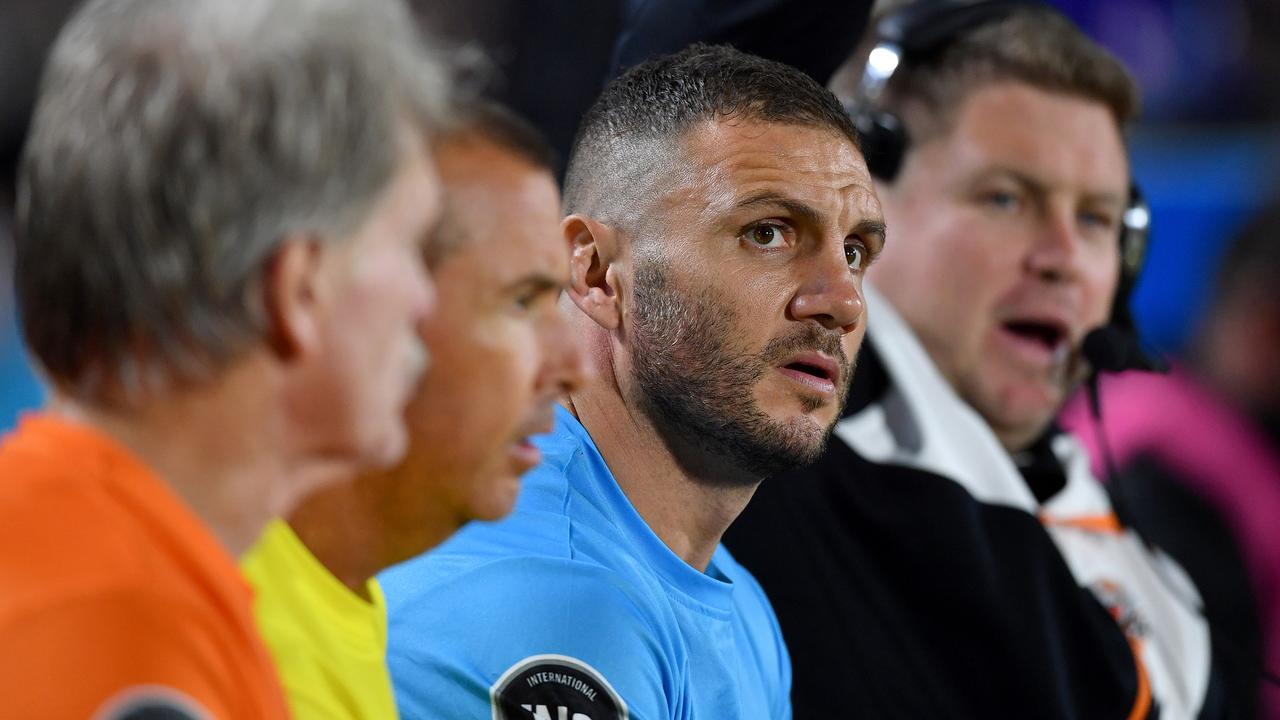 Robbie Farah says it is crucial the best Tigers juniors stay with the club.
'This is my dream': Benji accepts challenge to revive Tigers
Benji Marshall started taking notes in anticipation of his coaching career a decade ago. Those notes are set to come in handy as Marshall prepares to dip his toe in the bloody water at the Wests Tigers next season, having agreed to be part of a succession plan that will see him take over as head coach at his beloved club from Tim Sheens in 2025.
The Tigers have gone back to move forwards. They have united three of the most significant figures in their history as they look to lift the embattled club from the foot of the ladder. It is a gamble, but a calculated one.
Sheens, Marshall and fellow assistant Robbie Farah are winners and the Tigers are banking on their magic to reinvigorate a football side that has gone a decade without finals.
Ask Marshall, and he will tell you he has been planning to be a coach for years now. There will be doubters, but Marshall has heard it all before. Some of them will be the same people who told him to retire as he struggled through a succession of shoulder problems.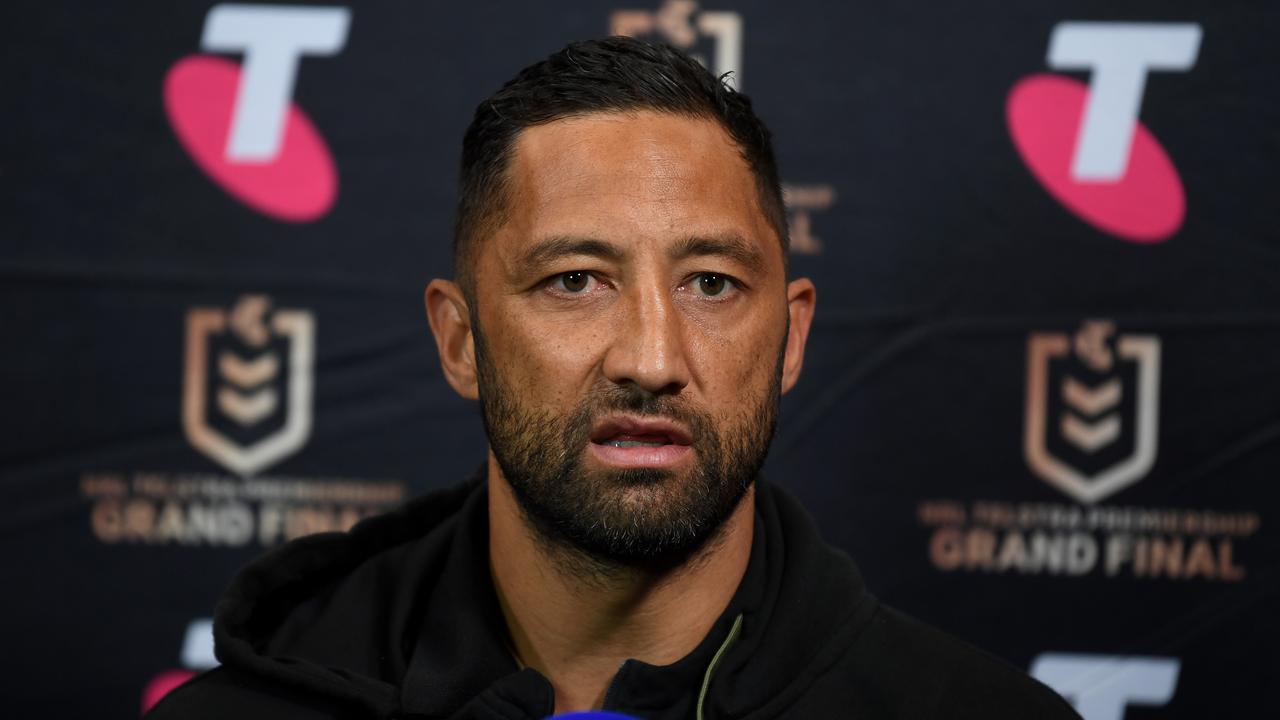 Benji Marshall has signed to coach the Wests Tigers. Picture: NRL Imagery
Marshall stopped listening to them years ago. He understands how significant the job is but he has never backed down from a fight and he won't start doing it now.
"There are a lot of things I have written down from coaching," Marshall told News Corp.
"Since I thought I wanted to be coaching after footy — the last 10 years — I have written down a lot of things. The biggest thing for me is I love the Tigers.
"I have been and gone twice from here and I am still here, wanting to help. I am trying to work out why everyone is saying why would you do it.
"I miss the pressure part of it. Without any disrespect to working on the TV — I love that — but you don't compete in the media, you are not out there playing for a trophy.
"That part of me since I retired is something I have been trying to fulfil. This opportunity for me at the club, I couldn't say no.
"I am one of those guys who is quite honest and upfront. I will know if I am terrible. But I will work hard. I will back myself. I always have, I always will.
"I came back from all my shoulder problems. Everyone told me to retire. I don't care. This is my dream, this is what I want to do."
The club will potentially appoint another assistant to help out — Canterbury assistant David Furner has been sounded out but is under contract with the Bulldogs.
The future, however, will be in Marshall's hands under a plan that will see Sheens coach for the next two years before handing over to Marshall.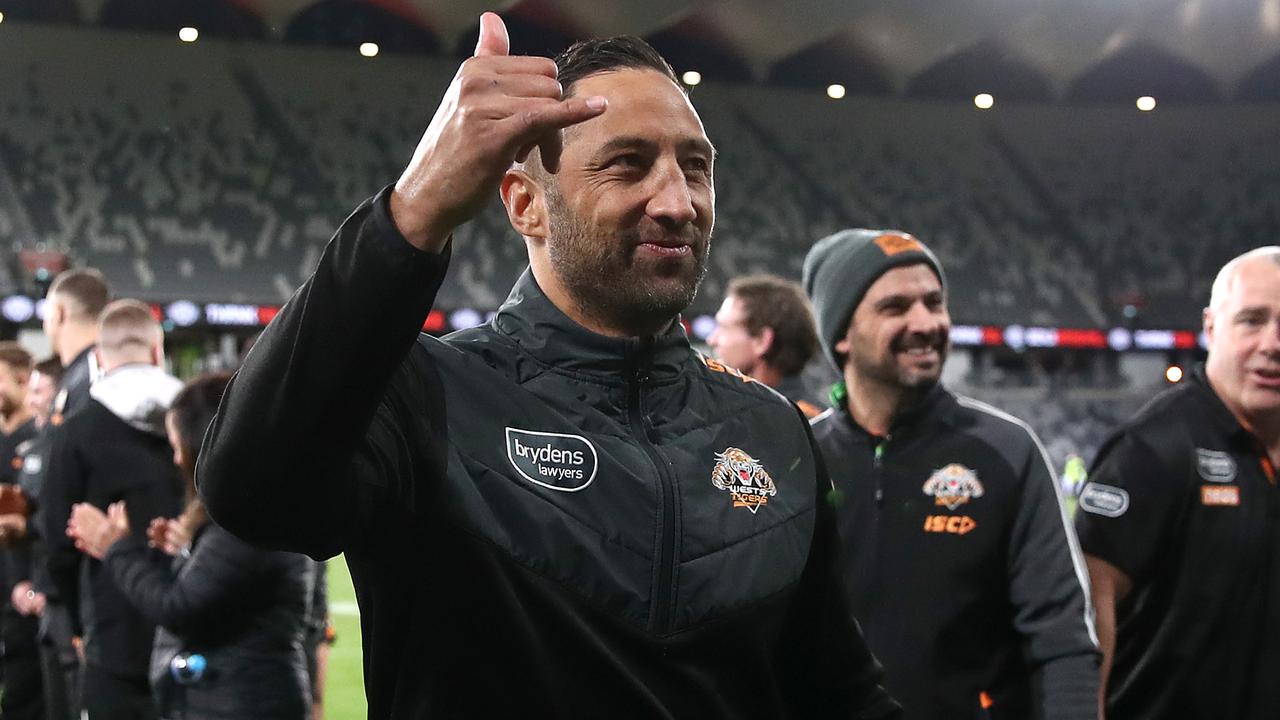 Benji Marshall will be an assistant to Tim Sheens for two seasons before taking the reins as head coach in 2025. Picture: Cameron Spencer/Getty Images
Farah will be appointed an assistant for the next two years but has ambition to transition into a football management role. Sheens will return to his current head of football role for at least one season when his two-year stint as head coach ends.
The move for Marshall began several weeks ago in the wake of the decision to part ways with Michael Maguire. Sheens, the club's head of football, was compiling a shortlist of contenders but had also made it clear he was willing to consider taking the job himself with Marshall and Farah as his offsiders.
Marshall got wind of the interest and reached out to Sheens. They met at Organica, a cafe in Concord near the club's training facilities.
"I met Tim for a coffee and he asked me what sort of path I wanted to go down," Marshall said. "I said my dream is to be an NRL head coach one day at the Tigers but obviously there is a lot of things that have to happen before we get to that.
Benji Marshall and Robbie Farah will work together under Tim Sheens from next season. Picture: AAP Image/Dean Lewins
"I said if there is an opportunity for a full-time job there that could maybe lead to being a head coach, I would jump at it for sure."
On Tuesday night, as Marshall was telling Fox League that he was all-in, the Tigers were holding a board meeting to ratify his appointment. The task confronting the Tigers legend is enormous. The club is anchored at the foot of the ladder but Marshall has already reached out to Parramatta recruit Isaiah Papali'I to sooth his concerns.
"It is just like being a player — you just love it," Marshall said.
"I genuinely think I can have a positive impact on the Wests Tigers. If this opportunity was any a different club, it is different for me.
"I want to help. You can say I am not experienced at coaching but the last five years, I did more coaching than playing.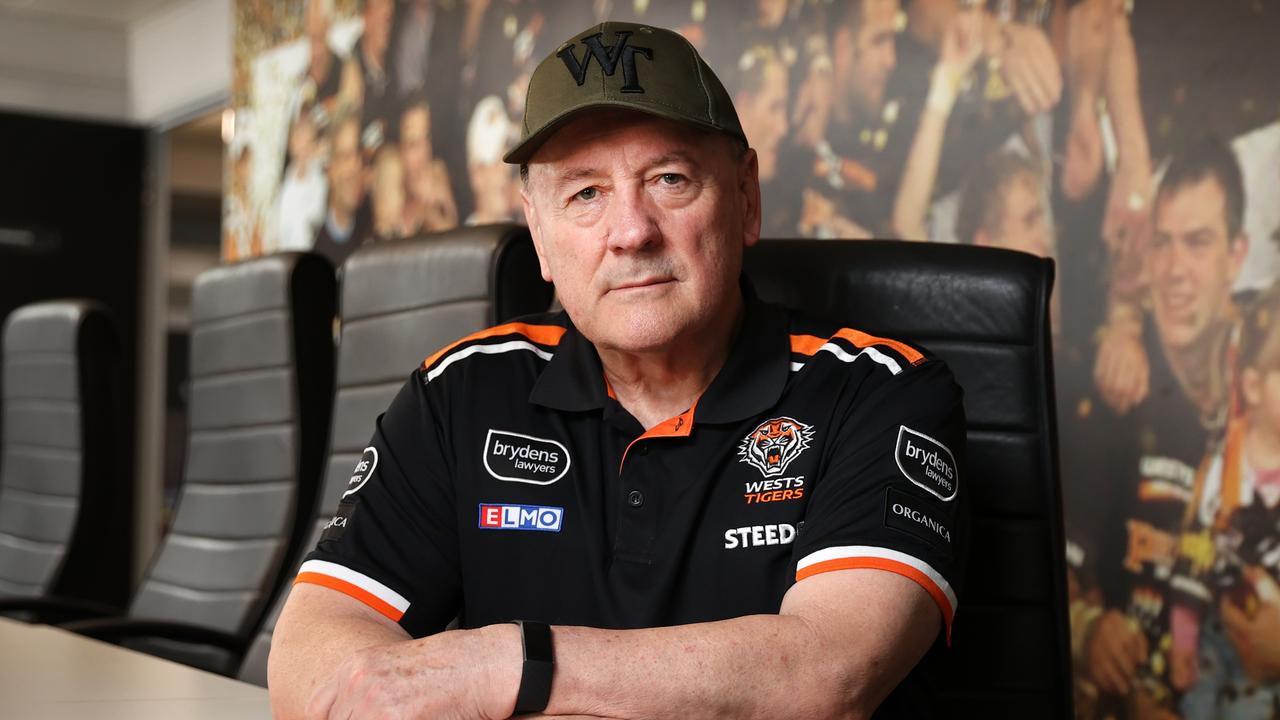 Tim Sheens will take charge as Tigers head coach next season. Picture: Richard Dobson
"You can ask Wayne [Bennett] or anyone what my strengths will be — it is about people and caring about people, understanding them.
"Footy knowledge is one thing but coaching is not all about what you know about footy. It is keeping people happy on and off the field, how they tick.
"Have a look at all the positive things the club is doing. They are about to move into a Centre of Excellence. The kids coming through have been very successful.
"They have an NRLW licence.
"There are a lot of positives as well that don't get talked about because of the position we are in — we are on the bottom of the ladder. That has to change."
Tigers gamble on five-year Marshall deal
Wests Tigers legend Benji Marshall has been anointed as the club's long-term coach after agreeing a five-year deal that will see him take over from Tim Sheens at the end of 2024.
Sources confirmed Marshall would form part of an all-star coaching cast next year, working alongside fellow club legend Robbie Farah under Sheens for the next two years.
Marshall will then become the head coach when Sheens steps aside. It is understood the Tigers are also eyeing off Canterbury assistant David Furner as a potential addition to their coaching ranks.
Marshall went public with his desire to become head coach of the Tigers on Fox League's NRL360 on Tuesday night. By that stage, talks were already underway between the Tigers legend and club powerbrokers.
Marshall will forfeit his thriving media career to turn his hand at full-time coaching. He has close ties with not only Sheens but the game's most experienced mentor in Wayne Bennett.
Benji Marshall with takeover from Tim Sheens at the end of 2024. Picture: Gregg Porteous
"The dream for me would be to be an NRL coach and at the Wests Tigers would be an ideal situation," Marshall said on NRL 360.
"Obviously it has been reported that Tim Sheens is going to get the job and mentor someone. If the opportunity was for me to be mentored under him with a pathway to become a head coach it is something I would definitely consider.
"I love my job that I do now, but that is an opportunity that I might never get again – the opportunity to try and become a head coach."
Farah may also transition into a role with the club's management as the Tigers take a calculated gamble on their future, handing control of the football club to three of the most significant figures in their history.
Sheens, Farah and Marshall were all members of the 2005 grand final winning side and as a result, all three carry a special place in the heart of Tigers fans.
It's why Sheens's return to the club in the off-season was greeted with such optimism. Sadly, Sheens' presence alone wasn't enough to turn the club around and he was forced to make the decision to sack Michael Maguire last month, leaving the club on the lookout for a new coach.
The initial plan was for the Tigers to conduct a sweeping search for a replacement. However, that plan has now been scrapped as Sheens steps into the role to help steady the ship and provide guidance to Marshall as he learns the art of being a head coach.
Marshall has been involved with the pathways systems at the Tigers but has been limited in his capacity to be involved in coaching at a higher level due to his media commitments off the field.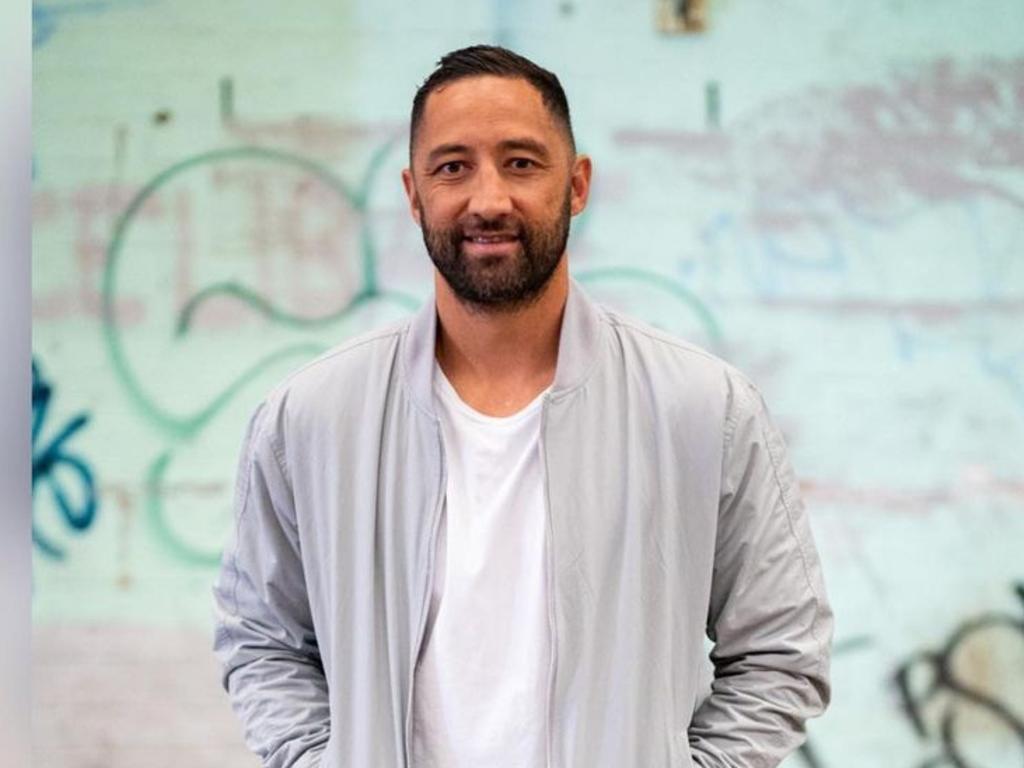 Benji Marshall has never coached before. Picture: Instagram
They will come to an end at the end of this season as Marshall focuses on becoming a head coach with a view to taking the reins when Sheens steps away at the end of 2024.
It is a risk by the Tigers, but a calculated one. Marshall has an acute football brain and should become a magnet for players at a club that has at times struggled to attract the footballers necessary to turn around their fortunes.
His arrival should also ensure Parramatta recruit Isaiah Papali'I honours his deal – reports emerged recently that he had been having second thoughts about joining the club.
Marshall has fresh connections to the game, having only retired at the end of last season. He has maintained those contacts with his work through the media, where he hosted his own show on Fox League and was a regular member of the panel shows.
That burgeoning career is now on hold as he chases his coaching dream.
Tigers stars react to Benji signing
– Fatima Kdouh
Jackson Hastings believes only 'time will tell' if the Wests Tigers have made the right call appointing Tim Sheens as head coach and Benji Marshall as his successor on a five-year deal from 2025.
After guiding the club to premiership glory in 2005, Sheens, who will be announced as coach for the next two years, and Marshall are set to reunite as the joint venture's new coaching staff.
Marshall will learn the craft of head coaching under Sheens before taking over the role in 2025.
While fans and pundits alike have questioned whether Sheens is the right man for the job, Hastings has backed the move to appoint the 71-year old, and Marshall, given his rich history the duo have at the club.
"Time will tell if it's a good call," Hastings said.
"He (Sheens) knows the DNA of the club better than anyone, the fabric of the joint. That would be great for us boys who haven't been here long or kids coming through, to aspire to have someone to look up to who has been there done that, got that Tigers DNA and built that over a number of years.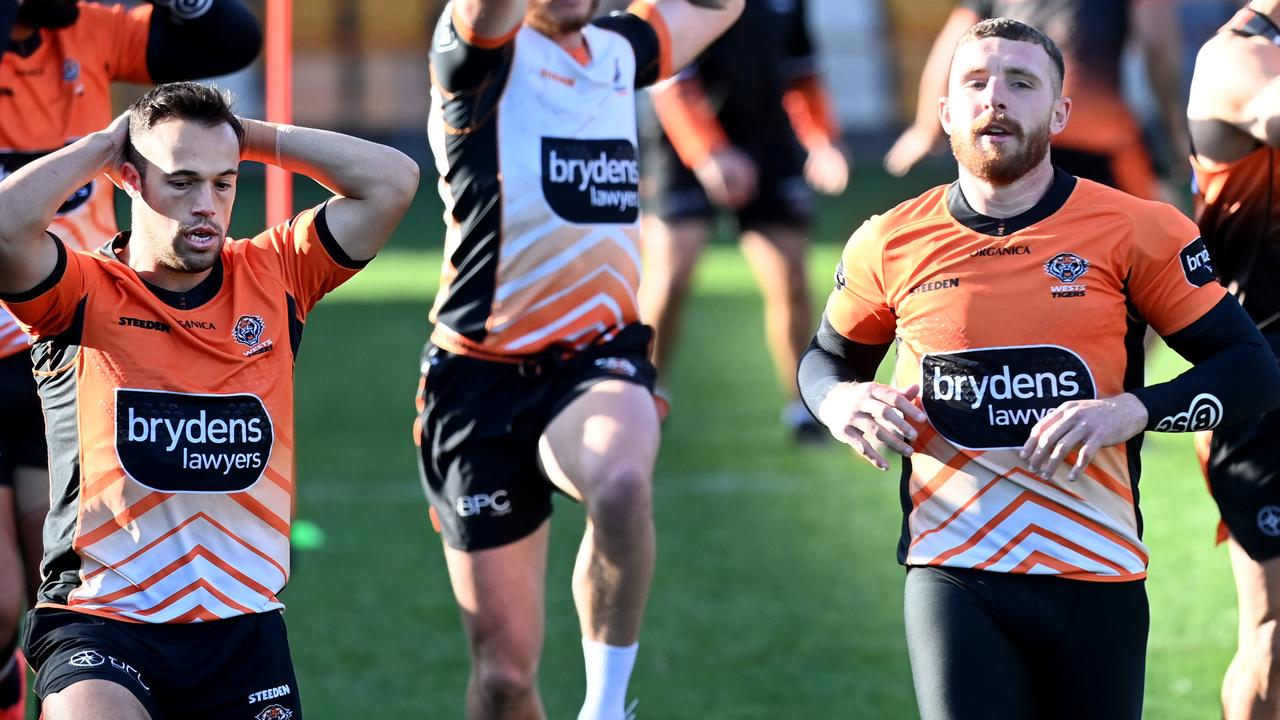 Jackson Hastings thinks Tim Sheens will bring back the Tigers DNA. Picture: Jeremy Piper
"He has proven he can take a club to the pinnacle, which is what we all want to do as players.
"We need to get that Tigers fabric, that DNA of what they had and what's gone. He'd be the right man to do that."
Before missing out on Penrith assistant Cameron Ciraldo, Sheens was publicly pushing to appoint a development coach.
Five-eighth Adam Doueihi believes Marshall, who has been a long-time mentor to young players at the Tigers, fits the bill.
"Robbie (Farah) and Benji bring a lot of knowledge and will give a lot of the younger boys coming through a lot of confidence, we have a lot of good young crop coming through over the next few years and if they get mentoring off people like Benji and Robbie, it will only do the club good," Doueihi said.
It's believed Marshall also helped convince new recruit, Isaiah Papali'I, who was having cold feet about joining the Tigers, to stick with the club.
Hastings, for one, is grateful for Marshall's influence given Papali'i potential to be the Tigers' 'linchpin' as the club strives to return to finals football for the first time since 2011.
Adam Doueihi has backed the new Tigers coaching staff. Picture: Jeremy Piper
"He'd be a linchpin for our club, he'd be someone we could build around," Hastings said.
"Him and Api (Koroisau) coming would be two huge gets for us.
"I'm really looking forward to being able to play alongside him and taking this club from where we are, right up the ladder and competing in finals football.
"Someone of his stature and ability in the game at the moment will be able to help us do that."
After excelling in the halves, Hastings has been shifted to lock paving the way for Doueihi to play in his preferred position at five-eighth this weekend against the Panthers. Maligned playmaker Luke Brooks is back at halfback, where he has struggled for impact this season.
Despite rumours Hastings was disgruntled by the move, the 26-year-old has taken the switch in his stride and plans to emulate Ben Hunt's dominant performance in the middle for Queensland in the decider.
"When he went to lock I think that really changed the dynamic of the game," Hastings said.
"The way Ben was able to control the middle of the field took a lot of pressure off Tom Dearden, who was fantastic, and obviously Daly (Cherry-Evans) was able to play his natural game which was running the football.
"I felt like it really opened up the field. If I can do half as good as what he did, it will go a long way towards us winning the game."
Originally published as NRL 2022: Robbie Farah cuts the surface on importance of retaining the Wests Tigers youngsters