NRL 2022: How Trent Robinson became a Super Coach, stopping a robber, leaving Super League
Ahead of Friday's showdown with fierce rivals South Sydney, we open up Trent Robinson's personal Book of Feuds to compile the Roosters coach's best sprays.
He's on the cusp of greatness - and is already considered among the elite coaches of the modern era.
He also gives off an aura of calmness - but but Sydney Roosters mentor Trent Robinson can still deliver a spray with the best of them.
We've opened up Robinson's own personal Book of Feuds, ahead of Friday's showdown with fierce rivals South Sydney, to compiled the best of his blow-ups.
Stream every game of every round of the 2022 NRL Telstra Premiership Season Live & Ad-Break Free In Play on Kayo. New to Kayo? Try 14-Days Free Now >
MAKING OF A SUPER COACH: THE DAY ROBBO SMASHED A ROBBER
Over 18 holes at a golf course in Spain, Sea Eagles legend Steve Menzies chipped away at Trent Robinson, just enough for the Catalans coach to realise that destiny was calling.
It was 2012 and Menzies, in his second season under Robinson at the Super League club based in southern France, could sense his coach was torn.
Robinson had been talking to Roosters chairman Nick Politis about taking over from Brian Smith in 2013.
But to take the deal, Robinson, 35 at the time, had to walk away from his contract, but more importantly his players, at Catalans.
"He still had a year to run on his contract at Catalans, so he was a bit hesitant to leave,'' Menzies said.
"He had a three-year plan with the Catalans and he'd done two of those three and we were progressing. He didn't want to jump before the ship had docked.
"We used to play golf once a fortnight down in Spain, 40 minutes away from Catalans. He thinks too much about footy. He's 24/7 footy, footy, footy.
"So I said to him, 'you need to stop thinking about it, let's go play some golf.' He chatted to me and we went through the pros and cons. It was a tough decision.
"I knew his history with the Roosters. And so I said to him; "If you could choose any club in the entire world, who would you choose?"
"He said the Roosters. I said to him, 'well, you don't have a choice, you have to do it. The boys (players) will be disappointed, but they'll understand'.
"Because you can't deny someone where they want to be. And yeah, the boys were shattered because he was amazing.''
PART ONE: The hurdle Trent Robinson faces in GOAT debate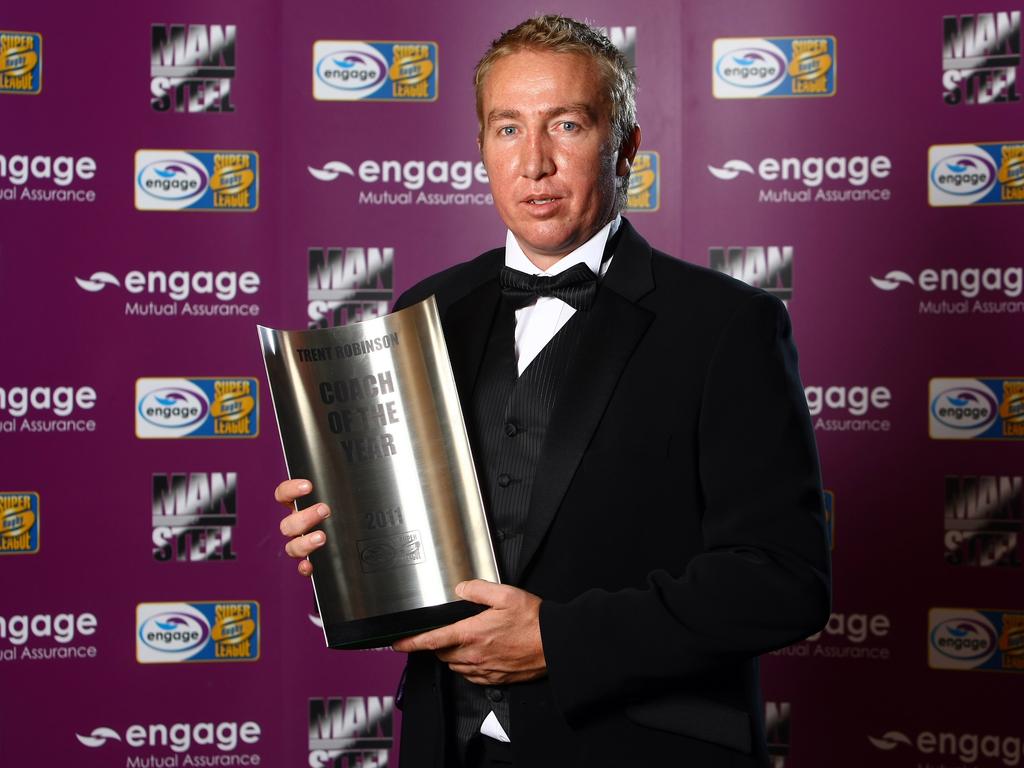 Trent Robinson was named the Super League Coach of the Year in 2011.
Menzies spent the 2011-12 seasons at Catalans under Robinson. Before that, Robinson had been an assistant to Brian Smith at Newcastle and the Sydney Roosters. His reputation was well and truly on the rise when he jetted out to the south of France.
"That was the most testing period of my career, that time at Newcastle," Smith said.
"It was like a powder keg every day of the week. He was a really strong voice. There were a lot of heavy discussions and he was never afraid …. if he had an opinion that he thought we should be doing something, he was very strong in expressing his opinions.
"He has an ability to convince you of things that might otherwise not have listened to just because of the strength of his arguments or the facts.
"Even what might be the fallout if this doesn't go right – he was very well thought out. He would lose his temper a few times if he didn't get his own way, but it was the strength of his commitment to what he thought was the way to go that sometimes tipped him over the edge a bit."
On his first day at Catalans, Robinson called Menzies into a separate room of other "imports".
"I know that we've all come here from Australia, New Zealand or England to play rugby league,'' Robinson told the small group.
"Yes, you are good players with strong league backgrounds, but these (French-born) boys are the heart and soul of the team.
"We're in their country, so from now on we will learn about their culture first. Every day, whenever you see someone from your team, you shake their hand and extend them the courtesy of a 'bonjour' or 'ca va'.'
By the end of his two seasons under Robinson, Menzies would extend his daily greeting to a culturally accepted kiss on each cheek of his closest French mate in the team, David Ferriol.
"I still do it now. Instead of just saying, 'Hi', I try to shake your hand,'' Menzies said.
"It just gives you that connection with the person, in this case the team, every single day. I promise you, Robbo would've instilled that exact same connection within the Roosters.''
MAKING A SUPERCOACH
Robinson found his feet at Catalans but the journey had begun well before that. His mother Lynne was a schoolteacher who worked long hours as a swimming coach to make ends meet.
Trent and brother Dean would often lend a hand.
Their father Trevor was a dreamer who went his own way when Robinson was young.
"Mum was a schoolteacher and then after school to pay the bills and get ahead, she would teach swimming until 5.30 at night," Dean Robinson said.
"Other times she would do odd jobs and be working until 10 at night. It was pretty much Trent and I growing up. It teaches you responsibility, knowing you have to look out for each other.
"You have each other's back. You have to entertain yourselves. That was what sport did for us – we were outside always playing sport.
"We were always playing together. We were always tight. Competitive? Oh yeah. How can you not be?"
Trent Robinson spoke about the complex relationship with his father last year on a podcast with Roosters director Mark Bouris.
"I remember thinking when I was 15 about just allowing him to do his own thing without wanting something from him," Robinson said.
"That was important because he wasn't in a place to give it. We had a good relationship until he passed away. He never found that place, he never got there.
"That taught me some lessons – the answer is all of us. The answer is not external, it is internal. The answer is in how I walk my path.
"I have a choice over that. I have a choice about how my life looks. I have to guide it."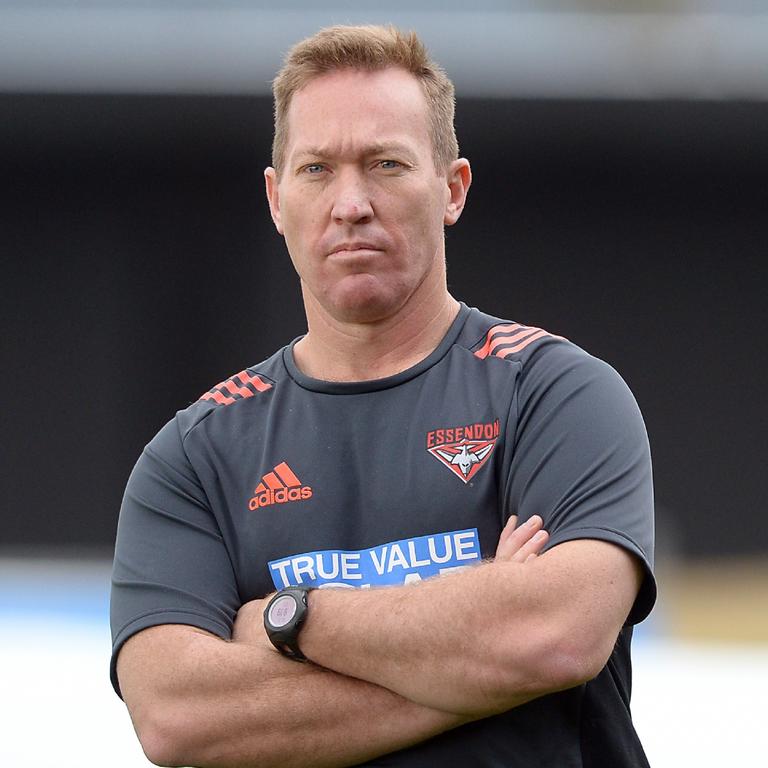 Trent Robinson's brother Dean was the strength and conditioning coach at Essendon. Picture: Wayne Ludbey
Trent Robinson was a talented athlete himself but injury curtailed his progress. There were three first-grade games with the Wests Tigers and one with Parramatta, where he was coached by Smith. Along the way, he appeared to waste precious few minutes.
"He worked for it, he planned for it … I mean his career path," Smith said.
"He is not one of those guys who shocks you. There are lots of guys over the years who have had a crack at it who I have never thought about being coaches.
"He was destined to be in that category of not being a real top player in the NRL, but the playing part was just a few important pieces in the jigsaw puzzle of what he was really going to turn out to be.
"He knew what he wanted, he knew what he had to do to get the necessary experience, knowledge and contacts.
"That guy has more contacts in powerful places. Even at a young age. Not meaning it in a nasty way, he knew where his bread was buttered.
"The exploration of access to knowledge, he wanted to be with the best."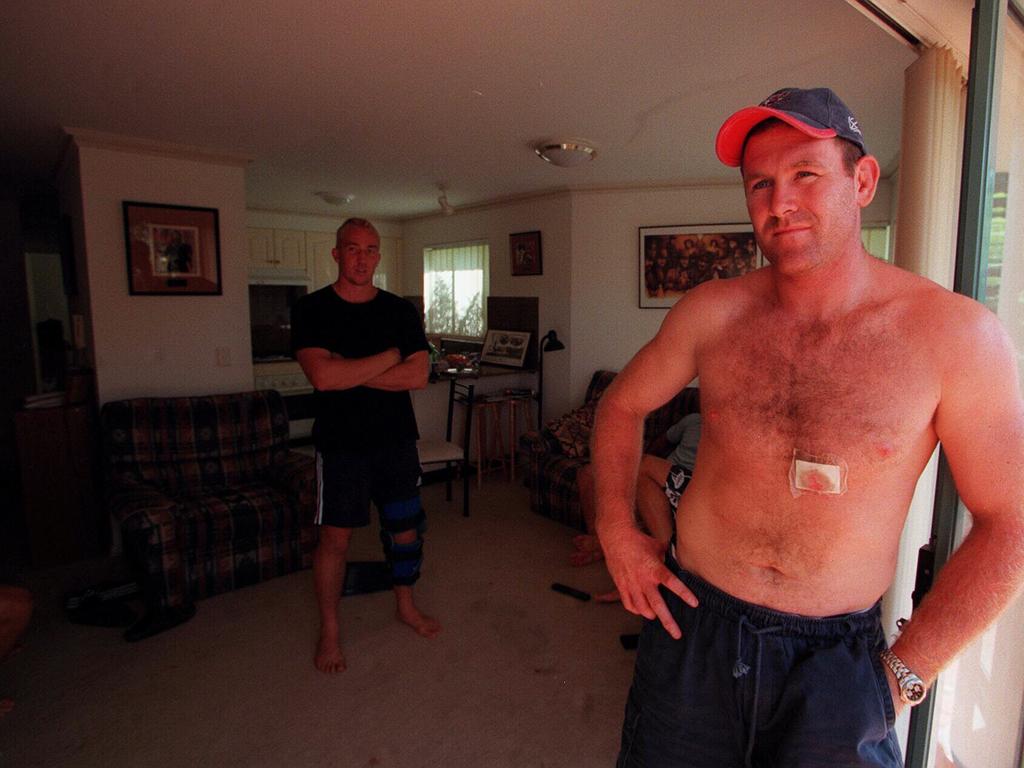 Justin Dooley suffered stab wound to his abdomen after tackling a burglar who broke into the Coogee apartment he shared Trent Robinson.
NEAR-DEATH EXPERIENCE
Ex-first grader Justin Dooley doesn't know what would have happened to him if his roommate Trent Robinson wasn't home one night in 1999. The pair were asleep in their Coogee apartment when Dooley was startled by a strange shadow in his bedroom.
"I was half-asleep and noticed this strange figure coming into my room but I just thought it was Robbo," Dooley said.
"I realised quickly that it didn't have Robbo's body shape so I yelled out and this guy took off. I chased him and in the stairwell of our unit block, he stabbed me.
"I got stabbed a couple of times in the hand and the chest and I broke my foot. Robbo needed a knee reconstruction so he wasn't the most mobile.
"He came out and helped me wrestle the knife off the bloke. Even now I still get up in the middle of the night to check if I've locked the door."
Long-term Rooster Simon Bonnetti never feared for his safety when living with Robinson for three years in a nearby rented Coogee townhouse, but he did have concerns for the cleanliness of his housemate.
There was only one club Trent Robinson really wanted to coach. Picture: Matt King/Getty Images
Bonnetti and Robinson were school friends at St Gregory's and lived together when they joined the Roosters in 1997. They played schoolboy football alongside future first-graders Russell Richardson, Peter Cusack and a young Trent Barrett.
"He was very messy at school," Bonnetti said. "He was very talented at school – swimming, cricket. He was always the big kid.
"As a roommate he was a pretty ordinary chef and cleaner. The deal was that I'd cook and he'd clean, but after four days of dirty dishes being untouched, I would just do it.
"He was the councillor. He was almost catlike because no matter what he did, he would always land on his feet."
Along the way, he struck up a friendship with ex-Network Nine boss David Gyngell, a former Roosters board member. Gyngell arranged for Robinson, who has a sports science degree, to work at Kerry Packer's gym, The Hyde Park Club.
"He has a kind of spiritual side to (Robbo) and he is open to interpretations," Gyngell said.
"He doesn't shut things out. He will listen to it and then go how do I take that expertise and apply it to football.
"Robbo is much deeper into meditation than a lot of coaches. The spiritual reality, finding yourself, spending quiet time with yourself, isolation with yourself, confronting not nearly as masculine things as historical coaches would have done, Robbo is big on all that.
"He heightens their instincts and their intrigue to think a bit differently. Nothing really flusters him too much.
"He stays at my place quite a lot. We talk all the time on the phone. He is very interested in the tactics of business and those sorts of things.
"The fact is the Roosters are better run than any organisation I ever ran – that has a lot to do with Nick (Politis) and a lot to do with Robbo."
Trent Robinson and Nick Politis make a formidable duo. Picture: Brett Costello
BOOK OF FEUDS
Outside the walls of the Tricolours there's no denying there are clubs, fans and coaches within the game who argue that their own clubs would enjoy the fruits of success with a billionaire chairman at the helm. Nick Politis and his coach are a fearsome combination.
Robinson speaks fluent French and learnt sign language after his mother became profoundly deaf in his teens. His intelligence has been used as a brickbat to bash him over the head in private by his critics.
"A lot of coaches hang onto their contracts and they anchor themselves and their identity to it," Dean Robinson said.
"With Trent, his identity has never been made up from his coaching. Coaching is what he does. He can divorce himself – he can go home and he is just himself.
"At home they speak French, so for him it is a way to keep the culture from France here. It also helps his thought patterns – the way a different language activates a different part of your brain.
"As you know, he is quite intelligent and thinks quite differently about things. He goes out and does the best job he can and if I am wanted, I am wanted," Dean Robinson added. "If not, I am not."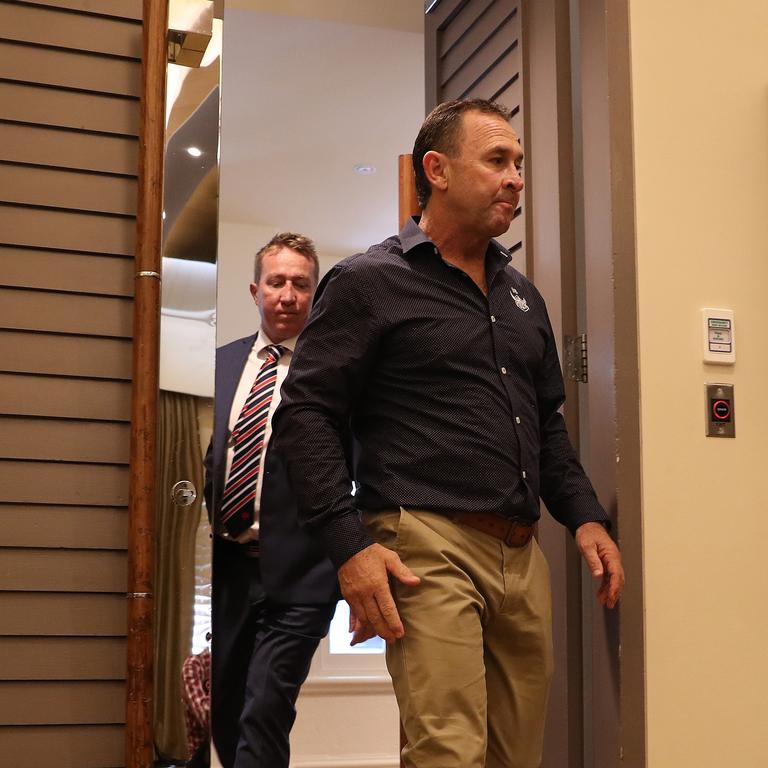 There is no love lost between Trent Robinson and Ricky Stuart. Picture: Brett Costello
That assuredness hasn't always won him fans. His willingness to question, shoot down or slam his rival, match officials or the NRL has come at a price, both in fines from the NRL but also from others, who suggests there's a cockiness to Robinson's confidence.
Matty Johns called Robinson's spray of referee Ben Cummins in 2016 – which led to the Roosters coach being fined $40,000 – a "power play".
"This is exerting pressure on (former NRL CEO) Todd Greenberg and Tony Archer, the referees' boss, about not getting Ben Cummins in the future on Roosters games, that's what this is about,'' Johns said.
Most famously, Robinson has gone toe-to-toe with former Dragons coach Paul McGregor after an Anzac Day clash and Wayne Bennett only last year after Latrell Mitchell's high shot on Roosters gun Joey Manu.
Robinson's relationship with Raiders coach Ricky Stuart, a former Roosters coach himself, doesn't exist. The duo's refusal to look at each other before the 2019 grand final was blatant.
Success comes at a price and for Robinson, that has been some relationships along his journey. Just don't think for a second he's about to change.
Originally published as NRL 2022: How Trent Robinson became a Super Coach, stopping a robber, leaving Super League