Trent Robinson on the path towards being the greatest rugby league coach of all time
Trent Robinson is already on the path to becoming the greatest coach in NRL history - but what would could stop him joining Bennett, Gibson and Bellamy in the game's next stratosphere?
Trent Robinson is about to start his 10th year in charge of the Sydney Roosters.
It has been an era of unprecedented success for the club and Robinson is being mentioned as the same breath as Craig Bellamy and Wayne Bennett when it comes to the best coaches in the modern game.
He may yet go down as the greatest coach in the game's history, having this week signed a new deal with the club that will take him through until the end of 2028.
In the first of a two-part series, we kick off the debate about whether Robinson is the best coach in the game, tracks how he got to this point in his career and takes you inside the mind of a mentor who is destined to go down as one of the all-time greats.
Stream every game of every round of the 2022 NRL Telstra Premiership Season Live & Ad-Break Free During Play on Kayo. New to Kayo? Try 14-days free now.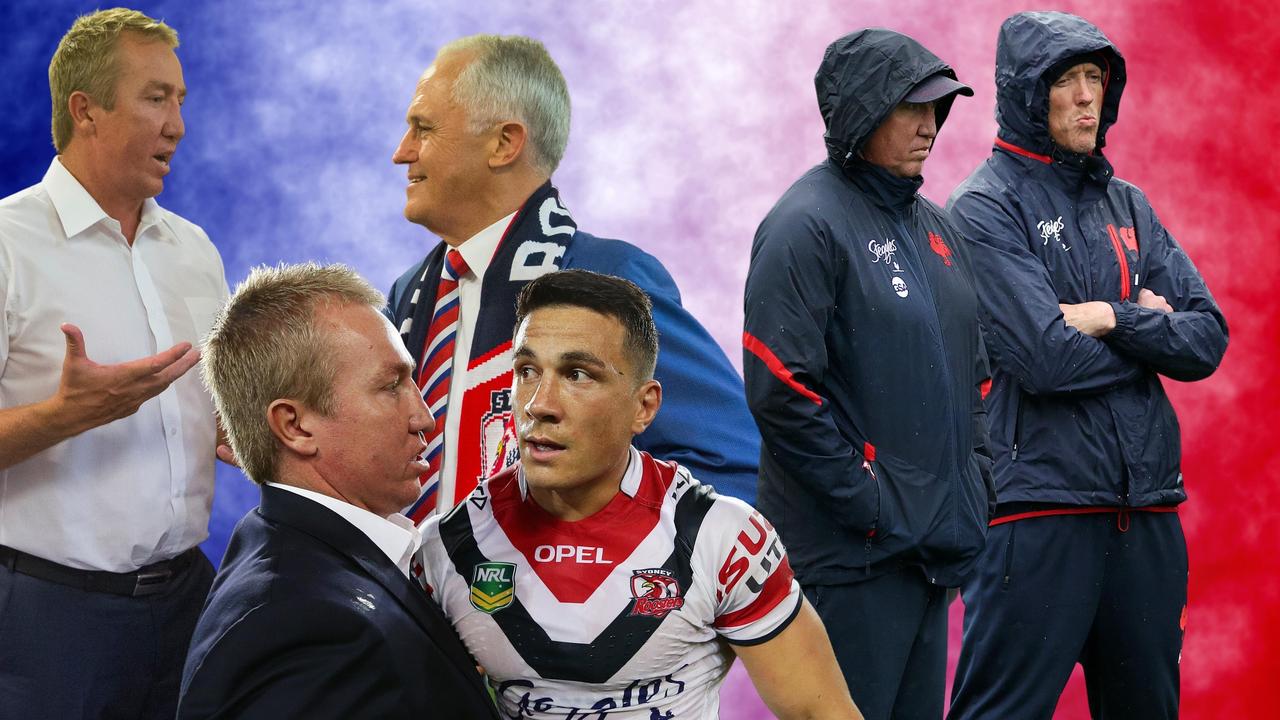 Trent Robinson has brought incredible success to the Roosters.
THE GREATEST
The Sydney Roosters will begin this season among the favourites to win the premiership. It's been a consistent theme throughout Robinson's tenure at the Roosters.
They have been perennial contenders with Robinson at the helm, the wily coach working alongside arguably the game's most respected chairman, Nick Politis. Between them, they are the heartbeat of the Roosters.
Politis has watched first-hand the tactical nous, coaching philosophies, relationships with players and operating rhythm of some of the game's greatest coaches, including Jack Gibson.
The 80-year-old supremo insists Robinson, given his age – he turns 45 later this month – has the opportunity to dictate whether he finishes as the game's greatest coach of all-time.
His record is already astonishing. In nine seasons, he has won three premierships and 66 per cent of his games in charge.
* Includes two premierships later stripped from the Storm due to salary cap breaches
His record sits comfortably alongside Bellamy and Bennett over an initial 10-year period. He has become one of the game's most influential figures and Politis has admitted for the first time publicly that Robinson's style of leadership would be perfectly suited to that of a chief executive at an NRL club, or major corporation.
Few are better placed than Politis to make that assessment. The Roosters chair is a self-made billionaire who has mastered the art of making the right call, be it with his personal business or in turning the Roosters into an NRL force.
One of his greatest decisions was to take a punt on Robinson in late-2012 when the club parted ways with Brian Smith.
"He'd make a great CEO of a club - he'd be perfect," Politis said.
"His skill is working with people and man management. That skill is required in every business as a leader of staff and in this case the players.
Together coach Trent Robinson and Chairman Nick Politis are the heartbeat of the Roosters. Picture: Mark Evans
"He's got that ability because he's intelligent, he's firm, rational and treats the players as their mentor, friend and coach.
"They can trust him as a mate and talk to him about personal stuff, or football and they respect him.''
Robinson demands loyalty and gives it in return. Yet, Dean Robinson insists what separates his brother is his humility and his ability to make everyone feel like they are on the same footing.
"The one thing I always say to people that sets him apart from almost any leader I have seen - and that is a big statement because I have seen a lot of great business leaders too - is it doesn't matter whether you are a two year old or the Prime Minister of Australia, he will meet you at your level," Dean Robinson said.
"He is equally at home playing with kids as he is to speak to the highest diplomat in Australia. It doesn't matter.
"Trying to coach athletes, the majority of whom are highly narcissistic, it is not easy to get them to your level.
"You have to go to them. They know that he cares for them. That is the most important thing - if you can get a player's heart in your hand and they care for you, they will go to the end of the world for you."
It is not just players who have benefited from that side of Trent Robinson's personality. Only weeks into Trent Robinson's coaching career at the Roosters, Dean Robinson was looking for a shoulder to lean on.
He found it in Trent and the Roosters.
* Includes two premierships later stripped from the Storm due to salary cap breaches
INITIATION FROM HELL
Trent Robinson had barely got his feet under the desk at Bondi Junction when rugby league was given the first inkling of his greatness.
Robinson's brother Dean was a fitness coach at Essendon when the ASADA scandal engulfed Australian sport.
Trent was still finding his feet at the Roosters with his brother's help when their respective worlds were flipped upside down.
Dean Robinson concedes it could have unravelled in spectacular fashion for his brother. Instead, what happened next provided an early snapshot into the single-mindedness that has allowed Robinson to become one of the best coaches in Australian sport.
"Seriously, your whole world is rocked," Dean Robinson told News Corp.
"The club (Essendon) has tossed me out, basically trying to make me the scapegoat for it. I said (to Trent) this is what has gone on, this is what has occurred.
"So he knew everything. He said, 'okay, I am fine'. (Roosters) board members like Mark McInnes at the time and Nick (Politis) were very supportive.
"I think they got an understanding of what was going on pretty quick. Their support was enormous to me. Trent's support, it was one of those things where I could pick the phone up at any stage and call him.
"If I was going through anything, he could be there as a support."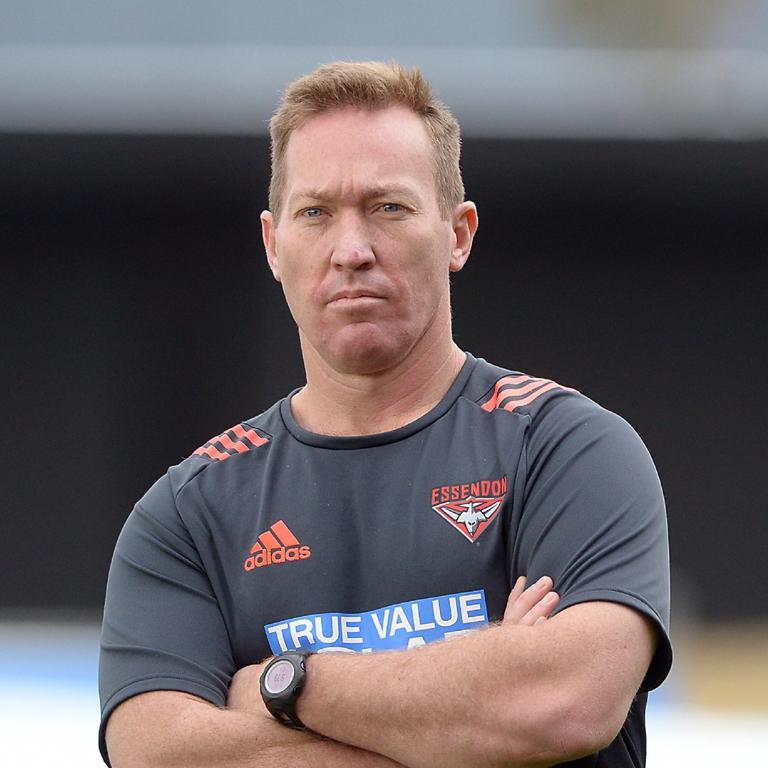 Trent's brother, Dean 'The Weapon' Robinson. Picture: Wayne Ludbey
When you consider what greeted Trent Robinson at the start of his tenure, you begin to understand what has made the Roosters coach one of the game's greatest success stories.
Aside from his ability to connect with his players and the Roosters' fans, he also has worked out how to divorce his personal life from the endless demands of controlling an NRL team.
When Robinson was with the Roosters, he was the coach. When he was with his brother, he was a confidante and support.
"Does loyalty run strong?" Dean Robinson said.
"Yes it does. He is very loyal. Loyalty is a big thing for him. The Essendon stuff broke in February in his first year as head coach. Yet he wins the premiership that year.
"I am going through everything that I have got - I was coming up and spending time with him and the club and the guys.
"That was probably quite difficult for him. It would have taken a toll. If he couldn't divorce the two roles of brother and head coach, it could have been disastrous."
History shows Robinson juggled the roles as well as anyone could. He led the Roosters to a premiership in his first season in charge, winning over the players in the process.
The groundwork was laid early.
THE SOOTHSAYER
Trent Robinson hit the phones immediately from France when he was given the Roosters job. Anthony Minichiello, who was the club's most senior player at the time, recalls Robinson reaching out.
"We were on the phone for an hour and 20 minutes," Minichiello said.
"He wanted to know what had happened while he was away. The conversation just flowed. When he came back he wasn't a guy that said 'this is what we are doing'. He showed us the way but let myself and others evolve as leaders."
Jared Waerea-Hargreaves added: "We just finished the 2012 Four Nations and we were expecting a big break.
"He rang everyone and asked us to come to training two or three weeks early. He said he'd signed Sonny Bill and he was coming.
"He just asked "are you in". It was clear from day one."
His messaging was clear throughout his first pre-season. He left the leadership role open but dangled the captaincy in front of Minichiello.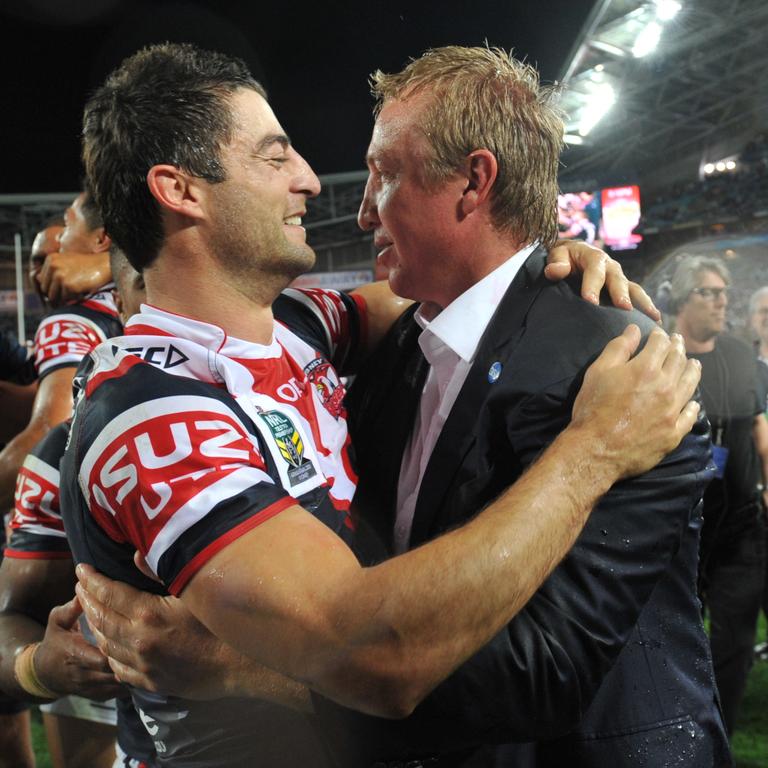 Anthony Minichiello (left) and Trent Robinson celebrate victory in the 2013 NRL Grand Final. Picture: AAP Image/Paul Miller
While Minichiello remembers when Robinson called him into his office pre-Christmas to tell him he would lead the club, it was another conversation during that off-season which still sticks.
"He challenged us," Minichiello said.
"He told us we aren't full-time professionals and not a second half team. He wanted us to be professionals on and off the field.
"It was weird because in the grand final against Manly we were down by 10 points in the second half and there was a bit of panic and confusion.
"I told the boys to listen to what Robbo had instilled in us all year – don't panic and remember we are a second half team. It came to fruition almost a year after he first said it."
Perhaps his most important stop though was catching up with Williams in Japan before the dual-international officially linked with the Roosters.
Here was Robinson, a rookie coach, about to take charge of arguably the most high profile rugby player in the world.
Williams, who was playing for Panasonic Wild Knights, said it was easy playing under Robinson.
"He watched me play one of my games and we went out to dinner that night," Williams said.
"I had a handshake deal with Politis that I was going to join the Roosters after my sabbatical, prison sentence from the NRL.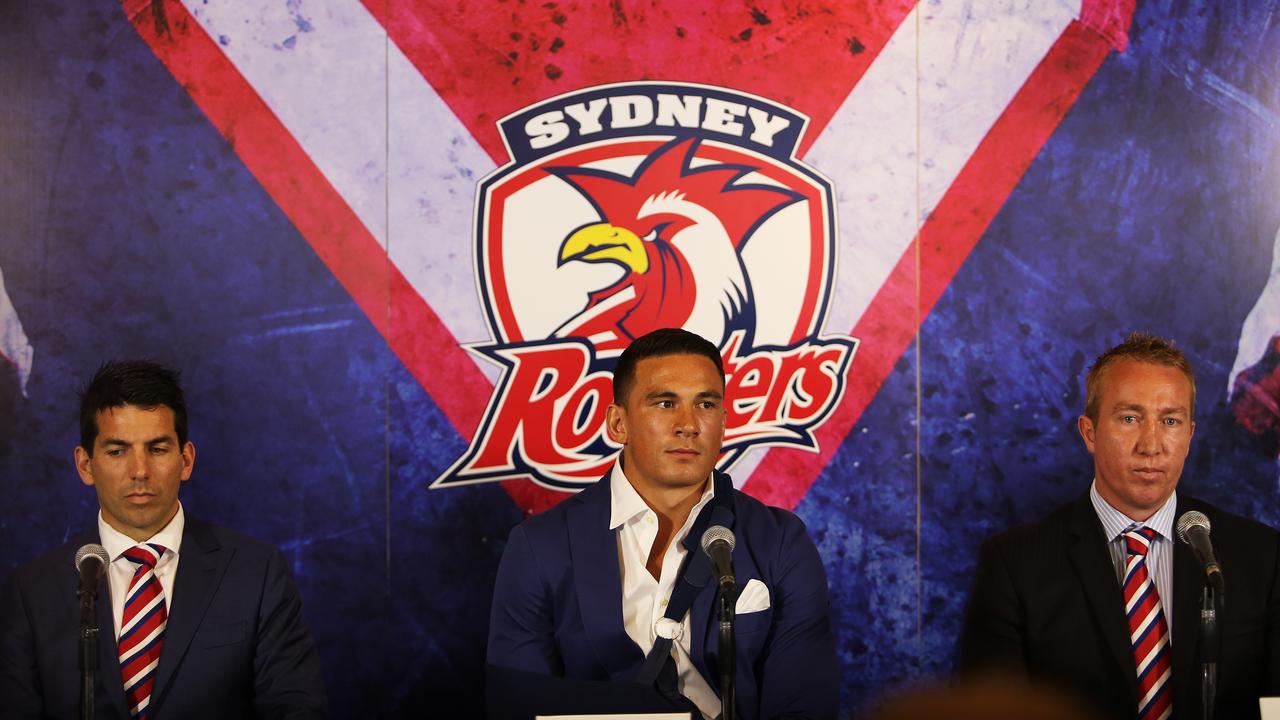 Trent Robinson (R) and Sonny Bill Williams at the press conference held to announce W@illiams' return to the club.
"I was under the impression that I would be playing under Brian Smith then everything happened and Trent was there.
"It was cool because as a coach, he knew there would be a lot of noise with me coming back.
"He took the time to stop and meet me as a man. We connected straight away. He is one of those coaches you just like playing for.
"(In my second stint) he had more of a harder approach, he was more confident."
Part of Robinson's charm is not reserving the star treatment for his biggest names. Waerea-Hargreaves recalls one-on-one video sessions with Robinson in 2010 when he was the Roosters' defence coach.
According to the Kiwi enforcer, it was the first time anyone had taken such an interest in his career. For Joey Manu, he was a three-game player when Robinson invited him to his house alongside Manu's parents Nooroa and Darnel in 2017.
"I remember taking them to his house," Manu said.
"I was full-time but I wasn't in the team. He was speaking to my parents and asking them questions and they loved it.
"He told me "you'll be playing in the centres in 2018 and we will win the competition."
THE LEGACY
Robinson's influence is already beginning to stretch the length and breath of the NRL. Like Bennett and Bellamy before him, Robinson has had an influence over a handful of coaches who have made their mark in rugby league.
Paul Green (Queensland Maroons), Justin Holbrook (Titans), Adam O'Brien (Knights), Craig Fitzgibbon (Sharks) and Nathan Cayless (Tigers) have all spent time working under Robinson as an assistant.
Fitzgibbon says he will be indebted to Robinson for life.
"I'm not sitting here if it wasn't for his support in tutelage and friendship,'' Fitzgibbon said.
"The way that we discussed the process of leaving the Roosters for the Sharks, I'll forever be thankful.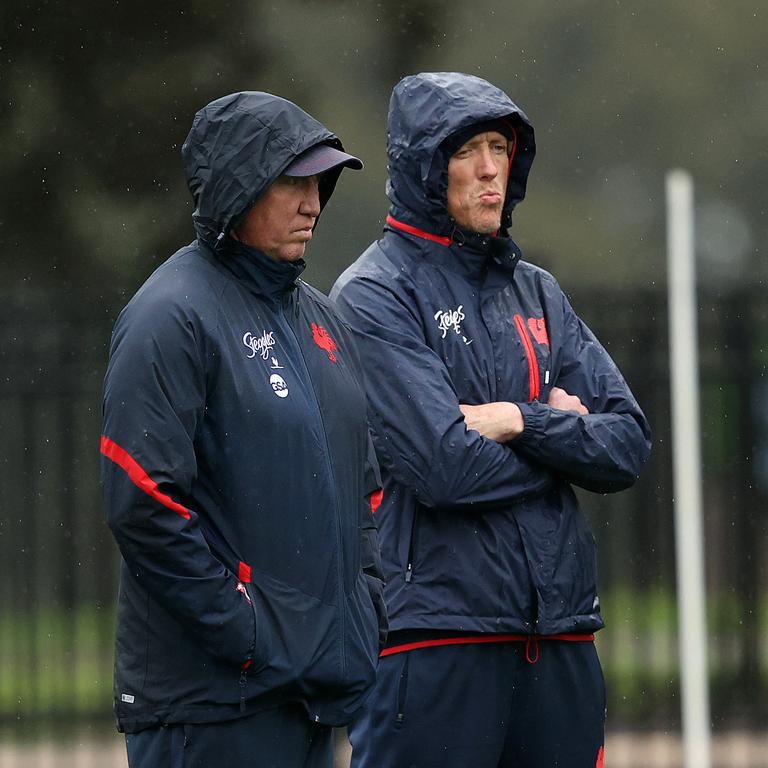 Former assistant Craig Fitzgibbon (r) says he owes much of his success to Trent Robinson. Picture. Phil Hillyard
"We'll be mates forever. I'm under no illusions to the fact that he was incredibly important for me to get through this process.''
Former Warriors, St Helens and Eels coach Daniel Anderson first met Robinson when the Roosters coach was a tearaway teenager with flowing blond locks at St Gregory's College Campbelltown, where Anderson began his own coaching pathway.
Anderson now manages the Roosters roster and insists his protege will leave a lasting impression on the NRL.
"In 20 years time there will be blokes going Robbo was the one who did this for me,'' Anderson said.
"There will be heaps and heaps of them because his style, philosophy, personality resonates with those people.
"There is a mystique in coaching. So they want to come in and see how he coaches, can I copy him?''
Tomorrow: The making of a supercoach
Originally published as Trent Robinson on the path towards being the greatest rugby league coach of all time