Warriors owner Mark Robinson reveals real reason behind Matt Lodge's shock departure
The multi-millionaire Warriors owner has hit back at claims an alleged racist comment was made in a heated hotel confrontation that was behind Matt Lodge's stunning walkout on the club.
The owner of the New Zealand Warriors has revealed that a heated hotel confrontation with front-rower Matt Lodge was the real reason behind his shock mid-season departure.
In an exclusive interview with News Corp, multi-millionaire businessman Mark Robinson says he and Lodge exchanged heated words the Belvedere Hotel in Woody Point, near Redcliffe, late last year.
He says Lodge never got over it.
News Corp revealed on Wednesday that Lodge had been given a bizarre $700,000 golden handshake, an amount that Robinson did not refute.
"What we agreed on is very favourable for Matt and his family," Warriors chief executive Cameron George said.
Stream every game of every round of the 2022 NRL Telstra Premiership Season Live & Ad-Break Free During Play on Kayo. New to Kayo? Try 14-days free now >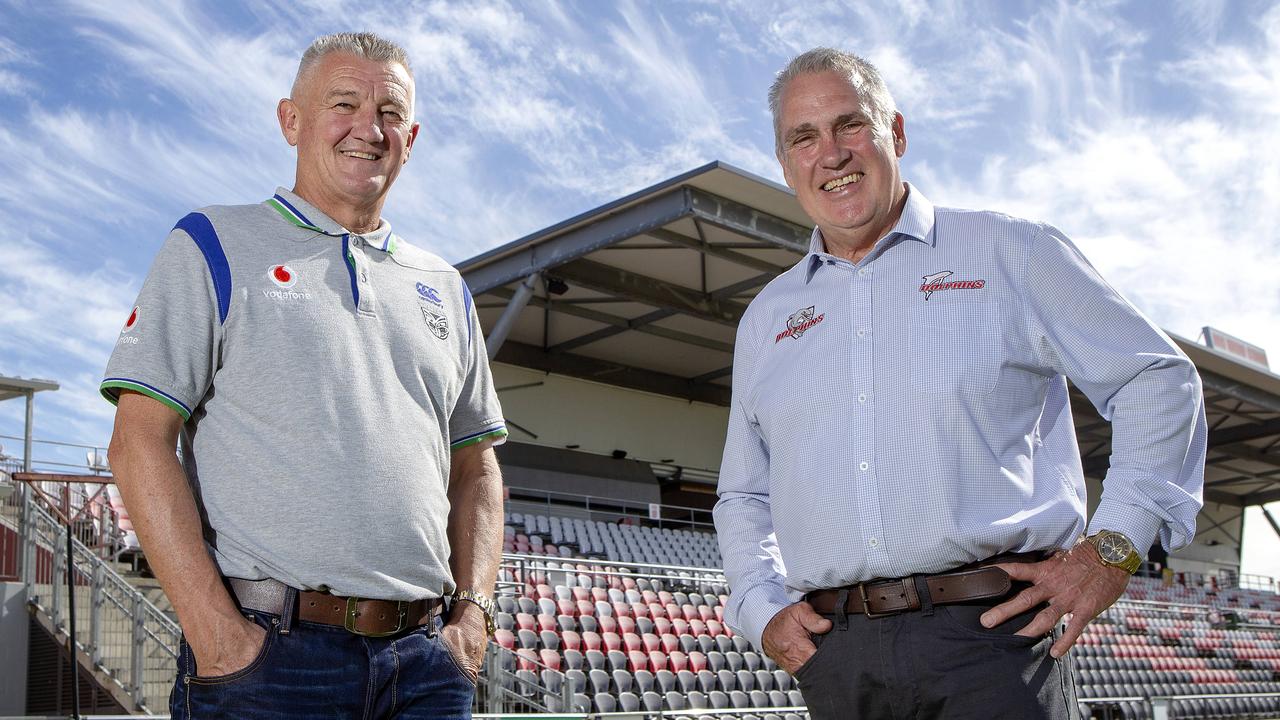 Warriors owner Mark Robinson (left) revealed a verbal stoush with Matt Lodge. Picture: AAP/Image Sarah Marshall
But it was the revelations about the hotel flare-up that led to Lodge's exit on top of the fact he was against relocating his family to New Zealand.
The fight
"We had an argument in a hotel, two alpha males in a pub last December," Robinson said.
"There was no push and shove or yelling and screaming.
"Two days later we shook hands and moved on but it never came right.
"Plus, he didn't want to come back to New Zealand next year.
"He was unhappy so I bought him out of his option for next year and we parted ways.
"He didn't like the club and he obviously didn't like playing for Mark Robinson.
"I got over it, but I can't answer for Matt Lodge.
"The argument was man on man. Then on (the following) Monday morning - when I didn't think there was anything wrong — he came in and spoke to Cameron (George, Warriors CEO) about it. I thought he'd moved forward (but he hadn't)."
Asked what the argument was about, Robinson said: "Just two men about attitude and whatever. It's seven months ago. I've never spoken to anyone about what it was about and I won't."
Racial allegations
News Corp put to Robinson claims that he had allegedly made racist comments to Lodge during their argument, claims he emphatically denied.
"People can call me whatever they want but I'm not a racist person," he said.
"I will stand tall on that. It could not be further from the truth.
"I have a Samoan grandson and a Samoan son-in-law.
"Do you really think I'd talk about my people like that?
"These suggestions are what affect me more than anything. It really annoys me.
"I'm really upset about it. I haven't slept all night. You don't know what it's doing to me. That people would even think that. You've got no idea."
My decision
"I'm the only one-off owner of an NRL club and I make the decisions at my club," Robinson said. "I have 400 employees that I feed and look after and I have a culture in my organisations around the world. I have a strong culture around people of every different race.
"When the culture starts to be affected because someone is not happy or I'm not happy, you have to fix it. And that's what's happened with me and Matt.
"I was never going to jeopardise that culture moving forward.
"He doesn't feel comfortable playing for Mark Robinson and the Warriors and he doesn't want to go back to New Zealand next year, so I said: 'Okay, I'll buy your option off you. And let's move forward."
The payment
Robinson would not comment on a specific amount.
"He's been paid out for this year and I bought his option for next year," he said.
"I think we've reached a fair agreement. He moves on and we wish him well.
"I thank him for joining us on short notice last year to help the club.
"We didn't expect it to finish like this but it has."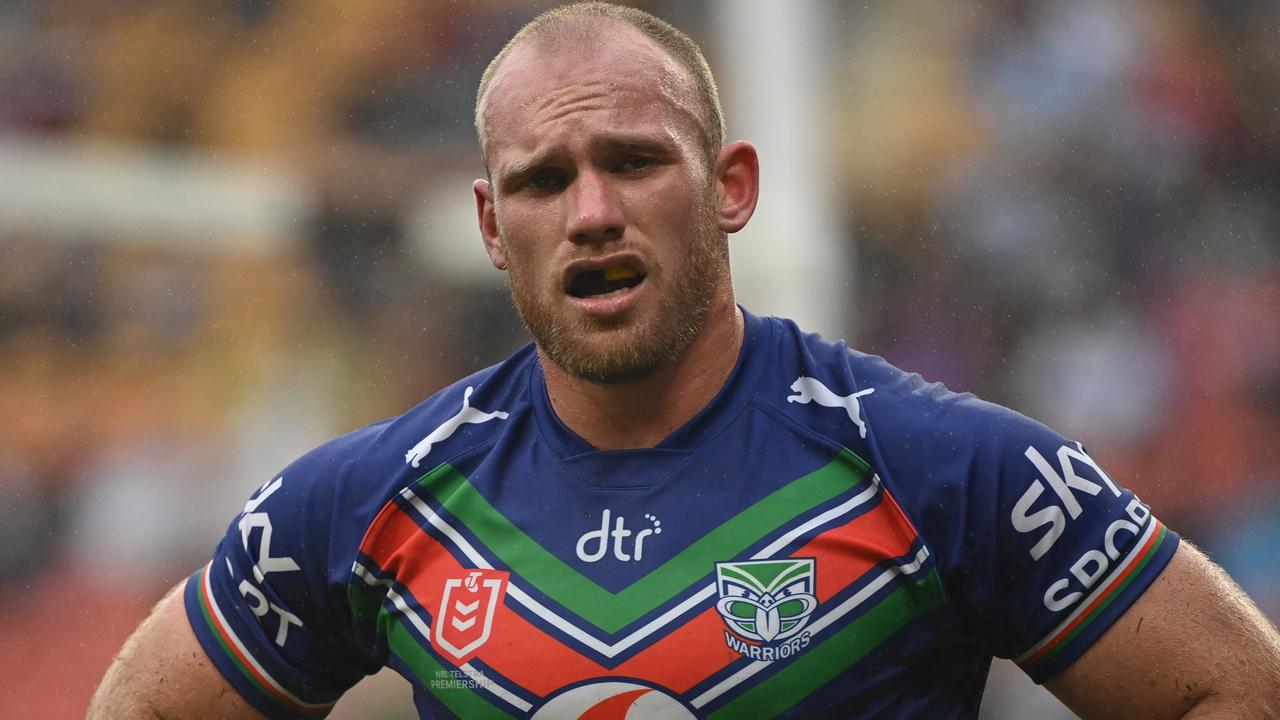 Former Warriors prop Matt Lodge. Picture: NRL Imagery
Salary cap pain
I asked Robinson about the salary cap implications. And how the team will have to play under the cap next year to around the $550,000 mark.
"The culture of my club is more important," he said.
"That's the cost. If I'm not happy, he's not happy then the club's not happy.
"If the salary caps suffers from it next year, that's the price I'm going to have to pay for 2023. I just hope from the young people coming through, one will pop out and fills that gap for next year.
"I've done the right thing by Matt and his family and I've done the right thing by my club.
"If I part company with anyone in my businesses I always make sure they are looked after.
"You've got to think about their families. That's how my father brought me up.
"If I have a fall out with you, I'm thinking about your wife and kids, not you."
The future
The Warriors have lost five of their last six games.
Lodge is gone and his front-row partner Addin Fonua-Blake is out for an indefinite period.
"We just want to finish the season the best we can, head home, get back to our people and reset," Robinson said.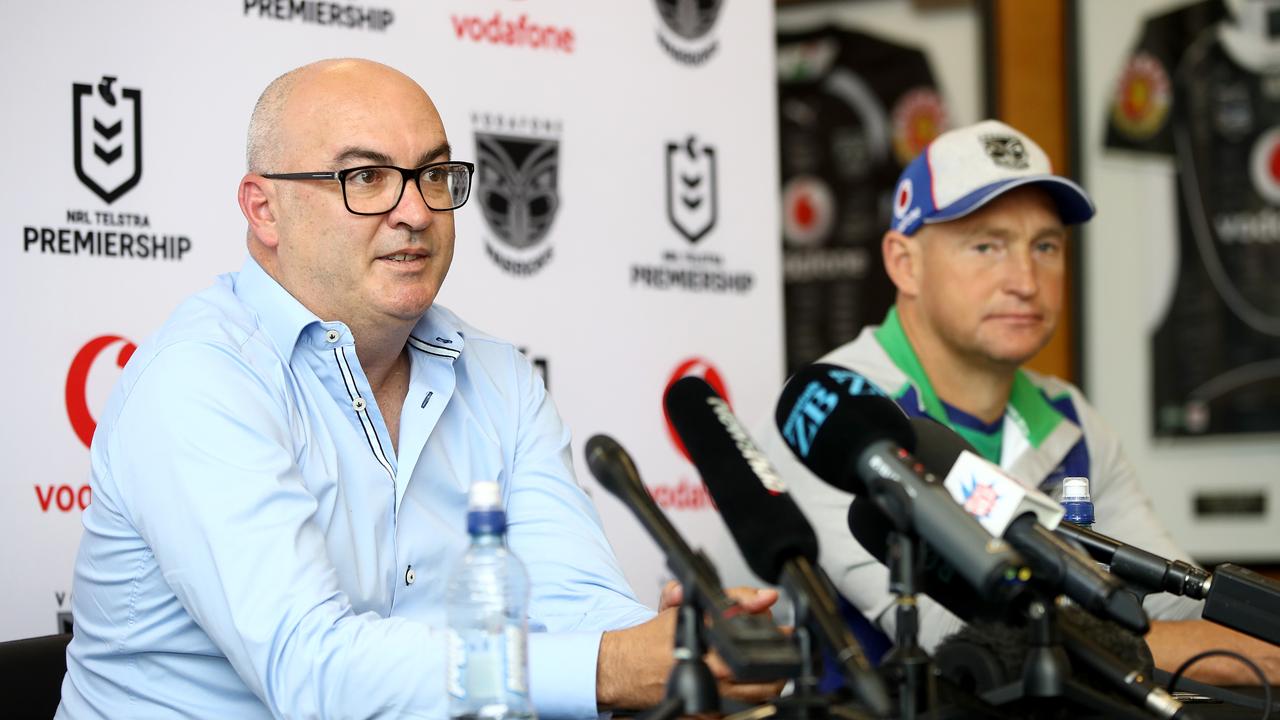 Warriors CEO Cameron George (left) and coach Nathan Brown. Picture: Phil Walter/Getty
"It's been a debacle with Covid for three years.
"No one understands the mental and physical toll that it's had on players and staff."
The CEO
Cameron George joined us in a zoom call for the interview.
"I know there's people around with an axe to grind with Robbo," George said. "It's wrong.
"The one thing that strikes to his heart are when his values are tested.
"This has knocked him around. It was two stubborn blokes having a barney.
"His values are to be inclusive of all people and to look after his staff
"I thought it had been sorted but obviously with Matt it was still simmering.
"He clearly still had an issue. Not that you could tell from the outside because he kept turning up and playing well.
"At the end of the day, Mark instructed me to do what's best for Matt and his family.
"And that's how it worked. Lodgey appreciates that.
"As a club, we don't comment on settlements.
"What we agreed on is very favourable for Matt and his family. We're very comfortable with that and where it sits with our cap for next year."
Originally published as Warriors owner Mark Robinson reveals real reason behind Matt Lodge's shock departure