We put a value on every NRL coach to see which clubs are getting the best deals
Few jobs in rugby league come with a higher profile than being the coach at the Brisbane Broncos, it's pity for Kevin Walters that the paypacket doesn't match.
What is your NRL coach really worth, and is your club getting value for money?
With Melbourne super coach Craig Bellamy closing in on a contract extension ahead of Saturday night's top of the table blockbuster against Penrith at Magic Round, we have rated what every coach would be worth on the open market today — up against best estimates of what they are currently paid.
Factoring in age, coaching records, career strike rates and recent results, we rank them from one to 17 (including Dolphins coach Wayne Bennett).
We have also taken into account some things that can't be measured by statistics, like being able to attract players for 'unders', relationships with players, or in the case of a young coach like Craig Fitzgibbon, paying for serious potential.
While some coaches would be flat out attracting any outside interest on current form, out of respect we have put a minimum wage limit at $350,000 — and our maximum price at $2m.
Storm coach Craig Bellamy could demand his price at almost any club. Picture: Kelly Defina/Getty Images
Bellamy's last deal was reportedly worth anywhere between $1.4m to $1.7m-a-season. So a $2m price tag is not at all far-fetched, especially when third-party arrangements are factored in. Bellamy is also the only man in the game – coach or player – who could justify a $2m-a-season salary because his value goes way beyond a phenomenal 70.4 per cent winning strike rate. It is as much about Bellamy's ability to get the absolute best out of super talent as it is transforming rejects from lesser clubs into valuable members of the NRL's benchmark system. And he's done it now for 20 straight seasons.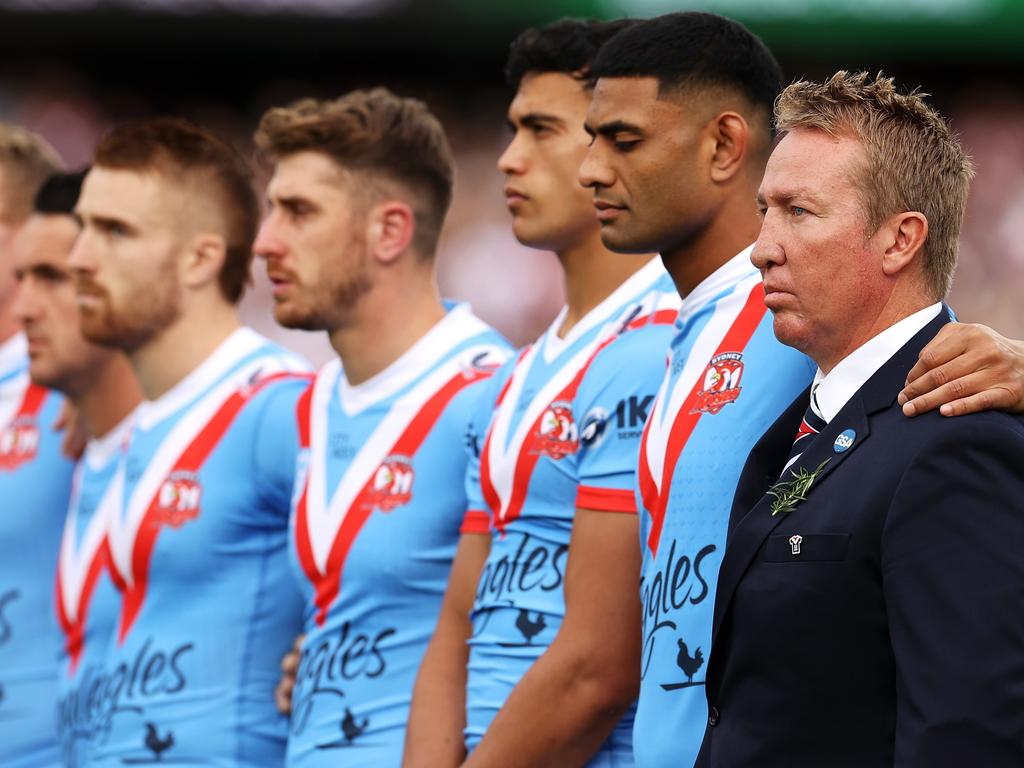 Roosters coach Trent Robinson (R) has a proven track record in keeping his roster fresh and competitive. Picture: Mark Kolbe/Getty Images
On an estimated $900,000 but if Robinson was to go to market he could just about name his price at many rival clubs. It's crazy to think he only turned 45 this year and already has three premierships. He also has a wonderful relationship with his players and a proven ability to regenerate his roster while maintaining a place up near the top of the ladder. While the Roosters are going through a tough patch at the moment it will only make Robinson a better coach. There is also no better communicator in the game.
Premiership winning coach Ivan Cleary (R). Picture: Chris Hyde/Getty Images
On "well in excess of" $1m-a-season after agreeing to a new deal on the back of Penrith's premiership. Cleary has been instrumental in developing the Panthers into a powerhouse and for that he deserves tremendous credit. But the concern about taking that success elsewhere would be that previously at the Tigers he contributed to a recruitment campaign that saw some underperforming players paid ridiculous money, which would be a turn off to some potential employers.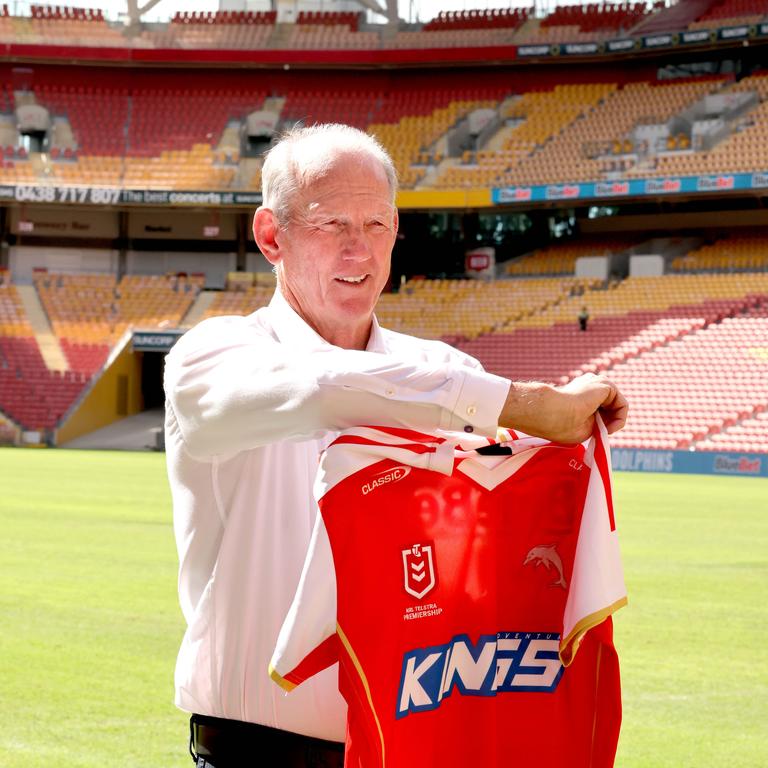 Wayne Bennett may be a dinosaur, but he knows how players are wired. Picture: Steve Pohlner
Would be on $1m-plus at the Dolphins, and Cooper Cronk summed up Bennett's hidden value in a nutshell this week. With Cody Walker going through a rough trot, Cronk was asked what he would do to help the Rabbitohs five-eighth recapture last season's form. Cronk responded: "Send him for a coffee with Wayne Bennett". Bennett might be a bit of a dinosaur when it comes to new age tactics, but he sure knows how rugby league players are wired. And the fact he's in his 70s didn't stop him making his 10th grand final at his last start.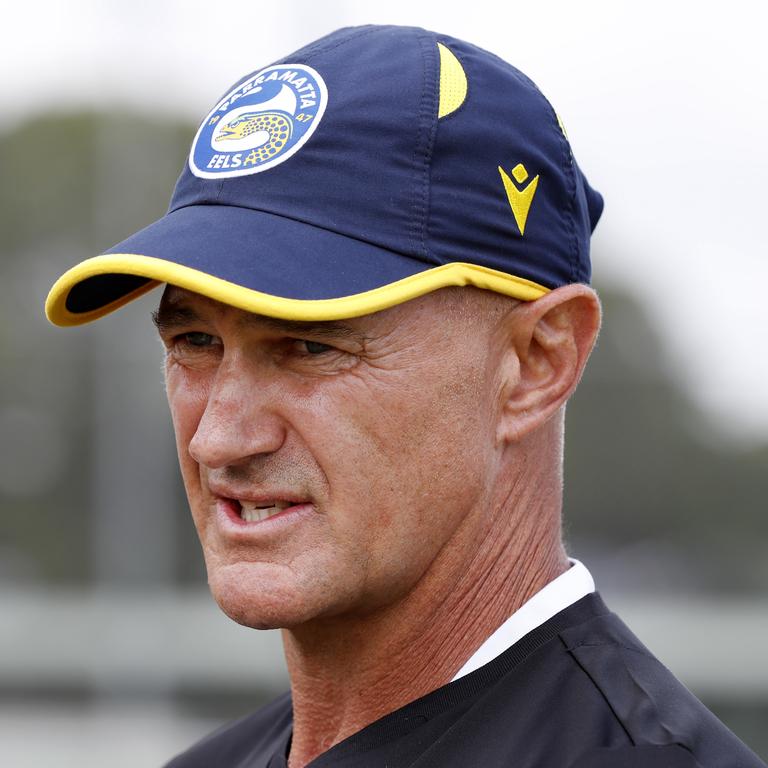 Parramatta Eels head coach Brad Arthur. Picture: Jonathan Ng
If the $700,000 Arthur is reportedly on is close to the mark the Eels have got a bargain. Even though he hasn't taken Parra past week two of the finals, the thing that significantly increases Arthur's value is that he has been the driving force in turning a previous basket case into a serious premiership contender. Recent away wins against Melbourne and Penrith only adds to his worth.
Craig Fitzgibbon has impressed plenty in his rookie year at the Sharks. Picture: Jason McCawley/Getty Images
On $500,000 as a rookie, but if Fitzgibbon was on the open market right now I reckon his asking price would sky rocket after just nine games. It might sound like madness to suggest he could be worth in the vicinity of $1 million, but I reckon some clubs would pay that on potential. With this bloke it's not about what he's achieved so far, it's about taking a calculated risk that Fitzgibbon has that something special that is destined for coaching greatness.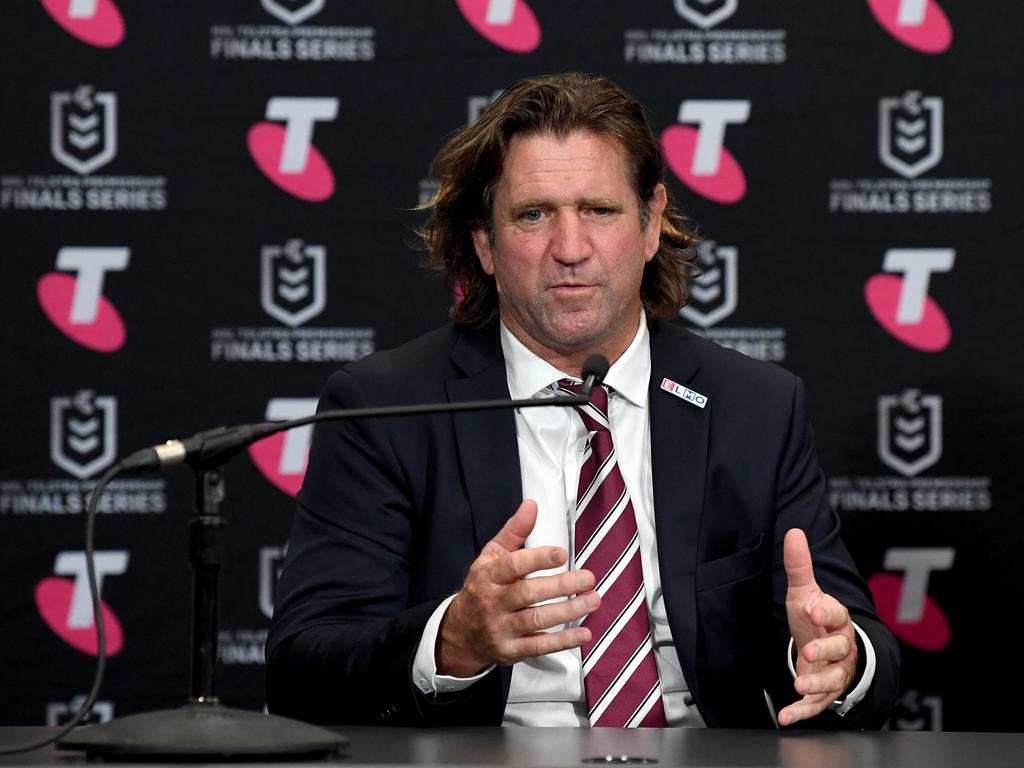 Des Hasler is as perfect fit at the Sea Eagles. Picture: Bradley Kanaris/Getty Images
On a reported $1m at Manly where he fits like a glove and they love him for who he is. But the thing that would perhaps reduce Hasler's worth on the open market is that his public image is not great which could make him a tough sell if he was ever forced to leave the northern beaches again. What can't be disputed is that he's had a tremendous career and not only knows what success looks like but is prepared to do whatever it takes to get it.
Does Ricky Stuart have a job for life at the Raiders? Picture: Mark Nolan/Getty Images
Pulls in about $850,000-a-year after making a grand final in 2019 and a prelim in 2020. For all his critics what no one in Canberra would dispute is that Stuart is the single biggest reason the Raiders remain relevant. He has one of the biggest voices in the game and is not afraid to go into battle when it comes to defending his club. I don't think the day will ever come where he would want to coach at another club, but he will keep the job in Canberra as long as he wants it.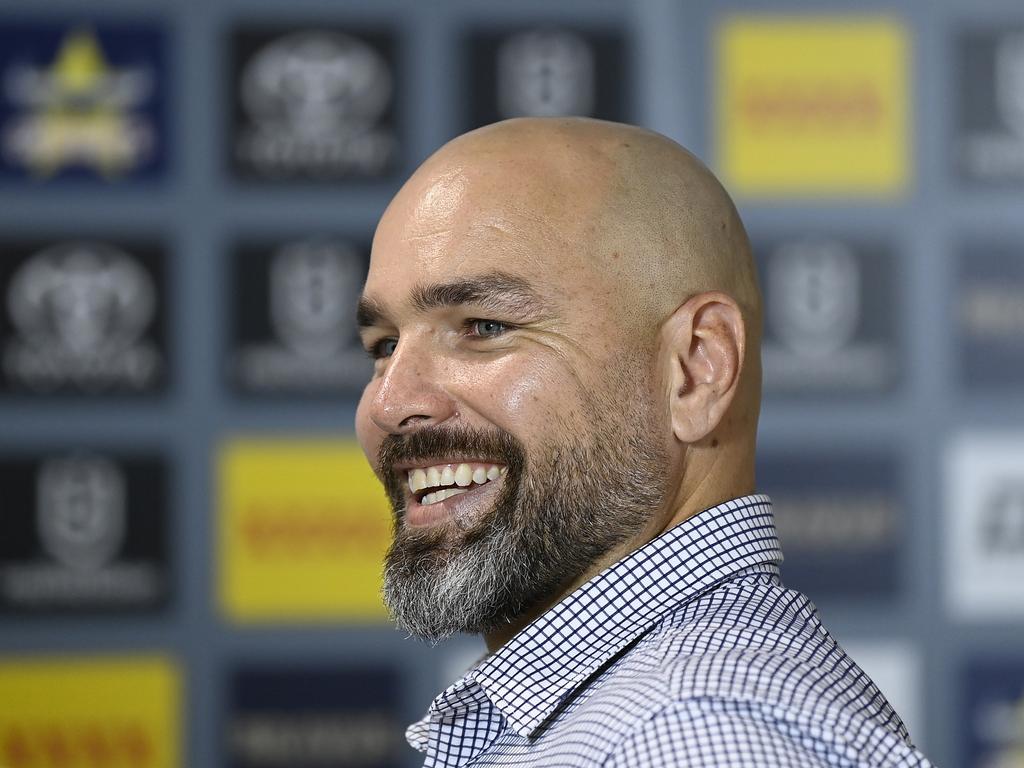 The Cowboys are in the top four and coach Todd Payten is all smiles. Picture: Ian Hitchcock/Getty Images
Current deal reportedly worth $500,000-a-season but Payten could be looking for a significant upgrade before too long. After a tough year last year, what was really impressive this week was how Payten came out and publicly conceded he did the wrong thing by Jason Taumalolo. But the way the Cowboys are firing now, it seems pretty obvious all has been forgiven. Still only 43 and really looks to have a huge future ahead of him.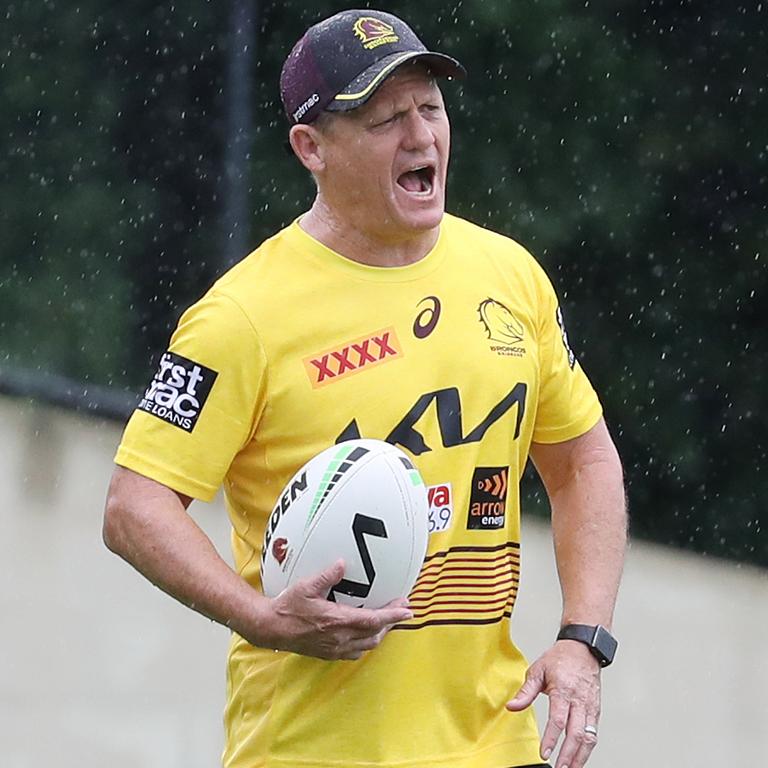 Kevin Walters and the Broncos are just hanging on to a top-eight spot. Picture: Annette Dew
On a base salary of around $400,000 and, let's be honest, would struggle to get a job at a rival club at this point. But one thing is for certain, Kevvie's stocks have soared since Adam Reynolds arrived. And Walters is starting to look so much more relaxed, and not out of his depth like it appeared at times last year. The Broncos are such a big club that it brings huge expectations, and we all saw how that buckled Anthony Seibold. Yet Kevvie has survived a tough initiation and is starting to prove why he is the right man for the job.
Titans head coach Justin Holbrook. Picture: Albert Perez/Getty Images
They reckon you don't really know what a coach is made of until they go through their first real tough patch, which is exactly where Holbrook is at right now. Reports suggest he is on $575,000 and he needs to start justifying that salary with wins. A lot of people were expecting big things from the Titans this year but all these positional shifts are just adding to the confusion.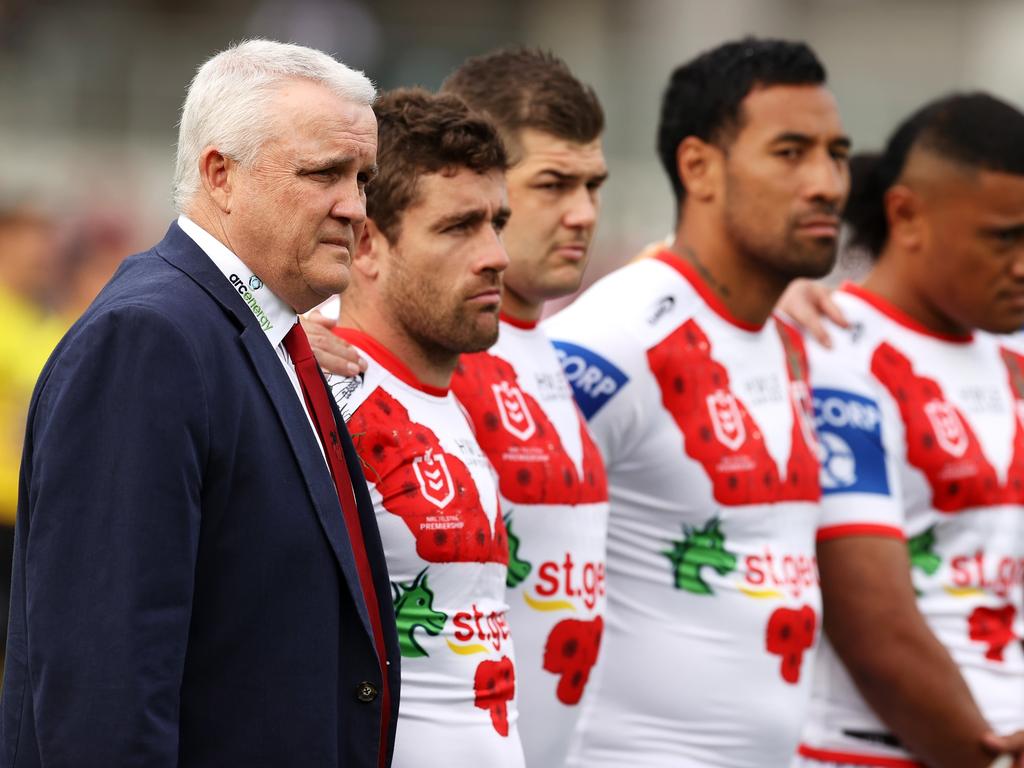 The Dragons are outside the eight at this point of the season. Picture: Mark Kolbe/Getty Images
Griffin is currently on about $500,000 and so far he has done a decent job without setting the world on fire. Before the weekend's big loss to the Storm, they'd won three straight. Let's face it, this is not a roster that is ready to challenge for a premiership, though the Dragons should not be a club ever content on finishing outside the top eight year after year.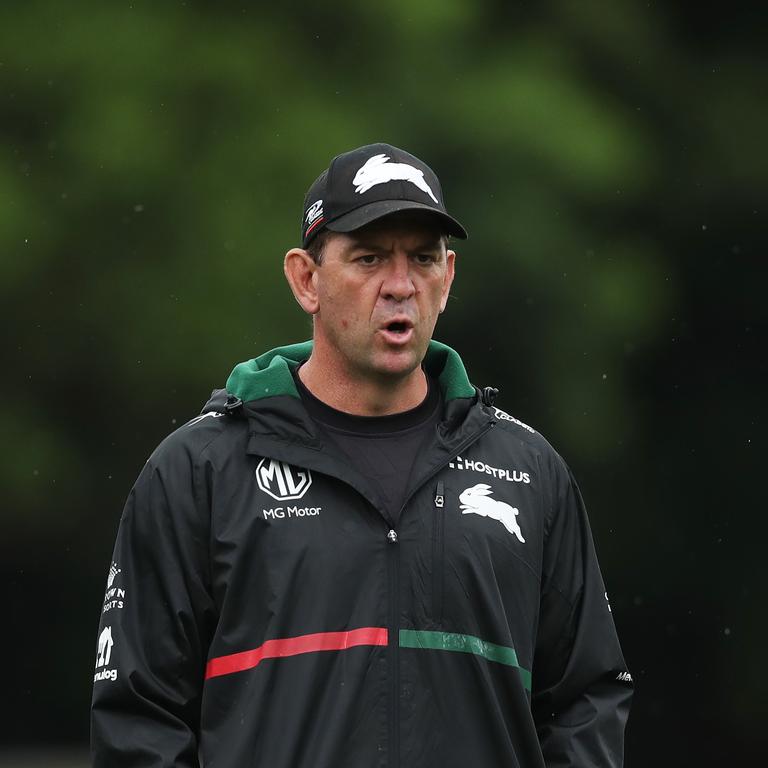 Rabbitohs head coach Jason Demetriou. Picture: Matt King/Getty Images
Indications are Demetriou earns around $550,000, which is a fair deal for a rookie coach in charge of one of the game's most iconic clubs. It's too early to say if he is doing a good job or not. No question it hasn't been an ideal start taking over from Bennett. But in fairness to Demetriou, the departure of Adam Reynolds and Dane Gagai was only compounded by Latrell's injury, and now Cam Murray is out for an extended period.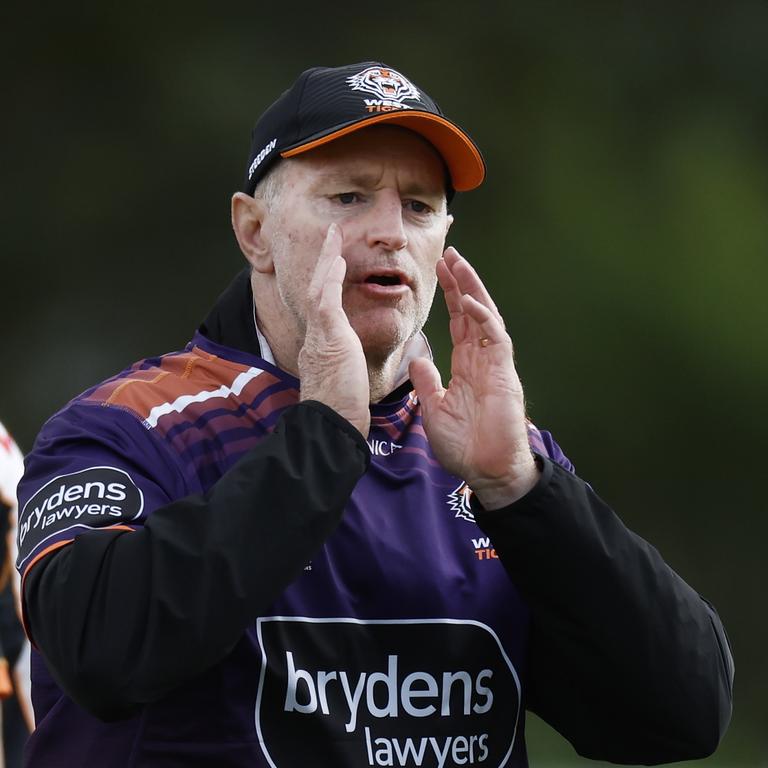 Has the Wests Tigers' time bomb exploded Michael Maguire's career? Picture: Mark Evans/Getty Images
Won comps with Souths and Wigan, which justifies the reported $575,000 salary. The reason I put his market value lower now is because if he was chasing a new gig Maguire would struggle to get a job elsewhere. In fairness, he was handed a time bomb given the shape of the Tigers' salary cap when he took over. And the team's form since Jackson Hastings switch to halfback might just be the start of Madge's coaching resurrection. It's worth noting he's still only 48.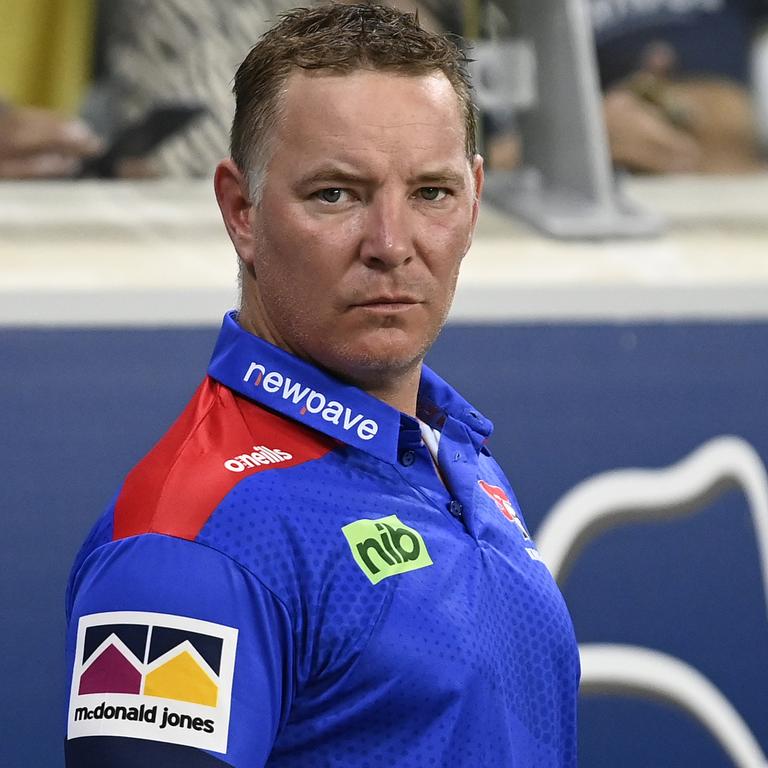 Adam O'Brien got the Knights to the finals last year but they are running last at the moment. Picture: Ian Hitchcock/Getty Images
It's not a good time to be judging O'Brien's market value given the Knights are running dead last. But let's not forget he has made the finals the past two seasons, and before this recent slide the Knights looked to be a club on the rise. But even allowing for a rotten run of injuries, some performances this year have been extremely disappointing.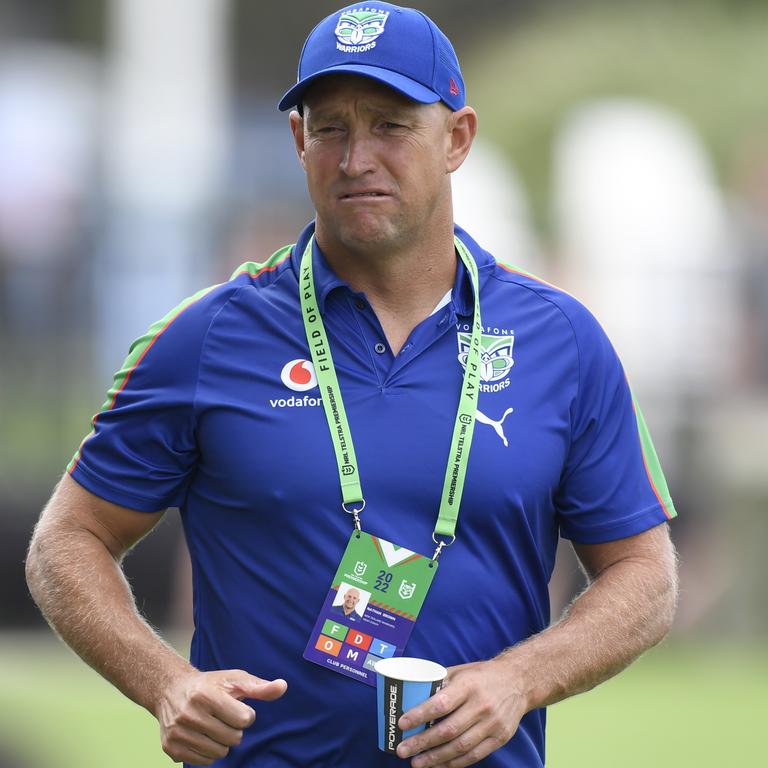 New Zealand Warriors and their coach Nathan Brown had a shocker on the weekend.
Tough to get a good gauge on what Brown is on in his third NRL coaching stint. But it's probably fair to say he might struggle to get another job if this doesn't end well. And the weekend loss to Cronulla was a real low point after the Sharks had a player sent off and another sin binned, yet still embarrassed the Warriors just through sheer desperation. It was a terrible look for the losing coach.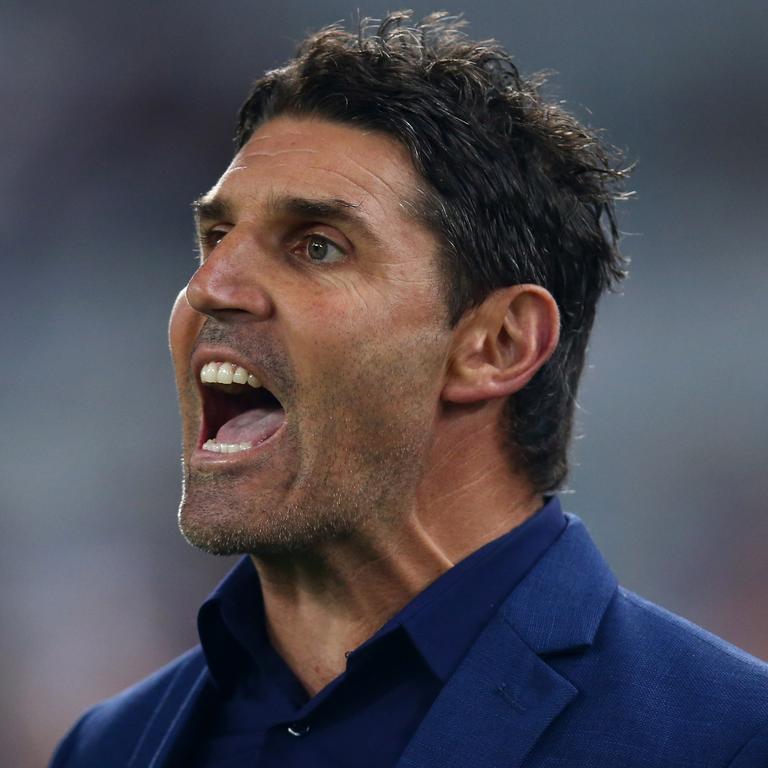 Bulldogs coach Trent Barrett would struggle on the open market. Picture: Jason McCawley/Getty Images
Barrett arrived on a deal thought to be far more lucrative than the $400,000 the Bulldogs were previously paying Dean Pay. At the time Barrett's stocks were up after being attack coach at Penrith. The irony now is that even though the Bulldogs are having a dig, they can't score enough points to win games – even after recruiting some pretty serious attacking weapons. And a 32.1 per cent career strike rate would certainly make Barrett a tough sell on the open market today.
Originally published as We put a value on every NRL coach to see which clubs are getting the best deals