NRL 2022: Is Mitch Moses ready to lead Parramatta Eels to the premiership?
The Eels have shown they can beat premiership heavyweights Penrith and Melbourne, but they need to prove it when it counts and Mitch Moses holds the key to glory.
As we enter the back half of the NRL season, Paul Crawley identifies six key issues set to explode in the coming months, and kicking off this weekend.
IS MOSES READY TO LEAD EELS TO HOLY GRAIL?
One of the best rumours doing the rounds this week was linking Mitchell Moses to a possible switch to the Bulldogs, that is if Brad Fittler was to take over as coach.
It's obviously loosely based on the fact Freddy and Moses have a great relationship going back to their time together with Lebanon.
Though the odds of it happening are probably about a million-to-one, given Freddy has given no indication he wants to take on a head coaching position after Origin.
But the TAB has a much safer bet, with the Eels paying $8 to win this year's premiership.
Can Mitch Moses and the Eels finally get it done? Picture: Mark Nolan/Getty Images
And this is the other big story that will unfold over the coming months, because while Parramatta has shown it can beat Melbourne and Penrith in the regular season, they now need to prove it when it matters most.
Which is why it's now Moses' time to deliver.
At 27, he is now ranked just behind Nathan Cleary in the next line of outstanding playmakers, up with the likes of Jahrome Hughes, Daly Cherry-Evans and Adam Reynolds on a week-to-week basis. But history always judges No.7s on what they do at the back-end of seasons, not the start.
ARE ROOSTERS READY FOR A CLEANOUT?
The Roosters have already denied rumours about them being interested in Cameron Munster and Payne Haas.
But the way the season is panning out for a team many tipped as premiership favourites would have to be frustrating the hell out of Nick Politis.
Ever since Boyd Cordner, Jake Friend, Mitch Aubusson, Cooper Cronk and Brett Morris retired, the Roosters have just lost that aura of toughness and leadership that they built their reputation on.
And it seems every time you think their season is back on track, they suffer a relapse like they did last Sunday in Canberra — where some of their defence was just not what you'd come to expect from this club, while aside from Joey Manu the attack was lifeless, and their discipline terrible.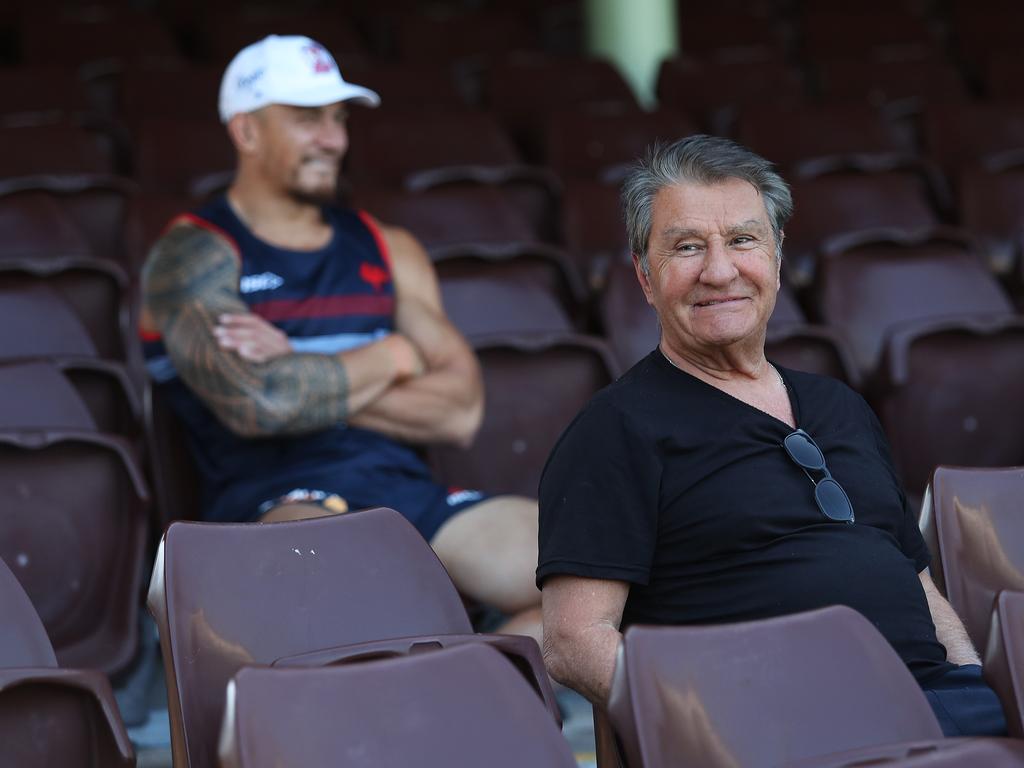 Chairman of the Sydney Roosters Nick Politis won't tolerate the recent Roosters form. Picture: Brett Costello
Admittedly, they were without Origin players James Tedesco and Daniel Tupou, as well as Jared Waerea-Hargreaves, Victor Radley and Sam Verrills. But even so, look at how Penrith performed without their Origin stars, and that used to be the Roosters.
Which brings me to my point on Politis, who we all know doesn't suffer mediocrity.
And when he sets out to fix a problem, he usually heads straight to the top shelf, identifying targets like Cronk, Sonny Bill Williams and Brandon Smith, and getting under everyone's guard.
While there's still time to turn it around this year, the Roosters are already four points adrift of the top four, with their next three games against the Storm, Eels and Panthers.
Remember, they were lucky to make it through to week two of the finals last year, though it was understandably excused because of a rotten run with injuries.
But if we get to the end of this season and they don't make their presence felt again, I'm tipping Brandon Smith won't be the only big change coming.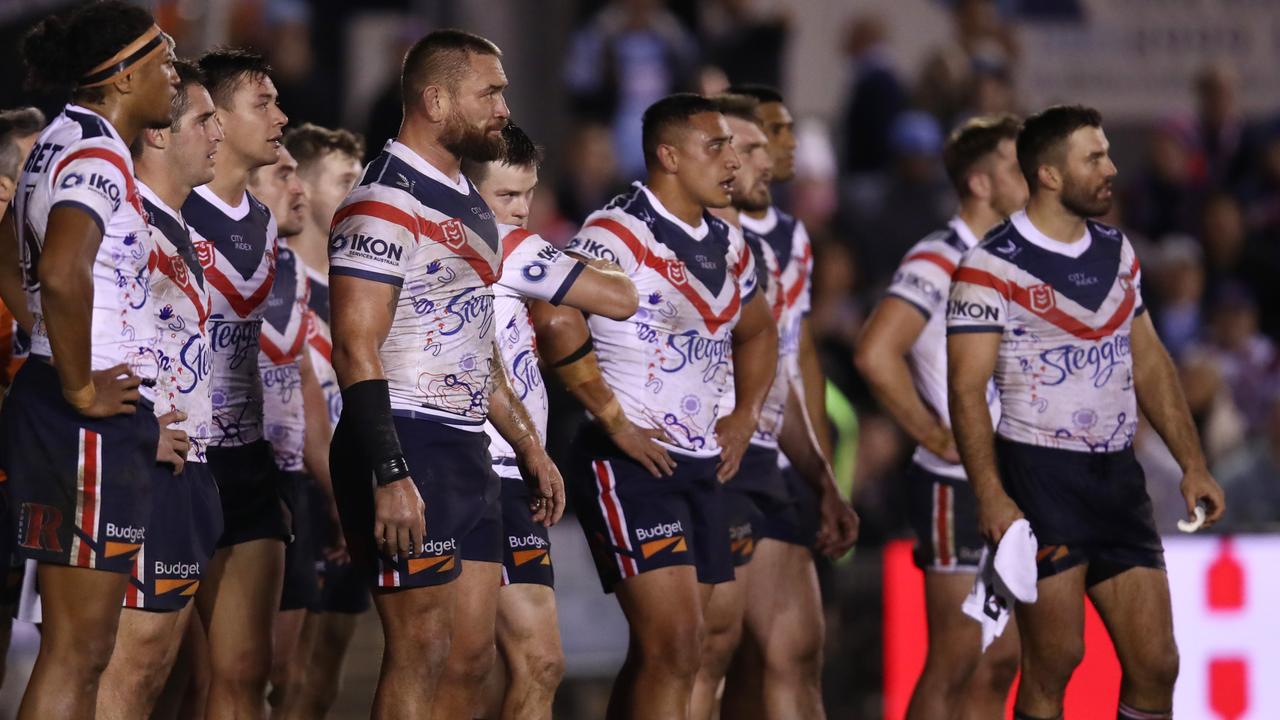 The Roosters have had a mixed start to the season. Picture: Jason McCawley/Getty Images
WILL HAAS STAY OR GO AT BRONCOS?
They've called a truce for now, but does anyone really think Payne Haas's management has given up on making him the game's first $1 million prop?
Who knows what to believe, but usually where there's smoke there's fire in this game — and the rumours linking Haas to the Roosters just won't go away.
So when this story again catches fire in the coming months it will come down to how the Broncos allow it to play out.
Do they succumb to Haas' demands and just let him walk, or do they hold their ground and tell Haas and his management he won't be getting another pay rise on top of the one he's already got — and he is going nowhere until the end of his current contract after 2024?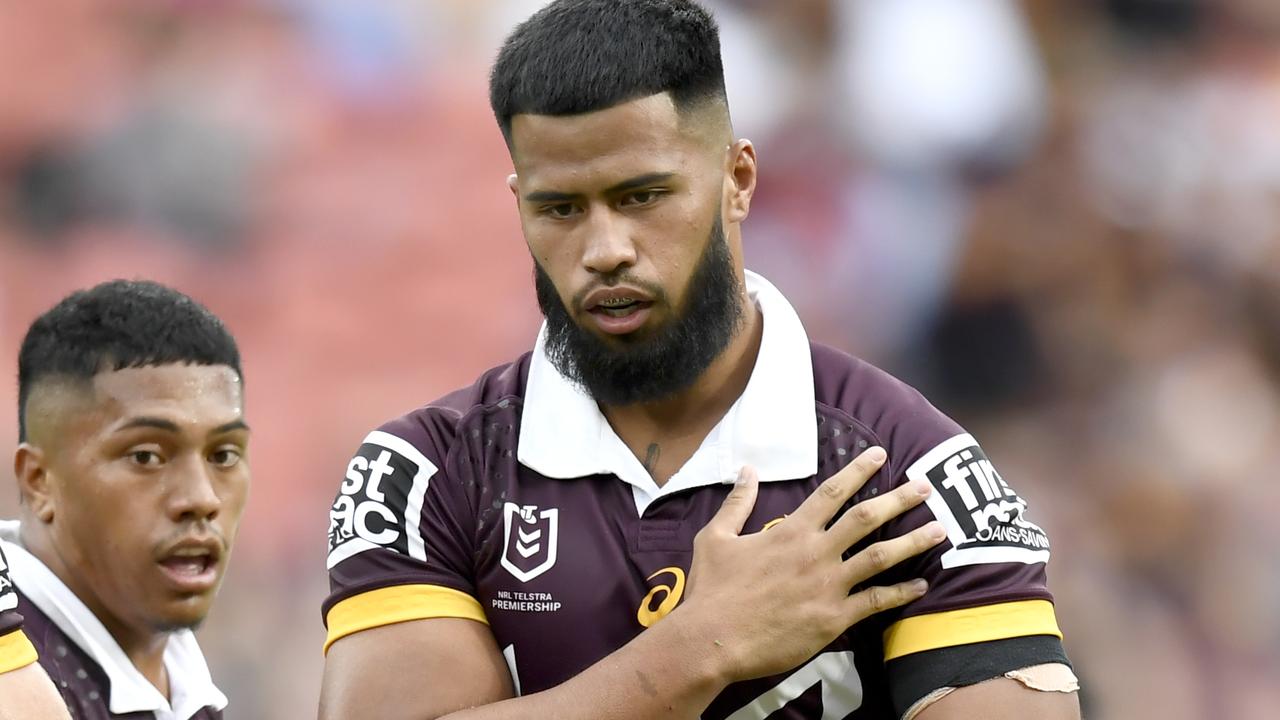 Will Payne Haas stay at the Broncos long term. Picture NRL photos
The third option is to let Haas go but only on the Broncos' terms, meaning he should pay a significant settlement to the club to get out of his existing deal, and the Broncos go to market for a player like Munster who is really worth $1 million-a-season.
You'd also love to see the NRL have the Broncos' back on this — and only register any future contract for Haas at $1 million, with all of it on the salary cap and excluding third party payments. At least then we will know that no one is rorting the cap to make room for greed.
WHO'S NEXT TO FALL OFF COACHING MERRY-GO-ROUND?
Two more coaches are chewed up and spat out, but don't think for a second Michael Maguire and Nathan Brown will be the last to go this year.
Already the heat is rising on Gold Coast's Justin Holbrook and Newcastle's Adam O'Brien heading into this round.
The Titans take on the Rabbitohs on Saturday and the Knights the Panthers on Sunday, and if these games go according to plan the talk will only escalate over the weekend.
The dust had barely settled on Maguire on Tuesday and rumours were already linking Cameron Ciraldo not only to the Tigers and Bulldogs, but also the Knights.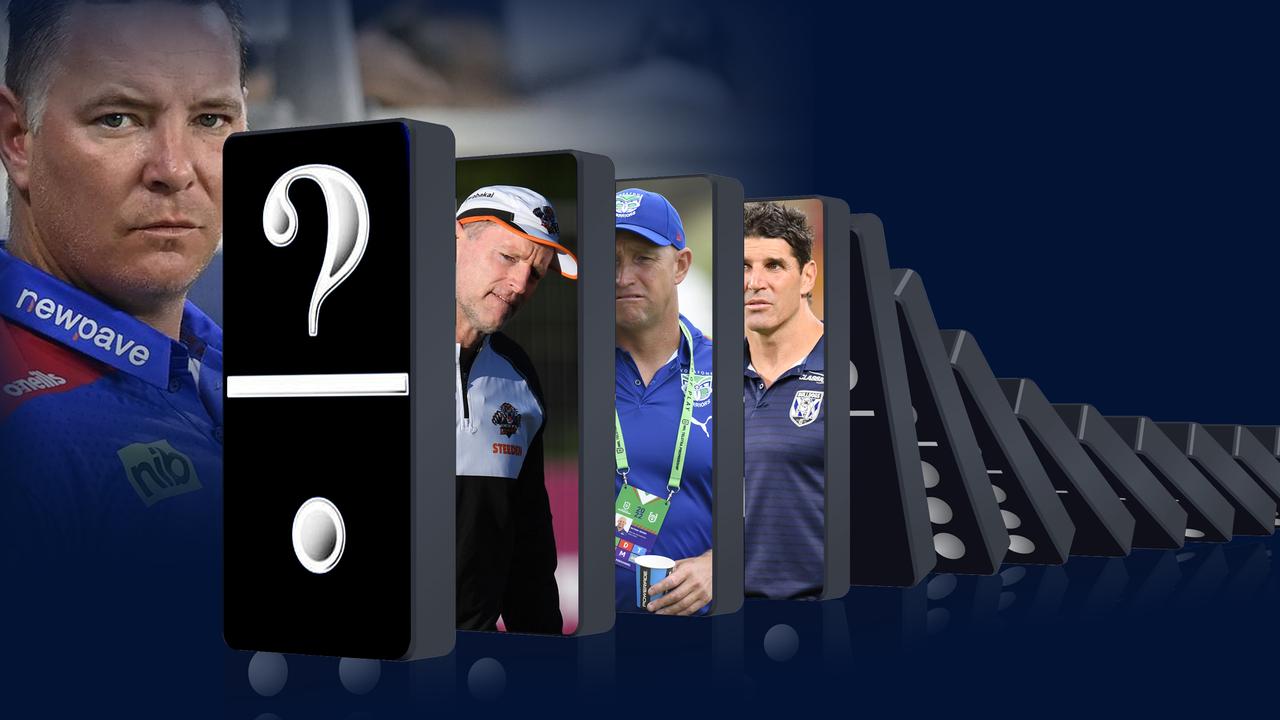 Which NRL coach is next to go?
The irony is it was only three years ago O'Brien himself was carrying the exact same tag as the current Penrith assistant, as the next best head coach-in-waiting.
Back then O'Brien earned his reputation after success under Craig Bellamy at Melbourne and Trent Robinson at the Roosters.
Yet it again highlights why very few assistants, even the most highly rated, can easily transfer into the top job.
Holbrook also came with huge raps after success at St Helens, but after taking the Titans to the finals last year it's all gone south in his third season, with the Titans currently 15th and only winning one of their last nine games.
The club has already been forced to deny one round of speculation linking Paul Green.
But Holbrook only has to also look at how Maguire's career also played out to understand how quickly it turns.
In seven years Maguire went from a drought-breaking premiership winner who South Sydney said at the time would have a job for life — to a bloke who today will struggle to get another gig.
Not only because of the public perception of him being too tough on players, but because of the way it panned at a club notorious for throwing coaches under the bus.
The Tigers have now gone through five in a decade since Tim Sheens was sacked in 2012.
Is Titans coach Justin Holbrook the next to go? Picture: Ian Hitchcock/Getty Images
Meanwhile, the Warriors have had just as many coaches in that period — and astonishingly, are now saying they want a "hard arse" to replace Brown.
This after watching what has transpired at the Tigers in recent years.
It just makes you shake your head at decisions being made at some clubs.
Maguire can never be accused of not giving 100 per cent, but in three and a half years the Tigers went backwards under him, from 9th to 11th to 13th and are currently 13th.
And this is the other points fans should not overlook.
Tim Sheens says the decision needed to be made now because it's important to get a new coach in as soon as possible so he can have a say on recruitment when the silly season kicks off on November 1.
But again, where was this thinking when the Tigers were ready to sack Maguire last September after that 38-0 shellacking against the Bulldogs, only to go to water after it was leaked to the media?
So it was then left to Sheens to do the dirty work as the new head of football nine months later — with another season down the drain because the club's board and administration didn't have the guts to make the tough call themselves.
That's where fans should be directing their anger now.
Why is the coach always held accountable, while the board and administration wipe their hands of it and just go and find the next victim?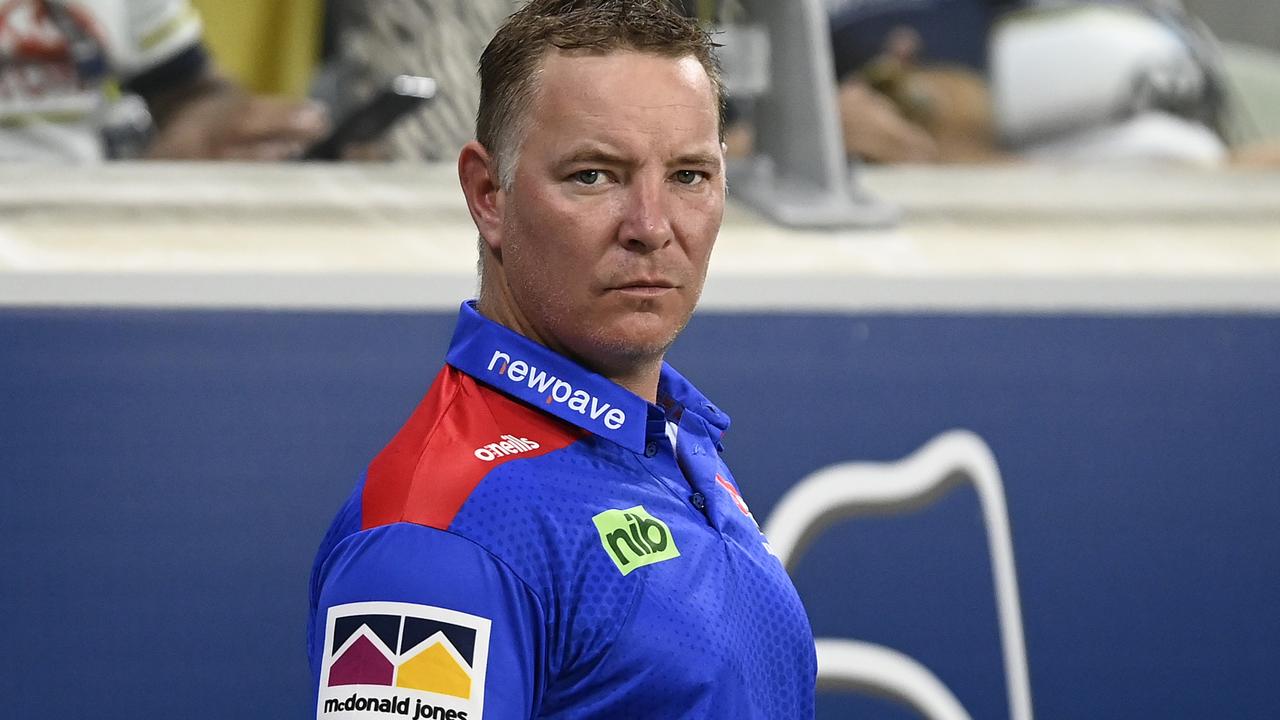 Adam O'Brien was a highly regarded assistant but is struggling as a head coach. Picture: Ian Hitchcock/Getty Images
WHO WILL BE BENNETT'S $1M MAN?
The public perception is Wayne Bennett is running out of options to become the Dolphins' first marquee signing.
The truth is Bennett knows how the player market works far better than those who love to bag him, and Bennett also doesn't mind telling a fib or three when it comes to keeping secrets about potential signings.
Just think back to when South Sydney landed Latrell Mitchell when almost everyone thought he would end up somewhere else.
So even though the public conversation so far has centred on who the Dolphins have missed out on, the one certainty is when there's a $1 million-plus contract up for grabs someone will eventually grab it.
Obviously Cameron Munster is still Bennett's No.1 target, but the cagey old coach would have plan B, C and D in motion, and some of those targets would not have been mentioned publicly at this point.
But that is why every rival coach should be very nervous.
WILL LATRELL'S DODGY HAMMY ULTIMATELY SAVE SOUTHS?
Another week passes and Latrell Mitchell's return gets delayed again, this time because of Covid.
Yet this could end up being a blessing in disguise for the Bunnies.
The fact he isn't playing this round almost certainly means Latrell won't come under consideration for Origin II, and it would then be a gamble to throw him in to a potential decider knowing his hamstring problems.
But Souths will be cheering because their best player is coming into the back-end of the season fresh after missing the past two finals series because of injury and suspension.
Will a fit Latrell make up the difference of losing Adam Reynolds for the big end of season games? We are about to find out.
Originally published as NRL 2022: Is Mitch Moses ready to lead Parramatta Eels to the premiership?