NRL 2022: NSW vs QLD ex-union Origin, Wayne Bennett's alliance with Nudgee College, GPS schools
In the past, you couldn't get in the front door of a GPS school if you were a league scout, now things have changed and so much so NRL is winning the war with rugby.
The NRL's greatest coach Wayne Bennett is ready to raid rugby's famous GPS system as he leaves no stone unturned in his recruitment drive for rugby league's new ­expansion franchise, the Dolphins.
The Greater Public Schools system in Brisbane and Sydney has traditionally been the domain of elite schooling that has developed generations of rugby young guns destined for the green-and-gold of the Wallabies.
But over the past decade, there has been a greater prevalence of GPS talent sidestepping the Wallabies and instead chasing a rich contract with NRL clubs. The GPS system in Queensland has delivered a raft of teenage sensations to the NRL, including Churchie triumvirate Karmichael Hunt, Kalyn Ponga and Jaydn Su'A, Ipswich Grammar's Sam Walker and BBC's Dane Gagai.
Stream every game of every round of the 2022 NRL Telstra Premiership Season Live & Ad-Break Free In Play on Kayo. New to Kayo? Try 14-Days Free Now >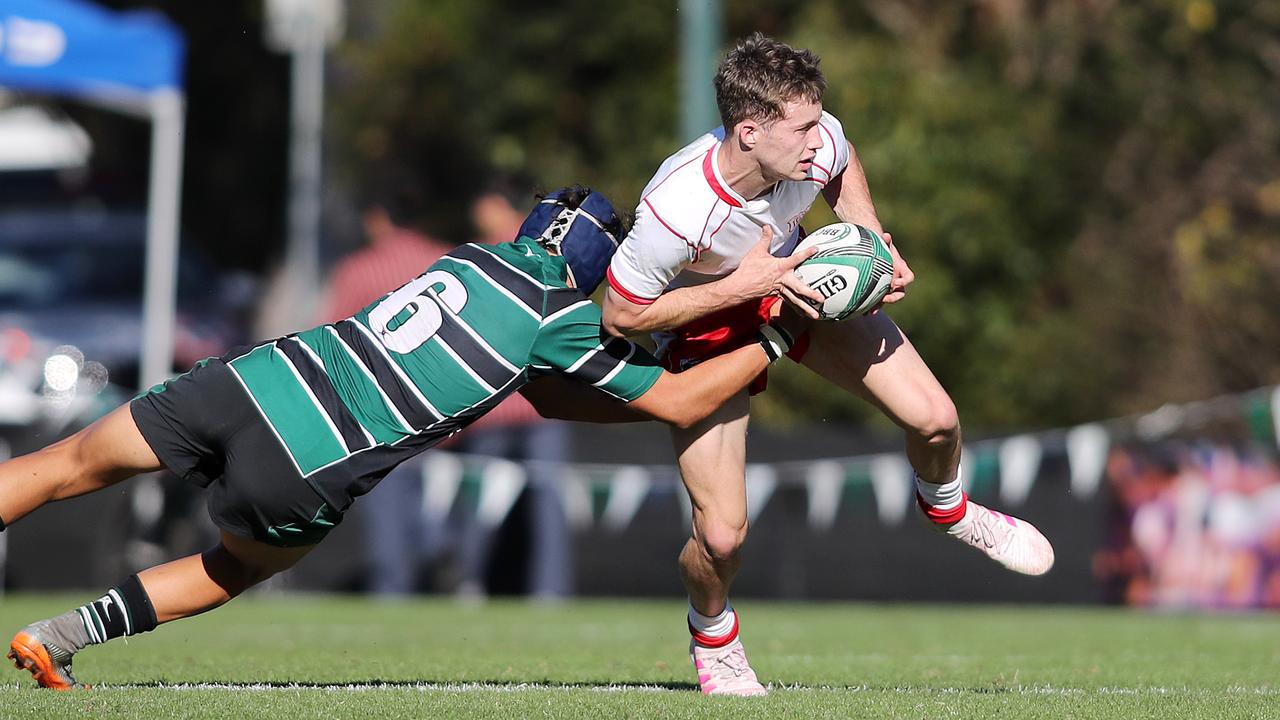 Sam Walker played and attended Ipswich Grammar School. Picture: AAP/Josh
Now the Dolphins are cashing in, with the NRL's 17th team striking an alliance with Nudgee College as the battle for elite sporting talent in rugby league and union intensifies.
"We've made inroads in the GPS system up here in Brisbane," Bennett said. "We have built a strong relationship with Nudgee College and we have other GPS schools contacting us wanting to assist with scholarships.
"But the prerequisite is that a scholarship holder's behaviour must be exemplary and they have to strive academically as well as athletically.
"A lot of league kids now are getting GPS scholarships because the schools value what they bring to their program. Jaydn Su'A, Kalyn Ponga, Dane Gagai and Karmichael Hunt all went to GPS schools in Queensland.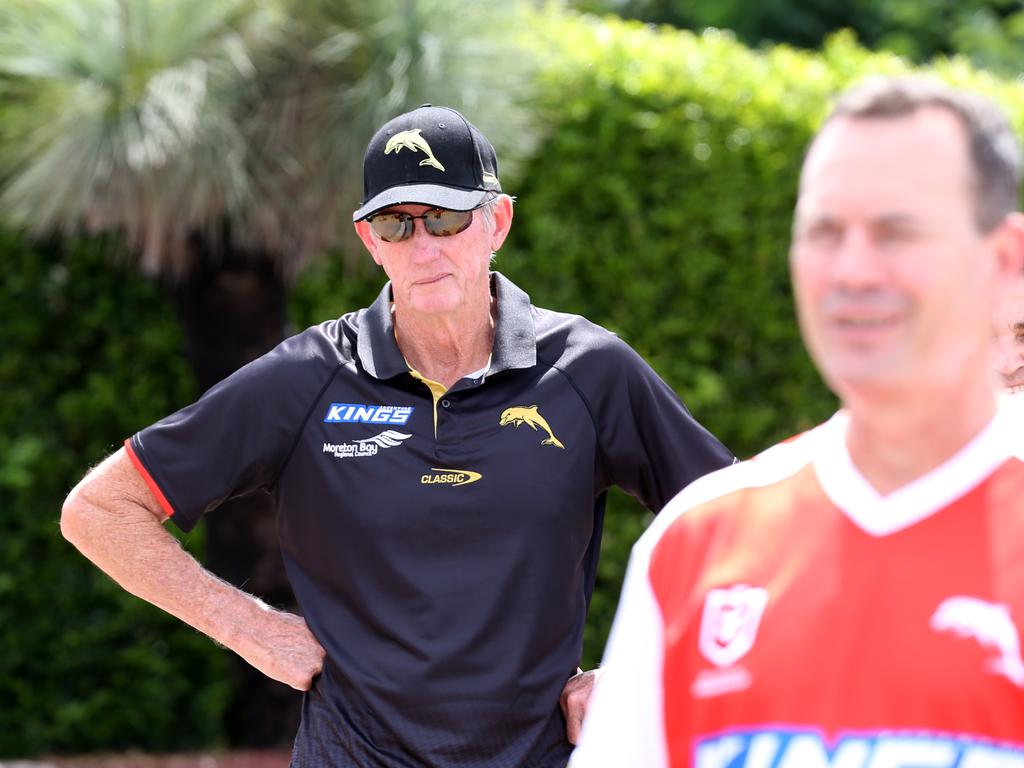 Wayne Bennett (L) says the GPS system is ripe for the picking. Picture: Steve Pohlner
"It's a wonderful thing because most working-class parents in league can't afford to send their kids to GPS schools, but the scholarships give them the opportunity.
"It's a win-win situation. Even in Sydney it's happening. Cameron Murray (Souths captain) went to Newington College, so there's quite a few kids who went to GPS schools who have gone on to play NRL.
"The GPS schools are now scouting kids as young as the Queensland under-12s and they are helping with their education, which is a positive for the NRL because it produces more educated, rounded people.
"Invariably, kids like Sam Walker and Gagai come back to rugby league because that's their sport.
"And the NRL scouts know they are league kids, so they entice them back to the code."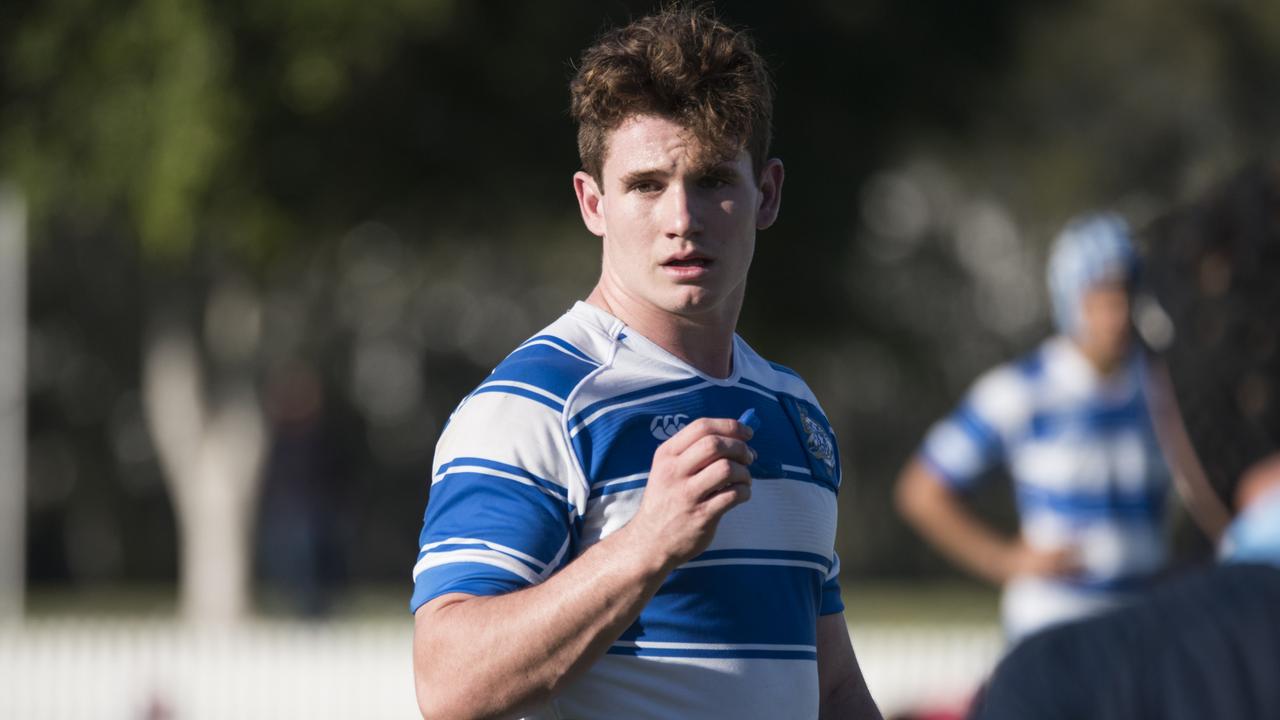 Manly forward and former Bronco Ethan Bullemor attended Nudgee College, the school now aligned with the Dolphins.
Dolphins recruitment boss Peter O'Sullivan said the GPS system has undergone a radical shift in mentality when dealing with NRL clubs.
"In the past, you couldn't get in the front door of a GPS school if you were a league scout," he said. "But they know rugby's grassroots is diminishing and the best players are in rugby league, so they have a much better relationship with NRL clubs now.
"Now, young talents can have the best of both worlds. They can play junior reps in rugby league, be at a GPS school for their education and the NRL clubs get the benefits.
"At the Dolphins, we're already working with GPS schools. One of the first things we did was go out to visit Nudgee College, who are in our catchment, and start building a ­relationship with them."
Special report: How NRL is killing rugby nursery
- David Riccio and Michael Carayannis
It was only a few years ago that rising Parramatta Eels star Will Penisini was dreaming of becoming a Wallaby.
The Penisinis were a rugby union family.
They followed the Wallabies to two World Cups in 2011 and 2015, were Waratahs members for six years and their 19-year-old boy was an outstanding footballer for The King's School.
Will Penisini came from a rugby-mad family.
"But the pathway in rugby union compared to the NRL wasn't the same,'' Penisini said.
"I was at school and there was a better pathway to league and it was more appealing because the NRL is bigger in Australia right now, in terms of crowds, TV coverage, sponsorship.
"In 2015, me and my family were Waratahs members and we'd go to the games and the crowds were massive.
"But as the years went on, it became less appealing and more recently I went to a game and the crowds weren't as good and the game wasn't showcased as it was a couple of years ago.''
A graduate of the prestigious King's School in Sydney, Penisini, was signed by the Eels on a development contract at 14.
He is just one of an increasing list of elite schoolboy footballers breaking with 103 years of GPS tradition by choosing a pathway to the bright lights of the NRL instead of rugby union.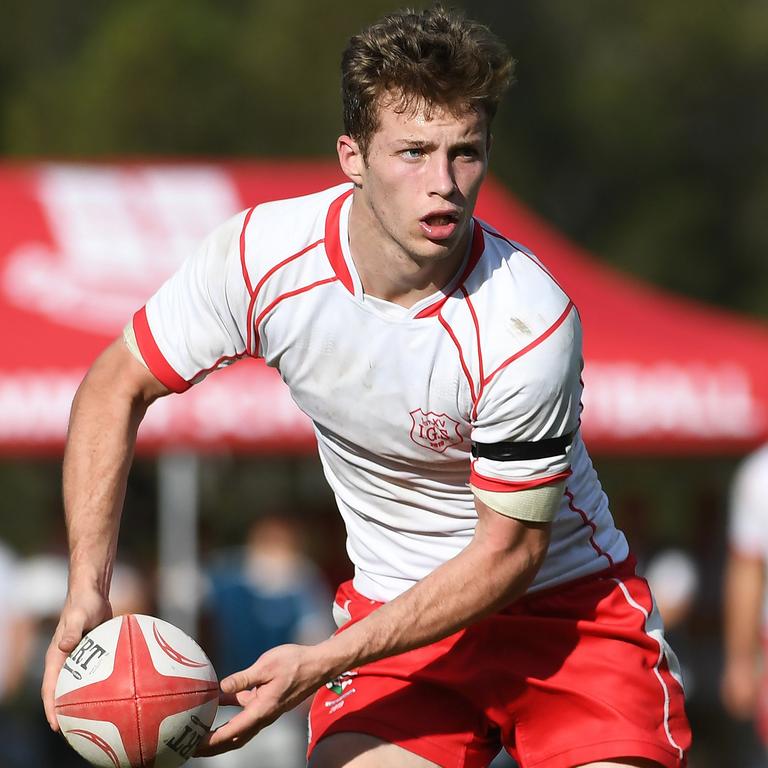 Sam Walker came out of Ipswich Grammar.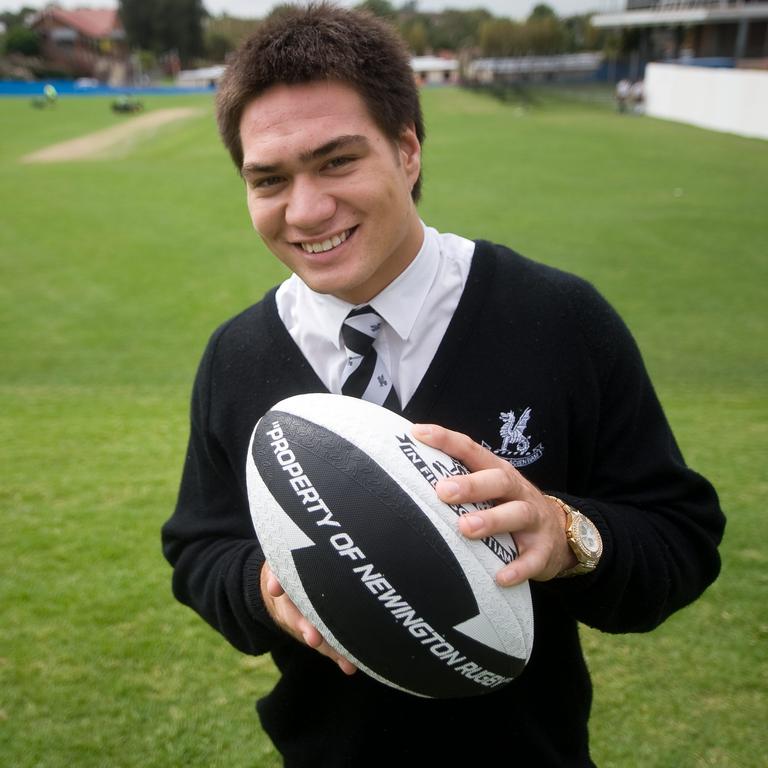 Tepai Moeroa went to school at Newington College.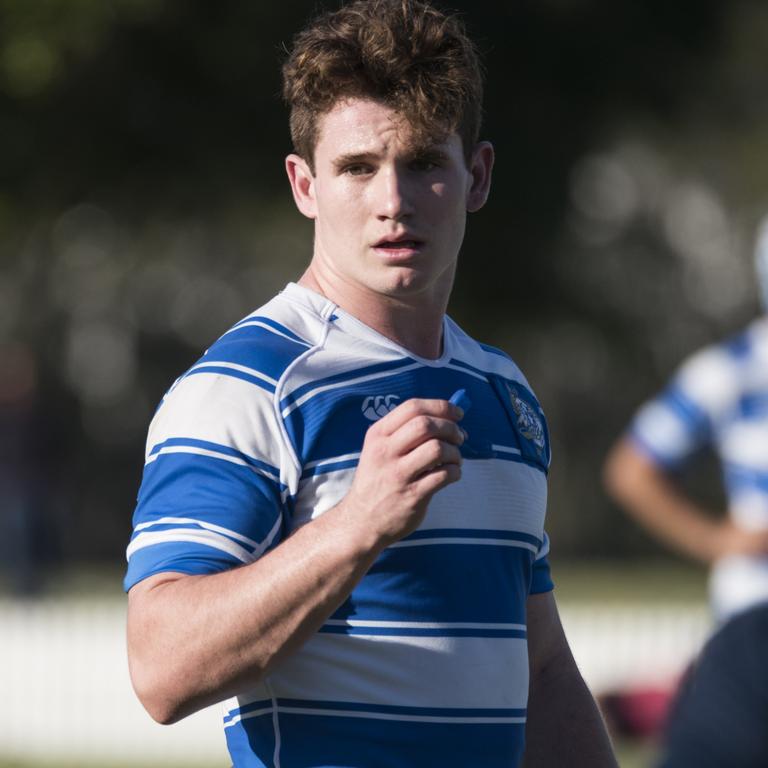 St Joseph's Nudgee College's Ethan Bullemor.
Once regarded as a breeding ground for future Wallabies, the revered GPS rugby union competition has become the new talent pool for NRL scouts.
The decline in profile of Super Rugby and the lure of million-dollar contracts in the NRL, supported by lucrative sponsorship deals and wall-to-wall coverage on TV, has produced an unprecedented production line of NRL players with GPS credentials.
In a fast-developing trend, there are at least 20 players with private school tutelage currently performing in the NRL.
All of them would be considered as potential Wallabies, had they stayed playing rugby union.
Among them are NSW State of Origin player and South Sydney captain Cameron Murray (Newington), Roosters rising stars Sam Walker (Ipswich Grammar) and Joseph Suaalii (The King's School), Roosters forward Angus Crichton (Scots), Sharks forward Toby Rudolf (Scots), Storm player Tepai Moeroa (Newington) and Penisini.
Below the established NRL stars is a new wave of talent about to emerge with GPS rugby union backgrounds.
Barker College's (CAS school) Isaiya Katoa created headlines earlier this year when he quit the Panthers to join new franchise the Dolphins on a three-year deal from next season, Penrith SG Ball (under-18) player Jesse McLean is a student at Newington as is former Cronulla Harold Matthews (under-16) skipper Siteni Taukamo, who is contracted with the Sharks until 2024.
Penisini's younger brother Richie is in Year-12 at The King's School, but is on a similar path to his brother, contracted to the Eels SG Ball side.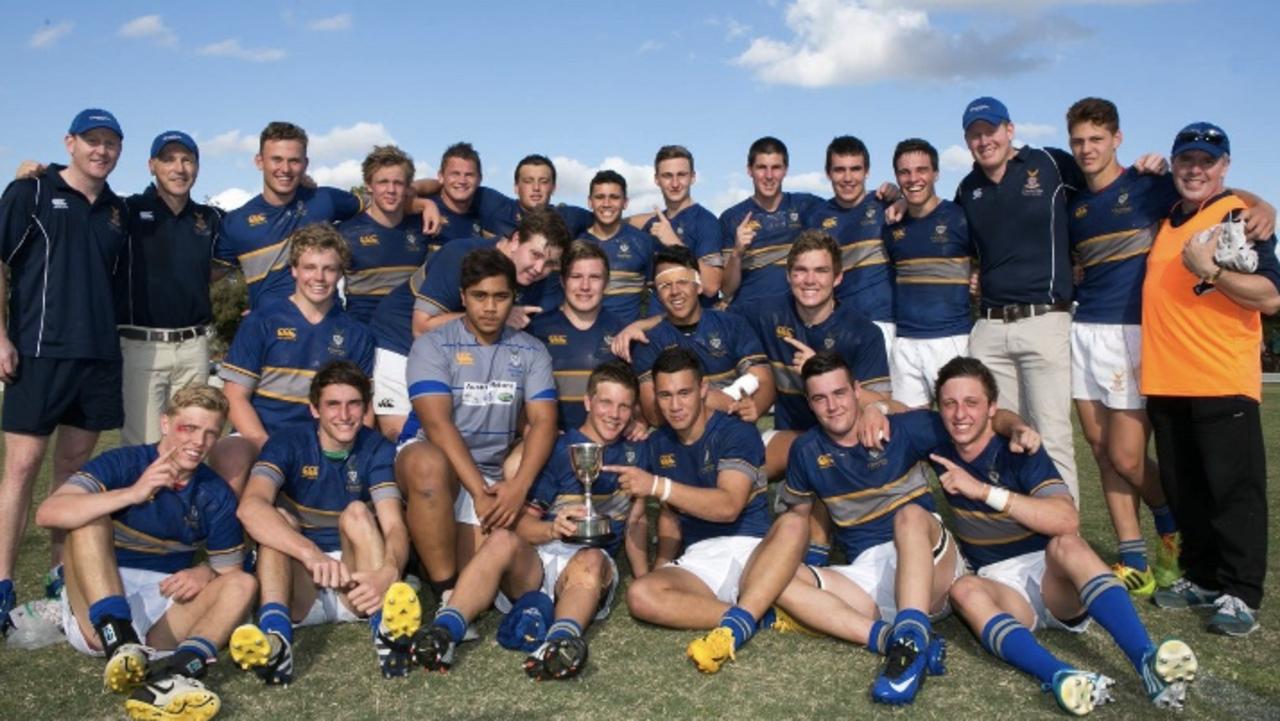 The champion 2014 Churchie team featured both Kalyn Ponga and Jaydn Su'A.
"I think we're about to see a new wave. There's a lot of talented kids coming through the GPS schools,'' Penisini said.
"A lot of those boys start by playing both codes, which only helps them increase their skill-set, before picking their path.
"There's been more and more focus and talk within rugby league about the GPS kids moving onto league and we can see now the boys coming through the system, even in the Harold Matts and SG Ball.''
Making it easier for young footballers to switch codes is a shift in the previously over-protective mentality of the GPS blazer brigade.
Where once GPS students were only permitted to play rugby union for their school, headmasters and heads of sport are allowing their students to play both codes.
GPS schools are also acutely aware of the fact that a student who makes the NRL is an equal-parts promotion for the school of which they developed their skills.
"I started playing rugby league at eight and then I started rugby union when I was 11,'' Moeroa, who made his NRL debut with the Eels, said.
"I was doing both growing up, playing league on Saturday and union Sunday.
"When I first started at Newington, they didn't like the idea of me playing rugby league. My manager was able to come up with an agreement that I would play both in year nine and 10 and a bit in Year-11.''
Moeroa added that the football development provided by GPS schools is another factor in NRL scouts spending their weekend's watching private school footy.
"The level of training we were able to access at Newington was a pretty good avenue for life and footy after school,'' Moeroa said.
"Some of the GPS schools facilities are almost at the standard as some Super Rugby and professional franchises. It's crazy the amount of funding that goes into their programs."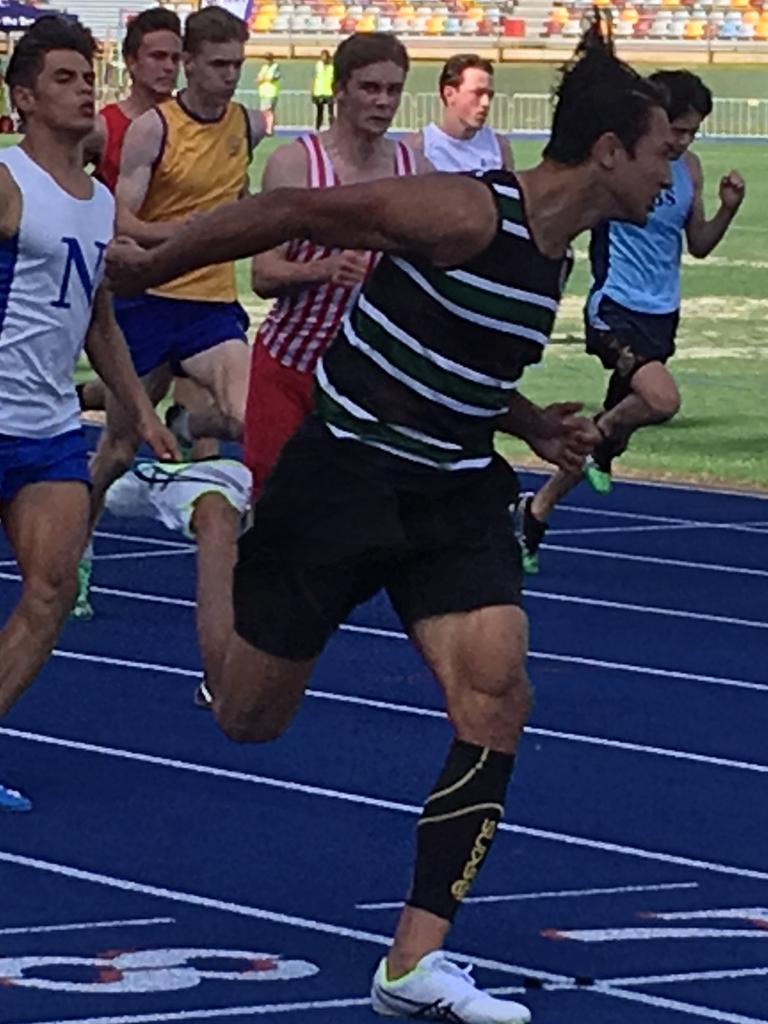 Xavier Savage wins the 100m GPS title.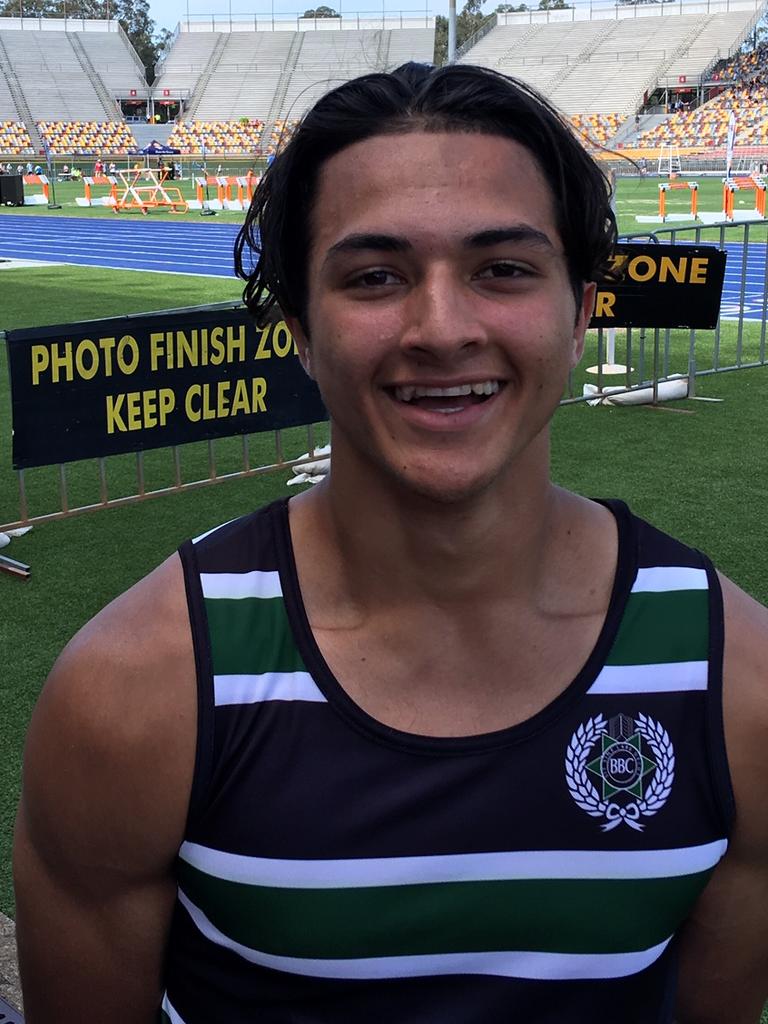 Savage was from Brisbane Boys College.
Former Parramatta premiership-winning forward John Muggleton switched from rugby union to league as a junior before returning to the 15-man game as the defence coach of Super Rugby franchise the Melbourne Rebels in 2011.
Muggleton said GPS schools were offering scholarships to teenagers playing junior league, transforming them into rugby union players, only to lose them in the end.
"Recruitment is a big thing for the GPS Schools,'' Muggleton said.
"Rugby league is losing a lot of young juniors to schools in the GPS system.
"It's not a bad thing because at the end of their school time a lot of them are going back to league.
"It's a false economy for rugby. The schools target the good league players but then they aren't in rugby for the long-term.
"What is happening is, NRL scouts are watching GPS matches and Australian Schoolboys selection trials and are poaching them back to play NRL.
"It's a funny situation.
"At the end of the day. so long as they get a great education, that's the best thing about it.''
Originally published as NRL 2022: NSW vs QLD ex-union Origin, Wayne Bennett's alliance with Nudgee College, GPS schools