Wiremu Greig turned his Maori All Stars call-up from the casino into a new NRL contract
Mulleted man-mountain Wiremu Greig took his first Maori All Stars call-up from the floor of Townsville's casino. He returns 9kg lighter, with a new NRL deal in the works and a haka to learn.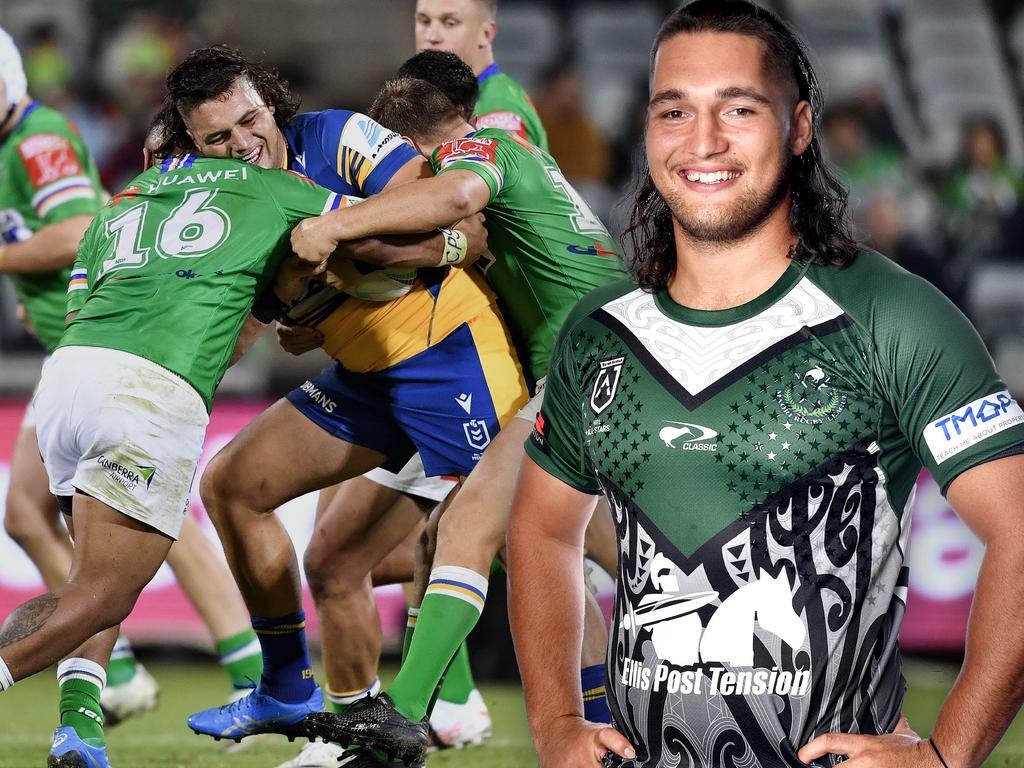 Wiremu Greig was called into Maori camp on Monday when Covid-19 protocols forced Knights prop Pasami Saulo out of Saturday's clash.
Wiremu Greig put down his schooner, picked up his phone and raised an eyebrow to his mate in the middle of The Ville Resort-Casino, the pride of Townsville.
"I hadn't had too many, I swear," the mulleted man-mountain laughs, remembering the call from Maori All Stars camp 12 months ago.
"It was still early in the night, I waited for my mate, skulled a few waters and we went home pretty quickly!"
Greig, then hard to miss at 125kgs but largely unsighted by the wider rugby league world, was on notice. By 9am the next morning, Bailey Simonsson was ruled out of the NRL All Stars clash, and Maori coach David Kidwell rang Greig again, this time to pencil him in for his first top-grade outing later that night.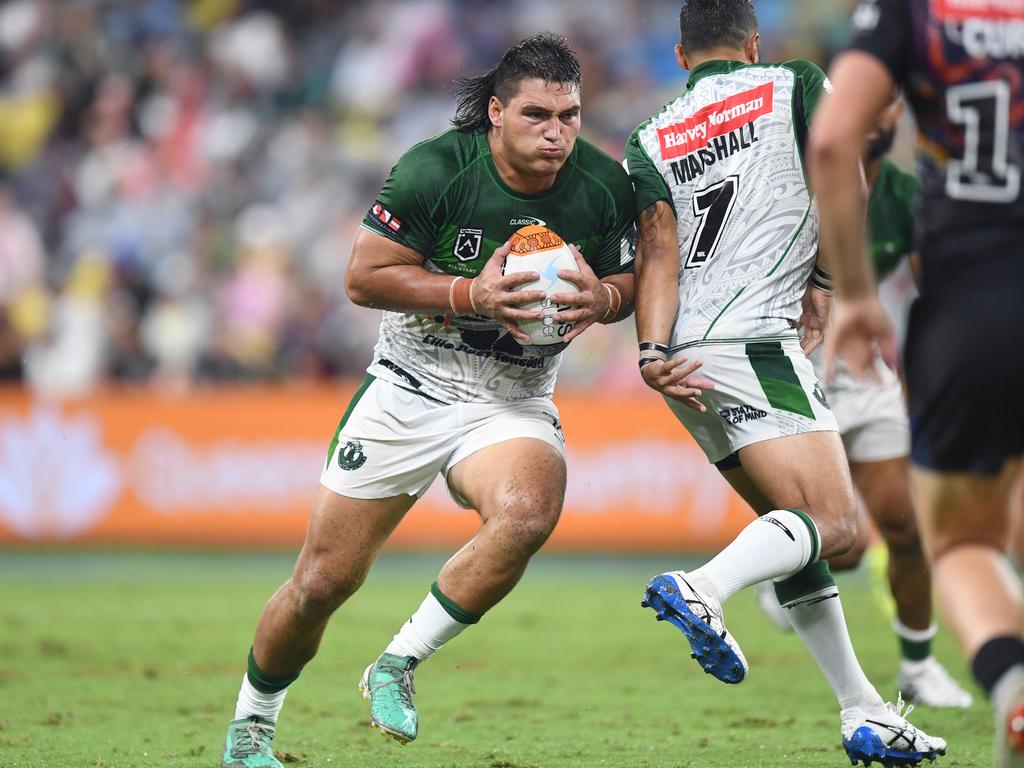 Wiremu Greig was also a late inclusion for the Maori All Stars side in 2021. Picture: NRL Images
After shuffling his way through a haka he freely admits he didn't know, and ploughing through a game plan he hadn't seen, Greig got moving with an eye-catching bench cameo that only this week comes full circle.
Greig was once again called into Maori camp on Monday when Covid-19 protocols forced Knights prop Pasami Saulo out of Saturday's clash. This time he took the call mid-session at Parramatta's training base, his All Stars effort last year putting him on Brad Arthur's radar.
Greig had been highly rated at the Cowboys and would likely have earned a debut for the club at some point last year, but Kidwell's recommendation as Eels assistant sealed his move to Sydney and his first NRL game was in blue and gold.
Greig's commitment to Parramatta's cause since – shedding nine kilos by way of 5.30am cardio sessions – has his management flagging extension talks with the club.
Maori All Stars coach and Eels assistant coach David Kidwell helped lure

Greig from Townsville to Parramatta. Picture: NRL Imagery
"No one had really laid eyes on him before but I thought he handled the (All Stars) occasion well at really short notice, he hadn't really trained with us aside from one session earlier in the week," Kidwell says.
"He didn't know the haka but he represented his culture and family with pride.
"[Arthur] asked about him and I said, 'He's a big lump of a lad, he's a big man all right.' There's not too many of them left in the game so he's something a bit different. And I told BA how he handled the situation well and we've got him in there now for his first pre-season with Parra.
"He's worked really hard all summer, he's able to get around the park a lot more, he's got bigger minutes in him and his teammates are noticing, going 'wow, look at this bloke'. That's good for his confidence, knowing people recognise your hard work and now he's with us in camp, learning the haka and the game plan this time."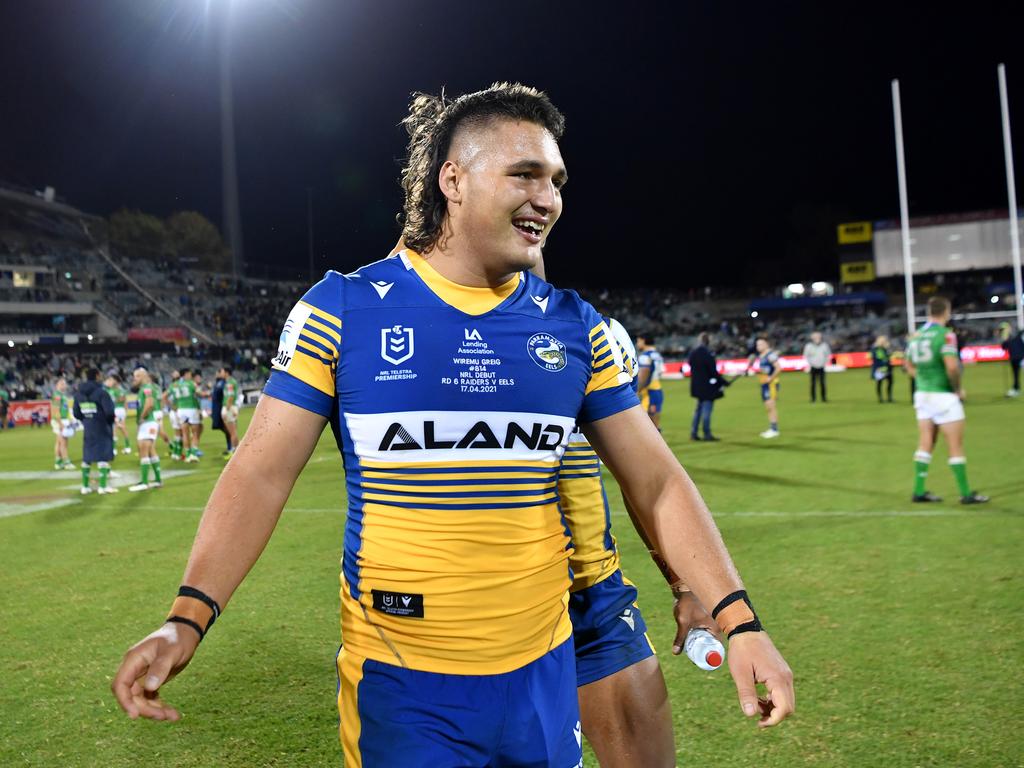 Greig has lost nine kilos since joining Parramatta. The forward says he aspires to be as fit as Eels props Reagan Campbell-Gillard and Junior Paulo. Picture: NRL Imagery
For Greig, the chance to properly learn that haka, and truly explore the Maori roots he traces to Whangarei and further up New Zealand's northernmost reaches, are exactly what the All Stars week is about.
Greig's taonga – the traditional Maori greenstone necklace gifted to each men's and women's representative as "an acknowledgement of what you've achieved and who you're representing" – is already a prized possession. Perhaps because he has time to properly appreciate it this year.
"This is how to do it, I get all the cultural experience as well," he grins.
"If you watch the haka on replay [from the 2021 game], you can see me lagging at the back because I just hadn't learned it. Last year was all just a bit of a blur to be honest.
"This year I'll still be up the back but I'll know it this time.
"At the end of the season if the borders open up I'm planning to get back home, go up north, see the family and really start looking into my heritage."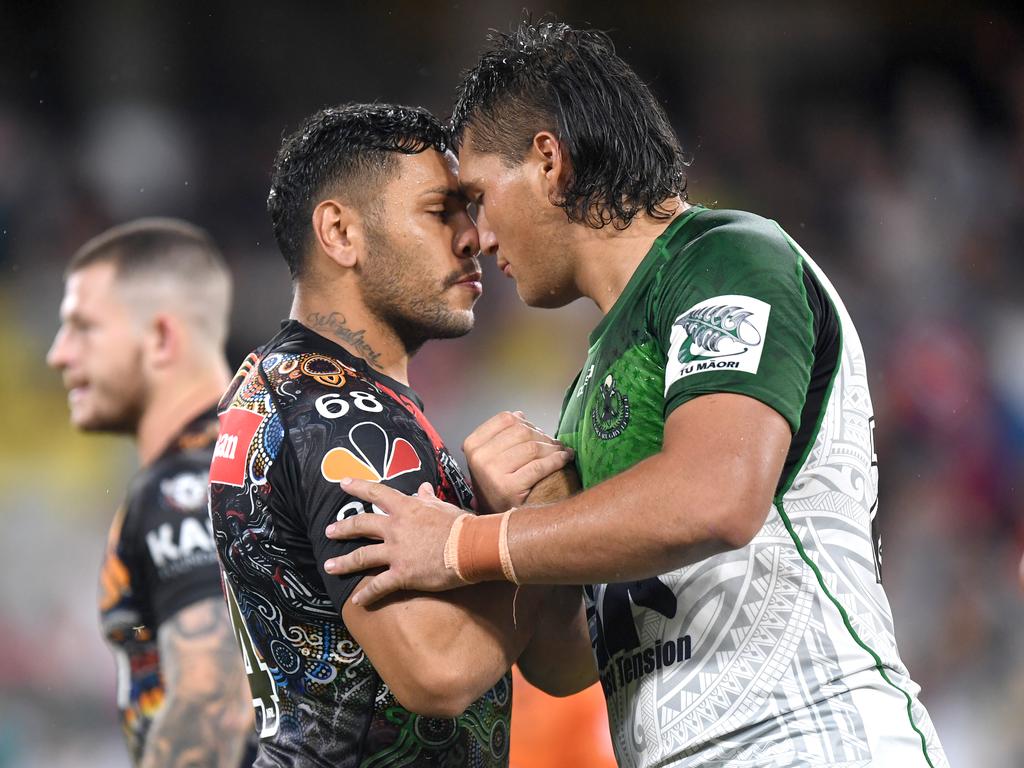 Greig says that playing for the Maori All Stars side has inspired him to learn more about his heritage. Picture: NRL Imagery
While NRL coaches wait with bated breath, and not without reason, for fulltime to sound at CommBank Stadium and their players to come through unscathed, tales like Greig's highlight the other side of the All Stars contest.
The "cultures coming together and playing for your culture" as Kidwell puts it, should always be enough to justify this fixture. But Greig is not alone in using the clash as an NRL stepping stone, with new Cowboys prop Jamayne Taunoa-Brown converting an Indigenous All Stars outing into a full-time Warriors deal in 2020.
Indigenous teammate Josh Kerr is another who grew another leg while in All Stars camp, while Jayden Nikorima (Maori All Stars) and Shaquai Mitchell (Indigenous) have taken the long way to get their chance on Saturday night.
Greig's world shifted south within a few weeks of his breakout performance last year, and brought him back to close quarters with schoolboys teammate turned rising Eels star Dylan Brown.
Indigenous All Stars Zac Sander and David Fifita tackle Greig during last year's NRL All Stars match. Picture: Evan Morgan
"I lived with Dyl for about a month, living out of a suitcase and riding his electric scooter around," Greig says, insisting the five-eighth was a decent housemate but the worst thing for his waistline.
"I'm weighing 116 kg now, that was BA's message, I've had to drop some weight so I can get around the paddock a lot better.
"Moving out helped. Have you seen Dylan Brown? He can eat whatever he wants and doesn't put anything on! I've got to watch that, living with the missus is really good for that, I don't eat rubbish anymore.
"I was the extras man all last year, 5.30am on the bike.
"But big guys like Jun [new Eels captain Junior Paulo] and Reg [Reagan Campbell-Gillard], they're the same size as me or bigger, but they carry it around the field so well and punch out big minutes.
"They'd already be in there at 4.30am doing their cardio when I'd roll in for my extras so the example's there, I can see the work you have to do to play NRL."