Peter V'landys celebrates the ability of rugby league to break down cultural barrier
Lauded as the man who saved rugby league, it was league that saved Peter V'landys when he came to Australia as a young boy who could not speak English.
Peter V'landys couldn't speak English when he arrived in Australia.
The future ARLC chairman and Racing NSW boss was three, when in 1965 his mother Katerina, along with his older brothers Paul and Alex, left their home on the Greek island of Kythira for another dreamy island called Australia.
It had been two years since a young V'landys had seen his father Nick.
In 1963, Nick had kissed his wife and three baby boys on the cheek and with tears of hope and uncertainty trickling down his cheek, vowed to see them soon, in their new home of Australia.
Wollongong was where the V'landys family would begin their new life as migrants from Greece.
Stream every game of every round of the 2022 NRL Telstra Premiership Season Live & Ad-Break Free During Play on Kayo. New to Kayo? Try 14-days free now >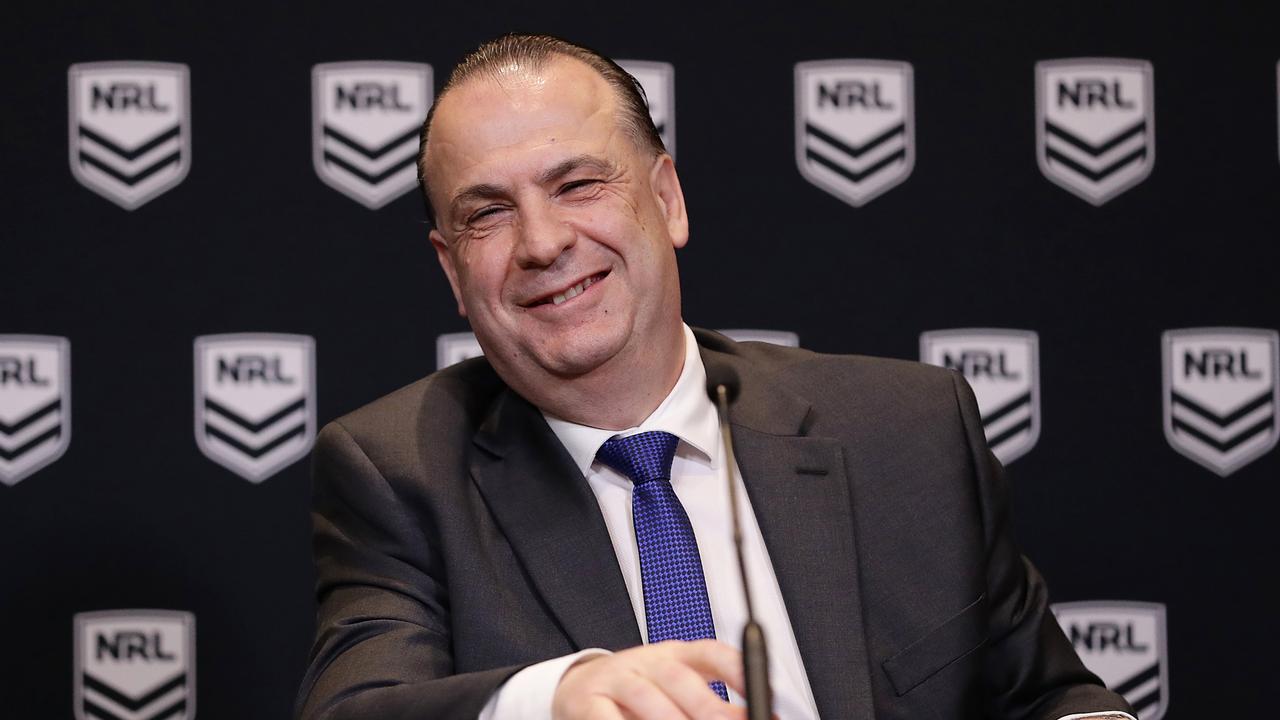 Australian Rugby League Commission Chairman Peter V'landys. Picture: Mark Metcalfe/Getty Images
V'landys remembers: "We were very poor. It was a struggle early on. My parents sometimes had to go without food to feed the three kids.
"Dad worked 18-hour days in the Wollongong steelworks.
"Because he didn't have the language, that was the best he could get. He was a 'doubler'. He worked every day from 6am and he would normally finish at four, but then he would do a double. He'd finish at 1am, and then start at six again. He retired when he was 60 and died when he was 64.
"Mum worked 12-hour shifts in a cafe so that I'd have a good chance in life. I've never seen a man and woman who worked as hard."
At school, V'landys struggled to fit in with the Aussies.
"I'm not embarrassed to say, it was hard,'' V'landys said. "I was just a wog.
"That's what I was called, a wog.
"I don't think people realise when you're branded something like that, how hard it is.
"I went to kindergarten at the age of four because my parents couldn't afford child care.
"You're in the playground and especially when you were a little fella like me, you were picked on.
"I was an outcast. You didn't fit in. You felt isolated, You felt alone.
"And it was difficult."
It's a common story for thousands of Greek and Italian migrant kids of the 1950s and '60s.
For V'landys, the only way he could assimilate with the Aussie boys from West Wollongong Infants school was with a leather ball tucked under his arm.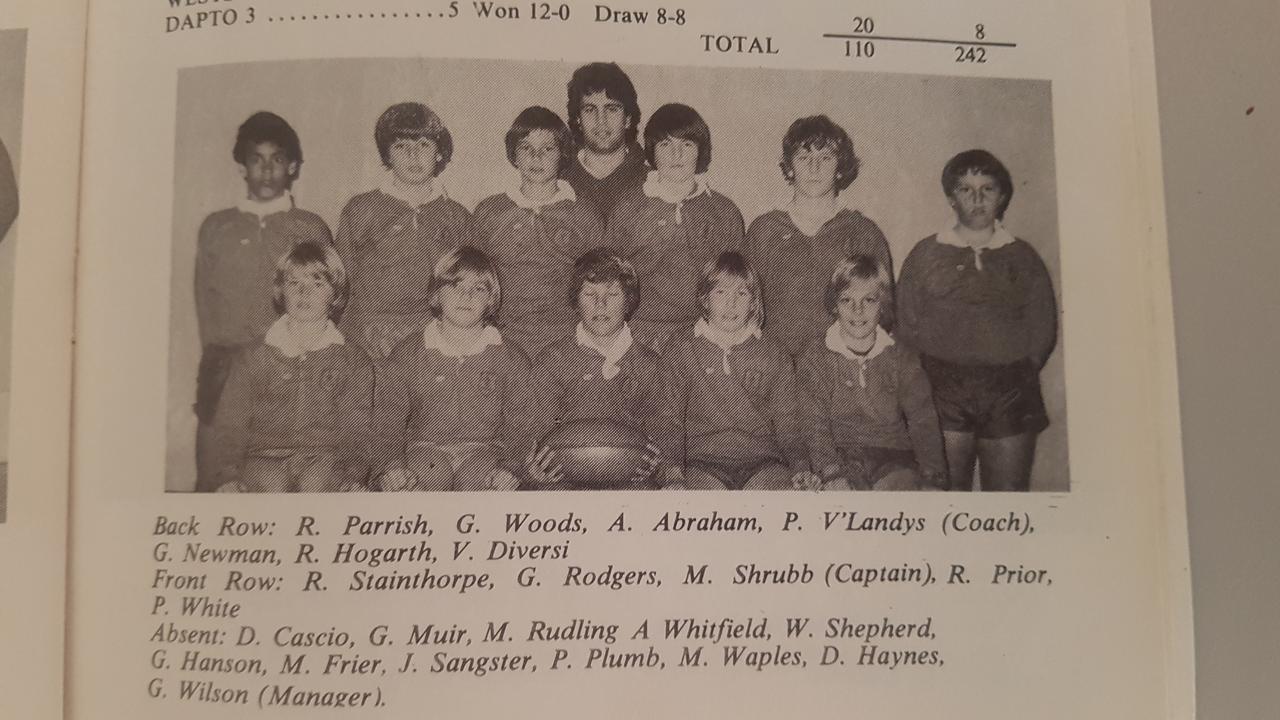 Peter V'landys coached the Illawarra Western Suburbs Red Devils U13Bs in 1980.
"I had to find something where I could fit in," V'landys said.
"And it was rugby league. If it wasn't for playing rugby league with the Aussie kids, I was just a wog.
"If it wasn't for rugby league my life would be completely different because it was difficult fitting in.
"I tried my hardest to be a good player so they could value me.
"We played rugby league in the playground to start with and then it would've been in the under-10s when I got into it.''
An energetic backrower, V'landys played school footy for Keira Boys HS and weekend footy for Balgownie.
"As a kid, our coach organised it so that everyone would put 50 cents in each and the person who got the most tackles in the game would get the cash,'' V'landys said.
"Because we were so poor, I'd even tackle the orange boy at halftime, just so I could get the money.
"I wasn't Greek anymore, I was one of them.
"And to be fair to the Aussie boys, we (migrants) were intimidating too. We were migrant kids that they weren't really used to. I understood their side also. I could imagine them thinking 'who's this kid that has just come over from Greece and can't speak English?'"
V'landys knows his story is a common one.
Which is why he rang NRL chief executive Andrew Abdo last year with the plan to dedicate round 3 to Multicultural Round – to celebrate how rugby league brings diverse communities and cultures together.
Of the 480 full-time NRL players, 161 of them have either a mother or father born overseas.
"Rugby league, and sport in general, brings people together," V'landys said.
"With rugby league in particular, no matter what race, no matter what gender, what colour you are, you're accepted in rugby league.
"It's a common bond.
"So I was always of the view that we should celebrate the fact that rugby league is so multicultural.
NRL multicultural round! What a fantastic idea 👏🏻👏🏻👏🏻

— Chad Townsend (@chadtownsend10) March 22, 2022
"I'm one example of thousands that have been accepted via rugby league.
"One of the things I really want to pursue is to try and get the Indian and Asian communities involved in rugby league.
"That's the aim. The Asian and Indian kids are the new Greek and Italian kids.
"It has really warmed me, seeing the positive reaction to it. And the positiveness came from the Aussie parts of our great game.
"I noticed a tweet from (Cowboys halfback) Chad Townsend, complimenting Multicultural Round.
"And that probably warms me more than a migrant kid supporting it."
MULTICULTURAL ROUND: STORM A TRUE CULTURE CLUB
Justin Olam started the season with fellow Papua New Guinean Xavier Coates by his side. In week two, it was the turn of Samoa's Dean Ieremia.
When it comes to multicultural round, few sides are as well placed to celebrate the game's diversity as the Melbourne Storm.
Their squad is very much a league of nations. For every Harry Grant, who grew up in Queensland, there is a Bromwich brother – Kenny and Jesse hail from Auckland.
Maroons five-eighth Cameron Munster partners Kiwi Jahrome Hughes in the halves. Remarkably, Hughes also has Welsh heritage.
Young forward Trent Loiero has an Italian background. On and on it goes. There is a chance when the World Cup is played later this year that the entire Storm squad could be representing a nation of some description.
(L-R) Jahrome Hughes, Ryan Papenhuyzen, Dean Ieremia, Kenny Bromwich and Justin Olam form just part of the rich diversity of the Melbourne Storm. Picture: Kelly Defina/Getty Images
Olam insists it is representative of the club's ability to embrace cultures and personalities.
"We here at the Storm are a very multicultural club," Olam said.
"We have boys from everywhere across the world. That is a really good thing that we acknowledge the different cultures that take part in the game.
"Everyone at the club puts effort into making everyone feel welcome. It is just about acknowledging the different cultures and different people.
"It is important here. It is not a one-man job. Everyone at the club upholds and acknowledges that."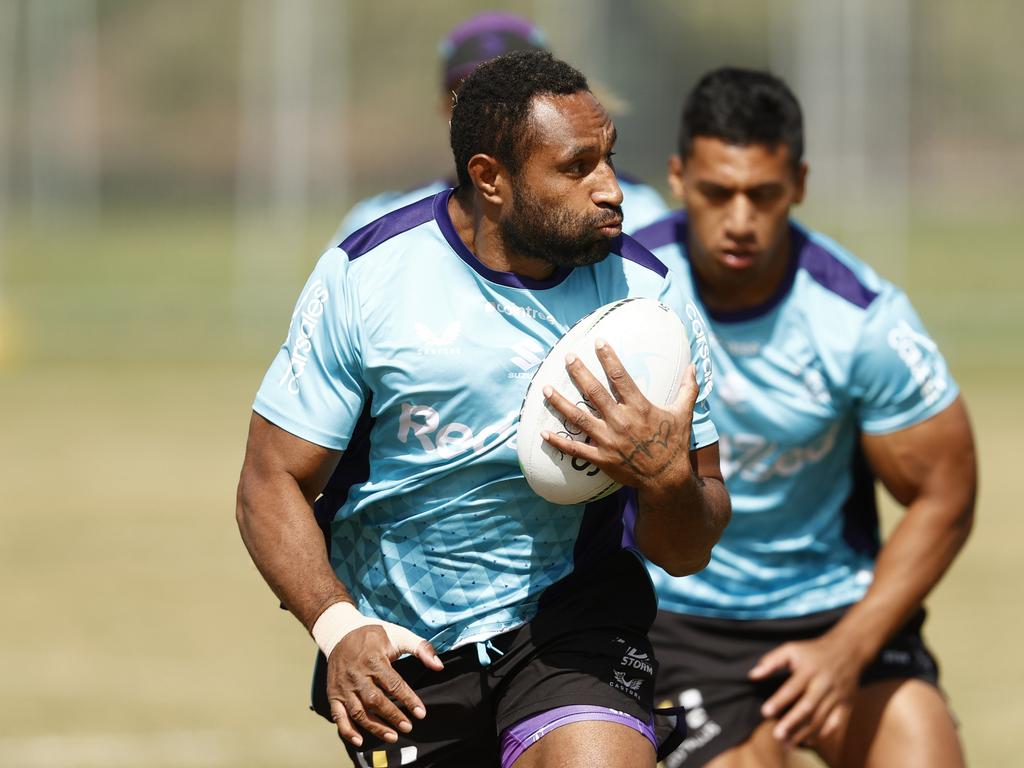 Justin Olam is now a senior figure at the Storm. Picture: Darrian Traynor/Getty Images
Olam is as responsible as anyone as an experienced member of the team. He has embraced the role of senior figure over the opening two weeks of the season, helping Coates and then Ieremia settle into the backline.
Olam can't speak highly enough of the pair.
"We all know Dean is a very good player," Olam said.
"He always goes hard in whatever he does. That is the important thing about him. That is what he brings to the team to help the team.
"He plays with a lot of energy … and I love that about him."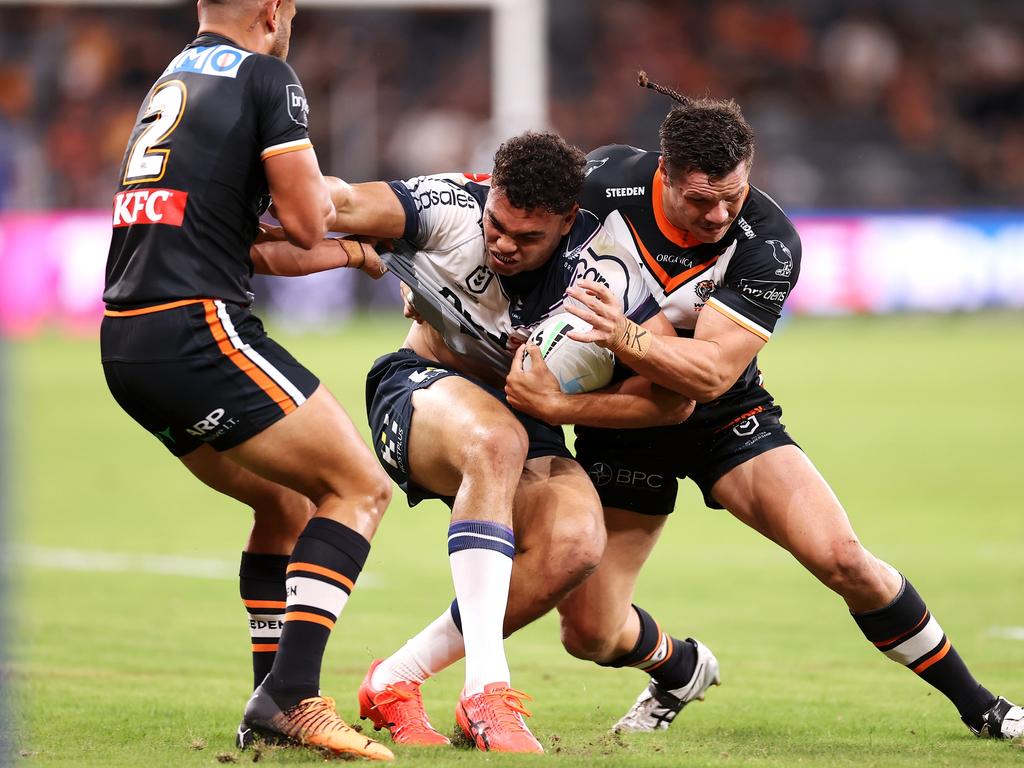 Xavier Coates is eligible to play for both PNG and Australia. Picture: Mark Kolbe/Getty Images
Coates in particular has caught the eye. The former Brisbane Bronco is eligible for PNG and Olam would love to play alongside him at the World Cup later this year.
Coates, already a Queensland State of Origin player, is also able to play for Australia. There could yet be an old-fashioned tug of war for his services.
"He is a very hungry kid when it comes to training and competing," Olam said.
"He has been going really well. The coaches love him too. He is going to be a big part of our side if we want to top deep into the finals.
"He is eligible to play for Australia as well. I told him whatever decision the makes is up to him. But if he comes to play for PNG he is going to have the support of the whole country.
"That is an experience that he will never have before. The boys play with a lot of pride."
STORM'S POSSIBLE ALL-INTERNATIONAL XIII
1. Ryan Papenhuyzen (Australia)
2. Dean Ieremia (Samoa)
3. Reimis Smith (New Zealand)
4. Justin Olam (Papua New Guinea)
5. Xavier Coates (Papua New Guinea)
6. Cameron Munster (Australia)
7. Jahrome Hughes (New Zealand)
8. Jesse Bromwich (New Zealand)
9. Harry Grant (Australia)
10. Nelson Asofa-Solomona (New Zealand)
11. Felise Kaufusi (Australia)
12. Kenny Bromwich (New Zealand)
13. Brandon Smith (New Zealand)
Others: Trent Loiero (Italy), Christian Welch (Australia), Tepai Moeroa (Cook Islands), George Jennings (Tonga)
TIMOKO'S 14-YEAR PREMONITION
Sitting back watching the 2006 grand final Matthew Timoko turned to him mum Rina and said 'that's what I want to do'.
He was just six when the Broncos defeated the Storm to take out the title but it would set the path for Timoko to finally fulfil his lifelong dreams 14 years later.
Despite his desire to play rugby league it was during a school rugby match that Timoko caught the attention of the late Raiders recruitment boss Peter Mulholland.
"He found me and talked about my coming over after school and trying to give it a crack in the Raiders system," Timoko said. "My mum came over with me. I'd only been to Melbourne before for two weeks to visit my sister. Having mum was a big help to guide me.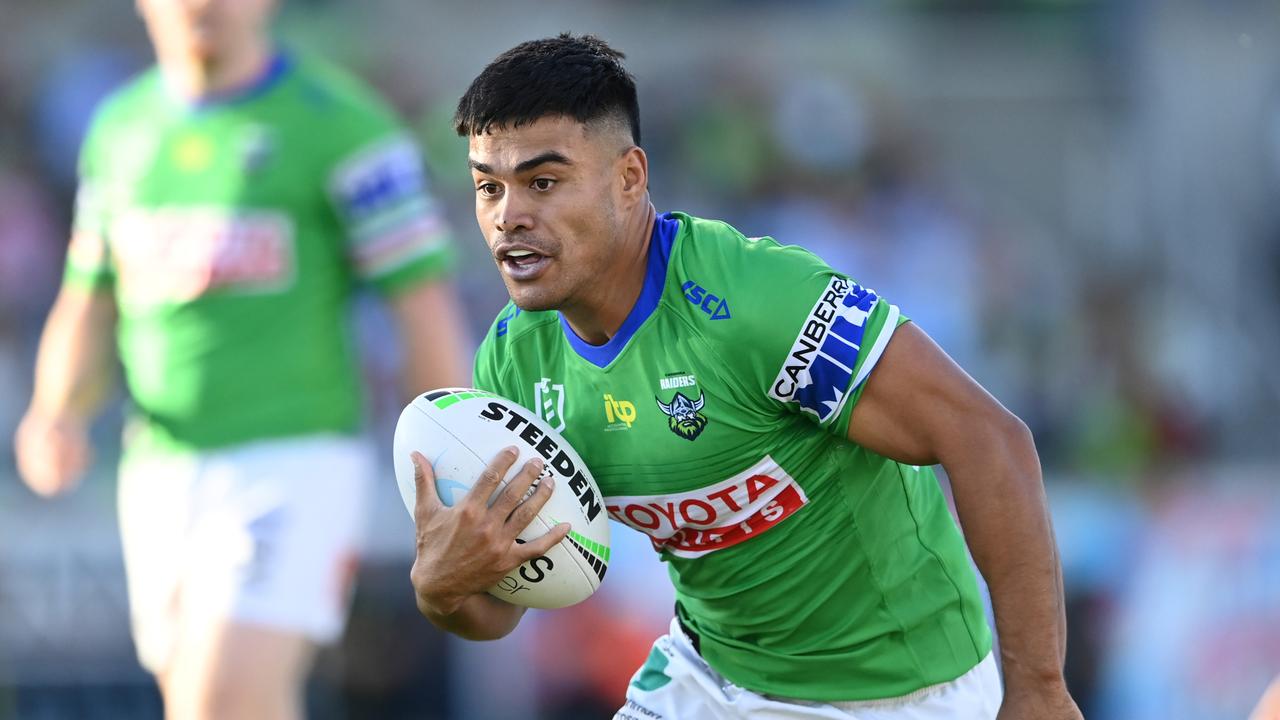 Canberra's promising young back Matthew Timoko. Picture: NRL Photos
"Ever since I played as a five or six year old I always wanted to play first grade. It was a goal of mine as a kid.
"I worked really hard."
He relocated to Australia in 2018 and has progressed through the grades at the Raiders. Timoko, after playing 11 matches in two seasons, started in round one for the first time this year.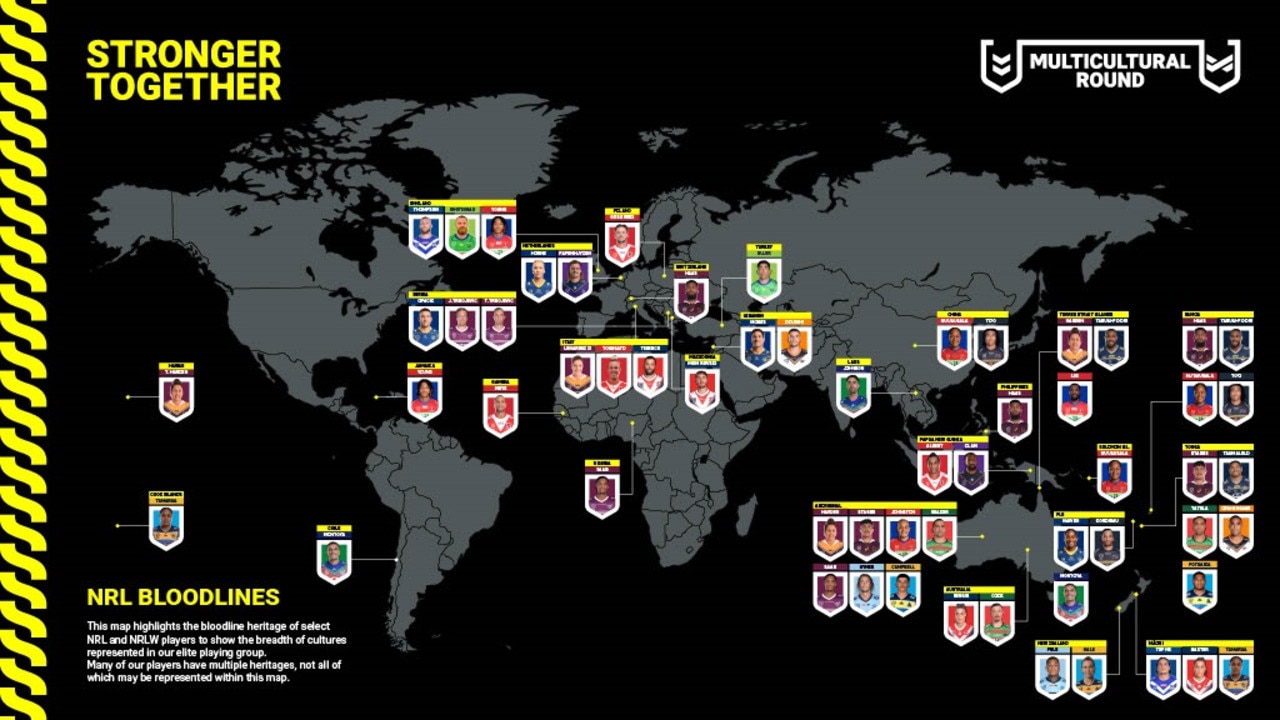 The NRL is celebrating multicultural round.
The Auckland-born Timoko is part of a growing list of players who have a foundations outside Australia as the NRL celebrates multicultural round.
"I am a Maori, I'm proud of my Maori heritage," Timoko said. "Back when I was living in New Zealand we used to have Maori tournaments where you had to be of Maori descent to play. I would put my hand up to play in those tournaments. The atmosphere was great and makes you proud to be who you are and it's a big part of me.
"I'd love to play for the Kiwis. I'd love to play for the New Zealand Maori."
Timoko will line-up for the Raiders against the Titans on Saturday night with Canberra having an indifferent start to the season.
"It's been up and down," Timoko said. "We've got to complete our sets and get our attack right."
Originally published as Peter V'landys celebrates the ability of rugby league to break down cultural barrier