AFL, reptiles and Rio repeat: Kyle Chalmers' journey to and beyond Tokyo Olympics
One fingernail proved the difference between Olympic silver and gold for swim star Kyle Chalmers. LINDA PEARCE reveals why that nail-biting loss trumped his 2016 triumph.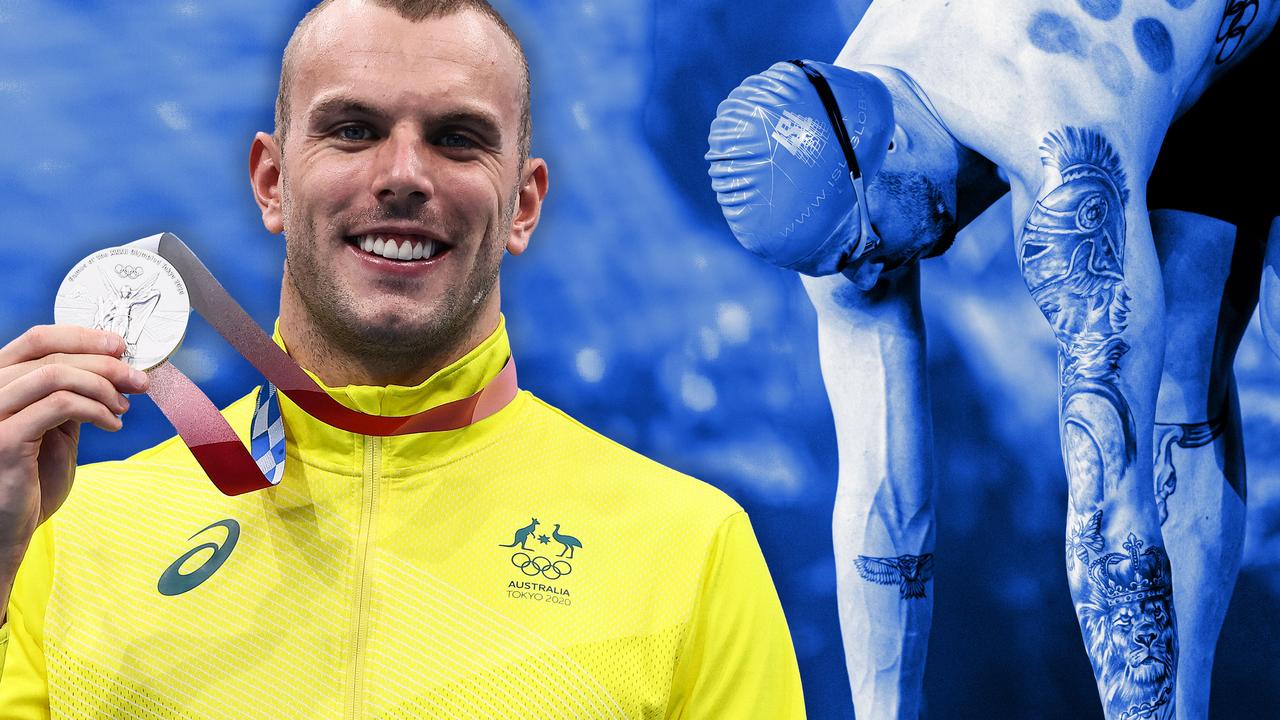 Kyle Chalmers came agonisingly close to anoher gold medal in Tokyo, but says that silver means more to him than his first place in Rio.
To better comprehend the difference between gold and silver in the men's 100m freestyle in Tokyo, do what Kyle Chalmers does: go to the stopwatch on your mobile phone and press start. Then, whack, try to immediately hit stop.
Chalmers' personal best in that particular sport is 0.12 seconds – which it must be said, does seem slightly on the slow side if you try it at home.
The point is though, it was a margin of just half that – the barely-there 0.06 seconds – that Chalmers trailed American Caeleb Dressel into the wall in one of the Games' great races.
"So essentially we touched the wall at the same time,'' Chalmers says. "He's just got literally a bigger fingernail than me.''
Tiny margin. Remarkable achievement. Regardless.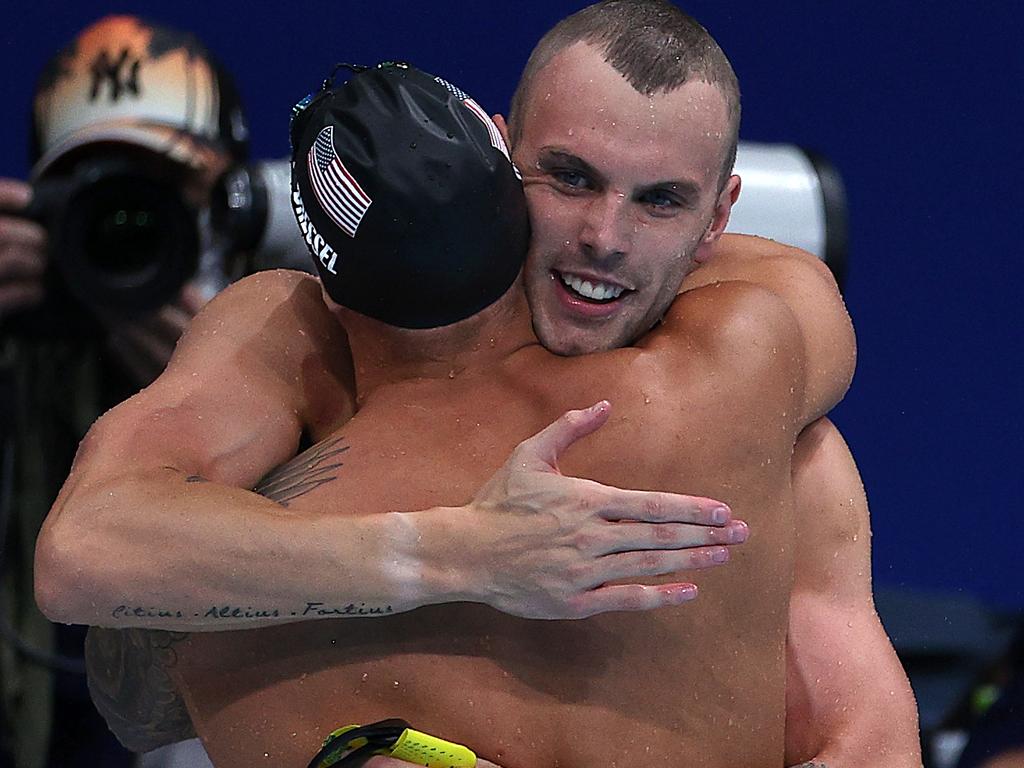 Just a fingernail in it. Kyle Chalmers embraces Caeleb Dressel after being beaten by the American in the 100m freestyle at the Tokyo Olympics. (Photo by Maddie Meyer/Getty Images)
"I really hope that he didn't feel any disappointment after that race – and I know that he did, but I hope that that's just a personal disappointment and not that he thinks there's a projected disappointment,'' says Cate Campbell, the women's 100m bronze medallist from Tokyo, and someone who learnt five years ago all about the sting of perceived failure.
"When you win a silver medal by less than a tenth of a second after everything you've been through, your best ever time, it really irks me when people go, 'Oh, so close to the gold'. I'm 'like, 'No, no, no, don't do that. That is the wrong thing to say in this situation'. The best thing is, 'Oh, my gosh, you're incredible, congratulations', because he's just gone out and done something that's phenomenal.''
Which still took a little while for Chalmers to fully appreciate amid a blur of emotions and commitments. How shattered he felt to have been denied by so little; wanting to congratulate his good friend Dressel; the media duties straight after in which he was pleased to have reacted so positively in the moment; and with a busy program still incomplete.
It was not until he was quarantining in Darwin that Chalmers could see more clearly through the fog of disappointment. That "jail" stint, as he calls it, gave him time to reflect on all it had taken even to get to Tokyo, given his shoulder surgery just eight months earlier, and a conversation that went something like this:
Surgeon: "Don't complain to me if you don't manage to make the Olympic team.''
Patient: "That's not my goal, mate, I'm not just trying to make the Olympic team, I'm trying to win the gold medal.''
Kyle Chalmers had shoulder surgery just eight months before the Tokyo Olympics. Picture: Daniel Kalisz/Getty Images
At Howard Springs, where Chalmers analysed the replay and debriefed with coach Peter Bishop, the start was not just the first element but by far the biggest, given that Dressel's reaction time off the blocks was superior by, yes, 0.06 seconds.
Chalmers loves to break down each little piece of a race though, and was left wondering what difference a faster swim in the semi (which would have given him a better position than lane seven in the final) might have made. There was also the impact of that December operation and its limits on his preparation.
Then in case there was any doubt about just how slender the margin: phone, stopwatch, whack, whack. Missed out by half of almost nothing.
"It is hard to look at Tokyo and go, 'If I had a real clean run at it, would I have lost by 0.06 of a second?'" Chalmers says.
"So there's a fair chance that if I didn't have to have surgery in December last year that I probably would have been on that No.1 podium in Tokyo. But it builds my character and it's created that hunger in me to go again and win in Paris. I think if I'd rocked up into Tokyo and won gold again and broken the record, it probably would have been really hard for me to reset my mind and go around again.
"But because I was so close to getting there, and knowing that there's multiple things that I can improve on, and if I have that clean run at it, I know that I'll be there, I am excited by these next two-and-a-half years and the challenges that are going to come.''
Kyle Chalmers and coach Peter Bishop at the Australian Olympic trials in June. Picture: Mark Brake/Getty Images
Through all this came another profound realisation: that the 2021 silver is more precious to Chalmers than the 2016 gold he won as an 18-year-old bolter on debut. For the degree of difficulty in Tokyo could rival that of a Simone Biles balance beam routine.
In March, for example, Chalmers – whose right shoulder needed a surgical clean-up this week – had genuine concerns that he would even make a second Olympic team in such a competitive event, given his training was still restricted.
"I've had so many surgeries and setbacks, so many crazy things happen over that five-year period; physically, mentally, emotionally, family stuff, things that go wrong and happen and change,'' he says. "I've had to bounce back from so much, and there were plenty of times where I probably looked at it and thought that I'd never get back to where I was.
"Then to swim a personal best time in the Olympic final was a huge achievement, so that silver medal meant so much more to me than the Rio Olympics gold medal and anything else I've ever achieved in my swimming career.
"Because (in) Rio, I'd stopped playing footy less than a year before it, I was so young, I didn't really know what I'd achieved, and it didn't mean as much to me as it should have because I'd never wanted to be a swimmer. I'd never watched the Olympic Games and I kinda came in there with that kind of attitude: young, bulletproof kid, didn't let the big moment faze me. I was pretty happy being in front of 15,000 people swimming a 100 freestyle.
"Whereas obviously this time around I had the pressure and expectation and eyes on me, and I'd had to work so, so hard for five years to get back to that point and that pinnacle in our sport that for me that silver medal is probably my biggest achievement. But I'm still not satisfied, and that's the main thing. I want to win gold.''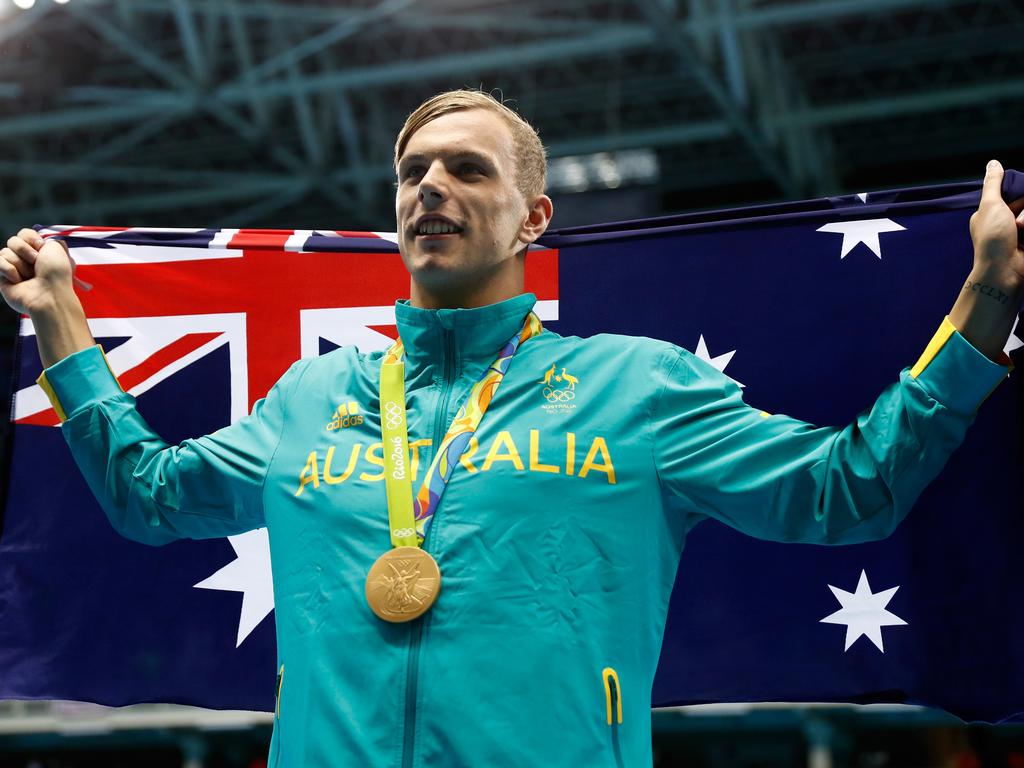 Kyle Chalmers was the golden boy in Rio, winning the 100m freestyle. He was the first Australian male to do so in 48 years, since Michael Wenden at Mexico City 1968. Picture: Clive Rose/Getty Images
Another individual one. And perhaps a couple in the relays for the four-time Olympic bronze winner and member of the 2019 world champion 4x200m freestyle team, whose 46.44 split in the 4x100 in Tokyo was the fifth-fastest ever swum.
Likes the team environment, does Kyle.
Thrives under pressure and on the biggest stages.
And bloody loves a competition.
On your marks
After returning from his successful 11-meet, 13-week, 59-race World Cup and ISL tour, which delivered his first world short course record but was curtailed by that latest shoulder issue, Chalmers was in isolation in Sydney with friend and backstroker Zac Incerti.
Shut inside, each new day brought a contest. "Anything and everything. It's just stupid stuff, like trying to land our beanie on a lamp in the room,'' Chalmers says.
"I'd sit there for hours trying to do it just to try and win it… and as soon as I dive in the pool I let that competitive nature come out. I don't like losing all that much.''
The beanie-tossing tale comes as no surprise to freestyle queen Campbell, the Dolphins' teammate who sounds a little like an exasperated yet admiring older sister when talking about what makes 'King Kyle' great.
"Oh, loves a competition! Everything is a competition with him – and not just in swimming,'' laughs Campbell.
"He has one of those really focused mindsets all the time and it's exhausting. I'm like, 'Oh my gosh, Kyle, can we not?' But that's what he thrives on and that's his energy, and I think what I love and what I respect so much about Kyle is his complete ability to back himself 100 per cent.
"He throws out these goals that he wants to achieve and then he chases them. What he did in Tokyo, given everything, is phenomenal. Just his dogged determination is really inspiring, and I think that his level of professionalism really rubs off on his peers and the team.''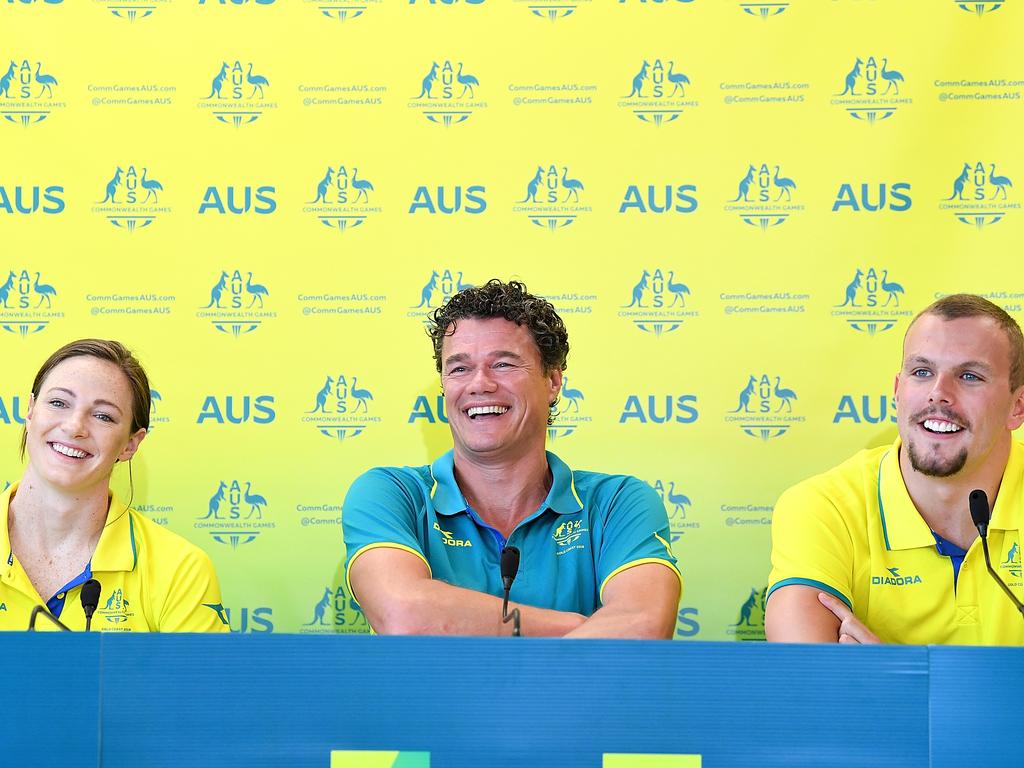 "Loves a competition," says Cate Campbell (L) of Kyle Chalmers (R). Picture: Bradley Kanaris/Getty Images
That drive can prove problematic, sometimes, according to coach Bishop. His long-time charge sometimes keeps quiet and pushes through at training when his injury-prone body – loose shoulder joints are helpful, technically, but can also be fragile – would be better served if he were to heed the signals and stop.
That same desire has made Chalmers a superior racer rather than a pure swimmer. Although improvements in his starts and in particular, his turns, means that gap is closing – perhaps ensuring that he remained in a sport that was never Chalmers' first love.
That was footy, with dad Brett a former Adelaide and Port Adelaide ruckman/forward also drafted by Richmond and Collingwood, and his eldest son Kyle initially using summers in the pool to get fit for winters on the field.
That changed in 2015 when he qualified for the world championships at 17. Having suffered a broken wrist and torn ankle ligaments playing football not long before, Chalmers was told by then Australian head coach Jacco Verhaeren that it was time to choose. Commit.
Yet if that was supposed to be the end of it, then a curious thing happened on his way to shoulder surgery in 2020. Scott Darlow, a mate and musician from Melbourne, informed a surprised Chalmers that Geelong was interested in having a chat about listing the strapping 194cm, 93kg Port Lincoln product as a Category B rookie.
A joke, surely?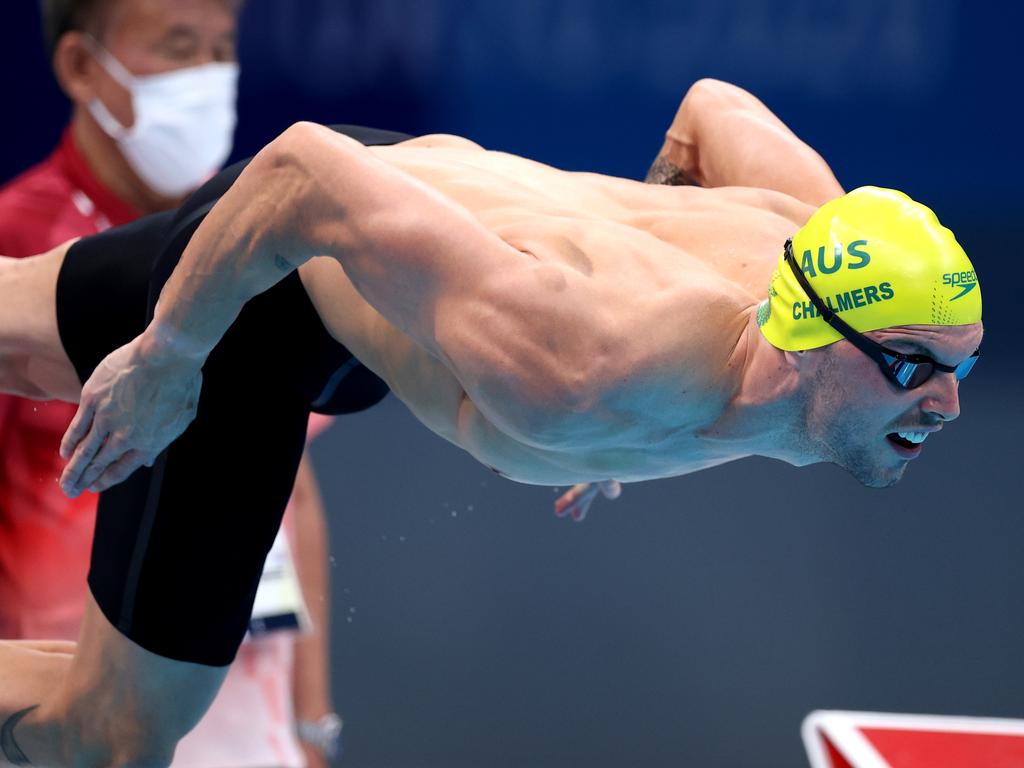 Kyle Chalmers in action, bursting off the blocks at the Tokyo Olympics.Picture: Al Bello/Getty Images
Still, the call and offer duly came, with the caveat that he could not leave the switch too long. Meantime his beloved Power had long shown interest and an open door, while the umpire of one of the last suburban games he played – filling in for his brother Jackson's team in 2017 – told him he had picked the wrong sport.
A kick and a chat with great mate Sam Jacobs, the former Carlton and Adelaide ruckman now with GWS, helped to confirm what Chalmers already knew. "He kinda said, 'Well, do you want to go from being the best in the world in your sport to being 45th on an AFL list and potentially not ever getting a game?' And I kinda went, 'Yeah, you're right, that doesn't sound overly fun to me at all!' So swimming's where I'll stay and what I'll do.
"AFL's always been a dream of mine, and it's a hard decision to not do it, but I think I've made the right decision to stay in the pool and do what I know best.''
Not unreasonably given Chalmers was out of the pool, scheduled for surgery and unsure where he could rediscover his best, a 'maybe-I-really-could-give-AFL-a-decent-crack' attitude prevailed briefly. Yet it was always a long shot, for Chalmers has seen many with more talent who tried and failed. Had he succeeded, he imagines he would have been a dour key defender, fit and dedicated enough to run all day, negate and spoil.
Laughing that he would "probably struggle to get an A-grade game in a country town at the moment'', that is exactly what he and Jacobs plan to do together in retirement from their day jobs. "I spoke to him today about it and kinda went, 'We've got to make sure this happens'. I'm really looking forward to that chapter of my life beginning.''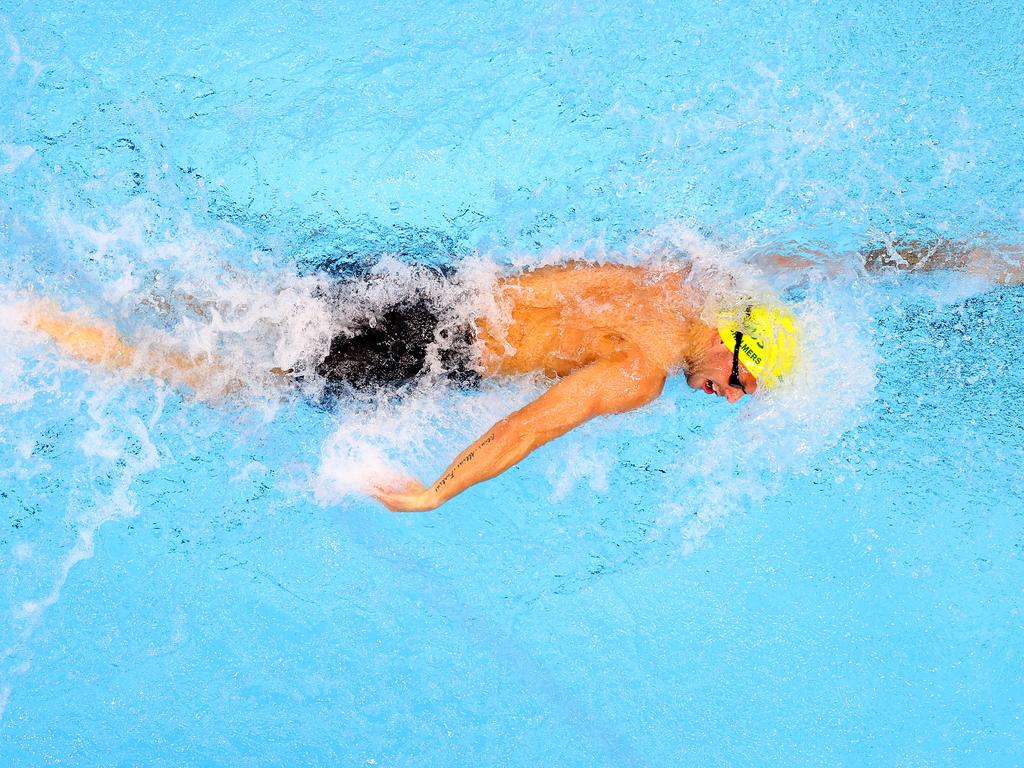 Kyle Chalmers is a household name now thanks to his feats in the swimming pool, but his first love was footy. Picture: Richard Heathcote/Getty Images
Sprechen sie Deutsch?
Nur die Starken überleben. It translates in English to "only the strong survive".
The kid who had a single tattoo at the Rio Olympics now has a wide array of body ink and a fascination with the craft, having tried to get that German saying etched onto the back of his hand during his latest overseas trip. Much to the relief of his mum Jodie (the deal: no hand or neck tatts), it wouldn't fit.
Chalmers has one sleeve still to finish, plans for the other and his chest. Of the current collection, his favourite is a little DIY number that he holds up during this Zoom interview: a smiley face above the word 'mum' on his left palm. "Before I race, it's the last thing I look at, and I race every race with my mum, so it's nice to reflect on before I dive into the pool.''
Jodie is also the part-custodian of a famous reptile collection that includes a crocodile, pythons, bearded dragons, frill-necked lizards and blue tongues. But close to 500 at home has shrunk to barely 20 while Chalmers has spent almost six months on the road, for the work required has seen the rest moved to a mate's house.
The pair aim to eventually become Australia's biggest breeders; Chalmers maintaining that his great non-sporting passion is both the best part of his day and an important outlet from the demands of swimming. "So my Instagram bio will go from Olympic champion or what not, to reptile breeder/country footballer in a few years' time.''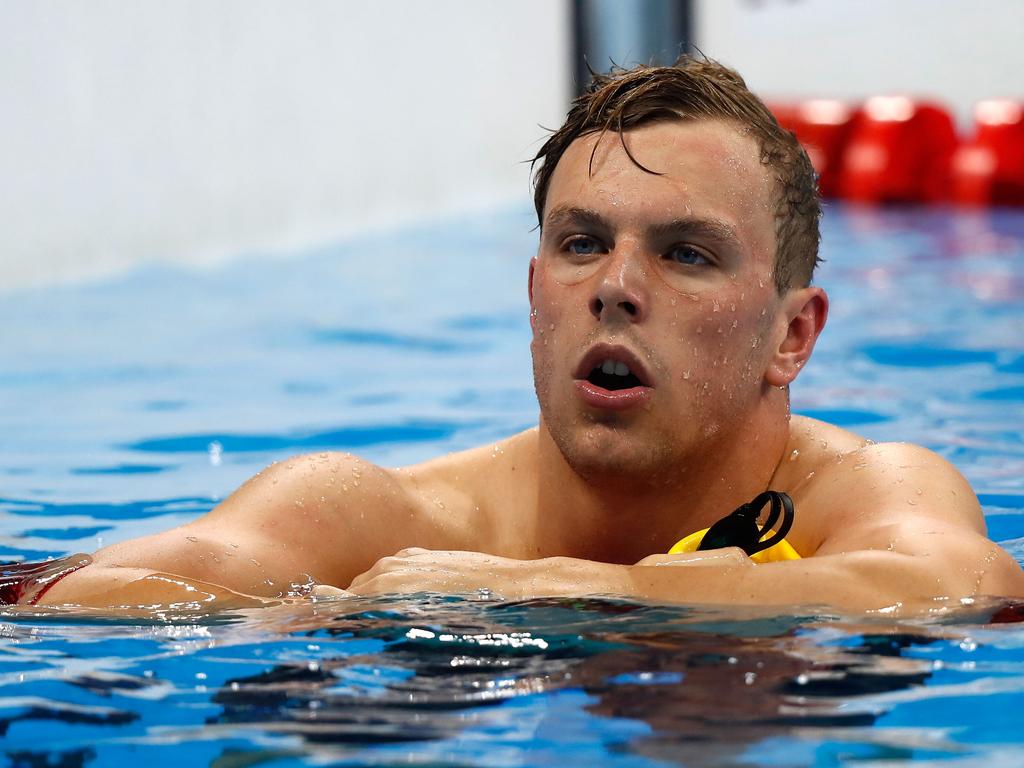 Kyle Chalmers in action at Rio 2016, the Games that saw him become Olympic 100m freestyle champion at just 18. Picture: Clive Rose/Getty Images
There has been a confronting change more recently, though, given that, since 2016, reigning Olympic champion Kyle Chalmers had become so familiar. No more of the reigning bit. For now. An unfortunate, yet motivating, loss.
"Everyone knows me as that. Everyone introduces me as that when I'm doing a talking gig, media always say that I'm the reigning Olympic champion, whereas now I don't get to be that any more,'' says the dethroned Chalmers, whose triumph in Rio was the first by an Australian in that marquee event since Michael Wenden 48 years earlier.
"I see all these new people who are now Olympic champions and they've all got it in their Instagram bios and what not and I'm like, 'Damn, I can't have that any more', which kinda sucks.
"But it's unlocked a hunger in me that I probably didn't realise I had, when you go so close – I think that's exactly what I needed moving forward. And I think that's what helped me over the last 13 weeks, I've been so hungry I was able to stand up and race and race and race and race, and break the world record, which again is something I never dreamed possible.
"I've always been pretty bad on the skills: my underwater has never been good, my turns have never been good, but they're starting to become world class and obviously to break a world record – by quite a big margin as well – was very, very special for me and something that I wouldn't have been able to (do) for sure if I'd won in Tokyo.''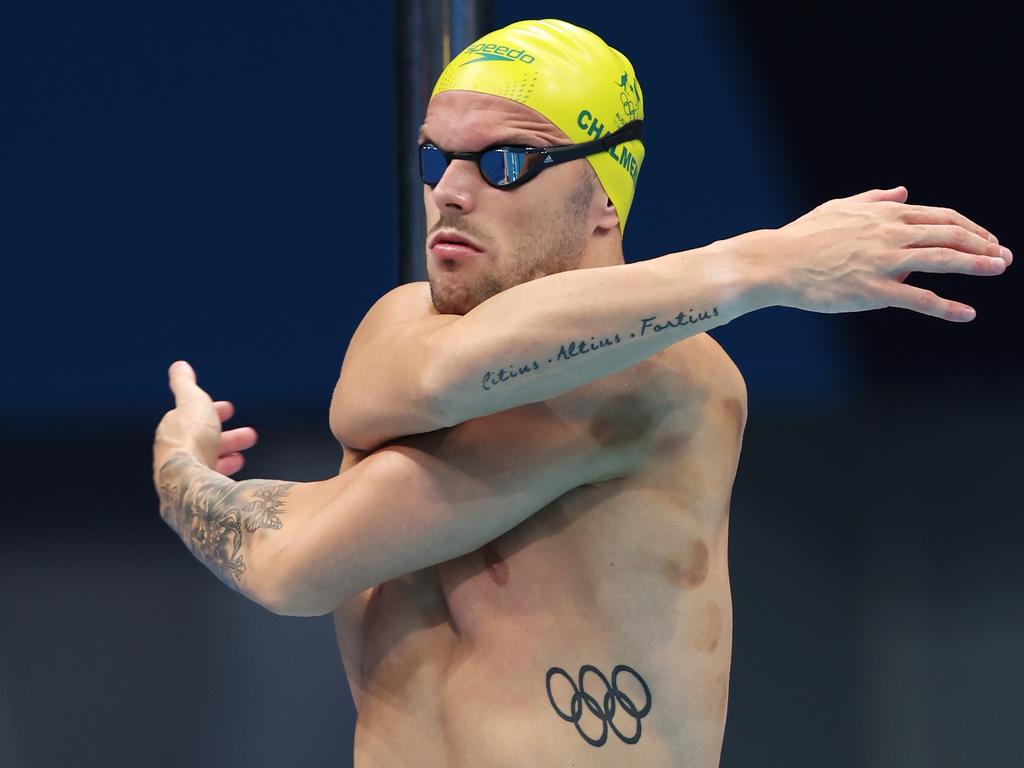 Kyle Chalmers' 100m freestyle silver medal in Tokyo has made him hungry for more at the Paris 2024 Olympics. Picture: Tom Pennington/Getty Images
All of which should equip him with valuable tools for Paris. A race plan built around a barnstorming finish, fuelled by Chalmers' training over 200m that left him ever-confident that he was the fittest guy in every race, is now being imitated by others. Yet sincerest form of flattery etc., also means more and younger challengers to fight off. "I was seventh in the turn in Rio and then my back end 50 [metres] was so fast because I was so fit. Whereas now people are starting to swim it how I swim it.''
Still to be seen is whether they can swim it equally well. As to how quick he can eventually be, Chalmers refuses to translate the "a whole lot faster" declaration into numbers, wary of the unnecessary external pressure that could bring.
"The world record's 46.9, long course, so that's something I've got my mind set on … I always have these very, very high expectations on myself and I love setting the challenges really hard and high, so it'd be nice to do something really special and cement my name in the history book for a long time.''
The rest of the to-do list, for Mr "I don't want to be remembered as the guy who won silver in Tokyo" remains imposing. In order, a 100m freestyle world championship, both short course and long. A Commonwealth Games gold in the same event, to go alongside the 200m and double relay gold he claimed in 2018.
Chalmers is less interested than coach Bishop in the 200m, it seems, while keen to remain part of a 4x200m relay squad he believes can do great things. "So it's probably going to be doing more 50s, just to get my speed up, and focusing a bit more solely on the 100, training-wise.
"It's a discussion I'll have with my coach when I get home. It's a discussion I've had previously, plenty of times, and it's never gone my way! But I'm pretty keen to focus on the 100 freestyle, and I'd love to be able to get my shoulders well and good enough to be able to do a 100 butterfly, as well.
"My butterfly's probably almost better than my freestyle, it's just my skills let me down. My turn is no good at all, so if I get my turn right, I think I can do a really good 100 butterfly. I'd definitely be better at the 100 butterfly than I would be at the 200 freestyle.''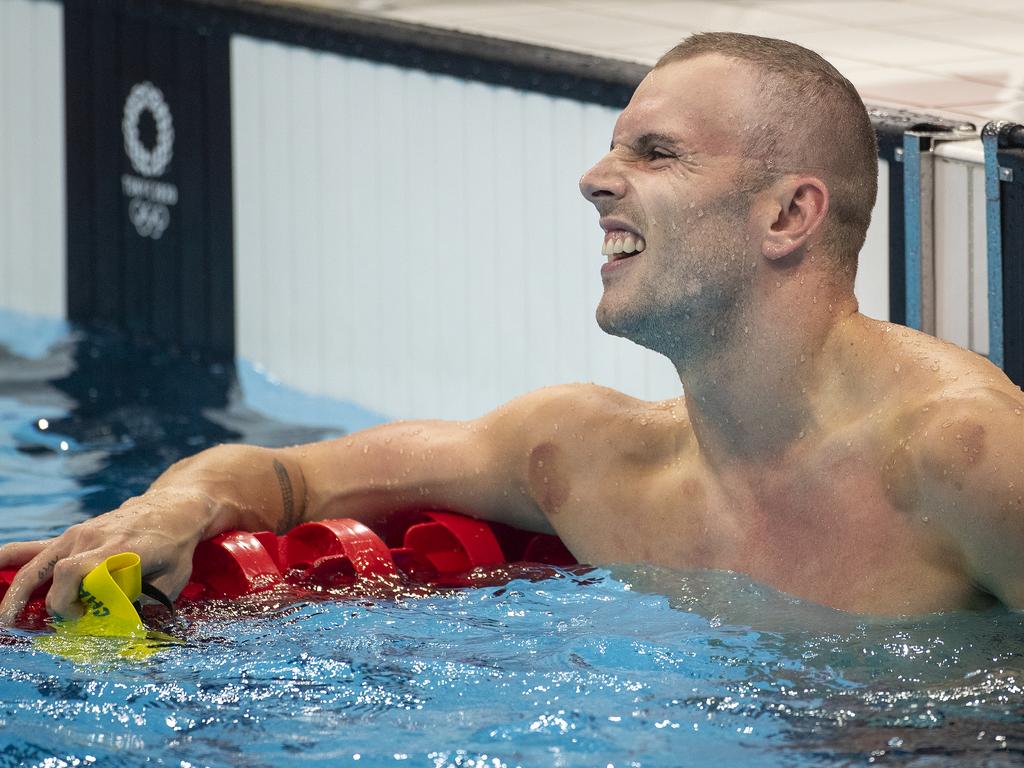 Chalmers still has ambitious goals beyond Tokyo. Picture: Tim Clayton/Corbis/Getty Images
Chalmers in fact broke the Australian 50m short course butterfly record in Doha in October; the problem is how taxing the stroke is on the shoulders. Which, in Chalmers' case, need no more stress.
"We just have to keep finding ways to get better and get that recovery done,'' Bishop says. "To think that was happening for most of last year and even parts of this year and he still managed to get up and do a lifetime best swim, it was an amazing performance. You always want to win, don't get me wrong, and he's driven to win, but to get what he did after his last couple of years was amazing.''
Mentally at least, shorter Olympic cycle leading into 2024 shapes as an easier task. World championships and Commonwealth Games in 2022 (injury permitting as Bishop says both are expendable in the interests of longer-term gain). That's a year done.
Hard training in 2023. Check.
Paris. Bonjour.
"If I'm able to win in Paris I'd have the gold medal sandwich, obviously, the gold, the silver then the gold again,'' Chalmers says, with a swimming prime of 26 looming by then. "But I'd be one of very few to be able to win medals across three Olympic Games in the same event, and to be able to win it twice would be amazing as well.''
Bishop adds: "Anyone winning individual medals in two Olympics is massive, and having five years apart (saw) the whole Olympic field nearly changed over, so it'd be a mammoth feat to do it three times, but he's certainly got the drive and the willpower to do it.
"We've just got to get his body right and we know that he'll be really, really, competitive… his strength is probably his ability to focus and perform on the biggest stage. He thrives on those moments.''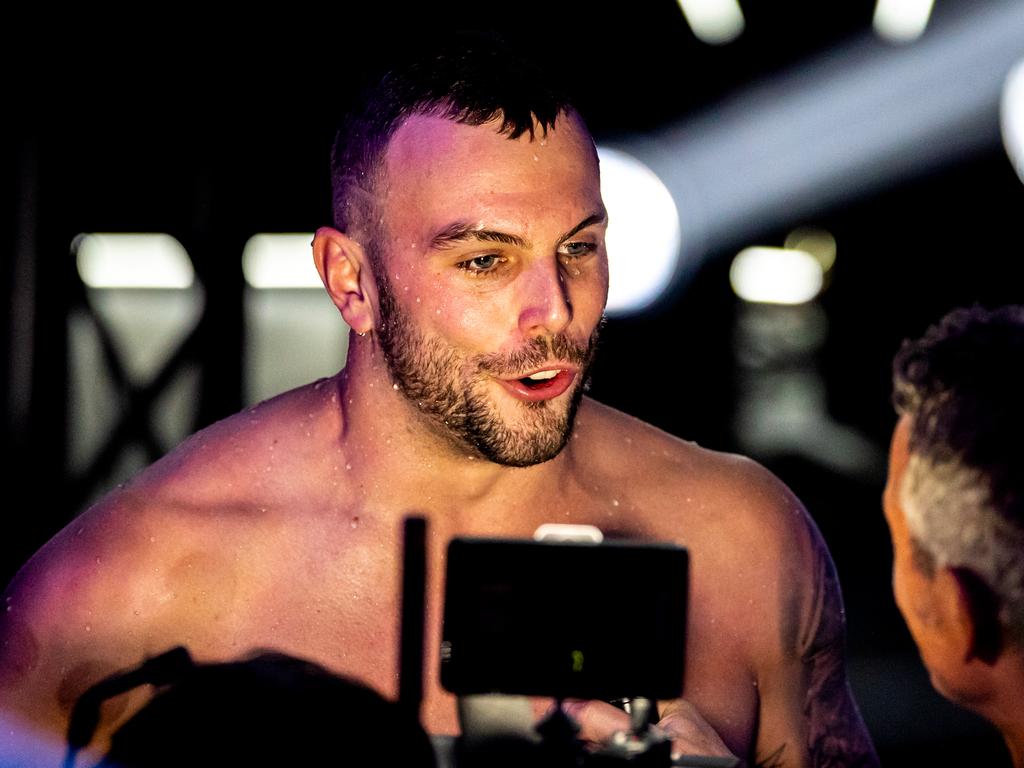 Kyle Chalmers thrives on the bright lights and big moments. Picture: Marcel ter Bals/BSR Agency/Getty Images
As for the 2021 silver, that is now a truly treasured memento. Chalmers stored it safely away during his one non-quarantine week at home between arriving back from Tokyo and heading off again, and is looking forward to getting reacquainted on his return to Adelaide next week.
"That's five years of work, that medal,'' he says. "It's not just a piece of silver, it's not just an Olympic medal. It's five years of hard work, setbacks and what not to get to that point. So most medals just get thrown up in the cupboard and you never see 'em again, but I think it is important to look at 'em, hold onto 'em and reflect, big time.''
And to protect 'em this time, for his 2016 gold got a bit love-battered from all the school appearances and so much enthusiastic touch. "It's got some serious war wounds on it, whereas this one I really want to preserve for myself to enjoy and I don't want any knocks or dents on it, so the cupboard is where it will be and I guess (something) for me and my family and friends to enjoy.''
Before we reveal which cupboard, potential burglars look away now. Although, in a house filled with potentially deadly reptiles, go on, try your hardest. Set your stopwatch, even. Time with a python sounds like another unique Kyle Chalmers PB.