Athletes' Olympian task: secure a Beijing berth, train to peak and don't get Covid-19
Team USA is pushing ahead with qualifying competitions in sports like figure skating, putting it on a potential collision course with China's Covid-19 rules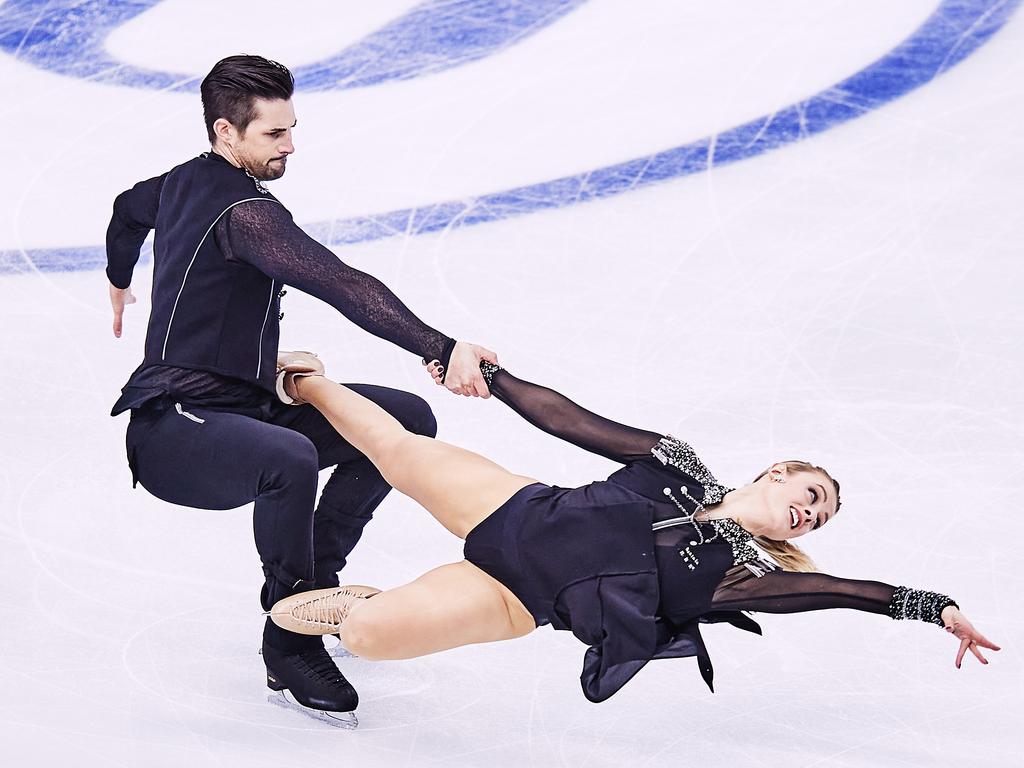 USA's Madison Hubbell and Zachary Donohue compete in the Ice Dance Rhythm Dance during the ISU Grand Prix of Figure Skating Turin Picture: Joosep Martinson/International Skating Union/Getty Images
Athletes heading for the Winter Olympic Games must attempt an extraordinary manoeuvre in the next month: lock in their spots on the national team, train and travel for their event and dodge the fast-spreading Omicron variant of the coronavirus.
It's a complex gauntlet that is likely to sideline at least some contenders and could even wipe out whole countries' medal hopes in some events.
The Winter Olympic Games are set to open in 32 days. Anyone who contracts the virus from this point on will absorb a dent to their competitive hopes, and not just because of the training disruption. The prospect of persistent positive tests could still prevent them from travelling to Beijing at all under China's "Covid-zero" approach.
The problem for athletes is that there's very little they can do about it. The Omicron variant has proved capable of spreading quickly and evading vaccines. Sheltering in place to avoid it is not an option. Many winter sports stars are about to face the busiest month of their competitive lives.
For U.S. and Canadian figure skaters, as well as U.S. long-track speed skaters, that includes national events to select team members this week. Some training centres are already battling outbreaks, and positive tests have bumped out figure skating participants before the competitions have even begun.
The risk for both countries now is that by bringing every one of their possible contenders for the Olympic team together in one place, they decimate their medal hopes. Earlier in the pandemic, the U.S. and Canada both conducted virtual competitions.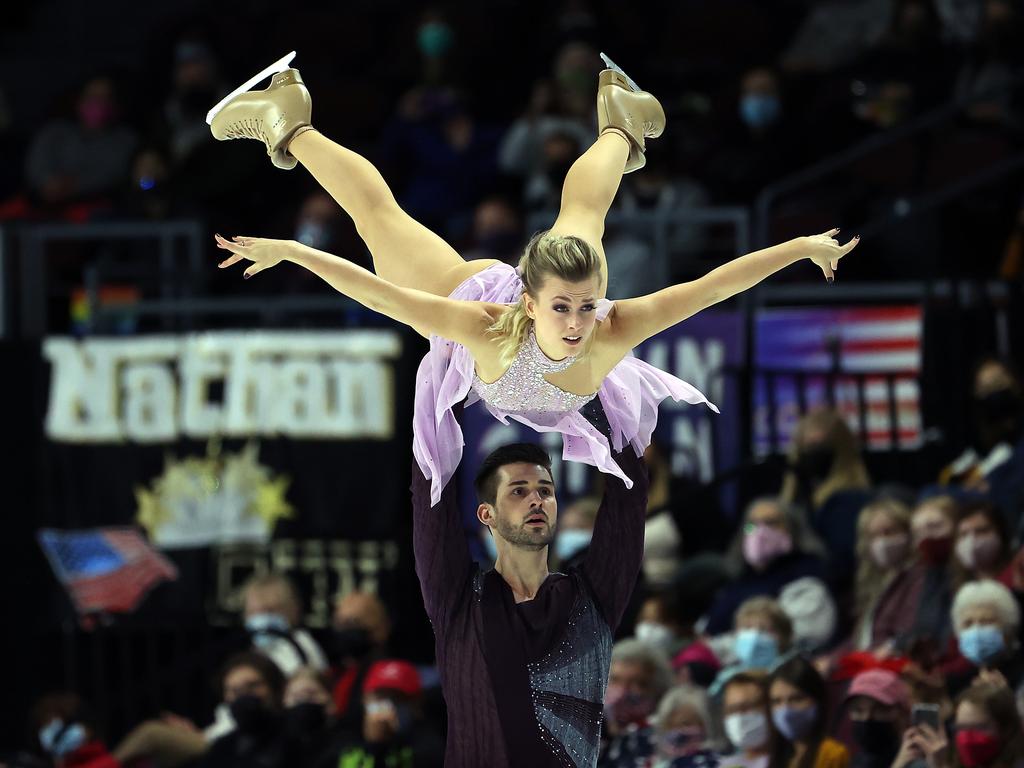 Madison Hubbell and Zachary Donohue of the United States compete in the Ice Dance Free Program during the ISU Grand Prix of Figure Skating. Picture: Jamie Squire/Getty Images
Now, they're diverging in how to reduce the likelihood of an outbreak among skaters in indoor venues similar to the ones used by the National Hockey League, which had to pause in December because so many players were out with positive tests.
U.S. Figure Skating is holding championships in Nashville, using them as the final criteria in picking the Olympic team. About 750 athletes, coaches, officials and media, and thousands of spectators are all invited to come in person. Junior events, which are not for Olympic qualification, start Tuesday. Senior events start Thursday.
In a late December pivot, the organisation dusted off the playbook that it had used earlier in the year—before Omicron—and said it would seek proof of vaccination or a negative test taken within the previous three days for ticket holders. Fans do not need to have had a booster shot. Vaccinated reporters do need to show a negative test result as well.
Masks will be required in most circumstances, but skaters do not have to wear them on the ice, and there are exceptions to allow eating and drinking in the Bridgestone Arena.
Officials said they have placed limits on contact between athletes and fans "by cancelling autograph sessions, reorganising in-person functions and implementing other precautions to help mitigate risk for athletes, including restricting access to the secondary practice rink."
U.S. Figure Skating said in a statement announcing the changes Dec. 27 that they were made after studying transmission data for Nashville and the rest of the U.S., and were intended to "create the safest possible environment for athletes, coaches, spectators and volunteers."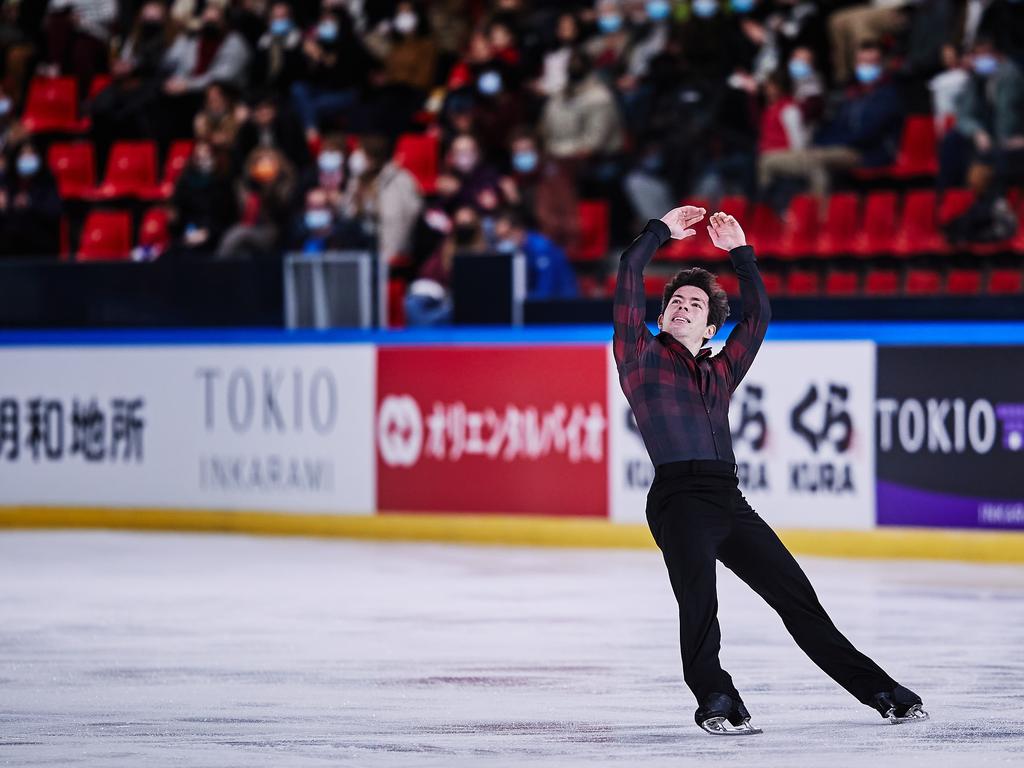 Keegan Messing of Canada in action during the ISU Grand Prix of Figure Skating in November. Picture: Joosep Martinson/International Skating Union/Getty Images
Skate Canada also pivoted to an old approach for its championships in Ottawa—one that was far tougher than the U.S. stance. The governing body has locked down the event, refunding tickets, diverting media to virtual interviews and cancelling the adjacent novice competition and gala.
"Our priority is to preserve the competitions necessary for the selection of teams for the Olympic Winter Games and ISU Championship events," said Skate Canada's president Karen Butcher and chief executive Debra Armstrong in a joint statement.
U.S. Speedskating also announced Monday that it would hold long-track team trials in Milwaukee without spectators. The event starts Wednesday.
Our ability to create a competition bubble provides us with the best situation to protect our athletes while providing them with the opportunity to qualify for the Beijing team at the Olympic Trials," said U.S. Speedskating executive director Ted Morris.
American figure skaters said ahead of the competition that they were doing the best they could to manage the situation, some by getting booster shots and keeping to themselves as much as possible.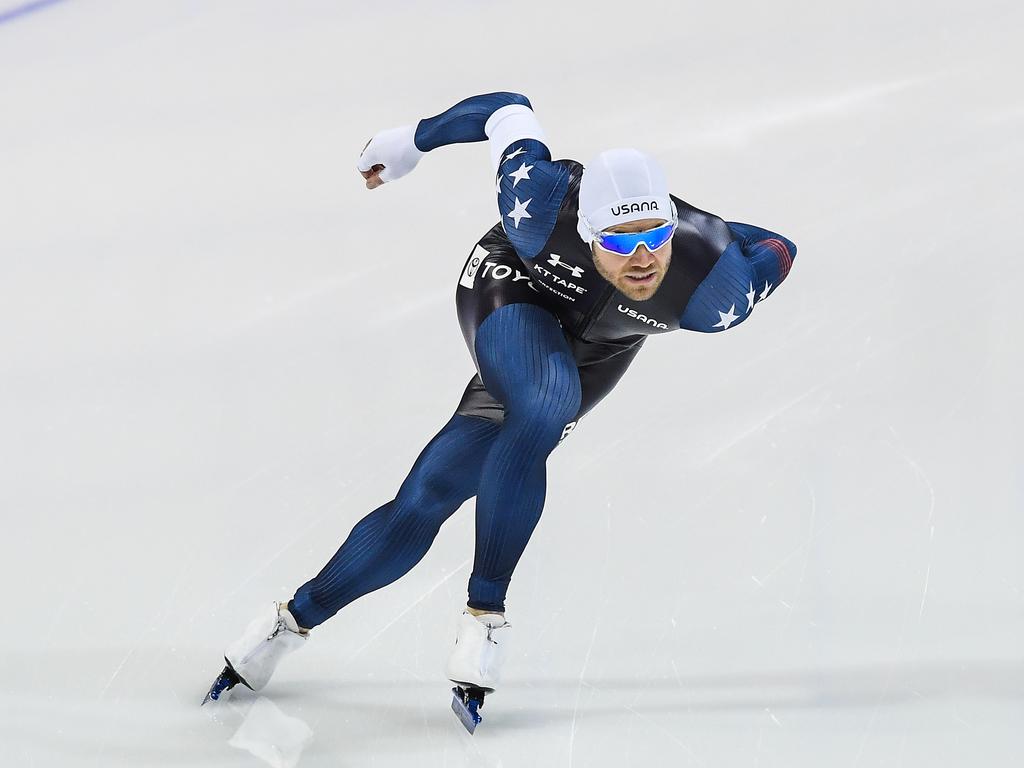 Joey Mantia of USA places first in the Men's 1500m with a time of 1:41.860 during the ISU World Cup Speed Skating competition/ Picture: Derek Leung/International Skating Union/Getty Images
Ice dancers Madison Hubbell and Zachary Donohue, who wore masks at January events long before the pandemic in order to avoid getting winter colds, said they were again planning on renting accommodation through Airbnb rather than staying in the official hotel for the event.
Hubbell said they were also prepared not to return to their training base in Montreal after the competition if that became impossible. Still, Donohue said, they were fully aware of the prospect of a positive test that knocked them out of the Games.
"The Olympic journey is signing up for everything that comes with it," he said.
Japan and Russia held their national competitions to winnow down crowded fields in late December, an additional boost in timing for countries that are also not currently facing the same spread of Omicron as North America.
Still, the prospective Russian Olympic entrants have more travel ahead before they set off for Beijing. They are set to compete at the European Championships in Tallinn, Estonia, next week.