Teen sensation Flynn Southam lives up to hype, secures spot in Australian team
Boom teenager Flynn Southam showed why there is so much buzz about him with a stunning debut at senior level at the Australian Swimming Championships.
All the hype about the boom teenager tipped to be the next big thing in Australian swimming looks right on the money after Flynn Southam booked his place in the Dolphins team for this year's world championships and Commonwealth Games.
Just 16 and in his final year of high school, Southam showed everyone exactly why there is so much buzz about him with a stunning debut at senior level.
Racing in the blue-riband 100m freestyle final, he uncorked the fastest closing lap in the field to storm into third place at the national championships on Saturday.
Stream Over 50 Sports Live & On-Demand with Kayo. New to Kayo? Try 14-Days Free Now >
Stopping the clock at 48.76, Southam is assured of selection in both the 4x100m and 4x200m relays for his first foray into international waters.
Both William Yang — the surprise winner of the race in the absence of Kyle Chalmers — and runner-up Zac Incerti, were blown away by what they witnessed from the 16-year-old.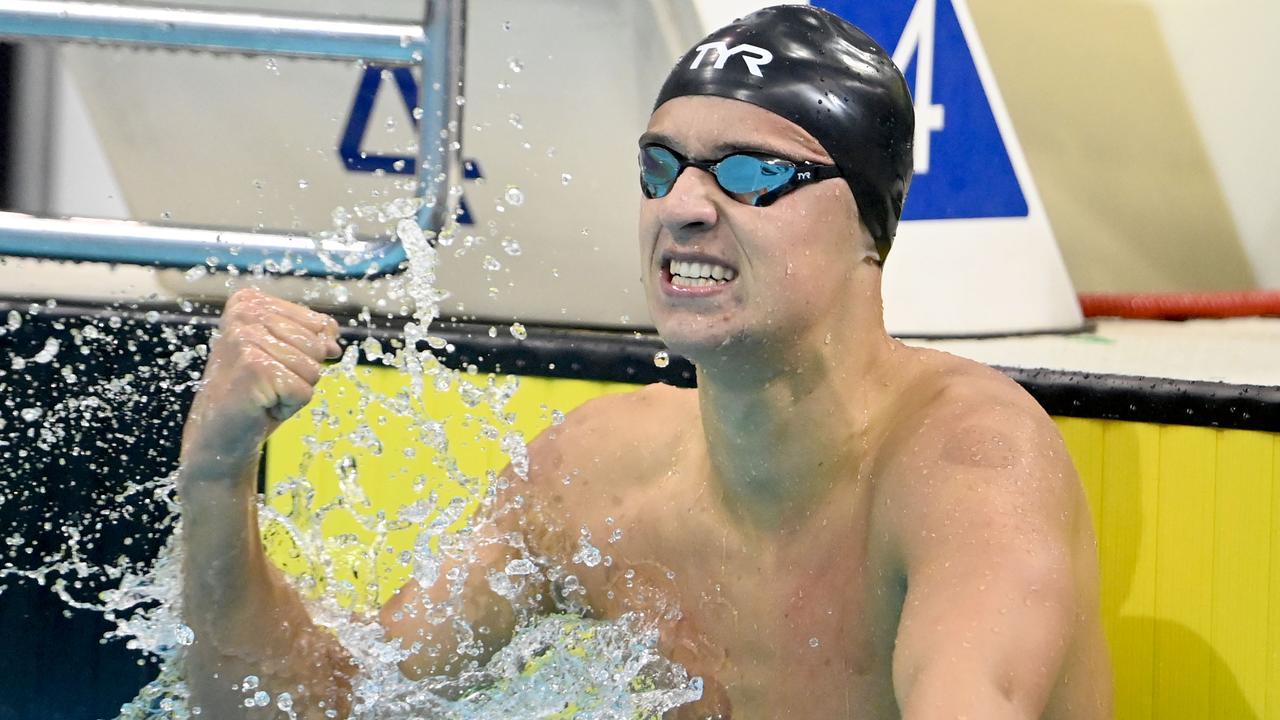 Flynn Southam made a stunning debut at senior level at the Australian swimming championships. Picture: Delly Carr
"He's going to do amazing things in the future," Incerti said. "I can't wait to be next to him and probably get beaten by him one day."
Southam has long been tipped as the most exciting rising star in the sport after breaking Chalmers' age group records but said he learnt a lot from his first crack at open age.
"You come here and these guys are the best of the best, they've got the best skills in the world. It's very different," he said.
Meanwhile, Kaylee McKeown won her third title this week with a runaway victory in the women's 200m backstroke.
The triple Olympic champion (2:05.31) was more than a second outside her best time from last year but still finished well clear of the field.
The 20-year-old had already won the 100m backstroke and 400m individual medley and has the 200m medley to go on Sunday.
Teenage sensation Mollie O'Callaghan finished second but has said she won't race the event again this season because her dance is already full.
The 18-year-old has also qualified for the 100m freestyle, 200m freestyle, 50m backstroke and 100m backstroke and has the 50m freestyle to go.
Kaylee McKeown cruised to victory in the women's 200m backstroke. Picture: Brenton Edwards/AFP
She has already said she will swim the 100m and 200m freestyle and 100m backstroke at worlds and Commonwealth Games plus the relays, which could be as many as five.
Former junior world champion Minna Atherton came third, under the qualifying time, so is likely to get the second spot.
Olympic bronze medallist Brendon Smith completed the men's medley double with a strong win in the 400m. Le-Bom Lee finished second, just 0.01 ahead of Kieren Pollard, after a dogged fight on the last lap.
Lani Palllister, the daughter of former Commonwealth Games champion Janelle Elford, won the women's 1500m to book her second spot in the team after winning the 800m.
With Elford watching from the stands next to Dawn Fraser, Pallister led all the way to win a career best 15:55.40. She still has the 400m to go. "It's good because I haven't had a pb (personal best) for three years in that event," Pallister said.
Bowen Gough fought back tears after making his first Australian senior team after winning the men's 200m butterfly.
Gough almost gave swimming away when he just missed out on going to the Tokyo Olympics when he finished third at the trials. But he decided to go all in, moving from Victoria to the Gold Coast, and got his reward with a comfortable win.
"It's been about four years in the making," he said.
Bowen Gough secured his spot in the Australian team after winning the men's 200m butterfly. Picture: Brenton Edwards/AFP
Tokyo's hardluck story earns revenge in pool
Bound by their own rules, Swimming Australia knew they'd mucked things up when one of the country's most gifted distance swimmers was denied a spot on the team for last year's Tokyo Olympics.
Queensland teenager Sam Short really should have gone to Tokyo after finishing second in the 1,500m freestyle at last year's trials, stopping the clock more than 3.5 seconds inside the Olympic qualifying time.
A prodigious talent getting faster each time he raced, Short was left off the team after he was caught out by Swimming Australia's ruthless selection policy that required swimmers meet a higher standard.
The problem was the policy was flawed and included loopholes that resulted in some swimmers entering they were significantly slower in than other swimmers not chosen.
Although Short's time from the trials would have placed him seventh in the final at Tokyo, he stayed home while his place in the 1500m was given to his teammate Tommy Neill, even though he finished 11 seconds behind Short, and well outside the qualifying time.
The policy had been put in place long before Rohan Taylor took over as Australia's head coach so he was powerless to get Short on the team for Japan but to his credit, he made sure it would never happen again.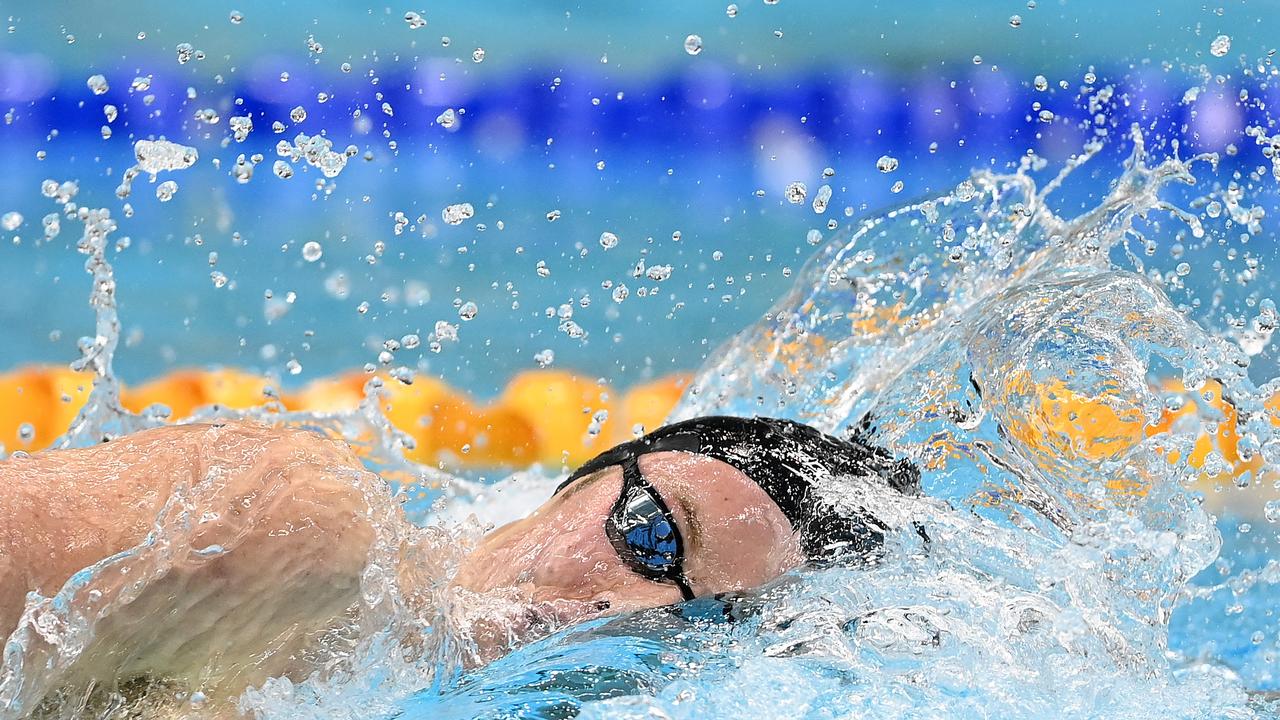 Samuel Short in the Men's 800m final.
As soon as the Games were over, the selection policy was fixed and – fittingly – Short has become one of the first beneficiaries.
With his best event still to come, the 18-year-old has already made the Australian team for this year's world championships and Commonwealth Games, in 800m.
He finished second in the final behind Elijah Winnington in 7:48.65, well inside the official qualifying time (7:53.11) so is guaranteed a place on the team.
But had it happened 12 months ago, he would have been omitted because it was a fraction outside the higher standard Australia had with the old policy (7:48.12).
"Last year was pretty heartbreaking, to be honest, missing the team after being so close. It was pretty brutal," Short said.
"I think if I'd made the Olympic final I would have done fairly well.
"It took me a while to recover last year, I finished school last year as best as I could, and just set my new goal to make this team."
Starting university this year, studying science and law, Short could easily have been weighed down by the disappointment of being left off the team, but his closest friends, including Neill and Jack McLoughlin, urged him to knuckle down and keep going.
"I was definitely very grumpy, I was emotional," Short said.
"But it kind of just made me realise that it is a tough sport, tougher than I would have expected. When I was an age grouper, things fell my way, but this is the big league, the opens.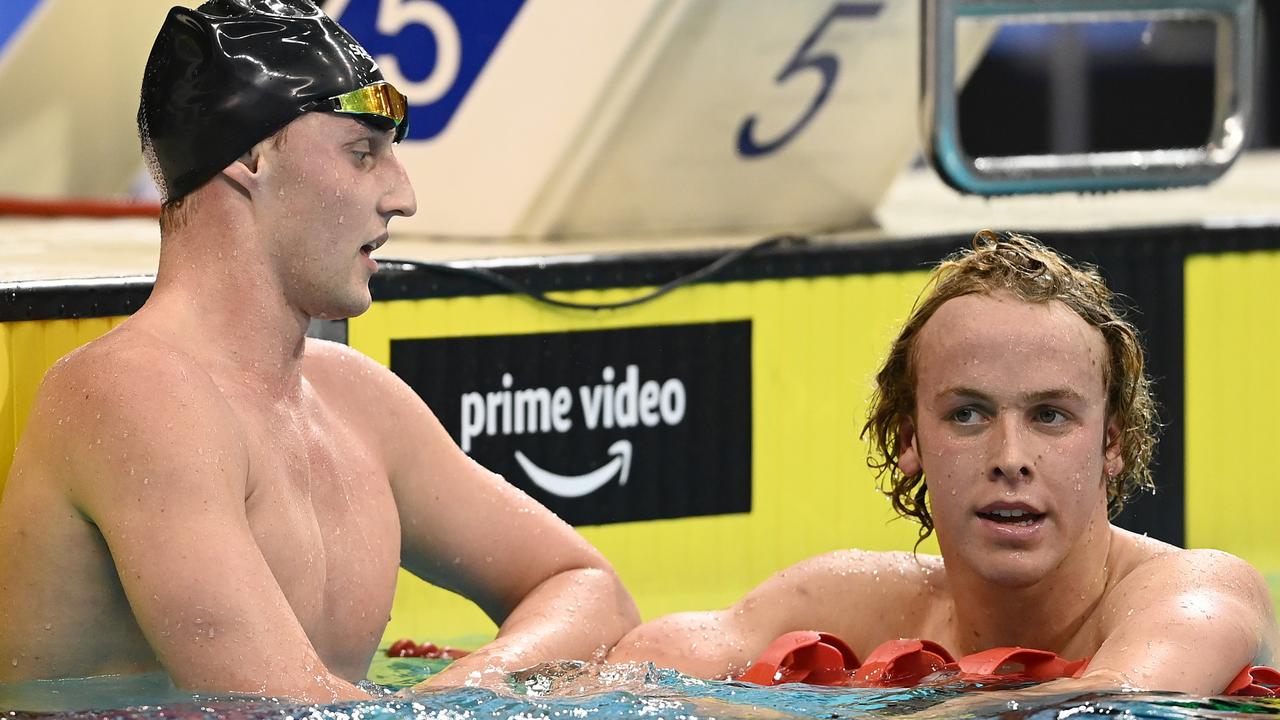 Elijah Winnington and Samuel Short.
"I have a very good support team and when the best in the business were telling me that I was on the right track, I took their advice."
Even so, Short said the experience of watching the Tokyo Olympics on television was tough but it motivated him to come back bigger and faster and focused on Paris 2024.
His time for 800m was 10 seconds faster than what he swam last year and he is currently ranked fourth in the world in the 400m after placing third in the Australian final, with only the top two qualifying for the world titles.
"Bittersweet is a polite way to put it. Obviously, I love watching the Olympics. I've been watching them since I was baby," he said.
"But getting to that age where I'm saying to myself that could have been me, just made me hungry, I'm a competitive person so I'm definitely putting everything I can towards Paris.
"Being young. I want everything I want to take every opportunity. I've just made the Australian team so I'm stoked and I want to execute everything the best way I can and just take everything and just do my best."