FINA World Swimming Championships: Ukrainian star Mykhailo Romanchuk was 'ready to go and kill' Evgeny Rylov
A Ukrainian star says he was "ready to go and kill" a former Russian friend turned rival whose support for Vladimir Putin has enraged world swimming.
It is a good thing fanatical Russian swimmer Evgeny Rylov was banned from attending the championships because there's a Ukrainian participant who says he wants to kill him.
The Olympic backstroke champion has been told he's no longer welcome in the sport after being spotted at one of Vladimir Putin's pro war rallies, but getting the cold shoulder could be for his own good.
Rylov has been suspended until the end of 2022 after appearing on stage — wearing the infamous "Z" symbol of Russian nationalism — and his brazen support for Putin has incensed other swimmers.
Stream Over 50 Sports Live & On-Demand with Kayo. New to Kayo? Try 14-Days Free Now >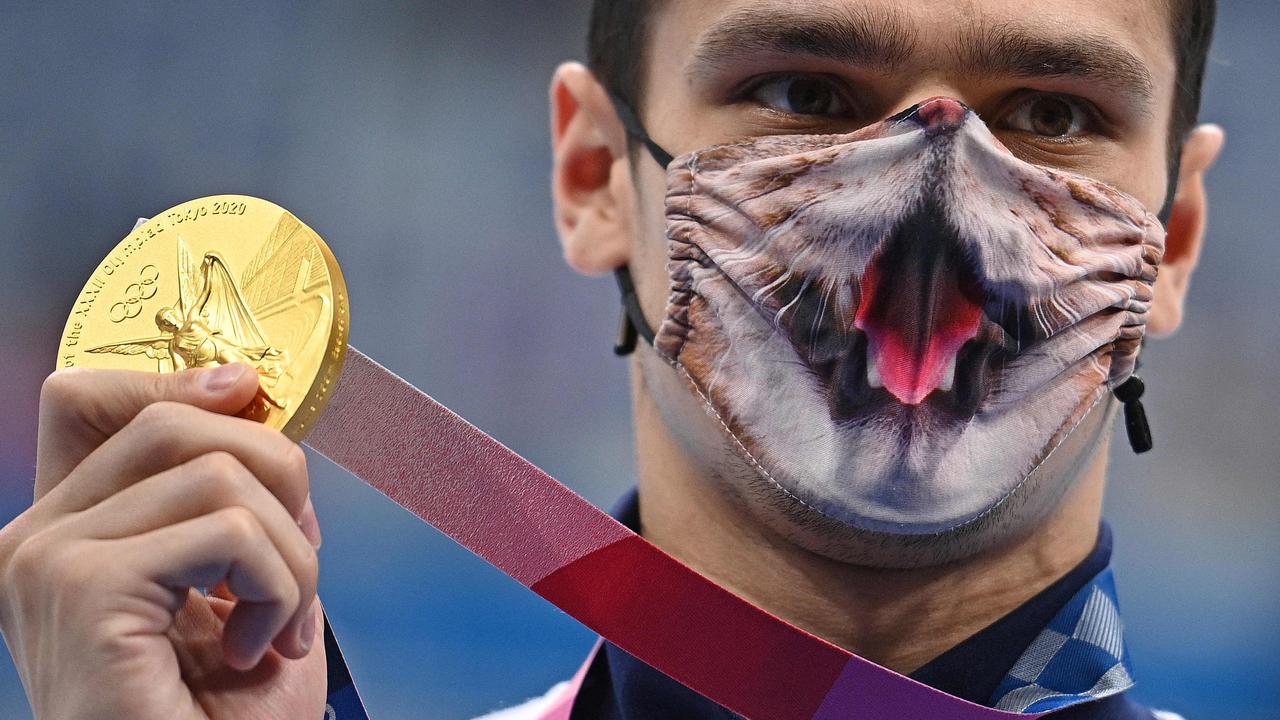 Russia's Evgeny Rylov.
Ukrainian middle distance star Mykhailo Romanchuk used to be good mates with Rylov but went ballistic when he was shown pictures of him openly supporting Putin at the rally.
"I was ready to go and kill him. We were friends before but everything changed," Romanchuk said.
Swimming's world governing body FINA has come down hard on Russia over the invasion of its eastern European neighbour.
Russian and Belarusian athletes have been banned from competing at the world titles as well as major events taken away.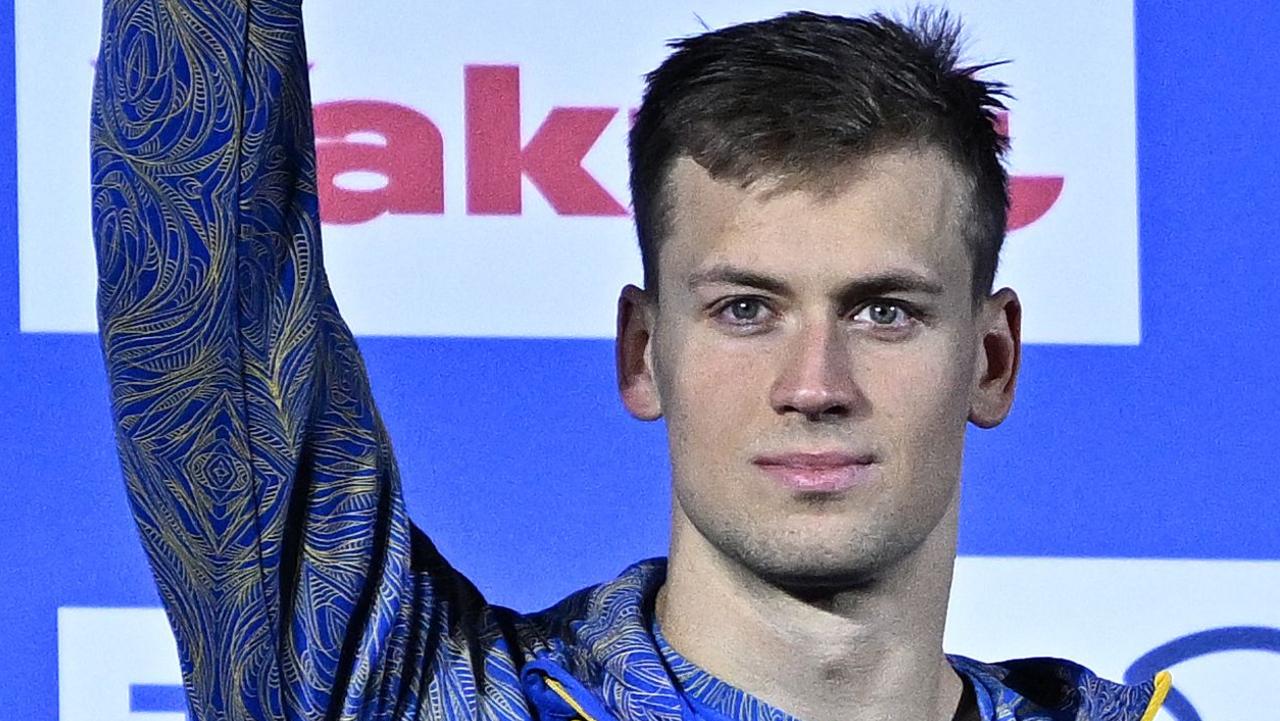 Ukraine's Mykhailo Romanchuk says he was ready to kill a Russian rival.
The world junior championship and the world shortcourse championships – which were both due to be held in Kazan this year — have been relocated with Melbourne getting the shortcourse event.
FINA also stripped Putin of one the honours it gave him after the Russian dictator shamelessly tried to align himself with major international sports events — a practice known as 'sportswashing'.
Romanchuk, who won a bronze medal in the men's 800m freestyle on Wednesday, said FINA were right to boot the Russians out.
"It is the right decision that the Russians are not here because if I saw some of the Russian guys I don't know how I would react towards them," Romanchuk said.
"The war is not over and it's getting harder and harder. They have destroyed a lot of our cities, a lot of infrastructure … more than seven pools in Ukraine, they destroyed 50 stadiums of track and field, a lot of other sports facilities.
"More than 10 top sportsmen died during the war and I don't know how many coaches will die."
NEXT AUSSIE SUPERSTAR PUTS WORLD ON NOTICE
Australia's swimmers have picked up another two silver medals at the world championships in Budapest, with Shayna Jack anchoring the mixed medley relay team onto the podium after Mollie O'Callaghan bagged her first individual medal on the international stage.
The Australians now have seven medals from the first three days of competition to sit fourth on the table.
Jack, swimming the final freestyle leg, teamed up with backstroker Kaylee McKeown, breaststroker Zac Stubletty-Cook and butterflyer Matt Temple to pip the Netherlands for second spot behind the United States.
Stream Over 50 Sports Live & On-Demand with Kayo. New to Kayo? Try 14-Days Free Now >
"I think we're all pretty stoked," said Jack, who already has a relay gold in her first international competition since returning to the sport.
"We put it together and came home with silver, which I think we're really, really proud of."
It was McKeown's second silver medal after she finished runner-up in the 200m medley.
She swam the lead off leg just over an hour after her 50m backstroke semi-final after getting the nod to swim the relay final.
"It's bit of a mixed bag. We never know if we're going to be put up for heats or finals but at the end of the day, we trust our coaches and staff to put in the best team," she said.
Stubblety-Cook and Temple still have their main events to come and said getting picked for the relay had them primed to go quick.
"I was a little bit disappointed with my time at the trials but to come out and do that and also (win a silver) in the freestyle relay, I think I'm off to a great start and as well as Australia, we're on fire."
Silver medallist Australia's Mollie O'Callaghan, gold medallist China's Yang Junxuan and bronze medallist China's Tang Muhan.
O'Callaghan picked up her second medal of the championships when she finished a close second in the women's 200m behind China's Yang Junxuan.
O'Callaghan was third through the first three laps and despite cutting the margin to Yang she just couldn't quite get her, but was happy with her second medal as she chases a possible six.
"This race was just a starter for my individuals at my first worlds so I wasn't expecting too much this meet and it was just more about the experience," she said.
"It's quite crazy. I was definitely shocked when I touched that wall. I was nervous all day, I was up and down.
"I shut off a little bit when I do get a bit nervous but it's more the fact I put a lot of pressure on myself to perform."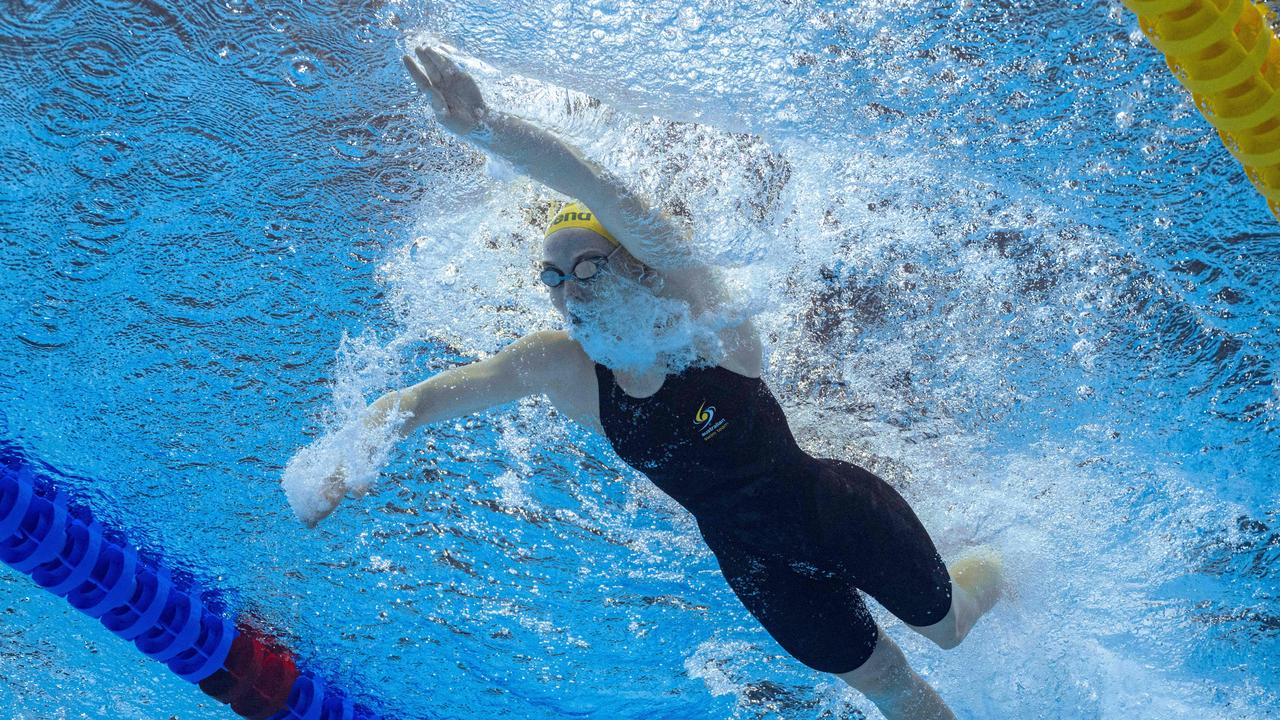 Australia's Mollie O'Callaghan finished second in the 200m final.
Madi Wilson, given a rare individual swim after usually focusing on the relays, showed what she can when given the chance by placing fifth.
"I'm pretty happy, it probably wasn't as fast as what I would have liked to have gone but I'm happy with the swim and fifth in the world, I can't complaint" she said.
"In Australia it's pretty hard to race that race anyway with the amount of depth that we have so doing it internationally is always nice.
"Every time that I get the opportunity to be here, I kind of think of it as my last so just to be here with the team and to see all the new and fresh faces come in and do so well is just such an amazing experience."
The Australians will tackle the Chinese in Wednesday's 4x200m final – but as outsiders without Ariarne Titmus and Emma McKeon.
"It's going to be a tight race, definitely a tough one," Wilson said.
"I guess this time we're going in as the underdogs instead of on top but that's exciting because I think we've put together a good team."
Lizzie Dekkers, in her first international meet, is also through to Wednesday's final of the women's 200m butterfly.
SWIMMING'S 100M SHOWDOWN DELAYED
Swimming's next emerging global superstar David Popovici will have to wait a little longer before testing himself against the sport's two best-known alpha males after Caeleb Dressell joined Kyle Chalmers on the sidelines of the 100m freestyle.
Chalmers pulled out of the blue-riband sprint months ago after only recently returning from surgery but Dressell was a last-minute withdrawal from the 100m semis in Budapest.
The reason, according to USA Swimming, was on "medical grounds" though no details were given.
The absence of Chalmers and Dressell has propelled the Romanian teenager into odds-on favouritism to add the 100m title to his mind blowing win in the 200m earlier this week - where he received his gold medal from Ian Thorpe.
David Popovici is the new favourite for the 100m title after Caeleb Dressel's withdrawal.
Popovici was the fastest qualifier in the semifinals after he cruised to the wall in a jaw-dropping time of 47.13 seconds - breaking his own junior world record.
The senior world record is 46.95, set by Brazilian Cesar Cielo when the now banned super suits were allowed.
Once considered almost impossible to break, suddenly everyone is thinking it could go under this week.
"He's unbelievable," Australia's Madi Wilson said.
"Obviously my training partner is Kyle, so we're pretty aware of what he's doing and just to see that was absolutely incredible.
"We're also excited to see what he can do in the 100m. It's a great opportunity for him to get in front and even go for the world record."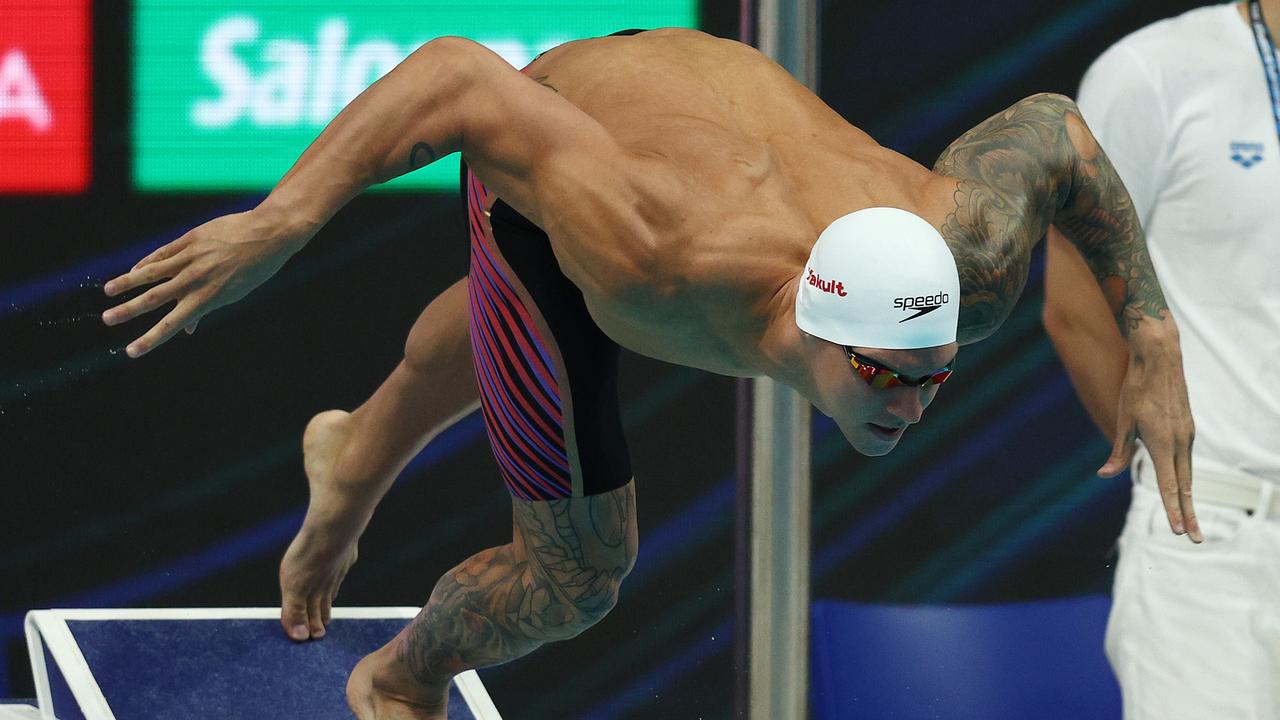 Caeleb Dressel was a last-minute withdrawal from the 100m semi-finals.
Popovicic isn't the only young eastern European on a roll.
Hungary's Kristof Milak almost lifted the roof off the Duna Arena when he broke his own world record in 200m butterfly - stopping the clock at once unthinkable 1:50.34.
The 22-year-old, who was born in Budapest and is a national hero in Hungary, climbed out of the pool then sat for a few minutes on the deck, soaking up the atmosphere and the applause.
He snatched the world record from Michael Phelps at the last world championships and now has the five fastest times in history.
Australia's Shayna Jack, who won a silver medal in the mixed medley relay, said everyone in the warmup pool stopped their practice just to watch him.
"I thought that was just a beautiful moment," she said. "Because no matter who you are away from, we're all here to support each other."