Paralympian Jaryd Clifford leaves nothing on the track, but boasts an even bigger impact off it
Jaryd Clifford breaks marathon world records by mistake and races so hard he loses his lunch. But that's not why Kurt Fearnley rates him "the single most impressive person I've seen," writes BRENDAN BRADFORD.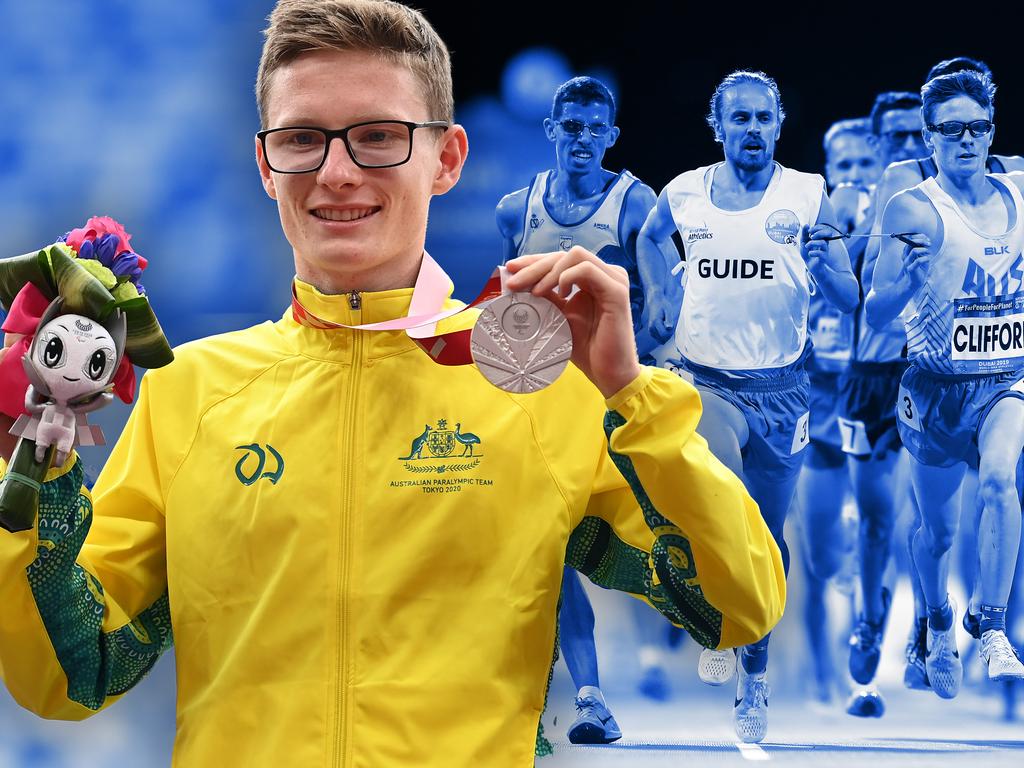 Jaryd Clifford captured Australia's imagination at the Paralympics, and is determined to have an even longer lasting legacy off the athletics track.
Jaryd Clifford is sitting in an ice bath in the bowels of the Japan National Stadium, throwing up into an empty shower cubicle. Just 20 minutes earlier, he'd won a silver medal in the 5000m T13 at the Tokyo Paralympics. Emotionally and physically spent, he's now depositing what's left of his breakfast into the empty shower stall while a couple of doctors keep a watchful eye on him, worried he's in serious danger of overheating.
It wasn't just hot out on the track that morning, it was dangerously so. Every day during the Olympics and Paralympics, athletes are shown a temperature chart signifying how extreme the heat is going to be during their particular event. Yellow is mild, and the scale goes all the way to black at its most extreme.
"One of the only times it was black during the whole time we were there was on the morning of my 5k, it was pretty brutal," says Clifford, who was diagnosed with juvenile macular degeneration as a toddler, and classified as legally blind when he was 12.
The 5000m was the start of an unprecedented schedule for Clifford that week. Three days later, in more favourable conditions, he won bronze in the 1500m, and five days after that, this time in monsoonal rain, he came second in the T12 marathon.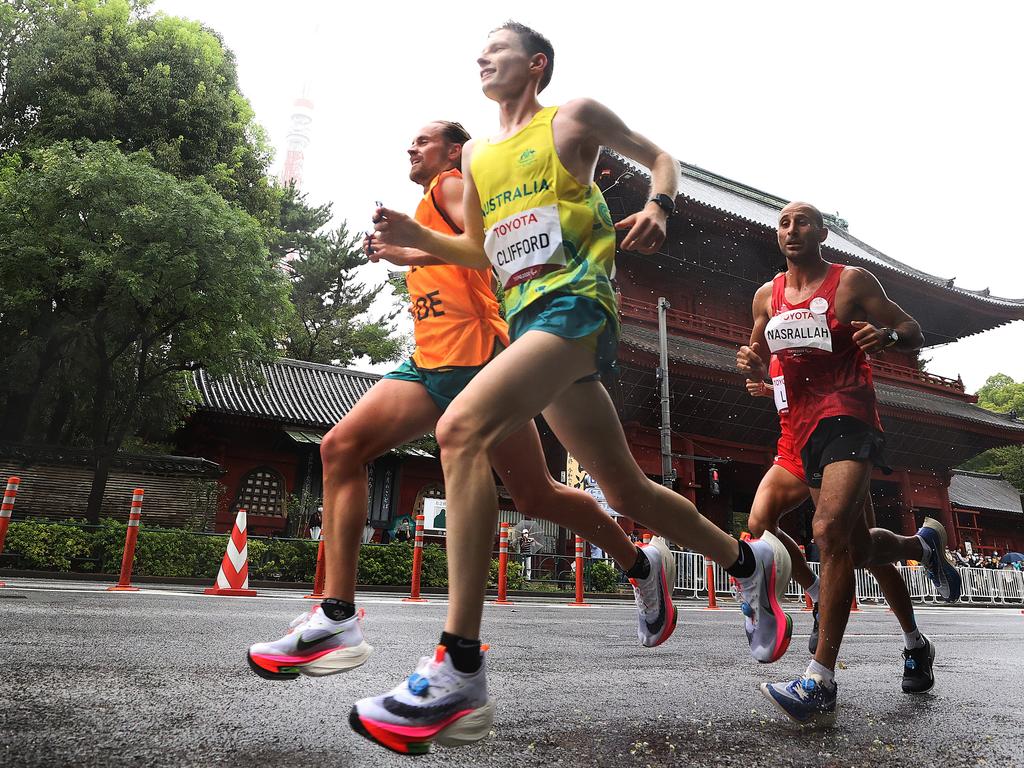 Jaryd Clifford and guide Tim Logan race to a marathon silver medal in Tokyo. Picture: Naomi Baker/Getty Images
But the 5000 was his main goal. That was the one he'd spent half his life working towards, and he fell agonisingly short, beaten by a man with a faster kick in the conditions.
"It was one of the most devastating moments in my life," Clifford says. "It's just sport, but my whole life had been leading up to it.
"I couldn't have changed the race much, but knowing I hadn't won a gold medal, then just sitting in an ice bath, throwing up into a shower cubicle with no one around me – my coach, my training partners weren't there – it was just the docs basically.
"It's pretty lonely."
In the most literal sense possible, Clifford left a piece of himself in Tokyo that week. The hurt of missing out on gold eventually faded, and he's now determined to have a much longer lasting and more profound impact in his life away from running.
Indeed, when it's all said and done, Clifford may be more renowned for what he did off the track than on it.
*****
For as long as he can remember, Clifford's hero has been Kurt Fearnley.
As much as Fearnley achieved athletically, it was his activism that Clifford most admired.
And, for very similar reasons, Fearnley feels the same way towards the Melbourne-based runner.
"He is, at 22, without a doubt the single most impressive person I've seen," Fearnley tells CODE, before perfectly encapsulating what the rest of Australia felt while watching Clifford race in Tokyo.
"It's that genuine approach to everything that he does. I've never seen anyone put more into an event than what he put into Tokyo.
"Ever.
"He put everything into it. The sickness is a symbol of how much he put into it, but you see him run that entire race and it's someone who's put all of his cards in. All his chips in. Everything.
"There's nothing left in his world that isn't trying to contribute to him crossing the line first. It's admirable and impressive.
"But then, to feel the joy and disappointment of that and to regroup and remind himself of his potential benefit to the community – he's the full package."
*****
With a maturity well beyond his years, Clifford is forthright when asked to summarise his performances in Tokyo.
"I'm still not a gold medalist, but I'm a three-time Paralympic medalist," he says. "I thought I might win a gold medal, but no way that I'd win three medals.
"It's a weird one, but seeing the reaction back home and how the way I raced resonated with people back in Australia and even around the world, it means a lot to me."
It wasn't the colour of the medals Clifford claimed that made an impact, but the way he won them, putting all his chips in, as Fearnley says. It was also in his emotional interview following the 5000m, when he eloquently spoke of his devastation at not winning gold for his grandad who had passed away.
It was real, raw and vulnerable.
"I wasn't going to check my messages during the games, but after my 5k, my girlfriend – she was in control of my Instagram – she just said, 'If you're feeling a bit down after today, just jump on for half an hour because you've received some really incredible messages'," he says. "There were people sending me essays, paragraphs-long messages telling me about the things they've been through.
"Other messages were from people who'd seen me upset in my interview and basically saying, 'We still love you, don't get down.'
"It was just all this really positive stuff, and it really gave me faith in people.
"That stuff meant a lot to me. Sport is about medals, but its power extends well beyond that as well."
Clifford hugs Spain's Yassine Ouhdadi El Ataby, who won a sprint finish for gold in the 5000m in brutally hot conditions. Picture: Tim Goode/PA Images/Getty Images
*****
The response to his performances in Tokyo offered Clifford a glimpse of sport's ability to inspire and the burgeoning platform he can command with it.
"I would like to show kids with disabilities that they don't actually have to love sport to become a hero with a disability," he says. "You can become a musician, you can become whatever you want to be and still be someone's hero.
"Kids with a disability shouldn't only have Paralympians to look up to.
"They should have people from all walks of life to look up to so that they know that the one in 10 people in Australia with a disability are doing the most diverse array of things."
It's something he's incredibly passionate about, but he also feels a deep sense of responsibility about using his position for good.
"Paralympians have to use their platform for the entire community because, unfortunately, Paralympians are given a disproportionate platform in comparison to our peers with disabilities who have passions in other walks of life," he says.
"Paralympians are understanding more and more that we're in a very privileged position.
"But you shouldn't have to be a Paralympian to have your rights protected or your interests looked after."
Clifford celebrates with the Australian flag after winning the 1500m T13 final at the World Para Athletics Championships in 2019. Picture: Bryn Lennon/Getty Images
*****
Clifford's activism includes speeches – either in person or via video link – an ambassadorship with Guide Dogs Australia and a series of written columns.
Shortly after returning from Tokyo, he wrote an elegant and passionate piece in the Guardian arguing for equal pay between Olympic and Paralympic athletes.
The overwhelmingly positive response gave another insight to the power of his platform, while simultaneously showing him there's still so much more work to do.
"We're giving Paralympians medal bonuses, and at the same time we're trying to pass cuts to the NDIS (National Disability Insurance Scheme) – it's just hypocritical," he says.
"I don't think people in power should try and sell to people that they're one thing, while in the background they're trying to reduce the amount of help they're providing that community.
"That's my stance.
"As Paralympians, we have to understand that our experience isn't necessarily the same experience as the rest of our community's.
"We need to make sure that if we're fighting for equality at the top, then that equality is shared and we all get it – not just medalists."
*****
It's a brave position for a 22-year-old athlete to take – Clifford isn't the first sportsperson concerned about being told to 'stay in your lane', but he has long had inspiration close at hand.
"The way Kurt (Fearnley) continues to change peoples' perceptions of what's possible, and the way he speaks – he's just special," Clifford says. "He gives me the confidence to speak out on disability rights, just because I know he'd have my back.
"People will always disagree and not like you saying something's wrong in the system, but I know that Kurt will have my back, it means a lot.
"My teammate, Madison de Rozario, she's someone I look up to a lot as well.
"Grace Tame as well, she's been courageous in speaking truth to power. On a much larger scale, she cops a lot of shit for that, but keeps on keeping on because she knows what she's fighting for is important."
In Fearnley's mind, Clifford isn't simply following in his path. He's forging his own, and, in the three-time gold medalist's eyes, he's taking it to the next level.
"No, mate, no – he's creating his own path and it's bigger and better than what I could ever have imagined," he says. "He's 22 and he's recognising the potential to have an impact in his community.
"If you were to compare a 22-year-old me to him at 22, he towers above me.
"I can't compare him to me at all. He's in a class of his own."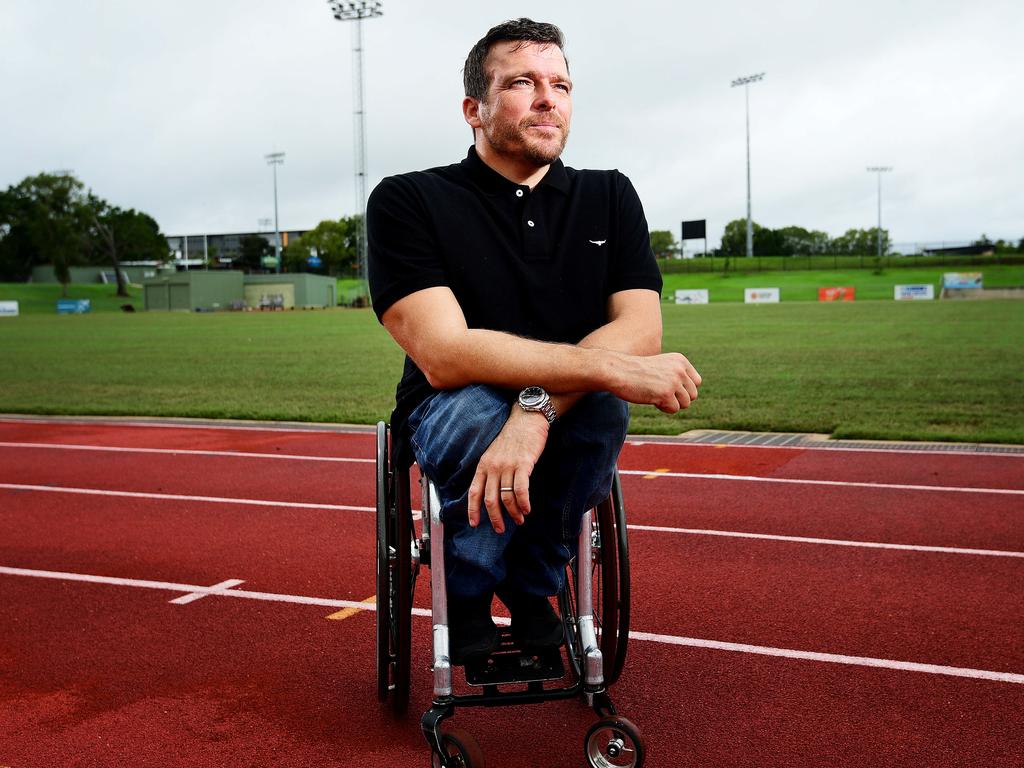 Three-time Paralympic gold medalist Kurt Fearnley is one of Clifford's biggest admirers and supporters. Picture: Justin Kennedy
*****
Clifford's next athletic goal is the Gold Coast Marathon in July. It will be his third ever attempt at the distance after accidentally running his first last year.
In April 2021, he lined up in Sydney to pace his training partner and good mate Michael Roeger for his Olympic qualifying attempt. Clifford had expected to struggle to make it halfway, but after 21km he felt good so just kept on running. And running. And running.
Without a proper nutrition or hydration plan, he decided to pull out at the 36km mark. He sat down for 28 seconds, before his coach, Philo Saunders, told him to keep going. So he did.
On a day when he wasn't even scheduled to run half the marathon distance, he ended up setting a new world record by over two minutes.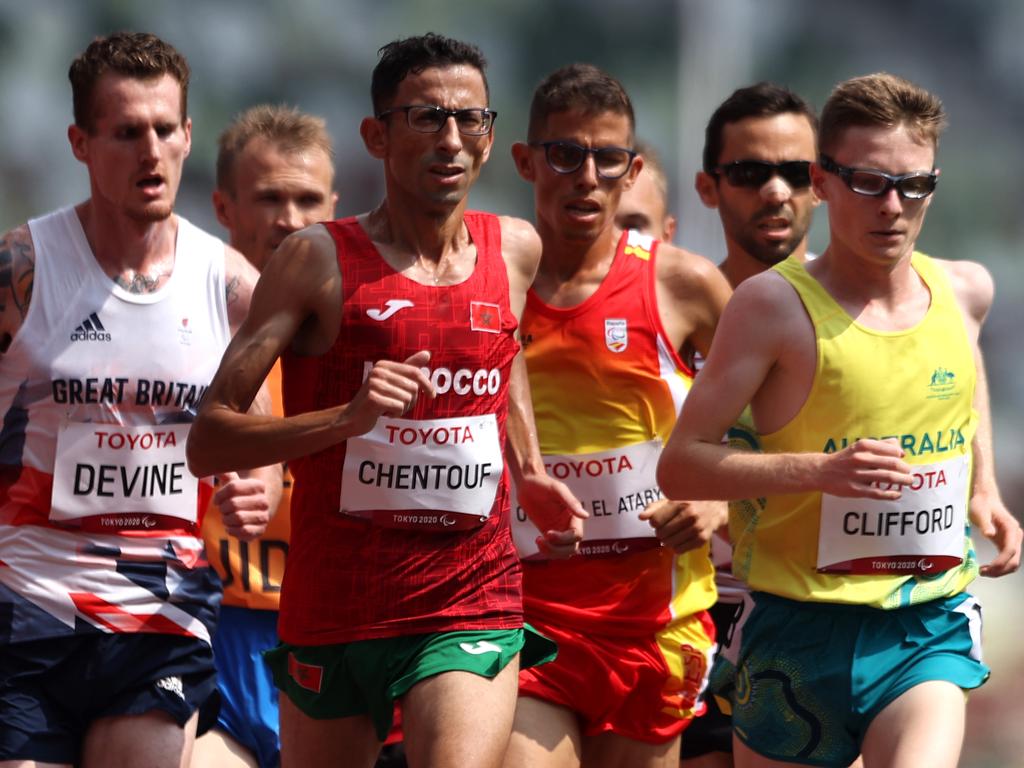 The heat scale was at its most extreme during the 5000m T13 final in Tokyo. Picture: Alex Pantling/Getty Images
For a kid who breaks marathon world records by mistake and races so hard he loses control of his stomach, Fearnley has no doubt Clifford will achieve great things, on and off the track.
"This is a kid who genuinely wants to create a better community with his actions," Fearnley says. "If you truly want to do that, you need to extend yourself outside the result, and he's definitely doing that.
"You can tell with how he writes and speaks – he approaches it with a genuine honesty.
"If he chooses to stop, it's completely up to him, but if he continues to show more of himself, then I think we're all better for it.
"The green and gold is better for it and the sporting world is better for it.
"I can honestly say, if Jaryd's here in 20 years talking about the next kid, I know that he'll say better words than me.
"Whatever I've just said, in 18 years' time, he'll say it better, and there is no better measure of success."