Refreshed and revamped, swim icon Katie Ledecky is rising to the Ariarne Titmus challenge
Four medals in Tokyo would be a celebratory haul for most but for Katie Ledecky, it was a sign that her preparation had slipped. Reinvigorated, she's sounding a warning in Budapest.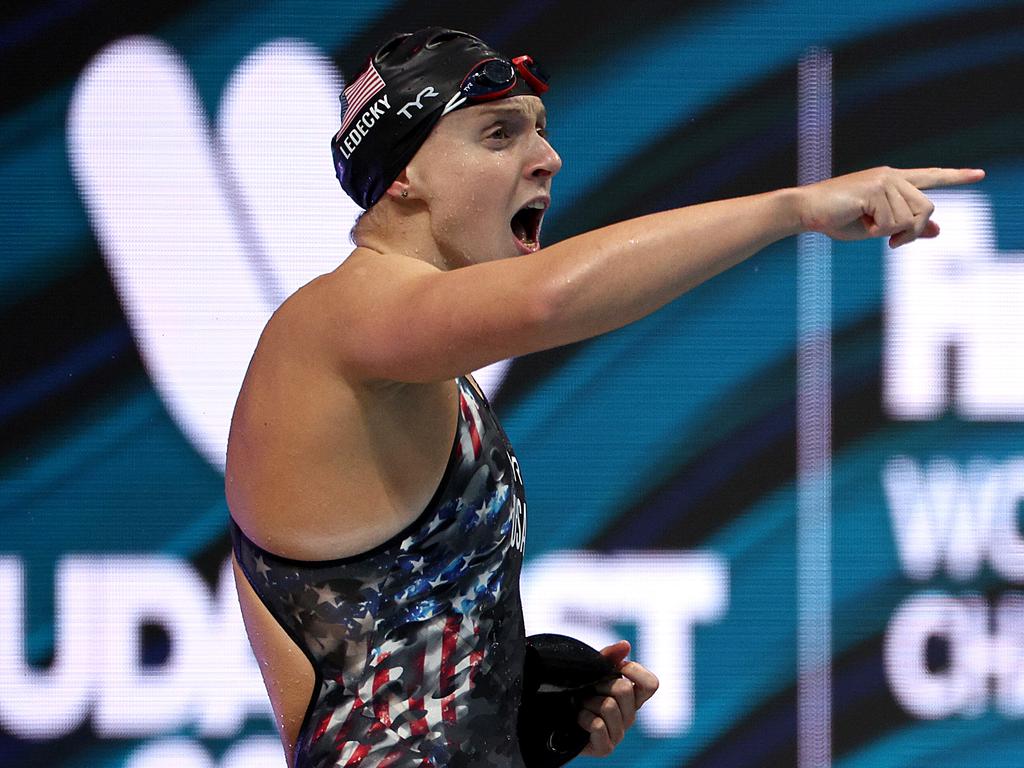 A refreshed Katie Ledecky is back creating history in the pool. Picture: Tom Pennington/Getty Images
Katie Ledecky arrived back in the U.S. last year after a Tokyo Olympics in which she collected two gold and two silver medals. By anyone else's standards, it was a successful haul. By Ledecky's, it was a sign that something about her training wasn't clicking.
Forced out of her normal training home at Stanford by the pandemic, she trained for Tokyo in the backyard pool of an Atherton, California family. She went months without seeing her family, who were all on the opposite coast. The biggest problem was the absence of anyone to chase during training except her own shadow.
"I did feel like I was missing a bit of that regular presence of some distance people to really push me and for me to chase," Ledecky said in an interview earlier this month.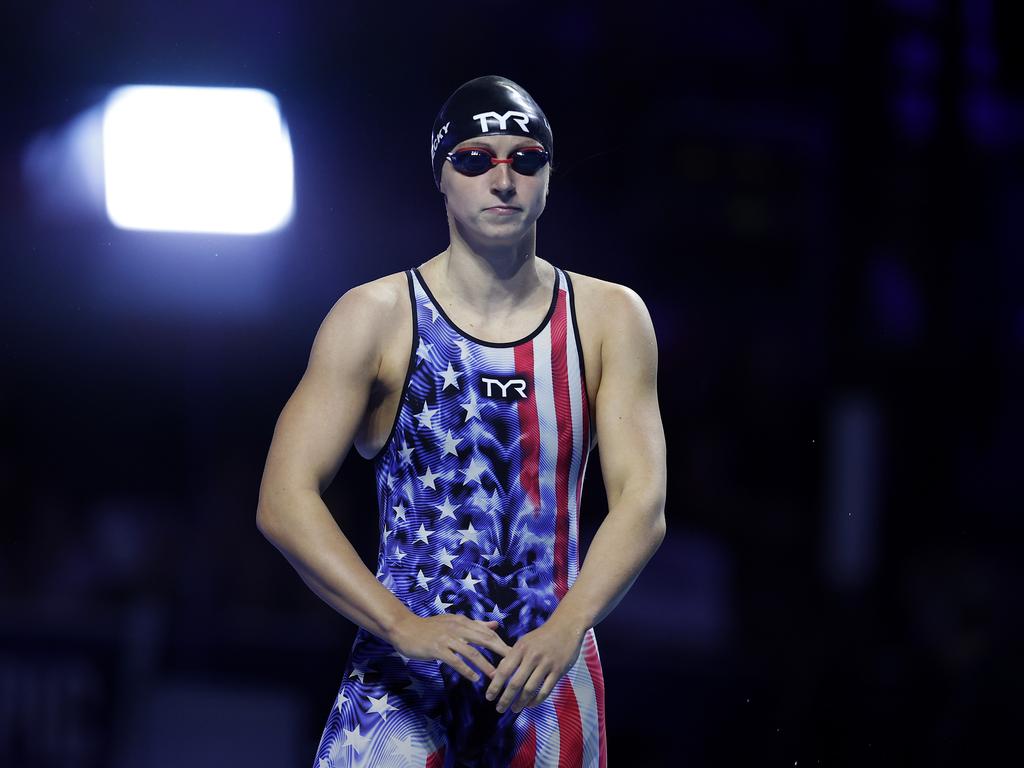 Katie Ledecky felt here preparation for Tokyo was hampered by the pandemic. Picture: Maddie Meyer/Getty Images
Across the country in Gainesville, Florida, University of Florida coach Anthony Nesty was assembling one of the most talented clusters of freestylers in the nation, if not the world. It included Tokyo medallists Caeleb Dressel, Kieran Smith and Bobby Finke alongside athletes who have represented Venezuela, Argentina, Ireland, Denmark and Germany in international competitions.
So Ledecky emailed Nesty out of the blue last September and set the wheels in motion to relocate her operations from Palo Alto to Gainesville, in order to train with the Florida men. In the eight months she has trained with them, she's taken on a higher workload while renewing her enthusiasm for the water and inching closer to the record times she had not matched since before the pandemic.
"It has already shown in my racing," Ledecky said of the benefit of training with some of the world's fastest male freestylers.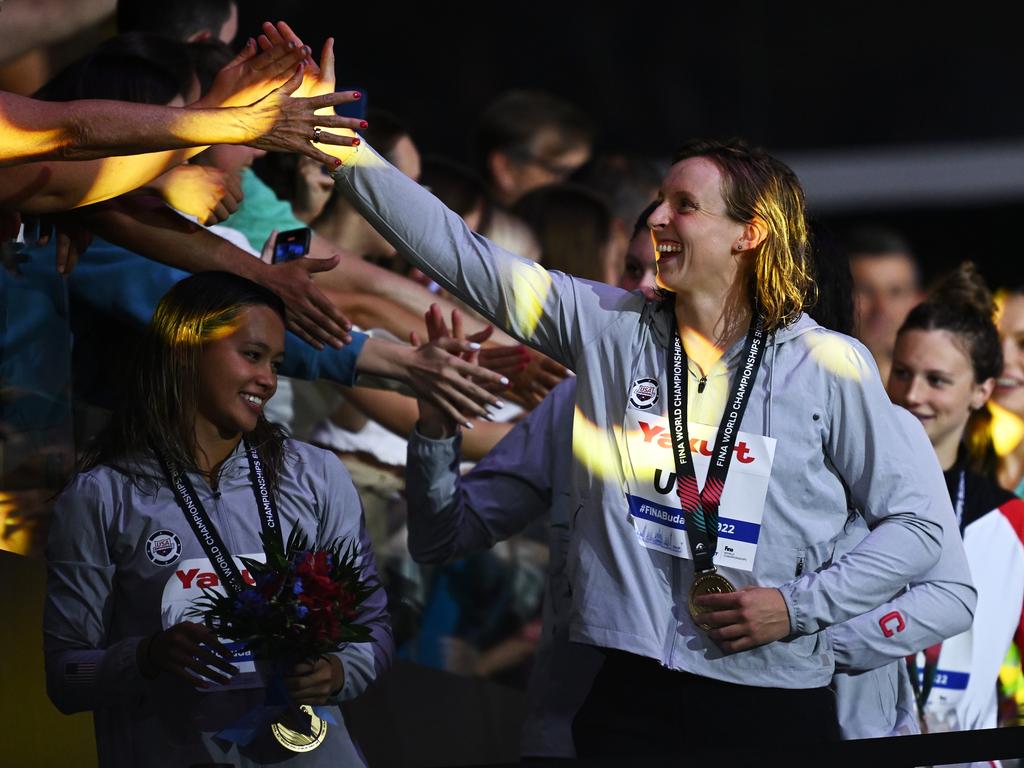 Katie Ledecky already has three gold medals at the 2022 FINA World Championships. Picture: Quinn Rooney/Getty Images
Indeed, at the 2022 FINA World Championships in Budapest this week, Ledecky already has three golds. The 26-year-old won the 400-metre freestyle in 3:58.15 — the fastest she has ever swum the event outside of Olympic competition — and the 1,500 metres in 15:30.15, more than five seconds faster than her performance in Tokyo.
On Wednesday, she topped the podium for the third time with Team USA in the 4×200-metre free relay. Ledecky has yet to race the 800-meter free, but could win four gold medals in her first major international competition since Tokyo. It augurs well for Ledecky's new training regimen as she begins the long build toward the 2024 Paris Olympics.
Australian Ariarne Titmus — who broke Ledecky's world record in the 400 free in May and is perhaps the only woman in the world capable of beating her — opted out of travelling to Worlds and won't race the American head-to-head this summer. Still, Budapest is a chance for Ledecky to redeem herself after a bout of food poisoning derailed her meet at the 2019 World Championships in Gwangju, South Korea.
In Tokyo, Ledecky was candid about the emotional toll of the immense pressure she felt to outdo herself when she had already rewritten record books and redefined what the swimming world thought was possible for women's distance freestyle.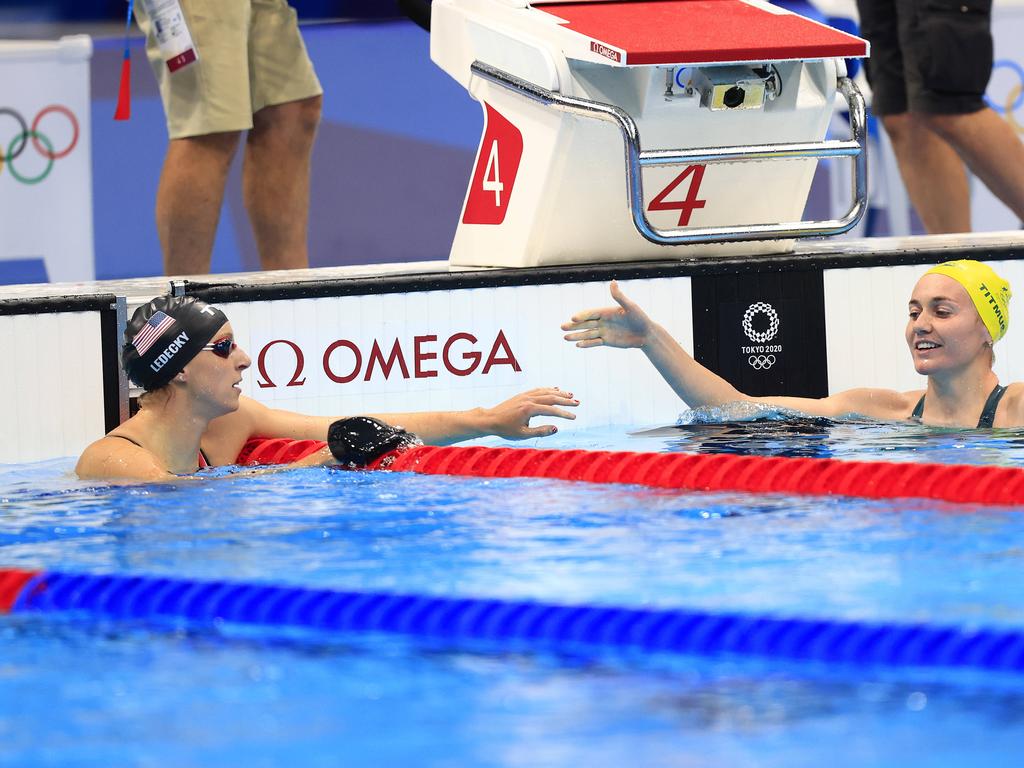 Ariarne Titmus shakes hands with Katie Ledecky after winning Gold in the final of the Women's 200m Freestyle at the 2020 Tokyo Olympics. Picture: Adam Head
Upon returning home, she questioned whether Stanford was an environment in which she could thrive. Ledecky said her training program was strong but she needed stronger partners to work with in the pool — and that meant training more closely with men.
"It's easier to go faster when I'm racing the guys," she said. "Otherwise you're just racing the clock and are so focused in on the clock that sometimes that can be too much."
So late last summer, Ledecky reached out for advice to Nesty, with whom she had trained for a handful of practices at Team USA's pre-Olympics camp in Hawaii. She made her first trip to Florida's campus in September and got dinner at Spurrier's Gridiron Grille with Tokyo teammates Smith and Finke.
"She asked us if it was OK for her to come here too," said Finke. "Who is going to say no to that?"
The pair had already gotten a taste of how tenaciously Ledecky trains in Hawaii. The rest of Florida's distance group, which numbers about a dozen, was in for more of a shock.
"I was keeping count [of practices] until the first time she beat me. It took about a month," said Trey Freeman, a five-time All American who finished eighth in the 400 free at Worlds this week.
Ledecky beats some — or all — of the men's distance group often enough that it's become a motivating factor, Freeman added. "Everyone's got a little fragile masculinity in them and they don't want to lose to a girl."
One long course set that Ledecky won during Christmas training involved three "descending 800s" — in which the swimmer aims to go faster on each 800-meter repetition — has become the stuff of legend among the Florida men. Ledecky swam the first two in about 8:39 and 8:35.
"I was like, 'OK, there's no way you can go faster,' " Finke, the men's 800- and 1,500-meter Olympic champion, said he remembered thinking one lane over. Then, she swam the final 800 in 8:24 — a mere 12 seconds slower than her gold medal-winning time in Tokyo. "She's already starting at something you don't think is possible, but then she just continues to get faster."
Katie Ledecky competes in the Women's 1500m Freestyle Final at the Budapest 2022 FINA World Championships. Picture: Tom Pennington/Getty Images
This group wouldn't have been waiting for Ledecky if Nesty hadn't built it. A two-time Olympic medallist in the 100-meter butterfly representing Suriname, Nesty came to Florida as an assistant under Hall of Fame coach Gregg Troy in 1999. He took over the Gators' men's team in 2018 following Troy's retirement and added the women's program in 2021.
Troy built Florida into a powerhouse in the Southeastern Conference behind athletes like Ryan Lochte. Nesty extended the Gators' renown as an assistant, when he personally oversaw Dressel's training and helped turn him into one of the most decorated NCAA swimmers in history.
Just after Dressel won three titles and broke two American records at the 2017 NCAA Championships, Nesty signed Finke, Freeman, and Smith before his first year as head coach. Their arrival in the fall of 2018 marked the beginning of the training group's transition from strong to supercharged.
"It's kind of crazy to see how fast it's developed," Freeman said. "And that was before Katie even got here."