The 'r word': Diving deep inside the mind of Olympic champion Cate Campbell
Retirement silently beckons. But Cate Campbell speaks with more authority than ever in tackling mental health, Olympic triumphs and tears, and the incessant inner monologue of a champion.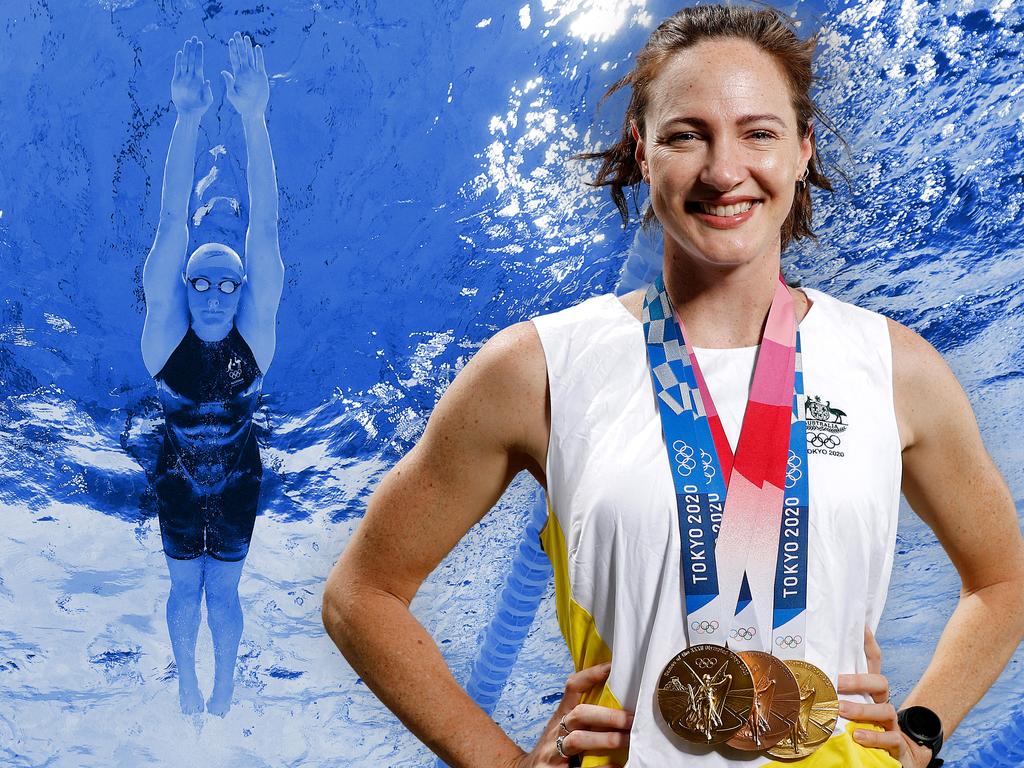 Cate Campbell has opened up about mental health, Olympic triumph and failure, potentially going to a fifth Games and life after swimming.
Cate Campbell has discussed it at length with her friend and sometime mentor Giaan Rooney. She has workshopped it with Kim Brennan, the Rio 2016 rowing gold medallist, and talked it through with six-time Olympian James Tomkins.
Is there a moment when you just know?
The retired athletes tell Campbell that, yes, the finish line will be clear to her when the time comes. And, six months before her 30th birthday, just the third Australian swimmer to compete at four Games estimates she is 70 per cent committed to chasing a fifth.
"I haven't set a date when I'm getting back in the pool or starting to compete internationally. It might not be next year. It might not even be 2023,'' she says. "I would love to do Paris, but I need to be really strategic about that. When I say I'm coming back, I'm coming back for Paris or I'm not coming back at all.''
Much could still change in the coming-back-at-all department, of course. Campbell is aware of Rooney's light bulb flash of utter clarity; the backstroker having been in the pool preparing for the 2006 Commonwealth Games when she found herself reflecting on her career and realising for the first time that she was proud of herself, and had no need to achieve anything more.
"Once that train has left the station, once you've thought about retirement and what life looks like after retirement and what you want your life to look like, and who are you if you're not an athlete, then it's very hard to rein that train back in because trains don't have a reverse lever,'' Rooney says.
Already an Olympic gold medallist and triple world champion, Rooney retired six months later with a final pair of silver medals and without the will to complete another lap; limiting her swimming since to a splash with her kids, or paddle to a swim-up bar.
Campbell, in contrast, expects to be a swimmer for life and misses the pool even now after just a few months. But she is well aware of the trap of continuing simply because stopping seems too scary, when the sport is all you've known.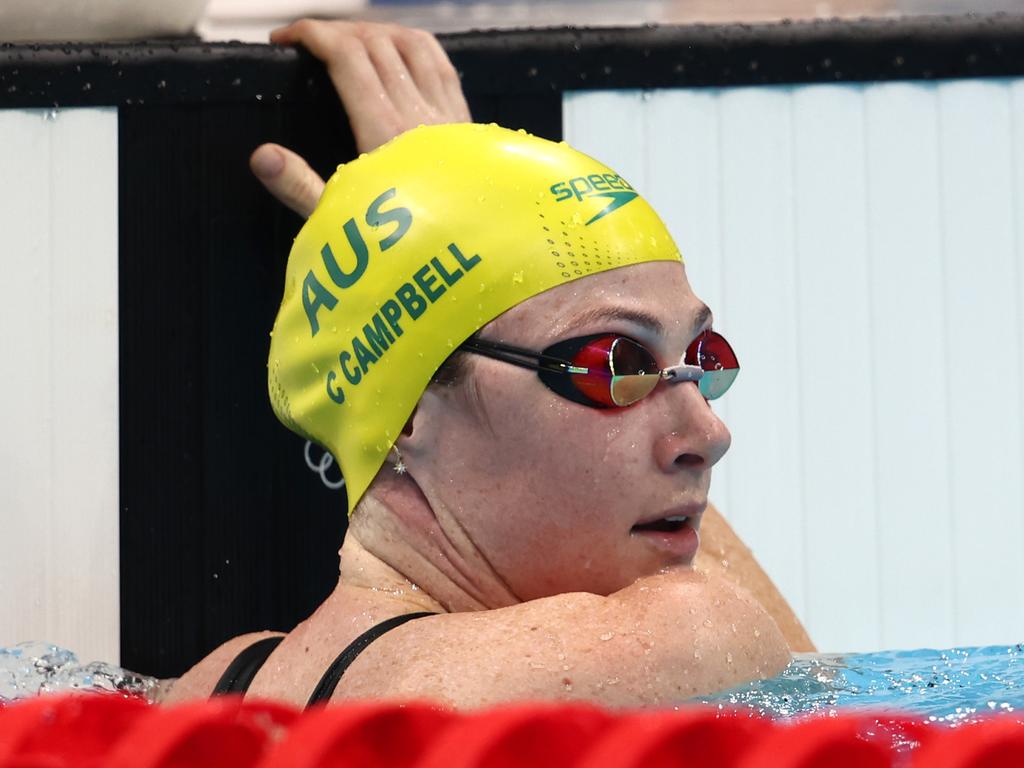 Cate Campbell during the 50m Freestyle heats at the Tokyo Olympic Games. Campbell says she's 70 per cent committed to representing Australia at a fifth Olympics. Picture: Clive Rose/Getty Images
Which is why regaining the joy that has ebbed over recent years is paramount, and she is looking to find it outside the pool (more on that later, but keywords include scuba, socialising and Bunnings, with a surprise cameo from that humbling pastime for aquatic types: running).
Hers is a variation on Rooney's theme, with Campbell now in a place where she too could feel happy and fulfilled if she was left to dust a trophy cabinet filled with eight Olympic and 12 world championship medals, including five relay gold, and with an individual world title also on her glorious CV.
"There's something really empowering about that if I go back, [it is] because I chose to – I don't feel like I have to,'' she says. "And for so long I kind of laboured under this thing that, 'I have to, I have to prove myself, I have to make sure that I'm good enough, or I'm worthy'. But now I get to decide, which is a really beautiful place to be in, and it's a really liberating place.''
But it's still not the same place as knowing with certainty that you're done and ready to look elsewhere. Until then, Campbell will not be making a decision either way. Tomkins, the triple gold medallist who made it to six Games by taking adequate breaks in between, has advised the Queenslander to return from this hiatus, embed herself in her old world for three or four months, and she will know.
Still, the scent of No.5 must be a little intoxicating? "Mmmm,'' laughs someone who admits to both a heady attraction to the Olympic movement and an enduring case of FOMO. "It's pretty special to be part of an elite club. But, to be honest, I am now looking at what Paris is going to be putting on, and that's much more of an allure than being a stat or a piece of pub trivia.''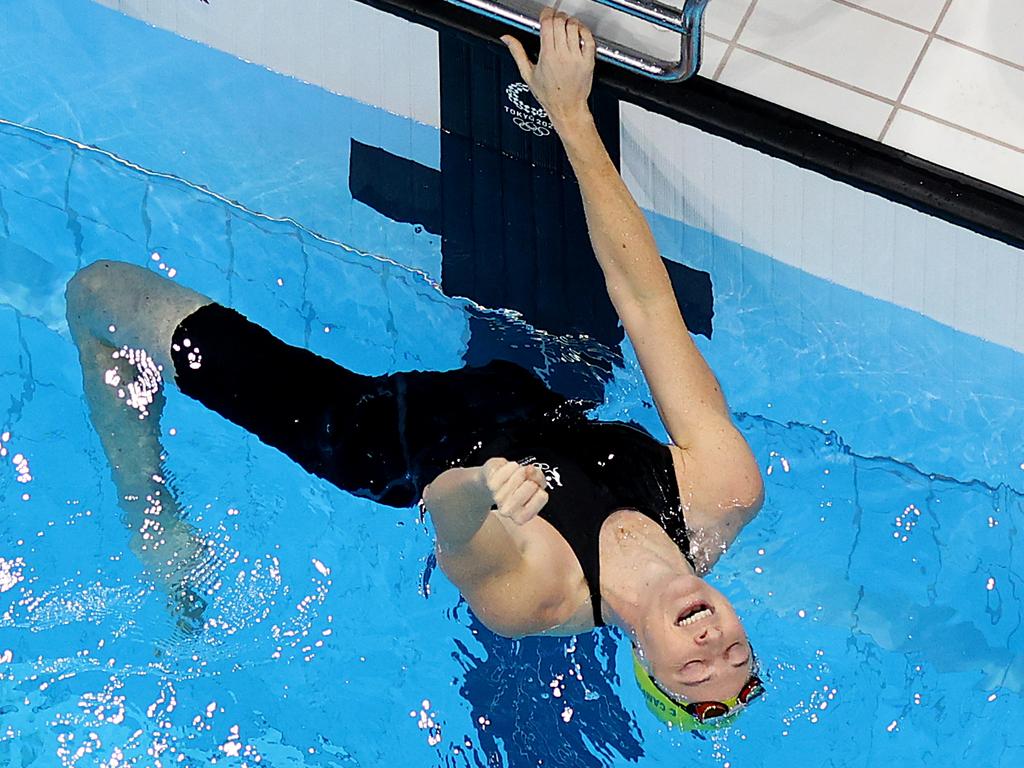 Cate Campbell was part of Australia's gold medal-winning 4x100m relay in Tokyo, as she was at Rio 2016 and London 2012. Picture: Rob Carr/Getty Images
*****
The keynote speaker is standing in front of the Victorian Chamber of Commerce and Industry backdrop, a pair of Tokyo gold medals as props and a queue of business types eager to pose with the bling and its famous owner.
Tall, lean, and casually dressed, Campbell smiles and makes easy small talk. While the confirmed introvert admits later that both chitchat with strangers and public speaking come less naturally than it appears, any discomfort seems hard to reconcile with the warm and engaging figure on stage.
After opening with coffee cart and cardboard bed stories about her time in Tokyo as Australian flag-bearer alongside Patty Mills, she dives deep into her flop in the 100m final in Rio, in which she finished seventh after starting as the world record-holder and raging favourite.
Campbell tells the 350 lunch guests that for each of her achievements, there have been multiple failures which are spoken about far less. And while others may have moved on from Rio, it remains an important part of her story.
She speaks of being terrified as she stood on the blocks, knowing that gold was all that separated her from "abject failure and social ostracism … I just couldn't accept the reality of what life would look like if I didn't win this medal and I was consumed by this fear, and when I touched the wall … all of those fears in that one moment came true, and it happened on a really international stage''.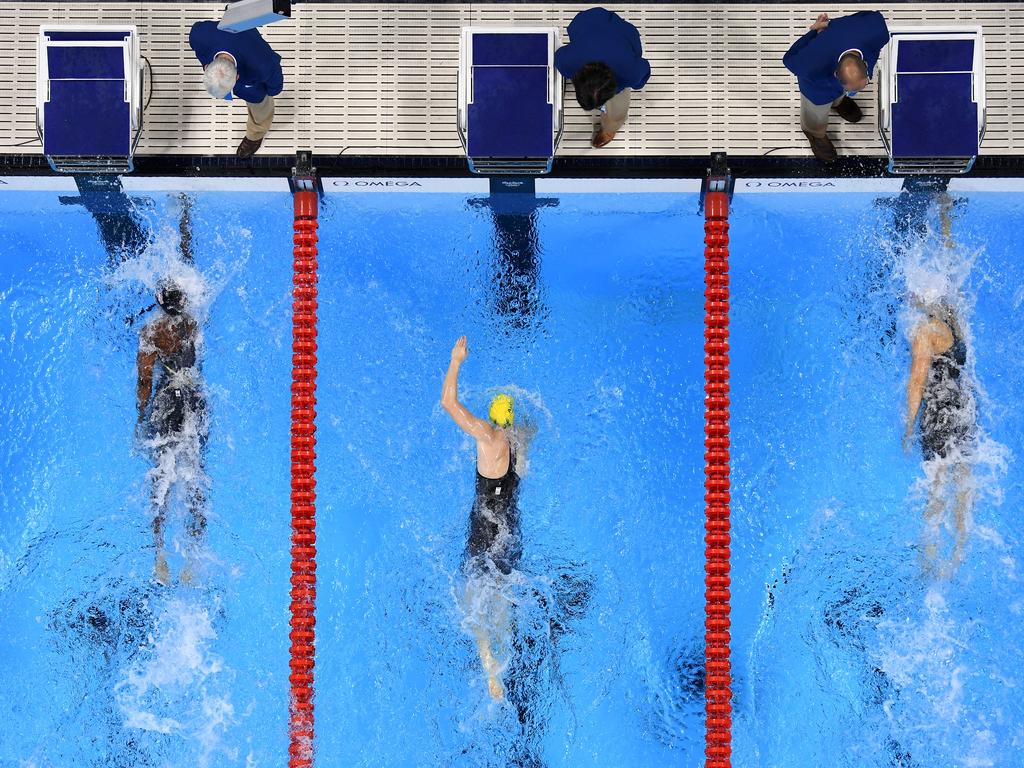 Cate Campbell finished seventh in the 100m freestyle final in Rio, behind Simone Manuel (L) and Penny Oleksiak (R), who tied for gold.Picture: Richard Heathcote/Getty Images
Campbell had doubted she was equipped for failure. Until it happened. There were interviews to do, more races to swim. "The effort to keep going was monumental.'' The experience fuels her now when faced with challenges, because she looks back to when she didn't think she would be strong – not to be confused with successful – enough. Until she was.
Campbell then explains her subsequent switch to an internal metric, and a "best execution" measuring stick, plus giving herself a time and place to acknowledge her emotions without feeling overwhelmed. All were put into practice on the final day of swimming competition in Tokyo.
Needing to shelve the self-pity after a devastating seventh in the 50m freestyle – "the good thing about goggles is you can have a little cry in them and no one can see" – and back up for the 4x100 medley relay, she duly nailed a final changeover that was the difference between silver and eventual gold. Cake, meet icing.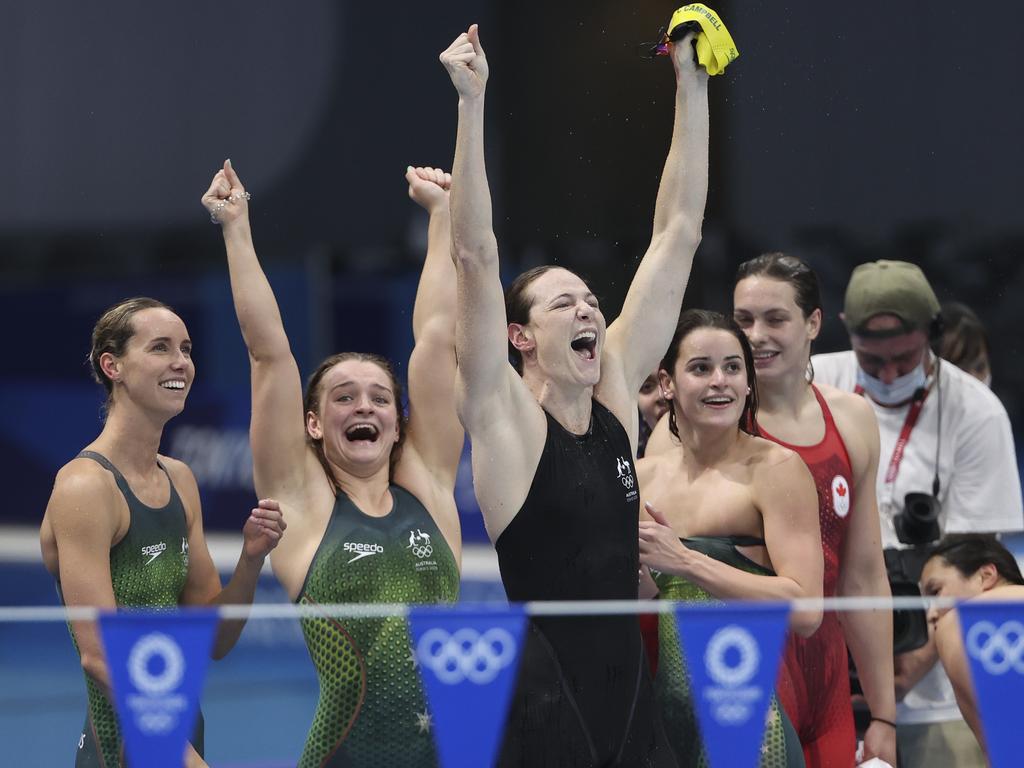 Cate Campbell, alongside Emma McKeon, Chelsea Hodges and Kaylee McKeown celebrate winning the women's 4x100 medley relay final in Tokyo. Picture: Jean Catuffe/Getty Images
"So I think that final day, or even just that whole week really encapsulated my whole career. There were highs, there were lows, there were tears. The whole experience of Tokyo was nostalgic for me and I really felt that right from the time I landed and got to put on the uniform and all of that.
"Nostalgic because I didn't know if it would be my last (Games). I still don't know if it will be my last. Nostalgic because I had gone through a lot to get there; more than any other campaign. Nostalgic because I realised how much it meant to me and how much it meant to people around me, and how much we felt like it meant to the world at that point.
"So there were lots of different reasons, but I think I just really slowed down and allowed myself to take in those moments… It wasn't that I took my eye off performance; it was like I broadened my gaze, so I allowed the peripheral other elements of the Olympics to come into my field of view.''
But let's not forget the prize ("I love that little bronze medal") from the 100m. If not necessarily Campbell's favourite medal, it has the most emotion attached. And yet, at this corporate function, it was left alone and unloved.
"I did have it, but no one wants to take a photo with it, so it just kind of sits there,'' Campbell says. "Everybody automatically gravitates towards the gold, so I'm just left holding the bronze, like, 'Well, this is the one I really like, but you go for your life!'''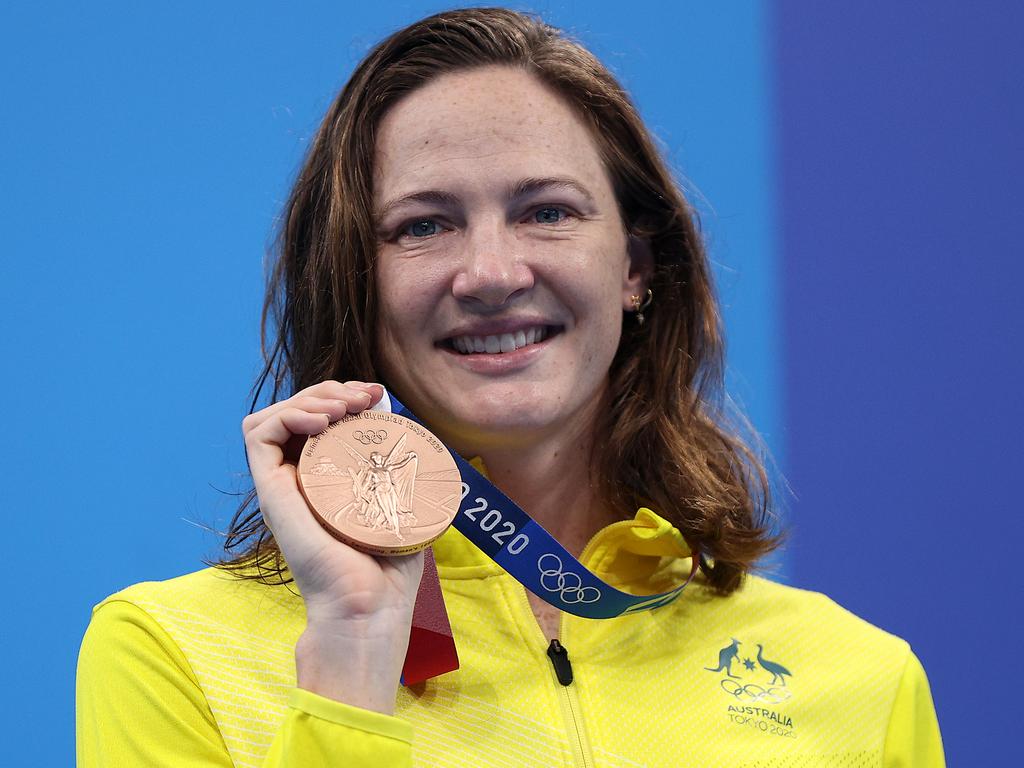 Cate Campbell beams on the podium during the medal ceremony for the 100m freestyle, having claimed an individual bronze medal at the Tokyo Olympics. Picture: Maddie Meyer/Getty Images
*****
After Tokyo, Campbell penned a powerful piece for website Mamamia, revealing her depression diagnosis in mid-2020 and chronicling how, just four weeks out from the Games, she felt not just pathetic and weak for being unable to get over her "deep, unending, unbearable sadness", but also frightened and ashamed.
As a fundamentally private person, she was nervous to admit any of this. As a proud athlete and leader, living a privileged life, she did not want to be seen to be self-pitying or making excuses. "Like, 'Oh, she's just a has-been athlete who's trying to keep a hold of the spotlight'. I was really worried about it seeming like I was attention-grabbing because that was not the intention at all.''
A couple of months on, Campbell still gets momentarily choked up discussing the reaction. Overwhelming – but in a good way.
She was thanked by many who had never spoken up about their own struggles, including current and former swimmers, and friends she had thought were enjoying bright, shiny, untroubled lives. "I think what it made me realise is that this is such a normal thing that goes on for so many of us, but no one talks about it.''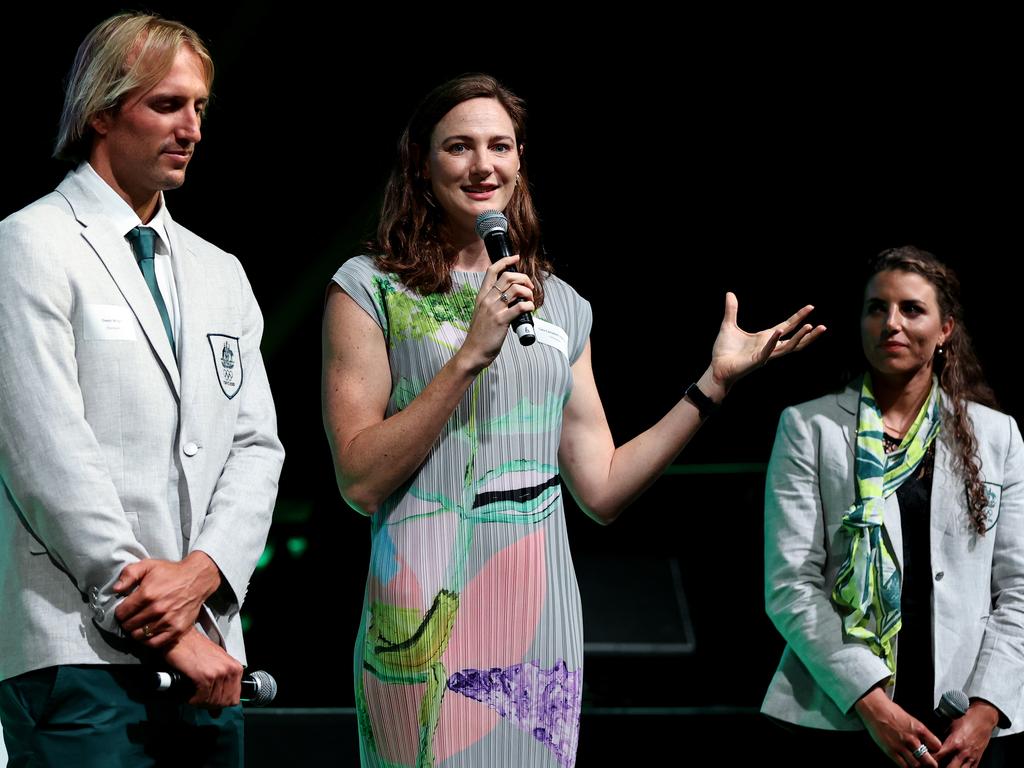 An introvert, Cate Campbell says public speaking is anything but natural for her. Picture: Brendon Thorne/Getty Images
From a personal perspective, what she has loved most has been "that I have been able to find myself again", even as she still grapples with the legitimacy of mental health issues in her own subconscious.
"Every time I go to the chemist and I hand over my script to get a new prescription, I feel this sting of shame that I'm having to go to the pharmacy and get this medication to help with anxiety and depression,'' Campbell says. "And I'm obviously incredibly public about it, but it just goes to show how deep-seated these stigmas are.
"I want to shrink away from the pharmacist when they go to give the medication back because I'm like, 'Oh, they know. Maybe they're judging me. Do they think that I'm weak?'
"And logically, I know that's not the case at all, right, but it's been interesting watching how I have approached this kind of injury – I call it an injury or an illness – compared with the many, many other injuries and illnesses that I've had in the past.
"My perception – and lots of people don't believe this – of the way we view medication around mental health is that it is the last resort. It means that you have tried everything and you're not able to help yourself, fix yourself; you need to change something in your brain and you weren't strong enough to do that by yourself."
Logically though, Campbell sees antidepressants as the anti-inflammatories of the mind; "allowing my body to get back to its normal state, and giving it the rest that it needs to recover".
And yet "I think there's still a little bit in the back of my mind that, 'You're a crazy person'. And I'm not. It's an injury.''
She has also been battling the physical kind, including chronic neck pain. In Tokyo, that was all that most of her Dolphins' teammates knew. Dual-gold medallist Ariarne Titmus was one of three swimmers sharing an apartment in the Athletes' Village with Campbell and had not seen her mental health confession coming.
"I was right next door and I had no idea she was going through this,'' Titmus says. "Cate's such an incredible person. She had her own battles during the Olympics that we knew about, physically – injury and that type of thing that she got through and won a bronze medal – and I was so proud of her for that. But she's so brave to come out and tell people her story, in a lot of depth, as well. So I'm also proud of her for that.''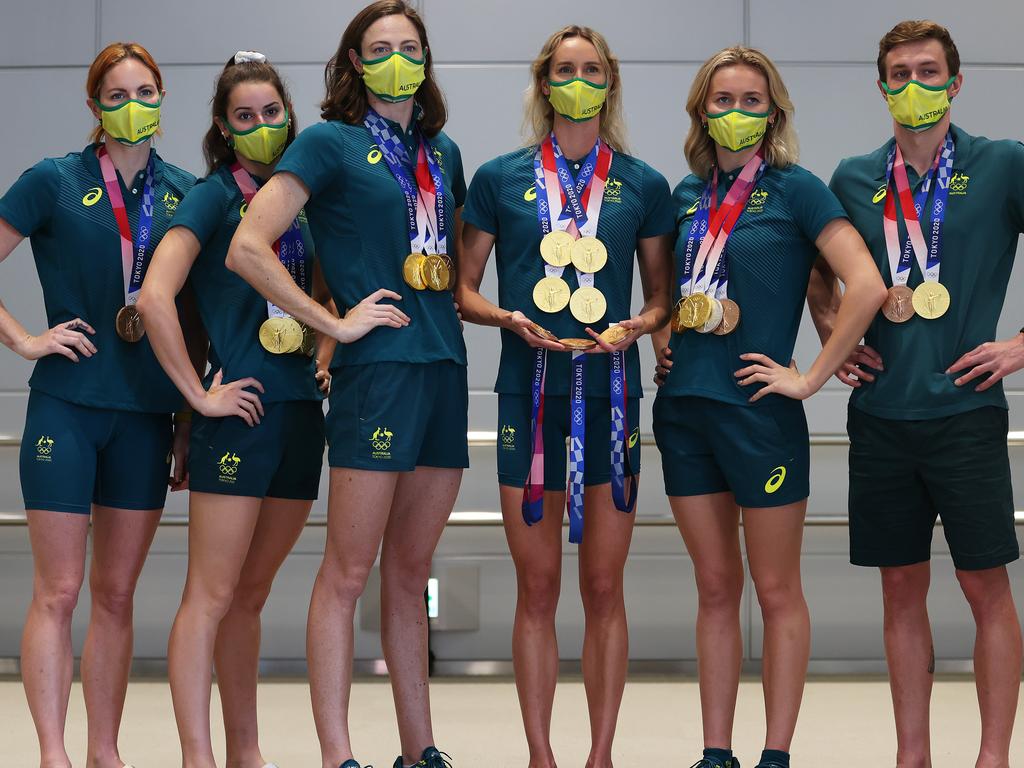 Very few of Cate Campbell's Dolphins teammates knew about her mental health issues in Tokyo, as they powered to the greatest swimming haul in Australia's Olympic history. Picture: James Chance/Getty Images
*****
Did someone mention retirement? The question asked by so many is slightly stressful in itself, because part of not knowing has left Campbell in a completely new place.
Limbo.
She has taken an extended break, as she did in 2017, so she is not in the pool. But, then, why is she not training and preparing, if she's not necessarily retiring?
The first reason is that her coach of 20 years, Simon Cusack, has stepped away from the pool deck, so a replacement would be needed. Another is that even a shorter Olympic cycle needs to be negotiated carefully when such a battle-weary body is involved. Meets such as world champs and Comm Games cannot be given equal focus.
"I'm at a point in my career where my body can't take that relentless, sustained (training) intensity,'' she says. "I just need to trust that I've done this in the past and my body is going to remember. There's a smaller gap, so the margins for error are a lot smaller. So there is that stress, but I have to realise that if I am going to go to Paris, then it's really important for me to reload all my systems now.''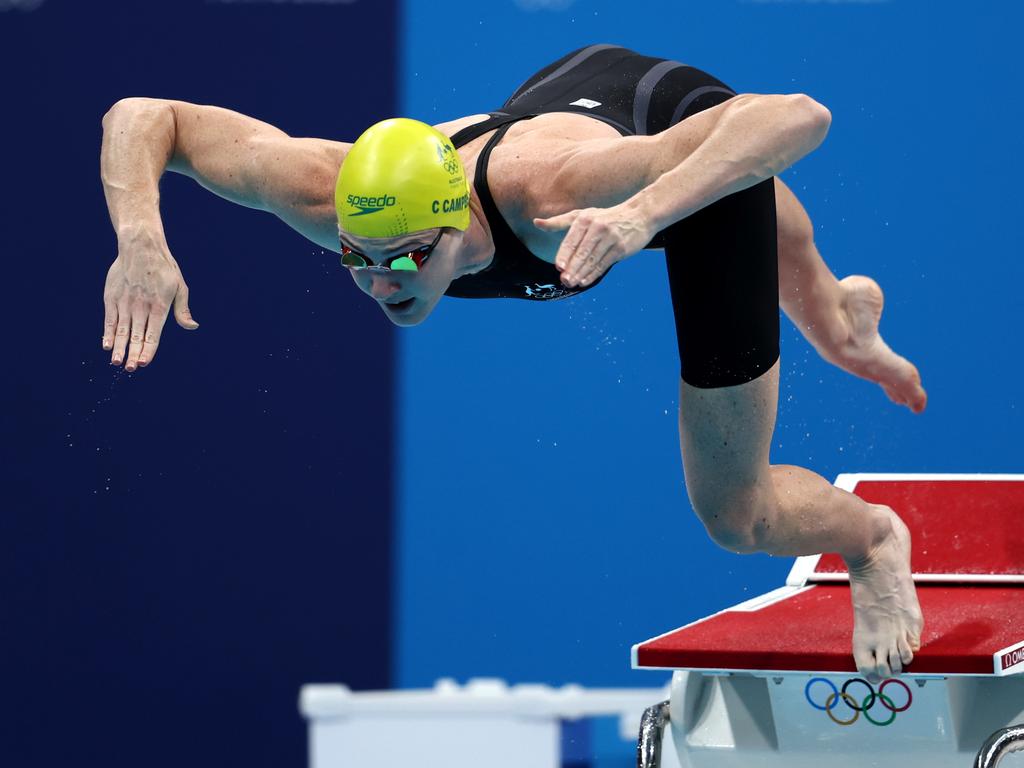 Cate Campbell knows she must take a smart approach to training in preparation for Paris 2024, if she's to make it to a fifth Olympics. Picture: Clive Rose/Getty Images
The mental and the physical are too closely aligned to disentangle, but what is clear to Campbell is the need to rediscover the joy lost in the tough lead-up to Tokyo. Swimming used to be her everything. She has now realised it must be supplemented with love found elsewhere.
Scuba diving, for example. "Best thing I've ever done.''
Refurbishing wooden furniture. Stripping, sanding, repainting, new handles. "I didn't think I could love a store more than Kmart, but then I met Bunnings! Could spend hours in there. So good!''
Her days are filled with other normal-person things. "And it's been weird. It's been so weird!''
Working three days a week as an analyst at Deloitte in Brisbane. "Which is so far out of my comfort zone it's not funny."
Socialising, being truly present for family and friends, getting better at small talk, and even sharing a bottle of wine over dinner with a friend (who joked, "Who are you?").
Finding other ways to exercise, which along with yoga and pilates includes, gasp, jogging. Via a Run Club. Leaving her with sore shins and a soaring heart rate. "I'm so SO bad! Which I actually really love, because I think it's so important to do things that we're so bad at when we're used to being really good.''
Horizons thus broadened, but no change in one regard: the alarm set for years of training mornings at 5.30am. "I have always said, 'If I didn't have to set an alarm I never would. Guess what time I get up now? 5.30, and I do it by choice! I know, I know.
"But I feel like if I can get up early I have more time in the morning, it's where I do my exercise and I prepare and I get in the routine for the rest of the day. Now I choose to set my alarm at 5.30 and I choose to go to bed at nine o'clock, not because I have to, but because it makes me feel good.''
Cate Campbell has found other loves and hobbies outside of the pool. Picture: Delly Carr/Australian Olympic Committee/Getty Images
The only thing that has kept Campbell out of the pool, though, are the eyeballs that will follow her every stroke. She finds anonymity in the ocean, where there is camouflage for the changes to what she says is "actually an unhealthy, unrealistic body shape all of the time, but that's been normal for me. My body doesn't naturally exist like that; I've pushed it really hard to look like that, so I look quite different in swimmers now and I don't feel comfortable being subject to people's comments on it''.
Campbell says it is less about the extra three kilos or so than the fact she has softened and spread "like a hot candle" while her muscle mass has shrunk. "So I'm like, 'Oh man, are they gonna go home and say, oh, I saw that Cate Campbell, and hmmm, she's really let herself go there!''' she laughs.
Meanwhile, she continues to explore whether returning would be for the love of swimming or the fear of what comes next.
"That's why I am taking the time now to find out what I can do outside of the sport, because a transition will happen at some point: whether it's next year, or whether it's after Paris, I will have to leave behind this thing that I have spent 20 years of my life building and I'm going to have to start again,'' she says.
"But you can only be truly great at something if you love it and you enjoy it, and it's something that I think that we don't acknowledge enough. Find that thing that lights you up and you can reach the top of the game because when it's hard, you're still gonna push for it. So the enjoyment to reach the top of the Olympic podium is paramount. You just can't have it without the joy and the love.''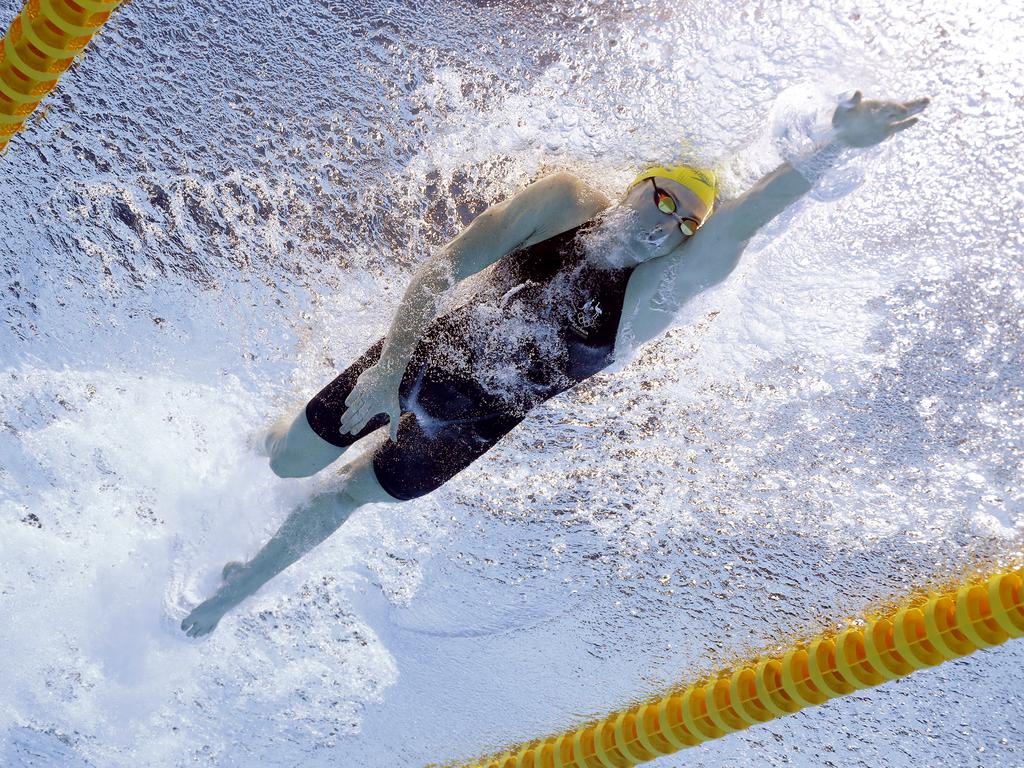 Cate Campbell competes in the 100m freestyle heats at the Tokyo Olympic Games. The desire to win an individual gold medal still burns. Picture: Clive Rose/Getty Images
*****
Individual gold had seemed to be Campbell's destiny in the lead-up to Rio, before what she has called "possibly the greatest choke in Olympic history". There is much that she knows now that she wishes she knew then.
In summary: we are more than our achievements, so striving to be a good person will bring greater and more important results in the end. That, especially for the harshest self-critics, people are kinder than you give them credit for, and possibly kinder than you are to yourself. The need to accept that there are many things beyond your control, "and leaning into that discomfort''.
Rooney is almost fearful for when Campbell does hang up her togs, given her role as a leader, inspiration and mentor, while, in the process, leaving herself with nothing more to prove.
That includes, potentially, never winning individual Olympic gold. Rooney has talked often with Campbell about the fact that any sense she had failed Australia existed only in her own mind.
"So will she deem herself as a success or a failure based on that one lost opportunity? No, and no one else ever has, and therefore Cate shouldn't either,'' Rooney says. "And she's had such an extraordinary career with so many incredible achievements that I hope she walks away, whenever that is, and says, 'I've had an incredible ride, but it doesn't define who I am'."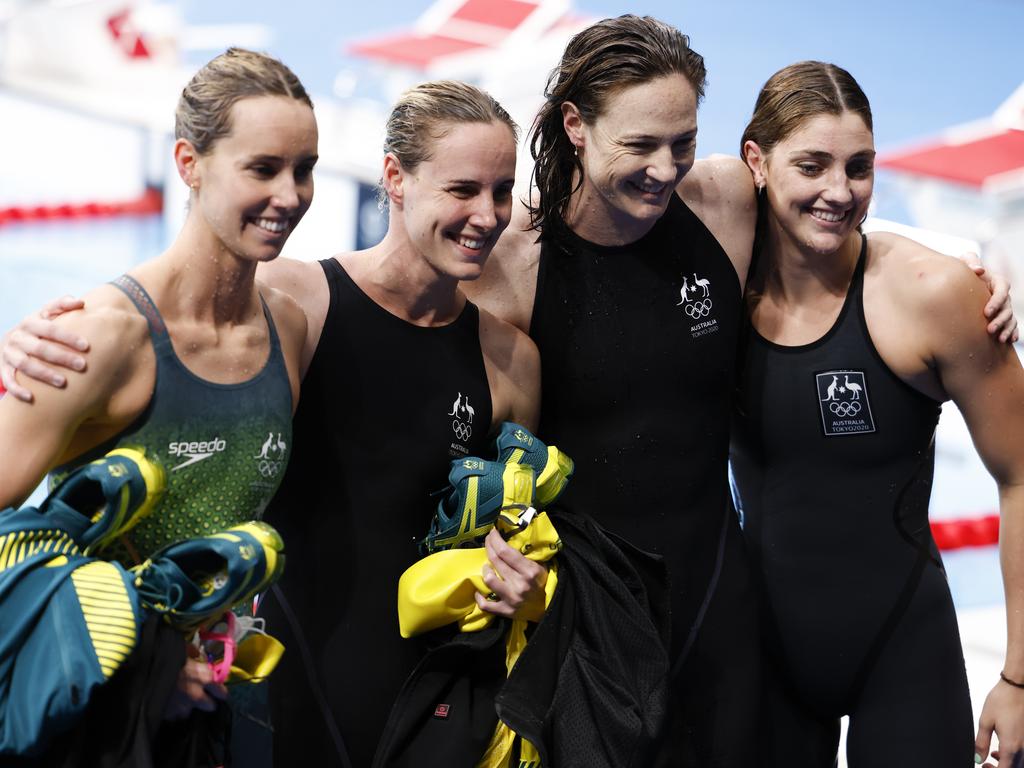 Emma McKeon, Bronte Campbell, Cate Campbell and Meg Harris after winning gold in the 4x100 freestyle relay at the Tokyo Olympic Games. Cate Campbell has won three consecutive gold medals in the event, stretching back to London 2012. Picture: Fred Lee/Getty Images
If she stays, Campbell says she would be satisfied with being a relay swimmer – "a relay swimmer, we don't need the 'just' in there" – for not only is that role increasingly appreciated, as Campbell declares "all of my best performances have been in a relay", but Australia's all-conquering 4x100 freestyle squad will be attempting a fourth consecutive title in Paris.
Ever gracious, Campbell says she will be at peace if she retires never having won individual gold.
"Yeah,'' she says thoughtfully. "People asked going into Tokyo, 'Was that your atonement swim or your redemption story', but I can now look back on my career and be really proud of my achievements, irrespective of that individual gold medal.
"Do I want it? Yes, everyone does, but sometimes that's not in the cards for you, and luck has a lot to play in that. Some people have one good year, and that year is an Olympic year. I've had some fantastic (non-Olympic) years … and I have to make peace with that, otherwise I'm just gonna be bitter for the rest of my life.''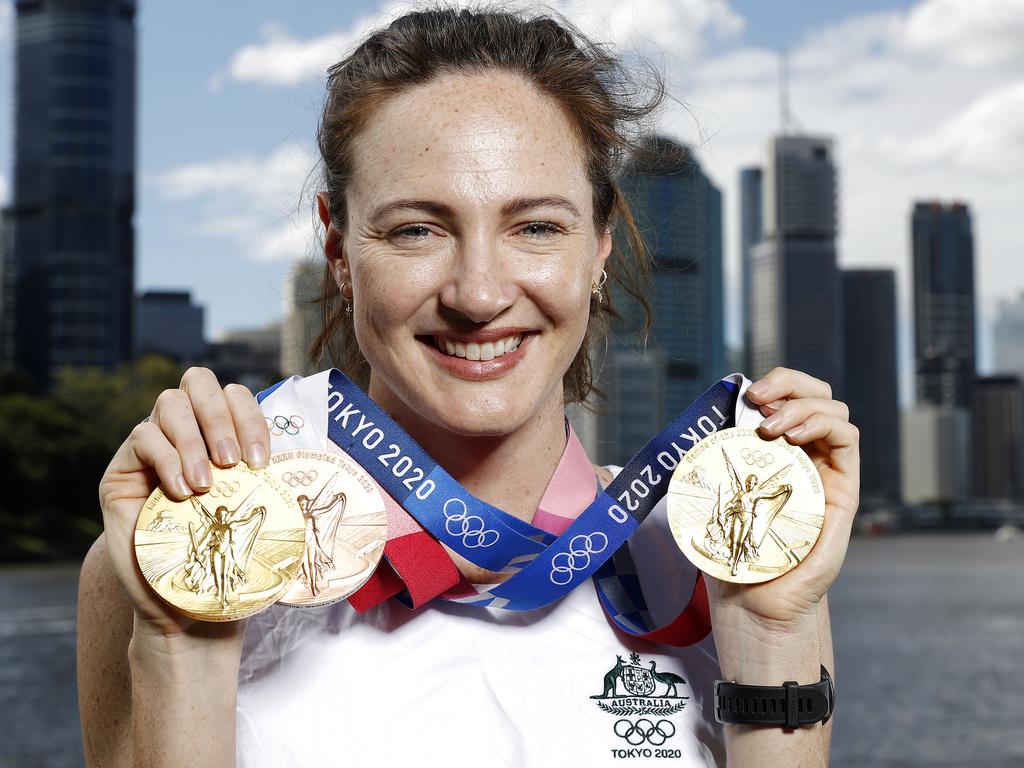 Cate Campbell at Kangaroo Point in Brisbane , showing off another Olympic medal haul. Will the Tokyo Games be her last, or will she swim through to Paris 2024? Picture: Josh Woning
What is more important to Campbell than the one missing accolade is the impact she has had and the culture she has influenced so profoundly.
One final anecdote is telling. A superstar still surprised whenever she's recognised took the tram to our meeting, wearing a Melbourne-mandated mask, and sat opposite a young girl wearing an Olympic hoodie.
Campbell wanted to chat but was reluctant, rationalising that the child may not have been a swimming fan, but, well, liked athletics. Or something. "I didn't want to assume,'' she says. "I also don't want to be that 'don't you know who I am?' person. That's the last person I want to become.''
And, one suspects, the last person she will be.
Like the silent beckoning of retirement, something else you just know.